We research, evaluate and select travel destinations based on a number of factors, including our writers' experience, user reviews and more. We may earn a commission when you book or purchase through our links. See our editorial policy to learn more.
---
Thanks to its unique history and long list of attractions, Illinois is a destination that goes by many names: The Land of Lincoln, The Prairie State, and the Metropolis of the Midwest.
Often topping the charts as one of the world's most beautiful cities, Chicago is the hub of Illinois. It's where Route 66 begins its journey to Cali, the mob conducted shady business during the 1920s, and tasty delectables such as deep dish pizzas and shots of Malört continue to satisfy visitors. And nothing quite amazes like that first glimpse of the Chicago River framed by towering skyscrapers.
But Illinois is so much more than just the buzz of Chicago. In Springfield, you'll find the Lincoln Home National Historic Site dedicated to preserving the birthplace of our nation's very own Honest Abe. And although predominantly flat, southern Illinois features rolling vineyards and the beautiful rocky region of the Garden of the Gods.
From high rises to scenic farms, experience the beauty of this Midwestern gem by visiting one of these incredibly unique places to stay in Illinois.
Related Read: 8 Cozy Cabins Near Chicago Offering an Escape to Nature
1. Emil Bach House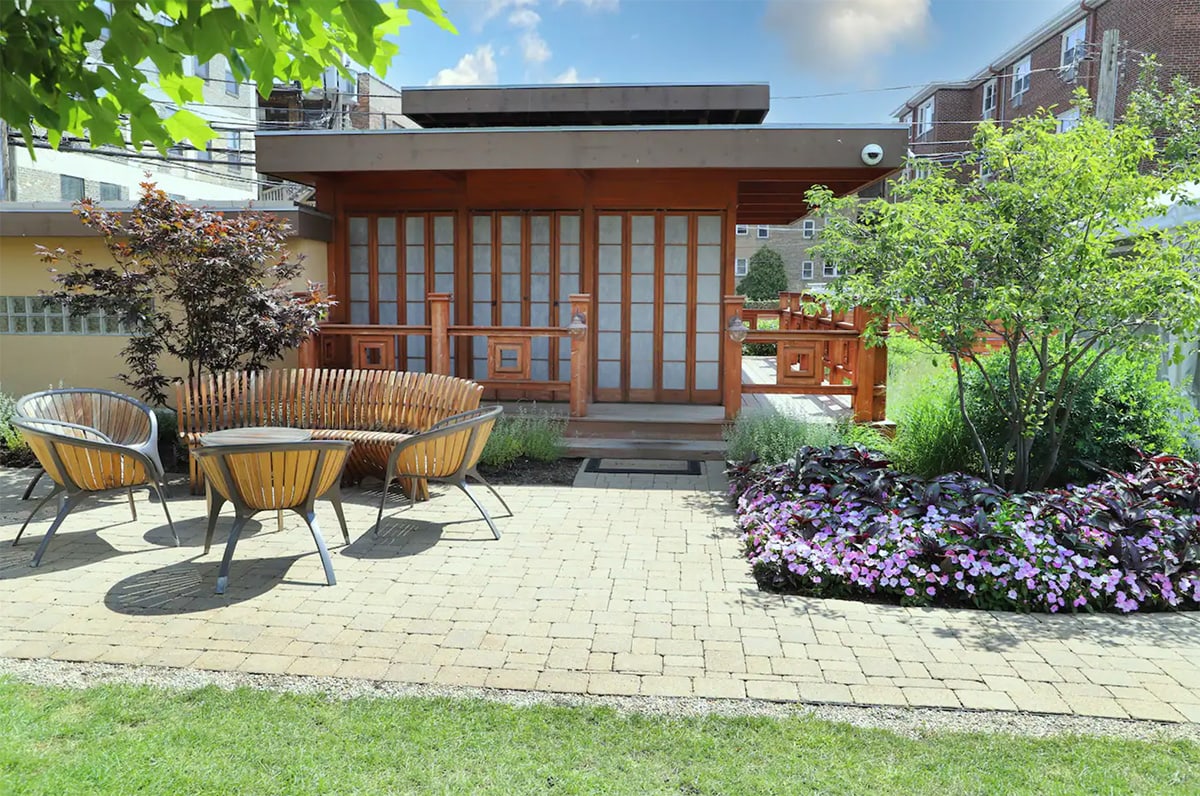 Why you should stay: A historic home designed by famed architect Frank Lloyd Wright in Chicago's Rogers Park neighborhood.
Location: Chicago
Sleeps: 6
Minimum stay: 3 nights
Rates start from: $450/night
The Emil Bach House is a Chicago landmark that's a testament to the iconic work of one of our nation's most famous architects — Frank Lloyd Wright. Getting his start in the Windy City, Wright was revered for his unique Prairie Style and incorporation of natural elements. You can feel this appreciation for the outdoors through the hardwood surfaces, exposed brick, and expansive windows that allow sunshine to stream inside.
From the screened-in porch to the sunny terrace, this property also has many private, outdoor spaces for a reprieve from the city. The yard even features a lovely Japanese Tea House surrounded by blooming gardens. Popular Lake Michigan beaches are within walking distance away from the house.
Check Availability
Follow 'em: @EmilBachHouse
2. Loft606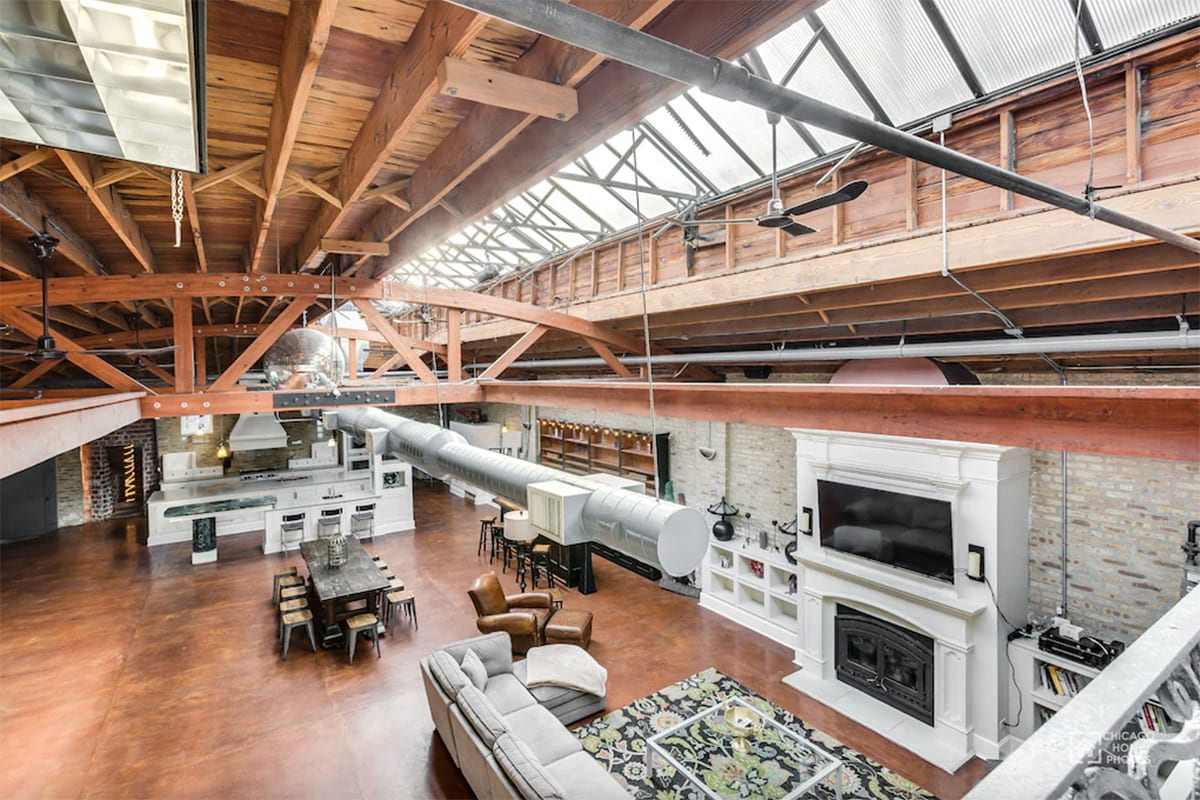 Why you should stay: A spacious loft housed in an old factory building with exceptional amenities perfect for events and large groups.
Location: Chicago
Sleeps: 30
Minimum stay: 2 nights
Rates start from: $1,200/night
Not far from the western El train stop, Loft606 is the epitome of Chicago's industrial heritage. In staying true to its roots as an old factory, this exceptional space features concrete floors and attractive exposed brick. Not to mention the row of skylights and exposed beams that cover the towering ceilings. Designed with events in mind, fun touches like a disco ball and a full-sized bar ensure your group has a rip-roaring good time.
And when it's time to hit the hay, a stylish smokestack spiral staircase takes you to bedrooms. Heads of households will appreciate the primary suite where a jacuzzi, his and her sinks, and a rain shower provide a spa-like experience.
Check Availability
Follow 'em: @Loft606Chicago
3. The 1912 Barn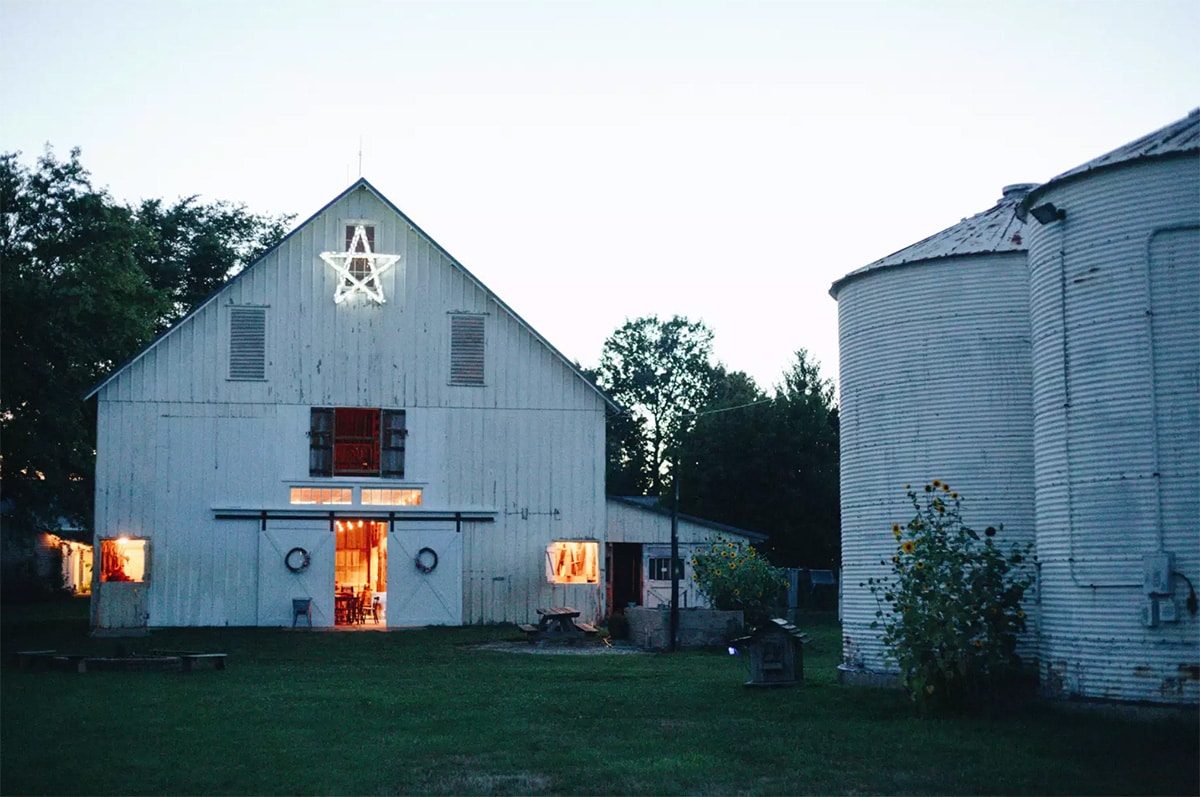 Why you should stay: A charming farmstay in an old barn so pretty that it's also a wedding venue.
Location: Niantic
Sleeps: 8
Minimum stay: 1 night
Rates start from: $54/night
The 1912 Barn is on a peaceful farm where chickens roam free and nothing but the sight of sprawling crops surround you. Wake up in the mornings to farm fresh eggs available as an add-on, that taste even better when cooked over the yard's fire pit. Inside, the barn's open floor plan and original wooden rafters are illuminated by twinkling lights.
This quaint getaway has only one bedroom, but the hosts offer sleeping pads and allow additional guests to camp out in the yard. This farm stay is located just 35 minutes outside of Springfield, not far from the trails of Rock Springs Nature Center. Its location in central Illinois makes it an easy getaway from any part of the state.
Check Availability
Related Read: 12 Charming Barndominiums for Your Next Rural Getaway
4. The Publishing House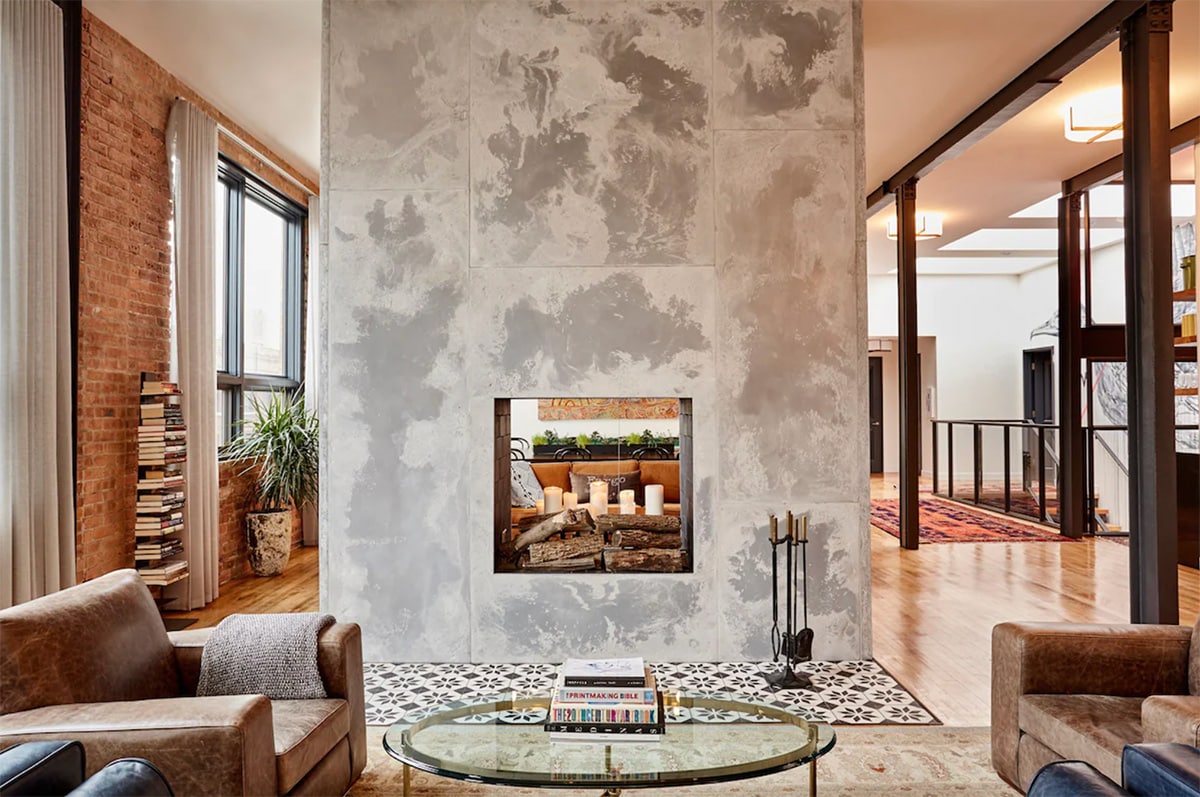 Why you should stay: A luxurious bed and breakfast in Chicago's vibrant West Loop.
Location: Chicago
Sleeps: 2-3
Minimum stay: 2 nights
Rates start from: $249/night
Recognized by prestigious publications like Forbes and Condé Nast, The Publishing House is an exclusive B&B that has only 11 rooms for booking. Aptly named, this trendy Chicago hotel is housed in a historic cream-colored brick building that was once a publishing house.
Exposed brick and pops of color fill the interior, and guests can enjoy relaxing in the communal lounge and retro kitchen. Each room is uniquely styled, and some feature steam showers and claw foot tubs. You can find The Publishing House in the stylish West Loop, which was once the city's meat-packing district. Now it's home to some of Chicago's top restaurants and vibrant nightlife.
Check Availability
Follow 'em: @PublishingHousebnb
5. Getaway Starved Rock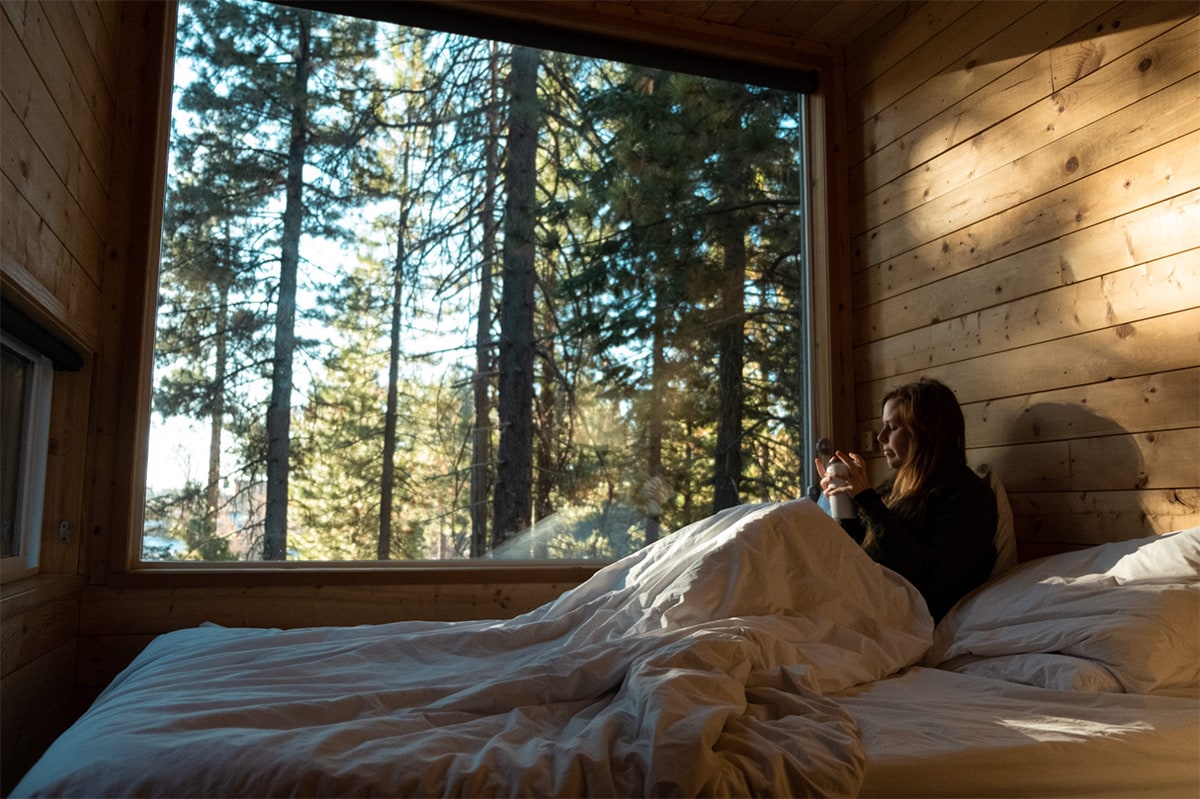 Why you should stay: A peaceful glamping resort along the scenic Illinois River less than a 20-minute drive from Starved Rock State Park.
Location: Ottawa
Sleeps: 2-4
Minimum stay: 1 night
Rates start from: $99/night
Getaway Starved Rock is a chain glamping resort with campgrounds opening up all around the country. The Starved Rock location is conveniently positioned about an hour and a half from Chicago. It's also not far from the state's popular Buffalo and Starved Rock State Parks, where natural beauty abounds. In your downtime, hiking the park's popular trails like the Illinois Canyon Loop and the Saint Louis Canyon Trail is a must.
On the resort grounds, take your pick from tiny cabins outfitted with single or double beds. These unique tiny homes feature an expansive window that frames the peaceful wooded surroundings and all the comforts of home needed for your stay.
Check Availability
Follow 'em: @GetawayHouse
6. Haunted Goth House
Why you should stay: An all-black octagon home that oozes mystery and intrigue not far from downtown Lincoln.
Location: Lincoln
Sleeps: 9
Minimum stay: 1 night
Rates start from: $179/night
Moody and monochromatic vibes delight at this octagon goth house just a mile from downtown Lincoln. Every surface of the home's interior and exterior is a shade of black, white, or gray, with the only bit of color coming from the light fixtures. The home's black and white color scheme isn't the only thing that makes it unique, but its octagonal shape as well.
But don't let its dark interior mislead you; homey touches fill the space, like a gas fireplace, a sunny master suite, and a spacious deck. Lincoln, Illinois is right off of the historic Route 66 and is known for its haunted tours.
Check Availability
Related Read: 10 Romantic Getaways Near Chicago, Illinois
7. The Robey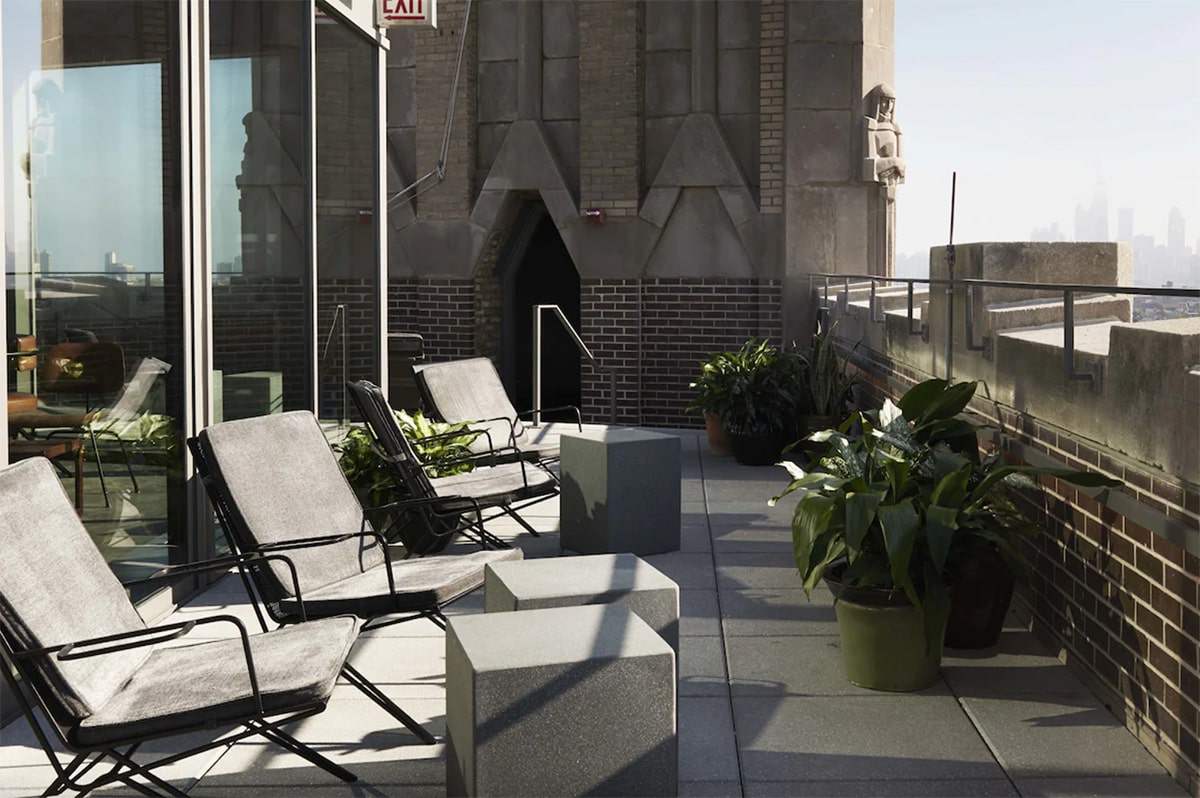 Why you should stay: A modern hotel housed in an art deco tower that reaches a height of 187 feet.
Location: Chicago
Sleeps: 2-4
Minimum stay: 1 night
Rates start from: $247/night
Built in 1929, The Robey was originally the offices for a successful architecture firm in Chicago. Today, it's been reimagined as a four-star hotel. Luxury is at the heart of its mission, and guests enjoy designer toiletries, plush linens, and Bluetooth speakers in every room. In addition, a rooftop cocktail bar and in-ground swimming pool provide a beautiful view of Chicago's magnificent skyline.
The hotel is in the Wicker Park neighborhood of Chicago, a 15-minute metro ride from downtown and Millennium Park. Guests can also take advantage of the hotel's complimentary city bikes, limited valet parking, and onsite restaurant that serves brunch and dinner daily.
Check Availability
Follow 'em: @therobeychicago
8. Open House Contemporary
Why you should stay: A colorful Chicago condo professionally designed by Queer Eye's very own Bobby Berk.
Location: Chicago
Sleeps: 6
Minimum stay: 2 nights
Rates start from: $226/night
Recognized as one of Chicago's most unique places to stay, Open House Contemporary has infused the beauty of a gallery showcase with the short-term rental industry. You can imagine that this three-bedroom condo, filled with works from emerging artists and the design eye of Bobby Berk, is anything but boring.
Guest Jamie shares, "This is a really eclectic space to stay at if you're looking for a unique living experience! The artwork in the space makes you feel like you stayed in a micro museum and gives fascinating descriptions to explore the artist's mind and background. The location has fantastic food surrounding it, a close train stop for easy transportation, and good amenities."
Check Availability
Follow 'em: @OpenHouseContemporary
9. Freehand Hotel Chicago
Why you should stay: A three-star hotel and hostel with fun and colorful decor in Chicago's bustling River North.
Location: Chicago
Sleeps: 2-4
Minimum stay: 1 night
Rates start from: $133/night
The Freehand welcomes visitors to Chicago in style. Dating back to 1927, this hotel fuses the historic charm of the 20s with the modern aesthetic of the 21st century. The hotel offers accommodations for various group sizes and modes of travel, including dorm beds, private suites, and even a spacious two-bedroom penthouse.
Noteworthy amenities include room service, a fitness center, and year-round curated events. In the evenings, be sure to grab a nightcap from the onsite Broken Shaker Cocktail Bar. This highly rated joint serves up craft cocktails in a stylish atmosphere. River North is centrally located to Chicago's Lincoln Park, downtown, and Chinatown districts.
Check Availability
Follow 'em: @FreehandHotels
Explore the Midwest
Get epic travel ideas delivered to your inbox with Weekend Wanderer, our newsletter inspiring thousands of readers every week.
---