We research, evaluate and select travel destinations based on a number of factors, including our writers' experience, user reviews and more. We may earn a commission when you book or purchase through our links. See our editorial policy to learn more.
---
Escape to the idyllic countryside with an Illinois glamping rental, housed in your choice of a yurt, bell tent, A-frame, or more.
Nicknamed the "Prairie State," Illinois is home to large expanses of swaying farmlands, prairie grasses, wetlands, and forests.
While Illinois isn't particularly famous for its striking landscapes, the state's popular Shawnee National Forest and Starved Rock State Park are at the top of the list for some of the most exciting natural sights in the Midwest — seriously, look at the photos. And thankfully, many of the best Illinois glamping rentals are clustered around these two iconic destinations.
However, there are plenty more excellent glamping options scattered across the state and near Chicago and Bloomington as well. So whether you're planning a staycation in the great outdoors or an exciting outing to a famous natural landmark, these unique Illinois glamping rentals will ensure you have a pleasant time.
Related Read: 11 Best Cabin Rentals in Illinois For an Outdoor Getaway
1. Airstream Glamping
Why you should stay: A lakeside RV with outdoor amenities near Bloomington and Champaign.
Location: Farmer City
Sleeps: 2
Minimum stay: 2 nights
Rates start from: $95/night
If you've never experienced Airstream glamping before, this well-appointed silver camper is an excellent intro that treats guests to the best of the outdoors. Overlooking the waters of Clinton Lake, this glamping rental is on a private space furnished with a fire pit, chairs, and tiki torches. Inside, there are two twin beds, a pull-out sofa, and composting toilet.
The property also features a heated pool, hot tub, hammock swing, and a grill next to an outdoor dining table. Guests who wish to take advantage of the water can use the four available kayaks and the nearby boat ramp. Both Champaign and Bloomington are about 35 minutes by car, offering more to do.
Check Availability
Related Read: 9 Fabulously Unique Places to Stay in Illinois
2. Hidden Ridge at Otter Lake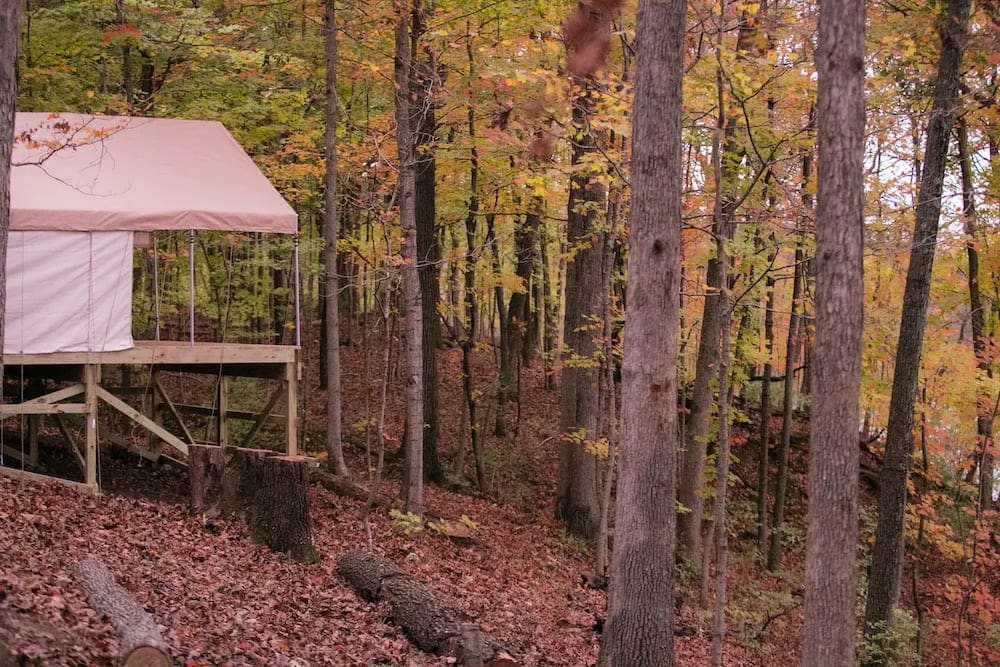 Why you should stay: Rustic tent camping in a small town but not far from St. Louis.
Location: Girard
Sleeps: 9
Minimum stay: 2 nights
Rates start from: $103/night
Hidden Ridge is a 14-foot-by-16-foot canvas tent set on an elevated wooden deck, perfect for travelers who want to camp but be protected from the elements (and bugs.) The deck protrudes in the front of the tent to create a small patio space with a cafe table and chairs. The tent's interior doesn't have electricity, though it does have a queen bed, a little dining table, and a pair of nightstands.
Not far from the tent are an open-air food prep station and bathhouse with a flushing toilet and hot showers. From the back deck, guests will have views of the peaceful Otter Lake and surrounding forest. Things to do in the area include renting kayaks from the hosts or venturing to the Vixen Hill Winery.
Though the tent only sleeps two, it's actually one of the best glamping rentals in Illinois for groups as you can put additional tents to sleep more guests nearby.
Check Availability
Related Read: 12 Charming Barndominiums for Your Next Rural Getaway
3. Camp Cedar Point Yurt #1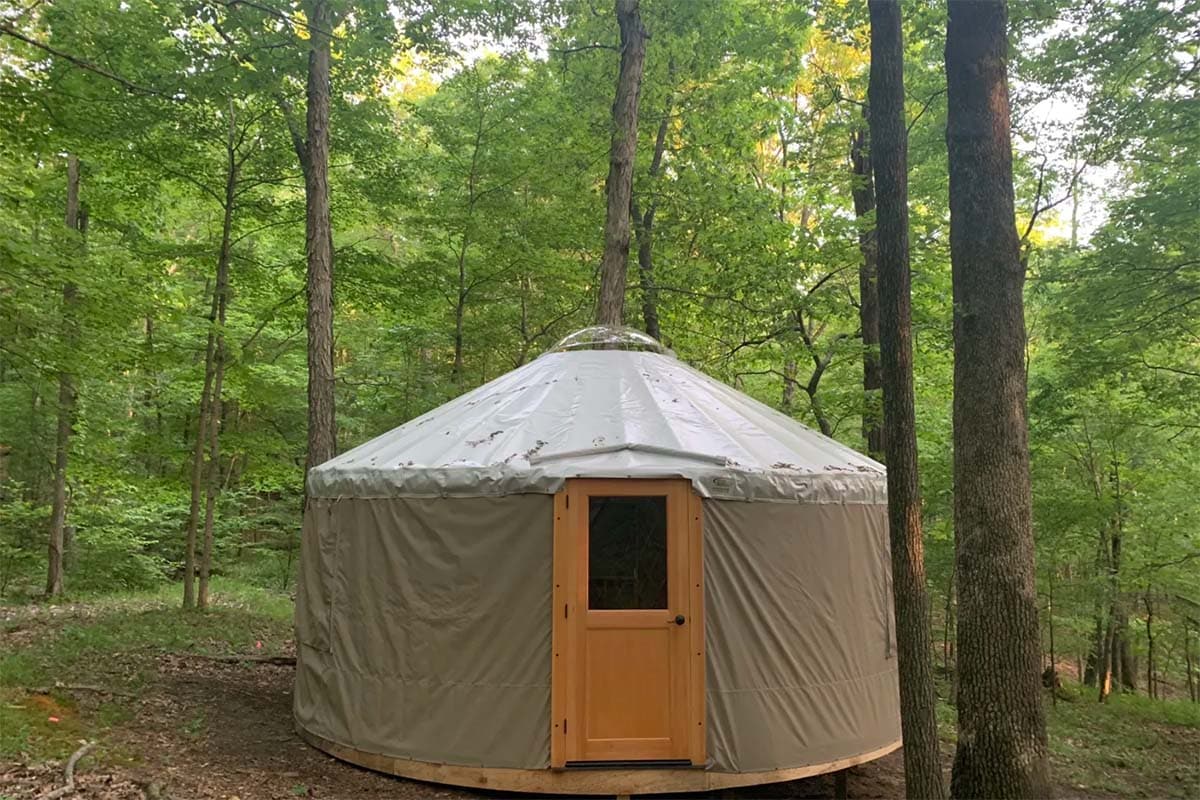 Why you should stay: Family-friendly yurt on a sprawling glampsite with lake access.
Location: Makanda
Sleeps: 8
Minimum stay: 1 night
Rates start from: $80/night
Camp Cedar Point Yurt #1 offers guests a classic camping experience with the added benefit of a sturdy shelter. The yurt is minimally furnished with four bunk beds, each of which are fitted with a Tempurpedic mattress. While there's no need for guests to come packed with mounds of gear, you'll need to make sure to bring along clean linens or a sleeping bag.
With your booking, you'll get access to a shared, covered pavilion complete with a grill, fireplace, and a picnic table. There's also a basketball court, a sandy beach area, and disc golf baskets for more outdoor fun, plus indoor event space. You can drive to several hiking trails in just a few minites, including the Trillium Trail and the Giant City Nature Trail. This is also one of the best dog-friendly glamping rentals in Illinois — pups are welcome to come along.
Check Availability
Related Read: 9 Delightful Weekend Road Trips From Columbus, Ohio
4. Flower Farm Glamping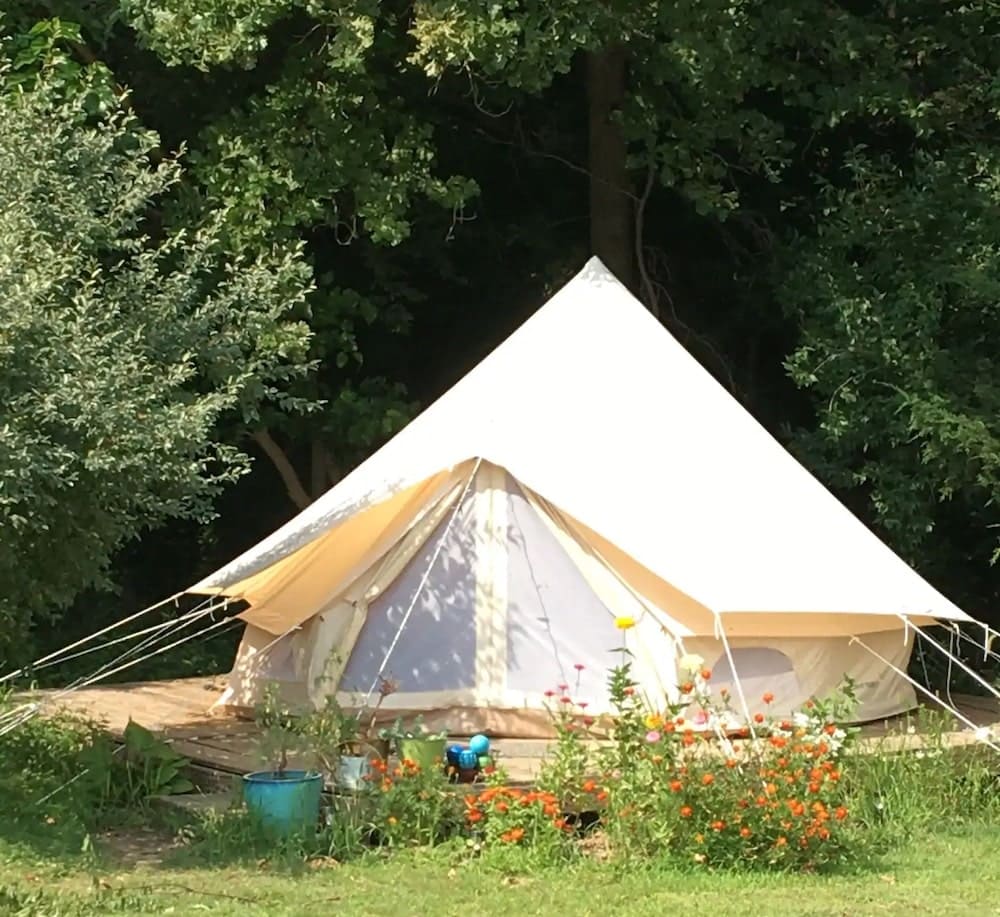 Why you should stay: Bell tent on 10 acres within walking distance to Dickson Mounds State Museum.
Location: Lewistown
Sleeps: 2
Minimum stay: 1 night
Rates start from: $70/night
Treat yourself to some flower farm glamping at this bell tent atop a bluff with panoramic views of flower fields and surrounding wetlands. In the grassy yard, there's a separate deck with two chairs, a bathhouse with flush toilets, and a coffee outpost to help you jump-start your day.
The hosts have kayaks available for rent that can be taken out on the calm waters of Lake Thompson. The area's best things to do include visiting the Emiquon Nature Preserve, Orchard Hill Farm apple orchard, and the Big Horse Vineyard. If you're into slightly quirky historical sites, visit the burial mounds at Dickson Mounds State Museum, which are extremely close. It's a pretty interesting archaeological site unlike most anywhere else in the country.
Check Availability
Related Read: 10 Awesome Weekend Road Trips from St. Louis, Missouri
5. Enchanted Garden Treehouse
Why you should stay: Quiet property with easy access to city comforts like take-out and shopping.
Location: Schaumburg
Sleeps: 4
Minimum stay: 1 night
Rates start from: $229/night
Just 30 minutes from downtown Chicago is this enchanted garden treehouse. This Illinois glamping rental is in a residential neighborhood behind the host's main house and features some pretty cool amenities, including a beautiful garden with a koi pond, a waterfall, and a cedar hot tub. As you might guess, it's easy to relax here.
There's also a private outdoor shower, a fire pit, hammock, and an excellent selection of yard games. The home's interior is outfitted with a kitchenette, a composting toilet on the deck, and a fireman's pole. By the way, you may want to skip this rental if you have mobility problems – you'll need to climb a wooden ladder to reach the elevated sleeping loft.
Check Availability
Related Read: 10 Romantic Getaways Near Chicago, Illinois
6. Captain's Quarters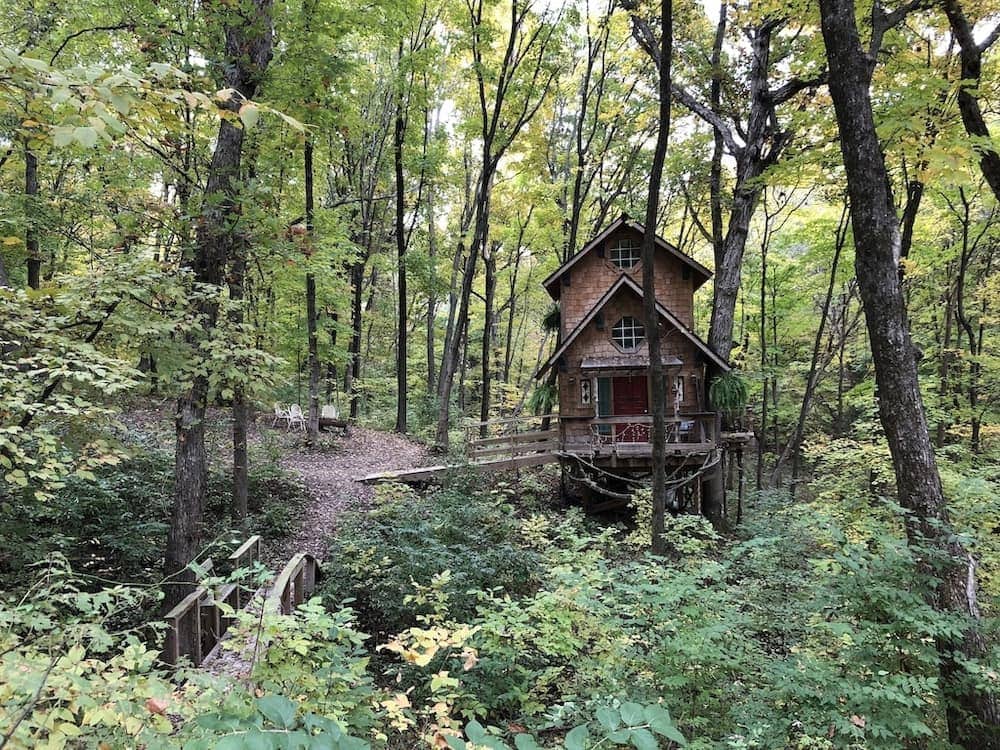 Why you should stay: Treehouse in a 10-acre forest a short distance from the Mississippi River.
Location: Nauvoo
Sleeps: 6
Minimum stay: 1 night
Rates start from: $159/night
The Captain's Quarters is a pet-friendly glamping rental in Illinois with a second-story main bedroom and a pull-out sleeper sofa in the living room. The space is optimized to include a compact kitchen and a small window nook perfect for reading. There are nautical elements and antiques throughout the home that foster a charming atmosphere (and are perhaps how the property got its name.)
Other cozy touches include tall vaulted ceilings, wooden shingle siding, and numerous electric candles. There's no need to climb a ladder to reach the entrance, which is accessible via a walk-up ramp. Out front, there's a lovely balcony with rocking chairs and an outdoor shower made from rustic corrugated metal. It's in the town of Nauvoo, which is kind of cool little town to explore for a weekend.
Check Availability
Related Read: 10 Exciting Weekend Road Trips From Indianapolis, Indiana
7. White Oak Treehouse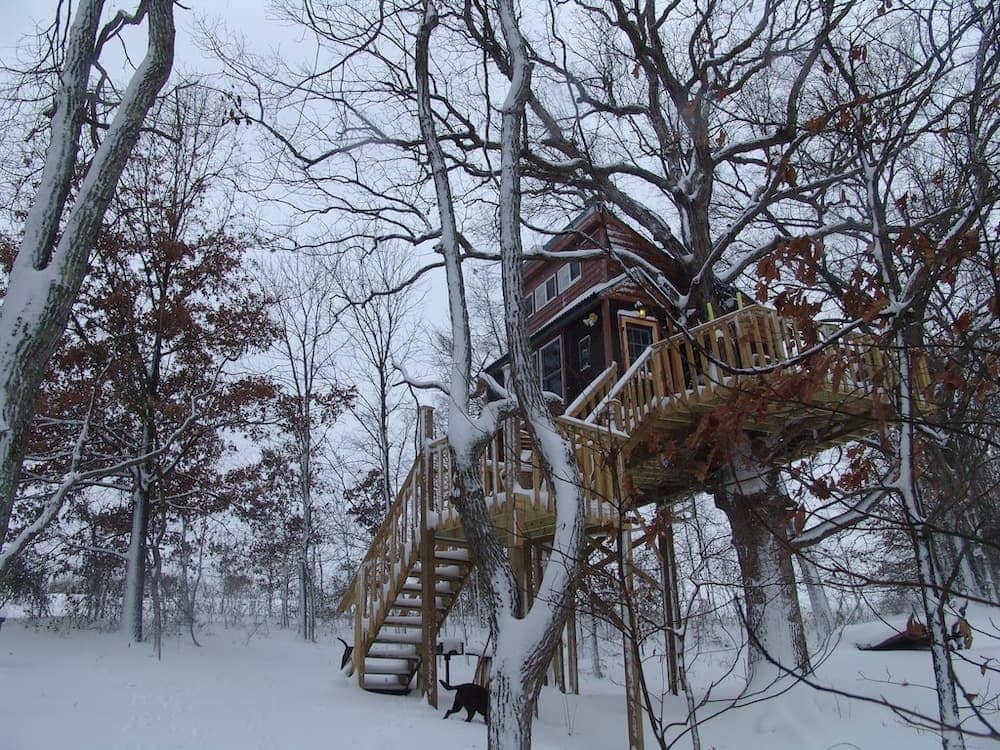 Why you should stay: Cozy treehouse near the hiking goodness that is Garden of the Gods.
Location: Elizabethtown
Sleeps: 6
Minimum stay: 1+ nights
Rates start from: $210/night
This white oak treehouse  is a fun glamping getaway for those interested in visiting the Garden of the Gods and Shawnee National Forest, two of the state's most beautiful outdoor destinations. You may want to book a long weekend here so you also have time to visit Cave-in-Rock State Park and Rim Rock Recreational Trail during your visit.
Spend your days out on the two outdoor decks or swaying on the tree swing. The impressive interior layout is made up of a lofted sleeping space with a queen bed and a floor mattress, a living room, and an indoor kitchenette and bathroom. The property allows pets on-site and features a catch-and-release fishing pond, a game pavilion, and a stable where guests can pet and say hi to the horses.
Check Availability
8. Pet-Friendly A-Frame Cabin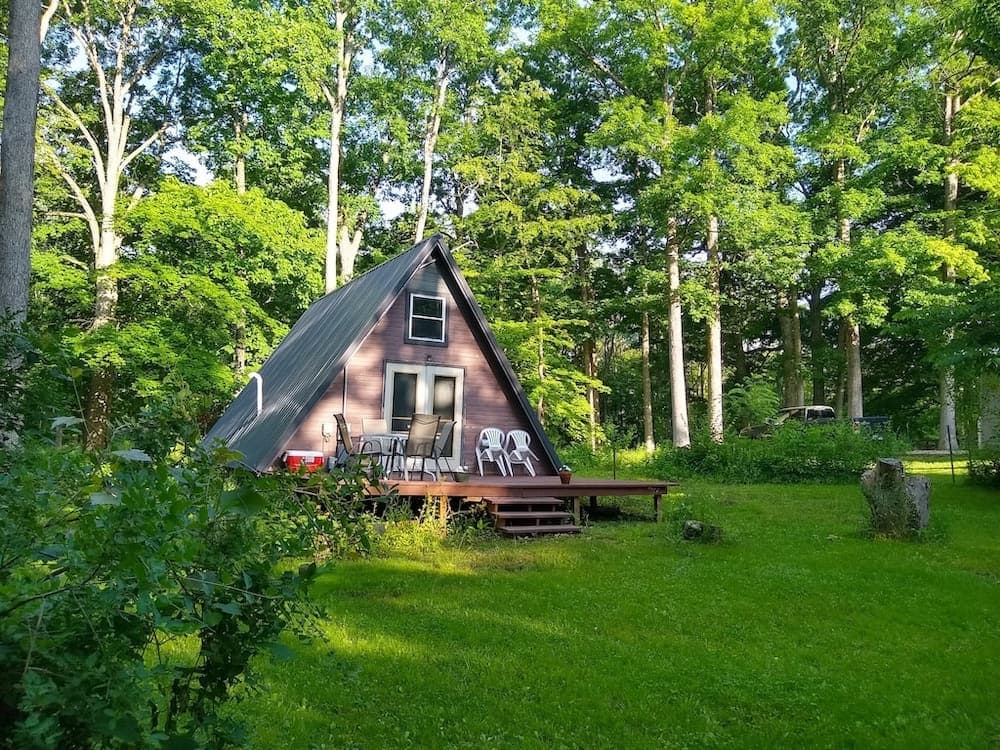 Why you should stay: Wake up in a lakeside A-frame cabin across from Moraine View State Park.
Location: Ellsworth
Sleeps: 5
Minimum stay: 2+ nights
Rates start from: $91/night
Knotty pine walls and unique architectural lines amaze at this pet-friendly A-frame cabin just 25 minutes from Bloomington. The home is equipped with everyone in mind and features a sofa bed, a lofted bedroom with a king memory foam mattress, and a doggy lead line out back.
In your downtime, take in the fresh forest air from the tiny front porch and spacious back deck with a dining table and a grill. The yard also has a fire pit and a forested trail that takes you to Dawson Lake in just five minutes, where you can swim, kayak or boat. The lake has a boat launch and a small beach area, plus boat rentals during the summer in case you didn't travel with a kayak.
Check Availability
9. The Big Cabin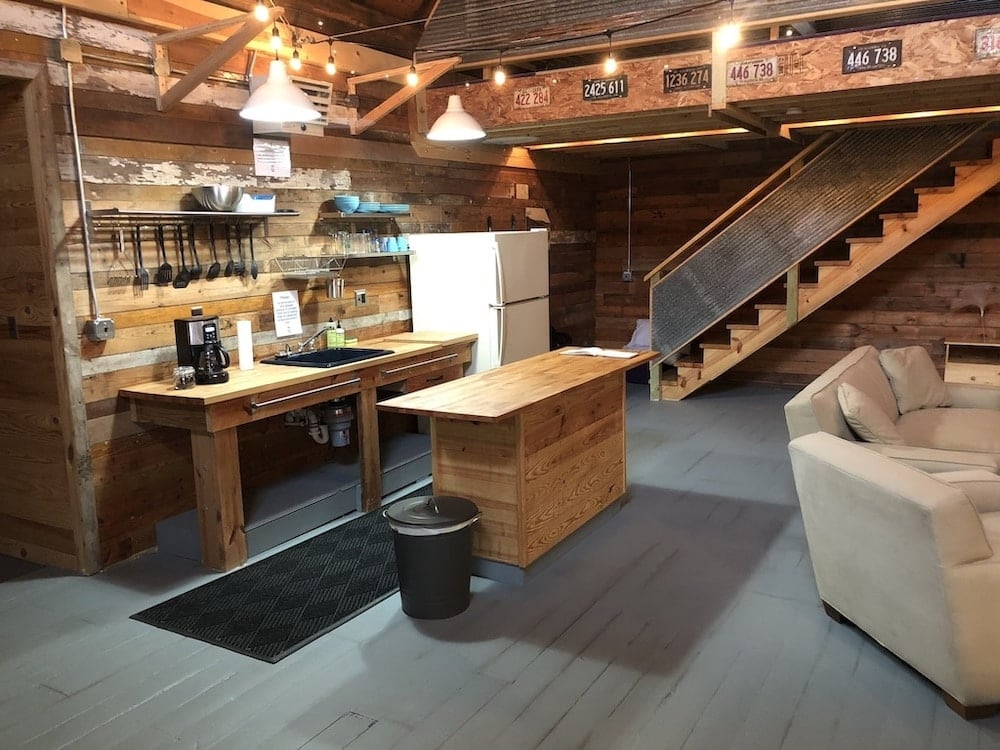 Why you should stay: Glamp in a cheery renovated barn.
Location: Sesser
Sleeps: 6
Minimum stay: 2 nights
Rates start from: $115/night
The Big Cabin is an outdoorsy getaway with a modern, unfinished look that includes cozy string lights, reclaimed wooden surfaces, and corrugated metal paneling. Although this cabin was once a barn, it's been updated with a shower and small bath and a complete kitchen. A queen Murphy bed pulls down from an unsuspecting cabinet, giving you extra space when you fold it up during the day.
The upper level is a lofted platform with two queen beds and a view of the ground floor below. Just bring clean linens or a sleeping bag and you're set for a restful evening. There's no Wi-Fi, but there is easy access to Rend Lake, where you can try everything from waterskiing to disc golf.
Check Availability
10. Camp Aramoni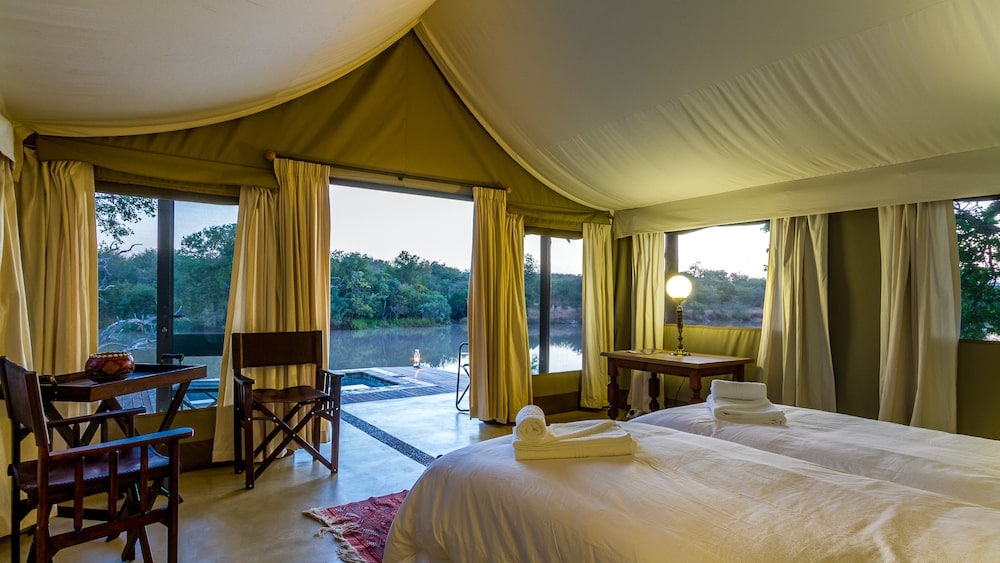 Why you should stay: Lux tent camping at a resort with a private beach, farm-to-table meals, nightly s'mores and more.
Location: Tonica
Sleeps: 2+
Minimum stay: 2 nights
Rates start from: $450/night
Camp Aramoni is a luxury glamping resort surrounded by a sprawling 96 acres of forest about 90 minutes from Chicago. The grounds feature 11 different safari-style tents, each of which has a private bathroom and a fire pit. The base rate is priced for two people, but it's possible to book for larger groups at an additional $100 per person per night.
The nightly rates include all-inclusive gourmet meals, access to various activities, and upscale amenities. Guests also have access to everything on the property, which includes a shared social space, wine tastings, lawn games, canoes, and much more. You'll also be near the popular hiking trails of Starved Rock State Park, which are just a quick drive away.
Check Availability
Follow 'em: @CampAramoni
Find Your Next Midwest Adventure
Sign up for Weekend Wanderer to join thousands of readers getting epic travel ideas every week.
---