We research, evaluate and select travel destinations based on a number of factors, including our writers' experience, user reviews and more. We may earn a commission when you book or purchase through our links. See our editorial policy to learn more.
Was this article helpful?
---
America's national parks are beautiful year-round, but come October, some parks hit their peak.
Whether it's fantastic foliage, lower temperatures, fewer crowds, or simply nature doing some of her best work, this time of year presents a special opportunity to explore the best the US has to offer. And since most families with kids have to stay close to home, it can be a wonderful time for an October couples' getaway to a national park.
From across the states, these are the best national parks to visit in October, revealing to you more than just incredible leaf changing. In these parks, you can have other unique experiences, like seeing birds migrate south, watching the fiery blooms of tundra meadows, riding historic railroads, and casting your line for some of the best trout fishing in the country.
Related Read: Where to View the Best Fall Foliage in New England
1. Great Smoky Mountains National Park
Why you should go: Sweeping hills and fall foliage near great non-park recreation (and breweries).
State: North Carolina/Tennessee border
Nearest town: Gatlinburg, Tennessee
Great Smoky Mountains National Park, or GSMNP, is one of the country's most beautiful state parks come October. Featuring some of the best foliage in the United States with colors ranging from scarlet red to burnt orange and bright yellow, people flock from all over to witness the mountains change into their fiery shades. It's also one of the most popular national parks to visit in October, so try to go midweek and be patient on the more well-known trails.
Some of the best and most colorful hikes include the Alum Cave Trail, Gregory Bald trail, and Laurel Falls. But the drives this way are fantastic, too, like the ride up the ​​Blue Ridge Parkway, or to the scenic viewpoint at Clingmans Dome.
And by the way, you won't be hurting for places to hang out after your hikes, either.
Related Read: 8 Incredible Glamping Spots Near Gatlinburg, Tennessee
2. Rocky Mountain National Park
Why you should go: Fewer crowds, great trout fishing, and better chances for a last-minute permit.
State: Colorado
Nearest town: Estes Parks
Colorado's autumn is famous for a reason, and one of the best ways to experience it in all its glory is by taking a visit to Rocky Mountain National Park. Cooler temperatures make it perfect for biking, and the trout fishing is exceptional in the fall.
You'll also benefit from the fact that far fewer people head to Rocky Mountain State Park in October; visitation numbers are half of what they are in September. Be sure to do your research before you go and check out what's open and what's not — winter and the snow will be creeping in, after all. But the beginning of October, depending on the weather, can be a great time for an overnight backpacking trip, especially since it can be a little easier to snag permits as the cold evening temps keep casual backpackers away.
Related Read: 9 Glorious Places to See Colorado's Fall Colors
3. Zion National Park
Why you should go: Comfortable temperatures, fewer crowds, and insanely epic leaves.
State: Utah
Nearest town: Springdale
The canyons of Zion National Park are already epic, but when you throw in the autumn colors, the views become even more breathtaking. By October, the crowds have also thinned immensely since many of the family visitors have kids back in school, giving you the opportunity to hike and explore Zion at a more relaxed pace. Of course, the park is still busy on weekends, but you can avoid the only real hassle — waiting for the park shuttles — if you bring road bikes or rent e-bikes at nearby stores like Zion Adventure Company.
As for the best hikes, the views of The Watchman from Canyon Junction are unreal in October with the famous cottonwoods changing colors. You could also try getting a permit for the Left Fork hike (also known as Subway). The water on The Narrows is usually lowest in the fall, too — though it could still be chest-high in some of the deeper sections.
Related Read: The 14 Best Hikes in Zion National Park, Utah
4. Arches National Park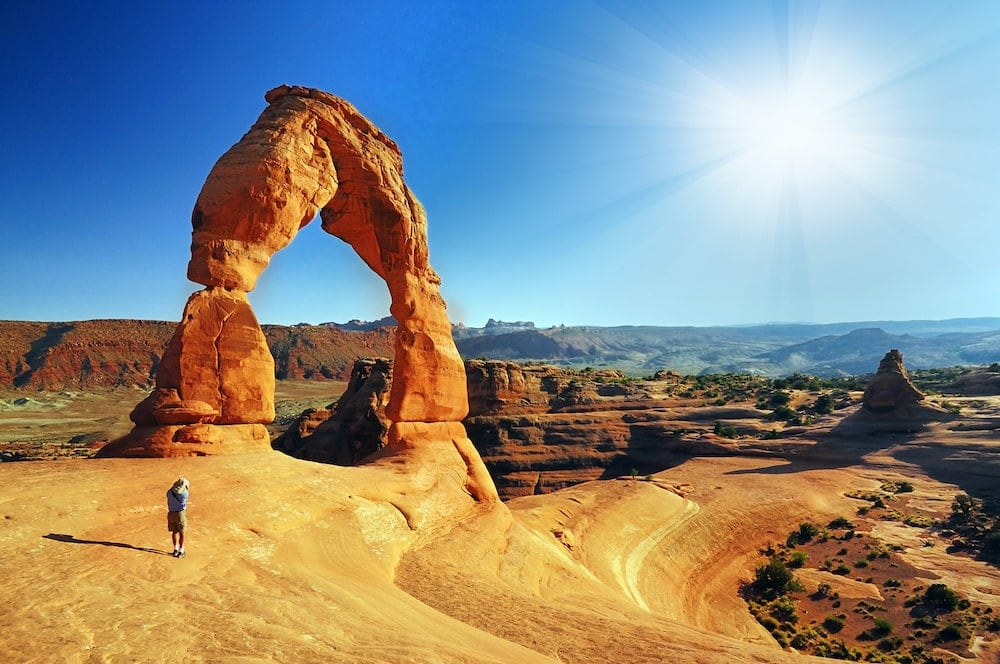 Why you should go: Hike the arches without breaking a sweat.
State: Utah
Nearest town: Moab
While it's not particularly cool in Arches National Park come October, with temperatures hovering in the 70s F, it's a much more tolerable departure from the highs in the 90-degree temps you'll face throughout the summer. Arches is also a International Dark Sky Park, and the park offers guided stargazing programs throughout the fall and winter.
However, most visitors avoid the summer because it is so hot, which means the park is quite busy in the fall. And because it has so many beginner hiking trails, you shouldn't expect to have much space to yourself. That said, most of the park visitors are day-trippers, so if you camp in the park, you my find that the park empties out after 7 p.m. or so.
Related Read: 12 Best Hikes in Arches National Park
5. Acadia National Park
Why you should go: A classic New England experience, complete with fall foliage, stone bridges, and lobster bakes.
State: Maine
Neatest town: Bar Harbor
One of the best national parks on the east coast of the United States, Acadia boasts some of the most colorful and picturesque autumn views, especially agains the backdrop of 100-year-old stone bridges, and tall, jagged ocean cliffs. But while other national parks see fewer visitors in October, it is actually one of Acadia's most popular times of year as peak foliage usually hits in the last two weeks of October. Expect most of the park's hikes to be crowded.
The Cadillac Mountain hike is ideal for soaking in maximum sightseeing, though you can also drive to the top to watch the sunrise. (It's the first place in the country to see the sunrise each morning.) So start early if you're hiking and get up before everyone else (literally) to experience it.
By the way, Bar Harbor is one of the cutest towns outside a national park in the country. You won't be disappointed if you skip the park for a day and explore the town, instead.
Related Read: 8 Spectacular Glamping Spots Near Acadia National Park, Maine
6. Cuyahoga Valley National Park
Why you should visit: To take a ride on the historical railroad through the park.
Where: Ohio
Nearest town: Richfield
Here's one national park to visit in October you probably haven't heard of before. Located between Cleveland and Akron, Cuyahoga Valley National Park is a fairly new-ish (2000) park well known to locals but quickly becoming popular with travelers, too. Come October, you can enjoy the transformation of the sugar maples and beach trees while hiking the many dog-friendly trails across the park.
But most people come to the park for canoe and kayak trips down the Cuyahoga River, biking past the canal locks, or to take a ride on the historic Cuyahoga Valley Scenic Railroad that runs through the park. The closest towns to the park are to the south, but as long as you don't hit traffic, the drive to from Cleveland should only take around 30 minutes.
Related Read: 8 Unique & Secluded Cabin Rentals in Ohio
7. Hot Springs National Park
Why you should go: Soak in natural hot springs after a surprisingly gorgeous hike.
Where: Arkansas
Nearest town: Hot Springs
It may be one of the smallest national parks in the country, but Arkansas' Hot Springs National Park is worth the visit in October. Not only will you be treated to gorgeous colors, but you can warm up in the park's namesake hot springs after a chilly hike. Most of the trails in the park are fairly short (except for the Sunset Trail) so you can just start hiking and see how far you get before you decide it's time for a soak. All trails in the North Mountain area connect with one another.
Most people soak at the historical Buckstaff Bathhouse, but be sure to make a reservation ahead of time. If you have a full day to spend, head to the Sunset Park area to see the most remote parts of the park. The Hot Springs, North Mountain Trails, and walk to Bathhouse Row are much more relaxed.
Need a cold one after? Superior Bathhouse Brewery uses the thermal spring water to make their craft beers.
Related Read: 12 Best Cabin Rentals in Hot Springs, Arkansas
8. Death Valley National Park
Why you should go: Temperatures are finally bearable, and a full schedule of park events begins.
State: California/Nevada border
Nearest town: Beatty, Nevada
You probably know Death Valley National Park, which straddles the Mojave and Great Basin Desert, for its scorching temperatures. So, it only makes sense that the best time of year to visit this national park starts in October and continues through fall and winter.
In fact, Death Valley National Park doesn't even open for camping or start their guided ranger tours until October, so don't expect to have the park to yourself. It's especially popular for Thanksgiving as it's definitely one of the most beautiful places to appreciate the country. But that said, the park is a bit remote and takes a while to reach no matter where you stay, so it's usually less busy than most of California's other parks. Beatty is the closest town but it's still a 45-minute drive, so you may want to consider staying in the park at The Oasis or Stovepipe Wells.
Of course, don't miss sunrise or sunset at Zabriskie Point, and be sure to take a ride up Artist's Drive to see Artist's Palette, a rolling hillscape of red, pink, green, and other unexpected shades.
Related Read: 10 Stunning Hikes in Death Valley National Park
9. Everglades National Park
Why you should go: Explore the swamps on an airboat without the swampy weather.
State: Florida
Nearest town: Homestead
The summer heat in Florida may not bother the alligators, but they sure keep visitors at bay. But if you visit Everglades National Park in October, you can see the alligators up-close without succumbing to the heat and humidity. And since the park has more than 200,000 alligators, you'd have to try hard not to see one.
Taking an airboat ride is one of the most popular ways to explore the park, as it helps you cover a lot of marshy territory you couldn't otherwise reach on foot. However, if you do want to hike or bike, hit the popular Pine Island Trails. Several companies offer airboat tours in the area, but only a small section of the park allows airboats, so check with your tour company of choice in advance to see if the tour is inside the park or not.
Related Read: 13 Incredible Airbnbs in Miami, Florida
10. Big Bend National Park
Why you should go: Bird migrations, active wildlife, camping under the country's best stars, ghost towns…
State: Texas
Nearest town: Terlingua
A common theme in southern states, the temperatures in Texas' Big Bend National Park are much more moderate come October. However, the real attraction for coming this month are the birds. It's home to roughly 450 bird species and sits under the flight path of birds heading south for the winter. And if birds aren't your thing, how about bats, bobcats, and peccaries? Wildlife spotting is huge in the park and they even ask for the public's help in recording sightings for scientific research.
To see some of the best rock formations in Big Bend, be sure to take a ride up the Ross Maxwell Scenic Drive, which winds through the Chihuahuan Desert. By the way, this is one of the few parks where you can almost always find camping permits available online, especially if you're down with backcountry camping (which affords the best stargazing, anyway).
Related Read: 12 Awe-Inspiring Airbnbs Near Big Bend National Park
11. Grand Teton National Park
Why you should visit: To sneak in one last chance to camp before winter.
State: Wyoming
Nearest town: Jackson Hole
Wyoming's Grand Teton National Park is one of the most beautiful in the country no matter what time of year you visit. But come October, during the peak of autumn, these majestic mountains transform from deep shades of green and blue to burnt orange and crimson.The grasses turn amber, the sky is bright blue, and it's all reflected in the still lakes.
While foliage peeping (here's some great hikes in the park), you'll probably also catch glimpses of the park's wildlife, like elk and eagles. October is the best time to visit this national park as the summer crowds are gone and the weather is usually reasonable enough that you can still fit in some high-elevation camping. If you've never done it before, hike the Christian Pond Loop, which boasts beautiful views. It's pretty short at 3.3 miles, and wildlife sightings are hardly uncommon.
Related Read: 11 of the Best Airbnbs Near Grand Teton National Park
12. North Cascades National Park
Why you should visit: Washington state's best foliage and crisp mountain air.
State: Washington
Nearest town: Concrete
In the northern part of Washington state, North Cascades National Park is wonderfully remote and ridiculously beautiful in October. Though it looks like it has mostly evergreen trees, it somehow turns into the most brightly colored natural palette you can imagine. Featuring a furry of colorful fall foliage across its alpine flora, as well as meadows of smoldering red and marigold tundra plants, October is one of the prettiest months to make the trek up here. Fortunately, if you're in the Bellingham area (which is popular for mountain biking and beerfests come fall), you're only about 90 minutes from the park entrance.
If you're hiking, check out the Heather-Maple Pass Loop Trail, which takes you past colorful meadows. But there's also an epic drive along the Cascade Loop that shows off the park's pristine mountains and lakes if you'd rather take it easy.
Related Read: 12 Secluded Cabin Rentals in Washington for Private & Remote Getaways
Find More Fall Getaways
Sign up for Weekend Wanderer to join more than 10,000 readers getting epic travel ideas every week.
Was this article helpful?
---