From mid September to early October, Colorado transforms into a large ocean of golden leaves — and it's absolutely glorious.
There are no shortages of places to view autumn color in Colorado, since the state includes the Rocky Mountains and dozens of national forests. The Centennial State is known for its colorful fall aspen groves, which starkly contrast the green pine trees that coat the bulk of the state's forests. It's truly surreal to see the two colors bounce off one another.
Fun fact: aspens are quite unique, as far as trees go. Use this ice-breaker when you're trying to hit on someone at a bar: what's the largest singular organism in the world? It's not a blue whale (or a fungus, which for some reason seems to be a popular answer). It's an aspen grove.
Aspen groves are technically all one organism called a clonal colony, which is basically the scientific word for being exact clones of one another. Each tree is genetically identical to the others in the grove. A single aspen colony shares one root system that can sprawl for up to five miles.
And it's for that reason that you'll see every aspen in the grove change color at pretty much the same time. Once one tree turns, it signals through its root to tell the rest of the trees to follow suit. So it's not surprising that people flock to Colorado to see the vast aspen groves changing to a sea of golden yellow. It's a spectacular sight!
Related Read: 10 Best Hikes in Colorado for Getting Out into Nature
A Note About Peak Colorado Foliage Viewing 
Unfortunately, climate change is real and very much present in Colorado. Historic droughts have caused wildfires, which affect the state's trees. For optimal fall colors, an ecosystem needs a series of warm, sunny days and cool nights. If it doesn't get that, the colors will be subdued. And temperature and moisture also impact when the colors will be at their peak.
If there's a drought, peak viewing time for Colorado foliage will likely happen earlier and end sooner since the trees are stressed. So know that the peak foliage times listed below are a general assumption, not a hard timeline. If you've got a flexible schedule, consider chasing the aspens around Colorado for a few weekends in the fall. You can also sometimes call ranger stations and get the inside scoop on whether the trees are ready to go.
Without further ado, here are the best places to check out Colorado's changing foliage this fall.
Related read: 9 Picturesque Campgrounds Near Aspen, Colorado
1. Maroon Bells
Why you should go: See fall colors at some of the most photographed mountains in the US.
Nearest town: Aspen
Peak foliage: Mid-to-late September
There's nothing more "Colorado" than Maroon Bells during autumn. So if you only check out one place in Colorado this fall, head to Maroon Bells, roughly equidistant between Aspen and Crested Butte. That said, it's gorgeous year-round, so don't fret if you don't make it during the fall months. But there is something magical about visiting in September.
Due to its popularity, though, you have to take a shuttle to get there if you leave from Aspen, unless you meet any of the exemptions (like having a handicap placard or traveling with infants under 2 or younger). The trails just nearest the shuttle drop-off point are the most popular, and the areas around the lake are roped off to prevent damage from visitors.
To get away from the crowds, keep going to to Crater Lake, where you'll pass through several aspen groves and end up at an alpine lake. Or if you want to avoid the shuttle all together, start instead in Crested Butte. Take West Maroon Pass or East Maroon Pass, which connect Aspen and Crested Butte. Though the towns are hours from each other by car, they're only about 10 miles apart if you hoof it through the mountains.
Related Read: 11 Dreamy Treehouse Rentals in Colorado
2. Guanella Pass
Why you should go: Perfect Colorado leaf peeping if you only have an afternoon away from Denver.
Nearest town: Georgetown
Peak foliage: Mid-to late September
The small mountain town of Georgetown is just 45 minutes from downtown Denver but seems worlds away. The Guanella Pass Scenic Byway starts in Georgetown and switchbacks up a steep cliff. There are several pull-outs along the road that offer amazing views (and can help get tailgaters off your back).
If you make it to the top, you'll be treated to incredible views of Mount Bierstadt and Mount Evans, both 14ers. Consider parking on the west side of the road (not the Bierstadt parking lot side) and walking the trail to Square Top Lakes.
You can either head back down to Georgetown or continue over the pass towards Grant. If you choose the former, make sure to grab a beer at Guanella Pass Brewery and walk the quaint downtown shops. If you continue over the pass, stop by the Abyss Lake trail on your way out. One of the most awe-inspiring aspen groves is about three miles into that hike. It shouldn't be missed and you'll know it when you see it.
Related Read: 11 Best Winter Hiking Destinations in Colorado
3. Kenosha Pass
Why you should go: If you're a Colorado foliage and "South Park" fan.
Nearest town: Jefferson
Peak foliage: mid- to late-September
There are signs miles before you reach the aspens to warn drivers to slow down for traffic – this place is popular. Luckily, parking is plentiful and free. If you're coming from Denver, a huge aspen grove will be to your left (east, if you're good at cardinal directions) when you reach the pass. Park on the right-hand side of the road, though. Most people think that the best aspen viewing is in that huge aspen grove, but it's not.
Instead, make your way along the Colorado Trail on the western (right) side of the road. Impressive views open up about a mile in and stretch into the valley below.
If you have time after your leaf peeping, head down into the town of Fairplay, where the creators of South Park grew up. South Park Brewing is a great spot to grab a beer and some lunch before you continue on your Colorado-foliage-viewing excursion.
Writer's tip: This one gets crowded — I suggest skipping it if you're trying to find some peace and serenity.
Related Read: 10 Unique Swimming Holes in Colorado
4. Trail Ridge Road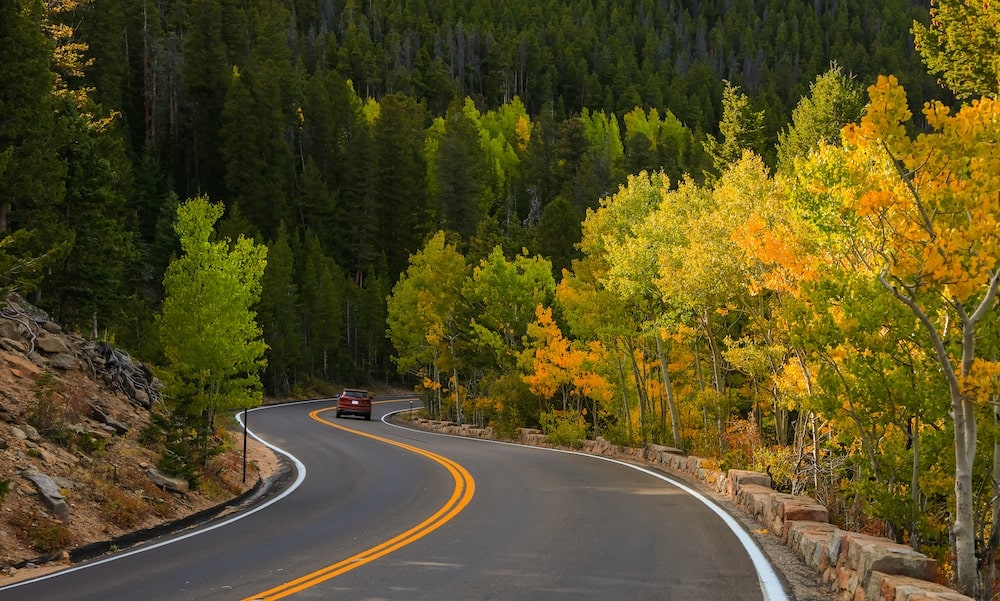 Why you should go: Foliage peeping along the highest continuous paved road in North America.
Nearest town: Estes Park
Peak foliage: Mid-to-late September
There's no shortage of hiking in Rocky Mountain National Park, but if you're after leaf peeping, take a drive along Trail Ridge Road. The 48-mile road stretches from Estes Park to Grand Lake, although most travelers turn around at the Alpine Visitor Center. The road includes eight miles above 11,000 feet of elevation, the highest of which tops off at 12,183 feet above sea level.
Most of the aspen viewing is at lower elevations along the road. But you should still head to the higher elevations to meet a frequent visitor to Rocky Mountain National Park: marmots. They're totally adorable.
But the wildlife viewing doesn't top there. Both Estes Park and Grand Lake are usually overrun with elk, especially in autumn. At night, you'll probably be able to hear the elks' bugles. Regardless of whether you stay in Estes Park or Grand Lake, you'll find plenty to do around the towns when you're not hiking or peeping.
Related Read: 6 Best RV Campgrounds Near Colorado Springs, Colorado
5. Kebler Pass
Why you should go: Settle for no less than the largest aspen grove in the state.
Nearest town: Crested Butte
Peak foliage: Late September
Head west from Crested Butte along Route 12 to Kebler Pass to traverse the state's largest aspen grove. The views from the town of Crested Butte are stunning, but aren't remotely comparable to the landscapes along Kebler Pass.
For the best views, park at the Dark Canyon trailhead and do the loop. If you're staying in Crested Butte, make sure to make it up and over the pass as the best aspen-viewing pull-offs are farther down the road. If you're not staying in CB, continue west along Route 12 to Paonia State Park to camp with amazing views of the Ragged Mountains.
Related Read: 11 Easiest 14ers in Colorado for Newbies to the High Peaks
6. Highway Of Legends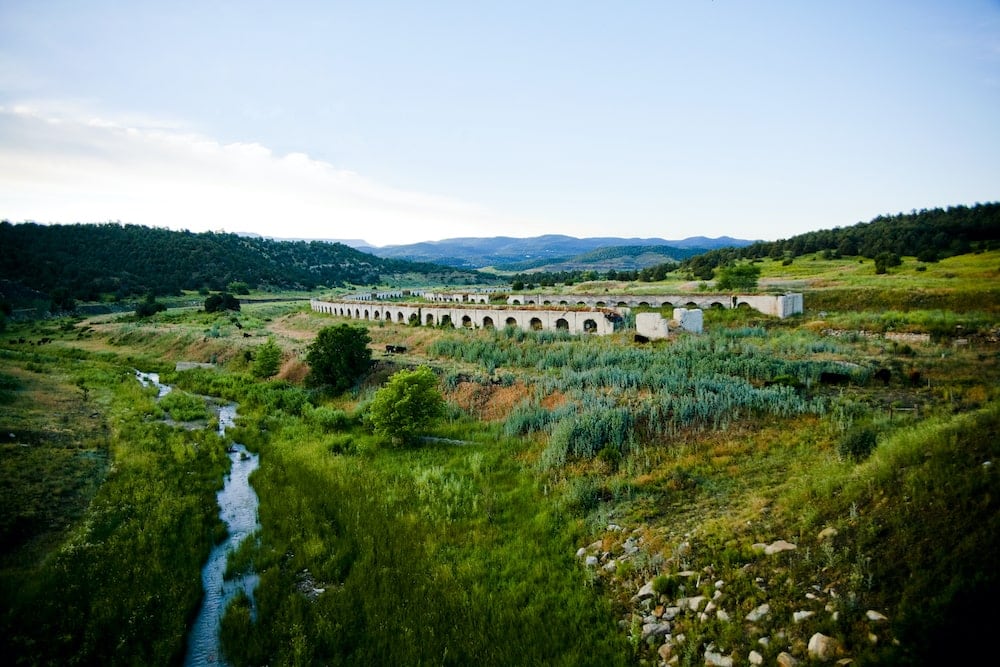 Why you should go: Impressive Colorado foliage with an equally impressive lack of crowds.
Nearest town: Walsenburg or Trinidad
Peak foliage: Early October
Not many visitors venture to southern Colorado — maybe they think the views are better elsewhere? But they're wrong — very wrong. The 82-mile Highway of Legends from Walsenberg to Trinidad is like no other in the state, especially in the fall. It travels through the towns of La Veta, Cuchara, Monument Park, Weston, and Cokedale. And it has unprecedented views of the Sangre de Cristo Mountains and the Spanish Peaks from Cuchara Pass.
Each town has an equally adorable main street and downtown area. Cuchara has an especially picturesque downtown, but Cokedale's is the most unique. The weirdly shaped arching alcoves you'll see while driving through used to be ovens for smelting coal. But they might as well have been the base of the Roman Colosseum, since that's exactly what they look like.
Related Read: 7 Beautiful Hikes Near Red Rocks Amphitheatre, Colorado
7. Crystal Mill
Why you should go: Because ghost towns are already awesome, so foliage is just an added bonus.
Nearest town: Marble
Peak foliage: Mid-to-late September
This old powerhouse for what's a now-abandoned mine is the ideal destination for a Colorado fall adventure. You can access the trail to Crystal Mill several ways: with a high-clearance 4WD vehicle, with an off-road vehicle, via mountain bike, on horseback, or on foot.
The ledge that offers the best views of the Crystal Mill and very tiny aspen grove behind it is quite small. That means you should take your photos quickly, then move on and make space for someone else.
The ghost town of Crystal is just down the road from the mill. If you want to move closer to the river, you need to sign a waiver and purchase an access pass from the owner. All the funds go towards preserving the area, so don't be a cheapskate.
Writer's tip: Unless you want a ton of dust in your face at all times, I'd suggest not hiking on the road. Plus, it's a grueling 10-mile hike round-trip.
8. Last Dollar Road
Why you should go: Aspens, rock formations, and views of the San Juan mountain range.
Nearest town: Ridgeway
Peak foliage: Late September to early October
Deep in the heart of southwest Colorado is one of the most stunning backcountry roads in the state. Last Dollar Road starts west of Ridgway along Route 62 and heads south to Route 145, which heads into Telluride. It's best to have a off-road or 4WD vehicle on the road, but can be done with a 2WD vehicle on a dry day. Regardless of what type of car you have, plan to stop a lot to pick your jaw up off the floor of your car – the views are that good.
If you want even better Colorado foliage viewing, keep heading south on Route 145 (past the road that takes you into Telluride). Make your way over Lizard Head Pass to see the famous Mount Wilson, perhaps best-known as the inspiration for the Coors beer logo.
9. Peak to Peak Scenic and Historic Byways
Why you should go: Cover a national park, state park, two national forests, and a wilderness area in just 60 miles.
Nearest town: Estes Park
Peak foliage: Mid-to-late September
If you'd like to see as much of Colorado's foliage as possible, look no further than the Peak to Peak Scenic Byway. You can drive either way you want as it's a loop starting in Estes Park. Some of the most notable stops along the scenic byway are Golden Gate Canyon State Park, Brainard Lake Recreation Area, and the town of Nederland. The town's slogan — "life is better up here" — couldn't be more correct. Take a walk around town and grab a coffee at Blue Owl Books or take a ride on the Carousel of Happiness.
For the best views, though, you'll want to get out of your car and hit up one of the many hiking trails along the byway. The best hikes in Brainard Lake Recreation Area are the trails to Lake Isabelle and Blue Lake, both of which offer a good chance of spotting moose. But it may be the Racoon Trail in Golden Gate Canyon State Park that offers the best best fall colors.
Additional Read: 8 Incredible Spots to See Fall Foliage in Arkansas
Find Your Next Adventure in Colorado
Sign up for the Weekend Wanderer to join thousands of readers getting epic travel and gear ideas every week.
---