We research, evaluate and select travel destinations based on a number of factors, including our writers' experience, user reviews and more. We may earn a commission when you book or purchase through our links. See our editorial policy to learn more.
---
Escape to the beautiful resort town of Hot Springs set against the rolling Ouachita Mountains and home to numerous — you guessed it — natural hot springs.
Perhaps one of the lesser-known national parks in the country, Hot Springs National Park is a hidden gem tucked away adjacent to a small and unsuspecting Arkansas city that shares the same name. It's a place where visitors can enjoy a soak in the natural bubbling waters found in Bathhouse Row, hike the exciting trails throughout the surrounding forested mountains, and stroll the historic downtown streets.
But before you can start your Arkansas adventure, finding a cozy cabin rental in Hot Springs is a must! Vacation rentals offer visitors a home away from home experience that's both convenient and memorable.
For your convenience, we've compiled some of the best cabin rentals in Hot Springs right here in one handy list.
Related Read: 10 Luxury Cabin Rentals in Texas for a Pampered Getaway
1. Dock Holiday
Why you should stay: Charming wooden home with one-of-a-kind amenities like a real log fireplace, swinging bed, and more.
Sleeps: 4
Minimum stay: 1 night
Pets allowed: no
Dock Holiday is an exceptionally unique cabin rental in Hot Springs with amenities you just have to see to believe. Best for a small family of four or couples, as soon as you step inside this home, you won't want to leave. In the living room, a 16-foot log fireplace acts as a centerpiece around which you can spend your evenings cuddled together.
The main bedroom has a swing bed suspended by nautical rope for two, and there's a lofted bed tucked away above the bathroom. Outside, you'll find a spectacular seating area complete with hot tub, hammocks, and grill.
Check Availability
Related Read: 8 Incredible Spots to See Fall Foliage in Arkansas
2. Hot Springs Log Cabin
Why you should stay: Unique log cabin located just two miles from the coast of Lake Hamilton with a fantastic yard.
Sleeps: 4
Minimum stay: 2 nights
Pets allowed: no
Situated only two miles away from Lake Hamilton, this Hot Springs Log Cabin offers guests a pleasant stay for four. The interior of this one-bedroom plus loft is covered floor to ceiling with warm wood finishes and barn accents. The kitchen is fully equipped so you can save a bit of money by whipping up meals at home.
You can also drive just a few minutes to downtown Hot Springs to savor some of the best local restaurants and shopping. Out back, a large trellis and comfy outdoor seating await where you can grill out and relax under the sun.
Check Availability
Related Read: 11 Fabulous Broken Bow Cabins with Hot Tubs
3. Cottage on Spencer Bay
Why you should stay: The perfect home base for lake lovers and watersports enthusiasts traveling without children.
Sleeps: 3
Minimum stay: 2 nights
Pets allowed: no
The view from the Cottage on Spencer Bay is almost enough to entice you to hang out in Hot Springs forever, but it's not just the view that'll guarantee a memorable stay! This adults-only cottage is decorated in a minimalistic yet elegant style that makes for a wonderful romantic getaway.
And with your booking, guests enjoy free access to the home's private dock, paddleboat, canoe, and kayak for countless lake adventures. After a full day of watersports and sightseeing, you can come home to kick back and relax under the stars on the lakeside deck with an outdoor firepit.
Check Availability
Related Read: 10 Secluded Cabin Rentals in Arkansas for Your Next Getaway
4. Lake Hamilton A-Frame
Why you should stay: Enjoy Lake Hamilton views from the home's spacious lakeside deck and dock.
Sleeps: 6
Minimum stay: 2-3 nights
Pets allowed: no
There's a lot to love in this eye-catching Lake Hamilton A-Frame cabin. Sloped ceilings and exposed knotty pine beams encase the bathroom, kitchen, and bedroom for a remarkable architectural experience. Homey decor fills the entire home where two bedrooms and a sleeper sofa can comfortably accommodate up to six guests.
The hosts have also gone above and beyond to provide a fully equipped kitchen for all the traveling cooks. But the star of this cabin is the bright enclosed porch and lakeside deck and swimming dock that showcases sweeping views of Lake Hamilton.
Check Availability
Related Read: 10 Best Tiny House Rentals in Missouri for Big Adventure
5. Restful Lodge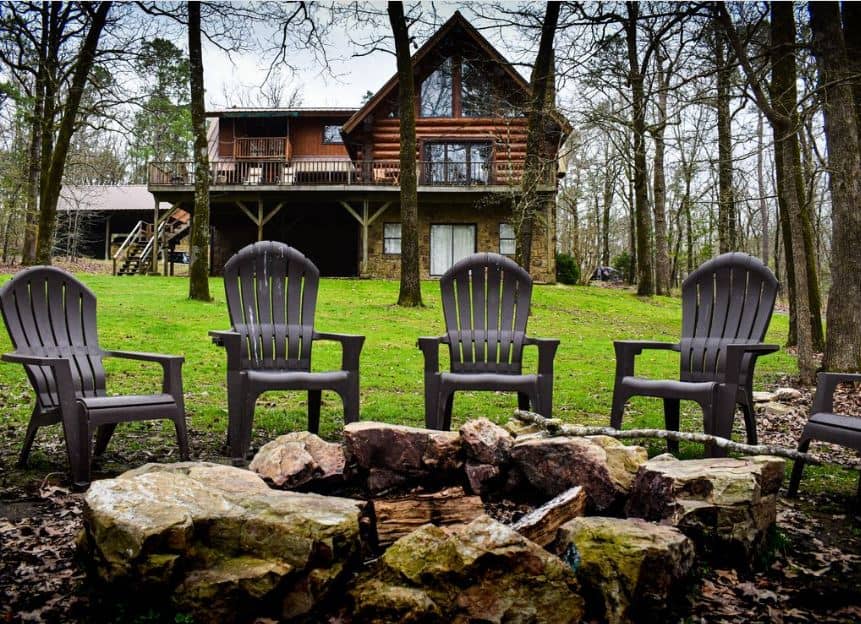 Why you should stay: An expansive private log cabin on Lake Hamilton complete with private boat dock.
Sleeps: 12
Minimum stay: 2-4 nights
Pets allowed: no
Experience blissful R&R on 17 acres of private wooded land that surround the four-bedroom, four-bath Restful Lodge. This secluded spruce log cabin boasts not only 4,700 square feet of living space for up to twelve guests, but also impressive lakeside amenities for a vacation filled with fun on the water.
Feel the wind in your hair as you depart from the home's 28' boat dock on a rental, or sit near the water soaking up the sun and marveling at the view. For days spent inside, there's a ping pong table, card table, and numerous games to make any family game night a success.
Check Availability
Related Read: The 9 Best Airbnbs in Arkansas for a Relaxing Getaway
6. The Hillbilly Hiltin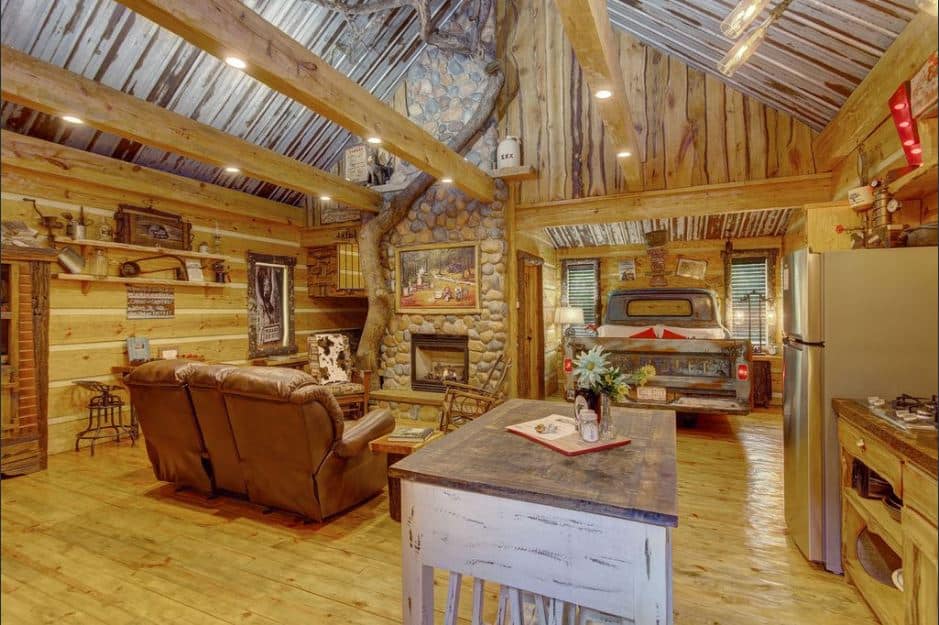 Why you should stay: Unique cabin stay decorated in classic hillbilly fashion with a luxury hot tub on site.
Sleeps: 6
Minimum stay: 1 night
Pets allowed: no
The Hillbilly Hiltin is the definition of fun and charismatic! The interior "hillbilly" theme features a 1964 Chevy pickup bed (functional horn included), an old horse trough bathtub, moonshine faucet, and sinks made from metal tubs.
And with your booking, the kitchen comes fully stocked with breakfast items so you can start each morning off right. You'll find bacon, pancake mix, free-range eggs, homemade moonshine syrup, juice, and coffee courtesy of the hosts. There's genuinely no other Arkansas vacation rental like it!
Check Availability
Related Read: The 7 Best Cabin Rentals Near Little Rock, Arkansas
7. Mid-Century Modern
Why you should stay: Disconnect from the world in the heart of Hot Springs in a beautiful modern home.
Sleeps: 6
Minimum stay: 1 night
Pets allowed: no
This mid-century modern for six is a trendy vacation rental overlooking the historical Whittington Park. The interior is beautifully decorated and has two bedrooms, three beds, and two bathrooms.
There's no WiFi on the premises, making it all too easy to vacation in peace away from the stressors of daily life. Within walking distance from the front door are the Alligator Farm, a free hot springs water tap, and the entrance to the West Mountain Hiking Trail.
Check Availability
Related Read: 11 Best Cabin Rentals in Oklahoma for the Ultimate Getaway
8. Luxury Hot Springs Cabin
Why you should stay: Indulge in this family and pet-friendly Hot Springs getaway that delivers hotel-level amenities in cabin form.
Sleeps: 10
Minimum stay: 2-3 nights
Pets allowed: yes
This Luxury Hot Springs Cabin is a southern home through and through. Tall ceilings and a spacious layout create a warm and inviting atmosphere, and cowboy-inspired accents brighten up the rooms. This ADA-compliant property has been recently renovated with brand new furnishings throughout the home's four bedrooms and 2.5 bathrooms.
We have a feeling you're going to love the home's location on almost an acre of private wooded land on the Lake Hamilton peninsula, conveniently near to some of the best things to do in Hot Springs.
Check Availability
9. Rustic Log Cabin
Why you should stay: Charming lake area log cabin that's been featured in the Hot Springs Life & Home Magazine.
Sleeps: 4
Minimum stay: 1 night
Pets allowed: no
Built in the 1920s, this historic rustic log cabin is an updated dream vacation rental. Old World vintage charm fills every corner of this home, so much so that it's even caught the eye of a local Hot Springs magazine.
This cute little cabin is perfect for a traveling group of four, and there are two queen beds, one bathroom, and a lovely little seating area. There's also a well-appointed kitchen and two outdoor seating areas for lounging, grilling, and relaxation.
Check Availability
Related Read: 12 Epic Outdoor Summer Vacation Spots in the U.S.
10. Stonefield Cabin
Why you should stay: A peaceful cabin in the Diamondhead gated community with access to an Olympic sized swimming pool, kiddie pool, golf course, and more.
Sleeps: 8
Minimum stay: 2 nights
Pets allowed: no
The Stonefield Cabin offers guests so much more than a standard stay in a typical vacation rental. Located in a gated community with numerous resort-style amenities, you'll have access to swimming pools, a  PGA golf course, disc golf, tennis courts, and more. The property is also in close proximity to Lake Catherine, where there are boat launch ramps available for those with their own boat!
Aside from the many wonderful things to do in Diamondhead, the home also boasts a wraparound deck with excellent wildlife viewing, comfortable furniture, and a full kitchen with a coffee nook.
Check Availability
Related Read: 12 Scenic Weekend Road Trips from Memphis, Tennessee
11. Victory Suite
Why you should stay: A pleasant suite for two on Panther Valley Ranch.
Sleeps: 2
Minimum stay: 2 nights
Pets allowed: no
Sleep overlooking the horses of Panther Valley Ranch at the Victory Suite. Tall cathedral style ceilings and a stone covered accent wall welcome you to the den where you can stoke a cozy fire in the wood-burning fireplace and lounge comfortably on the elegant leather furniture.
The master bedroom promises a night of restful sleep on the plush king mattress, and you can enjoy a peaceful, warm bubble bath in the clawfoot whirlpool tub if it tickles your fancy.
Check Availability
Related Read: 9 Amazing Treehouse Rentals in Missouri You'll Love
12. The Cabins on Grand #4
Why you should stay: Affordable Hot Springs cabin rental that's private yet close to historic downtown.
Sleeps: 6
Minimum stay: 2 nights
Pets allowed: no
The Cabins on Grand #4 offer guests both the convenience of being close to town and the pleasure of a quiet retreat away from the busy streets. The yard is surrounded by lush green vegetation and has a front and back porch for grilling and spending quality time outside.
Inside, the master bedroom, loft, and sleeper sofa can accommodate up to five guests, and the kitchen is fully stocked with everything you need for cooking. You'll also enjoy the coffee corner complete with Keurig machine and k-cups so you can start your morning right.
Check Availability
Plan Your Trip to Hot Springs, Arkansas
The Hot Springs National Park isn't the only worthwhile Hot Springs attraction! Check out some of these other incredible things to do in Arkansas.
More National Park Vacation Rentals
Sign up for the Weekend Wanderer to join 85,000+ readers getting epic travel, hiking, camping and gear ideas every week.
---