We research, evaluate and select travel destinations based on a number of factors, including our writers' experience, user reviews and more. We may earn a commission when you book or purchase through our links. See our editorial policy to learn more.
---
Seeking solitude? Try escaping to one of the many wonderful remote cabin rentals in Washington state.
Every corner of the Evergreen State is full of unique experiences. From the otherworldly seaside cabins in the San Juan Islands to the isolated cabins hidden deep in the canyons of the northern Cascades, Washington is full of awesome places to stay.
That's not to say that you have to travel out to the middle of nowhere to find cozy, secluded comfort. There are also plenty of cabins that are but a short trip from town or the nearest ski resort – places perfect for a fun-filled family vacation.
No matter what you're looking for, your ideal Washington cabin stay exists somewhere out there (it's a large state, after all.) Here's a list of the most eclectic and inviting secluded Washington cabin rentals from across the state.
Related Read: 9 Amazing Lake Camping Sites in Washington
1. GetAWay Ski Cabin
Why you should stay: An ideal basecamp for a weekend of skiing, rafting, or hiking.
Nearest town: Skykomish
Sleeps: 4
Minimum stay: 2 nights
Rates from: $180/night
GetAWay Ski Cabin is a few miles out of town in the woods of the western Cascades. The cabin is within walking distance of the Pacific Crest Trail and only a few miles away from the ski slopes at Stevens Pass and the rapids of the Skykomish River.
Winter, summer, or any time in between, this A-frame cabin is the perfect getaway for outdoor recreation. Seattle is less than two hours away, yet you'll find total serenity at this wilderness hideaway.
Check Availability
Related Read: 10 Marvelously Unique Places to Stay in Washington State
2. Earthlight™
Why you should stay: romantic river views from Pioneer Ridge.
Nearest town: Waterville
Sleeps: 2
Minimum stay: 1 nights
Rates from: $408/night
The pictures of Earthlight™ are stunning, to be sure, but even they don't do justice to the views from this modern home. The open-floor villa perched just east of the Columbia River offers seclusion on another level, where the breathtaking topography of central Washington sets a nature-focused tone from morning to night.
Inside, the studio-style layout makes it easy to take in views from all directions, and stepping out onto the deck at sunset is an unforgettable way to end each day here. The lux amenities make for a cozy stay, and though it's private, a quick 15-minute drive gets you down to Waterville to the east.
"This feeling of being completed surrounded by nature (we saw numerous bald and golden eagles soaring on the updrafts) while cocooned in your own cozy private space was utterly intoxicating," said Airbnb guest Liesl, from Seattle.
Check Availability
Related Read: 9 Best Hikes in Washington State for Epic Outdoor Adventures
3. Secluded Mount Baker Getaway
Why you should stay: An immaculate cabin for s family ski getaway.
Nearest town: Glacier
Sleeps: 6
Minimum stay: 2 nights
Rates from: $159/night
Tucked away in the forest northwest of Glacier, this secluded Mount Baker getaway is a hidden treasure. Though the cabin is surrounded by tall trees in every direction, it sits on an open plot of land with a manicured lawn that leaves the perfect amount of space for sunlight and stars to shine down. It'd especially great for stargazing as you're relaxing around the fire pit.
Mount Baker is the main draw in this northern slice of Washington, particularly the popular Mount Baker Ski Area. Bring your skis, snowboards, and snowmobiles for tons of winter fun, or rent them at one of the nearby ski shops. The cabin is also close to several spectacular hikes like the Heliotrope Ridge Trail, which guides hikers on a tour of several of Mount Baker's jaw-dropping glaciers.
Check Availability
Related Read: 10 Scenic Drives in Washington State That'll Blow Your Mind
4. Eagle's Nest
Why you should stay: Expansive views from a romantic roost above the Wenatchee River.
Nearest town: Leavenworth
Sleeps: 2
Minimum stay: 2 nights
Rates from: $149/night
Eagle's Nest is perched above the Wenatchee River overlooking a forested valley and the mountains beyond. This a wonderful retreat that will delight different types of visitors, no matter what kind of vacation you're looking for.
Couples will find it to be an adorably romantic escape, especially when paired with the splendid town of Leavenworth just down the road. There are a number of wineries, breweries, and artisan shops in the area that make for a leisurely weekend for two.
Outdoorsy folks have a plethora of escapades to choose from. Fishing and summer water sports like paddling are popular at nearby Lake Wenatchee, winter calls for trips to the mountains and snow parks, and there are too many hiking trails in the area to count — bring your snowshoes if you want to explore them in the winter.
Check Availability
Related Read: 11 Epic Glamping Spots in Washington State
5. Deepwater Cabin
Why you should stay: A remote, waterfront home on Lake Chelan with views to rival a five-star resort.
Nearest town: Chelan
Sleeps: 4
Minimum stay: 2 nights
Rates from: $92/night
You'll have to drive to where the road ends to access Deepwater Cabin. Much of Lake Chelan is only accessible by boat or by trail, making this one of the few truly remote road-accessible homes on its shore.
This private lakefront cabin boasts its own dock, so it's the perfect place for a private swim or an afternoon of relaxing by the water. It's also a great launch point for kayakers wanting to explore the secluded shoreline.
The Lady of the Lake ferry provides lake tours and rides to the isolated town of Stehekin at the lake's northern end. There are miles of backpacking routes in the area, and the nearby road-accessible town of Chelan has all the conveniences you'll need.
Check Availability
Related Read: 12 Romantic Getaways in Washington to Take Your Sweetheart
6. Hansel Creek Tree House
Why you should stay: Picturesque and private lodging near succulent sausages and sky-high ski slopes.
Nearest town: Leavenworth
Sleeps: 3
Minimum stay: 1 night
Rates from: $166/night
The Hansel Creek Tree House hangs above a babbling brook deep within the forested Cascade foothills on a 150-acre estate. Featuring handcrafted furniture, timber framing, and log cabin touches, this is a paragon of woodland living.
Yet the amazing accommodations are only half of the reason to stay. This hidden treehouse is just outside the German-inspired town of Leavenworth, a merry village that's home to monthly festivals, numerous beer gardens, and bratwurst vendors at every turn. It's an especially fantastic place to visit during the holiday season.
Leavenworth is also an outdoor recreation paradise. The town has its own Ski Hill and the Pacific Crest Trail passes nearby, as do countless other trails for hikers, mountain bikers, and snowmobilers.
Check Availability
Related Read: 12 Best Washington Coast Camping Spots for a Peaceful Trip
7. Fillmore's Landing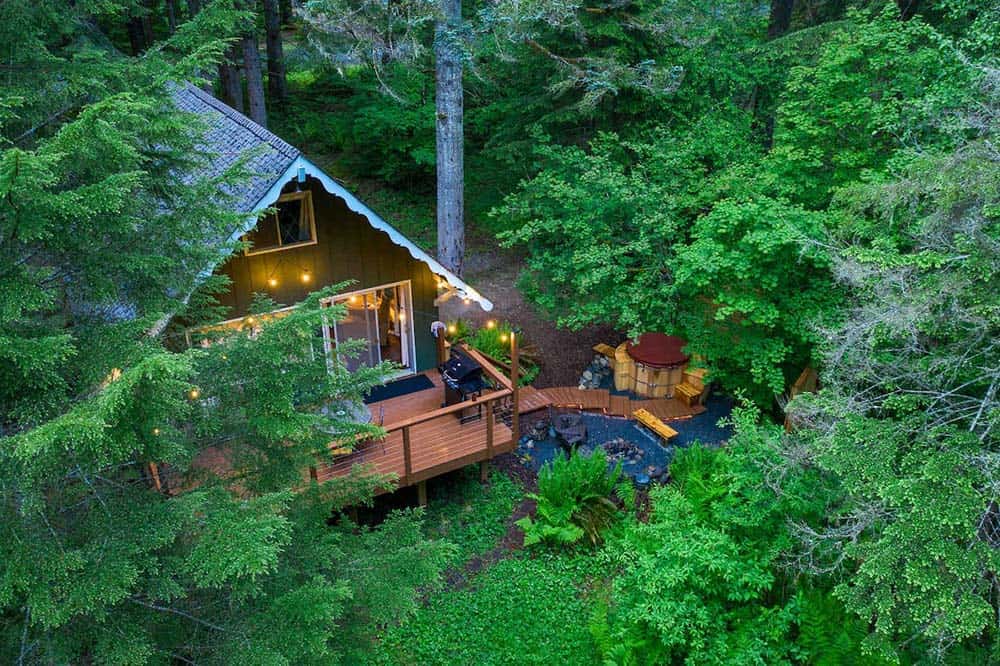 Why you should stay: A well-appointed and roomy cabin near Mount Rainier.
Nearest town: Ashford
Sleeps: 6
Minimum stay: 1 night
Rates from: $174/night
Surrounded by lush forest thick with lichen-covered understory, Fillmore's Landing offers privacy in a backcountry neighborhood. You'll love spending time in the backyard as much as in the home, thanks to the large deck, fire pit, and inviting hot tub.
The town of Ashford and all of Mount Rainier National Park are minutes away. Of course, there are many trails to explore around Mount Rainier, too. You'll also be close to Mount St. Helens Volcanic National Monument, so it's easy to experience two iconic Pacific Northwest volcanoes in one trip.
Check Availability
8. By The Sea Cabin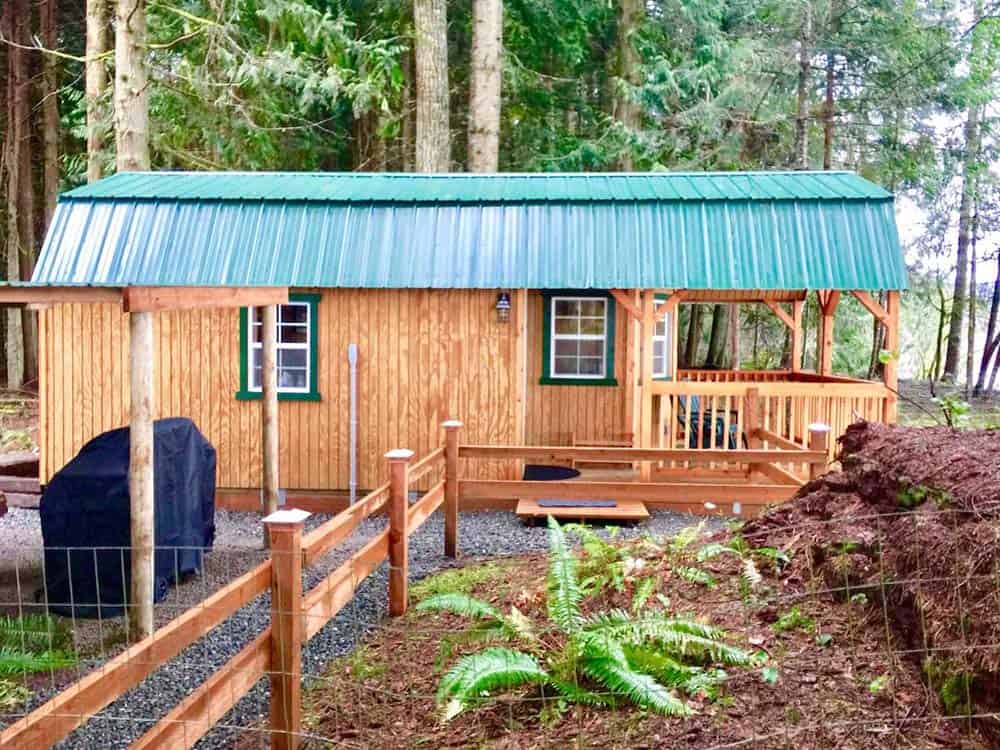 Why you should stay: Cozy waterfront living overlooking the Strait of Juan de Fuca. Whales, anyone?
Nearest town: Port Angeles
Sleeps: 3
Minimum stay: 1 night
Rates from: $119/night
The By the Sea Cabin is bayside camping luxury. This petite cabin sits on a small plot of land uphill from Freshwater Bay. It's a snug place to stay, but not an inch of the property has been overlooked as far as design and function are concerned. You'll find everything you need for an awesome waterfront stay.
The views are astounding. It'd be easy to spend the entire day watching the passing ships and marine wildlife from the deck. However, you probably will want to sneak away to the lovely town of Port Angeles or to hit the trails of the neighboring Olympic National Park.
Check Availability
9. Hunter Bay Cabin
Why you should stay: Escape to a remote island retreat on the Lopez Sound.
Nearest town: Lopez Island
Sleeps: 8
Minimum stay: 2 nights
Rates from: $325/night
A rustic cabin with modern amenities, the Hunter Bay Cabin feels both lost in time and conveniently contemporary. The aging log structure of the cabin has a dark and warm patina that gives the building an organic appearance, one so natural that it almost looks like the cabin is an extension of the earth.
That said, though it looks like part of the earth, the location is out of this world. Surprisingly easy to get to, yet absolutely secluded, this cabin sits on an island cape that reaches out into the Lopez Sound. There's nothing but nature to see in every direction, all of which can be enjoyed from the outdoor covered patio and separated deck overlook.
Check Availability
10. Secluded Creekside Cabin
Why you should stay: An adventurous, outdoorsy escape surrounded by lush greenery.
Nearest town: Ariel
Sleeps: 8
Minimum stay: 2 nights
Rates from: $160/night
A stay at this secluded creekside cabin is more than a simple night in the woods. It's a private two-acre property within walking distance of a park – and it even has its own creek. The rich green ferns, heavy foliage, and natural growth almost feel like you're in Jurassic Park, but this place has way more to offer than just great access to nature.
For instance, have you ever played life-size outdoor chess? You can here. You can also cook your own pizza in the outdoor wood-fire pizza oven before climbing into one of several hammocks hanging around the property.  There is an exceptional amount of space and privacy here for a large family to spread out.
When you do want to leave, you have plenty of options nearby. Mount St. Helens is a short drive down the road, as are several large lakes, the Lewis River, and the Gifford Pinchot National Forest.
Check Availability
11. Three Brothers Cabin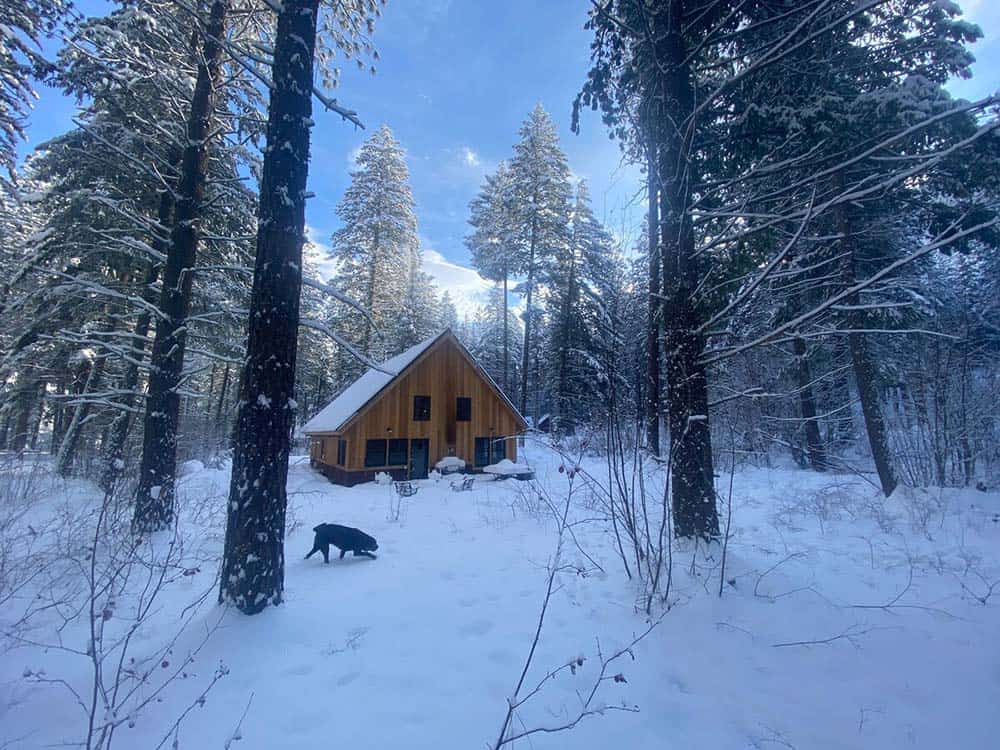 Why you should stay: Contemporary styling, thoughtful use of space, and remote Washington wilderness.
Nearest town: Winthrop
Sleeps: 8
Minimum stay: 2 nights
Rates from: $290/night
There are few places in Washington better suited as basecamps for setting off into the state's most remote wilderness areas than Winthrop. Three Brothers Cabin lies northwest of this outdoorsy village in the remote hamlet of Mazama, which feels truly wild.
Numerous backroads and backcountry trails will guide you to destinations far-removed from the comforts of civilization. Those seeking extreme isolation can schedule an adventure with nearby North Cascade Heli-Skiing, while those looking to take it easier can stroll through the Wild West buildings, mercantiles, breweries, and old-timey candy stores of Winthrop.
"I absolutely adore Winthrop. We stopped here on a whim during a road trip and I'm so glad we did. The town is a perfect fit for anyone who loves outdoor adventure and Wild West history and I'm dying to go back for a longer trip."
Check Availability
12. Chewelah Cabin Retreat
Why you should stay: A charming cabin on a 100-acre ranch where the moose and buffalo play
Nearest town: Chewelah
Sleeps: 2
Minimum stay: 2 nights
Rates from: $124/night
Located in northeast Washington miles away from any town is the enchanting Chewelah Cabin Retreat. This cabin sits alone on a 100-acre ranch, save for the main ranch house, where seldom is heard a discouraging word — though the skies might be cloudy on occasion.
Your stay might include visits from the property's friendly dog and cat duo, as well as passing moose and deer that frequently use the game trail next to the cabin. There are horses at the ranch and, if you're lucky, you'll see a herd of buffalo pass by on the other side of an electric fence that separates them from the rest of the property. You'll probably want an AWD vehicle in the winter in case of heavy snow.
Check Availability
13. Wine Country Mountain Retreat
Why you should stay: Romance is in the air – or is it the smell of wine and apples?
Nearest town: Walla Walla
Sleeps: 6
Minimum stay: 2 nights
Rates from: $175/night
Visit this wine country mountain retreat if you're in the mood for a private getaway with modern amenities near plenty of fun things to do in the town of Walla Walla, Washington. To many, this part of the state is paradise, or at least as close as it gets.
Though it's not far from the area's main road, this stylish cabin is tucked away in a scenic forest where wildlife can potentially be heard and seen in every direction. A smorgasbord of restaurants, wine tastings, and apple orchards are only minutes away, so you can live it up in town before heading back to the cabin for a tranquil evening in the woods.
Check Availability
Explore More in Washington
Get Weekend Wanderer and join thousands of readers getting epic travel and Airbnb ideas every week.
---