We research, evaluate and select travel destinations based on a number of factors, including our writers' experience, user reviews and more. We may earn a commission when you book or purchase through our links. See our editorial policy to learn more.
---
Ohio is the ultimate destination for travelers who need a digital detox and appreciate the appeal of low-key cool towns and unspoiled nature.
With more than 70 state parks, hundreds of miles of forested hiking trails, and access to uncrowded lakes, it's the perfect place to turn your phone on airplane mode and forget the world exists.
The 17th state's strong connection with the great outdoors is reflected in the secluded cabin rentals in Ohio. If you want to really feel solitude and have space to yourself, Ohio is a great place to do it. No, it's not quite as remote as Montana or Idaho, but it's a great option for anyone coming from an eastern seaboard city.
Whether you're looking for Instagram-worthy hideaways, humble abodes hidden deep in the forest, or a romantic getaway for two, you'll find all that and more below.
Ready to pack your bags? Here are the best cabins in Ohio you can book online.
Related Read: 12 Incredible Weekend Road Trips From Cincinnati, Ohio
1. Cottage at Maple Pond
Why you should stay: secluded pond-side home surrounded by gorgeous maple and oak trees.
Nearest town: Dover
Sleeps: 20
Minimum stay: 2 nights
Rates from: $677/night
This immaculately decorated home and its guest cabin offer a secluded 19-acre sanctuary in the wooded hills just north of Dover and New Philadelphia. The two-acre pond behind the rental includes a dock, plenty of shoreline to explore and a canoe to paddle its calm waters.
A fire pit and large, open deck with a dining table offer even more spaces to lounge outdoors, and when it's time to head inside, comfortable living areas – including a basement game room – provide cozy nooks in any season.
A large pavilion out front is the perfect place to hold (approved) birthday parties and other gatherings, and with the cabin's sleeping capacity, there's room to bring generations of fam to enjoy the great outdoors.
Check Availability
Related Read: 9 Unique Places to Stay in Pennsylvania
2. The Box Hop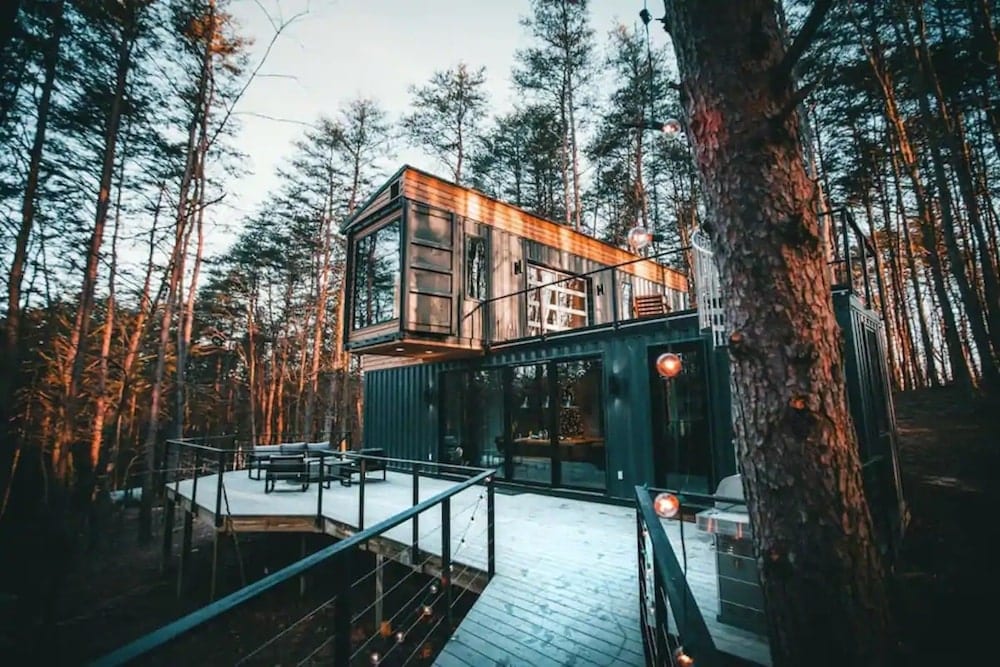 Why you should stay: Secluded, modern cabin made entirely from shipping containers.
Nearest town: Rockbridge
Sleeps: 6
Minimum stay: 2 nights
Rates from: $436/night
Escape to Hocking Hills, Ohio, and spend two nights in secluded cabin luxury. Built from three old shipping containers, The Box Hop is a cool, modern-day cabin for travelers who aren't big on wood paneling.
Expect modern decor, clean lines, matte black finishings, and large windows overlooking the woods. This secluded cabin getaway boasts three spacious bedrooms, two bathrooms, an outdoor six-person hot tub, and a gas fireplace for those chilly winter nights.
Outside, you can explore the hiking trails on the 18.5-acre property or cook up a storm on the grill. For those who want to discover what else Rockbridge offers, you can visit Hocking Hills State Park, Cantwell Cliffs, and John Glenn Astronomy Park. 
The cabin gets booked really far out, but you can see dates way in the future on their website.
Check Availability
Follow 'em: @theboxhop
3. Dunlop Hollow A-Frame
Why you should stay: Secluded cabin rental for a group getaway.
Nearest town: Rockbridge
Sleeps: 10
Minimum stay: 1 night
Rates from: $550/night
Searching for a unique cabin rental in Ohio for your next group trip? Look no further than Dunlop Hollow's latest property: The A-Frame Cabin. Opening its doors to guests in March 2021, it's a secluded forest getaway near Hocking Hills State Park.
The striking A-Frame cabin is modern with elegant touches, and its floor-to-ceiling windows make it the perfect backdrop for a weekend away. Inside, you'll find a fully equipped kitchen, a suspended wood-burning stove, and enough space to comfortably sleep a decent-sized group.
Hikers couldn't ask for a better place to stay. After a long day of exploring the area's popular trails (which go past caves and waterfalls), you can unwind in the outdoor six-person hot tub. All that's missing? A bottle of wine, mini marshmallows, and a cup of hot cocoa.
Check Availability
Related Read: 8 Relaxing Cabin Rentals in Ohio's Amish Country
4. The Lily Pad
Why you should stay:The ultimate romantic cabin hideaway for two.
Nearest town: Logan
Sleeps: 2
Minimum stay: 2 nights
Rates from: $436/night
For a romantic, remote cabin rental in Ohio, book two nights at the Lily Pad. Tucked away in the forest near Logan, you can pretend the rest of the world doesn't exist as you probably won't see a single soul during your stay.
While the forest views from the cabin are magnificent, the Lily Pad is the type of property you won't ever want to leave. Seamlessly blending indoor and outdoor living, the covered patio space opens up with a floor-to-ceiling sliding door. Here, you'll find a private hot tub accented with matte black finishings and fairy lights that scream romance and a swing chair for stargazing in the evenings. Plan to spend most of your time outside.
Check Availability
Related Read: 11 Dreamy Pennsylvania Glamping Spots To Book Now
5. The Triangle
Why you should stay: Come for a city retreat, stay for the affordable `woodland ambiance.
Nearest town: West Farmington
Sleeps: 4
Minimum stay: 2 nights
Rates from: $84/night
Craving a cabin getaway on a budget? The Triangle is one of the most unique places to stay in Ohio for a weekend getaway that won't break the bank. In the village of West Farmington, you can go on a day trip to Amish Country or head west to Cleveland to check out art museums or hit up Cedar Point. 
The vintage/hipster A-frame cabin comes with exposed beams, wooden finishings, and cozy decor throughout. While the interior is simple, its big drawcard is the outdoor ambiance. Imagine waking up surrounded by the forest, fetching wood for the wood-burning stove, and picking berries for your morning smoothie. It sounds like something out of a fairy tale, right? The only thing missing are the singing woodland critters.
Check Availability
Follow 'em: @thetrianglecabin
6. The Moon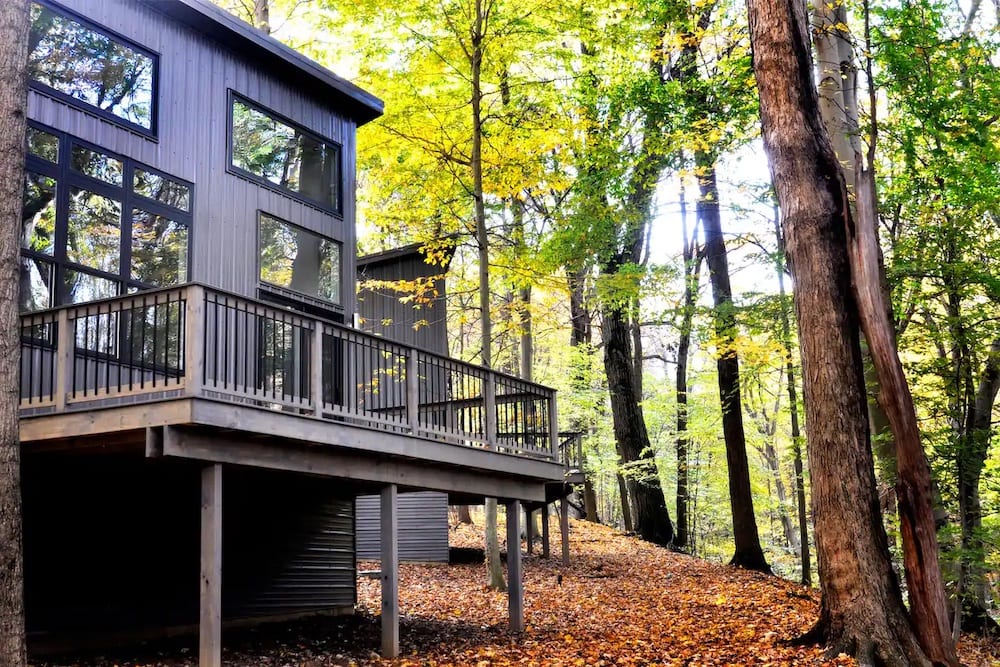 Why you should stay: Lux cabin for a perfect Pittsburg escape.
Nearest town: Salem
Sleeps: 4
Minimum stay: 2 nights
Rates from: $179/night
The Moon is a secluded cabin hideaway for travelers who want the feeling of being somewhere remote with all the modern conveniences nearby. Only a short drive from the property is an assortment of delicious restaurants, cafes, and bars in Salem. It's near the Ohio and Pennsylvania border, making it a quick getaway from Pittsburg and the surrounding area.
Back at the cabin, expect an upscale modern space with everything you need. The large windows bring the enchanted forest setting inside with beautiful views of the creek and ravine below. The main bedroom features a king-sized bed with a memory foam mattress, blackout shades, and modern en-suite bathroom. Oh, and you'll also have an outdoor hot tub. It's bound to come in handy after a day of exploring.
This home is part of the Creek Ridge Cabins at Lexington development, so it's a good choice for an Ohio cabin rental if you have several families traveling together — just book a few of the nearby homes, too.
Check Availability
Related Read: The 10 Best Cabin Rentals in Iowa for a Weekend Away
7. Forest Haven – Otium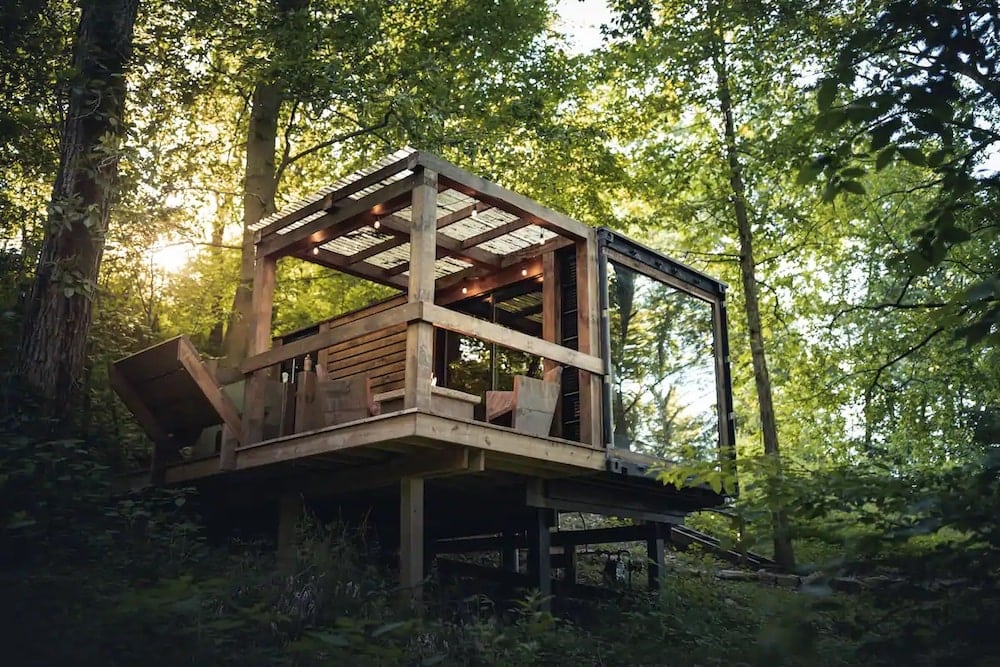 Why you should stay: Incredibly unique forested cabin with an outdoor shower and fire pit.
Nearest town: Millersburg
Sleeps: 2
Minimum stay: 1 night
Rates from: $153/night
Otium takes the conventional cabin in the woods concept, flips it, and reverses it. Instead of a stock-standard log cabin, the owners of Forest Haven converted two shipping containers into one of the most unique Airbnbs in Ohio.
As soon as you arrive, details like dark tiles, exposed wood, and a natural color palette let you know you've entered a stylish space. The large windows and separate deck lend themselves to uninterrupted forest views from just about every vantage point.
For couples, it's a place to reconnect with nature and each other. Buy a bottle of wine from nearby Walnut Creek (a small town in Ohio's Amish country) and take a dip in the hot tub or the outdoor shower. In the evenings, bring down a blanket, curl up with your beau, and stargaze from the deck.
If Otium is full over your preferred dates, Forest Haven does have another identical property: Ela.
Check Availability
Related Read: 7 Hocking Hills Cabins with Hot Tubs for a Revitalizing Getaway
8. The Ledge at Lost Cavern
Why you should stay: Architecturally stunning mid-century cabin near a legit underground cavern.
Nearest town: South Bloomingville
Sleeps: 6
Minimum stay: 2 nights
Rates from: $395/night
The Ledge is a mid-century glass cabin with stairs leading down to a honest-to-goodness cave. The space blends modern features with natural rock and dark wood to create a rich and comfortable space with luxuries like heated floors.
However, with floor-to-ceiling windows wrapping around the cabin, you may feel like the outdoors are beckoning you to go out and explore. The home is on 24 acres with walking trails, and South Bloomingville is near quite a few impressive caves — especially Ash Cave.
Check Availability
Related Read: 9 Beautiful Cabin Rentals Near Cincinnati, Ohio
9. The Reed
Why you should stay: Ohio cabin rental deep into nature with a private lake.
Nearest town: Rockbridge
Sleeps: 4
Minimum stay: 3 nights
Rates from: $134/night
Are you looking for the ultimate cabin in the woods with a decent pricet? Book a three-night stay at The Reed. it's an older home for sure, but it's well-kept and in a stunning location literally covered in leafy green trees and growth.
The secluded cabin is near Hocking Hill attractions like Old Man's Cave, Rock House, and Cedar Falls. If hiking isn't your thing, take a dip in the private lake for swimming, try your hand at catch and release fishing, or go on a non-motor boat ride.
With spotty cell service and no Wi-Fi, The Reed is a cozy cabin escape for those who want to sign up for a quick digital detox break and disconnect from emails and buzzing notifications.
Check Availability
Related Read: 9 Delightful Weekend Road Trips From Columbus, Ohio
Find Your Next Midwest Adventure
Get epic travel ideas delivered to your inbox with Weekend Wanderer, our newsletter inspiring more than 10,000 readers every week.
---