Leisure is the name of the game at Acadia National Park, the epicenter of Vacationland, USA. In this guide, we'll take you on a journey through the Best Acadia Hikes.
Maine is playfully nicknamed "Vacationland," and at Acadia National Park you'll quickly see why. The crown jewel of the Northeast boasts over 49,000 acres of pink granite shoreline, stately glacier-carved mountains, and old growth forests dotted with aquamarine lakes.
All of this terrain offers endless outdoor activities worthy of year round visits. Come in the summer for pristine hiking conditions along the 158 miles of trails, or take a winter ski tour through the 70+ miles of carriage roads. The fall brings fair weather for ascending some of the stiffest climbs on the East Coast, and the spring makes for adventurous kayak excursions.
With over 3.5 million visitors a year, this is a top 10 most-visited national park in the United States. Visitors swarm to Acadia National Park in June, so expect a crowd during peak season.
We did the due diligence for you though, compiling our top choices for less-trodden paths to escape the crowds plus plenty of classic hikes to get the full Acadia experience.
Related Read: 10 Super & Secluded Maine Cabin Rentals
1. Ocean Path
Why you should go: Bask in salty ocean spray and several of the park's most famous landmarks.
Distance: 4.5 miles
Elevation Gain: 374 feet
Difficulty: Easy
An easy 4.5 mile out-and-back, Ocean Path offers excellent views from start to finish. Quake under the crashing cymbal cacophony at Thunder Hole, lunch along the boulder hewn shore at Monument Cove, and ogle the 110 foot high Otter Cliff, one of the highest coastal headlands in North America.
Located in the southeastern part of the park, it can be especially popular between 9am and 3pm when the shuttles run.
"If you want to hike with fewer crowds, go out early for a sunrise hike or travel to Acadia in the shoulder seasons (early May or mid-October)," encourages Greg and Amy of Park Chasers.
Related Read: 14 Best Hikes in Maine for Exploring the Great Outdoors
2. South Bubble Summit
Why you should go: Cross paths with Maine's most famous boulder.
Distance: 1.7miles
Elevation Gain: 250 feet
Difficulty: Moderate
Bubble Rock may be the best-known boulder in all of Maine.
The precariously balanced stone near the summit of South Bubble Mountain is known as a glacial erratic, which means it was deposited there by ancient glaciers some 95,000 to 20,000 years ago. How can you tell? The white complexion of the boulder stands in stark contrast to the ever-present pink granite of Acadia.
Standing at 766 feet, the South Bubble Peak offers long views over Jordan Pond (another glacially formed feature). For those interested in other vertical excursions, the cliffs are a popular spot for rock climbing.
Note: This hike can be combined with the full Jordan Pond Path for a longer day.
Related Read: 8 Spectacular Glamping Spots Near Acadia National Park, Maine
3. Ship Harbor Trail
Why you should go: A quick loop with some of Acadia's best wildlife.
Distance: 1.3 miles
Elevation Gain: 65 feet
Difficulty: Easy
Located near the Bass Harbor Head Lighthouse, this figure-eight loop is on the "quiet" western side of Mount Desert Island.
The well-groomed path hugs Ship Harbor, intermixing coastal views and stellar foliage. "The trail is particularly stunning for yellow beech and blazing red blueberry bushes [in the fall]," notes Dolores Kong and Dan Ring on Acadia on My Mind.
During spring and summer, you are likely to see a bustling of birds, from common loons and eiders, great blue herons, black guillemots, ospreys, eagles, warblers, kinglets, and other songbirds. Enjoy wayside placards to learn more about the natural area and wildlife.
Related Read: Must-See Stops on a Boston to Bar Harbor Road Trip
4. Beehive Loop Trail
Why you should go: An Acadia classic with a fun (and frightening) bit of exposure.
Distance: 1.4 miles
Elevation Gain: 488 feet
Difficulty: Hard
For the pithy and plucky, this short and fast-paced iron rung route will get the heart racing.
Topping out Beehive Mountain will require ample scrambling, climbing, and shaky leg as you scale the cliff face with the assistance of iron bars drilled directly into the rock. While the ascent can seem daunting, it is perfectly manageable with proper care and attention. With that said, this is not recommended for someone with a fear of heights.
At the summit, you'll again lose your breath thanks to the spectacular views.
"I love that I have to scramble my way to the top," professes Laura of Musings of a Rover. "It's also one of my favorites because I can do it in the morning in just a couple of hours… I think it's one of the easiest hikes to work into your schedule as you drive the Park Loop Road."
Related Read: 9 Must-See Waterfalls in Maine You Can Hike To
5. Jordan Pond Path
Why you should go: Take a leisurely stroll around a pristine pond and still have time for tea and popovers.
Distance: 3.4 miles
Elevation Gain: 95 feet
Difficulty: Moderate
Enjoy the glacially carved topography along the shore of Jordan Pond.
Set in the central part of Mount Desert Island, admire the glacial formations all around you, from the rounded Bubbles Mountains to the curved valley, and even the finger lake itself, which at 150 feet is the park's deepest. Swimming is prohibited as it is a public water supply, but the views are free.
Wrap up your perambulation with tea and popovers, the younger American sibling to the British Yorkshire pudding, at the Jordan Pond House. The restaurant is considered one of the best in the national park system.
"When you think of idyllic spots in Acadia, Jordan Pond probably comes to mind with its pristine calm waters surrounded by lush, majestic mountains in all directions," notes Joe Braun of Joe's Guide to Acadia National Park.
Related Read: 8 Scenic Drives in Maine that Will Leave You Speechless
6. Schoodic Head Overlook and The Anvil Loop Trail
Why you should go: Avoid the masses at Acadia's secluded northeastern territory.
Distance: 2.6 miles
Elevation Gain: 482 feet
Difficulty: Moderate
If you're looking for quiet, head to the Schoodic Woods. Residing across Frenchman Bay from Mount Desert Island, this 2,366 acre section is less traveled, but still offers plenty to see.
The Schoodic Head Overlook and Anvil Loop Trail provides an easy loop through dense forest and coastal scenery, making pit stops at the overlook atop the 440-foot tall Schoodic Head and the rocky knob known as "the anvil." From these vantage points you'll gain unique perspective on Little Moose Island to the south and Schoodic Island to the southeast.
"One of my favorite trails in Acadia," offers Paul Veilleux on AllTrails. "Schoodic Peninsula is rarely crowded. No better place to feel like you have the whole park to yourself."
Related Read: The 10 Best Pet-Friendly Cabin Rentals in Maine
7. Bar Island
Why you should go: A one-of-a-kind trail that's only accessible three hours a day.
Distance: 1.8 miles
Elevation Gain: 170 feet
Difficulty: Easy
Peering out from the end of Bridge Street in Bar Harbor, you'll typically see ocean separating the town from Bar Island in the distance. But for three hours each day (1.5 hours before and after low tide), the water recedes just enough for you to walk across a land bridge and explore the uninhabited island. Be sure to review the charts in town as the timing of low tide varies daily.
Once on the island you will have great views of the the rocky shoreline and the low-lying peaks.
"Went during low tide and found a lot of starfish, crabs and sand dollars," shares Brandon Meadows on AllTrails. "The kids could have spent all day there."
Related Read: 12 Glamping Escapes in Maine for Your Next Adventure
8. Hunters Brook Trail
Why you should go: The perfect trail for fans of the road less traveled.
Distance: 3.6 miles
Elevation Gain: 616 feet
Difficulty: Moderate
Want to get away from it all? The Hunters Brook Trail may be "one of the least-visited stretches of trail in all of Acadia," according to Joe Braun of Joe's Guide to Acadia National Park.
Starting at a remote trailhead, head upstream along Hunters Brook through thick forest with plenty of shade. About 1.2 miles in, the trail cuts uphill towards the the east face of The Triad.
Have you heard of The Triad? It's unlikely your friends have either, so get ready to enjoy a day out in the lesser known area!
Related Read: 12 Charming Yurt Rentals in Maine
9. Cadillac North Ridge Trail
Why you should go: No trip to Acadia is complete without a visit to the top of Cadillac Mountain.
Distance: 4.4 miles
Elevation Gain: 1,118 feet
Difficulty: Moderate
For about half the year, Cadillac Mountain is the first place in America to see the sunrise. Rising 1,528 feet, the mountain is the tallest peak in Acadia National Park, and the highest point on the East Coast.
The ascent is gradual and quickly opens up to ocean views of the outlying islands to the north, the curved hump of Dorr Mountain in the east, and the shimmering glassy complexion of Eagle Lake to the west. Note that part of the trail parallels the Cadillac Summit Road (frequented by cars), but with such captivating sights you are apt to be too enraptured to notice.
"Exceptional views along this trail! Make sure on your way up, you stop and turn around," reminds Alex Sasso on AllTrails. "About 3/4 of the trail is in direct sun with no shade. So if [you're] hiking in summer, start early and have plenty of water and sun protection," he cautions.
Related Read: 9 Must-Do Hikes in New Hampshire
10. Great Head Trail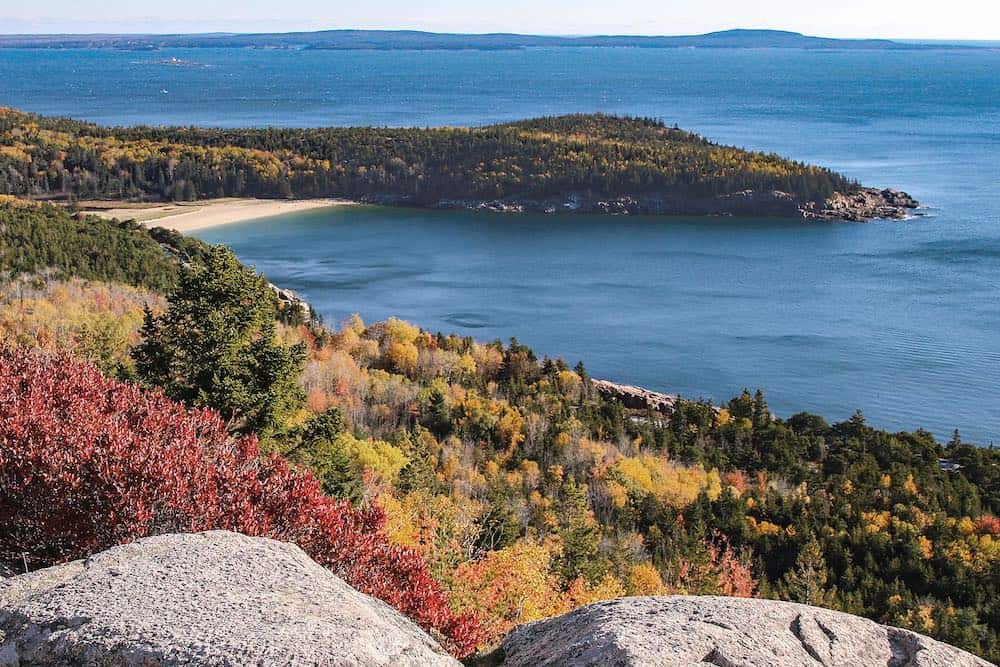 Why you should go: Get up close and personal with the pink granite rocks that Acadia is known for.
Distance: 1.6 miles
Elevation Gain: 301 feet
Difficulty: Moderate
Loop around the small Great Head peninsula for panoramic views of the rocky eastern coast.
The Great Head Trail sits just north of the Ocean Path, unfurling an abundance of views from the churning aquamarine sea to the distant Otter Cliffs and Gorham Mountain. Begin at the edge of Sand Beach by ascending cut-in steps and behold the salmon colored granite common in the area.
Meander along the headland until you come across the ruins of a 1915 tea house. Hang out to watch seals bobbing before descending through a gray birch tree forest back to the parking lot.
"Trust me, this trail has an incredible coastline," gushes Laura of Musings of a Rover. "The view from the top and along the ocean side was breathtaking. If you want to see some of Acadia's famed coastal cliffs, then this trail's got you covered."
Related Read: 10 Scenic Oceanfront Campgrounds in Maine
11. Big Wood and Shore Trail
Why you should go: A hidden gem to avoid the crowds, just outside of Acadia.
Distance: 2 miles
Elevation Gain: 206 feet
Difficulty: Easy
The Indian Point Blagden Preserve is not technically a part of Acadia National Park, which makes it much less frequented than other regions of Mount Desert Island. The Big Wood and Shore Trail is a great place to find a little more solitude.
Overlooking Western Bay, the Nature Conservancy site is filled with an abundance of wildlife and is especially known for seal sightings, white-tailed deer, porcupine and pileated woodpeckers. The park offers a floral contrast to the rest of the island — the older growth forest comprised of red spruce, white cedar, and balsam fir escaped the fire of 1947.
At the water's edge you'll come to Adirondack chairs to relax in, an timeworn apple orchard to peruse, and ample tide pools to examine.
Related Read: 11 Amazing Maine Swimming Holes & Swimming Beaches
12. Jordan Cliffs Trail
Why you should go: Experience hair-raising exposure along steep cliffs — if that's your thing.
Distance: 5.2 miles
Elevation Gain: 1,259 feet
Difficulty: Moderate
This iron-rung route heads up and down, but mostly side-to-side along some of the most impressive cliffs in Acadia. You can think of this as the adventure-seekers version of the Jordan Pond Path.
Located on the east face of Penobscot Mountain, begin on a wooded trail before making your way to Sargent Mountain, the park's second highest peak. You'll track back to Penobscot Mountain and descend to the base of the Jordan Cliffs.
Here the fun begins! Navigate rocky outcroppings, narrow ledges, and metal ladders to work your away, carefully, across. If heights and exposure are not your thing, you may want to think twice about trails like this, including the Beehive and the Precipice.
Note that the cliffs are closed for several months in the spring for nesting Peregrine Falcons.
"In terms of 'scariness' I would put this second to the Precipice," warns Laura of Musings of a Rover. "I even passed a couple who upon seeing the upcoming cliffs ahead decided to turn around. They knew they wouldn't be able to handle the heights."
Related Read: 10 Scenic Oceanfront Campgrounds in Maine
13. Long Pond and Great Notch Trails
Why you should go: Enjoy peaceful seclusion on this longer hike on the quiet side of the island.
Distance: 4.8 miles
Elevation Gain: 616 feet
Difficulty: Moderate
Another quiet trail, this loop carries you through peaceful pine forests and along the placid Long Pond. While this glacially formed watering hole isn't as well known as Jordan Pond or Echo Lake, it offers plenty of relaxation and picture perfect views.
Note: Long Pond is a watering hole for moose, so keep an eye out!
Heading north along Great Pond Trail is easy going along flat terrain. The path turns onto the Great Path Trail, at which point you ascend steadily into the notch between Mansell and Bernard Mountains.
End your hike by relaxing along the shore or head south to catch a sunset at the Bass Harbor Head Light, one of the most iconic lighthouse in Acadia.
Related Read: Where to View the Best Fall Foliage in New England
14. The Precipice Trail
Why you should go: A trail of two superlatives: The most challenging and well-known hike in the park!
Distance: 2.1 miles
Elevation Gain: 1,049 feet
Difficulty: Hard
Make like Alex Honnold and climb the towering cliffside of Champlain Mountain.
The Precipice Trail is the adrenaline junkie older brother of the Beehive, rising twice as high. As you ascend you'll scramble over giant boulders, along narrow ledges, and clamber up many, many iron rungs and ladders. It's certainly not for the faint of heart!
Note: The trail is closed between March 15 and August 15 due to peregrine falcon nesting. It is not recommended during wet conditions.
"The Precipice Trail is… reminiscent of European via ferrata routes," shares Joe Braun of Joe's Guide to Acadia National Park. "Although no climbing equipment is needed, this route needs to be taken seriously."
Related Read: When is the Best Time to Visit Acadia National Park?
Explore More in New England
Sign up for Weekend Wanderer, our free email newsletter offering thousands of readers epic travel and airbnb ideas every week.
---