America's public lands are beautiful any time of year, but winter brings out their true beauty without the crowds.
Most people are likely filling their December with holiday traditions and staying wrapped in a big blanket with a cup of hot cocoa. They're likely frantically trying to find flights home or stressing about what to get their siblings for Christmas. But why not try something new and venture into one of the US's national parks this holiday season?
Some of the most beautiful places in the United States are even more incredible when temperatures drop and snow becomes a regular occurrence. In some cases, the snow creates a striking contrast to the orange and blue hues of the southwest national parks or makes for an eerily, beautiful setting amongst the pine trees of the northeast.
Or you might choose to visit the warmer parts of the country, where you can enjoy the scenery without the heat of summer. Regardless of the region you reside (or visit), it'll be more than just the chill in the air that will take your breath away.
A Word About Winter Adventuring
There's that old saying "there's no such thing as bad weather, only bad gear" and it's true to some respect. Make sure to always come prepared whenever you find yourself in the wilderness. There are a few standard guidelines to follow when adventuring in the winter:
Dress in layers: And make sure those layers are non-cotton (merino wool is ideal). Cotton will absorb your sweat and keep that moisture close to your body. This will essentially lower your body temperature and bring you closer to hypothermia.
Wear sunblock: Yes, it's December but the sun reflects off the snow and can give you a killer sunburn if you're not careful.
Drink plenty of water: It's a common myth that you don't need to drink as much water in the winter as you do in the summer. In extreme weather, hydration is always crucial.
Be prepared with the right gear: If the trail you're hiking on is known for icy spots, make sure to bring microspikes. Further, if it's known for deep snow then make sure to strap on some snowshoes. Postholing (i.e., where your foot sinks through the snow and creates a deep hole) is not only NOT fun but it's also rude for other hikers on the trail.
Remember to Leave No Trace: help keep the national parks beautiful for future generations.
But just because the temperature drops, doesn't mean you can't wander outside. So head on out to one of the national parks below to start your adventure!
1. Arches National Park
Why you should go: you won't have anyone in your photo of Delicate Arch.
State: Utah
Nearest town: Moab
As you drive throughout Utah, you'll see the famed silhouette of Delicate Arch plastered all over billboards — it's even on their license plates. The scene is idolized across the state because it truly is one-of-a-kind. In the spring, summer, and autumn months, Arches National Park is overridden with tourists. In many cases, Park staff shut down entrances to limit the amount of people visiting the area.
That's why going to Arches in December is the perfect time of year to go. There aren't nearly as many tourists both in the town of Moab and the Park itself. You can climb the 1.5-mile hike to Delicate Arch in relative peace and snap some photos without any people in it — which is nearly impossible to do any other time of year. Or you can check out other Arches hikes that will be void of most tourists during this time of year.
Related Read: 8 Cozy Cabin Rentals Near Moab, Utah
2. Everglades National Park
Why you should go: the mild weather compared to the scorching heat in the summer.
State: Florida
Nearest town: Homestead
If you're one of those "fly south for the winter" sort of people, Everglades National Park should not be missed. As the third largest national park in the lower 48, the Everglades has more than enough room to ensure solitude on a hike (or paddle!). December marks the beginning of the dry season which brings low humidity and relatively clear skies. Temperatures are mild with typical highs in 70s and lows in the 50s (we're talking Fahrenheit, of course).
Wildlife viewing is also best during the dry season so don't forget to bring the binoculars to view the abundant wildlife that call the Park home. Animals you might spot include alligators and crocodiles, snakes, lizards, and frogs, bats, panthers, river otters, and the ever-graceful manatee. You can also take one of the several Ranger-led Programs to learn more about the Park.
Related Read: 13 Incredible Airbnbs in Miami, Florida
3. Bryce Canyon National Park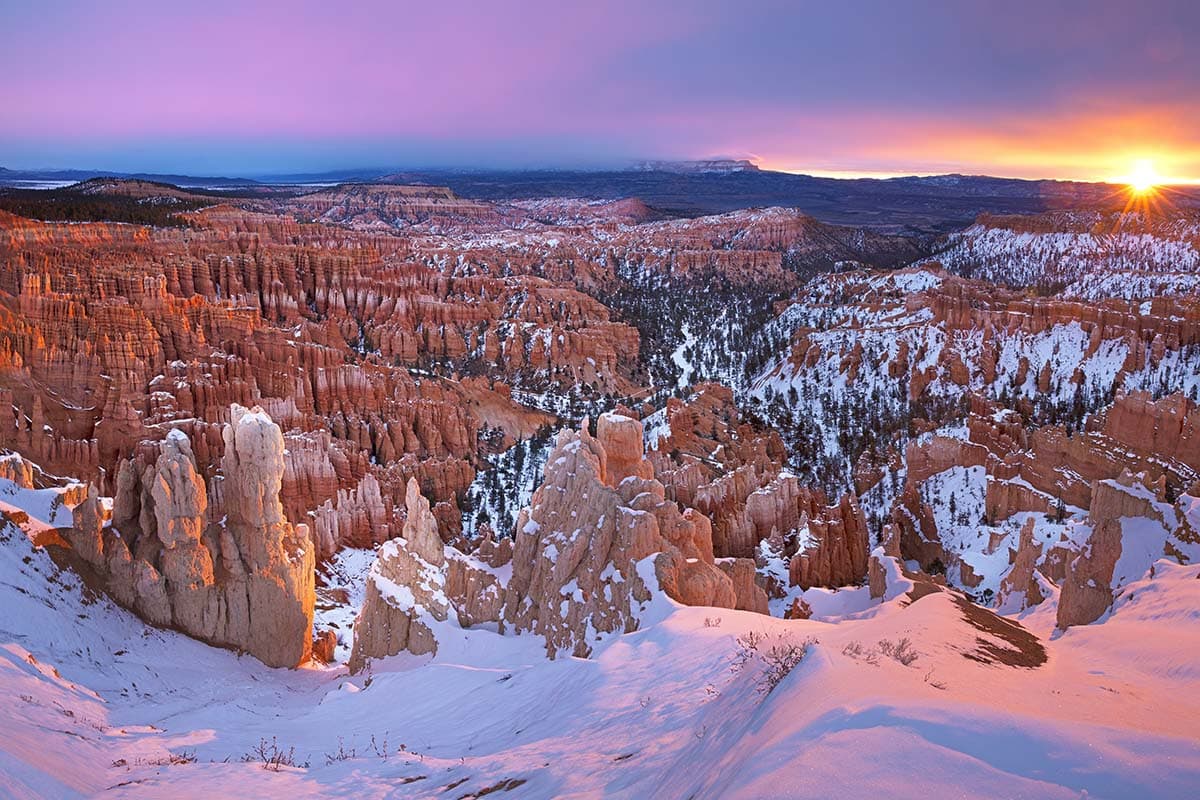 Why you should go: you've never seen a more beautiful color spectrum.
State: Utah
Where you should stay: Bryce
Bryce Canyon National Park can't be compared to any other Park out there. Its orange spires and Mars-like landscapes are unlike anything of this earthly realm. When winter hits, the dusting of snow creates the illusion of powdered sugar on a freshly baked cake (albeit, a weirdly shaped one). What's truly wonderful about the Park is you can view its extraordinary marvels right from the comfort of your car with dozens of lookouts along the road.
But the best way to experience the Park is deep within its belly along the trails and away from the visitors at the lookouts. You have a lot of options to choose from but accompanying a ranger on one of their snowshoe hikes is a great option in December. Or you can venture out on your own and discover one of the other spectacular Bryce Canyon hikes.
Related Read: The Perfect Road Trip Itinerary Between Zion and Bryce Canyon National Parks
4. Yellowstone National Park
Why you should go: wildlife is just as abundant (if not more so) in the winter.
State: Wyoming and Montana
Nearest town: West Yellowstone
One can't have a list of the best national parks to visit in December without mentioning Yellowstone National Park. What makes the Park so special in December is that most roads are closed so there are limited amounts of people.
This also means that getting around the Park can be a bit more difficult but not impossible. Once there is enough snow (usually mid-December), the only way to see some of the more famous spots (like Old Faithful) is by snowmobile or snowcoach. Make sure to use one of the authorized tour companies to ensure you are admitted into the Park without issue.
Related Read: 14 Stunning Airbnbs Near Yellowstone National Park
5. White Sands National Park
Why you should go: typically very little snow and mild temperatures on an otherworldly landscape.
State: New Mexico
Nearest town: Alamogordo
It still seems weird that White Sands National Park only just became one (it was a national monument prior to its 2019 establishment). December is a great time to visit this Park as the spring, summer, and even autumn months bring high (and often scorching) temperatures.
But with average daytime temperatures in the high-50s and low-60s, White Sands is a great option in the winter.
Related Read: 11 Best Cabin Rentals in Cloudcroft, New Mexico
6. Congaree National Park
Why you should go: a lesser-known park that becomes even less crowded.
State: South Carolina
Where you should stay: Columbia
Not many have heard of, let alone visited, Congaree National Park. The Park resides in the Midlands region of South Carolina and is home to the largest expanse of old growth bottomland hardwood forest remaining in the Southeast.
This means that biodiversity is at its peak within the park. It's a birder's paradise with over two dozen raptor species (including the Golden Eagle), a half dozen of bat species (yes, they're technically mammals and not birds but they have wings), and a plethora of song birds.
Related Read: 9 Gorgeous South Carolina Treehouse Rentals
7. Rocky Mountain National Park
Why you should go: you can walk across all the alpine lakes you want!
State: Colorado
Nearest town: Estes Park
There are many things to do in Rocky Mountain National Park so narrowing down what you'll do will be difficult. You can't really go wrong, though, with any of the hikes within the Park. Its 300+ miles of trails have some of the most stunning views and epic backdrops you've ever seen. And in December, the snow gets deep and coats the surrounding trees for the perfect holiday hike.
The trails in Rocky Mountain National Park can still be crowded on the weekends but not nearly as bad as in the summer. Many roads close during the winter (including Trail Ridge Road) but that doesn't mean you still can't experience it. You just need to bring your skis or you snowshoes and experience the roads at a slower pace. You're more likely to see wildlife anyway and December is a perfect time to view the resident elk and moose.
Related Read: 10 Best Cabin Rentals in Estes Park, Colorado
8. Redwood National Park
Why you should go: enjoy the forest with no need for any snow gear.
State: California
Nearest town: Eureka
Redwood National Park sits along California's northern coast and winters are notorious for considerable precipitation (upwards of 60 inches). But just because there might be buckets of rain falling, doesn't mean you can't wander the large behemoths of the area. If anything, there's a certain beauty to looking up towards the tree canopy and getting lost in the thick cloud cover.
Your imagination can run wild with what might lurking in the treetops: trolls counting their daily tolls, dragons from some medieval land, or maybe giants waiting for someone to climb up the trees. Just don't forget your rain gear and waterproof shoes for the best experience.
Related Read: The 10 Best Hikes in Redwood National Park, California
9. Denali National Park
Why you should go: to find out what it truly means to see a harsh landscape.
State: Alaska
Nearest town: Anchorage
You'd think with a national park so far north that it would be closed in the winter. But Denali National Park is covered in snow for most of the year so it's accustomed to wintry conditions. The Park even has an indoor picnic area so people can eat without snow billowing around them.
There are limitless options for activities to partake in throughout December. You can do the "usual" like snowshoeing and cross-country skiing but try your hand at some more unique options. Explore the park while taking a dogsled ride or rent a fatbike and travel the Roadside Bike Trail and the park road (where it is usually closed at Mile 3 in the winter). December's extended nighttime hours also make for a great time to see the aurora borealis.
Related Read: 9 Best Places to Stay in Alaska for the Ultimate Getaway
Discover the National Parks
Sign up for Weekend Wanderer to join more than 10,000 readers getting epic travel ideas every week.
Was this article helpful?
---