Centrally located in the Pacific Northwest, Portland is the perfect launching point for a weekend road trip.
Road trippers can explore the coast, the mountains, deserts, and cities like Seattle within a few hours of Stumptown. Not only are theses destinations superb, but the routes can be equally enjoyable, especially when your path runs along the Historic Columbia River Highway or any of Oregon's scenic byways.
Below, you'll find a list of the nine best Portland road trips for a change of scenery this weekend. Take just one road trip from the list below and you'll see why the PNW always has travelers coming back for more.
Related Read: The 10 Best Scenic Drives in Oregon
Road Trip Planning
Though the weather may change with the seasons, all of the below destinations remain open and accessible year-round. The mountains are ideal for hiking during half the year and transition into epic skiing during the other half.
Likewise, the coast is more popular during the summer as it's prone to winter storms, but the tumultuous waves and winds can be exciting to witness. But you can travel to any of the destinations below year-round if you prepare properly.
Those looking to step up their camping game can rent a campervan from a local provider in Portland like Road Trip Oregon. You'll find the best camping options near each destination listed below, but you could stay just about anywhere with a campervan.
Be sure to book your lodging before you leave, especially if you're planning on renting a hotel room or yurt for the weekend.
And lastly, take a quick gander at Oregon's TripCheck before your head out onto the open road. It's the best tool available for live weather and road condition information for Oregon's highways. The live cameras are useful for seeing exactly how dangerous a snowy mountain pass may be or how bad the traffic is in the city.
Weekend Trips from Portland
1. Astoria
Astoria is one of the most sought-after weekend destinations that loops on repeat in the daydreams of Portlanders during the workweek — not to mention that it makes our list of the best small towns in Oregon. The romantic getaway lies only a couple of hours west of Portland, and there are several scenic routes to get there.
As it's on the southern bank of the Columbia River and the northern bank of Young's Bay, there's ample opportunity to play in the water. Astoria technically isn't a beach town, but the Pacific Ocean is only 20 minutes away.
Astoria is one of the oldest American settlements west of the Rocky Mountains and is full of history to uncover. The Astoria Column showcases the area's history in a beautiful hilltop display and the Columbia River Maritime Museum details the importance of the Columbia River in early trade, recreation, and military uses.
More history lies in the nearby outdoor recreation areas of Fort Stevens State Park orLewis and Clark National Historic Park. Those looking for a less educational vacation can head to High Life Adventures Zip Line Tours take a drive to Sunset Beach for a more laidback sand and surf day.
Camping: Fort Stevens State Park Campground is one of the largest public campgrounds in the nation with several hundred camping sights, many of which have full RV hookups. They also have yurts and cabins. Another great option is due south at Sunset Lake Campground and RV Park, located within walking distance to Sunset Lake, ocean beaches, and the Astoria Golf Club.
Lodging: Because of its popularity among Portland weekenders, there are plenty VRBOs, Airbnbs, and hotels. Check out The Pilot House, considered one of the best VRBOs on the Oregon Coast, or the iconic Cannery Pier Hotel & Spa to make your stay unforgettable.
Distance from Portland: 95 miles (approx. 2 hours)
2. Cannon Beach
Cannon Beach is home to one of the most beautiful coastlines in all the world (according to National Geographic, at least.) Many access points lead straight to this legendary beach, or you can hike the 10-mile Cannon Beach Trail to see everything that it has to offer.
Cannon Beach has received accolades from major travel publications like Nat Geo, U.S. News & World Report, the Culture Trip, and many more.
Aside from astounding natural oceanic attractions like Haystack Rock and the adjacent Needles, Cannon Beach is also excellent for swimming, surfing, fishing, horseback riding, and whale watching. There are sea stars and crustaceans to find if you walk along the beach at low tide.
North of town, Tillamook Head offers miles of wild trails within a dense pine forest that backs to coastal cliffs. The Tillamook Rock Lighthouse Viewpoint is a particularly popular hiking destination.
Camping: Wrights for Camping is a unique, family-owned campground well-protected from the often foul coastal weather by a canopy of tall pines. Likewise, Sea Ranch RV Park is tucked along Ecola Creek, within walking distance of downtown and the beach.
Lodging: Among the many inns and hotels at Cannon Beach, The Ocean Lodge is a popular favorite. It's an affordable 3-star hotel set on the beach in the heart of town. The Horner Beach House is a fantastic vacation rental with uninterrupted views of Haystack Rock.
Distance from Portland: 80 miles (approx. 1.5 hours)
3. John Day
To encompass all of John Day, you'd have to draw a circle with a 140-mile diameter on a map. John Day is an attraction all its own, but the John Day Fossil Beds National Monument is what you're really coming this way to see. It's split into three different far-spread segments.
The monument is broken down into the Sheep Rock Unit, Painted Hills Unit, and Clarno Unit, which is further out and less popular than the first two. Sheep Rock Unit features a mesmerizing canyon drive and a fascinating fossil museum, while the Painted Hills Unit features hikes through unique multi-colored rock formations.
John Day is quaint and charming, as are the nearby villages of Prairie City and Fossil. You'll find plenty of local restaurants, small museums, and interesting activities like fossil hunting to round out your weekend adventure.
Camping: Ochoco Divide Campground is a U.S. Forest Service-maintained campground conveniently located next to the area's main highway. For something more remote, set up at the Burnt Ranch Campground dispersed camping area on BLM land along the John Day River.
Lodging: Each small town in the area has a few Airbnb choices and most have a hotel or two. The Painted Hills Cottages and Retreat and the historic Hotel Prairie both have high reviews.
Distance from Portland: 273 miles (approx. 5 hours)
4. Hood River
Hood River is an idyllic town at the foot of Mount Hood, near the Columbia River. It's an outdoor-lovers paradise with sky-high mountain excursion opportunities in every direction. And the river offers its own blend of recreational activities.
On your way to and from Portland, you can tour the dozens of waterfalls of the Columbia River Gorge. Multnomah Falls is the tallest along the route, rising several hundred feet high. In fact, it's Oregon's tallest waterfall. The nearby Bonneville Dam is a National Historic Landmark worth checking out; look for the spawning salmon if you visit between August and November.
Windsurfing is a popular activity on the river cove next to the bridge that crosses the river. Local shops offer beginner lessons to those who want to give this watersport a try. The area has hikes aplenty, and the neighboring towns of Cascade Locks and The Dalles are also full of cute shops, great hikes, and other fun activities.
Lodging: There are several hotels in the area, mostly on the Oregon side of the river. A favorite place to stay in Hood River is the Columbia Gorge Hotel & Spa. If you prefer to stay on the Washington side of the gorge, The Society Hotel is a great spot just across the bridge in Bingen.
Camping: Bridge RV Park & Campground is next to the Hood River Bridge in Washington and is close to all of the town's shops and amenities. Those who prefer trees and dirt to pavement should camp a few miles east of Hood River in Memaloose State Park.
Distance from Portland: 63 miles (approx. 1 hour)
5. Mount Hood
Mount Hood may be Oregon's preeminent outdoor symbol. It's visible from Portland on a clear day and is a standout destination for outdoorsy folks from across the country. It also boasts the longest ski season in North America, with lifts operating year-round, so it's no wonder it's one of the top Portland road trips for skiers and snowboarders.
Snowsports are the primary draw in the winter while summer and fall draw hikers and backpackers to Mount Hood's trails. Families will enjoy the alpine slide, disc golf, mountain biking, batting cages and more at the Mount Hood Adventure Park at Skibowl in the town of Government Camp.
The Timberline Lodge is a National Historic Landmark worth a visit even if you aren't staying the night, and movie buffs will recognize it from many of the outdoor scenes in 1980's "The Shining." If it works for your schedule, try the lodge's Sunday brunch buffet. The Timberline Trail also starts here and is one of the most stunning hikes in Oregon.
Lodging: Without a doubt, the most memorable place to stay on Mount Hood is the Timberline Lodge. The history, atmosphere, and food here is incredible. If you'd rather stay in the town of Government Camp, the Huckleberry Inn is perfectly situated next to all of the popular restaurants and activities in town — and of course there's plenty amazing cabin rentals near Mount Hood as well.
Camping: There are a plethora of campgrounds in the area, and you can't go wrong with any of them. The Mount Hood Village RV Resort is an amenity-rich camping area and the stellar mountain views from the  Trillium Campground make it one of the best National Forest campgrounds in the area.
Distance from Portland: 138 miles (approx. 2 hours, 40 minutes)
6. Mount Rainier National Park
Mount Rainier National Park is all about mountain adventures. Here, you can hike, bike, ski, swim, and boat to your heart's content. The area is vast and there are innumerable activities and scenic places to visit, making it one of the most popular Portland road trips.
First-time visitors should swing through the Paradise Valley area on the southern end of the mountain and stop by the Henry M. Jackson Memorial Visitor Center. Here you will find awesome sights, great trails, information on the area, and the historic Paradise Inn.
There are too many wonderful places to see around Mount Rainier to list. Skiers and snowboarders may want to head to Crystal Mountain Resort just outside the park's border on the eastern side. There are epic views from the Mount Rainier Gondola.
Camping: La Wis Wis Campground is a relatively low elevation camp by the Cowlitz River. Cougar Rock Campground is closer to Paradise Valley and other mountainside attractions but higher elevation. There are many campgrounds all around the mountain and dispersed camping is allowed in the wilderness with a permit.
Lodging: Paradise Inn and Crystal Mountain Resort are both unique resorts where you can make the most of your trip. Both have comfortable rooms and hiking trails from the front door, and Crystal Mountain Resort offers multi-course dinners at their high-elevation Summit House. If a cabin-in-the-woods, check out this guide to the best cabin rentals near Mount Rainier.
Distance from Portland: 138 miles (approx. 2 hours, 40 minutes)
7. Seattle
Sandwiched between the highest peaks in the Cascades and the biologically diverse waters of the Puget Sound, Seattle is a vibrant city with direct access to a wide array of outdoor escapes. The options of how to spend a weekend in the Emerald City are nearly endless.
Related read: The Ultimate Portland to Seattle Road Trip Itinerary
A ride on a Washington State Ferries will take you to several of the Puget Sound's islands — you could easily spend a day or longer at many of them. There are numerous Puget Sound boat tours that offer whale watching and other wildlife viewing expeditions.
Looking to explore a little further from the city? Take a day trip over to Olympic National Park, or choose from the selection of some of the best Seattle-area day hikes. And while you're exploring Portland road trips, why not read up on places to visit from Seattle?
Lodging: A unique and romantic option is a floating houseboat in the Puget Sound — or perhaps a waterfront condo downtown. On the hotel side of things, check out the Fairmont Olympic Hotel or the Willows Lodge.
Camping: You'll have to head out of the city a bit to find any real camping areas. You could take the ferry to Bainbridge Island and stay at Fay Bainbridge Park for a relaxed stay right on the Puget Sound. Alternatively, Tall Chief RV Campground is a full-featured resort with cottages and yurts.
Distance from Portland: 174 miles (approx. 2 hours, 45 minutes)
8. Sisters
Sisters, Oregon is a small town within the Deschutes National Forest near the more well-known town of Bend, but at a higher elevation than Bend. It's also more remote. There are numerous hiking and mountain biking trails that start right in the middle of town.
Beer fans will want to visit Hop in the Spa, a beer spa where you can soak in "hop therapy" tubs – and yes, beer and pretzels are available during the treatments.
Adventurous-minded visitors can travel in any direction and find some new place to trek. The Three Sisters Wilderness is one of the most beautiful areas of the Cascades. Drive down Elm Street and continue as it turns into Three Creeks Road for direct access to the mountains.
Closer to town are the Deschutes River, Tumalo State Park, and several nearby ski areas and sno-parks. But of course, you can also just hang out in downtown Sisters. The main strip has interesting shops and restaurants, and the town is loaded with beautiful parks and other relaxing public spaces. It's one of the best Portland road trips for travelers who hate being crowded in the wilderness.
Places to Stay
Lodging: There are a few hotels and motels within Sisters, but the options outside of town are a little more interesting. Black Butte Ranch and The Suttle Lodge & Boathouse are both amazing places to kick back for a weekend.
Camping: There's camping within the town and down almost every road in Sisters. Dispersed camping is also allowed in the adjacent forest. Explore the best camping spots near Bend to browse a roundup of the top options.
Distance from Portland: 163 miles (approx. 3 hours, 15 mins)
9. Wallowa Lake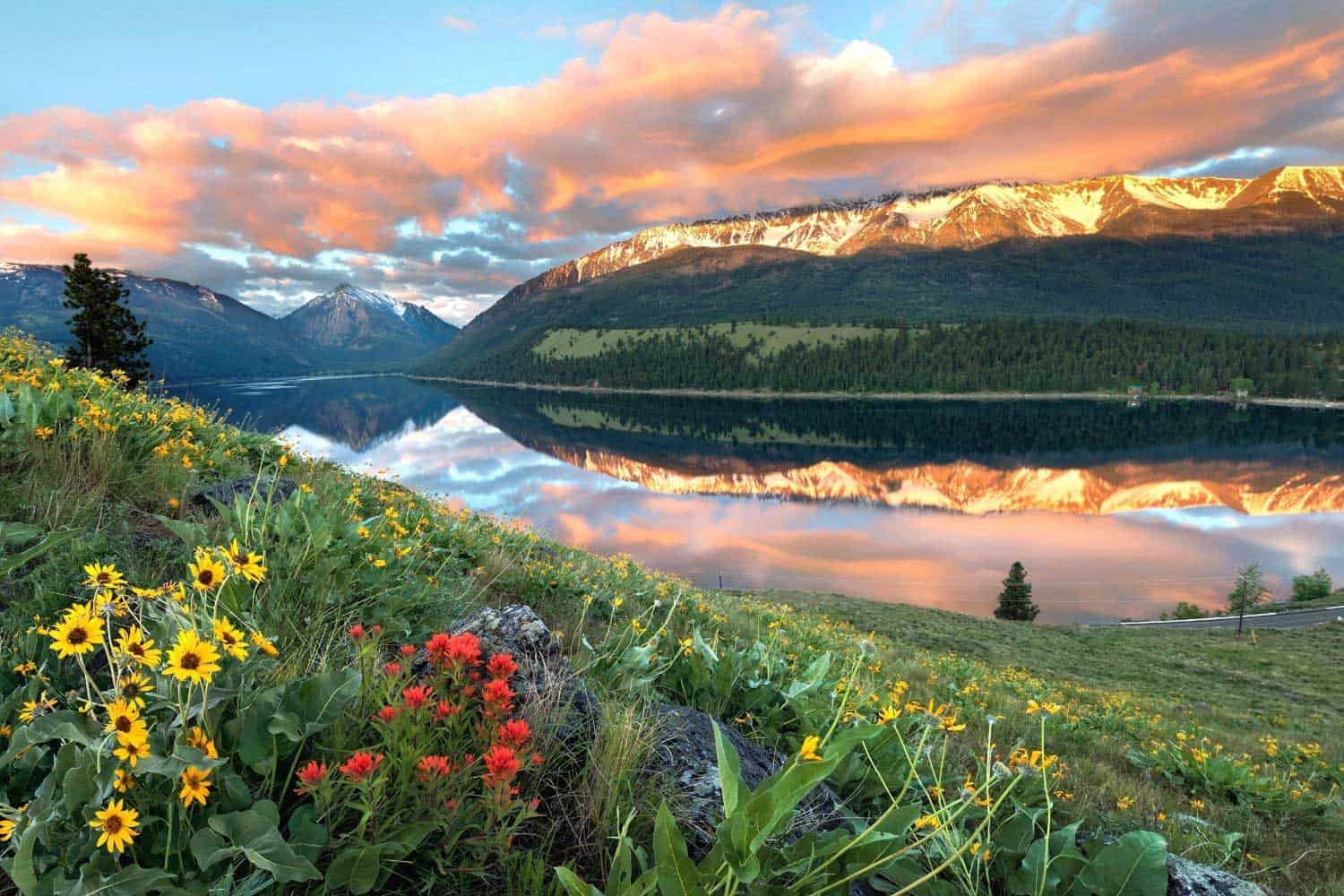 Wallowa Lake is the furthest of the Portland road trips, but it's also one of the most jaw-dropping destinations. The beautiful lake and stunning granite mountain peaks almost seem out of place in the state – there's nothing else like this amazing environment anywhere else in Oregon.
Wallowa Lake State Park and the neighboring town of Joseph are somehow still a secret to most, including many resident Oregonians. The area is saturated with indigenous history and it's a fascinating place to learn about the story of Chief Joseph and the Nez Perce Tribe. Old Chief Joseph's Gravesite should be on your list of stopping points.
The lake is great for fishing and water-sports, and there's much to do in the mountains around Eagle Cap Wilderness. There's a tramway to a mountaintop restaurant  or you can sign up for a deluxe camping trip where a team of mules brings your equipment and gear to your campsite.
Places to Stay
Lodging: There are a number of great options. The Wallowa Lake Resort is a great choice near the state park, and the Kokanee Inn is great for those who want to stay in the charming town of Joseph.
Camping: Wallowa Lake State Park has a huge campground and a marina; most campers in the area stay here. If you have an RV, you may prefer to stay at the Five Peaks RV Park, highly regarded for its cleanliness and amenities.
Distance from Portland: 334 miles (approx. 5 hours, 30 mins)
More to Explore in Oregon:
Sign up for our the Weekend Wanderer to join thousands of readers getting epic travel, hiking, camping and gear ideas every week.
Was this article helpful?
---