We research, evaluate and select travel destinations based on a number of factors, including our writers' experience, user reviews and more. We may earn a commission when you book or purchase through our links. See our editorial policy to learn more.
---
Relaxing in a secluded cabin deep in the woods under a starlit sky is one of the best experiences you can have in Oregon.
Imagine a summer escape where the sounds of nature replace the din of the city, a winter retreat beside a crackling fireplace as the snow piles up outside, an autumn adventure when migrating wildlife fill the lakes and skies with life, or a springtime frolic when flowers are in full bloom — these are just a few of the experiences you can have when you stay in private and secluded Oregon cabin rentals.
Relative to the rest of the country, Oregon remains sparsely populated. The I-5 corridor is home to most of the state's residents, but most everywhere else lies well off the beaten path.
As a result, there are many remote cabins spread across the state. From the coast to the Cascades to the desert, you'll be able to find a secluded nook to call your own (at least for a few nights).
Related read: The Ultimate Portland to Seattle Road Trip Itinerary
1. Incredible Lake View Cabin
Why you should stay: A huge deck, postcard-worthy views, a private hot tub…the list goes on.
Nearest town: Prineville
Sleeps: 8
Minimum stay: 2 nights
Rates from: $245 per night
Wildlife abounds around this incredible lake view cabin. This large, rustic, and gorgeous cabin is on 20 acres of private high-desert landscape with juniper trees and sagebrush right outside the front door.
Access to the reservoir and the associated state park are only minutes away. This residence sets the stage for a fun-filled family vacation, a small work retreat, or a fun weekend at the lake with some friends. Fishing, swimming, and boating are all popular activities at the lake.
The small town of Prineville will be your main source for gas, groceries, and other necessities, but Oregon's own outdoor adventure hub of Bend is only another hour down the road. You get access to city life, small-town charm, and lakeside seclusion all in one Airbnb.
Check Availability
Related read: 11 Refreshing Swimming Holes in Oregon
2. Hummingbird Lodge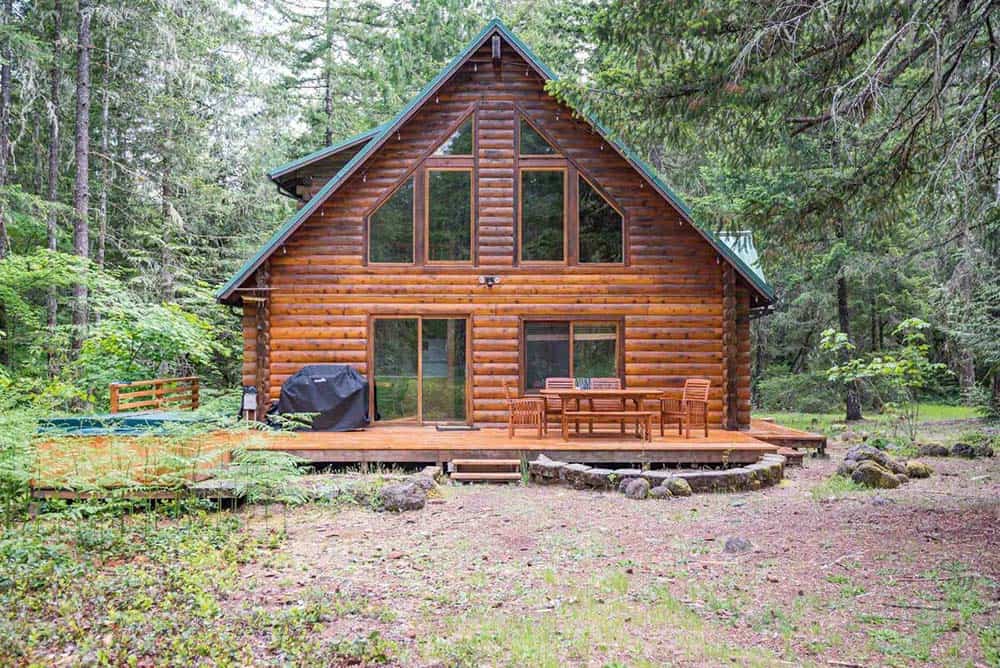 Why you should stay: A luxurious cabin so well-appointed that you may forget to venture outside.
Nearest town: Sandy
Sleeps: 8
Minimum stay: 2 night
Rates from: $189/night
A multi-level cabin with an enormous fireplace and an open-concept design, the Hummingbird Lodge is a fantastic place to stay when visiting Mount Hood. It is situated on 10 acres of land, making it one of the few truly secluded places to stay on the popular mountain.
When you stay here, all of Mount Hood's best trails and slopes are yours to explore, and Portland itself is only an hour away. Whether you want to stay indoors or play outdoors, or venture near or far, this cabin is perfect for doing it all.
"This is a family paradise! Our kiddos roamed free and explored all of the beautiful nook and crannies of this property. Such magical details scattered around," said Airbnb guest Cara. 
Check Availability
3. Malheur Base Camp
Why you should stay: Stargazing and solitude on the bank of the Malheur River.
Nearest town: Drewsey
Sleeps: 6
Minimum stay: 1 night
Rates from: $71/night
In the middle of Eastern Oregon is Malheur Base Camp, a backcountry respite amid desert, forest, and ranch lands. It's an oasis on a five-acre farm on the Malheur River.
This idyllic place is hours away from almost anything, which makes it special for that very reason. Guests have the cabin to themselves, but they can also include a deluxe wall tent with their reservation to make space for larger groups. You'll need to do your cooking in the outdoor kitchen and hot water for showers is completely seasonally dependent, but cell service is surprisingly good. There's also an indoor heater to ensure you can sleep in comfort even when it's quite chilly outside.
Check Availability
4. Crystal Creek Cabin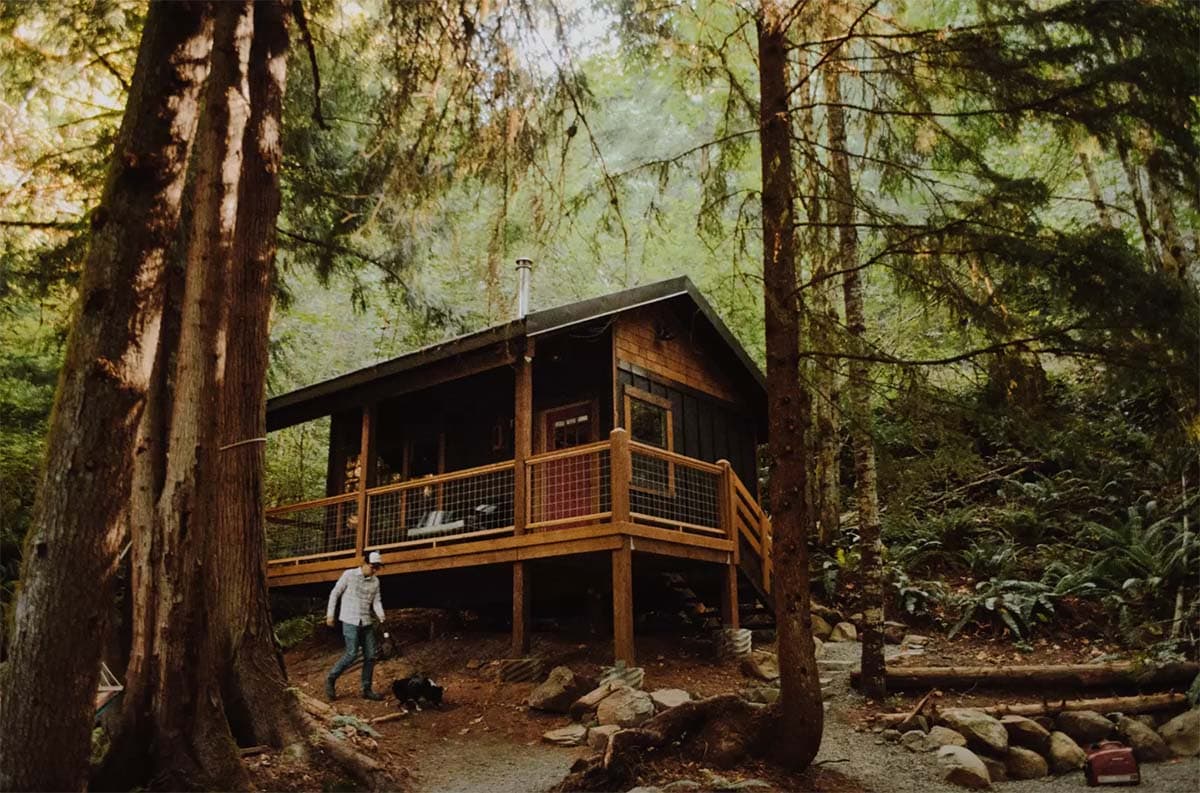 Why you should stay: Rustic digs under a canopy of giant Cedar trees.
Nearest town: Mount Hood
Sleeps: 4
Minimum stay: 3 night
Rates from: $209/night
Escape to the edge of the Mount Hood National Forest at the Crystal Creek Cabin. You'll have your own private slice of heaven under the giant Cedars on an expansive 80-acre property.
This off-the-grid cabin is rustic as they come, built from local trees harvested from the property and reclaimed from an abandoned water tower. A Honda generator is available if you really need to plug something in — but the provided candles and a lantern are the preferred way to light the place at night. If you're looking for a place to go where you can nature with nature to the max, this is it.
Check Availability
5. Creekside Cabin
Why you should stay: Soak in a forested hot tub near Eugene.
Nearest town: Cottage Grove
Sleeps: 4
Minimum stay: 2 nights
Rates from: $165/night
This creekside cabin is in the woods west of Cottage Grove, placing it within the solitude of the western Cascade foothills. But it's within a 30-minute drive of Eugene and the University of Oregon.
Its relative remoteness makes it an easy escape for Willamette Valley residents who want a quick break from civilization, but it also serves as a fantastic place for Eugene-area visitors who want to experience Oregon's natural beauty during their stay.
There are many trails, lakes, and mountains to explore in the area. You can find many of the area's best sights by venturing out on these spectacular hikes around Eugene. Of course, the home next to a meandering creek, so there's plenty of space to commune with nature right outside your back door.
Check Availability
6. Mid-Century Riverfront Cabin
Why you should stay: Tranquility on Wilson River at the edge of Tillamook State Forest.
Nearest town: Tillamook
Sleeps: 5
Minimum stay: 2 nights
Rates from: $221/night
This mid-century riverfront cabin has a minimalist exterior that blends well into its surrounding environment. The inside, though, is all-out modern and designer chic. The host is a professional designer from Portland and you can clearly see how her clean styling inside contrasts the dark, natural beauty of the immediate surroundings.
A large deck on the large riverfront property provides plenty of space for relaxation and exploration. The town of Tillamook is a short drive and serves as a gateway to the Oregon Coast. Heading down the highway in the other direction will land you smack dab in the middle of the Tillamook State Forest, with many trails and backroads to discover. It's also only about an hour and 20 minutes to Portland, so you can spend a day in the city once you've had your fill of the outdoors — if that's possible, of course.
Check Availability
7. Rustic Little Log Cabin in the Woods
Why you should stay: Quiet and quaint stay between the mountains and the desert
Nearest town: La Pine
Sleeps: 4
Minimum stay: 1 night
Rates from: $135/night
Built on a swath of forested land adjacent to the BLM's public lands, this rustic little log cabin is an ideal getaway for those filled with wanderlust. It'll do well as a great home base for intrepid individuals who want to hike, snowshoe, or snowmobile into the surrounding wild and open landscape.
The cabin is near Central Oregon's La Pine, so it's in a prime position for day trips to popular Mount Bachelor Ski Resort, Crater Lake National Park, and the endless expanse of the Oregon High Desert.
"What a great getaway! Darling cabin with fun touches. Very clean with all amenities we needed. Responsive and kind hosts," says Airbnb guest Jill.
Check Availability
8. Podunk Cabin on Mount Hood
Why you should stay: It's a private and well-furnished retreat on the slopes of Mount Hood.
Nearest town: Rhododendron
Sleeps: 8
Minimum stay: 2 nights
Rates from: $150/night
Staying at a cozy place like the Podunk Cabin is the perfect way to experience Mount Hood. Known for its year-round skiing and vast array of iconic hikes, Mount Hood stands tall as the #OptOutside symbol for Oregon adventure lovers.
The cabin is a warm and inviting respite from a day full of mountain fun, and you can pick up any food or supplies you need in the nearby town of Rhododendron. Besides the ski slopes and trails, you'll also be near the family-friendly Mount Hood Adventure Park.  The alpine slides, zip lines, and go-karts make the mountain a stellar vacation destination at any time of the year, even for folks who hate the snow.
Check Availability
9. Scenic Creek View Cabin
Why you should stay: A tranquil rainforest respite from the outside world.
Nearest town: Philomath
Sleeps: 4
Minimum stay: 1 night
Rates from: $87/night
Hide away alongside Crooked Creek at this scenic creek view cabin. You'll be tucked deep within the temperate rainforest — yes, rainforest — of the Coast Range. It's a quiet and peaceful corner of the woods far away from the hectic day-to-day of the civilized world.
It's also perfectly situated between Mary's Peak, which is the tallest point in the entire Coast Range, and the perpetually verdant Alsea Falls Recreation Site — so there's no shortage of back roads and trails to explore. The town of Philomath lies nearby, which is home to a surprising number of wineries and vineyards. If you have any interest in wine tasting, it's worth at least a half day to try a few of the state's up-and-coming wines.
Check Availability
10. Log Cabin on Tumalo Creek
Why you should stay: If Bend, Bachelor, and Broken Top are your idea of good company.
Nearest town: Bend
Sleeps: 3
Minimum stay: 2 nights
Rates from: $150/night
The log cabin at Tumalo Creek was built by hand with trees from the old-growth pine forest surrounding it. The charming cabin is very close to Eastern Cascade giants like The Three Sisters and Mount Bachelor, and bedazzling Tumalo Falls.
This is where you'll want to stay if you're looking for the ultimate backwoods Bend getaway. Downtown Bend is a mere nine miles down the road, but you're going to feel as if you're in the middle of nowhere, especially when winter weather covers the surrounding forest in a sound-absorbing blanket of snow.
Bend is famous for its outdoorsy scene. There are tons of trails in the area for hikers, backpackers, and cross-country skiers, two ski resorts for those who dream of hitting the slopes, and multiple rivers and reservoirs for water-bound recreation. It's also well-known for it's beer scene, with more than 26 breweries on the Bend Ale Trail. And don't worry – a cab back home shouldn't cost you more than $20 or so.
Check Availability
11. Grampie's Cabin
Why you should stay: Centrally located between the highlights of Oregon's Eastern Cascades.
Nearest town: Crescent
Sleeps: 6
Minimum stay: 2 nights
Rates from: $115/night
Grampie's Cabin is a charming log cabin that looks exactly as you would imagine a log cabin should. This cabin is in the forest outside Crescent. Though you'll be far away from the sights and sounds of any city, it is not completely isolated. Crescent is close to the Willamette Pass Ski Area, which is a fantastic place to learn thanks to a $35 lesson deal, and it's only an hour from the trendy and outdoorsy town of Bend.
It's also perfectly located within an hour or less drive from many Eastern Cascade and desert attractions such as Crater Lake, the High Desert Museum, Mount Bachelor, Fort Rock, and much more. Though Crescent may not be a well-known town, it's actually a fabulous place to base yourself to explore south-central Oregon.
Check Availability
12. Secluded Get-A-Way
Why you should stay: Close to Crater Lake and a wealth of hiking, biking, and ATV trails.
Nearest town: Klamath Falls
Sleeps: 5
Minimum stay: 2 night
Rates from: $89/night
Located at the end of a dead-end dirt road, this secluded cabin in the woods offers direct access to neighboring OHV trails for ATV riding during the summer and snowmobiles during the winter. Likewise, you can hike and bike to your heart's content in the surrounding mountains.
Upper Klamath Lake, Oregon's largest freshwater body, is a minute away. Anglers and wildlife observers will want to spend every waking minute exploring its waters. Crater Lake National Park is certainly the highlight of the area, and, fun fact, Klamath Falls has the largest population of bald eagles in the U.S. Bring your binoculars!
Check Availability
13. Romantic Cabin
Why you should stay: Romantic and private retreat near trails to epic waterfalls.
Nearest town: Silverton
Sleeps: 2
Minimum stay: 1 night
Rates from: $173/night
A secluded and intimate getaway, this romantic cabin has everything you and your partner need to rekindle and refresh in a weekend getaway. Privacy and opulence are the hallmarks of this cabin. The private hot tub, bedside fireplace, and in-home theater help set the mood for a couple's escape.
The town of Silverton is not far away, but neither are the waterfall-laden trails of the western Cascades. You'll be a short drive from Abiqua Falls,  one of the most impressive and secluded waterfalls in the state, as well as Silver Falls State Park and its Trail of Ten Falls. For a one-on-one weekend in the woods, you'd be hard pressed to find a better cabin.
Check Availability
14. Enchanting A-Frame
Why you should stay: Experience the pioneer life near Baker City and the historic Oregon Trail.
Nearest town: Baker City
Sleeps: 4
Minimum stay: 1 night
Rates from: $95/night
Tall evergreens surround this enchanting A-frame cabin at the treeline of the Elkhorn Mountains outside of Baker City. This serene location is accessible year-round, though you'll need a 4WD vehicle to get here in the winter. There's no hot water, so you'll need to heat water on the propane stove for showers — or just go au naturel for a few days.
Hunting, fishing, hiking — the mountains are your oyster. The town is a highlight, too, as Baker City is loaded with Old West styling and history. There are several museums in the area and you can hike along a segment of the Oregon Trail where wagon wheel ruts can still be seen to this day.
Check Availability
More to Love in Orgeon
Get the Territory Supply Newsletter and join thousands of readers getting epic travel and Airbnb ideas every week.
---