We may earn a small commission when you make a purchase or booking through our links. It doesn't affect what we feature, but it does keep the lights on. Read our editorial policy to learn more.
---
Prepare to take your cabin camping game to new heights.
Did your childhood dreams ever include living in a treehouse? Thanks to vacation rental sites like Airbnb and VRBO, that dream is about to become a reality.
Well, at least for the weekend.
Treehouses can get a little cramped with large families, but when you're planning a couples retreat or a small family getaway with one or two kids, they're truly magical.
Whether you're looking for a rustic cabin in the canopy or a modern masterpiece with all of the comforts of a hotel room, it's pretty easy to find a treehouse that suits your camping (or glamping) style.
Airbnb makes it simple to find a treehouse rental with their "unique stays" filter, but we've saved you the trouble of scrolling through duds to find the perfect rental.
Here's a list of our favorite treehouse rentals for camping across the United States, from luxury architectural wonders to minimalist classics.
1. Montana Treehouse Retreat
Why you should stay here: an epic double-decker mountain retreat near Glacier National Park.
Location: Columbia Falls, MT
Sleeps: 4
You may be camping, but there's no roughing it in the Montana Treehouse Retreat. This luxury two-story treehouse features charming spiral staircases, a full kitchen, full bathroom, and a master suite with a queen-size Tempur-Pedic mattress.
Unlike most treehouse rentals that barely fit two, you'll get 500 square feet of living space with ample space to entertain, beds for four guests, and two outdoor patios to kick back and appreciate the incredible views.
When you're ready to get out and explore, the Montana Treehouse Retreat is 30 minutes from Glacier National Park and a few minutes away from the Whitefish Mountain Ski Resort.
Follow 'em: Instagram
2. Lily's Brookside Tree House
Why you should stay: a boho-chic treehouse that belongs on a magazine cover.
Location: Montpelier, Vermont
Sleeps: 2
Another Airbnb Plus listing that's great for first-time bookers, Lily's Brookside Tree House boasts a stunning boho-chic interior with wood accents and state of the art amenities.
Lily's Brookside Treehouse is an ideal basecamp for exploring Vermont's Green Mountains. It's within driving distance of the Sugarbush, Stowe, and Mad River Glen resorts, so keep this treehouse on your radar during ski season.
3. Treehouse Place At Deer Ridge
Why you should stay here: a couples' retreat with a loft bed for the kids.
Location: Snohomish, WA
Sleeps: 3
Treehouse Place at Deer Ridge is equally delightful as a romantic escape or adventurous basecamp for small families. The treehouse is stunning inside and out, featuring a stone fireplace, luxury soaking tub, and romantic four poster bed.
The child loft has a low clearance, but it's a great for small children who are old enough to climb the custom-made iron pipe ladder.
4. Bolt Farm Luxury Treehouses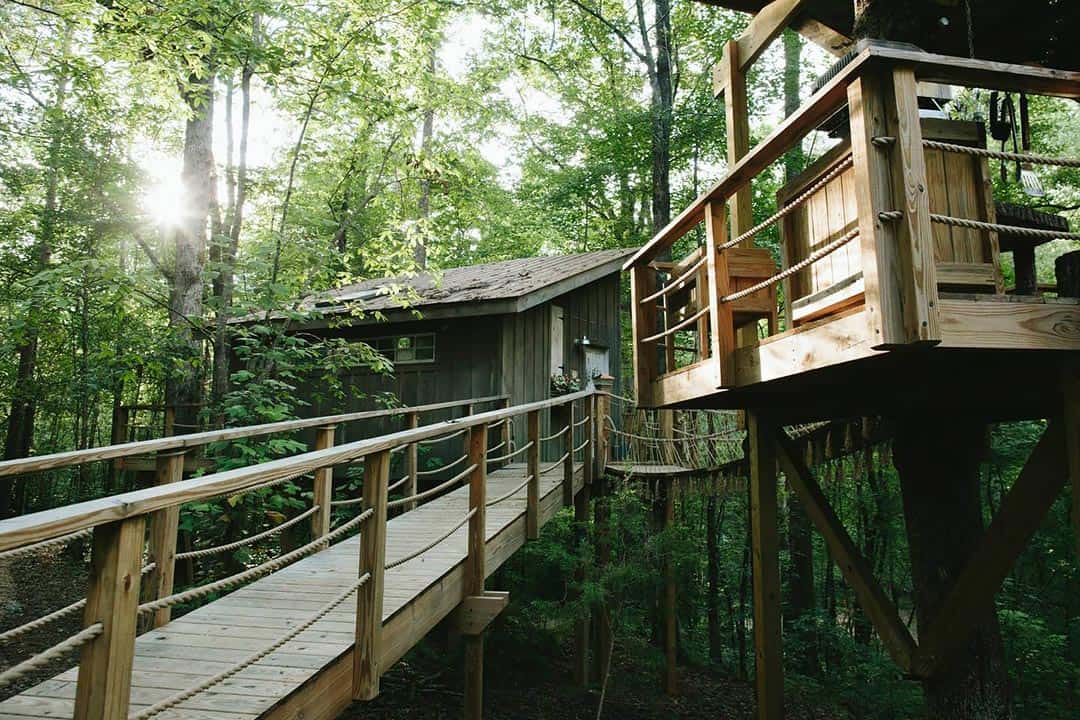 Why you should stay: a 30-acre nature retreat where childhood fantasies meet grown-up luxury.
Location: Walhalla, SC
Sleeps: 2
The Majestic Treehouse is the most popular Airbnb in South Carolina, garnering praise from the likes of Architectural Digest, Conde Nast Traveler, and the CEO of Airbnb himself. It shouldn't come as a surprise, then, that the Bolt Farm nature retreat is expanding, with several new luxury treehouses opening their doors in 2020.
The Majestic Treehouse gets all of the publicity, but don't overlook the Enchanting Treehouse Retreat on the waterfront. It's actually an Airbnb Plus property, meaning it's been vetted by Airbnb staff and photographed inside and out to provide a full virtual tour — perfect for wary travelers booking their first vacation on Airbnb.
These opulent treehouses book out months in advance and there's already a waiting list for the new treehouses debuting in 2020, so you'll want to book your romantic getaway to Bolt Farm well in advance.
Follow 'em: Instagram
5. Treetop Hideaways
Why you should stay: a pair of luxury treehouses that redefine the modern glamping experience.
Location: Chattanooga, TN
Sleeps: 2
Perched on the side of Lookout Mountain just a few minutes from downtown Chattanooga, Treetop Hideaways proves that luxury treehouses aren't a childhood fantasy. They're perfect for the modern glamping family that enjoys outdoor getaways with a refined basecamp and modern amenities.
The two-story Luna Loft Treehouse exudes rustic elegance from top to bottom. Everything tells a story, from the 19th century reclaimed barn wood structure to the penny floor bathroom, copper-lined whiskey barrel shower, and 16-foot-tall warehouse windows.
The Elements Treehouse elevates backcountry luxury to new heights thanks to a collaboration with Pete Nelson from the TV-show Treehouse Masters. You'll have full temperature control in addition to heated floors, and the walk-in rain-head shower features a glassed-in tree to top off the natural ambience.
Both treehouses feature a kitchenette, gigabit internet, Tuft & Needle mattresses, and fire pits stocked with seasoned wood. Guests also have access to complimentary wine, sparkling water, s'more kits, and locally-sourced coffee, tea, and granola bars.
Follow 'em: Instagram
6. Willow Treehouse
Why you should stay here: a modern masterpiece overlooking a tranquil pond with 34 acres of wooded seclusion.
Location: Willow, NY
Sleeps: 2
Designed by Antony Gibbon and built by William Johnson, the Willow Treehouse features a rare blend of rustic charm and modern aesthetics. Floor-to-ceiling windows deliver incredible views and ample natural light, and there's plenty of cooking options between the full kitchen upstairs and the grill on the private deck below.
Located about 15 minutes from Woodstock, you'll enjoy peace and quiet while perched in the trees on the 34-acre wooded property. The pond isn't just for looks — you can actually swim in it — and there's a wood-burning Swedish hot tub for late-night stargazing.
Follow 'em: Instagram
7. Sulfur Ridge
Why you should stay here: an Amish-built treehouse with an eclectic sense of style.
Location: Bloomington Springs, TN
Sleeps: 2
Sulfur Ridge has everything you need for a glamping getaway in Tennessee — swanky accommodations, an elegant bathroom, a covered deck with a BBQ grill, a covered patio with a hot tub and fire pit, and a bed swing tucked under the treehouse.
Located in the heart of Upper Cumberland, you're just a short drive from Center Hill Lake, Burgess Falls State Park, and Cummins Falls State Park.
If you're a fan of antique furniture and decor, you'll love the interior of the treehouse. Everything tells a story, from the 19th century door to the stained glass window and clawfoot tub. It's cute, quirky, and drenched in sunlight thanks to expansive windows that capitalize on the forest views.
8. Outpost Treehouse
Why you should stay here: a fire lookout-style treehouse on a 65-acre farm.
Location: East Leroy, MI
Sleeps: 2
Inspired by the classic fire lookouts you'll find out west, the Outpost Treehouse is simply elegant.
The minimalist interior is perfect for casual campers, but it's the exterior that really shines here. There's a wraparound deck, a BBQ grill for cooking, a fire pit, and plenty of room to roam on the 65-acre farm.
9. Monterrey Bay Treehouse
Why you should stay here: jaw-dropping views of Monterrey Bay and the Lago Lomita Vineyards.
Location: Los Gatos, CA
Sleeps: 2
If you're searching for a treehouse with epic views, this is it. The Monterrey Bay Treehouse delivers spectacular vistas of the entire Monterrey Bay area, including a number of the surrounding vineyards in the Tierra Madre Vineyard Block.
The accommodations aren't much to gawk at (we're talking about a tent on a large treehouse platform), but you're here for the views, not the Four Seasons treatment.
You'll be within a short drive of multiple world-class wineries, too, so finding a good bottle to drink in the sunset shouldn't be a problem.
10. Kukui Treehouse
Why you should stay here: skip the overpriced resorts in favor of an expansive luxury treehouse with ocean views.
Location: Kailua-Kona, Hawaii
Sleeps: 2
When most people think about a Hawaiian vacation, they picture swanky resorts, cabanas by the beach, and a poolside bar that serves drinks in monogrammed coconuts. Luckily, you're not like most people.
For a truly magical Hawaiian vacation that keeps you rooted in the Big Island's natural splendor, book a stay in the Kukui Treehouse. You'll enjoy sweeping ocean views from your luxury accommodations in the treetops, with 500 square feet of living space to stretch out and live like a king.
Unlike those crowded resorts, the Kukui Treehouse sits on three acres of private land, providing a rare level of privacy and seclusion. At 1,800 feet above sea level, you'll enjoy spectacular vistas from sunrise to sunset.
Follow 'em: Instagram
11. Tradewinds Treehouse
Why you should stay here: the best treehouse for large families with kids.
Location: Stanton, KY
Sleeps: 8
The Tradewinds Treehouse is hands-down the best treehouse for large families. You'll find ample accommodations for up to eight people inside, and the private bathhouse means you won't have to share restroom facilities with the neighbors.
The interior of the Tradewinds Treehouse is great, but it's what's on the outside that'll make this a memorable camping trip for the kids. There's a hot tub on the deck, a slide that'll keep your little ones entertained for hours, and plenty of local trails for young hikers to explore.
12. Walker Pond Tree Cabin
Why you should stay here: 40 acres of solitude and a custom cedar hot tub.
Location: Coventry, Vermont
Sleeps: 4
Situated on the shoreline of a photogenic lake, the Walker Pond Tree Cabin delivers everything you need for a weekend of R&R. You'll have 40 acres of forest and wetlands all to yourself, a canoe to explore the pond, and best of all, a custom cedar hot tub to soak in the magnificent view.
On the main level, the Walker Pond Tree Cabin features a sitting area, kitchen, and bathroom. The bedroom is upstairs in the loft, where you'll drift to sleep staring up at the cathedral ceiling with hand-hewn cedar rafters. When you're ready to take the party outside, there's a mini kitchen and BBQ grill on the private deck.
13. Vertical Horizons Treehouse Paradise
Why you should stay here: your basecamp in the trees for exploring Rogue River-Siskiyou National Forest.
Location: Cave Junction, OR
Sleeps: 2 to 6
Vertical Horizons Treehouse Paradise takes the concept of the classic bed & breakfast to new heights.
Surrounded by the lush Rogue River-Siskiyou National Forest, this unique B&B is a year-round favorite for adventurous Oregonians. The Oregon coast, Oregon Caves National Monument, and California's famed Redwoods are all just a short drive away, and there's plenty to do nearby with river rafting, hiking trails, zip lines, and Vertical Horizons' own disc golf course.
You'll find four treehouses for rent at Vertical Horizons: the Cottage, Shiitake, Calypso, and the crown jewel — Excalifir. All four treehouses come with a toilet, though you'll need to visit the clubhouse for showers.
The Cottage, Calypso, and Shiitake are great treehouses, but the Excalifir is the coveted cabin here. A massive two-story treehouse with space for six guests, the Excalifir features a gorgeous wraparound deck, stained glass windows, a private shower, and a flat screen TV.
More Must-See Vacation Rentals
Sign up for our free email to join thousands of readers getting epic travel, hiking, camping and gear ideas every week.
---