We research, evaluate and select travel destinations based on a number of factors, including our writers' experience, user reviews and more. We may earn a commission when you book or purchase through our links. See our editorial policy to learn more.
Was this article helpful?
---
The best glamping spots near Moab run the gamut, from rustic desert stays to well-furnished, air-conditioned, tiny homes.
Given how pricy hotels and short-term house rentals are in town, it's no wonder that glamping in all its glorious forms, particularly near Moab and Arches National Park, has taken off the last few years.
Best Glamping Near Moab – Our Picks!
These six glamping spots are a perfect way to unwind after a long day exploring the desert around Moab, Utah.
Related Read: 11 Best Glamping Spots in Utah for an Adventurous Getaway
1. Under Canvas Moab
Why you should stay: An upscale camping experience a stone's throw from Arches National Park.
Location: north of Moab
Sleeps: 2 to 6
Minimum stay: 1 night
Rates from: $219/night
If you're coming into Moab from the north, Under Canvas Moab is your first introduction to the red rocks of the valley. This unique spot is a prime location to use as a base for any type of adventure! The camp is a stone's throw from Arches National Park, epic OHVing and mountain biking trails, and close to the turn-off for Canyonlands National Park and Dead Horse Point State Park.
The camp itself is truly unique. Though the tents appear to be simple safari-inspired canvas abodes, the interiors are anything but. With luxurious furnishings, cozy linens and pillows, and private baths in each tent, you will have no trouble settling in after a long day of adventuring. And to top it off, if you need help deciding what to do each day, the friendly staff is more than happy to help you plan an exciting adventure suitable for everyone in your group.
Check Availability
Related Read: The Best Time to Visit Arches National Park
2. Glamping Canyonlands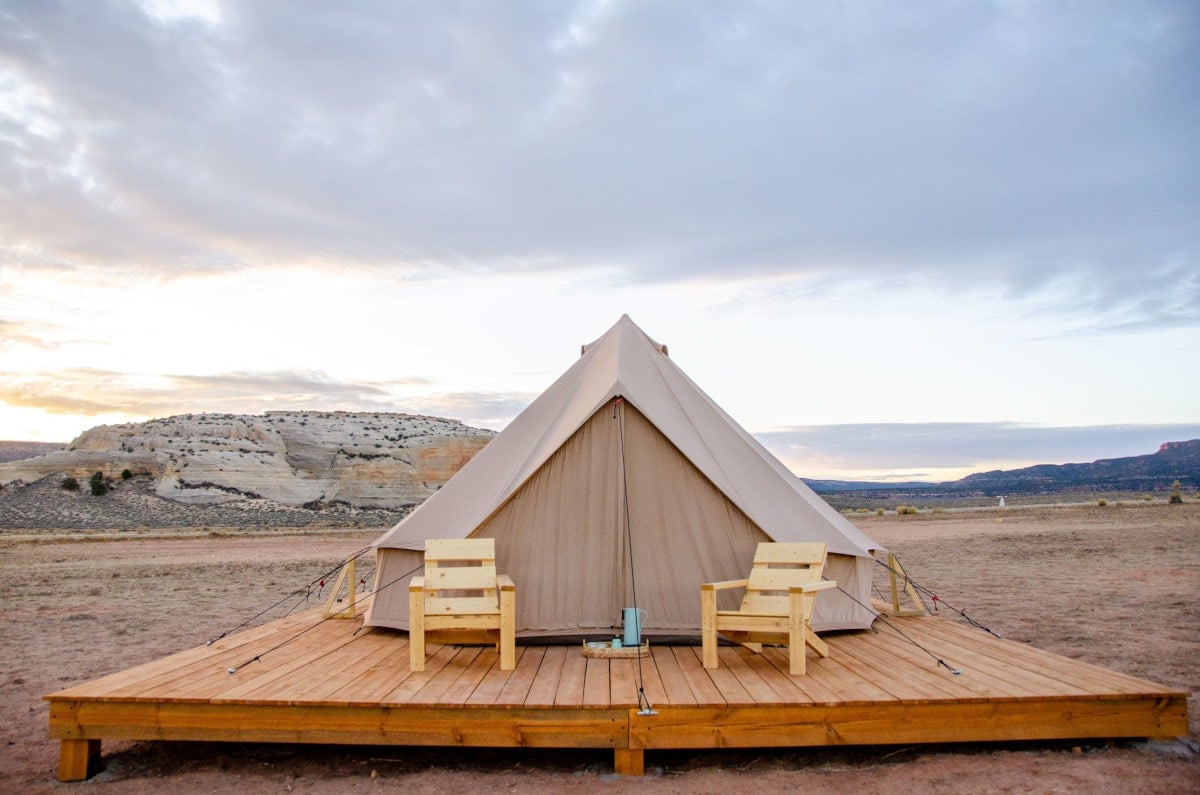 Why you should stay: A cozy stay with prime access to the Needles district and Indian Creek.
Location: Monticello
Sleeps: Up to 4
Minimum stay: 1 night
Rates from: $115/night
With multiple tents to choose from, Glamping Canyonlands is a quaint spot to pick as your home base during your trip. Right at the turn-off to Canyonlands Needles District, this camp is perfectly suited to anyone looking for a comfortable stay while having access to the wilderness. Whether you're looking to bag some desert towers or explore the extensive trail system, you'll be glad you have a comfortable bed and warm shower to return to.
The tents come complete with large beds and comfortable linens, indoor sitting areas, deck chairs, and even a few board games! Plus, each morning, you'll love having French press coffee delivered to your tent. There is a communal bathhouse with flushing toilets and a warm shower, and a communal outdoor kitchen complete with a stove so you can cook your own meals if you like.
The other outdoor spaces have picnic tables and hammocks. There is no internet here, so you'll get to leave all those electronic distractions behind.
Check Availability
Related Read: 21 Outdoorsy Things To Do Near Moab
3. Crooked Bindi Ranch
Why you should stay: A secluded stay in a luxury tent on 80 acres of private land.
Location: west of Moab
Sleeps: up to 4
Minimum stay: 1 night
Rates from: $270/night
Crooked Bindi Ranch is an 80-acre parcel of land, with only two tents in your camping area. You will have plenty of privacy, quiet, and space to enjoy the desert. The property is 9 miles from Moab and 4 miles from Arches National Park, so access to all the region has to offer is just a short drive away.
Even though there are two tents on the property, they're distanced so guests can enjoy all the serenity this location has to offer. Tucked into the rocky landscape, you'll have nearly everything you could want, including a hot shower, sink and flush toilet, outside deck, and plush sleeping accommodations. However, there's no fridge, Wi-Fi, or cell service, so plan accordingly.
Check Availability
Related Read: 8 Cozy Cabin Rentals Near Moab, Utah
4. Red Rock Teardrop Trailer
Why you should stay: A comfy trailer delivered to your campsite of choice with plenty of amenities to keep you refreshed.
Location: Any campground
Sleeps: up to 2
Minimum stay: 2 nights
Rates from: $99/night
Have you always wanted to have your own camper trailer but hate the thought of dragging it across the country? Then renting a teardrop trailer is the perfect option! The company will deliver the trailer to your reserved campsite of choice (free within 10 miles of Moab). This means you can be located wherever you want and still have the perfect cozy accommodation on your trip.
The trailer has a queen bed complete with bedding, and the wood cabinets make the space quite homey. Off the back, enjoy a well-stocked kitchen with a stove, hot water, and cooking essentials. The trailer has a 40-gallon water tank which should last 7-10 days, solar power, USB charging ports, a large cooler, camp chairs, and headlamps! All you need to bring is you and your adventure toys!
Check Availability
Related Read: 12 Best Hikes in Arches National Park
5. Last Hurrah Male Hogan
Why you should stay: A rustic but comfortable camping experience in a uniquely-shaped abode.
Location: west of Moab
Sleeps: up to 2
Minimum stay: 2 nights
Rates from: $135/night
Tucked off-grid, west of Moab proper, this uniquely-shaped abode will provide you with a comfortable camping experience while affording you a few giggles to boot. Completely remote, you will have plenty of space to explore, and there are no neighbors for miles unless you count the bighorn sheep and mule deer.
The property is on 145 acres, including a mile of river access on the Colorado River. There are miles of trails to explore, access to kayaks, climbing, and even a couple of side-by-sides. If history is your thing, you'll love finding fossils, dinosaur tracks, petroglyphs, and native American artifacts.
The accommodations have a queen bed, mini-fridge, grill fire pit, and a fully equipped kitchen. With so much space and distance from town, this is the perfect spot to unwind and enjoy the spectacular views and night sky.
Check Availability
Related Read: 11 Beautiful Glamping Spots Near Zion National Park
6. Moenkopi Yurts
Why you should stay: A comfortable but rustic stay at Dead Horse Point State Park
Location: Dead Horse State Park
Sleeps: Up to 6
Minimum stay: 1 night
Rates from: $14/night
Rented out through the Dead Horse Point State Park system, each of these five yurts offers an incredible opportunity to stay in the state park and enjoy views most people don't get to experience. Dead Horse Point State Park is a beautiful spot set above the canyons — not only do you get full access to the park, but you'll also have private access to the Intrepid Trail.
There are numerous hiking and biking trails in the park, and the views are stunning, especially at sunrise and sunset. Dead Horse Point is a beautiful spot to take in the views. Make sure you talk to a ranger to find out the many stories about how this mesa received its name!
Each yurt has bunk beds and/or pull-out couches, a table inside and out, heating and air conditioning, and electricity for charging cameras or other equipment. There aren't any bath facilities in the yurts, but they are only a short walk away. Outdoor gas grills are available for cooking, and plenty of water is available for consumption.
Check Availability
Related read: 9 Best Hikes in Canyonlands National Park for Every Adventurer
Find Your Next Utah Adventure
Get epic travel ideas delivered to your inbox with Weekend Wanderer, our newsletter inspiring more than 10,000 readers every week.
Was this article helpful?
---