---
Ready to spice up your Utah vacation? Cancel your reservation at the Holiday Inn and book a stay in one of these wild vacation rentals.
For those who prefer the road less traveled, Airbnb and VRBO both offer unique vacation rentals with a fresh take on travel lodging.
From treehouses to tipis, classic Airstreams to modern tiny houses, and everything in between, it is easy to skip the bland hotel rooms and book a vacation that you'll be talking about for years to come.
Of course, I'd be missing a huge part of the market if I just focused on the allure of unique vacation rentals for adults. Many of these places are designed to bring out your inner child, so it's safe to say your kids will love them, too.
Don't forget about the savings, either.
Special Offer
Get Up to $55 Off your First Trip
Plan your next getaway today
Looking for the perfect place to stay in Utah? Get up to $55 off your first trip when you join Airbnb.
Claim Your Credit
Vacation rental accommodations are often priced well below hotel rooms and resorts, freeing up more of your vacation budget to spend on fun activities and experiences.
All the hardcore travel planners out there could spend hours perusing all of peculiar vacation rentals on the interwebs (I call it "vacation window shopping"), but if you're short on time, here's a highlight reel of my favorite unique properties in Utah.
1. Cliffside Tiny Homes
Why you should stay: Tiny houses with big views, modern accommodations, and quick access to the nearby national parks.
Sleeps: 4
Minimum stay: 1 night
Pets allowed: No
The Cliffside Tiny Homes are conveniently located near Zion and Bryce Canyon National Parks, making them an excellent basecamp for adventurous travelers exploring Southern Utah's red rock country.
You don't have to travel far for scenic views, though. As the name implies, the cabin-themed rentals are actually cliffside, so can enjoy red rock vistas from sunrise to sunset anywhere on the secluded five-acre property.
There are three tiny houses at Cliffside, all built with a minimalist mindset to deliver everything you need and nothing you don't. They're well-designed and furnished with a rustic/modern aesthetic, and each tiny house comes with a fireplace. If you're feeling social, head over to the common area where you'll find a fire pit by the barn.
2. Envase Casa
Why you should stay: An eco-friendly shipping container house with ample space for large families and groups.
Sleeps: 12
Minimum stay: 1 night
Pets allowed: No
Envase Casa is the largest freestanding shipping container house in the state of Utah. Built with the environment and sustainability in mind, the modern-industrial home is almost 2,000 square feet with four bedrooms, three bathrooms, a full kitchen, and a sizable great room.
I'm not sure what the standard capacity is for six full-size shipping containers (I'm picturing thousands of Nike shoes), but this unique home can accommodate up to 12 guests. The nightly price is a little higher than some of the other Airbnb rentals on our list, but given the gargantuan capacity, it's a great price for big families and large groups. Envase also offers discounts if you book an extended stay by the week (15% off) or by the month (25% off).
Follow 'em: Instagram
3. The Ark Tiny Home
Why you should stay: A tiny house with a train-themed exterior and unrivaled views of Zion National Park.
Sleeps: 6
Minimum stay: 2 nights
Pets allowed: No
The Ark is one of two tiny homes on a secluded 75-acre property near Zion National Park. The vintage exterior is reminiscent of an old-fashioned train car, and there's plenty of seating on the spacious porch to soak in the magnificent scenery. There's also a private hot tub and fire pit for your evening enjoyment.
The interior of the Ark sticks to the retro theme with modern farmhouse decor and a tasteful explosion of teal cabinets and accent pieces. There's a full kitchen, office, laundry room, and a full bathroom with a jetted tub.
Follow 'em: Instagram
4. The Treehouse At East Zion Resort
Why you should stay: A photogenic tiny house perched atop a century-old cottonwood tree.
Sleeps: 3
Minimum stay: 1 night
Pets allowed: No
There are almost a dozen treehouses at East Zion Resort, but only one gets the title of THE Treehouse — the original architectural masterpiece built on the remnants of a century-old cottonwood tree. It's basically a tiny house atop a massive tree trunk, able to accommodate up to three guests with two beds, a full bathroom, and a kitchenette.
See that hobbit door carved into the trunk? Head inside and you'll find a climbing wall that leads up into the treehouse, which easily earns the award for the most exciting home entryway I've ever seen.
If you're hooked on booking a stay at East Zion Resort but can't get The Treehouse, don't worry — the property has plenty of other unique accommodations for you. The outdoor wonderland offers an expansive collection of modern treehouses, tiny houses, glamping tents, and yurts, too.
These guys are renowned for their guided tours, so don't forget to book an East Zion Experience before you go. Their Hidden Wonders rappelling tour through Zion National Park's slot canyons is truly breathtaking adventure.
Follow 'em: Instagram
5. Zion Backcountry Yurt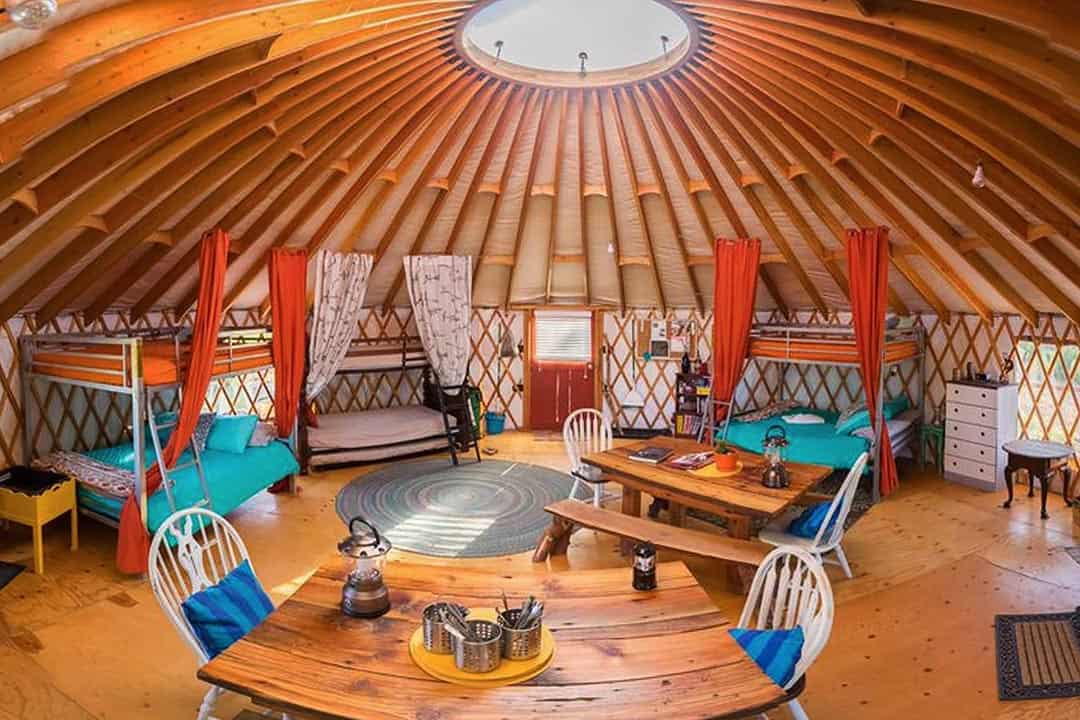 Why you should stay: A massive backcountry yurt with convenient access to the best hikes at Zion National Park.
Sleeps: 11
Minimum stay: 1 night
Pets allowed: Yes
When it comes to backcountry basecamps near Zion National Park, it's tough to beat the Zion Backcountry Yurt. The proximity to popular hikes like the Narrows is great, and the backcountry views from the campsite are incredible. Thanks to zero light pollution, you'll enjoy unrivaled stargazing at night, too.
The Zion Backcountry Yurt only has one bedroom (it's a yurt, after all), but its seven beds can accommodate up to nine adults or 11 children. That makes it an ideal choice for big families and large groups of travel buddies who want to bunk together instead of spending more on separate rooms.
Don't expect any air conditioning, but the yurt does have a wood-burning stove to keep you warm at night. There's a separate bathroom facility with a toilet and shower, and a large bonfire pit surrounded by log benches where you can cook delicious backcountry cuisine and relax by the fire at night.
Follow 'em: Instagram
6. Rose Hogan at Monet Valley
Why you should stay: An authentic Navajo hogan located in the magnificent & remote Monument Valley.
Sleeps: 6
Minimum stay: 1 night
Pets allowed: No
The Monet Valley B&B isn't your average bed & breakfast. For starters, you're on your own for breakfast, though you can sign up for a traditional Navajo taco dinner that sounds absolutely delicious.
Guests at the Monet Valley B&B get to stay in an authentic Navajo hogan — a traditional earth house that's sacred to the Navajo people. It's a primitive camping experience with no electricity, air conditioning, or showers, offering travelers the ability to reconnect with nature in truly unique accommodations with a rich heritage.
The Rose Hogan at the Monet Valley B&B can house up to six guests with four beds and a half-bath (the compost toilet is in an outhouse 50 yards away). There's a wood stove in the center of the hogan to keep you warm and a small table with folding chairs where you can eat inside. Outside, you'll have access to two picnic tables and a fire pit.
The Rose Hogan is on the Navajo reservation with minimal light and noise pollution, so you'll enjoy stellar views of the starlit sky at night. Don't forget that you're in Monument Valley, so the daytime views are magnificent, too.
Follow 'em: Instagram
7. Tipi Camping At Boulder Mountain Guest Ranch
Why you should stay: Authentic, hand-painted Native American tipis with comfortable bedding and handcrafted furniture.
Sleeps: 2
Minimum stay: 1 night
Pets allowed: Yes
If you're looking for incredible views and easy access to Grand Staircase-Escalante National Monument, head to Boulder Mountain Guest Ranch. The ranch sits at the foot of its namesake mountain in Dixie National Forest, at the mouth of a magnificent valley that delivers jaw-dropping vistas of Sweetwater Creek, Salt Gulch, and of course, Grand Staircase-Escalante.
You could stay at the main lodge or in one of the property's rustic cabins, but then you'd miss out on the fun of staying in one of the ranch's luxury tipis. That's right — Boulder Mountain Guest Ranch offers several authentic, hand-painted Native American tipis for your glamping pleasure.
Unlike many of the other tipis available on Airbnb, these luxury tipis sit on a raised wooden platform and are fully furnished with a California King bed and linens. Ensuring your experience will be far from primitive, you'll have a bathroom adjacent to your tipi and an indoor/outdoor shower a few yards away.
Adventure is just a short drive away as the area features some of the best hiking trails in Southern Utah, but there's plenty to do at the ranch, too. Boulder Mountain Guest Ranch offers a variety of activities including guided hikes, fly fishing, yoga, horseback riding, mountain biking, and bird watching. There's also the Sweetwater Kitchen — an organic, farm-to-table restaurant that serves up delectable fresh-cooked meals.
Follow 'em: Instagram
8. The Mini Dome
Why you should stay: A cozy cottage overlooking the scenic Pineview Reservoir.
Sleeps: 3
Minimum stay: 1 night
Pets allowed: Yes
The Mini Dome in Huntsville, UT looks like Frodo Baggins designed a tiny house — in a good way. This cozy little cottage boasts an eclectic exterior design that would be perfectly at home in the Shire, and a rustic interior that's reminiscent of a (small) European ski chalet.
The house itself is great, but the scenery wins the day here. The property overlooks Pineview Reservoir, and the area's relative seclusion affords a magnificent view of the stars at night. It's also conveniently located near three ski resorts, so keep this unique rental on your radar when the powder calls your name over the winter.
9. The Family Farm Barn
Why you should stay: A renovated barn set on a five-acre hobby farm.
Sleeps: 4 – 11
Minimum stay: 1 night
Pets allowed: No
Fans of old-fashioned farm life are sure to love the Family Farm Barn in Cedar City. The classic red barn sits on a five acre hobby farm, delivering an authentic country feel with beautiful views of the surrounding mountains.
There are actually two rentals available at the Family Farm Barn. The Homestead can accommodate up to four guests with three beds, while the larger Roost can accommodate a family of seven with six beds. If you're traveling with a large group, you can rent both units to house up to 11 people.
Whether you opt for the Roost or Homestead, you'll find both units beautifully decorated with farmhouse furniture and decor.
Follow 'em: Instagram
10. Basecamp 37°
Why you should stay: Safari-style glamping tents with luxurious California King beds.
Sleeps: 2
Minimum stay: 1 night
Pets allowed: Yes
Basecamp 37° is a small campground in Kanab, Utah, with five well-appointed glamping tents that put your 10-person Costco tent to shame. The safari-style canvas tents sit on raised wooden platforms and come with a California King bed, luxury linens, and an independent solar array to power the interior lights and charge your electronics.
Guests will need to share a community bathroom with two flush toilets and showers, but that's a small price to pay for a comfortable backcountry bed and incredible scenery.
Of course, adventurers don't head to Basecamp 37° just for the glamping accommodations — it's the prime location that makes this place so perfect. Centrally located near the Arizona border, Basecamp 37° is a reasonable drive from Zion, Bryce Canyon, and Grand Canyon National Parks. It's also close to Antelope Canyon and Horseshoe Bend, two of the most photographed canyons in the southwest.
Follow 'em: Instagram
11. Conestoga Ranch
Why you should stay: A unique twist on the modern glamping experience that's perfect for adventurous couples and families.
Sleeps: 6
Minimum stay: 1 night
Pets allowed: No
Planning a family camping trip to Bear Lake? Check out the covered wagon tents at Conestoga Ranch. Unlike traditional safari-style canvas tents that are limited to a couple of guests, these massive wagons feature a king bed for mom & dad and 2-4 bunkbeds for the kids.
Looking for more luxurious accommodations with a private bathroom and shower? Consider upgrading to one of Conestoga Ranch's opulent six-person Grand Tents.
In addition to their upscale camping accommodations, Conestoga Ranch offers plenty of outdoor activities to keep the family entertained. Take a guided tour of local caves, dig for fossils at Fish Dig Quarry, explore the countryside on a hike or horseback ride, or rent a boat and some jet skis for an afternoon on the lake.
Follow 'em: Instagram
12. A-Frame Cabin
Why you should stay: An off-the-grid A-frame cabin with jaw-dropping views of the Vermilion Cliffs.
Sleeps: 2
Minimum stay: 1 night
Pets allowed: Yes
This eco-friendly A-Frame Cabin southeast of Hurricane, Utah, serves up a fresh take on off-the-grid glamping. The side of the cabin actually lifts up and stands on supports, converting the small studio interior into an open-air covered deck. With the property facing Canaan Mountain, it's safe to say you're going to be blown away by the view from your king-size bed.
When you're not appreciating the desert scenery from the comfort of your bed, venture out to the deck to grill up dinner on the BBQ grill or light a campfire in the bonfire pit. You'll also have access to a detached bathroom, complete with a composting toilet and propane-heated shower.
13. Nature Bus At Mystic Hot Springs
Why you should stay: Spend the night at a hippie commune with a private collection of soothing hot springs.
Sleeps: 5
Minimum stay: 1 night
Pets allowed: No
For a psychedelic stay, spend the night in a hippie bus at Mystic Hot Springs in Monroe, Utah. The property has six refurbished buses to choose from, in addition to a few cabins, motel rooms, campsites, and RV spots.
The Nature Bus is the property's most popular rental, able to accommodate five guests with three beds. There's a community bathroom and shower facility that you'll share with the other guests, and fire pits where you can cook your dinner.
The primary attraction at Mystic Hot Springs is the collection of mineral-rich natural hot springs. The soaking area features two pools and six vintage cast-iron bathtubs, and yes — clothing is optional.
Follow 'em: Instagram
14. Solstice At Empire Pass
Why you should stay: Live like kings and queens in an extravagantly opulent cabin with private access to Deer Valley Ski Resort.
Sleeps: 13
Minimum stay: 4 nights
Pets allowed: No
We always like to include an "upgrade pick" in our articles at Territory Supply. Consider the Solstice at Empire Pass a 10x upgrade.
This gargantuan mansion is offers extravagant amenities sure to make your next Park City ski trip memorable.
The après ski masterpiece can accommodate up to 13 guests with five bedrooms and five bathrooms. The home is an entertainer's dream, featuring a large home theater, arcade games, card game parlor, and a bar with a poker table. There's also a hot tub on the deck, where you can soak your sore muscles after a long day of carving powder on the mountain.
Speaking of powder, that's what makes this mansion so unique. Situated in the enviable Empire Pass community, the chalet features ski-in/ski-out access to the Northside Express Lift at Deer Valley Resort.
Keep Exploring Utah!
Now that you've found the perfect accommodations for your Utah vacation, start planning your adventures:
Sign up for our free email to join thousands of readers getting epic travel, hiking, camping and gear ideas every week.
---