Ready to spice up your Utah vacation? Cancel your reservation at the Holiday Inn and book a stay in Utah's coolest Airbnbs.
For those who prefer the road less traveled, Airbnb offers a fresh take on travel lodging.
From treehouses to yurts, classic Airstreams to modern tiny houses, and everything in between, it is easy to skip the bland hotel rooms and book a vacation that you'll be talking about for years to come.
Of course, I'd be missing a huge part of the market if I just focused on the allure of unique vacation rentals for adults. Many of these places are designed to bring out your inner child, so it's safe to say your kids will love them, too.
Don't forget about the savings, either.
Airbnbs are often priced well below hotel rooms and resorts, freeing up more of your vacation budget to spend on fun activities and experiences.
All the hardcore travel planners out there could spend hours perusing all of peculiar vacation rentals on the interwebs (I call it "vacation window shopping"), but if you're short on time, here's a highlight reel of my favorite unique Airbnbs in Utah.
Related Read: 6 Outdoorsy Weekend Road Trips from Salt Lake City
1. Zion EcoCabin
Why you should stay: An off-the-grid A-frame cabin with jaw-dropping views of the Vermilion Cliffs.
Location: Hildale
Sleeps: 2
Minimum stay: 1 night
Rates from: $171/night
This eco-friendly A-Frame Cabin southeast of Hurricane, Utah, serves up a fresh take on off-the-grid glamping. The side of the cabin actually lifts up and stands on supports, converting the small studio interior into an open-air covered deck. With the property facing Canaan Mountain, it's safe to say you're going to be blown away by the view from your king-size bed.
When you're not appreciating the desert scenery from the comfort of your bed, venture out to the deck to grill up dinner on the BBQ grill or light a campfire in the bonfire pit. You'll also have access to a detached bathroom, complete with a composting toilet and propane-heated shower.
Check Availability
Related Read: 10 Incredible Winter Hikes in Utah
2. Dreamy Treehouse
Why you should stay: Luxurious yet and cozy cabin nestled in the forest above Park City.
Location: Park City
Sleeps: 2
Minimum stay: 2 nights
Rates from: $199/night
If you're looking for an incredible getaway with treetop views, you've found it. Perched in a 200-year-old fir tree, the Dreamy Treehouse sits on the footsteps of the Wasatch Range at an elevation of 8,000 feet. Not matter what season you visit, you can hang out on the deck or in the living room — which features 270-degree views out floor-to-ceiling windows — and enjoy the breathtaking mountain scenery.
Done up with a tasteful mountain-modern design, the interior feels cozy yet refined, perfect for a romantic getaway in the woods. The property has been featured in by many respected publications — including Travel + Leisure, Sunset Magazine, and many more — making it one of the most highly regarded Airbnbs in Utah.
Before you go, be sure to get your transportation in order. The property is secluded and requires a four-wheel drive vehicle to access via potentially muddy or snow-packed roads.
Check Availability
Follow 'em: Instagram
3. Quiet Shelters Red Rock Retreat
Why you should stay: southwestern-inspired spaces and colorful sunrise views.
Location: Kanab
Sleeps: 2
Minimum stay: 2 nights
Rates from: $242/night
It's not just the clay-toned adobe exterior that helps this casita blend into the desert background of southern Utah: inside, the use of stone, wood and other natural materials tastefully mimics its surroundings. Intentional décor and a curated library of southwestern reads helps perfect the minimalist desert aesthetic.
The home's on more than two acres of quiet desert just south of downtown Kanab, and though this makes it an ideal basecamp to explore the Grand Circle's national parks, there's plenty to explore nearby. Trails wind through the property and in the same neighborhood you'll find Bunting Trail, a 4-mile roundtrip hike that climbs up the gorgeous Vermillion Cliffs.
"Could not have dreamed of a more perfect base camp while visiting Southern Utah's National Parks," said Airbnb guest Ben, from Houston. "Conveniently situated between Zion and Bryce, this was the perfect retreat after a full day of exploring."
Check Availability
Related Read: 10 Mark Maggiori Prints that Capture the Spirit of the West
4. Cliffside Tiny Homes
Why you should stay: Tiny houses with big views, modern accommodations, and quick access to the nearby national parks.
Location: Orderville
Sleeps: 4
Minimum stay: 1 night
Rates from: $115/night
The Cliffside Tiny Homes are conveniently located near Zion and Bryce Canyon National Parks, making them an excellent basecamp for adventurous travelers exploring Southern Utah's red rock country.
You don't have to travel far for scenic views, though. As the name implies, the cabin-themed rentals are actually cliffside, so can enjoy red rock vistas from sunrise to sunset anywhere on the secluded five-acre property.
There are three tiny houses at Cliffside, all built with a minimalist mindset to deliver everything you need and nothing you don't. They're well-designed and furnished with a rustic/modern aesthetic, and each tiny house comes with a fireplace. If you're feeling social, head over to the common area where you'll find a fire pit by the barn.
Check Availability
Related Read: 5 Incredible Backpacking Excursions in Zion National Park
5. Carriage House on the Stream
Why you should stay: Luxurious and romantic creekside digs in a forested canyon.
Location: Sundance
Sleeps: 4
Minimum stay: 2 nights
Rates from: 235/night
Located in the mountain paradise of Sundance, the Carriage House is one of many idyllic cabins in Big Pine Canyon. A respite from the heat of summer, and snowy wonderland in winter, this property is perfect for couples or a small family looking to immerse in nature.
Set amid a world-class location, the cabin itself is equally stunning. The front entrance features wrap-around stairwell adjacent to a grand A-frame topped porch framed by two giant tree trunk columns. Inside, the rustic cabin aesthetic still has all the luxury upgrades — but the best part is the downstairs patio and walkway literally on the creek.
Check Availability
Related Read: 23 Incredible Treehouse Rentals in the U.S.
6. Basecamp 37°
Why you should stay: Safari-style glamping tents with luxurious California King beds.
Location: Kanab
Sleeps: 2
Minimum stay: 1 night
Rates from: $215/night
Basecamp 37° is a small campground in Kanab, with five well-appointed glamping tents that put your 10-person Costco tent to shame. The safari-style canvas tents sit on raised wooden platforms and come with a California King bed, luxury linens, and an independent solar array to power the interior lights and charge your electronics.
Guests will need to share a community bathroom with two flush toilets and showers, but that's a small price to pay for a comfortable backcountry bed and incredible scenery.
Of course, adventurers don't head to Basecamp 37° just for the glamping accommodations — it's the prime location that makes this place so perfect. Centrally located near the Arizona border, Basecamp 37° is a reasonable drive from Zion, Bryce Canyon, and Grand Canyon National Parks. It's also close to Antelope Canyon and Horseshoe Bend, two of the most photographed canyons in the southwest.
Check Availability
Follow 'em: Instagram
7. Envase Casa
Why you should stay: An eco-friendly shipping container house with ample space for large families and groups.
Location: Glendale
Sleeps: 12
Minimum stay: 1 night
Rates from: $350/night
Envase Casa is the largest freestanding shipping container house in the state of Utah. Built with the environment and sustainability in mind, the modern-industrial home is almost 2,000 square feet with four bedrooms, three bathrooms, a full kitchen, and a sizable great room.
I'm not sure what the standard capacity is for six full-size shipping containers (I'm picturing thousands of Nike shoes), but this unique home can accommodate up to 12 guests. The nightly price is a little higher than some of the other Airbnb rentals on our list, but given the gargantuan capacity, it's a great price for big families and large groups. Envase also offers discounts if you book an extended stay by the week (15% off) or by the month (25% off).
Check Availability
Follow 'em: Instagram
8. Cobblestone Ranch
Why you should stay: Enjoy panoramic mountain views from a rustic ranch house on the prairie.
Location: Monroe
Sleeps: 5
Minimum stay: 2 nights
Pets allowed: Yes
Get your Little House on Prairie fix — minus all the hardships — at Cobblestone Ranch, a rustic themed ranch house set in the beautiful Monroe Valley, replete with taxidermies wildlife adorning the walls.
Whether you're relaxing inside or out, this cabin embraces the vibes of the wild west. Inside you'll find incredible craftsmanship to admire in every nook and cranny, especially when sitting at the bar or aside the wood-burning stove.
Outside, enjoy views of the distant mountains on the wrap-around covered porch from the comfort of the hammock or old-time rocking chair. The upper-level even has a small balcony with a fire-pit table — great for cool nights.
Check Availability
Related Read: 11 Unique Places to Stay in Utah for the Perfect Getaway
9. The Treehouse At East Zion Resort
Why you should stay: A photogenic tiny house perched atop a century-old cottonwood tree.
Location: Orderville
Sleeps: 3
Minimum stay: 1 night
Rates from: $140/night
There are almost a dozen treehouses at East Zion Resort, but only one gets the title of THE Treehouse — the original architectural masterpiece built on the remnants of a century-old cottonwood tree. It's basically a tiny house atop a massive tree trunk, able to accommodate up to three guests with two beds, a full bathroom, and a kitchenette.
See that hobbit door carved into the trunk? Head inside and you'll find a climbing wall that leads up into the treehouse, which easily earns the award for the most exciting home entryway I've ever seen.
If you're hooked on booking a stay at East Zion Resort but can't get The Treehouse, don't worry — the property has plenty of other unique accommodations for you. The outdoor wonderland offers an expansive collection of modern treehouses, tiny houses, glamping tents, and yurts, too.
The East Zion Resort is renowned for their guided tours, so don't forget to book an East Zion Experience before you go. Their Hidden Wonders rappelling tour through Zion National Park's slot canyons is truly breathtaking adventure.
Check Availability
Related Read: Salt Lake City to Zion Ultimate Road Trip Itinerary
10. Zion Backcountry Yurt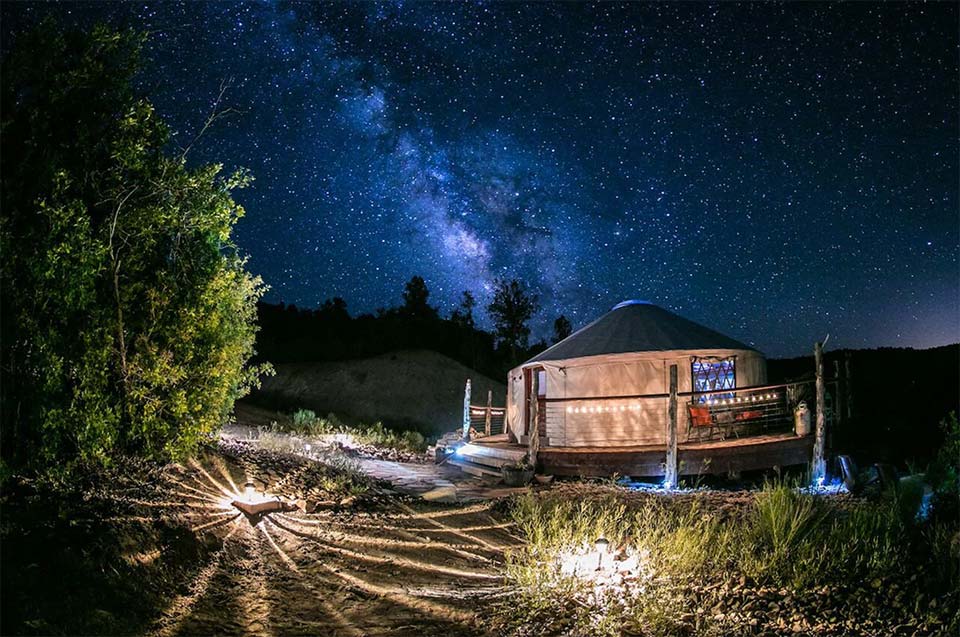 Why you should stay: A massive backcountry yurt with convenient access to the best hikes at Zion National Park.
Location: Orderville
Sleeps: 11
Minimum stay: 1 night
Rates from: $215/night
When it comes to backcountry basecamps near Zion National Park, it's tough to beat the Zion Backcountry Yurt. The proximity to popular hikes like the Narrows is great, and the backcountry views from the campsite are incredible. Thanks to zero light pollution, you'll enjoy unrivaled stargazing at night, too.
The Zion Backcountry Yurt only has one bedroom (it's a yurt, after all), but its seven beds can accommodate up to nine adults or 11 children. That makes it an ideal choice for big families and large groups of travel buddies who want to bunk together instead of spending more on separate rooms.
Don't expect any air conditioning, but the yurt does have a wood-burning stove to keep you warm at night. There's a separate bathroom facility with a toilet and shower, and a large bonfire pit surrounded by log benches where you can cook delicious backcountry cuisine and relax by the fire at night.
Check Availability
Related Read: 11 Beautiful Glamping Spots Near Zion National Park
11. The Mini Dome
Why you should stay: A cozy cottage overlooking the scenic Pineview Reservoir.
Location: Huntsville
Sleeps: 3
Minimum stay: 1 night
Rates from: $168/night
The Mini Dome in Huntsville looks like Frodo Baggins designed a tiny house — in a good way. This cozy little cottage boasts an eclectic exterior design that would be perfectly at home in the Shire, and a rustic interior that's reminiscent of a (small) European ski chalet.
The house itself is great, but the scenery wins the day here. The property overlooks Pineview Reservoir, and the area's relative seclusion affords a magnificent view of the stars at night. It's also conveniently located near three ski resorts, so keep this unique rental on your radar when the powder calls your name over the winter.
Check Availability
Related read: 15 Magical Hobbit Houses That'll Transport You to the Shire
12. The Family Farm Barn
Why you should stay: A renovated barn set on a five-acre hobby farm.
Location: Cedar City
Sleeps: 4 – 11
Minimum stay: 1 night
Rates from: $69/night
Fans of old-fashioned farm life are sure to love the Family Farm Barn in Cedar City. The classic red barn sits on a five acre hobby farm, delivering an authentic country feel with beautiful views of the surrounding mountains.
There are actually two rentals available at the Family Farm Barn. The Homestead can accommodate up to four guests with three beds, while the larger Roost can accommodate a family of seven with six beds. If you're traveling with a large group, you can rent both units to house up to 11 people.
Whether you opt for the Roost or Homestead, you'll find both units beautifully decorated with farmhouse furniture and decor.
Check Availability
Related read: 10 Refreshing Swimming Holes in Utah
13. The Ark Tiny Home
Why you should stay: A tiny house with a train-themed exterior and unrivaled views of Zion National Park.
Location: Virgin
Sleeps: 6
Minimum stay: 2 nights
Rates from: $349/night
The Ark is one of five tiny homes on a secluded 75-acre property near Zion National Park. The vintage exterior is reminiscent of an old-fashioned train car, and there's plenty of seating on the spacious porch to soak in the magnificent scenery. There's also a private hot tub and fire pit for your evening enjoyment.
The interior of the Ark sticks to the retro theme with modern farmhouse decor and a tasteful explosion of teal cabinets and accent pieces. There's a full kitchen, office, laundry room, and a full bathroom with a jetted tub.
Check Availability
Related read: 10 Best Utah Lake Camping Destinations for a Weekend on the Water
14. Northside At Empire Pass
Why you should stay: Live like kings and queens in an extravagantly opulent cabin with private access to Deer Valley Ski Resort.
Location: Park City
Sleeps: 13
Minimum stay: 4 nights
Rates from: $4,325/night
We always like to include an "upgrade pick" in our articles at Territory Supply. Consider the Northside at Empire Pass a 10x upgrade.
This gargantuan villa offers extravagant amenities sure to make your next Park City ski trip memorable.
The après ski masterpiece can accommodate up to 14 guests with five bedrooms and five bathrooms. The home is beyond incredible on the inside — but there's also a hot tub on the deck, where you can soak your sore muscles after a long day of carving powder on the mountain.
Speaking of powder, that's what makes this mansion so unique. Situated in the enviable Empire Pass community, the chalet features ski-in/ski-out access to the Northside Express Lift at Deer Valley Resort.
Check Availability
Related Read: 10 Spectacular Yurt Rentals in Utah
Watch on YouTube
Keep Exploring Utah!
Get epic travel ideas delivered to your inbox with Weekend Wanderer, our newsletter inspiring more than 10,000 readers every week.
---