Kanab sits on the southwestern edge of one of the most glorious places in all the United States, but it's one of the least-visited areas in Utah.
Although it might be tempting to spend your entire visit checking out Zion or Bryce Canyon, you should spend some time exploring the nearby less-trafficked areas. Both Grand Staircase-Escalante and Vermilion Cliffs National Monuments house some of the most beautiful and unique landscapes in the country, along with hundreds of slot canyons and distinctive geological features. And if you're lucky, you may have a lot of these places to yourself.
Kanab is the perfect basecamp tor adventures through these vast areas, and considering how much there is to do in Kanab, you could spend a whole week here, easily. Check out these must-do items when visiting this remote part of Utah.
Related Read: Don't Miss These 10 Awesome Things to Do in Escalante, Utah
1. Adventure Through Buckskin Gulch
Most people who make the trek through Buckskin Gulch consider it to be the most memorable experience of their Utah trip. So it only makes sense that it's number one on this list.  The route traverses 13 miles of continuous slot canyons, making it the longest and deepest slot canyon in North America.
This trail can be done as a day hike, albeit a strenuous one. Most hikers like to do the whole thing as an overnight trip, which requires a permit. Only 20 permits are given per day, so book in advance. If you're doing a day hike, you also have to get a permit, but those are self-served at the trailhead and don't require reservations. It can be quite pleasant as a day trip if you don't intend to hike the whole stretch. Wire Pass Trail (which is the trail that connects to Buckskin Gulch) is a marvel in and of itself.
Avoid monsoon season (July-September) and always keep an eye on the weather as flash floods are quite common in the area and incredibly dangerous. Overall, it's not a technical hike, but you'll need to wade through some waist-deep potholes. Come prepared with waterproof gear and dry clothes to change into after the hike.
2. Get the Perfect Shot at the Sand Caves
These sand caves are a short and easy stop on Highway 89 and are only a half-mile round-trip, so just about everyone should be able to make the walk. Despite what they look like, they're not natural caves. They were blasted when they began mining sand in the area decades ago.
Fortunately for visitors, the mining was short-lived and now these beautiful caves are there for anyone to enjoy. Bring the whole family since this trail is easily accessible and fun for kids to romp around in.
Related Read: 6 Spookiest Ghost Towns in Utah for Exploring the Old West
3. Visit the Less-Touristy North Rim
This north rim of Grand Canyon National Park sees about 90 percent fewer annual visitors that the South Rim, making it the perfect stop around Kanab if you're overwhelmed by crowds. Try hiking the paved trail out to Bright Angel Point for classic views of the North Rim. Some might think it's not as spectacular as those from the south side, but it's just a different kind of beauty.
Unfortunately for snowshoers and winter enthusiasts, this is a summer-only trip: the north entrance closes in the winter. It's usually open from around mid-May to the end of October.
4. Play Peek-A-Boo in a Slot Canyon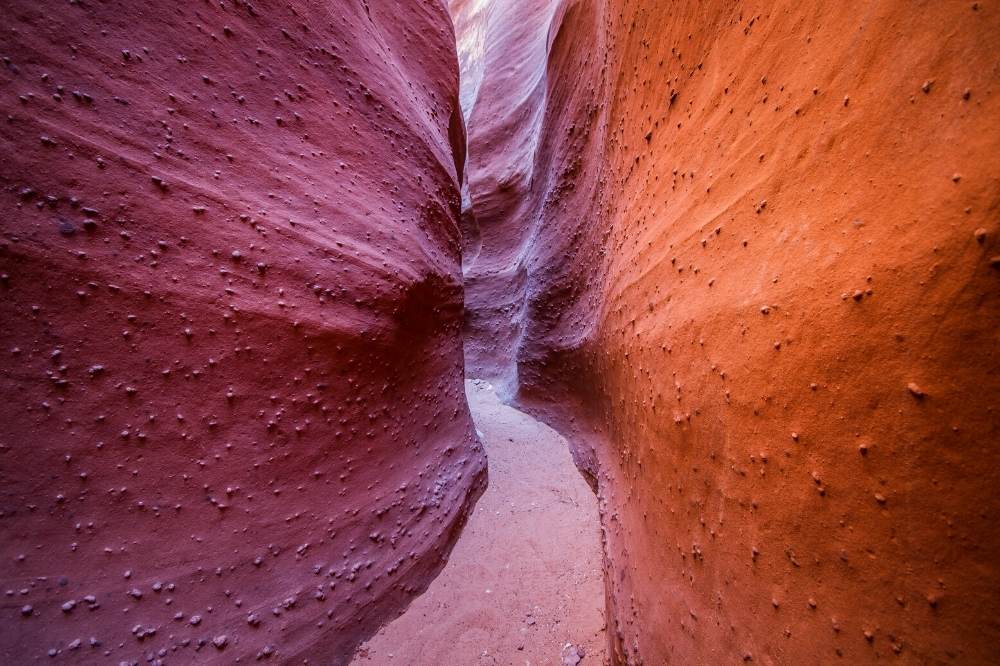 Actually, don't play peak-a-boo here: you want your eyes covered for as little of the experience as possible. Peek-a-Boo is actually the name of a slot canyon within Grand Staircase-Escalante National Monument. If you want the same sort of majesty you'd see in the famed Antelope Slot Canyon but don't want the crowds, then head on over to these two slot canyons.
The hardest part of the hike is ascending the 12-foot-tall rock face to get into the canyon. There are some foot holds to aid you (or have your hiking partner give you a lift), but once you're in, it's spectacular. One geological feature that makes this slot canyon unique are the keyholes in the rocks you can climb in and out of. All the scrambles are doable, and it's part of the fun figuring out how to get out of each one. Towards the end of Peek-A-Boo, you'll climb up and out of it with a view down into the slot canyon (hence the name "Peek-a-Boo.")
The trail then heads to the much narrower Spooky slot canyon. If you're claustrophobic, you might want to skip this part. If you've got big backpacks on or have a child carrier, you'll have to leave them at the entrance and do an out-and-back hike. In some spots, the canyon is only inches wide and you'll have to figure out just how skinny you can make yourself.
5. Go Deep Into the Belly of the Dragon
Don't worry: this dragon is a little safer than the dragons out of books like "Lord of the Rings" or "Game of Thrones" – the worst injury you're likely to have is a scraped knee. The "dragon" is just a manmade tunnel originally created as a water culvert under Highway 89. Over time, the water has continuously eroded the sandstone walls. It created a rippling effect that looks very much like the spine of a large medieval creature.
It gets quite spooky if you visit at dusk since the tunnel isn't illuminated (so you'll want a headlamp.) Really though, the best time to visit is during the day so you can see all the layers of rock in detail. Visit in the middle of the night for a truly creepy experience; you may start feeling you're going to be the dragon's next tasty snack.
6. Hike to the Otherworldly Toadstool Hoodoos
Ignite your imagination with this family-friendly hike bound to impress even the pickiest of toddlers. It's less than a mile each way to view the alien-like toadstool hoodoos that look like toadstool mushrooms, so it's easily trekked by little legs. Adult travelers will likely find the stroll both easy and filled with photography opportunities. Traveling with kids? Use the walk to make up your own magical fairy tale full of eclectic characters and enchantment with the little ones – it's a great way to spark their creative thinking.
7. Find Some Coral (Without Visiting a Reef)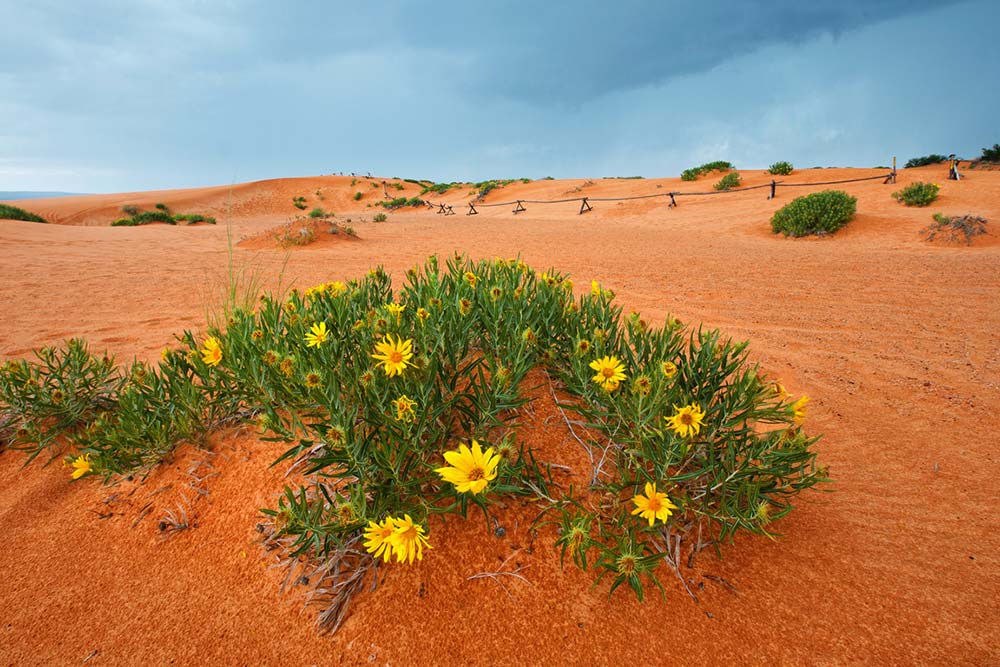 Want to avoid the crowds at the more popular nearby national parks? It's a true marvel to see the orange and pink hues of the dunes at Coral Pink Sand Dunes State Park. Just a short drive from Kanab, this unique state park is loads of fun. You can walk the dunes in any direction, watch the sunrise, or take epic landscape photos at sunset. You can even rent a board and surf the dunes if you're feeling a little adventurous. If you want to let loose, opt to take a wild ride behind the wheel of an ATV.
8. Go Surfing on The Wave (But Not Really)
This elusive hike isn't one to miss (if you're lucky enough to snag a permit, of course.) The Wave gets its name from the colorful and undulating forms on the rock surface. Wind and water eroded these intersecting U-shaped troughs throughout the centuries and created a wave-like pattern (hence the name.)
The Bureau of Land Management just increased its permit lottery to 64 people per day, rather than the 20-per-day it's been for decades. Most of the permits are given out through an online lottery four months in advance, and they're difficult to obtain. However, you can also apply for a "walk-in" permit the day prior to your desired date. If you're fortunate enough to get a permit, go – it's one of the most beautiful places on the planet and you won't regret getting there for sunrise.
Don't even try to do this hike without a permit. Rangers walk the trail every day and if you're caught, it could mean a $100,000 fine and jail time. Although this is a beauty of a trail, it's not worth that kind of money.
9. Best Friends Animal Sanctuary
Not far from the Sand Caves, the Best Friends Animal Sanctuary is an organization well-loved by locals – and for good reason. It houses over 1,600 rescued dogs, cats, horses, birds, rabbits, potbellied pigs, farm animals, and even wildlife. The sanctuary is open to the public and the animals love visitors (and the pets/lovin' that they're bound to get.) But get ready to possibly expand your family – these animals are cute and you might end up walking away with a new companion.
10. Balloons and Tunes
This annual festival is exactly what anyone needs for a pick-me-up (literally though.) If you're lucky to be visiting the area in late February, then you might just be able to attend the annual Balloons and Tunes Roundup. Around 40 balloons launch from Kanab to take to the skies. Those still on the ground can enjoy a vendor fair as well as live bands playing throughout the day into the night. A "Battle of the Bands" -style competition usually happens over two of the nights, with the victors closing out the festival.
11. White Pocket
If you don't snag a permit to The Wave, White Pocket is a great alternative. Increasing in popularity, White Pocket takes you to some impressive rock formations that are mostly – you guessed it – white in color. Much of the surrounding landscape is blanketed in hues of reds and orange, so this area is truly unique.
It's another one of those hikes that requires a high clearance and 4WD vehicle to access the trailhead. Pro tip: just hire a guide for the whole day to take you to the more remote trailheads so you don't need to worry about whether your car can make it.
Explore More in Utah
Sign up for Weekend Wanderer, our free email newsletter offering thousands of readers epic travel and airbnb ideas every week.
---