We research, evaluate and select travel destinations based on a number of factors, including our writers' experience, user reviews and more. We may earn a commission when you book or purchase through our links. See our editorial policy to learn more.
---
Oregon and treehouse — those two words fit together like peanut butter and jelly. Or peanut butter and chocolate. Or peanut butter and treehouse.
You get the picture. What better place is there to stay in a treehouse than in the iconic sun-dappled forests of the Pacific Northwest?
Oregon is home to many fantastic treehouses that reside all over the state. Want a treehouse with an ocean view? Check. How about a treehouse in the city? There are several. What about a treetop community up high in the canopy with multiple treehouses and suspension bridges connecting to one another like a wookie settlement on Kashyyyk? Of course!
Seriously, though— the eclectic selection of treehouses in Oregon is outstanding. From resplendent and luxurious to remote and rustic, there's something on this list for everyone.
Many of the treehouses featured here get booked fast, so start planning your trip asap. These unique locations are highly sought-after by couples and small families looking for somewhere to stay that's more memorable than the nearest Holiday Inn.
Related Read: 23 Incredible Treehouse Rentals in the U.S.
1. Tabor Treehouse
Why you should stay: Refined accommodations in one of Portland's most revered neighborhoods.
Nearest town: Portland
Sleeps: 2
Minimum stay: 2 night
Rates from: $165 per night
Artsy and opulent, the Tabor Treehouse is a lovely domicile for couples looking to stay at a unique spot in the Rose City. The treehouse has a beautiful, modern interior with delightful touches such as a wood burning stove and a private deck.
Mount Tabor Park is a block away where hiking trails, playgrounds, and many other activities can be found. Multiple hip East Portland shopping and entertainment bubbles are within walking distance including those along Burnside, Hawthorne Avenue, and Division Street.
Check Availability
2. The Forestree at Out 'n' About Treesort
Why you should stay: Become part of a community in the canopy at this treehouse resort.
Nearest town: Cave Junction
Sleeps: 5
Minimum stay: 1 night
Rates from: $155 per night
For the most authentic and amazing treehouse experience in Oregon, you're going to want to consider the Forestree or any of the other amazing treehouses at Out 'n' About Treehouse Treesort for your next vacation.
The property is located near the town of Cave Junction, which puts it in close proximity to the spectacular Oregon Caves National Monument as well as the coastal redwood forests and beaches.
This, and each of the other on-site treehouse rentals (including Peacock Perch, Majestree, Pleasantree, and the Schoolhouse Suite) are actual treehouses supported by the trees they are attached to. There are stairs to climb and suspension bridges to cross to access each one, though restrooms and the community lodge are located on the ground for all to share.
Check Availability
3. Deer Haven
Why you should stay: Relax on a small family farm in the rural countryside southwest of Portland.
Nearest town: Newberg
Sleeps: 5
Minimum stay: 2 night
Rates from: $225 per night
Located in the heart of Oregon's wine country, Deer Haven is an idyllic treehouse set within the Dundee Hills of the Willamette Valley. There are award-winning wineries and boutique restaurants at every turn.
This treehouse was constructed by Pete Nelson of Animal Planet's TreeHouse Master, and it has been featured in both The Atlantic and Rachael Ray Magazine. Its design is exquisite, and its location is superb. Be sure to explore the property's Spiral Labyrinth food forest during your stay.
Check Availability
4. Off the Grid Fire Lookout
Why you should stay: Sleep in total serenity above the Umpqua National Forest.
Nearest town: Tiller
Sleeps: 4
Minimum stay: 2 night
Rates from: $200 per night
Reserving your stay at Off the Grid Fire Lookout is almost as challenging as winning the lottery. Staying at the lookout is possible from April through November, but there are only a couple of specific dates when you can make your reservation, and all of the reservation slots get taken fast.
This is more than a typical fire lookout, though. The hosts have done their best to turn this place into a luxurious off-grid cabin in the sky. There's a full kitchen, a hot outdoor shower, and more amenities than you would expect.
Four flights of stairs lead to the lookout that you will have to carry your belongings up, though the hosts are willing to help, and there are several miles of gravel road to traverse to reach the tower. Reserving and getting to this place may be a bit of a challenge, but your stay will surely be unforgettable.
Check Availability
Related Read: 12 Oregon Coast Cabin Rentals for a Relaxing Trip to the Seaside
5. Heartland Treehouse
Why you should stay: Remote tranquility deep in the Oregon Coast mountain range.
Nearest town: Langlois
Sleeps: 2
Minimum stay: 2 night
Rates from: $145 per night
Take a trip to a rarely visited section of the southern Oregon coast, then turn inland and traverse through the bucolic landscapes of Langlois Mountain and Floras Creek to find your secluded Heartland Treehouse getaway.
Here, among the birch and fir trees, sits a beautiful, hand-built treehouse that overlooks a waterfall and a dense swath of forest. You'll get to fully enjoy your privacy with amenities like an outdoor kitchen, outdoor baths, and a wraparound deck.
The drive to and from this treehouse is spectacular, though it is a fair distance from groceries and other conveniences, so be sure to bring in everything you'll need for the duration of your stay. Also, be sure to grab a world famous hot dog from the little Langlois Market on your way out!
Check Availability
6. The Bluebird House
Why you should stay: Ocean views, hiking trails, and on-site donkeys make this a special place to stay.
Nearest town: Gold Beach
Sleeps: 4
Minimum stay: 2 night
Rates from: $165 per night
Set on seven acres of oceanfront property, consider The Bluebird House to be your personal coastal resort. There are numerous hiking trails on and around the property, and much of the land is a living farm that guests are encouraged to explore. There's even a collection of cuddly burros that call this place home.
The Oregon Coast Trail passes by the property, providing access to the beach and many miles of shore pine-laden trail to explore. A few miles up the road lies the small town of Gold Beach and multiple beach access points. All of this makes this treehouse a romantic escape for a couple or a fun coastal basecamp for a small family.
Check Availability
7. The TokinTree
Why you should stay: Live the high life up in the trees above a working cannabis farm.
Nearest town: Cave Junction
Sleeps: 4
Minimum stay: 1 night
Rates from: $160 per night
Does complimentary cannabis and a garden tour sound like a good time? Then a stay at The TokinTree will be right up your alley.
The treehouse is actually fully formed around the shaft of a large tree and a suspension bridge provides access to this unique abode. The lodging is a bit basic, though it does have a number of convenient touches. The friendly, welcoming experience is what makes this such an awesome place to stay.
Check Availability
8. Lilly Glen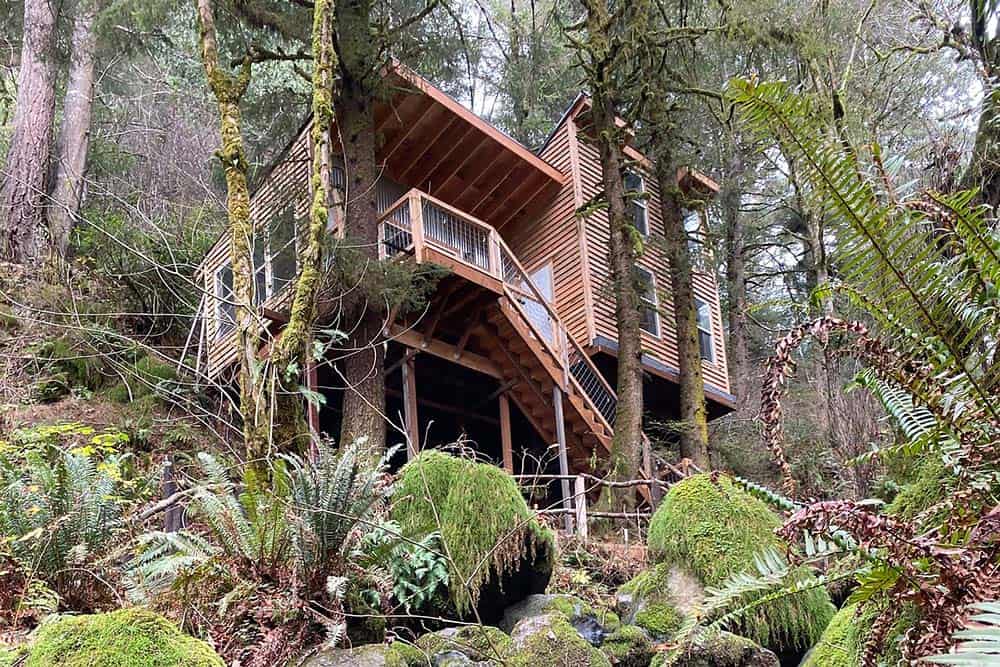 Why you should stay: Private accommodations in an enchanting rainforest with access to lodge amenities.
Nearest town: Gold Beach
Sleeps: 4
Minimum stay: 2 night
Rates from: $314 per night
Lilly Glen is like the fantastical setting of Fern Gully come to life. This magical, mystical swath of Oregon rainforest is where fairytales are made. Taylor Creek babbles below the front deck, and a majestic 60-foot waterfall cascades around the bend.
Inside, this treehouse is decorated to complement and contrast its natural surroundings with both elegance and whimsy. Taylor Creek Lodge is a short walk away where food, games, and social activities can be found. Miles of woodland trail and beach lie nearby as well.
Check Availability
9. The Treehouse Retreat
Why you should stay: A fun and inexpensive place to stay when visiting friends at Oregon State University.
Nearest town: Philomath
Sleeps: 3
Minimum stay: 1 night
Rates from: $51 per night
At 100-square feet, this Treehouse Retreat is little more than a snug place for three or fewer people to crash for the night, but it has a lot of character. The bunks serve their purpose, but all of the fun is on the outside.
Beset with campground-like amenities such as a composting outhouse, fire pit, hammock, and a forest nature trail, this treehouse is like the clubhouse you and your childhood friends always dreamed of. Now, you can live the dream with your buddies. OSU is a few miles down the road, and plenty of outdoor wonders, such as Mary's Peak, lie a few miles in the other direction.
Check Availability
Explore Oregon
Get epic travel ideas delivered to your inbox with Weekend Wanderer, our newsletter inspiring more than 10,000 readers every week.
---