We research, evaluate and select travel destinations based on a number of factors, including our writers' experience, user reviews and more. We may earn a commission when you book or purchase through our links. See our editorial policy to learn more.
---
Mount Rainier National Park is among the most majestic places in the entire Pacific Northwest.
Not only does Mount Rainier reign above the entire region as the highest peak in the PNW, but it's also one of the wildest and most remote areas in the lower 48 states. More than 90 percent of the park is designated wilderness.
The mountain has numerous glaciers, alpine meadows, and cascading waterfalls, and its slopes teem with wildlife. There's a robust trail network around the mountain, all of which are tethered together by the world-famous Wonderland Trail.
Mount Rainier National Park is home to jaw-dropping views at every turn. The namesake mountain is magnificent in and of itself, but it's also a neighbor to other extraordinary mountains including the Cascade peaks of Mount St. Helens, Mount Adams, and Mount Hood. The entire area is full of volcanic marvels.
Whether you're traveling toward Mount Rainier to visit the park or one of the nearby ski resorts, or you're simply looking for a tranquil respite from the civilized world, there's no doubt you can find an amazing place to stay. Check out 11 of the best cabin rentals near Mount Rainier National Park below to help make your trip even more memorable.
Related Read: 9 Amazing Lake Camping Sites in Washington
1. Cozy River Cabin
Why you should stay: Floor-to-ceiling windows beside the Cowlitz River and Coal Creek.
Nearest town: Packwood
Sleeps: 6
Minimum stay: 1 night
Rates from: $259/night
If you're looking for a place where you can set your mind at ease and focus your attention on nature, look no further than this Cozy River Cabin. Whether you're inside or out, you'll be met with astonishing river and mountain views.
The wood-burning stove fireplace and direct connection to nature make this a true wilderness experience– it's one of the more quintessentially PNW cabin rentals near Mount Rainier on this list. You'll be minutes away from Mount Rainier, the Pacific Crest Trail, and White Pass Ski Resort.
Check Availability
Related Read: 12 Romantic Getaways in Washington to Take Your Sweetheart
2. Fillmore's Landing
Why you should stay: Soak in a cedar hot tub in a private rainforest escape not far from Paradise.
Nearest town: Ashford
Sleeps: 6
Minimum stay: 1 night
Rates from: $163/night
Fillmore's Landing is tucked away into the enchanting rainforest southwest of Mount Rainier. The national park is just a few miles down the road, and the spectacular Mount Rainier visitor hub of Paradise is only a little further. Paradise is a great spot for catching epic views and hiking through wildflower-filled meadows.
The cabin is in a rural neighborhood, but the moss- and lichen-covered trees provide plenty of privacy for the deck and cedar hot tub. Aside from Rainier, this cabin is also near the Nisqually River, where fishing and summertime swimming are popular activities.
Check Availability
Related Read: 10 Marvelously Unique Places to Stay in Washington
3. Alpen Bliss Chalet
Why you should stay: A riverfront escape near a ski resort on the north side of Mount Rainier.
Nearest town: Enumclaw
Sleeps: 8
Minimum stay: 2 nights
Rates from: $424/night
Just far enough away from the big city to feel absolutely remote, the Alpen Bliss Chalet is an ideal getaway for Seattlites. This cabin is adjacent to the gorgeous White River and is a popular spot for sighting elk, deer, and waterfowl.
This spacious home is a great place for families to stay. The extra-large rooms provide plenty of space to stretch out, the oversized deck can host all occupants for an outdoor meal, and the large yard provides direct access to the river. There's even a game room in the garage. This is one of the best dog-friendly cabin rentals near Mount Rainier as it's roomy inside with plenty of place to frolic outdoors.
Mount Rainier National Park is only 15 minutes away, as is Crystal Mountain Ski Resort. You can explore the park one day, then hit the slopes the next.
Check Availability
Related Read: 10 Scenic Drives in Washington State That'll Blow Your Mind
4. Mount Rainier A-Frame
Why you should stay: A hot tub, two balconies, and three bedrooms on 10 private acres.
Nearest town: Ashford
Sleeps: 8
Minimum stay: 5 nights
Rates from: $234/night
Sit back and relax in complete privacy at this Mount Rainier A-Frame cabin. Complete with its own exclusive view of Mount Rainier, this cabin is the ultimate basecamp for you and your crew. The balcony makes for a perfect spot to sip your morning coffee or gaze at the starry night skies.
Not only is the national park minutes away, but you'll have your own trails to hike and wilderness to explore on-site. The decorative eaves and warm exterior lighting make this place feel inviting, and the modern interior will have you feeling right at home. You'll probably want snow chains or 4WD if you visit in the peak of winter.
Check Availability
Related Read: 11 Best Glamping Spots in Washington for a Natural Getaway
5. Millard's Cabin
Why you should stay: A cabin between three iconic Cascade volcanoes perfect for intrepid explorers.
Nearest town: Packwood
Sleeps: 8
Minimum stay: 1 night
Rates from: $187/night
Mount Rainier may be the star of the show, but Mount St. Helens and Mount Adams are also outstanding Washington mountains deserving of your attention. That means Millard's Cabin is in a great spot for people who want to explore beyond Rainier. From here, guests have access to all three snow-capped volcanoes. The only question is which you'll visit first.
Rainier is the closest of the three and it's a given that you'll want to visit the national park. The Mount St. Helens National Volcanic Monument is equally as impressive and informative, while Mount Adams is surrounded by remote and breathtaking wilderness areas – perfect if you like space to yourself on longer distance hikes.
Check Availability
Related Read: 9 Best Hikes in Washington State for Epic Outdoor Adventures
6. Hera's Chalet
Why you should stay: Adorable, secluded, and amenity-rich — this is a dream mountainside retreat for two.
Nearest town: Ashford
Sleeps: 2
Minimum stay: 2 nights
Rates from: $171/night
Hera's Chalet is the pure embodiment of "a weekend at the cabin." This cozy and cute little cabin appears a bit rustic on the outside, but, inside, it's absolutely endearing. And if it's not warm and cozy enough inside, there's a private covered hot tub and sauna on the premises. How cool – er, warm.
This cabin is five minutes away from the national park entrance and a plethora of magnificent trails. After a long day of hiking and driving, there's no better place to return to than this charming nook in the woods. It has a lofted sleeping area, but it's a a full staircase, so you won't have to climb up and down a ladder in the middle of the night.
Check Availability
Related Read: The 10 Best Pet-Friendly Cabins in Washington
7. Blue Ox Basecamp
Why you should stay: A well-lit cabin in a sun-dappled forest setting just outside the national park boundary.
Nearest town: Ashford
Sleeps: 2
Minimum stay: 3 nights
Rates from: $250/night
Nestled in a lightly wooded pine and maple forest, Blue Ox Basecamp feels open and bright rather than dark and hidden. Large windows and white interior walls make great use of the natural lighting, and there's a brilliant amount of evening light as well, including the light you'll make yourself from the warm wood-fueled fireplace.
The open design of this cozy cabin provides plenty of breathing room for two to share. The loft bedroom, hot tub, fire pit, and the impressive attention to detail put in by the hosts makes this a wonderfully romantic retreat. If you come in the winter, take advantage of the complimentary snowshoes, perfect for exploring the surrounding woods.
Check Availability
8. Totem Lodge
Why you should stay: A quirky-meets-rustic cabin as close as can be to Mount Rainier National Park.
Nearest town: Ashford
Sleeps: 5
Minimum stay: 2 nights
Rates from: $185/night
Wood floors? Check. Wood deck, walls, cabinets, ceilings, and more? Double-check. The Totem Lodge's builders went the extra mile to create an authentic cabin experience. There's even a colorful totem pole that watches over the upstairs loft. This place is a bit quirky and loaded with PNW character. It's a fun getaway you'll want to return to over and over.
The home is in a lovely community called Paradise Estates outside of Ashford. You'll have access to the neighborhood's park, playground, and lake, making this a fun spot for young families to kick back and relax.
Check Availability
9. Naked Elk Lodge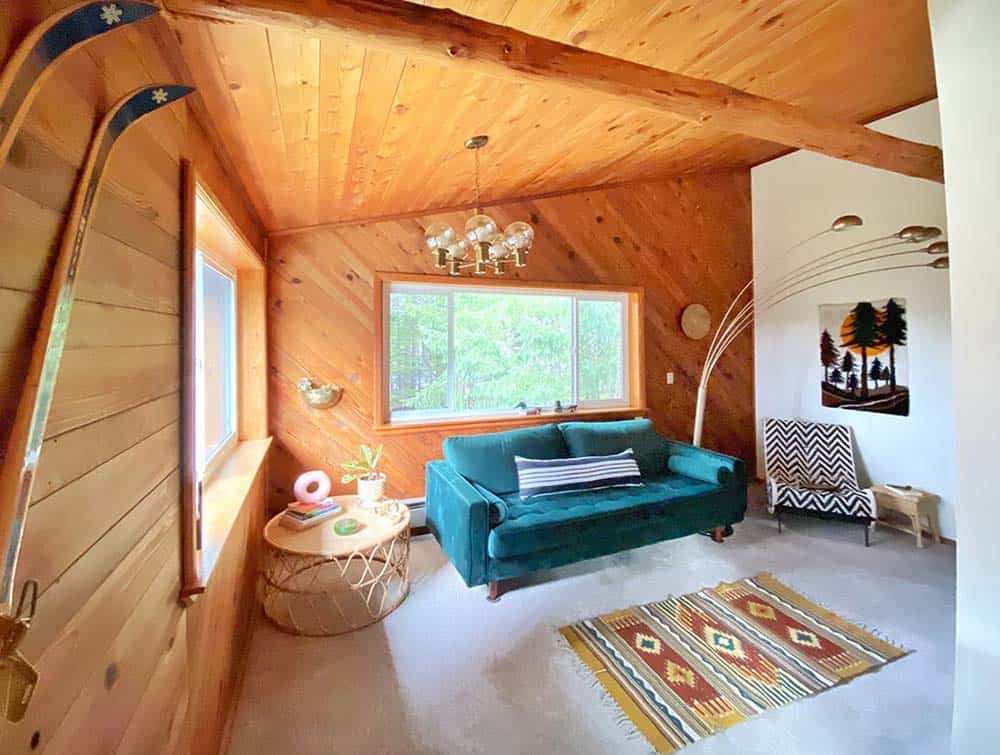 Why you should stay: Location, location, location. It's an affordable cabin in the woods right outside of town.
Nearest town: Packwood
Sleeps: 10
Minimum stay: 2 nights
Rates from: $191/night
Just because you're heading out into the woods doesn't mean you need to travel too far off the beaten path since the Naked Elk Lodge is conveniently close to town. You'll still get the serenity of the forest, but have all the comforts that come with an active mountain town, like laid-back bars and charming shops and coffee joints.
That means getting to and from the cabin, even in the dead of winter when the snow piles up, will be a breeze. Packwood has everything you will need during your stay. The national park and White Pass Ski Resort are nearby, too, so you'll have tons of options for how to fill your days.
Check Availability
10. Knotty Cedars Retreat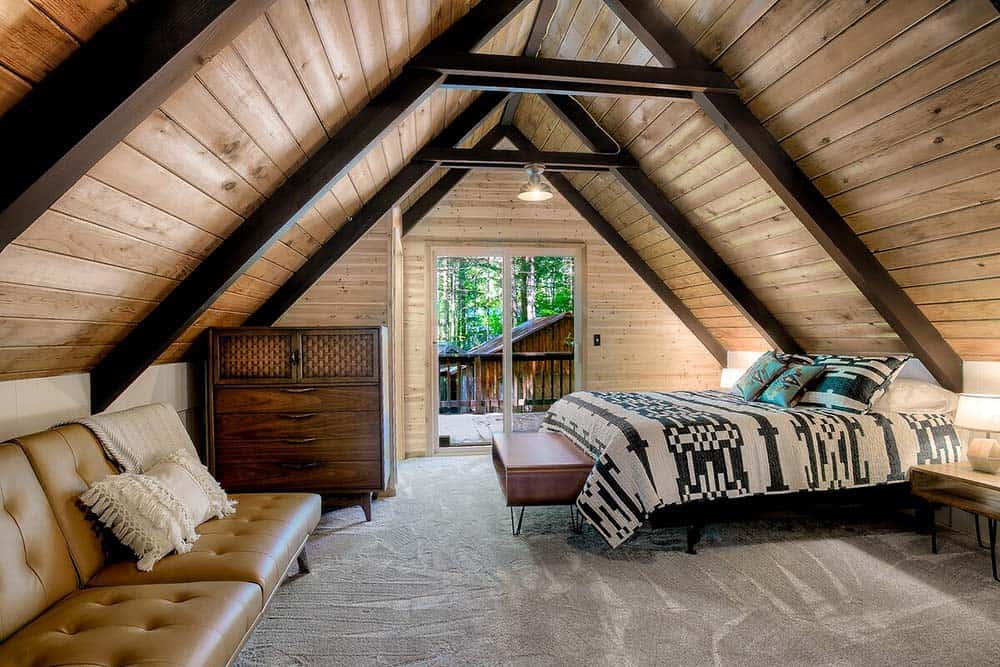 Why you should stay: Adjacent to a national forest and a country club so you get the best of both worlds.
Nearest town: Packwood
Sleeps: 5
Minimum stay: 1 night
Rates from: $129/night
Set in a lush fern-laden forest on the outskirts of town, Knotty Cedars Retreat has direct access to both wilderness and resort-like luxuries. A quick walk from the cabin in one direction will lead you into the Gifford-Pinchot National Forest, while heading in another direction will lead you to the High Valley Country Club.
The country club offers extravagances such as a golf course, hot tub, swimming pool, and a host of special events. This is certainly the best of the cabin rentals near Mount Rainier if you plan on hitting the links during your stay.
Check Availability
More Incredible Getaways
Get epic travel ideas delivered to your inbox with Weekend Wanderer, our newsletter inspiring more than 10,000 readers every week.
---