We research, evaluate and select travel destinations based on a number of factors, including our writers' experience and expertise, user reviews and more. We may earn a commission when you book or purchase through our links. See our editorial policy to learn more.
---
LA's proximity to a staggering number of phenomenal national parks is easily one of the best parts of living in the City of Angels.
Though sunny SoCal might sometimes get a bad rep for being nothing but sea spray and sandy deserts, we're here to tell you that there are loads of national parks within a 4-6 hour drive from Los Angeles.
I've been to every national park in the country, all while being based out of Los Angeles for nearly 19 years, and having a keen sense of the best wilderness escapes is always top of mind for me.
From geologic diversity and coastal archipelagos to some of the largest trees in the world, these national parks are breathtaking, rugged, and just a short drive from Los Angeles, California.
1. Joshua Tree National Park
Why you should go: Enormous monzogranite boulders, Seussian yucca trees, world-class rock climbing, and seriously epic desert vistas combine to make this Southern California national park a worthy stop on any road trip itinerary.
There's loads to do for both road trippers (don't miss Keys View) and avid hikers (check out the trail to the summit of Ryan Mountain for a lovely half-day excursion). In the lodging department, dreamy poolside bungalows comingle with hip bohemian haunts for an unforgettable stay.
Pros: There's tons to do here, plus there's a charming and funky gateway community to relax and grab drinks in (or go to an alien-inspired sound bath).
Tons of the park's trails, like Fortynine Palms Oasis and Arch Rock, are rated easy to moderate, but those who prefer a scenic drive won't be disappointed by an all-day cruise along the main park highway, which passes those famous boulders, spiky Joshua trees, and Colorado Desert cholla cactus gardens. Interested in "sending the gnar"? Cliffhanger Guides will take out all levels of budding climbers on half and full-day trips.
Cons: This is not your average summertime park. Because it's an arid desert, Joshua Tree is best visited from October through April. It's great if you're seeking an off-season adventure, but the summer months are blisteringly hot and dry.
Also, the park's campgrounds book up well in advance (think 4-6 months) during the high season, so planning ahead and securing good lodging is a must.
If you go: 6533 Freedom Way, Twentynine Palms, CA 92277; (760) 367-5500
Related read: When is the best time to visit Joshua Tree National Park?
2. Channel Islands National Park
Why you should go: A mere 60-minute ferry ride off the coast of Ventura, Channel Islands is the closest national park to Los Angeles. It's also a marvel of geology, birdlife, and endemic species hiding in plain sight…in the middle of the Pacific Ocean. Full of shady oaks, spooky sea caves, and rocky beaches, the Channel Islands are a hauntingly beautiful destination to visit.
Pros: The opportunities to view wildlife here are tremendous, with hundreds-strong pods of dolphins a common sight on the ferry ride, plus migrating humpback, blue, and gray whales.
On land, visitors have a chance to catch a glimpse of the adorable, once-endangered island fox. Channel Islands is also an excellent multi-sport park, with fabulous opportunities to kayak along the fascinating sea caves or hike to secluded coves, like Pelican Bay.
Cons: Unlike the other California national parks, Channel Islands isn't a drive-up destination. Ferries fill up quick, so booking a couple of weeks in advance is recommended if you plan to head out to Santa Cruz or Anacapa to hike or witness the fantastic spring wildflower show.
Also, because space on the islands is limited, the campgrounds fill up months in advance (particularly on weekends) during the high season, which runs from June through August.
If you go: 1901 Spinnaker Drive, Ventura, CA 93001; (805) 658-5730
Related read: 7 Adventurous Islands to Explore in California
3. Pinnacles National Park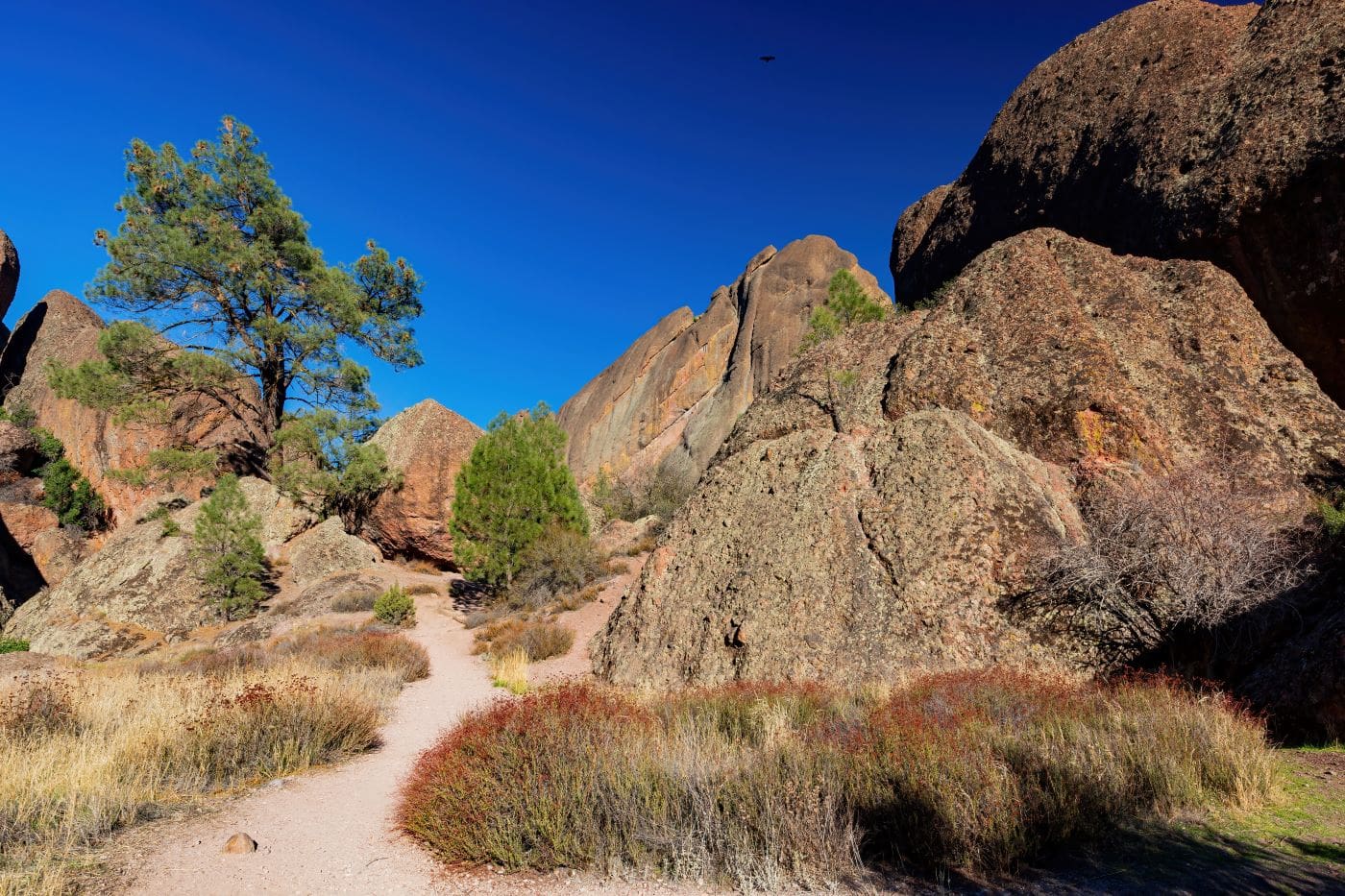 Why you should go: Established in 2013, Pinnacles National Park is one of the newest in the nation, and as such, it's relatively uncrowded, though it packs a punch, considering its small size.
Go in spring for incredible wildflower displays and birding opportunities, or beat the heat and visit during autumn for seriously sweet hiking and rock climbing.
Pros: This central California park is a lesser-known gem smack-dab in the middle of the state and is convenient to road trippers coming through Big Sur, Monterey, Fresno, or the Bay Area as they make the rounds (it's five hours from LA).
If you're interested in birding, there's no better park in the state, and it's likely your best option for spotting an endangered California condor. There are ample hiking opportunities (try the High Peaks Trail if you want to work up a sweat) and rock climbing, for you adrenaline-addicted outdoorsy types.
Cons: It gets hot in the summer months here. We're talking daytime temperatures near 100 degrees in July and August. As such, it's not the best summer road trip destination. It's also a smaller park, at just over 26,000 acres), and parking often fills up by 8 am on busy weekends.
The park also has two entrance points (one on the east side and one on the west side), which can be confusing for those driving up from Los Angeles. The park's only campground is on the eastern side, while most rock climbing and noteworthy trails are towards the west.
If you go: 5000 East Entrance Road, Paicines, CA 95043; (831) 389-4486
Related read: The Ultimate Los Angeles to San Francisco Road Trip
4. Sequoia National Park
Why you should go: Marvel at the largest trees on the planet, trek through old-growth forests, cast a line in one of several rivers, and hike to the top of a glacially-polished granite dome at this storied Central California park that's only 3.5 hours from Los Angeles.
Pros: There is so much to do for adventurers of every age and skill level in Sequoia National Park. Concerned about accessibility or have little ones in tow? Hike the paved, flat, 0.7-mile Big Trees Trail and crane your neck to take in thousands-year-old giant sequoias.
Interested in Native history? Head to Hospital Rock. Want a thigh-busting ascent with phenomenal views of the High Sierra and the Great Western Divide? Check out Moro Rock. In addition to all of this, seasoned backpackers will fall in love with the sincerely world-class trails (like Pear Lake and the High Sierra Trail), which offer shimmering alpine tarns and literal views for days.
Cons: Though not as overcrowded as nearby Yosemite, Sequoia National Park can fill up on busy summer and holiday weekends, especially in the popular Giant Forest area. Like with most western parks, travelers hoping to camp or stay within the park boundaries will need to plan ahead and reserve their accommodations in advance. Also, in late summer and early fall, wildfires are becoming increasingly common due to climate change. Check air quality and fire restrictions before heading out.
If you go: 47050 Generals Highway, Three Rivers, CA 93271; (559) 565-3341
Related read: 11 Sequoia National Park Cabin Rentals Perfect for Forest Bathing
5. Death Valley National Park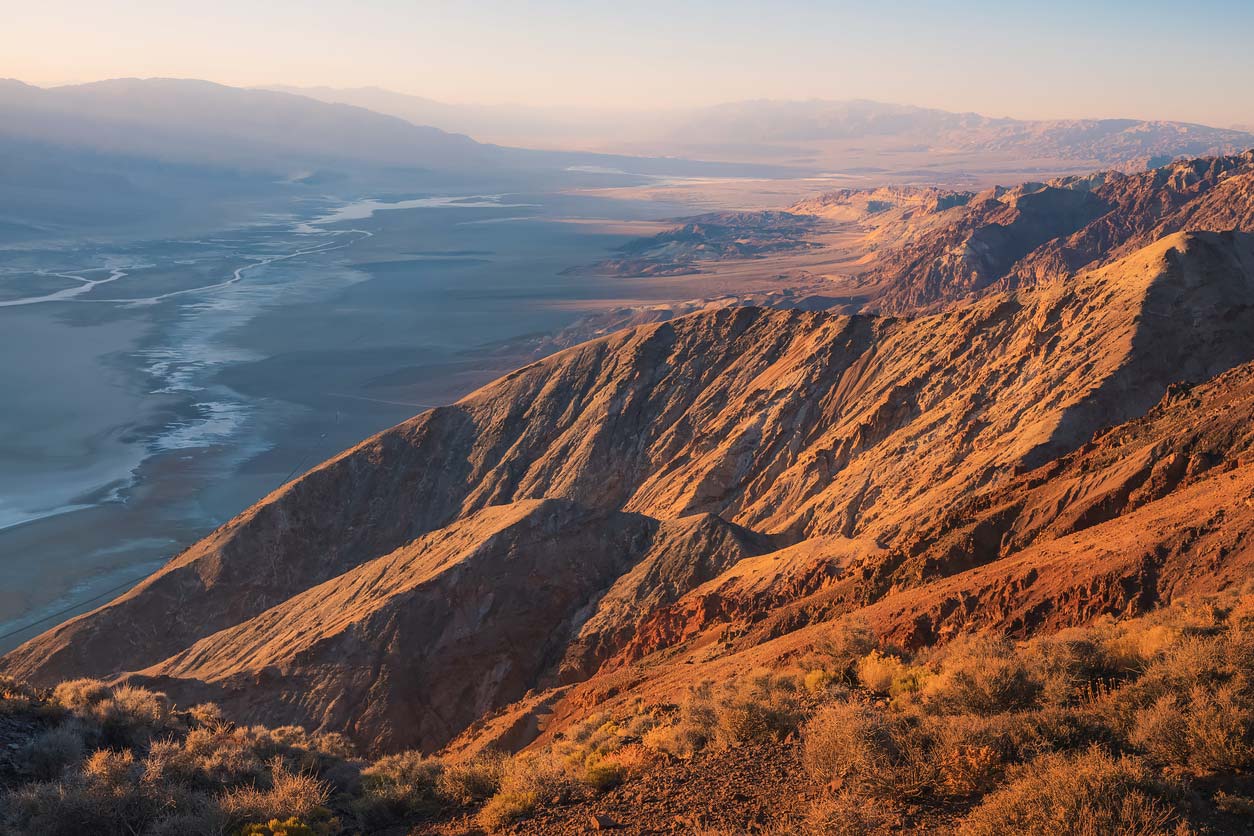 Why you should go: A bastion of geological wonders, historic mines, big desert viewpoints, and excellent day hikes, Death Valley is unlike anywhere else on the planet.
Often called the "Park of Superlatives" (it's the hottest place in the world, the driest in North America, plus it boasts the lowest point in the continent at Badwater Basin), the park is also a great spot for scenic drives through seemingly endless arid peaks.
Pros: Death Valley is a truly awesome weekend escape from Los Angeles, full of famous viewpoints like Zabriskie Point and Artists Palette.
Geology nerds can strike out on colorful treks through awe-inspiring rock formations and badlands (check out Golden Canyon and Devils Golf Course), and history buffs can brush up on their mining knowledge at Twenty Mule Team Canyon and Harmony Borax Works. Whatever you do, don't miss the chance to roll down enormous sand bluffs at Mesquite Flat Sand Dunes.
Cons: We've said it before and we'll say it again: Death Valley is listed in the record books as the hottest place on Earth. So, it stands to reason that this is yet another great park to visit from November – March when temperatures are more moderate and nights cool down enough to sleep comfortably.
Another con for those who like to car camp is the fact that, unfortunately, this park doesn't have much in the way of endemic flora, so campsites are generally unshaded and often in full view of other tents.
If you go: No address, but map coordinates for Furnace Creek Visitor Center are: N 36°27.70, W 116°52.00; (760) 786-3200
Related read: 12 Ideas for How to Spend One Day in Death Valley National Park
6. Zion National Park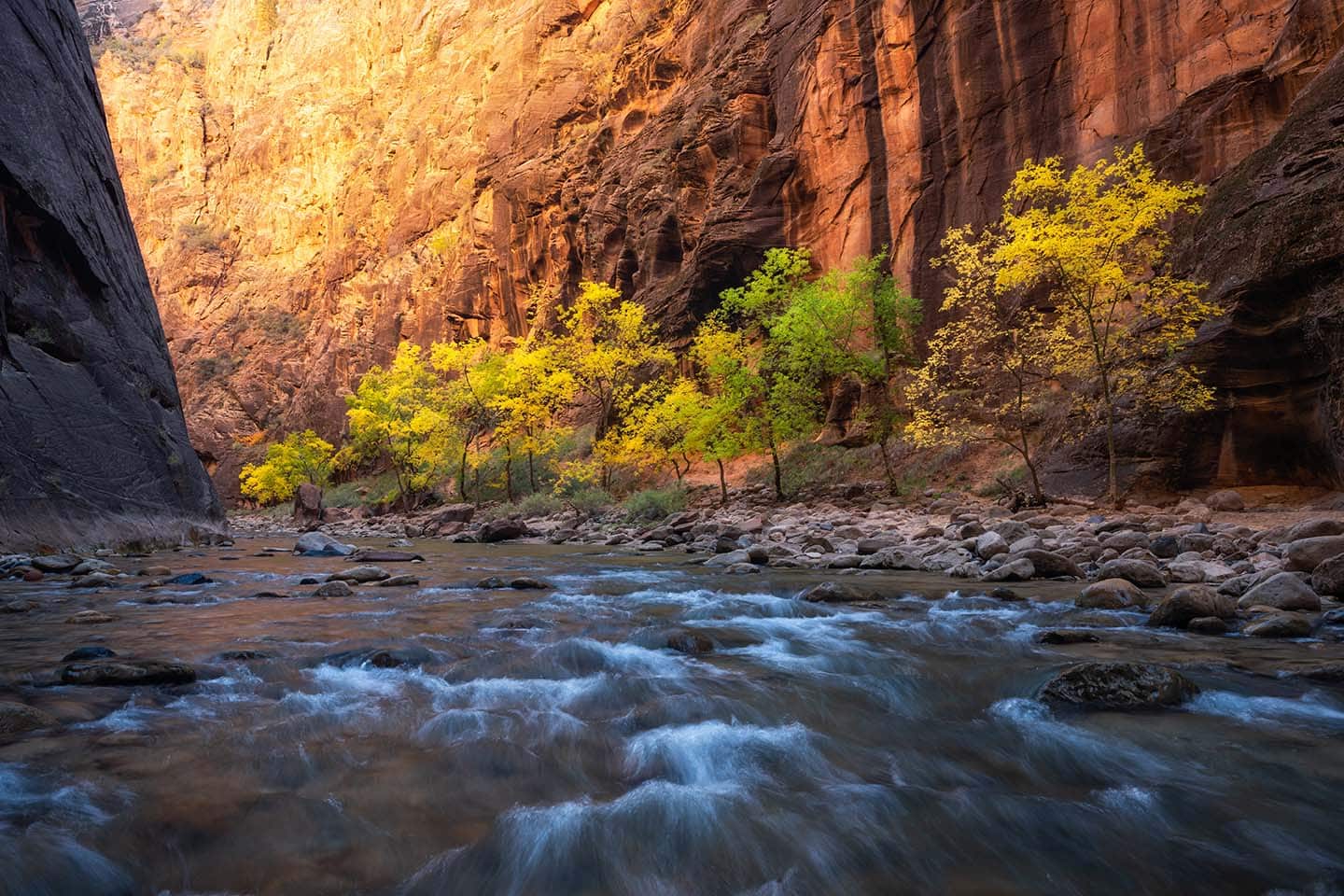 Why you should go: Though it's a bit further from Los Angeles (a 6.5-hour drive northeast), Zion National Park is a legendary road trip destination for good reason. Here, you'll find sky-high crimson cliffs, second-to-none rock climbing, and fantastic canyoneering. Plus, the park is a stone's throw from the mountain biking mecca of St. George, Utah.
Pros: Pretty much everything in Zion is accessible via bicycle or the free park shuttle, which is great for out-of-towners who don't want to deal with traffic and limited parking within the canyon. One of the prettiest stretches of trail in the park, the Pa'rus Trail, is both wheelchair-accessible and pet-friendly.
Seasoned hikers have loads of options to choose from (I heartily recommend The Narrows and the view-studded Watchman Trail). Nearby, you'll find the charming town of Springdale, which offers everything outdoorsy travelers could ever want, from delicious local brews to well-appointed lodging.
Cons: Because the top sights are located within a narrow stretch of sandstone ravine that only measures 15 miles long, Zion, which hosts nearly 5 million visitors each year, can get incredibly crowded.
Utilizing the free park shuttle is required from May through November, as well as during the Christmas holiday season. Hoping to escape the throngs? Head to Kolob Canyons in the more remote northern stretch of the park for crowd-free trails freckled with red rocks.
If you go: 1 Zion Park Blvd., Springdale, UT 84767; (435) 772-3256
Related read: 11 Beautiful Glamping Spots Near Zion National Park
Explore California
Get epic travel ideas delivered to your inbox with Weekend Wanderer, our newsletter inspiring thousands of readers every week.
---