The City of Bend, Oregon is an outdoor playground sandwiched between the equally mesmerizing high desert and High Cascades.
Known as a hub for outdoor recreation, Bend is a frontier town that retains an authentic sense of the wild west.
The massive, perpetually snow-capped Three Sisters mountains reign over the city from the west, and an endless sagebrush-encrusted desert spreads east to somewhere beyond the horizon.
Whether you're paddling down the white waters of the Deschutes River, shredding the slopes of Mt. Bachelor, or hitting the trails on Bend's best hikes, you'll need a place to catch some Zs and recharge for your next adventure.
You could spring for a hotel, but where's the fun in that?
We've put together a list of our 18 favorite camping spots around Bend. There are dozens upon dozens of campgrounds and backcountry campsites to discover in the area, and this list is a great guide to help get you started.
Tent or RV, you're in for some amazing camping outside of Bend. Take on the mountain highways for mile-high lakeside amenities, or travel deep into the woods for a remote experience far away from civilization.
The options are endless, as are the good times.
1. Rosland Campground
Why you should stay: Enjoy the company of birds and beavers on the banks of the Little Deschutes River.
Reservations accepted: No
Best seasons: Spring, Summer, Fall
RV hook-ups: Yes
Tucked away down a back road across the Little Deschutes River from the sleepy mountain town of La Pine, Rosland Campground is a convenient camping area located minutes away from the grocery store that feels far removed from urban civilization.
First utilized by pioneers way back in 1826, Rosland Campground was originally the site of a settlement built by beaver trappers. Campers will find informative signage and crumbling historic structures that showcase scenes from the past.
The campground hugs the western flank of the Little Deschutes River where beavers and waterfowl dwell. Take a walk along the serene riverbank, or enjoy a river tube float down to the campground from nearby Leona Park. Day-use access to the surrounding forest, fields, and river makes for a great lunchtime respite or dog walk.
RV and tent camping is permitted, as are campfires. Rosland Campground has restrooms and picnic facilities that are maintained by the on-site park host year round.
2. LaPine State Park Campground
Why you should stay: Easy access to recreation along the Deschutes River corridor.
Reservations accepted: Yes
Best seasons: Spring, Summer, Fall
RV hook-ups: Yes
Towering pine and the twisting Deschutes River encircle the LaPine State Park Campground in High Cascade heaven. Here, legendary fly fishing and epic mountain biking are just the tip of the area's recreational iceberg.
This fully-equipped campground holds dozens of tent sites, full-service RV camping, hot showers, deluxe cabins and more. There's no shortage of places to stay, and that's because La Pine State Park rests at the eastern foothills of the majestic Cascade Range where adventurers from around the world come to play.
Alpine lakes and snow-capped peaks wait just around the bend, but you'll be hard-pressed to run the gambit of outdoor fun within the confines of the park itself. The Deschutes River, known for stellar fishing and whitewater rafting, cuts right through the campground, and a plethora of trails traverse the dramatic topography of the surrounding forest.
Reserve Now
3. Paulina Lake Campground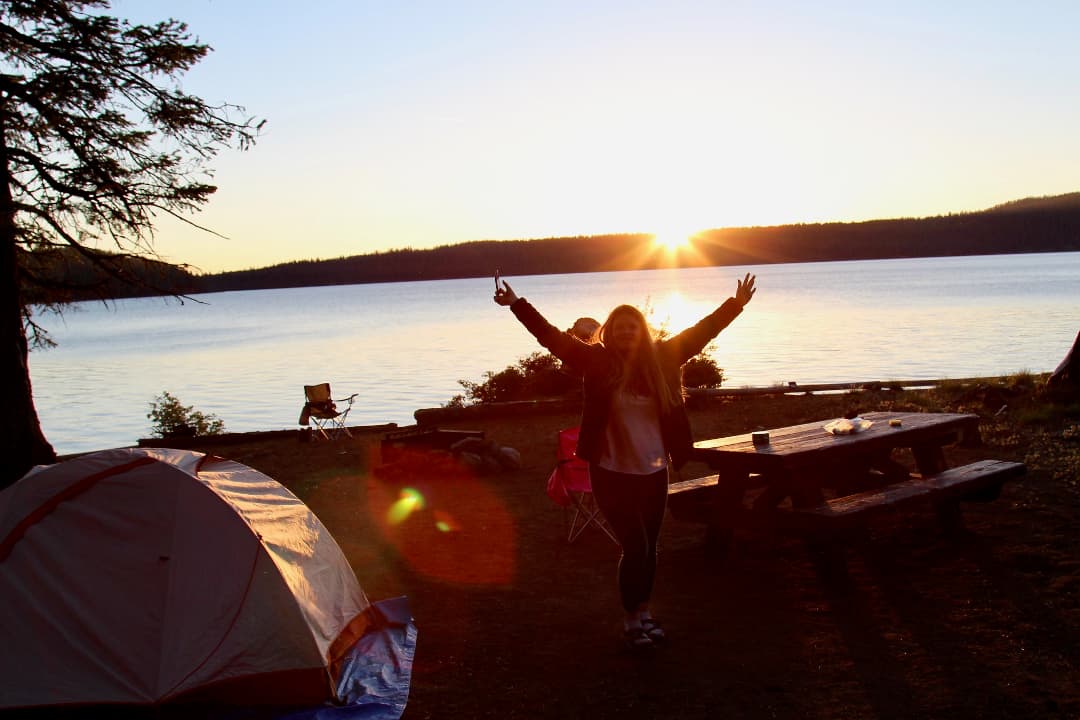 Why you should stay: Chill by a lovely lake surrounded by a volcanic landscape.
Reservations accepted: Yes
Best seasons: Spring, Summer, Fall
RV hook-ups: Yes
The most popular camping area within the Newberry National Volcanic Monument, Paulina Lake Campground features waves of lava beds, hidden hot springs, and the beautiful lake itself.
Located within the five-mile-wide caldera of the Newberry Volcano, the campground is host to volcanic vistas in all directions. Walk from the campground directly onto a network of trails that spans dozens of miles over lava rock and through sparsely wooded forests.
Paulina Lake and neighboring East Lake are a joy to hike around. Along the moderately used trails, you will discover places where thermal vents have created vibrant ecosystems and secluded hot springs. A boat launch at the campground provides watercraft access to Paulina Lake.
All forms of camping are welcome at Paulina Lake Campground. Large RV sites, flushing toilets, and potable drinking water create a comfortable stay in this uncommon, alien environment.
Reserve Now
4. Tumalo State Park Campground
Why you should stay: Convenient river-side camping near town.
Reservations accepted: Yes
Best seasons: Spring, Summer, Fall
RV hook-ups: Yes
Tumalo State Park Campground is the closest campground to Bend, yet it offers a quiet wilderness setting where the star-filled skies aren't blotted out by city lights.
Situated only four miles from Bend, it's amazing that this park isn't inundated with a background noise of honking cars and emergency sirens. In fact, all you'll ever hear at this riverside campground is the splish-splash of the Deschutes River.
Tumalo State Park is fairly small with little more than a few miles of trail along the banks of the river, but the campground makes a great jumping-off point for Bend and every type of outdoor recreation you could imagine from kayaking, to mountain biking, and hunting. With the slopes of Mt. Bachelor just down the road, winter recreation is in no short supply.
The campground features two dozen campsites, over 50 full RV hookup sites, yurts, a hiker/biker campsite, showers, and flush toilets.
Reserve Now
5. Three Creek Lake Campgrounds
Why you should stay: Camp near amazing hiking options on the footsteps of the Cascades.
Reservations accepted: Yes
Best seasons: Spring, Summer, Fall
RV hook-ups: No
Three Creek Lake resides east of Bend in the shadow of Broken Top Mountain. You'll get there by heading south from the town of Sisters, and the drive through the gorgeous Cascade Range will leave your jaw dropped and have you itching to get onto the trail.
Comprised of Three Creeks Campground, Driftwood Campground, and Meadow Campground, this seasonally-accessible area around the lake has 18 campsites and a few horse campsites, all of which are mostly first-come-first-served, though several can be reserved ahead of time.
Three Creeks Lake is open to non-motorized boating and swimming. Campsites are quite rustic, but still cost $14 per night. No potable water or RV hookups exist on premises, though there are pit toilets and fire rings.
Enjoy the lake and explore the dirt roads in the area which connect to a series of hiking and off-road vehicle trails. From the campground, the five-mile out-and-back Tam McArthur Ridge Trail gains 1,200 feet of elevation toward a breathtaking view of Broken Top Mountain and The Three Sisters.
Adventurous folk can continue onward to No Name Lake and beyond to complete the 24 mile Broken Top Loop Trail which circles around the gargantuan mountain.
6. Cold Springs Campground
A small spring has carved its own path through the small Cold Springs Campground just west of the town of Sisters. Shaded under tall Ponderosa Pine, this popular campground is a cozy resting place just off the highway near Santiam Pass.
The large, open campsites accommodate campers of all likes. Travelers passing over the mountains can make use of this campground as a forested pit stop en route to their destination. Those traveling at a slower pace can spend several nights here as they visit the cute mountain town of Sisters and venture onto the countless dirt roads and trails that wander off into the Cascades.
Nearby, the seasonally open and less-traveled McKenzie Highway heads east from the town of Sisters. The highway climbs to a mountaintop lava field where the Dee Wright Observatory overlooks an endless sea of black rock capped off by the prominent Mt. Washington and other Cascade peaks. This is an easily missed opportunity to see the true beauty of the Oregon Cascades.
7. The Bivy
Smith Rock State Park is rock climbing ground zero, and The Bivy is where those climbers rest after a hard day of rock scaling and cramming anchors into crevices.
Of course, The Bivy isn't restricted to climbers, and they're a friendly bunch. Smith Rock State Park is a wondrous area popular with hikers, mountain bikers, horse riders, and slackliners. Follow the Crooked River around Smith Rock and stay on the trail up to its peak, or take your own route. This is a paradise for those who like to explore off the beaten path.
The Bivy is open year round and first-come-first-serve for a modest $8 per night. Pitch your tent, but don't plan to stay overnight inside of a camper or RV as it's not allowed. Camp amenities include three ADA campsites, showers, toilets, and an electronic recharging station.
8. Skull Hollow Campground
Visitors to Smith Rock State Park who like bring their bed with them can take their RV down the road a few miles from the park to Skull Hollow Campground.
This is an open, rustic camping area with pit toilets and without water, though the short drive to the Smith Rock State Park day use area means flowing water is only minutes away. The Gray Butte Trail is a recreational route that connects Skull Hollow Campground to Smith Rock State Park.
The campground was named after a collection of human skulls found in the area. Western settlers had been massacred on this location by Native American defenders under the command of Chief Paulina in 1864. The remains of over 200 people and 40 wagons were ultimately uncovered.
Don't fret if a chill runs down your spine during your stay– it's likely just a breeze. This history of this location is dreadful, but the present is quite pleasant. There are 28 camping sites available to tent and vehicle campers for $10 a night.
9. Ochoco Lake County Campground
East of Bend near the Town of Prineville, Ochoco Lake is a dammed reservoir primed for boating and fishing. The lakeside campground is a fantastic rest stop during the family vacation and an excellent recreation destination.
Serving as a water sport recreation hub for travelers and Bend residents alike, Ochoco Reservoir also acts as a gateway into the Ochoco National Forest. High desert and thick woods collide in these wild lands where rock spires, open canyons, and old growth forest are lorded over by the grand Ochoco Mountains.
The popular county campgrounds at Ochoco Lake are an excellent stepping stone into the lightly visited forest. Keep an eye out for mule deer and pronghorn sheep during your visit, but beware that this little-explored area becomes filled to the brim with pickup trucks and booming rifles during hunting season.
The campground has 22 campsites that go for a steep $20 per night, with separate hiker/biker sites at a discounted price. Restrooms, hot showers, a boat launch, and a fish cleaning station are on location.
10. Chimney Rock Campground
Knock on eastern Oregon's desert doorway from the excellent Chimney Rock Campground staging area. The Chimney Rock segment of the Crooked Wild and Scenic River doubles as a fishing hot spot and high desert gateway.
This otherwise dry canyon with steep basalt cliffs has been carved by the lush waters of the Crooked River. The 16 campsites below Chimney Rock are supplied with drinking water, fire pits, vault toilets, and a fishing platform.
Visitors can relax with a reel and rod on the river's shore, hike the 2.6-mile loop trail for expansive views of the Crooked River Canyon, or take their bike along the 18-mile Crooked River Canyon Scenic Bikeway.
11. Jasper Point
Catch a glimpse of local wildlife and migrating birds at Jasper Point Campground adjacent to the Prineville Reservoir. This full-featured campground offers everything you need for a weekend lakeside getaway.
Dozens of RV and tent sites come with all the necessities for a fun vacation on the lake. Located within Prineville Reservoir State Park, campers have access to boat moorage, watercraft rentals, resort fare, hot water, a volleyball court, and a swimming area.
The abundant amenities don't take away from the natural surroundings of the reservoir. This massive body of water is just as crooked as the Crooked River which fills it as numerous twists and turns create secluded portions of the lake and islands to explore. Don't care to hop onto a boat? Hike around the lakeside trails instead!
12. Antelope Flat Reservoir
Get away from the crowds at the more accessible reservoirs by choosing the road less traveled and pitching your tent at the Antelope Flat Reservoir Campground.
Sites are all first-come-first-served, but you shouldn't worry about finding a spot out here in the woods. The water itself is often turbid because of phytoplankton growth and the shoreline can be quite muddy, but there is much to see in this wilderness beyond the reservoir itself.
There are vault toilets and a boat ramp on location. Fishing is adequate and the setting is quite serene compared to more popular fishing locations. A relaxing day on the reservoir will be all that some people are looking for at this campground, though the neighboring desert slopes and ponderosa forest in the remote Maury Mountains are well worth exploring.
13. Wiley Flat Campground
Wiley Flat Campground is stretching our "near Bend" focus quite a bit as it's the furthest and most remote location on this list. Then again, that's exactly the type of secluded camping experience some people are looking for.
This free campground is deep, deep within the Maury Mountains and straddles the trickling waters of Wiley Creek. There are only a handful of sites to choose from and a single vault toilet on location. Other than a locally guided horseback riding tour that passes through the area, you'll hardly come across another living soul out in this neck of the woods.
Horse trails and dirt roads are the primary passages through the area. Be careful where you step outside of the campground as the sensitive riparian environment that has grown around the creek is easily damaged.
14. Lava Lake Campground
Abundant with hiking and fishing opportunities, Lava Lake Campground is a popular stop on the Cascade Lakes Scenic Byway. Time allowing, this is a must-see alpine route for those who love mountain views.
High in the Cascades at 4,740 feet, Lava Lake is one of many alpine lakes in the region. The shores are bordered by lava rock and flush with bulrush, the waters are stocked with trout, and the mountain views are out of this world.
Over 40 tent and RV sites are available for $16 a pop and come with vault toilets and potable water, though they can sell out quickly during summer weekends. As mentioned, this is one of many lakes along the Cascade Lakes Scenic Byway, and that means there are many more campgrounds in the area.
15. Devils Lake Campground
Also among the scenic Cascade lakes, Devils Lake has a walk-in tent-only campground perfect for backpackers who are heading into the Three Sisters Wilderness.
Devils Lake Campground is one of the more popular access points for hikers looking to skirt around or scale the ever-popular and prominent South Sister mountain. A recreation pass is required for parking your car at the campground trailhead.
Thousands of miles of trails are waiting to be explored between the Deschutes National Forest and Three Sisters Wilderness. Devils Lake Campground serves as an easily accessible and well-established gateway in these prime alpine lands.
16. Camp Sherman Campground
The unincorporated community of Camp Sherman is a remote mountain village in Central Oregon. Just outside of town, Camp Sherman Campground and several other nearby campgrounds reside on the banks of the untamed Metolius River.
Camp Sherman Campground is open year-round with water and toilet facilities removed during the harsh winter season. A few minutes away, the town of Camp Sherman has a general store, toilets, and showers for recreational visitors.
The subalpine forests are more verdant and lush than those found on the eastern side of the Cascades closer to Bend. Fish are ample in the wild Metolius River, and the scenic area is great to explore via hiking, backpacking, or mountain biking. This is a fantastically moist and green escape from the typically dry climates immediately around Bend.
17. Crane Prairie Campground
Crane Prairie Reservoir is extremely popular among fishers and boaters for its proximity to fisheries and abundance of stocked rainbow trout, brook trout, mountain whitefish, and largemouth bass.
You'll find plenty of campsites at Crane Prairie Campground, most of which offer room for large vehicles and boat trailers. The campground features pit toilets and potable water, and the adjoining resort has a small grocery store and showers.
Interpretive signage informs visitors about the area and views of South Sister and Mt. Bachelor add the majesty of the high Cascades to the campground. During autumn and spring, bust out your binoculars to observe the migratory birds. If you're lucky you may get to see a swoop of cranes!
18. Soda Creek Campground
The small Soda Creek Campground offers views of South Sister and serves as an excellent staging area for Mt. Bachelor.
Situated next to Soda Creek and near Sparks Lake, there is quite a variety of terrain to see around this 10-site campground that is best suited to small vehicles. Though it's located in the middle of a winter wonderland with epic ski slopes just down the road, this spot is only open during the summer as it is buried under several feet of snow the rest of the year.
Sitting at the base of Mt. Bachelor, Soda Creek Campground is an ideal place to stay the night if you're planning to bike down the mountain's steep slopes, hike around its base, or simply take a scenic summer chairlift ride to the mountain's peak.
Explore Oregon!
For more ways to explore Oregon, check out our favorite Oregon Coast hikes, the best hikes in Eugene, popular Oregon hot springs or free camping spots in Oregon.
Sign up for our free email to join 85,000+ readers getting epic travel, hiking, camping and gear ideas every week.
---