The Pacific Northwest boasts a cluster of national parks, monuments, and scenic areas that are on a whole 'nother level.
That is, if you can catch them on a sunny day.
With opportunities to spot wild orcas, glamp in a cozy yurt, go for a stroll in old growth forest, kayak rocky shorelines, and trek to icy blue glaciers, there's no shortage of things for nature lovers of all shapes, sizes, and experience levels to enjoy.
Because many of these areas are frigid and get snow in the winter months, prime visiting season is late spring through early fall, which is also when precipitation is typically at its lowest. Of course, if you don't mind getting a little wet, visiting the PNW during the shoulder season is a fantastic way to escape the summer throngs. Just be sure to pack a substantial rain coat.
Most people consider the Pacific Northwest to be a swath of land that stretches from northern California all the way up to the southern Alaskan fjords, but for the purposes of this article and with a mind for accessibility, we'll be limiting our picks to parks which lie in the contiguous U.S. only.
For epic ideas to add to your next Pacific Northwest road trip, read on for our favorite national parks and monuments.
1. Olympic National Park
Why you should go: Experience three entirely different (and equally stunning) ecosystems in this gorgeous corner of Washington state.
State: Washington
Nearest town:

Port Angeles and Forks
Olympic National Park is a haven for those of us with short attention spans. The 922,650-acre expanse in the northwest corner of Washington is just over two hours from Seattle, and it's bursting at the seams with temperate rainforest, rocky coastline, and glaciated peaks.
Many visitors to the park high-tail it over to the Hoh Rainforest to hike the famous Hall of Mosses Trail, which is an easy stroll through (you guessed it) moss-cloaked maples and towering Sitka spruce trees. From there, it makes sense to tack-on one of the park's sparkling sapphire lakes to your forest bathing day, like Lake Crescent or Lake Quinault. Hit the hay in style with a cozy lake view room at the historic Lake Quinault Lodge and spring for dinner at the Roosevelt Dining Room.
Consult a tide chart and head to Rialto Beach at low tide to meander the driftwood-strewn shoreline and carefully hop around on boulders to check out the psychedelic tidepools along the ocean's edge. If you're up for it, a three-mile hike out to Hole in the Wall is a great opportunity to stretch your legs and marvel at the area's many sea stacks. The coastal areas are also prime for winter visitation away from the snow of the high country.
From there, you could opt to take on a multi-day hike for a view of one of the park's fast-disappearing glaciers, or instead wind your vehicle along a scenic byway, passing through the quaint town of Port Angeles and into Olympic's Hurricane Ridge area. A moderate 3.4-mile trek takes visitors up to the top of Hurricane Hill, where the park's namesake, Mount Olympus, can be viewed.
Related Read: 8 Easy Day Hikes in Olympic National Park, Washington
2. Crater Lake National Park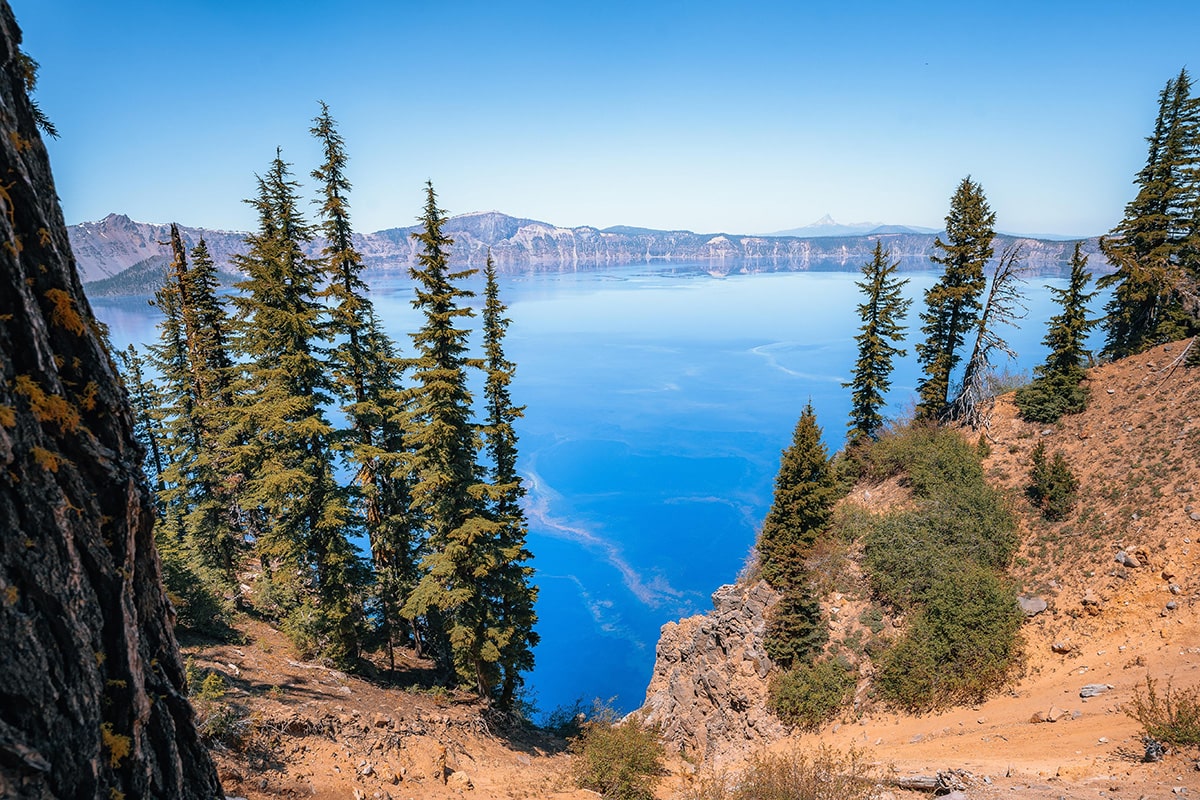 Why you should go: Gaze out at the striking blue vastness of the deepest lake in the United States.
State: Oregon
Nearest town:

Klamath Falls and Ashland
Taking a scenic swerve around the forested shoreline of Crater Lake is a bucket list-worthy item, and with good reason. The 33-mile Scenic Rim Drive is chock-full of breathtaking vistas of this incredible azure body of water.
Even though the mileage might not sound like much, be sure to take a full day to experience this wonder of the world, pulling over at the 30 epic overlooks that adorn this byway, like Phantom Ship, Discovery Point, Cloudcap, and The Watchman.
If you're looking to get out for some exercise while in the park, a four-mile trip up to the panoramic views at the summit of Mount Scott can't be beat. Or, if you'd prefer to dip your toes in the lake itself, head to the Cleetwood Cove Trail and tackle the steep 1-mile (each way) journey down — just watch out for curious crayfish.
Though they have been on pause since the rise of the pandemic, be sure to check for park updates if you plan on taking a boat tour to Wizard Island, a now dormant cinder cone in the middle of the lake.
Related Read: 9 Best Cabin Rentals Near Crater Lake National Park, Oregon
3. San Juan Island National Historical Park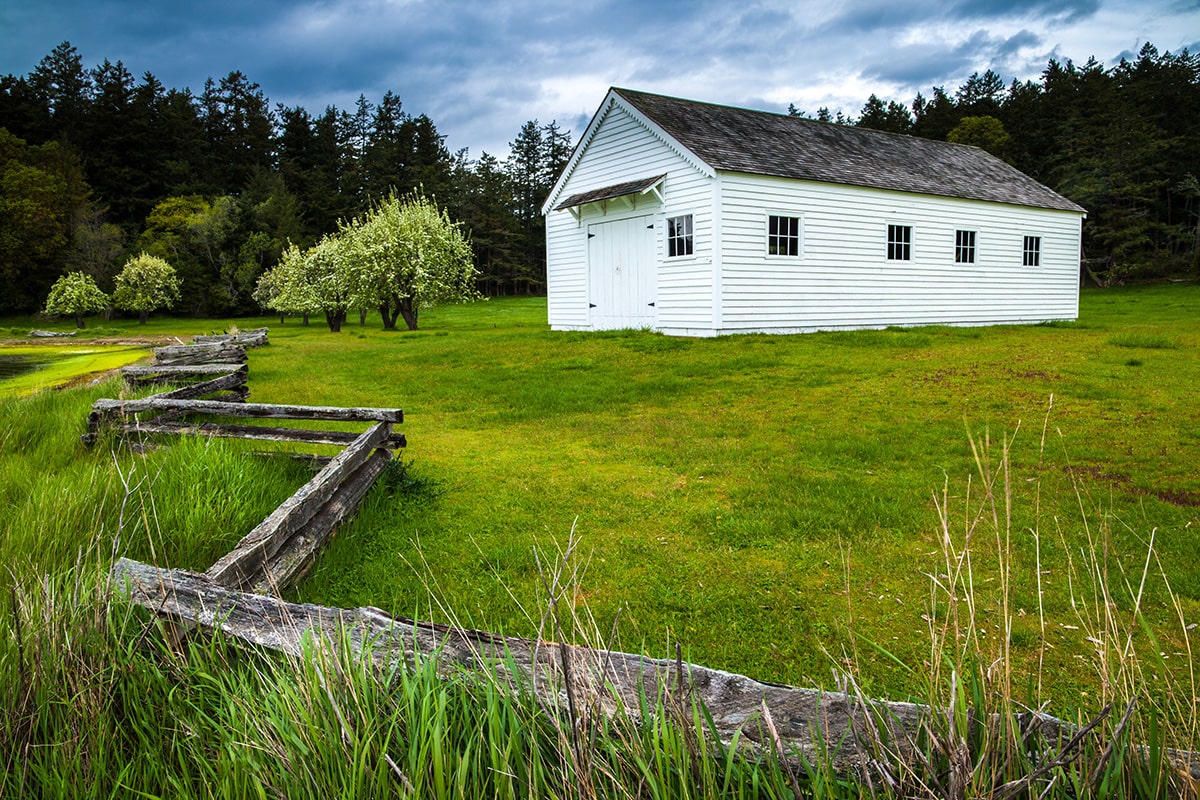 Why you should go: Try to spot orcas as you tour historic sites and lovely coastal views from this infamous island retreat.
State: Washington
Nearest town:

Anacortes
Situated about an hour and a half from Washington's biggest city, Seattle, is Anacortes, the gateway community to the San Juan Islands. This cluster of rocky islets along the Pacific Coast are considered one of the best places to spot wild orca whales in the world, and numerous companies, like San Juan Safaris, offer adventurous whale watching trips for cetacean lovers.
The island also offers loads to see for history buffs, as it was once the site of an 1859 land ownership dispute between the United States and Great Britain that was spurred by, of all things, the death of a pig. These days, visitors can check out a variety of interpretive programs at both the American Camp and British Camp.
Water lovers won't want to miss driftwood-lined South Beach, the largest public beach in the national historical park. And, if you're feeling really adventurous, why not book a kayaking or bike riding day tour with Discovery Sea Kayaks?
Related Read: 8 Rad Airbnbs in the San Juan Islands, Washington
4. Mount St. Helens National Volcanic Monument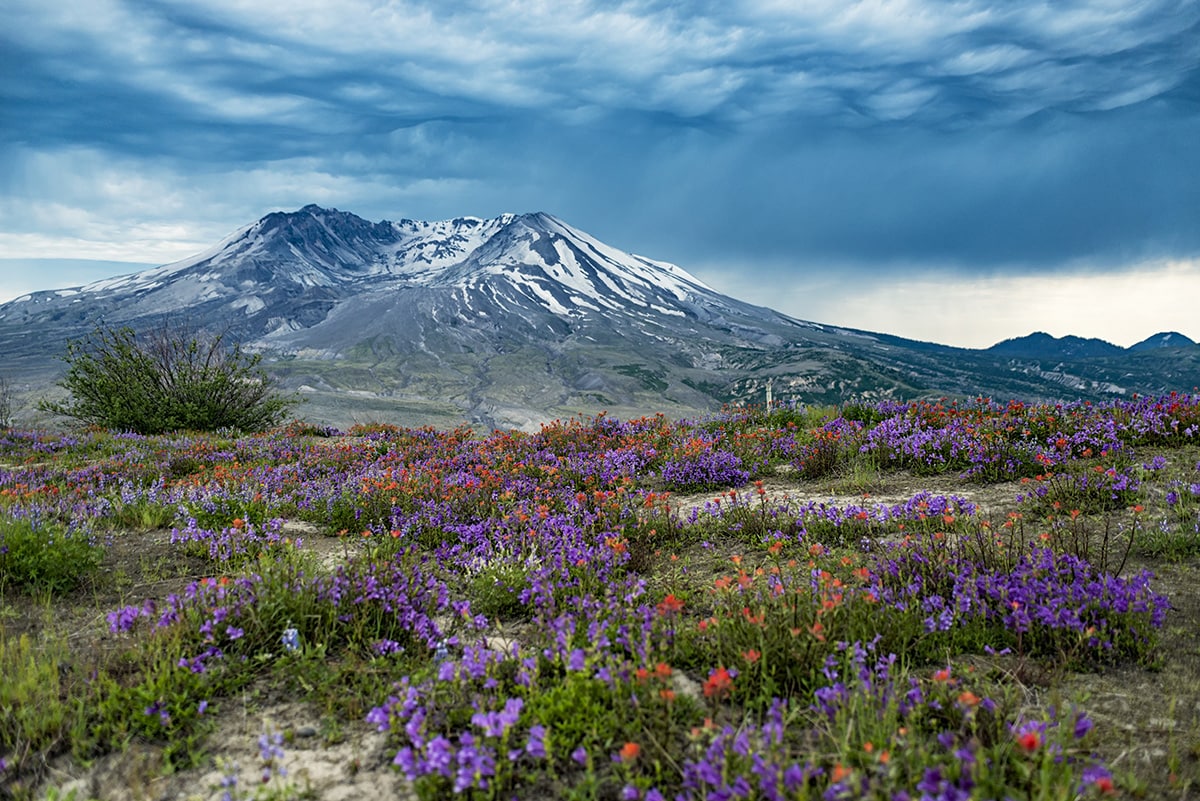 Why you should go: Witness the site of the notorious 1980 eruption that forever altered the silhouette of Washington's skyline.
State: Washington
Nearest town:

Longview and Chehalis
On May 18, 1980, shaken by an earthquake measuring 5.1 on the Richter Scale, Mount St. Helens erupted. Day turned to night as billowing ash clouded the sky, and 150 square miles of nearby forest was either blown over or left dead and standing.
It may not sound like an ideal stop on a family vacation or freewheeling road trip across the Pacific Northwest, but Mount Saint Helens National Volcanic Monument offers visitors a rare glimpse at a landscape in recovery. It's a wonderful way to see how a post-eruption ecosystem begins to regrow and rebuild.
The nearby Mount St. Helens Visitor Center shows a brief film about the area's historic eruption, and dozens of miles of trails crisscross this fascinating area. If you've got a full day in the park, check out the five-mile trail to Devil's Point, which offers outstanding views of the mountain. Or, if you'd prefer a more strenuous affair, get ready to feel the burn on the eight-mile Ptarmigan Trail all the way to the summit of Mt. St. Helens.
Related Read: 9 Best Hikes in Washington State for Epic Outdoor Adventures
5. North Cascades National Park
Why you should go: This stunning sleeper park is an uncrowded hidden gem full of excellent hiking and backpacking trails.
State: Washington
Nearest town:

Marblemount
Most of the national parks that routinely make the top ten least-visited list have some monumental transportation obstruction that impedes visitors from simply driving in with their own vehicle. Not so with North Cascades. This 505,000 acre expanse on the border of Washington and Canada is roughly two hours from Seattle and is an often overlooked gem full of brilliant blue lakes and glaciated mountains.
The park is home to a charming, hike- or boat-in only town named Stehekin, which, in addition to boasting fabulous fall colors, features an apple orchard, a quaint lodge, and miles upon miles of hiking trails.
In addition, North Cascades is part of a complex of parks, bordered by the Ross Lake National Recreation Area and the Lake Chelan National Recreation Area. It's a phenomenal place to escape and feel as though you have the forest and the mountains to yourself, whether it be camping with a side of farm-to-table meals or on a strenuous all-day hike to the Sahale Glacier.
Related Read: The 13 Best Hikes in North Cascades National Park, Washington
6. Mount Rainier National Park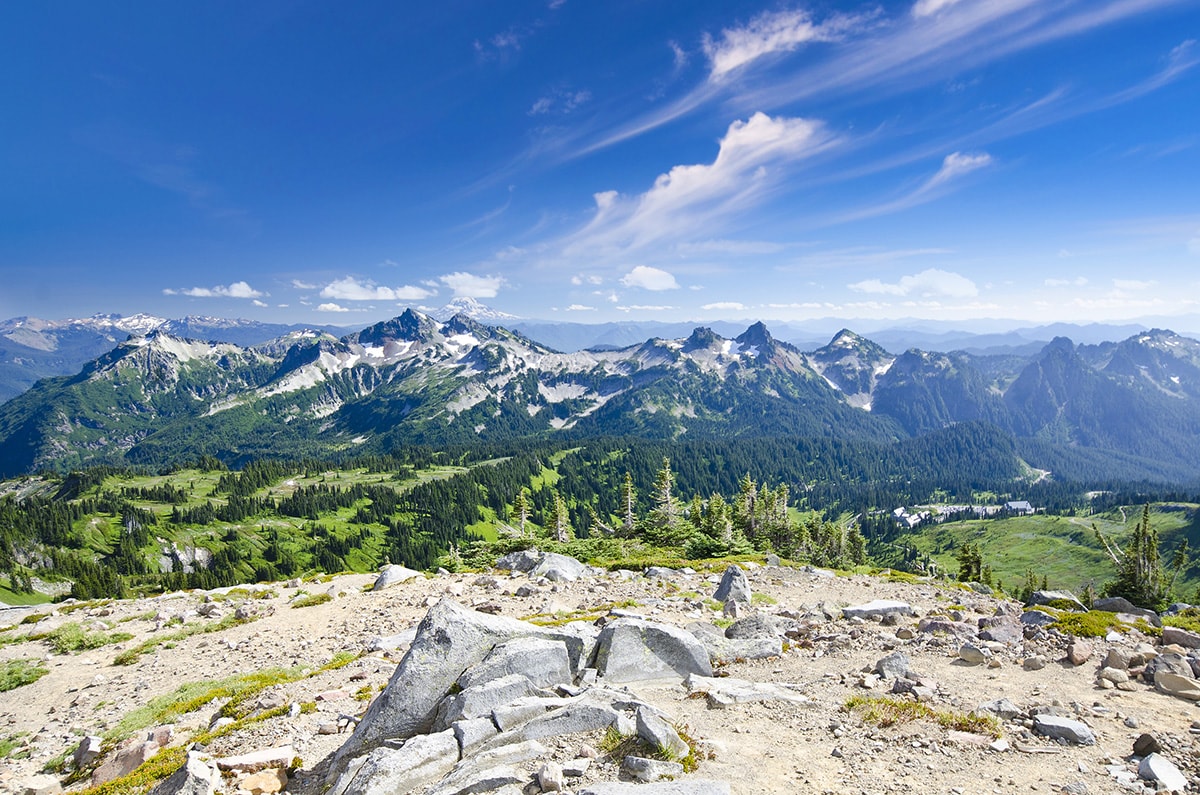 Why you should go: Behold the incredible lakes and mountain views of a volcano that holds the title for most glaciated peak in the lower 48.
State: Washington
Nearest town:

Ashford and Carbonado
Mount Rainier is the most visually prominent peak from the metropolis of Seattle, just two hours away by car. It's also home to a wealth of recreation opportunities for outdoor lovers of all sorts, from road tripping phenoms to hardcore hikers to everything in between.
If you've only got one day in the park and you're not afraid to get a little sweaty, hiking the 5.5-mile Skyline Trail Loop is a must. It features the picturesque alpine meadows, stunning summit views, and idyllic waterfalls that once made naturalist John Muir fall in love with the area, calling it, "the most luxuriant and the most extravagantly beautiful of all the alpine gardens I ever beheld in all my mountain-top wanderings."
This national park is also home to three drive-in campgrounds for visitors who'd like to soak up the stunning scenery for more than a day. Cyclists can bike the park roads and enjoy breathtaking vistas of the peak's many glaciers. Avid hikers might want to check out a day trip up to Tolmie Peak or Spray Park, while serious mountaineers won't want to miss the once-in-a-lifetime opportunity to summit Mount Rainier on a guided multi-day trek.
Related Read: 14 Jaw Dropping Hikes in Mount Rainier National Park
7. Columbia River Gorge National Scenic Area
Why you should go: Lush forests and picture-perfect waterfalls abound at this scenic wonder that's just 30 miles from Portland.
State: Oregon
Nearest town:

Cascade Locks
Named for the deep canyon formed by the Columbia River, which splits the border between Oregon and Washington, Columbia River Gorge is heaven on earth for hikers, bikers, and, most surprisingly, wind surfers.
Avid cyclists hoping to take in the rocky canyon views and cascading waterfalls have no shortage of roads and trails to explore, from the two-mile loop at Port of Cascade Locks to the expert-only Syncline Trail singletrack.
Waterfall chasers will want to spend some time nabbing the perfect Instagram-worthy shot of Multnomah Falls and its incredible bridge. Afterwards, consider a day hike to Punch Bowl Falls or Nesmith Point, or simply continue your drive south to stunning Mount Hood.
Explore More National Parks
Get epic travel ideas delivered to your inbox with Weekend Wanderer, our newsletter inspiring thousands of readers every week.
Was this article helpful?
---