---
City hotels cramping your style? Let the waterways be your gateway and test out your sea legs by staying aboard one of Seattle's outfitted houseboat rentals.
Seattle is the largest city on the Puget Sound with a rich history of houseboat living — both of which were made famous by a little flick called Sleepless in Seattle. Ever heard of it?
For those who prefer more adventure with their travels, take a cue from the fishermen and families who called these waters home and shack up for a night or two on a homey vessel.
Docked in the city, you'll have close access to many of Seattle's attractions including the Space Needle, Pike's Place, and the original Starbucks. Plus, good food and great brews are pretty much every which way you turn.
Get out and explore, then retreat to your floating home away from home when you're ready to wind down. You'll find houseboat life to be both comforting and relaxing while catering to your spirited side.
Ready to embark on your city voyage? Here are the best Seattle houseboat rentals where you have permission to come aboard.
The Ginger
Why you should stay here: A modern family-friendly houseboat with a large rooftop deck that's perfect for entertaining large groups.
Sleeps: 6
Minimum Stay: 1 night
Pets allowed: No
For those testing out the waters of houseboat living, the Ginger is a good place to start. Located on Lake Union, the Ginger lets you and the family explore houseboat living without giving up the comforts of home.
At 600 square feet, the Ginger has a surprising amount of room to move about. Meanwhile, the decor and plethora of amenities make the space feel as though you're staying in a modern, land-based home.
Guest staying aboard this houseboat will have access to three first-come, first-served kayaks to paddle around Lake Union. As for your sleeping corridors, there's a queen bed in the main suite, queen bed in the loft, sleeper sofa, and an air mattress.
Equipped with a roof deck and lounge area, you'll have plenty of entertaining space while exploring the lake.
Check Availability — VRBO
Check Availability — Airbnb
The Turnip
Why you should stay here: A quirky Japanese-inspired houseboat filled with comfort and creativity.
Sleeps: 4
Minimum Stay: 1 night
Pets allowed: No
Built with an abundance of personality, the Turnip is a tiny-house lover's floating dream. The wood shingle siding and eye-catching red accents adorning the exterior beckon you to discover what quirky features await inside.
"The Turnip is a cozy houseboat with incredible views and close to everything," said Jeff B. on VRBO.
Open the door and you'll discover a beautiful wooden interior with eclectic accents and a well laid-out design.
Featuring a six-foot sleeping nook, queen sized bed, well stocked kitchen, Japanese-style shower, heaters, and WiFi, you'll have everything you need to cozy up in this quaint and quirky home — not too mention some artistic inspiration to go along with it.
Check Availability — VRBO
Check Availability — Airbnb
Traditional Seattle Houseboat
Why you should stay here: Two decks, three kayaks, and plenty of space for the group in need of a long lake retreat.
Sleeps: 4
Minimum Stay: 1 night (Airbnb), 30 nights (VRBO)
Pets allowed: No
Cramped corridors are not an issue when you stay at the Traditional Seattle Houseboat. This massive houseboat encompasses a whopping 1,300 square feet, which is plenty of space to sleep up to four guests.
The Traditional Seattle Houseboat features an upper and lower deck, lofted ceiling family room, two private bedrooms, two bathrooms, and a kitchen with basic cooking appliances.
Located on the east side of Lake Union, you can spend the day paddling the lake in one of the three kayaks or head into town. Public transit, as well as some local shops and restaurants, are only minutes away.
Check Availability — VRBO
Check Availability — Airbnb
The Rad'ish
Why you should stay here: A squeaky clean and contemporary houseboat with spectacular city views.
Sleeps: 3
Minimum Stay: 1 night
Pets allowed: No
Boat on the outside, sparkling clean home on the inside, the Rad'ish is a refreshing place to call home for the night. The contemporary interior exudes the feeling of a cool studio apartment while the wide windows welcome you with a surrounding lake view.
Sleeping up to three, the Rad'ish is fully furnished with all the essential amenities including hot water, a heater, and a bathroom. Should you feel like using it, you'll also have access to the marina bathroom.
Drop a line in the water or chill out deckside and take in the city view. With a spot right on the end of the dock, you'll have the best vantage point in the marina.
Check Availability — VRBO
Check Availability — Airbnb
The Jicama
Why you should stay here: Bright, roomy space that's ideal for families who want all the comforts of home close to Seattle.
Sleeps: 6
Minimum Stay: 1 night
Pets allowed: No
From the decor to the amenities, the Jicama feels like your home away from home.
"This was a staycation for our family. It was such a nice little slice of Seattle heaven that made us feel a million miles away in our own backyard," says Betsy on Airbnb.
Sparing no expense, the Jicama has just about everything — including a full kitchen, full bathroom, cozy couch, propane BBQ, and WiFi. Meanwhile, the mid-century decor and colorful walls are a welcomed burst of cheer.
Docked in South Lake Union, Jicama sleeps up to a group of six, making it a terrific getaway for the whole family. Book a weekend and spend your time exploring Seattle while resting comfortably during your downtime.
For creatures of comfort who embrace new experiences, you'll find Jicama meets your needs.
Check Availability — VRBO
Check Availability — Airbnb
The Rutabaga
Why you should stay here: Funky and fresh renovations with a private second story bedroom and deck.
Sleeps: 4
Minimum Stay: 1 night
Pets allowed: No
Docked smack dab in the middle of the Jicama and Turnip houseboats on Lake Union, the Rutabaga brings its own personality to the houseboat community. Rebuilt from top to bottom, the Rutabaga is a testament to what hard work and dedication can achieve.
This funky double-decker houseboat features a living space, full kitchen, indoor/outdoor breakfast nook, deck, roof lounge, and hot shower.
One glance at the second story deck and you'll know where you'll be spending most of your time — weather permitting, of course.
The Rutabaga can sleep up to four guests, though there's only one queen sized bed. Whoever draws the short straw will have to settle for the blowup air mattress.
Check Availability — VRBO
Check Availability — Airbnb
The Carrot
Why you should stay here: Small corridors filled with gorgeous woodworking that's the ideal setting for a couple's weekend lake getaway.
Sleeps: 3
Minimum Stay: 1 night
Pets allowed: No
The interior alone will make anyone want to come aboard the Carrot. This small houseboat is filled with handsome woodworking, invoking a decadent nautical touch.
"Great views of the city from the rooftop deck. The perfect place for a glass of wine or a cup of coffee," says Justin on Airbnb.
Cook up some clam chowder in the fully stocked galley and enjoy a nice dinner in the eating nook with a 180-degree lake view. Retire to the deck with your beverage of choice and soak in the evening.
Equipped with all the essentials, the Carrot is the perfect houseboat for the couple looking to get away and spend the weekend relaxing aboard a gorgeous vessel.
Check Availability — VRBO
Check Availability — Airbnb
The Sugar Shack
Why you should stay here: A quaint and warm space to cozy up in on a typical Pacific Northwest day.
Sleeps: 2
Minimum Stay: 1 night
Pets allowed: No
The Sugar Shack has a homey, old-fashioned charm that beckons you to curl up with a good book on a dreary day.
Located in Westlake on Lake Union, the Sugar Shack is a comfortable home base for those looking to explore Seattle's many neighborhoods. As a retrofitted boat, you'll find the corridors to be small yet efficient.
During your stay, you'll enjoy a full bed, breakfast nook, bathroom, well stocked kitchen, and deck space known as "The Nest". You'll also have access to two bikes and a kayak.
Cozy up with a cup of tea and watch the rain pitter-patter down the large windows. When the weather clears, take full advantage and hit the top deck for a lazy afternoon of basking in the sun's rays.
Check Availability — Airbnb
The Cabin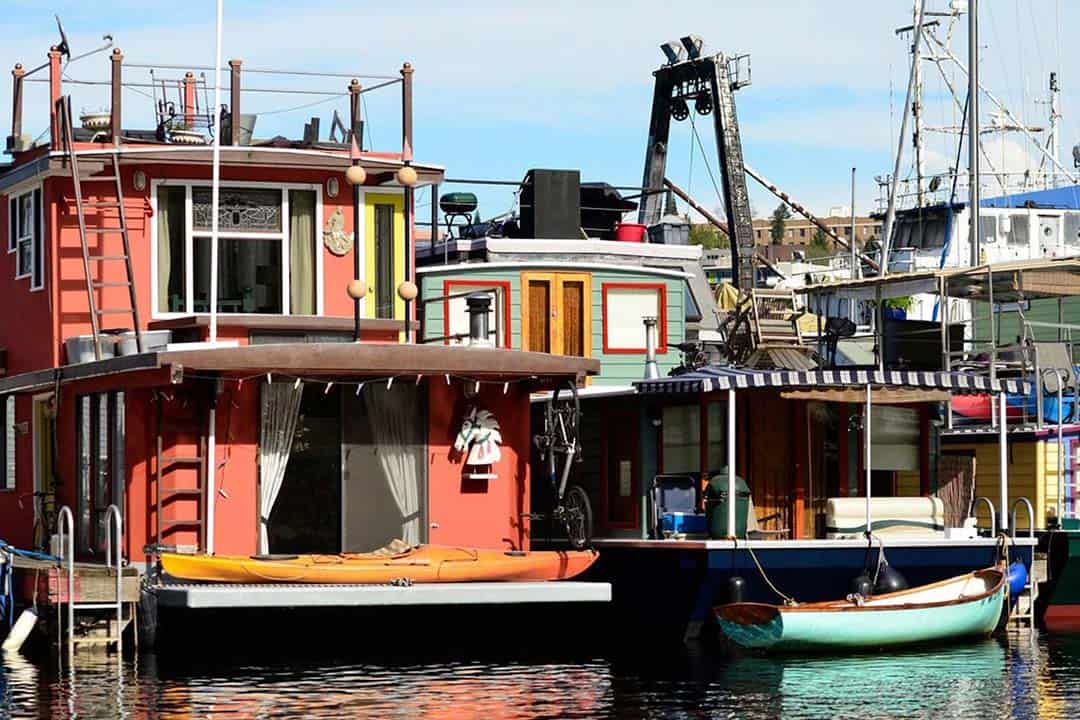 Why you should stay here: A snug lakeside cabin-style houseboat for sea- and land-lovers alike.
Sleeps: 3
Minimum Stay: 1 night
Pets allowed: Yes
Torn between water and land? Have the best of both words staying on the Cabin.
Cabin in the woods on the inside, houseboat on the outside, this comfy-casual houseboat is very much reminiscent of the Olympic Peninsula.
"A quiet oasis in a bustling city," says John on Airbnb.
Located on Lake Union, the Cabin is close to many Seattle attractions at the Gasworks Park Marina. This is also one of the few houseboats where you can bring your dog along (with prior approval).
Book a stay and you'll be greeted by a fully furnished vessel with high-speed internet and basic cable. Cook up some dinner deckside on the Big Green Egg and tuck in for the night in the single bedroom loft.
Surrounded by water seeking wildlife, keep an eye out for kingfishers and damn-building beavers.
Check Availability — Airbnb
Luxury Seattle Houseboat
Why you should stay here: Luxurious digs with large square footage and a plethora of amenities for kids and adults near the hip Fremont district.
Sleeps: 6
Minimum Stay: 1 night
Pets allowed: No
Vacation or staycation, treat the family to a lavish weekend at the lake aboard this Luxury Seattle Houseboat. Where retro meets contemporary, this upscale houseboat is filled to the brim with all your home essentials and plenty of space to go along with at.
This houseboat features 1,300 square feet of modern luxuries geared towards families. This includes three bedrooms, two bathrooms, dining area, living area, laundry facilities, and plenty of other amenities.
Located in Fremont on Lake Union, you'll find plenty of eateries nearby along with the Woodland Park Zoo nearby. The houseboat has enough room for six, so bring the whole family and plan an exciting weekend of activities in Seattle.
Check Availability — Expedia
Things To Do
The cool thing about Seattle being an urban hub is there's a bunch of different neighborhoods with their own personality. This means there's something here for everybody and always something to do.
Here are a handful highlights to kick off your Seattle itinerary.
Head Downtown
First stop, downtown. While tourists may flock to this area, as an out-of-towner it's not to be missed.
Downtown is the heart of Seattle and home to the famous Pike's Place Market. Established in 1907, Pike's Place Market is Seattle's O.G. farmer's market and the location of the first Starbucks storefront.
Grab a cup of coffee and a Seattle Dog while you're perusing the market, then go root for the home team at T-Mobile Park.
Visit Fremont
Head to the Fremont district and you'll find some tasty grub and cool shops. Take a stroll along the Lake Washington Ship Canal at Fremont Canal Park, then get a bite to eat at Uneeda Burger.
When you're ready to wind down the day, pop on over to Fremont Brewing Company for a fresh pint of Lush.
Explore Queen Anne
Of course, there's one iconic Seattle landmark you can't miss — the Space Needle. Located at the Seattle Center, the Space Needle features the "world's first revolving glass floor" and a spectacular view at that.
While you're here, get schooled at the Pacific Science Center and taste a bit of culture at the Cuban-inspired El Diablo Coffee Co. For the outdoor lovers, REI's flagship store is only a short drive away.
Hiking Around Seattle
For those looking to explore the trails rather than the streets, check out our guide for 15 of the Best hikes Near Seattle.
Rattlesnake Ledge and Mount Si are arguably the most popular trails in the area, so you can't go wrong with either of them. If you're chasing waterfalls, check out the trails to Twin Falls, Wallace Falls, and Bridal Veil Falls.
Keep Exploring Washington
For more Washington adventures, check out our popular articles on 13 Outdoorsy Things to Do On the Washington Coast, 8 Family-Friendly Hikes in Olympic National Park, and Washington's Best Hot Springs.
---