Oregon is a vast and varied landscape chock full of scenic drives.
In fact, it may be hard to find a drive that isn't scenic, unless you're stuck in Portland traffic.
The Pacific Northwest isn't all misty weather, seaside scenery, and rainforests, though. There's plenty of that for sure, but there's much more in the state than just the coastline.
Oregon has high desert landscapes, canyonlands, volcanic mountains, and other types of unique and interesting terrain. Some of these spectacular places lie close to Portland and Oregon's other popular cities, while some are much further down the state's scenic byways.
To see some of the state's best landscapes, take any of the scenic drives in Oregon below. From the enchanting waterfalls of the Columbia River Gorge to the salt flats of the Alvord Desert, you're sure to find a scenic drive to your liking on this list. The only question is where to go first.
1. Pacific Coast Scenic Byway
Why you should go: Revel in the sights, sounds, and smells of the Oregon Coast.
Distance: 363 miles
Drive time without stops: Approx. 12 hours
The Pacific Coast Scenic Byway tours the entire Oregon coastline from California to Washington. Not only is it a popular driving route, but cyclists often travel this scenic byway from end to end or in segments. You'll often even see long-distance hikers walking along the road as well as the route intertwines with the Oregon Coast Trail.
There are awesome ocean vistas and places to stop along the entire drive. The road weaves in and out of the temperate rainforest, juts out on sky-high oceanside cliffs, and passes through dozens of cute coastal towns.
You'll find numerous campgrounds and vacation rentals all along the coast, too. While it's possible to make it from end-to-end in a single day, you'll surely want to give it at least a weekend in order to take in the experience. And since the entire Oregon shoreline is public property, you'll definitely want to stop at a beach or two during your trip.
2. Historic Columbia River Highway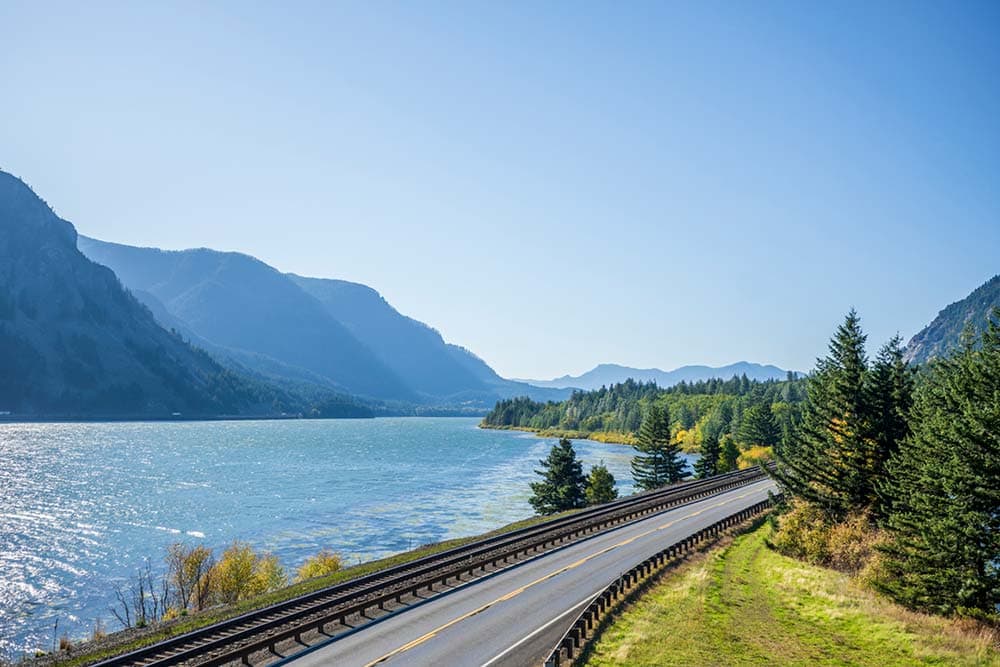 Why you should go: Mesmerizing waterfalls and other natural wonders near Portland.
Distance: 70 miles
Drive time without stops: Approx. 4 hours
Being that the Historic Columbia River Highway is both incredibly beautiful and close to Portland; it's hands-down the most popular and most talked-about scenic drive on this list. And it's clear why.
The Columbia River Gorge is a feast for the eyes. There are literally dozens of unique waterfalls along the drive, and most have miles of trails wearing around their bases and pools. On clear days, you can see sometimes see Mount Hood and Mount Adams from the road, and a hike to the top of the Columbia River Gorge will reveal even more snow-capped Cascade summits.
The immense river is frequented by barges, steamboat ferries, windsurfers, and more. Along the way, you can also stop at the Bonneville Lock and Dam, windmill farms, observatories, and historic railway, all of which offer plenty to see and do.
Related Read: The 9 Best Small Towns in Oregon for a PNW Escape
3. Hells Canyon Scenic Byway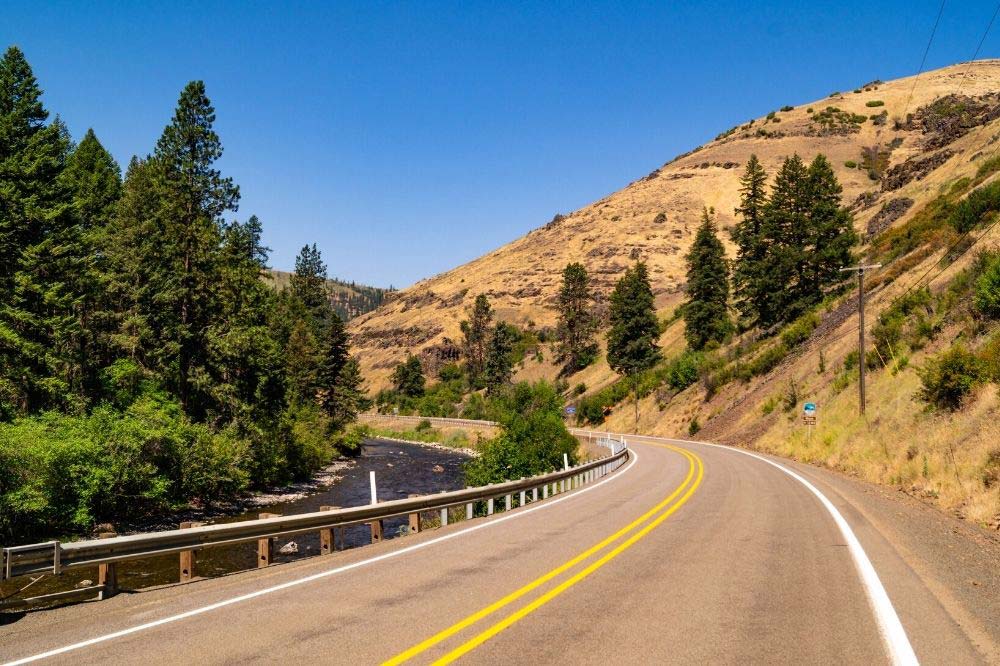 Why you should go: A journey through a secluded and dramatic landscape rich in history.
Distance: 208 miles
Drive time without stops: Approx. 8 hours
Hells Canyon Scenic Byway is a backcountry loop through the absolutely stunning Wallowa Mountains in northeastern Oregon. Due to extreme snow levels during the winter, this is a summer- and early-fall-only route – but it's one worth making a special warm-weather trip for.
The granite peaks of Wallowa-Whitman National Forest in the Eagle Cap Wilderness are unlike anywhere else in the state, and the trip down into Hells Canyon is equally stunning. This is America's deepest river gorge — the Pacific Northwest's version of the Grand Canyon.
The route is also steeped in history. Baker City was once a major outpost on the Oregon Trail. Likewise, the town of La Grande is where many of those pioneers chose to settle. These places (and everywhere else along this byway) are also the ancestral homelands of the Nez Perce Tribe.
Related Read: The Ultimate Portland to Seattle Road Trip Itinerary
4. Volcanic Legacy Scenic Byway
Why you should go: If you're on a trip to visit Crater Lake and have time to see even more.
Distance: 140 miles
Drive time without stops: Approx. 6 hours
A desolate volcanic landscape is at once eerie, awe-inspiring, and humbling to witness. The Volcanic Legacy Scenic Byway has such landscapes in spades as well as a number of other interesting natural wonders, making it one of the best scenic drives in Oregon if you're after dramatic vistas.
Crater Lake is the crown jewel of this route and is likely why you're visiting the area. If the volcanic history and geology of the national park intrigue you, then a trip down the rest of this scenic byway is certainly in order. It's hard to overstate Southern Oregon's beauty.
Related Read: 10 Best & Most Unique Airbnbs on the Oregon Coast
5. West Cascades Scenic Byway
Why you should go: Camping, fishing, and hunting are at the top of your to-do list.
Distance: 215 miles
Drive time without stops: Approx. 8 hours
Drive deep into the woods on the West Cascades Scenic Byway to escape the hustle and crowds of urban areas. In these lush forests of the western Cascades, all you're going to hear is the birds and the breeze.
This is where locals from the Willamette Valley go to get away for the weekend. The thick old-growth forest is broken every so often by mountain lakes, rivers, and reservoirs, as well as campgrounds and dispersed camping areas. There are hot springs, waterfalls, and more points of interest to discover along this route, making it one of Oregon's best scenic drives for outdoor adventurers. And you can always stop in the Willamette Valley for a glass of wine on the way in or out.
Related Read: 14 Fun Things to Do in Lincoln City, Oregon
6. McKenzie Pass-Santiam Pass Scenic Byway
Why you should go: The Three Sisters are calling and you must go.
Distance: 82 miles
Drive time without stops: Approx. 4 hours
A portion of the McKenzie Pass-Santiam Pass Scenic Byway is a main thoroughfare over the Cascades from Salem to Bend. It's certainly scenic in its own right, but the remainder of this loop is exceptional, too — and is only open in the summer.
The McKenzie Pass highway climbs the western Cascades along the fast-moving McKenzie River. Just east of the McKenzie Ranger Station is a fork in the road. To the north lies several powerful waterfalls and crystalline lakes en route to Santiam Pass, and to the east is a highway through a stunning landscape, leading to McKenzie Pass and the town of Sisters, Oregon.
You can only access McKenzie Pass after the snow at the top of the mountains melts. This high-elevation pass takes drivers over an expansive lava field with jaw-dropping views of the Three Sisters. There's even a tower of lava rock called Dee Wright Observatory from which you can see as far as Mount Hood on a clear day.
Related Read: 11 Awe-Inspiring Glamping Spots in Oregon
7. Cascade Lakes Scenic Byway
Why you should go: Numerous lodges and lakes paired with awesome mountain views.
Distance: 66 miles
Drive time without stops: Approx. 4 hours
The Cascade Lakes Scenic Byway is a favorite among Bend-area locals and visitors alike. This mountain road climbs high onto the eastern slopes of the Cascades where there are alpine lakes and geological oddities aplenty. You can't choose a bad place to stop.
Much of this route is only open during the summer and fall, but the section from Bend to Mount Bachelor is open year-round to accommodate those looking to do some skiing and riding (or cross-country skiing and snowshoeing.) When the road is open, though, it offers some of the best close-up views of the Cascades you'll find anywhere in Oregon, as well as panoramic vistas of the desert to the east. And there's plenty to do in Bend before or after your trip.
Related Read: 10 Epic Pet-Friendly Cabin Rentals in Oregon
8. Oregon Outback Scenic Byway
Why you should go: High desert landscape packed with wildlife and interesting stops.
Distance: 171 miles
Drive time without stops: Approx. 5 hours
The Oregon high desert is unlike the sandy flats and dunes you might be imagining when you hear the word "outback."  In fact, the Oregon Outback Scenic Byway guides travelers through a richly diverse ecosystem packed with wandering mule deer, herds of pronghorn antelope, and massive migratory bird refuges.
It's not just frequent wildlife sightings that make this one of the best scenic drives in Oregon, however. Animals aside, the landscape is quite varied and beautiful. Notable stopping points along this route include the monolith of Fort Rock State Natural Area, the Native American petroglyphs at Picture Rock Pass, and Old Perpetutual —Oregon's lone geyser.
Related Read: 12 Spots to See Gorgeous Fall Colors in Oregon
9. Journey Through Time Scenic Byway
Why you should go: Go back in history as you travel a stretch of the Oregon Trail.
Distance: 286 miles
Drive time without stops: Approx. 10 hours
Starting in Eastern Oregon near Baker City and traveling through the mountains, plains, and deserts of central Oregon on the way to the Columbia River Gorge, the Journey Through Time Scenic Byway is itself a monument to all of those pioneers who traversed the Oregon Trail in ages past. Most followed a very similar route.
While you'll be making better time than horse-drawn carriages ever did, be sure to stop and see the wonders of John Day Fossil Beds National Monument during your trip. The 'journey through time' part of the drive's moniker also refers to the rich archeological discoveries along the route, which you can see at the Thomas Condon Paleontology Center at the fossil beds, or the Oregon Paleo Lands Center in the aptly-named town of Fossil.
Related Read: 13 Best Hikes Near Salem, Oregon
10. High Desert Discovery Scenic Byway
Why you should go: Explore the epic expanses of Steens Mountain and the Alvord Desert.
Distance: 127 miles
Drive time without stops: Approx. 6 hours
If there is any part of the state you could still considered part of the old American frontier, it's the terrain just off the horizon of the High Desert Discovery Scenic Byway. The Steens Mountain Wilderness is an ecologically and geologically rich desert mountain landscape. Photography is popular in the 170,000-square-mile expanse as most of it is still quite rugged and undeveloped.
Just below the eastern side of this giant mountain lies the Alvord Desert, a 12-mile-long stretch of hardpacked playa. It's desert in the truest sense of the word and where motorists attempt to set land speed records. Along the desert's perimeter, you'll find hot springs, Borax Lake, and – if you're lucky – wild horses.
Explore More in Oregon
Want more? Sign up for Weekend Wanderer to join thousands of readers getting epic travel ideas every week.
---