We research, evaluate and select travel destinations based on a number of factors, including our writers' experience, user reviews and more. We may earn a commission when you book or purchase through our links. See our editorial policy to learn more.
---
Bend has become synonymous with outdoor fun, which is why everyone around town is sporting a pair of trail runners on their feet at all times.
Rumor has it that Bend is where the athleisure clothing fad began, which kinda makes sense. When you live in a place that's inundated with and surrounded by outstanding hiking trails, why would you ever bother wearing jeans? Chafe begone!
Jokes aside, Bend truly is brimming with fantastic places to hike.
To the west, the Three Sisters and Mount Bachelor are home to sky-high alpine trails which sprawl all throughout the Cascade Range, and the high desert to the east is packed with juniper forests and river canyons to explore.
We've put together a list of our 14 favorite trails near Bend and laid out what makes them so great. If you have yet to step on these trails, you're in for a treat.
Bend's Best Hiking Trails
Bend was designed with outdoor enthusiasts in mind, which is why many great trails exist within city limits.
You'll find a number of scenic trails that are only a hop, skip, and a jump away from downtown. There are miles of riverfront paths and multiple outstanding viewpoints to discover in town.
Those pining for a more robust adventure with extra miles and bigger climbs need only pick a direction and head a few miles out of town for an epic adventure. Be sure to pick up a Bend trails map from REI to help you navigate when you're out and about.
Need a cool place to stay when visiting Bend? Check out our list of the Bend's best Airbnbs.
Deschutes River Trail – Old Mill Loop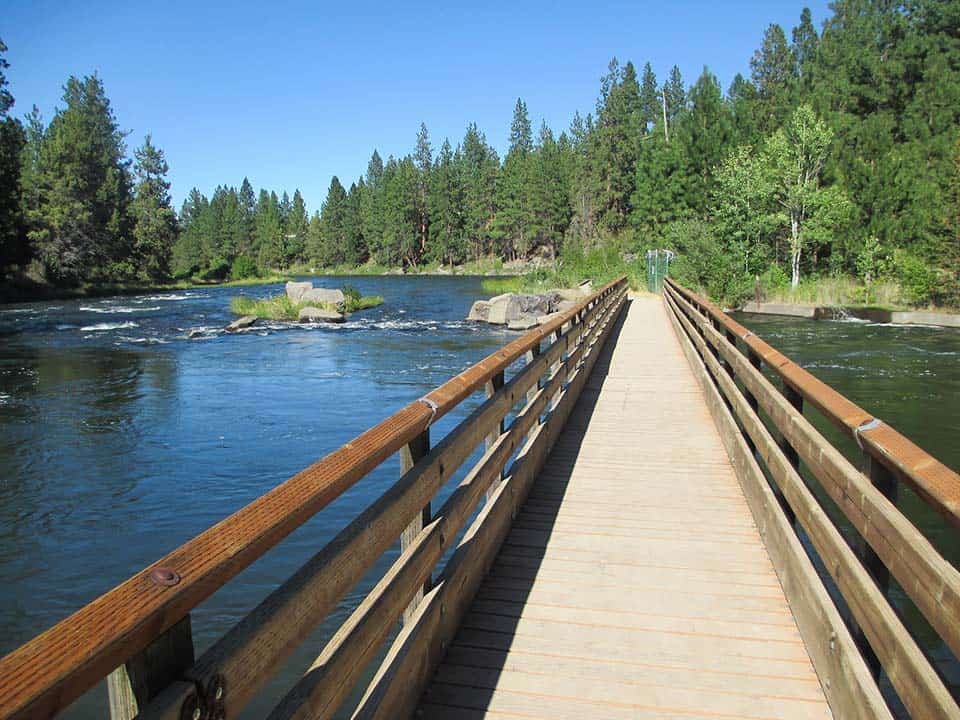 Why you should go: Record some miles on your pedometer along the Deschutes River without ever having to leave the city.
Distance: 2.4 miles
Elevation Gain: 103 feet
Difficulty: Easy
The Deschutes River Trail cuts through Bend and extends for miles north and south of town. It's a long trail with various levels of difficulty depending upon your location, and it's popular with hikers, runners, and mountain bikers.
The aptly named Old Mill Loop section starts at the Old Mill shopping district and travels upstream, where the path crosses a footbridge and hugs both banks along its length. This flat, easy path features a diverse range of stores and restaurants as well as interpretive nature viewpoints off of the Deschutes River.
Popular for dog walks and morning jogs, this loop is a local favorite. Visitors to Bend with some free time on their hands can extend this route and continue north toward downtown to take a self-guided walking tour of the city.
Additional Information: Great Runs
Benham Falls Trail
Why you should go: Easy walking with varied and stunning river scenery that leads to a cascading waterfall.
Distance: 1.9 miles
Elevation Gain: 50 feet
Difficulty: Easy
Starting off as a meandering stroll alongside a gently flowing river that's been stymied by a lifetime of log jams, this trail maintains its lackadaisical composure while the river turns sour with swiftness and fury.
"The wall of volcanic rock on the far side of the river does offer an early clue that something dramatic could happen," says Seth Smigelski on Hikespeak.
The trail never strays from its easy-walking roots, but the Deschutes River becomes a ferocious torrent of water by the time hikers make it to Benham Falls. Sheer walls of lava rock rise to form the far bank and squeeze the river tight like a thumb over the mouth of a hose.
Rip-roaring rapids cascade down a bumpy slope to form Benham Falls, the tallest waterfall on the Upper Deschutes River and a treacherous class five rapid. Witness the power of the river from the safety of the trail and make sure to keep your distance.
Additional Information: Hikespeak
Shevlin Park Canyon Loop
Why you should go: Year-round beauty on an easy and accessible trail that feels far removed from the nearby city.
Distance: 4.7 miles
Elevation Gain: 308 feet
Difficulty: Easy
Shevlin Park is a regional park west of Bend which showcases the beauty of the Oregon high desert. An extensive trail system crisscrosses the park traversing sandy barrens, alpine forest, and the tranquil Tumalo Creek.
The Canyon Loop sticks to the rim of the canyon above the creek and gives a good overview of the park's offerings. Hiking, snowshoeing, mountain biking, and cross country skiing are popular activities along this loop.
There are plenty of opportunities for fishing and picnicking along this trail. Tumalo Creek babbles underneath a canopy of ponderosa pine, providing a relaxing respite from the summer sun and making for epic winter scenery when winter snowfall blankets the area.
Additional Information: AllTrails
Lava River Cave Trail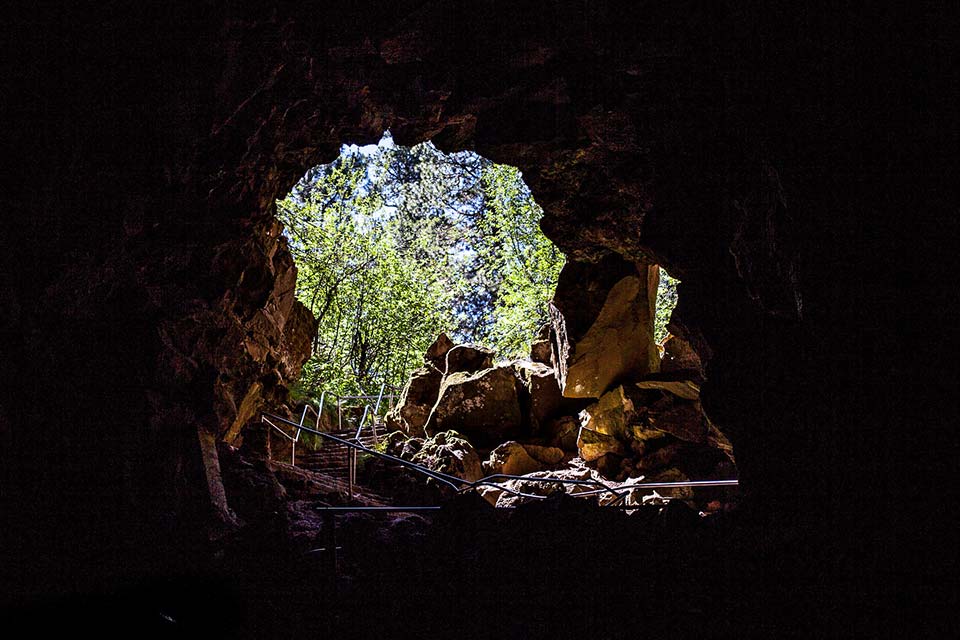 Why you should go: Explore the insides of a lava tube on this family-friendly educational trail.
Distance: 1.0 miles
Elevation Gain: 16 feet
Difficulty: Easy
A fun experience that the entire family can enjoy, the Lava River Cave Trail involves a short hike down into an ancient lava tube that's preceded by an informative and cautionary talk.
A series of steps lead down into the dark cave and a grated walkway helps you keep your footing for a portion of the hike. Visitors should bring some high-powered headlamps or rent a flashlight at the trailhead so that they can properly see the wonders that await inside of the cave.
This dark and eerie hike is both fun and a little bit spooky. Kids will be excited by the experience, but everyone should be cautious of slips and falls. The loose sand and slick rock can be hazardous for the inattentive.
Additional Information: AllTrails
Ray Atkeson Memorial Trail
Why you should go: Find wonder and amazement at every turn where lava flow and glacier melt collide.
Distance: 2.6 miles
Elevation Gain: 165 feet
Difficulty: Easy
Named after the famed Oregon landscape photographer, Ray Atkeson Memorial Trail is absolutely riddled with beautiful sights and outstanding landscapes, as one would hope. Interpretive signage at the trailhead pays tribute to the trail's namesake.
"His greatest joy was sharing the beauty of these places with people who couldn't go there," said Ray's wife Doris, as reported by the University of Oregon.
Rich with lava flows weaving in and out from underneath lodgepole pine forests and shimmering lake waters reflecting the majestic snow-capped mountains of the area, this trail feels as if it were made of magic.
It's no wonder why some of Ray Atkeson's most prominent photos were captured here on the banks of Sparks Lake underneath the looming presence of Mt. Bachelor. He certainly found the magic of this place and captured a small piece of it with his camera.
Additional Information: Oregon Hikers
Whychus Creek Overlook Loop
Why you should go: Escape civilization altogether and see stellar sights without having to tackle a hard hike.
Distance: 0.9 miles
Elevation Gain: 59 feet
Difficulty: Easy
A lovely little walk far outside of town, Whychus Creek Overlook Loop is a paved path through alpine forest in the foothills of Broken Top mountain.
This trail features two awesome viewpoints overlooking Whychus Creek, a crystal clear brook fed by the melting glaciers of Broken Top and The Three Sisters. This creek was all but destroyed by agriculture in decades past and has recently been restored.
The trail's viewpoints also provide picturesque sights of the nearby mountains. Those looking for a longer hike can take the Whychus Creek Spur which switchbacks down to the creek and joins a small network of trails that travel up and down the waterway.
Additional Information: AllTrails
Riley Ranch Loop
Why you should go: A diverse wilderness retreat on the edge of the city.
Distance: 4.5 miles
Elevation Gain: 295 feet
Difficulty: Easy
Riley Ranch Nature Preserve resides on the northwest edge of Bend and features diverse landscape set along the banks of the Deschutes River. This loop takes hikers through the bulk of the reserve and traverses a wide spectrum of terrains.
From water-carved canyons to rimrock cliffs and vast meadows, Riley Ranch is a feast for the adventurous soul. Unique lava formations dot the landscape, and the river is as attractive as ever.
All sorts of wildlife pass through the reserve. Migrating waterfowl, elk, marmots, and riparian creatures are not uncommon sights. Sage, juniper, and pine make up the bulk of the visible plant life, while colorful wildflowers brighten the meadows at certain times of the year.
Additional Information: AllTrails
Arnold Ice Cave
Why you should go: It's an ice cave! How cool is that?
Distance: 0.5 miles
Elevation Gain: 40 feet
Difficulty: Easy
An amazing attraction that lies a few miles off the beaten path, Arnold Ice Cave is an awe-inspiring oddity that'll be a highlight of your Bend experience.
"The caves were once used to extract ice for commercial use in Bend," said Tyson Gillard at Outdoor Project.
The ice cave is literally full of ice. It's a lava tube that is connected to a series of caves in which ancient indigenous artifacts have been discovered. The cave itself can be blockaded at points by walls of ice, and in years past the front entrance has been made impenetrable.
Icy stalactites and stalagmites are formed all throughout the lava tube. If ice isn't an obstruction, which tends to be the case during the summer, there are a number of chambers that can be easily reached within the cave. As groundwater seeps into the porous rock new ice can be formed, reshaping the cave as you know it.
Additional Information: Outdoor Project
Pilot Butte
Why you should go: A Bend landmark, Pilot Butte stands tall in the middle of town and provides sweeping views of the area.
Distance: 1.8 miles
Elevation Gain: 452 feet
Difficulty: Moderate
The hike up Pilot Butte can be accomplished on either a well-manicured dirt trail or paved path. This moderate hike is on the easier side of "moderate", but it is quite steep and may be too difficult for some people.
If you're just here for the view and don't feel like making the trek, there's also a road that leads to the viewpoint atop Pilot Butte.
And what a view it is. Pilot Butte rises over the city of Bend, its summit giving 360-degree views overlooking the urban sprawl with views extending far out to the high desert and Cascade peaks.
Pilot Butte is a cinder cone that lies within Bend city limits, making it one of only a few volcanoes within a city's boundaries in all of the United States.
Additional Information: AllTrails
Green Lakes Trail
Why you should go: Climb to an alpine plateau with beautiful lakes, mountain backdrops, and backcountry camping spots.
Distance: 11.25 miles
Elevation Gain: 1,660 feet
Difficulty: Moderate
A popular trail among day hikers and weekend backpackers alike, the Green Lakes Trail is a beautiful path that follows Fall Creek up to its source at Green Lakes.
"It is perfect if you are a beginner backpacker wanting to try out a short trip," said hiker Franziska Weinheimer on Hike Oregon.
The steady uphill trek toward the lakes is chock full of wonderful stopping points, which make for a good excuse to catch your breath. Fall Creek is home to rapids galore and a number of eye-catching waterfalls.
You'll climb your way out of the damp, green forest and above the timberline by the time you make it to the lakes. Serene alpine waters are aplenty on this high elevation plateau, and there are excellent camping locations all around the lakes.
The neighboring mountains tower over the lakes. Many people use the Green Lakes area as a base camp for ascending the peaks of South Sister and Broken Top. You can opt for these extended high mountain excursions when the weather is right, or simply enjoy the view from the lakes.
Additional Information: Hike Oregon
Lava Butte
Why you should go: Volcanic history lies underfoot and overhead in this rock-strewn wasteland.
Distance: 3.8 miles
Elevation Gain: 593 feet
Difficulty: Moderate
An eye-catching roadside attraction that can't be missed by those traveling south of Bend or vacationing at Sunriver Resort, Lava Butte is a blackened behemoth in the Newberry National Volcanic Monument.
Starting from the Lava Lands Visitor Center, hikers will wind their way through a field of lava rock toward the butte. Dark boulders rest in silence all around in peaceful contrast to the volcanic havoc in which they were born from millennia ago.
Once past the field of rock, the trail spirals its way to the top of the butte from which ash and lava once poured.
The view from here is spectacular. Lava fields stretch for miles in every direction, giving hikers a glimpse into the historic fury that created these lands.
Additional Information: AllTrails
Tumalo Mountain Trail
Why you should go: Uninterrupted views of the Cascade Range from a flat mountain summit.
Distance: 3.8 miles
Elevation Gain: 1,407 feet
Difficulty: Moderate
There may not be a better spot to see all of the Bend area's premier Cascade peaks than from the top of Tumalo Mountain. Broken Top, the Three Sisters, and Mount Bachelor all are in clear eyesight from the summit viewpoint.
The sweeping vistas will gradually come into view as you hike up toward the summit. Starting in a dense forest, the trail maintains a moderate uphill grade for its entire length. As you travel along its path the woods will spread out and shrink until there is naught but rocks left in your vicinity.
At the top, you'll find that there is plenty of space to share, even on a crowded weekend. The summit is large and flat, so finding a solitary spot to rest your feet and take in the views won't be an issue.
Additional Information: AllTrails
Mount Bachelor Trail
Why you should go: As a summer hike or winter snowshoe adventure, this trail is as "Bend" as it gets.
Distance: 5.2 miles
Elevation Gain: 2,595 feet
Difficulty: Challenging
Whether you're hiking in the summer or snowshoeing in the winter, the trail to Mount Bachelor's summit is difficult and rewarding — unless you take the ski lift to the top, in which case the downhill-only trek is a breeze.
Dust and lava rock make up the bulk of the trail, and the tree cover vanishes once you've made it beyond the hemlocks halfway up the hike. Prepare to be exposed to the elements and protect yourself against the glaring sun or stormy weather.
This quintessential Bend hike offers sweeping area views that overlook Bend, the Newberry National Volcanic Monument, and nearby Cascade mountains. A variant of this trek with less climbing can be had if you start your journey from Pine Marten Lodge.
Additional Information: Mount Bachelor
Broken Top Loop
Why you should go: Venturing out on a remote High Cascade backpacking trip sounds like a fun weekend excursion.
Distance: 23.5 miles
Elevation Gain: 3,521 feet
Difficulty: Challenging
Broken Top Loop is a fantastic multi-day backpacking route that features several lakes, glaciers, and High Cascade peaks. The route circumnavigates Broken Top mountain.
"We were surely the only humans on this mountain top," said hiker Lisa Merritt on AllTrails.
The only true "challenging" section of this hike is the Tam McArthur Rim Trail which is a steep climb on the southeastern end of the loop. Most people prefer to get this difficult portion out of the way first by hiking the trail in a clockwise direction.
Walking through alpine forest and along a rocky ridgeline, hikers will find plenty of wildlife and awesome views. The up-close-and-personal experience with Broken Top is enough to make this trail special, but hikers will also get cozy with South Sister and walk past the gorgeous Green Lakes.
Additional Information: Hiking Project
Camping Near Bend
Park your RV or pitch a tent and stay awhile. We've put together the Ultimate Guide to the Best Camping Near Bend so that you can find a great place to stay that's close to the area's best hikes.
More Amazing Hikes In Oregon
Sign up for our free email to join thousands of readers getting epic travel, hiking, camping and gear ideas every week.
---