We research, evaluate and select travel destinations based on a number of factors, including our writers' experience, user reviews and more. We may earn a commission when you book or purchase through our links. See our editorial policy to learn more.
---
"I must walk toward Oregon. And that way the nation is moving, and I may say that mankind progress from east to west. We go eastward to realize history and study the works of art and literature, retracing the steps of the race; we go westward as into the future, with a spirit of enterprise and adventure." — Henry David Thoreau
The Columbia River Gorge is home to a myriad of breathtaking waterfalls plunging from vertical basalt cliffs which rise high above the roadtrip-worthy Columbia River Highway.
Living in Oregon for the last two decades I've traversed the mist-laden coastal roadways, backpacked along the volcanic Cascade Range, and explored the expansive, rolling desert lands in the eastern part of the state. Each part holds its own mystery and magic, but all of that natural wonder seems to jell together in the iconic Columbia River Gorge.
Few places scream "Pacific Northwest!" as proudly as the Columbia River Gorge. A sunkissed spotlight shines upon Multnomah Falls, the tallest and most famous of Oregon's waterfalls, though dozens of other magnificent, attention-deserving waterfalls and hikes also grace the Gorge in both Oregon and Washington. Altogether, this spectacular area showcases some of the best scenery the Pacific Northwest has to offer.
We've compiled a list that covers many of the best waterfalls within the Columbia River Gorge. Plenty of these waterfalls can be seen right from the highway, but they're all best-experienced up close where their power splendor can be fully appreciated.
This list includes falls which can be enjoyed from day use areas right off the Columbia River Highway, and we've also added in a number of hidden falls which require a bit of hiking to see firsthand. It's nearly impossible to experience every waterfall on a single trip through the Gorge, so enjoy the journey and visit again when you can.
Don't forget to grab a copy of the Columbia River Gorge trails map from REI to help you navigate when exploring the Gorge!
Bridal Veil Falls
The trailhead from the Columbia River Highway splits into a mile-long out-and-back that leads hikers down a series of steep switchbacks to the base of these majestic falls. The Bridal Veil Falls are as ceremoniously pretty as their namesake suggests.
Once but a forgotten wonder, Bridal Veil Falls had been erased from existence by a functioning lumber mill upstream that diverted the creek's water. Now that the lumber mill itself is but a memory, the dual Bridal Veil Falls have returned to dazzle people once again.
Take in their glory for as long as you wish from the lower viewing platform. Alternatively, a second universal access loop trail provides a wheelchair accessible trip along an interpretive path that skirts along the basalt rim of the Bridal Veil Bluff, offering views of the falls, the Columbia River, and the distant palisades of Cape Horn.
Height: 100 and 160 feet
Explore more: Bridal Veil Falls
Dog Creek Falls
Often overlooked by highway drivers and hikers tackling the adjacent Dog Mountain Trail, Dog Creek Falls is a fantastic spot to pull over for a creekside picnic. The cooling mists of the waterfall are a welcome respite from the summer heat, and adventurous folk can climb past the falls for a romp into the canyon it helped to carve.
All in all, this is a modest yet wonderful spot to take a roadside break. It's a peaceful location with the occasional passing train where children can swim and hikers can recuperate from their arduous journey up Dog Mountain or Dog Creek Canyon.
Height: 30 feet
Explore more: Dog Creek Falls
Dry Creek Falls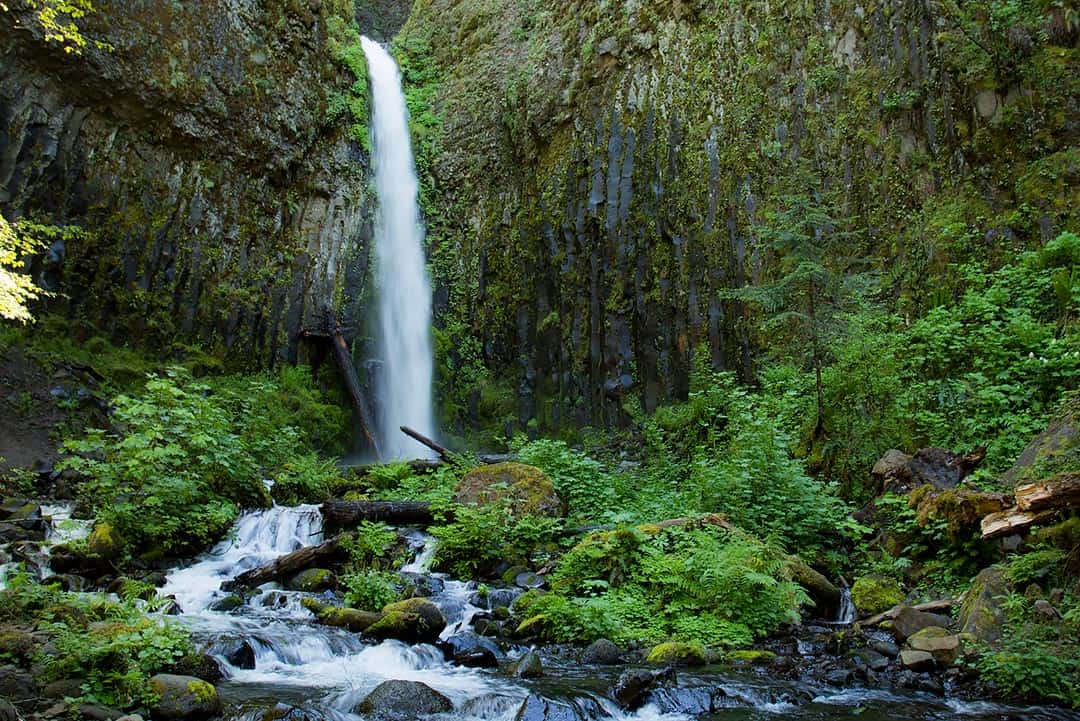 The incredibly popular trail leading up to Dry Creek Falls was closed for a long time following the aftermath of the 2017 Eagle Creek Fire, but it's now open once again. Along the hike you'll see scorch marks on the lower portions of the trees, but the canopy remains intact and the underbrush has regrown.
Near the top of the 4.5-mile out-and-back trail, a decommissioned dam still remains which once supplied the nearby town of Cascade Locks with water. From here the fire damage is more obvious and substantial, though the beauty of this place remains remarkably serene.
Dry Creek Falls is a horsetail waterfall that drops from a thin canyon over a wall of moss-covered columnar basalt. Above there are more tiers to this impressive waterfall, but no easy trails to these upper portions exist, leaving their beauty to be beheld by technical climbers and brave bushwacking explorers.
Height: 75 feet
Explore More: Dry Creek Falls hike
Eagle Creek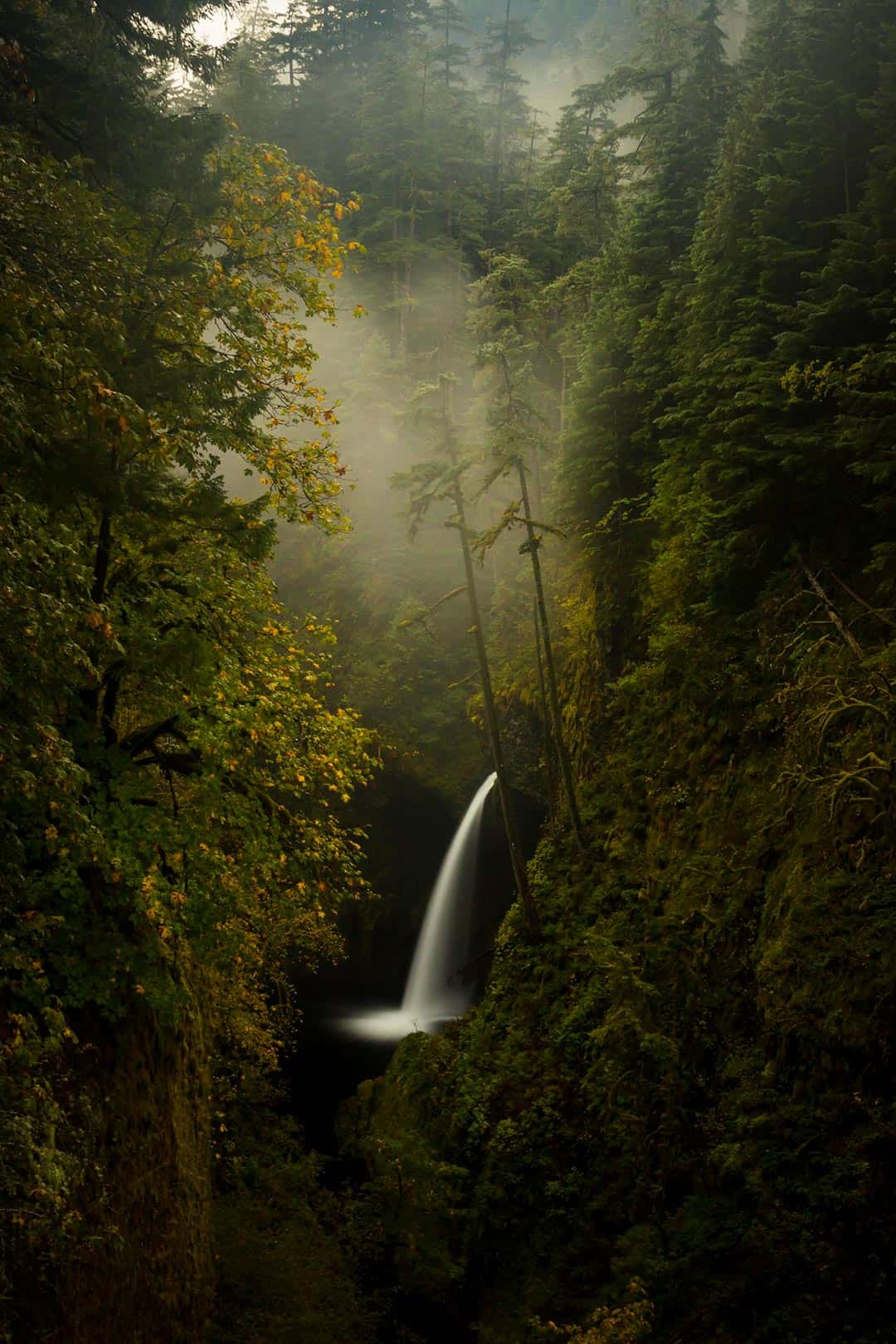 Home to a wealth of mindblowing waterfalls, Eagle Creek is one of the most visited recreational areas in the gorge, though its steep and treacherous trail is not for the faint of heart.
Eagle Creek Trail climbs uphill, becoming more steep the further you travel, ultimately leading to the Pacific Crest Trail. Along the route are numerous waterfalls, deep canyons, and steep cliffs where thick cables bolted to the rockface assist hikers in skirting around the dangerous drops.
Adventurous hikers will encounter many awesome waterfalls including the plunging Metlako Falls (named after a Native American Goddess of Salmon), the tumbling Loowit Falls, the photogenic Punchbowl Falls, and, my personal favorite, Tunnel Falls. You can actually walk behind Tunnel Falls through a rock tunnel that was blasted into the cliffside.
Though this trail is currently closed due to the 2017 Eagle Creek Fire, it is a massively popular hike with some of the most astounding scenery in the gorge and should be on your hiking to-do list.
Height: 15 to 130
Explore more: Eagle Creek Trail; Eagle Creek Waterfalls
Elowah Falls
One of the towering behemoths on this list, Elowah Falls drops nearly two dozen stories before crashing into an amphitheater formed by clashing lava flows. The short 1.4-mile round trip hike along McCord creek will be easy for most people.
This trail is currently closed because of the 2017 Eagle Creek Fire, but it will open again. We just had to put Elowah Falls on this list because it is one of the most magical falls you will find in the Columbia River Gorge, rivaling even the famous Multnomah Falls.
Add Elowah Falls to your list and go visit when you can. Keep up to date on current Columbia River Gorge closures to know which trails and waterfalls are open to public access.
Height: 220 feet
Explore more: Elowah Falls
Fairy Falls
What the miniscule Fairy Falls lacks in immensity, they more than make up for in intimacy. Starkly contrasting the mega falls on our list, Fairy Falls is a delicate veil-type waterfall adorned with vibrant mosses and ferns.
During the summer months there is a particular time of day where the sun hits these whispering falls at just the right angle and brightness to make them glow. This place was once called Ghost Falls, but has since been renamed to better reflect its more Fern Gully-esque magical presence.
Height: 20 feet
Explore more: Fairy Falls
Hole in the Wall Falls
Hole in the Wall Falls is a manmade waterfall created by maintenance crews who sought to resolve a flooding problem along the Columbia River Highway. Their creative solution was to blast a hole through a cliff and divert the creek so that it dropped into an unproblematic abyss.
As a result, Hole in the Wall Falls has the odd title of "Newest Waterfall" in the Columbia River Gorge. A paved universal access trail meanders through a conifer forest past Hole in the Wall Falls as well as Starvation Creek Falls, Cabin Creek Falls, and Lancaster Falls. This spectacular jaunt through the woods is a quick way to fill your waterfall-yearning soul.
Height: 96 feet
Explore more: Hole in the Wall Falls; Falls Loop Hike
Horsetail Falls
Named for its characteristic shape, Horsetail Falls is a scenic and popular roadside destination right next to the Columbia River Highway. The waterfall is so close to the highway that passing cars are often sprayed by its mist and the road itself can become icy during winter months.
From the picnic and parking area there is a 2.6-mile loop hike which circles behind Horsetail Falls to the small, cutely named Ponytail Falls. From Ponytail Falls the trail continues into a cavernous, lava-filled land with stunning views of Oneonta Gorge and passes by one last waterfall, the modest Middle Oneonta Falls.
Height: 176 feet
Explore more: Horsetail and Ponytail Falls Loop Hike
Latourell Falls
Latourell Falls is the second tallest waterfall in the Columbia River Gorge, the closest major waterfall to the Portland metro area, and is exquisitely photogenic. All of these factors combine to make Latourell Falls one of the most visited waterfalls in the state of Oregon, if not the entire Pacific Northwest.
It's a short walk to the popular viewpoint, but a longer loop hike will take you toward Upper Latourell Falls and beyond. We highlighted this hike in our feature on Portland area trails and believe it to be one the the best hikes around the Rose City.
Beyond it's given beauty, Latourell Falls has a history that gives depth to the experience. The falls were named after Joseph Latourell, a prominent Columbia River Gorge settler who became postmaster of a nearby post office. His family cabin still stands near the park's picnic area.
Height: 249
Explore more: Latourell Falls Loop
Mosier Creek Falls
A charming two-tier waterfall set against a backdrop of green hillsides and a rainbow of springtime wildflowers, Mosier Creek Falls is as scenic as they come. These falls plunge into a rocky canyon, forming a deep pool which serves as a popular summertime swimming hole.
At the top of a green hill adjacent to the falls lies the historic Mosier Pioneer Cemetery. A pioneer by the name of Josiah Mosier settled in the area with friends and family, using the waterfall to power his sawmill.
Those looking for a hike can opt to traverse the 3.5-mile there-and-back Mosier Plateau Hike which passes by the falls and continues through grassy slopes rich with mountain views and more wildflowers than you could count in a lifetime.
Height: 80 feet
Explore more: Mosier Creek Falls and Plateau
Multnomah Falls
The tallest, most well-known, and most breathtaking waterfall in all of Oregon is Multnomah Falls. Ice cold waters plummet 620 feet over two tiers, falling from their source high on Larch Mountain in what may be the most magical scenery in all of the Pacific Northwest.
The falls are easily seen by every passerby on Interstate 84, but it is well worth the 5 minute walk along the gentle paved path from the parking lot to see the falls from the viewpoint at their base. The sheer power of Multnomah Falls overwhelms you with its natural force as its cool mists wash over your body, soaking you to the bone if you dare stand too close for too long.
A short uphill walk takes visitor up above the bottom tier of the falls over a bridge with an astoundingly close vantage point of the massive 540 foot main drop and the moss-lined pool it creates.
Hikers can continue up a set of switchbacks to the top of the falls and continue on a longer loop which we detailed in our article on our favorite Portland area hikes.
Height: 620 feet
Explore more: Multnomah Falls
Rodney Falls
Rodney Falls is a two-tiered waterfall that is often only seen from a bridge that crosses over the creek, giving a view of the pretty lower tier of the falls. This lower tier is where the waters of Hardy Creek cascade beautifully over 45 feet of cliff face, creating a photogenic backdrop.
The real treasure of these falls lies up a short hike to the upper tier, which showers down in a rainbow-inducing spray that falls into the mystifying Pool of the Winds.
The Pool of the Winds is a dark whirlpool inside a cave-like enclosure which drains through a fissure into the lower tier of Rodney Falls. From the pool's cave rushes a cool wind that can be a nice respite from the hot summer weather.
Height: 80 feet
Explore more: Beacon Rock State Park
Starvation Creek Falls
No Columbia River Gorge trip is complete without a visit to Starvation Creek Falls. This massive waterfall pours through a narrow channel at the top of a basalt cliff where it drops into a self-created bowl, cascading down a series of rocks past the parking lot and picnic area.
There's a hike that heads closer to the falls, though the view from the picnic area is equal in grandeur to any viewpoint on the trail.
The history of this area is interesting. The falls were named after an 1884 railroad incident where a passenger train found itself stuck in a large snowbank for several weeks. Though no one died, the train passengers were kept alive by Columbia River Gorge residents who skied in supplies to the trapped travelers.
Height: 225 feet
Explore more: Starvation Creek Falls
Wahclella Falls
A short, though fairly tough, 2-mile round trip hike to Wahclella Falls is well worth the adventure. This waterfall is an oddity in that it rises to different heights depending on the time of year.
The lower drop can be seen year round. This is a beautiful and powerful horsetail style waterfall that splashes into an amazing wading pool. Above this lower waterfall, a hidden upper tier deep within a canyon of its own making can be seen from near the end of the trail loop.
During the wet season of the winter months, there is a third seasonal waterfall which falls into the creek that is much taller than either of the other tiers.
Height: 120 feet or 250 feet
Explore more: Wahclella Falls Hike
Wahkeena Falls
Wahkeena Falls is a magnificent waterfall that can be enjoyed completely from the day use area at its base. Translated from the local Yakama language, "Wahkeena" is interpreted as "most beautiful".
These tumbling falls drop and cascade at different lengths over various rocky formations. Multiple loop trails leave from the day use area, where you'll find restrooms, a large picnic shelter with a stone fireplace, and barbecue grills. This is a wonderful spot to relax with a scenic waterfall as your backdrop.
Height: 242 feet
Explore more: Wahkeena Falls
More Oregon Adventures
Sign up for our free email to join thousands of readers getting epic travel, hiking, camping and gear ideas every week.
---