Find adventure down the road less traveled with some of these beautiful scenic drives in Michigan.
With its two peninsulas and thousands of miles of Great Lake coast, Michigan has a remarkable natural landscape. So remarkable, you may be surprised to learn that there's a lot more to this Midwestern state than meets the eye. With scenery that's made up of hardwood forests, lush orchards, rolling hills, scenic vineyards, rippling sand dunes, and of course, freshwater lakes, Michigan is the place to be for an escape to the wilderness.
With so much to see, and so little time, one of the best ways to experience it all is with an epic road trip. This list covers some of the most beautiful Michigan scenic drives worthy of your bucket list.
And for a deeper dive into what the Great Lake State has to offer, check out the state's detailed scenic byways guide.
Related Read: 9 Amazing Places to See Fall Colors in Michigan
1. Lake Michigan Circle Route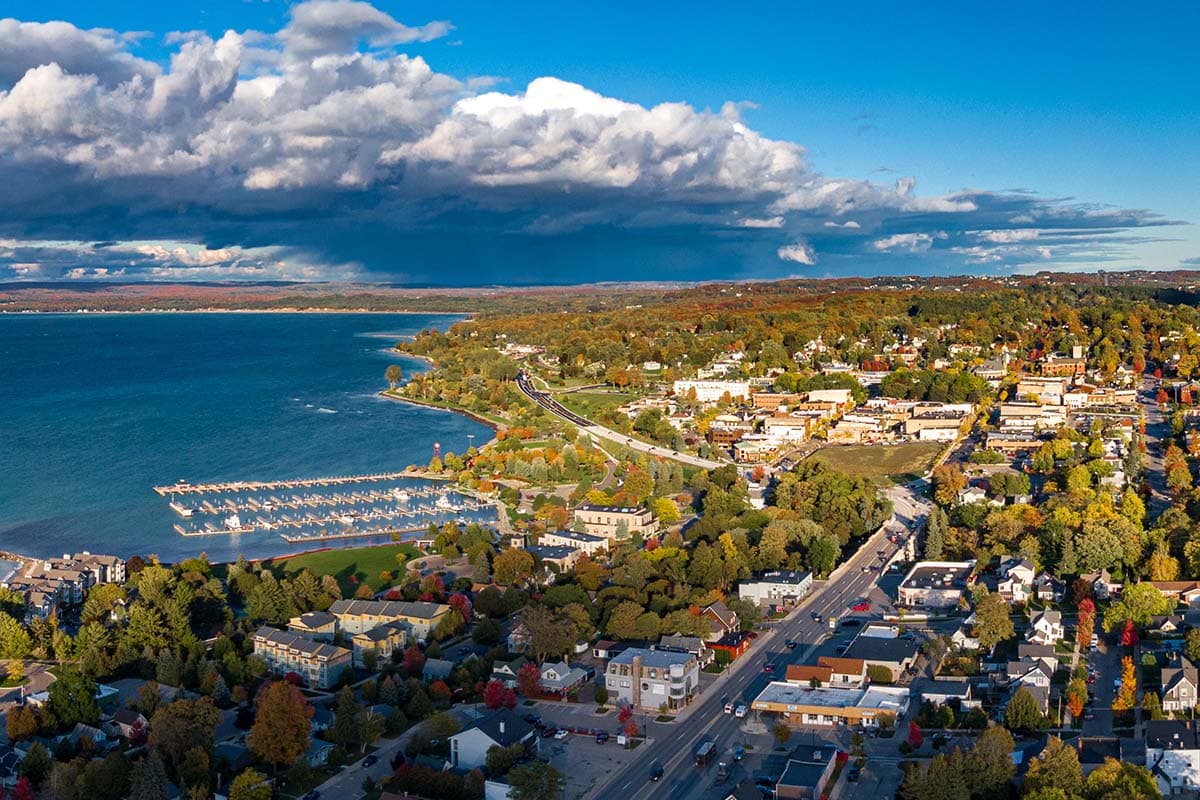 Why you should go: An epic journey around one of the world's largest freshwater lakes with views, beaches, and charming coastal towns.
Distance: 1,100 miles (including Wisconsin, Illinois, and Indiana sections)
Drive time without stops: 17 hours
Tackling the Lake Michigan Circle Tour is no easy feat and requires nearly an entire day of driving. However, for those who aren't so ambitious, taking on one segment at a time is a much more relaxing way to see the varied coastal landscape of Lake Michigan. Divided into Northern and Southern parts, this route is mainly known for its striking bluffs and peaceful beaches.
In the south, take a drive along some of Michigan's top beach destinations like Saugatuck, South Haven, and Holland. Soft sandy shores give way to sprawling vineyards and dense hardwood forests as you continue north. Those planning a trip along the northern segment should plan stops in Ludington State Park Beach and Traverse City. This scenic drive is part of the larger Great Lakes Circle Tours, a set of designated routes that encircle the Great Lakes.
Editor's Note: The map below is a rough illustration of the actual route within Michigan. Visit the Great Lakes Circle Tour website for exact and in-depth route info.
Related Read: 9 Unique Places to Stay in Michigan for an Extraordinary Escape
2. Tunnel of Trees M-119
Why you should go: A narrow and winding drive lined with dense hardwoods and evergreens that put on a spectacular show in the fall.
Distance: 20 miles
Drive time without stops: 45 minutes
The M-119, aka the Tunnel of Trees, is one of Michigan's most popular scenic drives. Spanning a total of 20 miles, this beautiful route starts near Cross Village, eventually taking visitors up and along a bluff that towers over Lake Michigan. You don't need much time to conquer this route, making it perfect for a day trip.
In the summer, many road trippers opt to make a pit stop at the outdoorsy Legs Inn Restaurant because of the panoramic view it offers of the lake. Other nearby things to do include visiting Petoskey State Park, the local small towns, and hitting the miles of hiking trails in the region like the North Western State Trail. While this drive is particularly popular in the fall thanks to the fiery shifting colors of the hardwoods' leaves, it's a spectacular drive any time of year.
Related Read: 10 Beautiful Scenic Drives in Wisconsin
3. M-22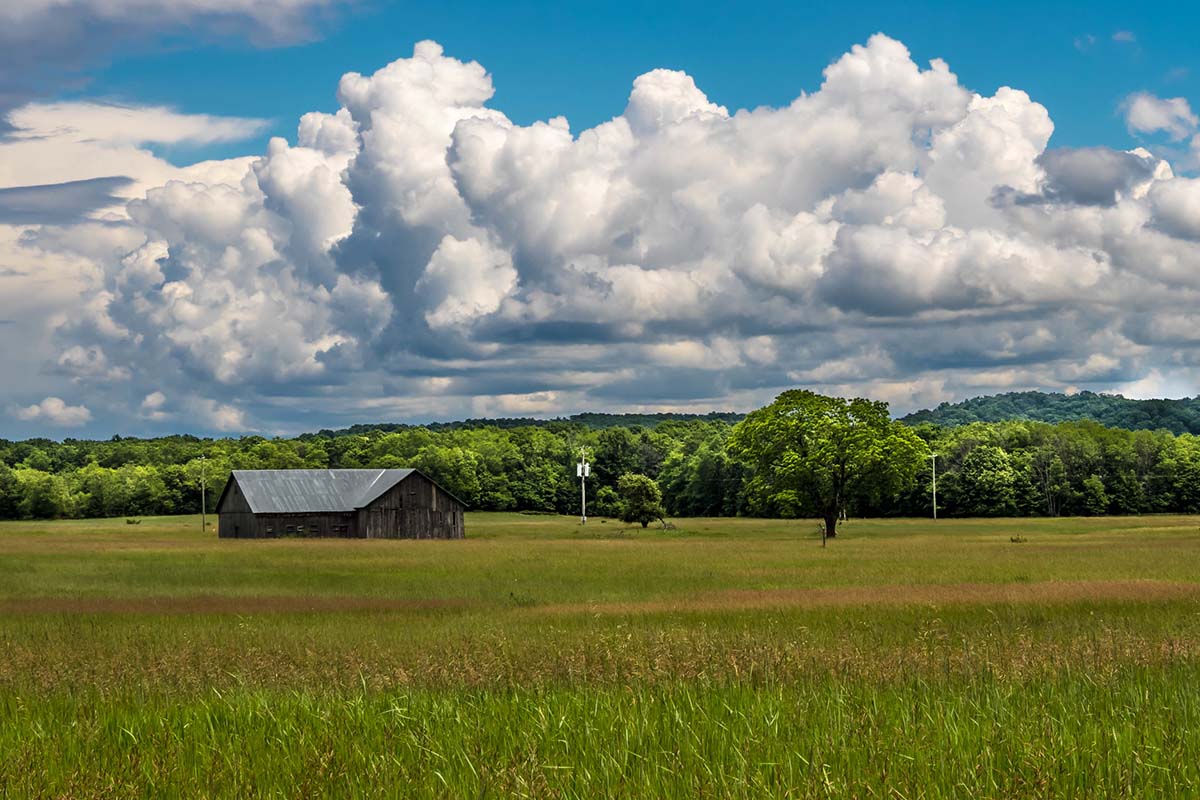 Why you should go: A route that takes you around northern Michigan's idyllic Leelanau Peninsula past natural wonders like Sleeping Bear Dunes National Lakeshore.
Distance: 116 miles
Drive time without stops: 3.5 hours
Overlapping with the Lake Michigan Circle Tour, the M-22 is a well-known route that passes through Manistee, Leelanau, and Benzie counties. This stretch of highway was the first in the state and is brimming with various landscapes and sights for such a small area. You'll pass through forests, vineyards, orchards, and charming small towns, all while following the Lake Michigan coast.
The best way to experience the beauty of the M-22 is over a weekend where you'll have the time to stop at various points along the way. Particularly noteworthy landmarks include the Grand Traverse Lighthouse, the boardwalks of the Arcadia Roadside Park, and Orchard Beach State Park. Making a stop to witness the dramatic views from Inspiration Point is also a must.
Related Read: 10 Secluded Cabin Rentals in Amazing Michigan
4. River Road Scenic Byway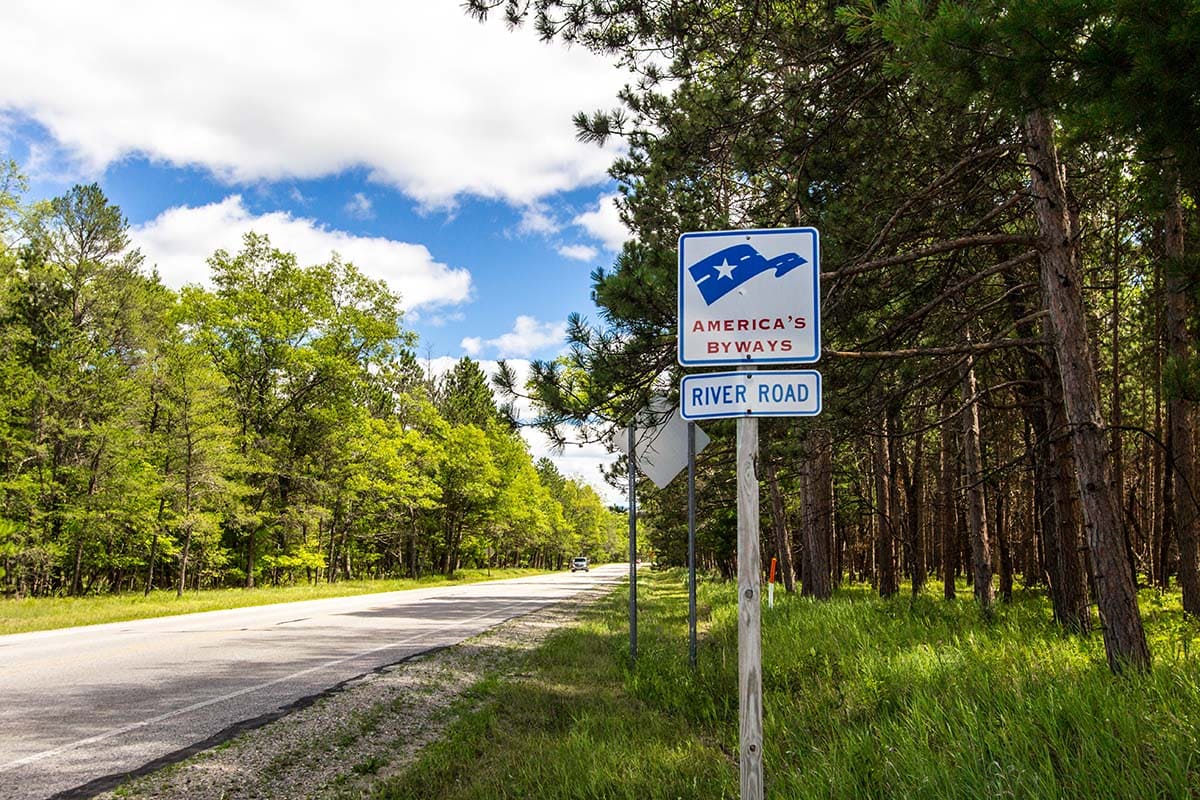 Why you should go: A scenic byway that begins on the coast of Lake Huron and continues along the forested banks of the AuSable River.
Distance: 22 miles
Drive time without stops: 1 hour
Michigan's eastern shores are often overlooked for the west, which is a shame because hidden gems like the River Road Scenic Byway offer an incredible getaway to nature. This short stretch of byway ventures into the lush AuSable River Valley, where views of untouched wilderness will amaze. Along the river, it's also possible to camp, spot majestic bald eagles, and take advantage of the vast network of hiking trails.
One of the most popular is the Lumberman's Monument Visitor Center, where you can learn a bit about the region's unique logging industry while enjoying the river overlook. The Foote Pond Overlook atop Champagne Hill should also be on your River Road itinerary as it offers a fantastic view of the Huron-Manistee National Forest and Foote Pond. The best time to cruise the River Road Scenic Byway is summer and fall, especially when the leaves have reached peak foliage.
Related Read: Traveler's Guide to the Best Michigan National Parks
5. Sunrise Coast US-23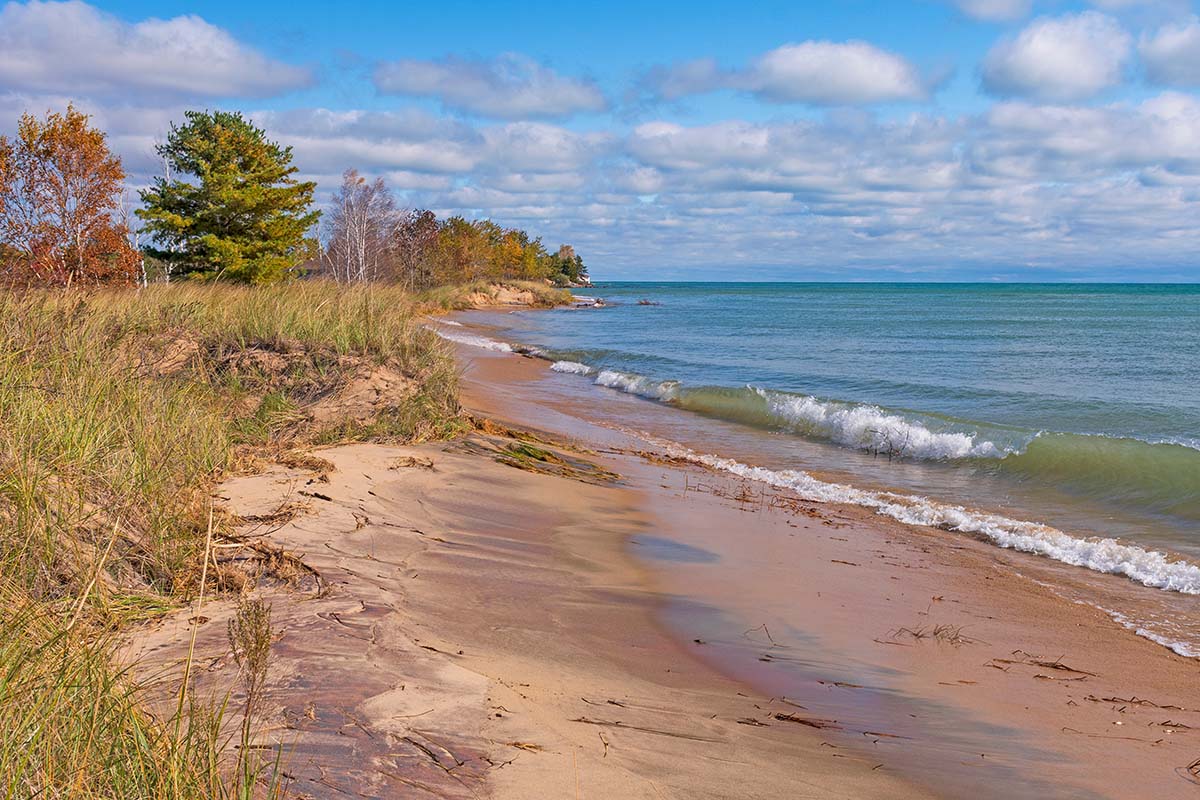 Why you should go: Colorful sunsets from sandy beaches and eye-catching shipwrecks are highlights on this historic highway.
Distance: 200 miles
Drive time without stops: 4 hours
Not far from the River Road Scenic Byway lies the Sunrise Coast, a gorgeous scenic drive in Michigan that follows Lake Huron's northern shore. Aptly named, those who hit the road early enough are almost certainly rewarded with the show of a colorful sunrise. But even on cloudy days, the magic of the Sunrise Coast is unbeatable.
Beginning in Standish and ending in Mackinaw City, this route passes an impressive number of notable lighthouses like the New and Old Presque Isle light towers that each boast panoramic views of the Great Lakes. In Alpena, make time for Thunder Bay National Marine Sanctuary. It's here you can visit "Shipwreck Alley", a bay that has doomed more than 200 ships that still lie at the bottom of the lake today. You can see them yourself via a glass-bottom boat tour, a scuba dive, or with a paddle on the water.
Related Read: 13 Best Cabin Rentals in the Upper Peninsula of Michigan
6. Copper Country Trail National Byway US-41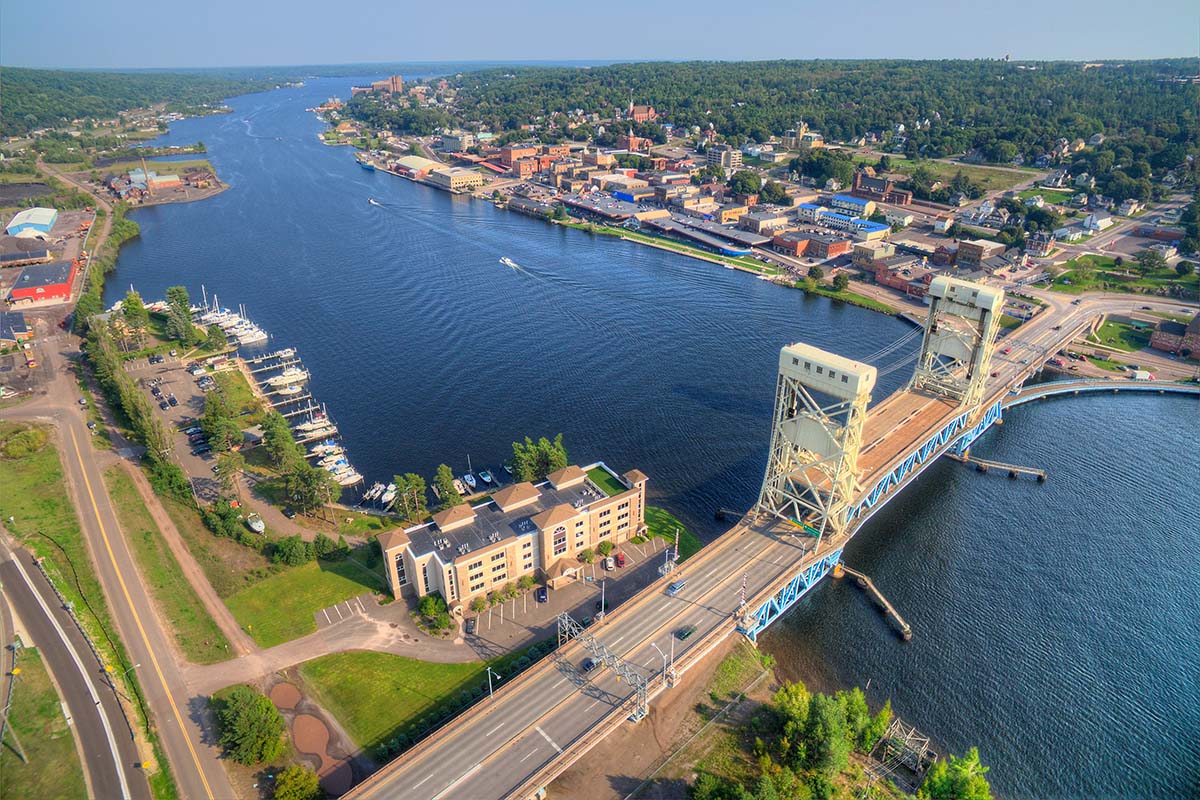 Why you should go: Circle the northernmost region of the Upper Peninsula and explore old mining communities and pretty nature reserves.
Distance: 47 miles
Drive time without stops: 2 hours
The Copper Country Trail is a historic route that follows the rich deposits of copper underneath the surface of the Keweenaw Peninsula. The area was once home to a booming mining industry that has all but faded away. Today, this scenic byway offers a fantastic way to learn more about this interesting past at the Keweenaw National Historical Park. It's also the gateway to Isle Royale, Michigan's only National Park protecting an isolated string of islands not far from the Canadian border.
During your drive, consider stopping by McLain State Park for coastal camping and outdoor fun. Its location amongst Michigan's Northwoods also makes visiting in the fall a wonderful experience. The main route passes other small scenic drives like the parallel Cliff Drive, where you can see rugged cliffs formed by lava millions of years ago.
Related Read: 11 Waterfalls in Wisconsin Not to be Missed
7. Pictured Rocks National Lakeshore
Why you should go: Witness turquoise waters complimented by dramatic coastal cliffs in Michigan's Upper Peninsula.
Distance: 69 miles
Drive time without stops: 2 hours 15 minutes
The Pictured Rocks National Lakeshore is a stunning stretch of Lake Superior coast between Grand Marais and Munising. Although not a designated Michigan scenic drive, many who visit opt to see the lakeshore via a road trip.
There's plenty to do in this outdoor playground, known for impressive sandstone cliffs, remote camping, and hardwood hiking. Beginning your journey in Grand Marais provides your first glimpse of the lakeshore's beauty at the Log Slide Overlook.
As you progress further into the park, stops at Miners Castle Road, the trailhead for Chapel Rock, and Munising are a must. In the winter, the vibrant waters of the lake freeze over, and icicles hang from the sandstone cliffs creating a sparkling curtain of ice you have to see to believe.
Related Read: The 10 Best Lake Camping Destinations in Michigan
8. Top of the Lake Scenic Byway US-2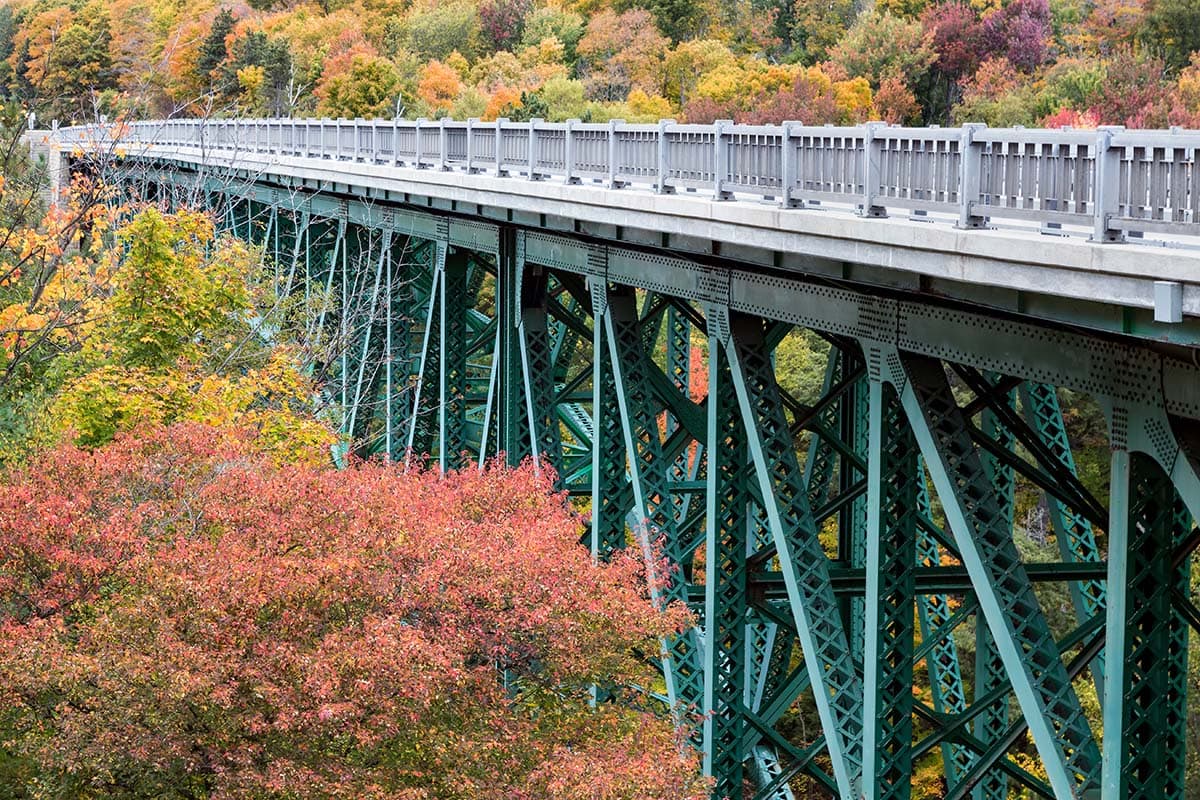 Why you should go: An idyllic scenic drive that begins where the Upper Peninsula meets the lower with stopovers in Mackinac Island and charming small towns.
Distance: 92 miles
Drive time without stops: 1.5 hours
The Top of the Lake Scenic Byway runs along the northernmost shore of Lake Michigan from St. Ignace to Manistique. St. Ignace is often considered the gateway to the Upper Peninsula as it's just across the bridge from Mackinaw City. It's also where you can find the famous ferry to Mackinac Island, a favorite Michigan vacation spot known for its many pedestrian-friendly streets, Victorian architecture, and the historic Fort Mackinac.
From there, the route continues west, following coastal bluffs and an ancient trading route once used by Native Americans. Notable stops include the turquoise Cut River Bridge that becomes a fantastic leaf-peeping spot in the fall and the Seul Choix Lighthouse. The route is also lined with scenic overlooks, campgrounds, and outdoorsy restaurants. This drive is fantastic any time of year, where cruisers can catch unique views that change with each passing season.
Related Read: 10 Refreshing Michigan Swimming Lakes for a Summertime Dip
Explore the Midwest
Get epic travel ideas delivered to your inbox with Weekend Wanderer, our newsletter inspiring more than 10,000 readers every week.
Was this article helpful?
---