We research, evaluate and select travel destinations based on a number of factors, including our writers' experience, user reviews and more. We may earn a commission when you book or purchase through our links. See our editorial policy to learn more.
---
Let out your inner artist and escape to a town wedged between a monster of a mountain and geological wonder built by the gods.
Manitou Springs is a pocket of progressives and eccentricity among a sea of conventionality and military personnel. The Air Force Academy, North American Aerospace Defense Command (better known as NORAD), and Fort Carson all call Colorado Springs home. But just a few miles west of the conservative city is an eclectic town full of artists, musicians, and all-around good people.
It's a great place to let your hair down and enjoy old town historic charm. You can pan for gold, play some old arcade games, or take a gander at an old-timey peep show (it's not as racy as you might think). There are dozens of art galleries, a handful of museums (and even a castle!), and a cog railway too. If Manitou Springs can claim anything, it would be that you will never be bored.
And after all those activities, you'll need a spot to put up your feet and rest your head. Check out the recommendations below for the best cottages and cabins in the area. Whether you're in need of a space for a family reunion or simply want a small cottage with big views, this small town has you covered.
Related Read: 12 Quaint & Quirky Cottagecore House Rentals Across the U.S.
1. The Nest
Why you should stay: nature is at your fingertips even while showering — there's a skylight in there.
Sleeps: 3
Minimum Stay: 1 night
Rates from: $111/night
After reading that last fantasy novel, are you aching for your own magical world to escape to? Then look no further than The Nest where whimsy and charm come together in perfect unison. The home is aptly named as you pull up to the cabin nestled in the hemlocks that surround the property. You're greeted by an alligator as you head down the stairs to the main house. Unless your name is Peter Pan, you should be safe from the gator's bite.
Grab your dinner and eat outside to enjoy the multitude of bird houses that are found around the cabin. A bird bath and several hummingbird feeders will keep you and your guests entertained all night. No need to watch TV here! Plus, the house is only minutes from downtown and easy accessed on foot — or wings, if you have them.
Check Availability
Related Read: 12 Best Cabin Rentals Near Colorado Springs, Colorado
2. Victorian Mountain Escape
Why you should stay: no need to book a spa day since this mountain cabin has everything to keep you pampered.
Sleeps: 7
Minimum Stay: 2 nights
Rates from: $245/night
If you're looking for the perfect combination of Victorian-era design and mountain cabin views, this one-of-a-kind home fits the bill to a "T". You'll immediately feel like royalty as you step through the threshold of the main home. The plush pillows, cork walls (yes, cork!), custom stonework, and chef's kitchen are just the tip of the iceberg.
Grab a good book and sit at one of the chairs in the entry way as the sun pours in from the large windows. Or if you want to get your blood pumping, you can walk to the popular Manitou Incline although I'd argue the views are better from the balcony of the house. Then rest your muscles in the private hot tub studio. That's right! An entire enclosed space to soak your worries away any time of year.
Check Availability
Related Read: 11 Outstanding Cabin Rentals Near Pagosa Springs, Colorado
3. Luxurious Yurt
Why you should stay: it's got the most glorious kitchen I've ever seen in a yurt.
Sleeps: 2
Minimum Stay: 2 nights
Rates from: $156/night
The extravagance of this yurt cannot be measured. If you've stayed in any of Colorado's mountain yurts, this one couldn't be more different. I'll repeat — this yurt is unlike any other you've ever stayed in.
Not only does it have an incredible kitchen fit for any chef's needs, but it's also got a spa-like bathroom complete with a deep soaking tub and a heated floor. There's even a washer and dryer in case you make a complete mess of your clothes while you're out adventuring in the area.
"I have been to countless Airbnbs but this one takes the cake!"
Check Availability
Related Read: 9 Best Yurt Rentals in Colorado for the Ultimate Wilderness Escape
4. Architectural Dream Home
Why you should stay: the addition was designed by the granddaughter of Frank Lloyd Wright.
Sleeps: 6
Minimum Stay: 3 nights
Rates from: $478/night
The sharp angles of this mountain gem might seem harsh but it's all warm and cozy on the inside. Clocking in at a whopping 2400 square feet, this modern rental has more than enough room for six guests.
Every inch of this house was thoughtfully envisioned and no space unused. From the triangular sink in one of the three bathrooms to the cascading waterfall on the patio, this home is truly unique.
Check Availability
Related Read: 11 Beautiful National Forests in Colorado for Outdoor Recreation
5. Bell Rock Retreat
Why you should stay: eighty private acres and creek running through the property.
Sleeps: 6
Minimum Stay: 7 nights
Rates from: $299/night
The gray-blue exterior of Bell Rock Retreat against the red rock that Manitou Springs (and southern Colorado) is known for is striking. What's even more striking, though, are the surrounding views including an unparalleled vista of Pikes Peak.
Even in the height of summer, the 14,115-foot summit looks cold. Luckily for you, you can boil some water in the copper tea kettle right on the wood stove. Or you could be boring and just use the regular stove. I suggest being the non-boring person, though, since you'll fit right in with the eclectic locals of Manitou Springs.
Check Availability
Related Read: 13 Secluded Cabin Rentals in Colorado for Remote Getaways
6. Central Manitou Rental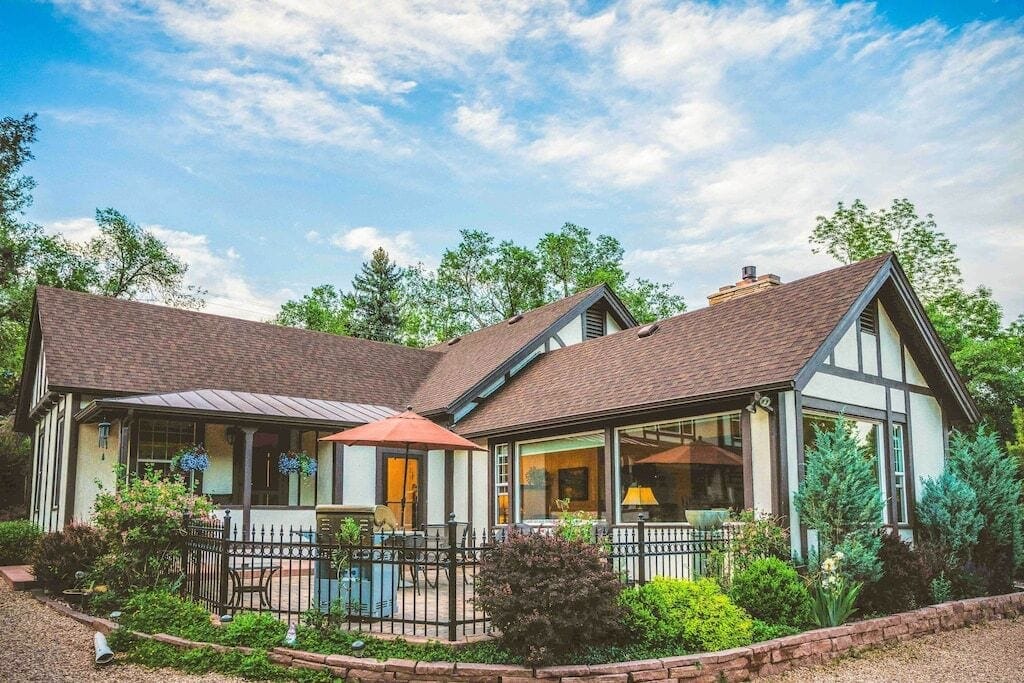 Why you should stay: the location can't be beat.
Sleeps: 5
Minimum Stay: 3 nights
Rates from: $227/night
This incredible vacation home might not be the largest on the list but it sure feels like it with the number of windows found throughout the home. But the real reason to stay here is its proximity to all the famed attractions around town.
Balanced Rock, Pikes Peak Train Depot, Manitou Cliff Dwellings, Manitou Incline, and Cave of the Winds are all within three miles of the home. There is something, literally, for everyone.
Check Availability
Related Read: 9 Cozily Romantic Stays Near Denver, Colorado
7. Cliffside Mansion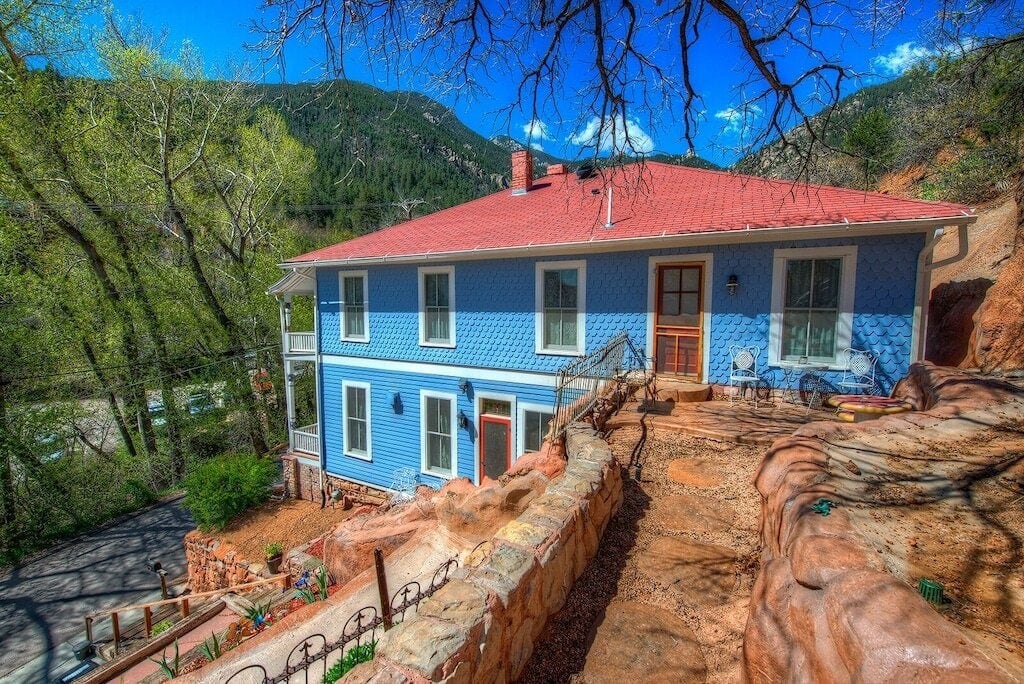 Why you should stay: there's two balconies and two patios including one with toadstools as actual stools. How cute is that?
Sleeps: 8
Minimum Stay: 1 night
Rates from: $349/night
Are you in New Orleans or the cliffside hills in Manitou Springs? If you're staying at this Creole-inspired home, you might not know the difference. It's got two front-facing balconies that are perfect to sip your morning coffee or evening cocktail.
And although it might be tempting, I don't recommend bringing beads to throw down to anyone who might flash you. I also wouldn't put it past the extraordinary locals of Manitou Springs to not take you up on the offer. Instead, walk from the house to the downtown establishments to really get to know the eccentric locals.
No need to call an Uber since you're only minutes from all the popular restaurants and bars.
Check Availability
Related Read: 10 Best Hikes in Colorado Springs, Colorado
8. Little House in Manitou
Why you should stay: it's just enough space for a couple wanting to get away.
Sleeps: 2
Minimum Stay: 2 nights
Rates from: $125/night
Whether you're looking for a quick romantic getaway or a month-long vacation, the Little House in Manitou packs a lot of punch in a small amount of space. Thoughtful décor adorns the entirety of the home including the ornamental keys that allow you into this cozy space.
Bring along your four-legged friends since this tiny home is dog-friendly. Manitou Springs offers multiple dog-friendly activities including walking through Garden of the Gods and even the Manitou Cliff Dwellings!
Check Availability
Related Read: 10 Adventurous Things To Do in Colorado in the Fall
9. Onaledge Historic Lodge
Why you should stay: there's an 8-person hot tub.
Sleeps: 18
Minimum Stay: 1 night
Rates from: $2,107/night
Onaledge Historic Lodge is one of three owned by the Smokebrush Foundation for the Arts which is a non-profit focusing their energy on creating a community of creativity and collaboration. Their property includes Smokebrush Farm where they grow a multitude of herbs and vegetables (including mushrooms!) while also taking care of pigs, bees, goats, quail, rabbits, chickens, and ducks!
But if you aren't really about the farm life, that's alright. There is plenty of luxury within this almost 5,000 square foot home! There's eight bedrooms and five bathrooms leaves more than enough room for everyone in your party.
If you're bringing the kiddos, they'll love the puppet theater or for the more intellectual, the gorgeous chess board. Watch a movie on one of the many leather coaches or sit around the fire on the oversized built-in sofas that are awfully reminiscent of old train car seating.
And if you want to ride in a real train car, head to the Pikes Peak Cog Railway which has recently been renovated and reopened!
Check Availability
Related Read: 10 Free Things to Do in Colorado Springs, Colorado
10. Mid-Century Vacation Home
Why you should stay: the outdoor deck view is to die for!
Sleeps: 4
Minimum Stay: 28 nights
Rates from: $115/night
Manitou Springs might be one of the most progressive towns in the United States, but why not find your way back to the 1950s by staying at this mid-century cottage. Exposed beams and white-washed brick bring this home to life.
The simple and practical furniture perfectly accentuates the unique decor. This home is ideal for those wanting to have an extended vacation since they only accept long term rentals. There's even an office if you are able to work remotely or need a spot to do your daily yoga.
If you can find the time to stay longer anyway to truly experience everything this small town has to offer.
Check Availability
Related Read: 14 Pros and Cons of Living in Colorado
11. Allison House
Why you should stay: historic charm with modern conveniences.
Sleeps: 10
Minimum Stay: 2 nights
Rates from: $285/night
Take a personal bridge over Fountain Creek to get to the Allison House. This historic home looks like a real-life doll house.
Don't worry, there's no creepy dolls that are secretly going to kill you in the middle of the night hanging around the house. Instead, the home boasts refined furniture, classic design, and an oversized deck with built-in seating.
Check Availability
Related Read: 13 Best Camping Spots Near Colorado Springs, Colorado
12. The Avenue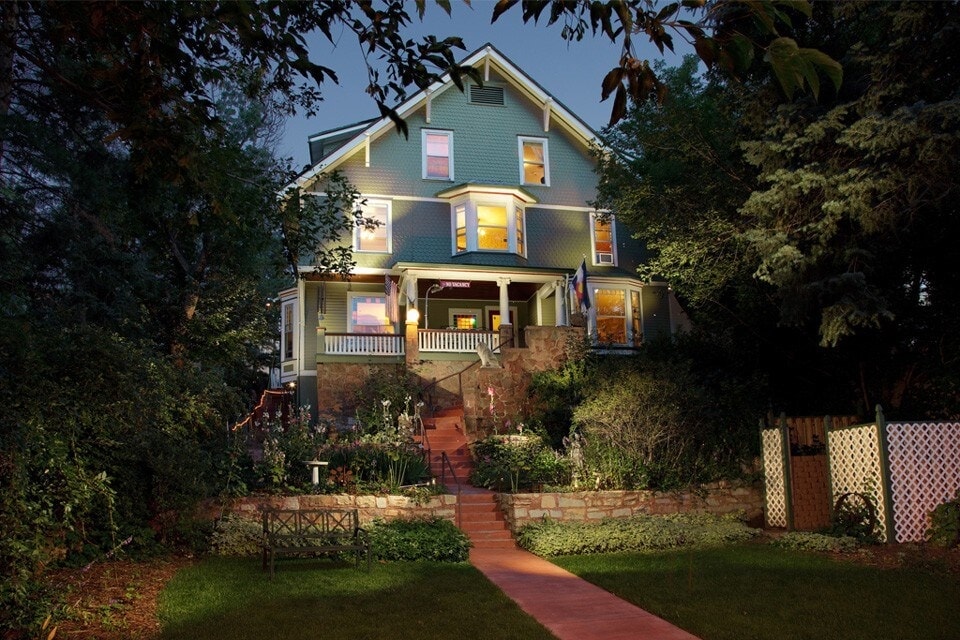 Why you should stay: there's a fully stocked coffee bar on the third floor so you don't have to walk all the way down to the kitchen.
Sleeps: 16
Minimum Stay: 2 nights
Rates from: $410/night
No wonder The Avenue is called a modern mansion and a Manitou Springs icon. At over 6,000 square feet, this luxurious home can accommodate 16 adults and four kids plus your four-legged friends!
Before you leave, you'll be using words like "parlor" and "chesterfield" and "grand foyer" because of the historic charm that is found throughout the home. Kids will love this space too regardless of the language you inherit, with a large playroom and a nursery.
Check Availability
Plan Your Trip to Manitou Springs, Colorado
Make sure to check out these must-see recommendations to truly experience Manitou Springs!
Explore Colorado
Get epic travel ideas delivered to your inbox with Weekend Wanderer, our newsletter inspiring more than 10,000 readers every week.
---