Sometimes you need a quick weekend getaway. Luckily, with these seven road trips from Colorado Springs, you don't have to go far to find your next adventure.
Whether you want to trade one city for another or you're looking for sweeping mountain vistas with a middle-of-nowhere feel, these destinations on the outskirts of the Springs offer tons of great ways to spend your weekend.
From hiking and camping to exploring a vibrant downtown filled with fine dining, art galleries, shops, and more, these spots have a little something for everyone.
Related Read: 10 Adventurous Things To Do in Colorado in the Fall
1. Cripple Creek
Perhaps best known for its lively casino scene, Cripple Creek has plenty of other attractions to fill a weekend. Explore historic gold mining sites, take a scenic drive, or soak up the scenery at one of the community parks. Of course, if gaming and gambling is your idea of a good time, the town offers nine casinos all within walking distance of historic Bennett Avenue.
Over its 150-year history, Cripple Creek went from a mining boom town to a deserted ghost town before being revived as a quirky tourist destination—complete with mountain views and plenty of nods to its gold mining heritage. Hit the downtown drag for a selection of local restaurants and a handful of unique shops to get a taste of this history firsthand.
While you're there, you can catch a show at the historic Butte Theater or time your weekend visit to coincide with one of the town's events—like the annual Donkey Derby Days. In fact, if you visit from mid-May to mid-October, you'll likely get a chance to see the town's resident herd of donkeys roaming the streets, a nod to the gold-mining days of yore.
Distance: 45 miles
Drive time without stops: 1 hour, 5 minutes
Related Read: 8 Best Mountain Towns in Colorado Offering Year-Round Adventure
2. LoDo
LoDo is known for its vibrant arts, dining, and cultural scene in downtown Denver. In a little over an hour's drive, you can be immersed in all the high life of the Mile High City. Hit the Ball Arena for a show or catch your favorite sports team in action. For more entertainment, the Denver Center for the Performing Arts dishes up everything from Broadway shows to opera performances.
And speaking of dishing up, the Denver dining scene is not to be missed. Dine in style at one of Denver's top-rated restaurants — for breakfast, lunch, and dinner. If art or history is more your speed, you don't have to go far to find one (or several) of the area's many museums, like the Denver Art Museum and the Molly Brown House.
For a breath of fresh air, head to Confluence Park for a stroll along the South Platte River. Looking for a dose of adrenaline? Elitch Gardens Amusement Park offers fun for the whole family with its hair-raising rides and is one of the only amusement parks on the planet located directly next to a city's downtown. The skyline views from the rides are absolutely incredible and attract coaster enthusiasts from around the world. And if you need some retail therapy, the shops and stores along 16th Street Mall are a great spot to do some shopping.
Distance: 70 miles
Drive time without stops: 1 hour 10 minutes
Related Read: 7 Incredible Glamping Destinations Near Denver, Colorado
3. Great Sand Dunes National Park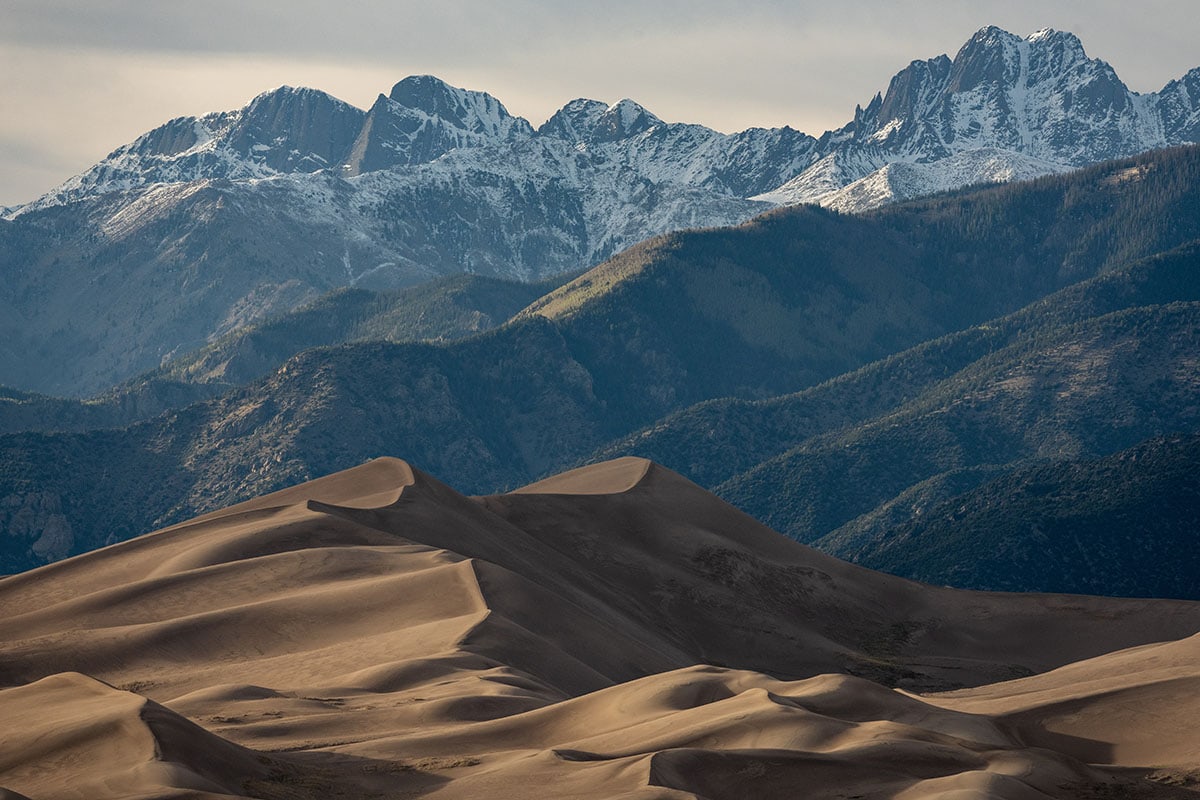 Escape the city grind with a trip to Great Sand Dunes National Park. The park is famous for its spectacular sand dunes — the largest in America — which were formed by winds carrying sand away from dried-up rivers and streams some 12,000 years ago. However, convergent winds from the nearby mountains pushed back, causing the sand to tower hundreds of feet high into the dunes we see today.
In the spring, experience the seasonal flow of Medano Creek at the base of the dunes with the snowcapped Sangre de Cristo mountains in the background. In the summer, spot wildflowers on the dunes and try your luck at sand sledding or dune boarding. When autumn rolls around, head up into the hills on the hiking trails to catch some golden aspen color. If you're seeking solitude and don't mind the cold (don't forget your layers), the winter off-season creates a beautiful and quiet getaway.
With options for camping, hiking, wildlife watching, photography, fishing, stargazing, and more, you'll have the pick of your favorite weekend hobby to cap off your road trip. And if you're looking for an extra special weekend, book a stay at the nearby Zapata Ranch for a one-of-a-kind overnight experience.
Distance: 170 miles
Drive time without stops: 2 hours 50 minutes
Related Read: The 6 Best Camping Spots Near Twin Lakes, Colorado
4. Westcliffe
The small mountain town of Westcliffe might not look like much on a map, but don't miss the chance to take a weekend road trip to the area. Westcliffe sits in the Wet Mountain Valley, with the Wet Mountains to the east and the Sangre de Cristos to the west. The drive into town along the Frontier Pathways Scenic Byway has enough jaw-dropping vistas to be worthy of a trip alone.
Once you arrive, check out All Aboard Westcliffe, a small railroad museum that delves into Custer County's history and lets you check out historic train cars. During the day, take a walk to Bluff Park for some more mountain views or stroll down Main Street for a sampling of local shops and restaurants.
Don't be too quick to pack up and leave at the end of the day. Designated as an International Dark Sky Preserve, Westcliffe is currently the highest altitude international dark sky community in the world — which means if you stick around after dark, you might get to see the Milky Way like never before. Visit the Smokey Jack Observatory for even more out-of-this-world views of the sky.
Distance: 77 miles
Drive time without stops: 1 hour 30 minutes
Related Read: 12 Extraordinary Cabin Rentals in Colorado
5. Cañon City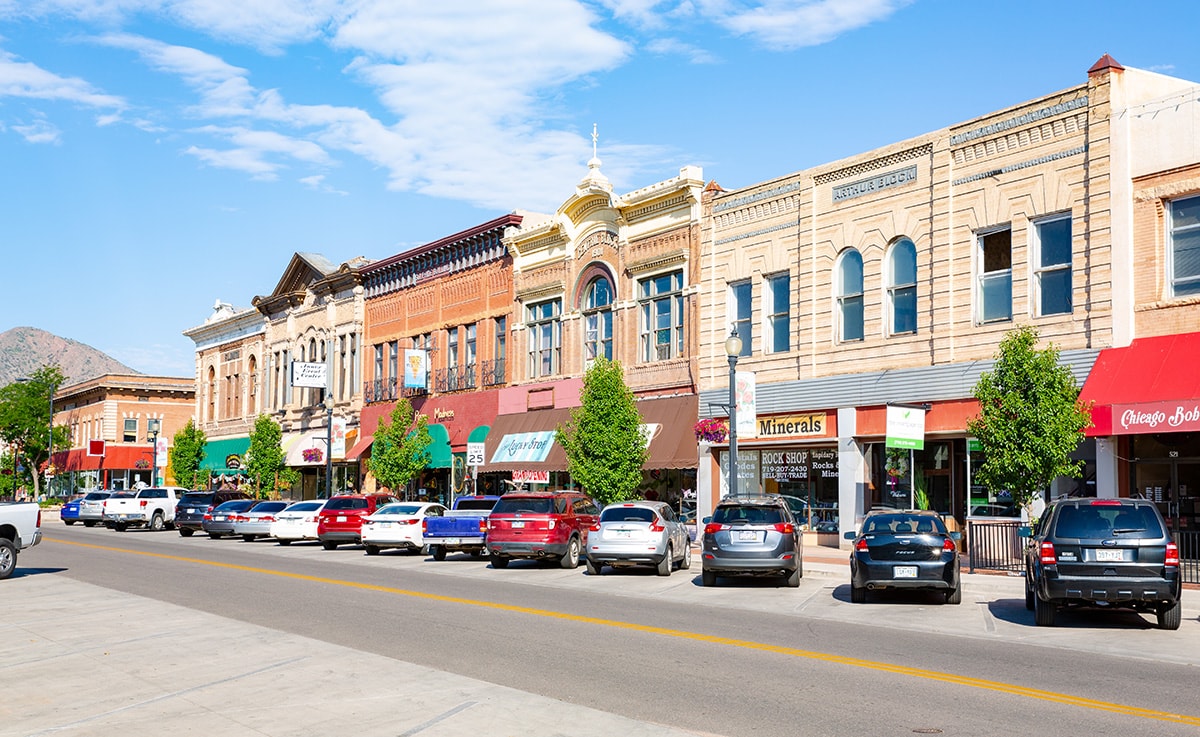 The big draw of a weekend trip to Cañon City is a visit to the popular Royal Gorge Bridge which spans the Arkansas River and holds the title of America's highest suspension bridge. If you aren't scared of heights, you can walk the 1,257 wooden planks of the bridge 956 feet above the river. If that doesn't get your blood pumping, take your pick from the via ferrata climbing course, skycoaster (which is actually a giant freefall experience), or zip line. if you're looking for some Insta-perfect photos, hop aboard the gondola to get some fantastic pics of the bridge and valley.
For a more mellow outing, don't miss a chance to visit the town's historic downtown. Cañon City has a small-town feel and a yesteryear charm thanks to its abundance of turn-of-the-century architecture. Browse the boutiques and art galleries and grab a bite or brew at a local restaurant. You can also immerse yourself in a little slice of history with a ride on the splendid Royal Gorge Route Railroad.
For outdoorsy types, the city's prime location along the Arkansas River and nearby Pike-San Isabel National Forest offers up opportunities for hiking, camping, backpacking, fishing, whitewater rafting, and much more.
Distance: 45 miles
Drive time without stops: 52 minutes
Related Read: 7 Best Things to Do in Estes Park in Winter
6. Lost Creek Wilderness
Looking for a weekend road trip that leads you to a trailhead? The 119,790-acre Lost Creek Wilderness is within easy driving distance of Colorado Springs. Head to the Goose Creek Trailhead or the Twin Eagles Trailhead on the south side of the wilderness to access some of the best trails in the area.
Whether you want an easy, family-friendly day hike, are looking to bag a summit, or are hoping to get far, far away from the bustle of the city on an overnight backpacking trip, this wilderness area has some fabulous routes to explore.
From high mountain meadows and forested slopes to stunning granite outcrops spanning the Tarryall, Platte River, and Kenosha mountain ranges, you'll find this wilderness area offers a unique slice of Colorado — without the crowds of Pikes Peak or the Manitou Incline.
Distance: 60 miles
Drive time without stops: 1 hour 50 minutes
Related Read: 5 Awesome Hikes in the Lost Creek Wilderness, Colorado
7. Salida
The once-small town of Salida is quickly becoming known as one of Colorado's outdoor hotspots. And luckily, it's within easy driving distance of the Springs, making it the perfect weekend escape — though you'll probably wish you could stay longer.
Downtown Salida has plenty to offer in the way of dining, lodging, shops, and art. One of Colorado's first Creative Districts, the town boasts lots of local galleries and public art displays. In the summer months, you'll likely find live music most nights of the week. From Memorial Day to Labor Day, the town is hopping with all sorts of festivals and other events. Check their calendar to see what strikes your interest.
While the town itself has plenty to offer, its proximity to world-class, year-round recreation has given it a reputation as an outdoor lover's paradise. In the summer, tackle one of the 14ers of the Collegiate Peaks or hit the Arkansas River for a whitewater adventure. The area's trail system is extensive, offering opportunities for hiking, climbing, mountain biking, and off-roading. In the winter, head to Monarch Mountain to shred some runs. And no matter the time of year, you can always treat yourself to a day of relaxation at Mt. Princeton Hot Spring right up the road.
Distance: 103 miles
Drive time without stops: 2 hours 7 minutes
Explore More in Colorado
Get epic travel ideas delivered to your inbox with Weekend Wanderer, our newsletter inspiring thousands of readers every week.
---