Want a drink at the same tavern that Doc Holliday frequented? Look no further than Leadville, Colorado.
Heck, you may even be able to sit in his chair. 
But John Henry "Doc" Holliday wasn't the only famous pioneer to make their way to the small mountain town in Colorado. Horace Tabor (a.k.a. the "Silver King") and the infamous "Unsinkable Molly Brown" (who survived several maritime disasters) also called Leadville home.
Leadville is one of the most underrated towns in Colorado and has some of the most down-to-earth residents you'll ever meet in the U.S. Its rich history has been well-preserved throughout the years and 50 historic structures are still standing. But what residents really love about their town is the surrounding natural landscape and the many outdoor activities you can do right from your right door.
Check out the list below to read up on the best things to do in Leadville to help make your visit one to remember— then book one of these Leadville Airbnbs so you have somewhere to sleep at night.
Related Read: 8 Beautiful Cabin Rentals in Buena Vista, Colorado
1. Join the Melly Clan
View this post on Instagram
No, this doesn't mean you have to join a cult – though it does feel a little bit like one. Instead, head over to a one-of-a-kind outdoor clothing shop right in downtown called Melanzana. You'll understand the hype once you touch the incredible fabric of their infamous microgrid hoodie, a.k.a. the Melly Hoodie. If you tell your outdoorsy friends you're headed here, they'll probably have you buy one or two for them.
Better grab one or two or ten of these because you cannot get these beauties online; they only sell their merchandise at their store in Leadville. Plus, it'll be the item of clothing you shouldn't go without when romping around the incredible fourteeners surrounding town. They're reasonably priced and have sizes for the whole family, including your kiddos.
2. Wander the "Smithsonian of the Rockies"
It's no wonder that the National Mining Hall of Fame and Museum is housed in Leadville. The town was, after all, named after the lead ore found in the area. It was a bustling town back in the late 19th century and was the second most populous city in Colorado at the time (after Denver, of course.)
The museum showcases what it would have been like to work in a mine back in the day, walking through narrow passageways underground. You'll walk by replicas of mines and photos of the miners when this town was in its heyday. You can even take a "surface tour" – you can't go into the mine due to deteriorating conditions – of the Matchless Mine and learn all about the rise and subsequent fall of Horace Tabor.
Related Read: 10 Exhilarating Things to Do in Aspen in the Summer
3. Make it to the top of Colorado
Want to sit on top of Colorado? Then hike up Mount Elbert to take in the views at 14,440 feet above sea level. It's the highest point in the entire Rocky Mountain Range. Make sure you've got your mountain legs (and lungs, for that matter) in tip-top shape because this hike is no joke. You'll ascend almost 4,500 feet over five miles to reach the summit.
But the views are well worth the shaky legs and shortness of breath. With that said, altitude sickness is a real threat here, so make sure you know the signs: headache, nausea, and dizziness. If you experience any of these things, book it down the mountain before it gets worse. Seek medical help if it doesn't get better as you descend.
4. Get the Best Cup of Joe in Town
View this post on Instagram
Even if you're just passing through town, a stop at the City on a Hill Coffee and Espresso Co. is well worth it. This local shop is all about committing to direct trade relationships and giving back to the coffee farmers and their communities. Every purchase of their newest roast La Neutral helps support humanitarian organizations in Nicaragua. The roast is even named after the farm it came from: La Hacienda Neutral in Jinotega, Nicaragua.
The coffee isn't the only thing that'll get you started in the morning. Try one of their quiches; the vegetarian is a favorite among patrons. After a day of adventuring, head back to the coffee shop for lunch because their sandwiches are one-of-a-kind, too.
5. Travel back in time at the Tabor Opera House
Does the name sound familiar yet? It should. Tabor Opera House was named after – you guessed it – Horace Tabor. The theater is currently undergoing a major renovation thanks to generous funding to save the deteriorating exterior. But tours are happening even during construction.
You can visit the Tabor Suites and the Tabor Second Story Museum as well as the elegant performance hall where the real magic happened. That magic still goes on today, so make sure to check our their events page for updates on planned performances.
Related Read: 10 Classic Mountain Cabins in Ouray, Colorado
6. Grab a beer with "Doc" Holliday
It's worth noting once again that you should head on over to the Legendary Silver Dollar Saloon. Established in 1879, this local watering hole has been a favorite among many a notable person. Of those, the most famous may be John Henry "Doc" Holliday, who lived across the street above the Hymam Saloon at the time. The black piano he often played while gambling remains in the back room of the saloon to this day.
But if you're just looking for a solid place to get a drink, the Silver Dollar certainly delivers on that front. Sit at the bar to get the full experience and tip your hat to the fellow patrons.
Related read: I'm Your Huckleberry: the Real Meaning Behind Doc Holliday's Famous Line
7. Roll Along the Mineral Belt Trail
View this post on Instagram
This 11.6-mile, all-season, non-motorized route loops around the city through aspen groves and past unobstructed views of the Sawatch and Mosquito mountain ranges and wildflower fields. It also includes a visit through the historic Leadville Mining District where you'll pass not one but seven historic mines.
There are several shelters throughout the trail that allow visitors to rest and relax before finishing the route. Setting aside a whole day to walk or bike it is one of the most popular things to do in Leadville for tree-huggers and adventure-lovers.
If you don't want to walk the whole way, there's plenty to do around the trail including a frisbee golf course and nordic ski trails. Of course, you could always just grab an après-hike drink.
8. Hike or Ski to a Gourmet Meal
Taste the most mouth-watering meal of your life at 10,800 feet above sea level but just 10 miles north of the town center. The Tennessee Pass Cook House is renowned for its hearty meals as well as the overall atmosphere and experience. It's a mile from the Nordic Center, so it's easily reached on foot, skis, or snowshoes. If you aren't in shape to make the trek, you can always hitch a ride (for an additional fee, of course) by Jeep or snowmobile, depending on the season.
Although you can go here for lunch, the best experience is at their four-course dinner – you'll need a reservation. It's $95 per person and full of incredible flavors and the sunsets are to die for. It beats eating dinner at some fancy restaurant in a concrete jungle, am I right?
9. Catch a Ride on the Train
No matter the season, make time for a scenic ride along the Leadville, CO and Southern Railroad, hands-down one of the best things to do in Leadville. It travels through the Arkansas River Valley and San Isabel National forest, both of which are incredible sights during wildflower blooms and autumn fall colors. It's also an ideal activity for people of all ages.
The railroad hosts several special rides throughout the year including the Winter "Holiday Express" for kids and the summer favorite, "Devils Tail BBQ Special."
10. Be a Spectator at Boom Days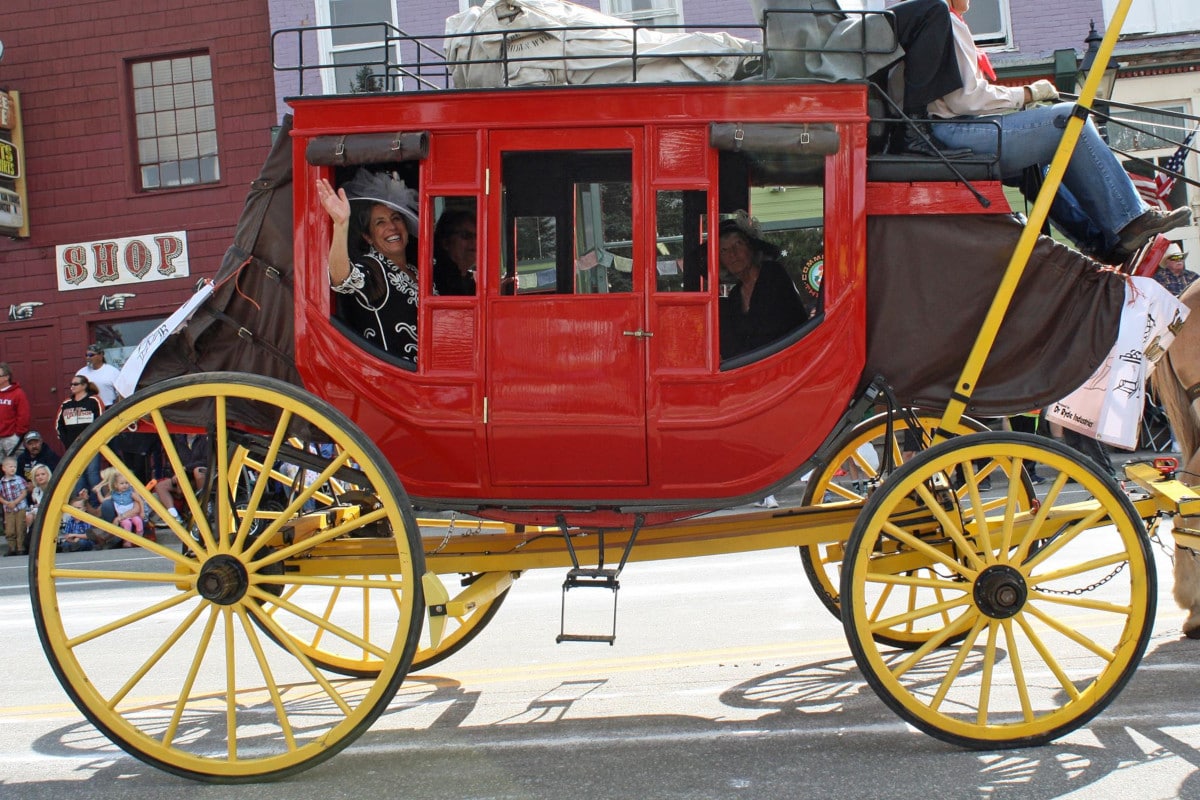 There's no better festival than Leadville's famous Boom Days (it's a mining town, so things go "boom" both literally and metaphorically.)  If you're planning a trip to the highest incorporated town in the country, shoot for the first week of August. This festival is fun for everyone in the family with contests to test your mining skills, burro races, and even some gunslingers.
Bring your 10-gallon hat and fast-flying fingers to this wild western hootenanny – and yes, you may want to brush up on your Wild West speak so you're properly prepared to mosey through the festival.
Explore More of Colorado
Sign up for Weekend Wanderer, our free email newsletter offering thousands of readers epic travel ideas every week.
---