Territory Supply is reader-supported and may earn a commission when you book or purchase using our links. Editor's note: travel's tricky these days, but we're here to inspire adventures when you're ready. If you are traveling, be sure to check local COVID-19 guidelines and restrictions — crossing international borders for leisure travel may be prohibited.
---
Leave the roughing it for your next backpacking trip and explore Colorado in style with a decked out glamping rental.
Colorado is an outdoor lover's paradise. Starry skies, picturesque mountain views, and recreational activities of every kind can be enjoyed throughout the state. You'll enjoy some of the best camping in the country here, and yes, that includes plenty of glamping options for the discerning camper.
Glamping lets you immerse yourself in nature without sacrificing all of the comforts of home. You can sleep up high in a treehouse, sprawl out in a luxurious canvas tent, or find peace in an eco-friendly yurt. Across the state, Colorado is full of unique glamping rentals that are sure to make your stay a memorable one.
While we love a good backcountry campout as much as the next guy, there's something about the comfort of glamping that screams ultimate vacation.
If you're looking to trade in the sleeping bag for a king size bed, then take a look at our top picks for the best glamping in Colorado.
Little Red Treehouse
Best option for: Adventurous couples.
Lyons is the gateway to Rocky Mountain National Park. Resting at the foothills of the epic national park, this town offers some exceptional views and outdoor recreation to go along with it. Home to the original Oskar Blues Brewery, you bet your bottom you'll find mountain biking and a tasty brew or two during your stay.
Speaking of your stay, we recommend booking the Little Red Treehouse. Tucked away in the trees, this quaint treehouse has just the right amount of space for two.
The Little Red Treehouse features an efficient kitchen, heating, air conditioning, WiFi, a small bathroom, and a deck with bar seating. There's also a pull-down Murphy bed and fairy loft offering a quiet space. Basically, it's everything you need to relax and recoup after an adventure filled day.
The town, fishing, and trails are only a walk away, and Rocky Mountain National Park – and its best hikes – is only a short 30-minute drive. For the couple who enjoys a range of activities, this is an excellent choice.
Check Availability
Collective Vail
Best option for: An activity-focused retreat.
Located near the Rockies just a short drive from the resort mountain town of Vail is Wolcott. This unassuming destination is home to several ranches and a plethora of recreational activities.
If you're looking to experience what it's like living on the range in some of the coolest glamping accommodations in the state, then check out the offerings at Collective Vail. This glamping ranch retreat features two types of canvas safari-style tents, the Summit Tent and Journey Tent.
The Journey Tent is great for those who want a more communal experience with their stay. For more privacy, the Summit Tent is a better option. Either way, both canvas tents provide luxury in the outdoors, featuring rustic furnishings, a wood burning stove, electricity, and comfortable bedding.
As for activities, you'll be anything but bored. You have your choice between whitewater rafting, ATV and Jeep tours, fly fishing, miles of hiking trails, horseback riding, ziplining, and winery tours. Of course, you can also kick back, relax, and just enjoy the 1,000-acre retreat. Every meal is a treat with daily sourced ingredients, so you'll be spoiled from breakfast to dinner.
This property fills up quickly, so be sure to book your reservation early to get the best rate.
Check Availability
Black Tree Resort
Best option for: Customizable glamping with a unique local influence.
Black Tree Resort's 80 acres offers a well-spread glamping experience that's unlike any other in the state. Just an hour from Colorado Springs, Black Tree is dedicated to crafting a glamping trip tailored to your needs.
There's no one-size-fits-all here, and everything from daily activities to the freshly delivered local meals (three a day) embraces the uniqueness of your stay. Beautiful canvas tents provide the ideal basecamp for explorations in the area, including hiking, fishing, rafting, ziplining and horseback riding.
Each tent includes immaculate bedding, Pendleton camp blankets, solar-powered electricity, private restrooms and all the comforts you'll need for a rejuvenating stay. Black Tree is a self-proclaimed "study in contrasts" that evokes a warmth of luxury and the bold, adventurous call of the surrounding forest.
Here, bustling days lead to quiet, calm nights: your private deck, table, chairs and fire pit are the perfect amphitheater to watch Colorado nights unfold. In the morning, stroll the pristine forest or use your complimentary golf cart to get a lay of the land.
You'll find Eleven Mile State Park just a few minutes away, and plenty to explore in nearby Pike National Forest. Black Tree Resort may be a newcomer to the Colorado glamping scene – their grand opening was June 21, 2019 – but the resort's elegant appeal will make them a must-do experience in no time.
Check Availability
Bison Peak Lodge at Puma Hills
Best option for: A secluded wilderness retreat.
About an hour west of Colorado Springs in Pike National Forest rests Lake George. This town is home to fascinating rock formations, an array of wildlife, and gold medal fishing. Escape the city for a weekend and head on out for a stay here at the Bison Peak Lodge at Puma Hills.
Surrounded by wilderness, this is a great spot to hit the reset button. This glamping haven offers three unique glamping style options — a wagon, tipis, and bubble tents — all with a 360-degree forest view.
If you're digging the tipis, you can choose from the group, 18-foot, or 22-foot options. Each comes adorned with native American furnishings, premium bedding, and an outside dining area.
Is the wagon is calling your name? The 180-square foot colonial inspired wagon features high-end furnishings, including Australian sheepskin furs and Brazilian cowhide rugs.
If you're wondering what in the world a bubble tent is, you're not alone. A mix between a blow-up snow globe and your childhood hamster ball, these tents are designed for the ultimate stargazing experience. Available in half or full transparency, the tents come with a queen bed, mud room, and a covered changing area.
Like a choose-your-own-adventure book, you can choose your wilderness experience of choice at Bison Peak Lodge.
Check Availability
Dunton Hot Springs
Best option for: Wintertime special occasions.
Dunton is a world of its own. Look it up on a map and you might easily be confused. Is it its own town? Is it actually called Dunton Hot Springs? Or is it really part of Dolores?
Dunton is actually a restored ghost town and hot springs, and home to 13 luxury cabins known as Dunton Hot Springs. If you're looking to celebrate a honeymoon, anniversary, or a special occasion, then take a look at the glamping options this unique resort has to offer.
Making the Condé Nast Traveler Gold List in 2016, Dunton Hot Springs is as much a destination as it is a place to stay. Their stunning accommodations range from rustic luxury log cabins to cozy canvas tents.
While each one comes with its own charm, Christy's Tent invokes that special glamping feeling. The only all-season tent, Christy's Tent combines the charm of reclaimed materials with a luxurious design.
Here you'll enjoy a comfy king bed, gas stove, and an elegantly modern bathroom equipped with a large shower and scenic outdoor view. There's also a front and side porch to take in a starry night sky.
These glamping rentals are on the pricey side, but you certainly get what you pay for here.
Check Availability
Dunton River Camp
Best option for: Summertime special occasions.
If Dunton Hot Springs is booked, head on down the road to the Dunton River Camp in Cresto Ranch. A former cattle ranch, this luxury tented summer camp offers 500-acres of serene beauty where free-range cattle still graze.
Dunton River Camp hosts eight 640-square foot safari-style tents. The tents are luxury in the finest sense, as they include a 6-foot soaker tub, shower, private mountain bikes, and other posh hotel amenities.
Views abound in every direction here. Choose a Mountain Tent for views of El Diente Peak and Wilson Ridge, or opt for a River Tent next to the West Fork of the Dolores River. Either way, you'll have access to a riverside sauna, communal fire pit, mountain biking trails, and local organic food and wines to pair. Did we mention all food and drinks are included?
If you're an adventurous couple who likes to end your day of fishing, hiking, or mountain biking with a glass of fine wine or snifter of whiskey beside the campfire, you'll dig staying in the Rockies at Dunton River Camp.
Check Availability
Working Horse Ranch Tipi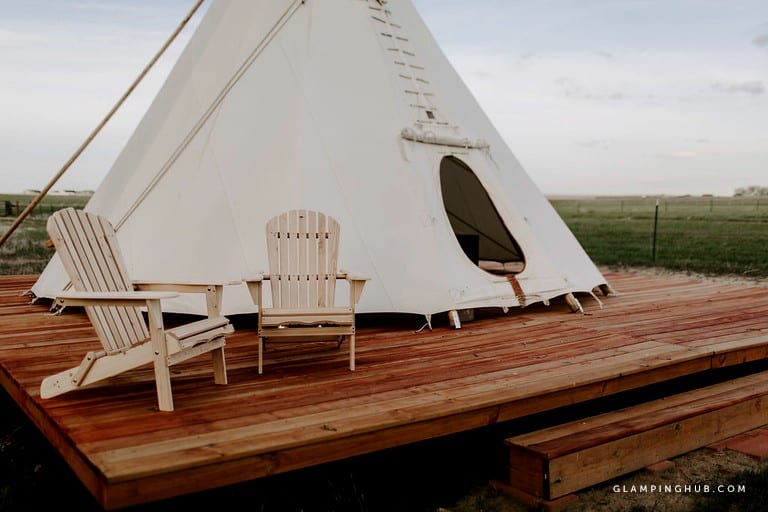 Best option for: Denver getaway not too far from town.
If you're looking to explore Denver but don't want to deal with staying in the city, head on over to the Working Horse Ranch in Hudson. About a half an hour removed from the city, the Working Horse Ranch offers some of the coolest tipis around.
Rustic and clean, the kid- and pet-friendly tipi rentals here offer an authentic experience. Situated by the creek, the tipis are in a quiet and secluded setting fit for a group of six.
Inside the tipi, you'll be greeted by a cozy bed and a propane fire pit to keep warm. Situated on a wooden platform, you'll have plenty of space both inside and out of your rental.
While there isn't water inside, drinking water is available on the ranch and the shared bathrooms are nearby.
Head on over to the city for a day filled with activities or stay on the ranch and go for a horseback ride. There's also a friendly ranch dog and fainting goat on site.
Check Availability
Green Sky Yurt Retreat
Best option for: Exploring nature near Durango.
From art to recreation, Durango is one happening spot. Located near the New Mexico border, this quaint town is a great basecamp for exploring Mesa Verde National Park, Chimney Rock National Monument, San Juan National Forest, and Colorado's largest wilderness area, the Weminuche Wilderness.
As for basecamp itself, we recommend staying at the eco-luxe Green Sky Yurt Retreat. A mix of luxury with sustainability, the folks here get you back to nature in an eco-friendly way.
"We are stewards of the land and take pride in creating a life that promotes the health and well being of ecosystems that thrive here."
Some of the green amenities you'll enjoy here are a back-fed solar panel system, gravity-fed wine barrel shower, and grey water fed herb garden. The yurts are stocked with kitchenware, a wood burning stove, and a large deck to take in the natural beauty.
Step outside the yurt and take advantage of the complimentary canoe. A three-mile hike will take you to the Lemon Reservoir with views of the Weminuche Wilderness. You could also head to the San Juan National Forest for a soak in Trimble Hot Springs.
Check Availability
Echo Canyon Campground
Best option for: Family getaways.
Flowing near Canon City in south-central Colorado, the Arkansas River makes for tons of rafting fun. Here, you can enjoy a lazy river float or head on out for a wild rafting expedition with class III and V rapids through the Royal Gorge. Whichever water adventure you choose, nearby you'll find some sweet deluxe glamping accommodations at Echo Canyon Campground.
Echo Canyon Campground features several stylish canvas glamping tents stocked with modern amenities. This includes electricity and WiFi for the glampers who don't want to fully disconnect. The one modern amenity the tent doesn't include is water. But fear not, the bathhouse is close by.
When you're done scouring the internet, put the computer down and relax on the private redwood deck or chill out fireside.
The Single Queen Glamping Tent sleeps two while the Double Queen Glamping tent sleeps up to a family of four. If you plan on bringing your immediate family and then some, considering upgrading to a Luxury Vacation Cabin.
Check Availability
Section House
Best option for: An epic basecamp during ski season.
If you're really up for an adventure, hike into your home for the night at Section House. This historic cabin rests at the top of Boreas Pass smack dab on the Continental Divide just east of Breckenridge.
Built in the 1880s, this log cabin was originally constructed for hardworking railroad men and their families. Since then, Summit Huts Association and the US Forest Service have teamed up to restore the cabin as a winter ski hut.
While the Section House still maintains its old-timey rustic charm, it's been upgraded with a host of amenities. The kitchen comes fully stocked with all the cooking essentials while the main room features a wood stove for heating (firewood included). While you can choose to light the cabin via lantern for an old-fashioned experience, it does have solar power.
Sleeping up to 12, this historic cabin is a great escape for the group looking to get off the grid and enjoy some fresh powder.
Check Availability
Explore Colorado!
Cabin rentals are another great way to enjoy the Centennial State. Check out our guides to the best cabins in Estes Park and the top cabin rentals near Denver.
We've also got you covered with hiking recommendations with 10 of the Best Hikes in Rocky Mountain National Park and the 10 of the Best Hikes Near Telluride.
---