At 800,000 acres and spanning across two states, White Mountain National Forest is a backpacker's paradise.
Anyone who has visited New Hampshire knows about the majesty that is the White Mountain National Forest. It's named after the bald, granite summits that blanket the state's tallest peaks. Thousands visit the area every year, often by road-tripping or leaf-peeping. But the best views are found miles away from any road along the region's many hiking trails.
To ensure the safest (and cheapest) way to adventure in the backcountry, pick up a Hike Safe Card. At only $25 for an individual and $35 for a family, it's a cheap way to make sure you don't have to pay for costs associated with a backcountry rescue. Plus, it also helps maintain New Hampshire's public lands.
1. The Pemigewasset Loop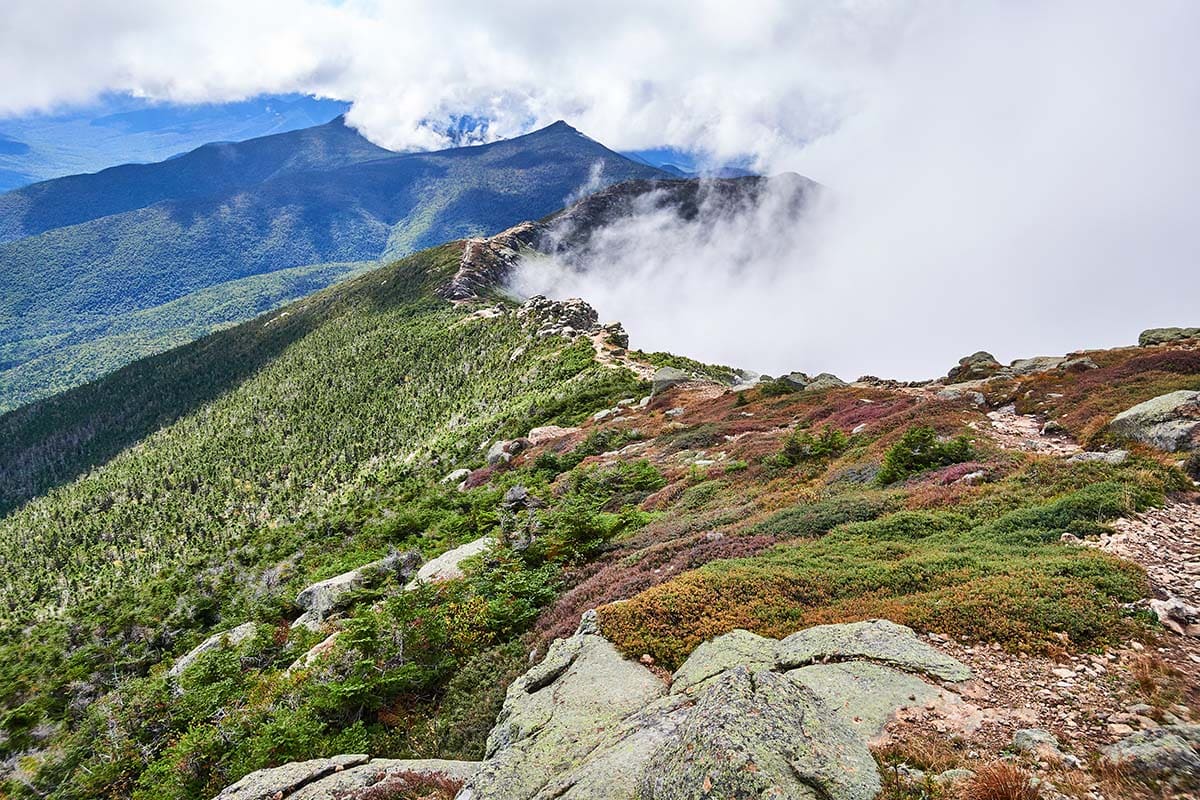 Why you should go: to experience what the hype is all about.
Distance: 36 miles (loop)
Elevation gain: 11,250'
Difficulty: strenuous
Days on the trail: 3-4 days
If you can only do one backpacking trip in the White Mountains, make sure it's the Pemigewasset Loop. It likely won't be long before this trail ends up as part of a permitting process since it has increased in popularity in the past few years.
The traditional starting point of the loop is at the Lincoln Woods Visitor Center. When you hit the Osseo trail junction, you can continue left to begin your ascent to Mount Flume or right to go up Bondcliff. Most hikers go left and continue the loop in a clockwise direction. There are several designated campsites and AMC huts that you can choose from while traversing this loop. If you want to stay at a hut, make sure to book well in advance since some sell out fast.
This loop will bring you to the iconic Franconia Ridge, and although this is one of the most scenic ridges in the country, weather changes fast here and it's above the treeline the entire time. If bad weather is in the forecast, consider doing this trail another day.
Pro tip: you can fill up on water at any AMC hut for free (during the season) if you don't want to bring a water filter with you.
Related read: The Ultimate Fall Color Guide for the White Mountains, New Hampshire
2. Lonesome Lake Hut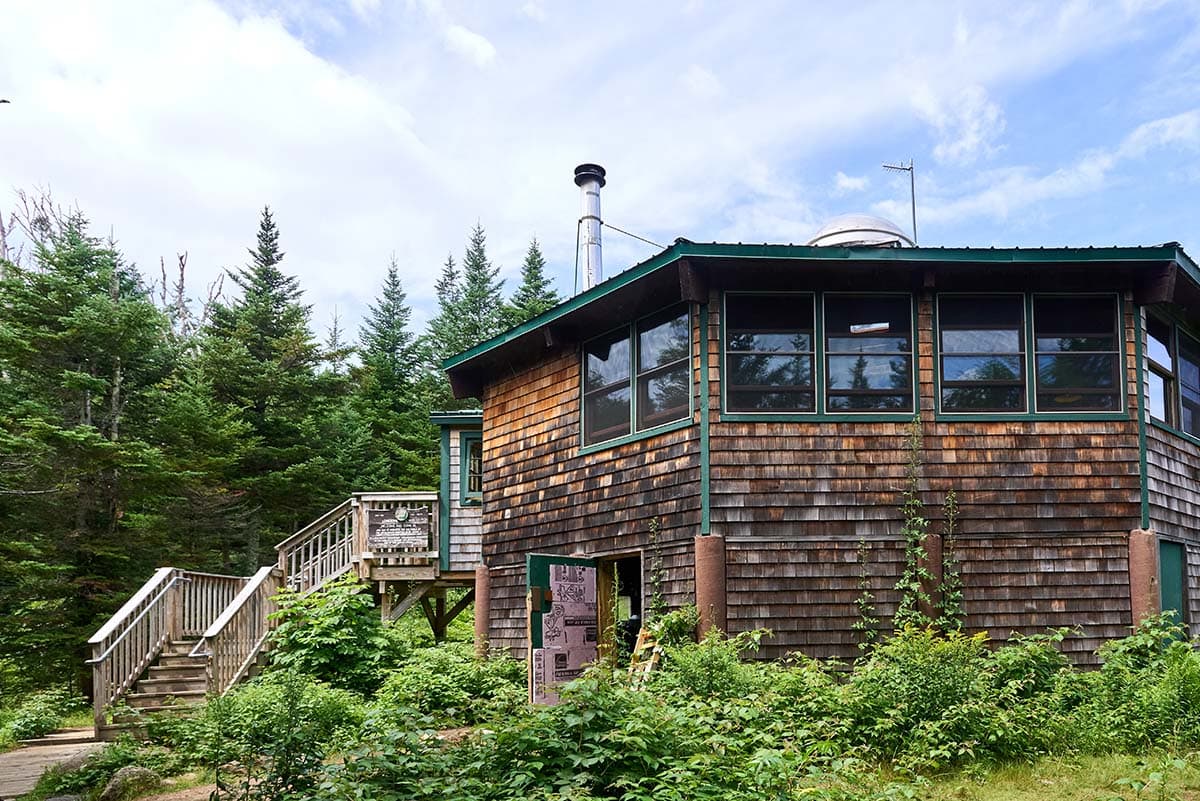 Why you should go: view gorgeous sunsets across the lake while enjoying some hot food you didn't have to make.
Distance: 3 miles (out-and-back)
Elevation gain: 1,030'
Difficulty: easy
Days on the trail: 2 days
While every other visitor is heading to the Flume Gorge on the eastern side of Highway 93, head to the parking lot at Lafayette Campground. This area is also popular for day hiking but there is a separate parking area for overnight guests. You follow along the same trail day hikers use to get to the Lonesome Lake Hut.
Although the trail is one of the shortest on this list, it keeps a steady incline until you reach the lake. The trail is flanked by forests that are beautiful no matter the season, but especially in the autumn. And what's extra wonderful about staying at Lonesome Lake is that it's open year-round (although the full-service kitchen is only available seasonally).
Once you make it to the hut, you can look across the water to view the iconic Franconia Ridge. If you're here during the full-service season (early June to mid-October), you'll get served a full dinner and breakfast. You'll also be gifted with some naturalist programs and likely a hilarious song and dance routine from the hut's croo (aka the seasonal workers).
Pro tip: Bring your bathing suit – you can swim in the lake.
3. The Presidential Traverse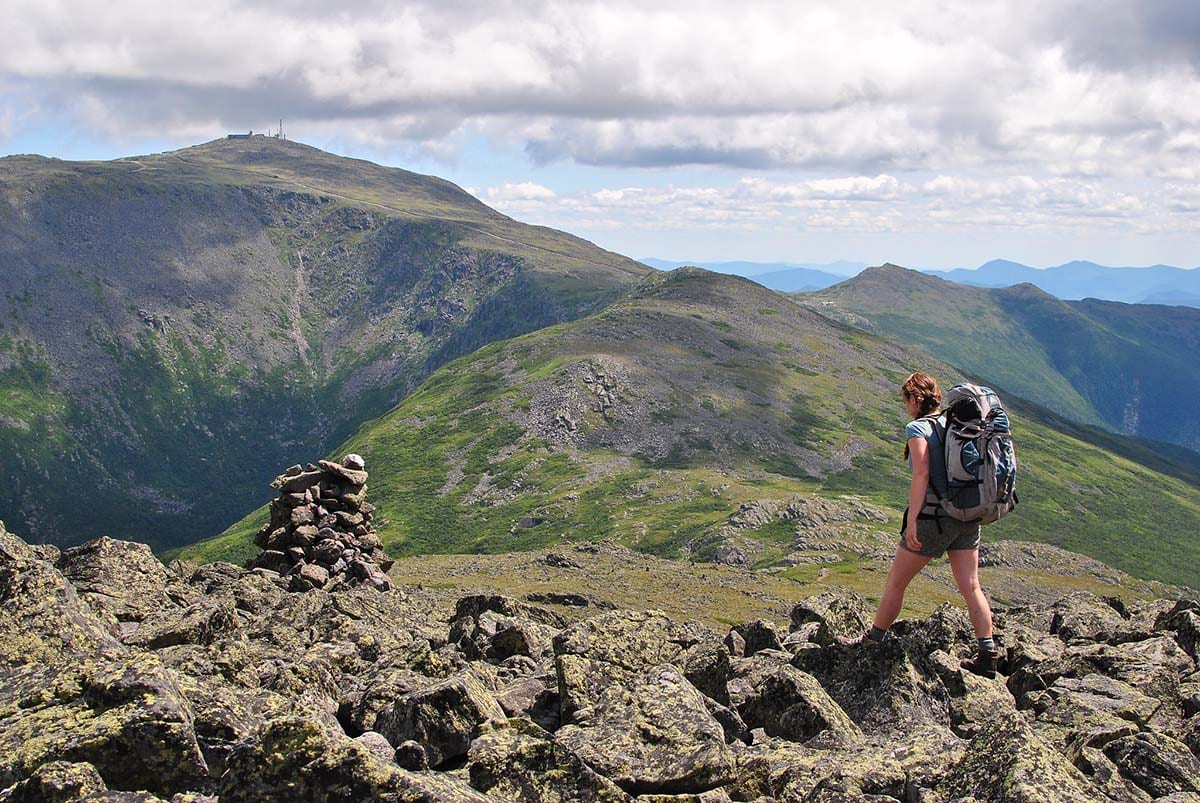 Why you should go: bag ten four-thousand-footers in one go.
Distance: 22 miles (point-to-point)
Elevation gain: 8,250
Difficulty: strenuous
Days on the trail: 2-3 days
Some of the most iconic views in the White Mountains can be found along the Presidential Traverse. It gets its name from the various mountain peaks it passes, which are all named after former presidents. Most hikers begin their journey at the northern end and make their way south, but you can do whichever way you'd like.
The highest point you'll reach is over 6,000 feet when you hike up Mount Washington. It's about halfway through the hike and a perfect spot to grab some food that isn't freeze-dried. You can do this hike in one day, but it's a grueling and relentless climb only attempted by advanced hikers. For those wanting to take it "easy", book overnights at the AMC huts so you don't have to worry about bringing a tent or tons of food.
4. Mountain Pond
View this post on Instagram
Why you should go: to get used to sleeping under the stars without being too far from your car.
Distance: 2.5 miles (loop)
Elevation gain: 75'
Difficulty: easy
Days on the trail: 2 days
Not everyone is used to packing up enough clothes, food, and equipment for days on end. Some might need to ease into the idea of backpacking. The loop around Mountain Pond is perfect for those novice backpackers or for parents who want to get their kids into backpacking.
There are several spots along the pond where you can set up camp. About a half-mile in, you'll see an established campsite to the right of the trail on the northern side of the pond. Another half-mile will bring you to a lean-to if you need something a bit more sturdy.
The area is less crowded than many other spots in the Whites which also means there is a higher likelihood of witnessing wildlife. Bears, beavers, and moose frequent the area, so make sure to keep your food safe in a bear canister or hang a bear bag. Bring your fishing pole too since the pond is filled with trout and rainbow smelt.
5. Black Angel Trail
View this post on Instagram
Why you should go: to avoid all the other crowds.
Distance: 18 miles (out-and-back)
Elevation gain: 5,800'
Difficulty: moderate to strenuous
Days on the trail: 2-3 days
This lesser-known path is hidden within the Wild River Wilderness and is…well, wild. The trail is sometimes not well-marked and service is extremely spotty. Since this trail is so quiet and remote, the chances of seeing wildlife is high. This means you should be prepared with bear spray (it works on more than just bears) and store your food appropriately.
The trail itself is fairly challenging and not the easiest hike if it's your first time backpacking. But it is also doable for most people who have backpacked before and want some solitude. Most of the trail traverses old-growth forests and eventually crosses the Wild River. If you go during the spring runoff, the river might be too hazardous to cross but most other times it's easily done.
Pro tip: go during peak fall foliage season (late September to mid-October). This trail is one of the best places to view the sea of changing leaves.
6. The Bond Traverse
View this post on Instagram
Why you should go: a classic White Mountains backpacking trip that won't completely wreck you.
Distance: 20 miles (point-to-point)
Elevation gain: 4,000'
Difficulty: moderate
Days on the trail: 2-3 days
The Zealand Bonds Traverse trail starts at the Zealand Falls trailhead and heads south. Stop in at the Zealand Falls Hut to fill up on water or snag a piece of chocolate cake. The trail ascends more steeply at this point until you arrive at Zeacliff Mountain. This will be your first grand view of the mountains within the Pemigewasset Wilderness. It will also mark the end of most of the ascent on the trail so take a well-deserved break before continuing.
There is no view on Mount Zealand but you might as well bag that summit since it's part of the four-thousand-footer club. Then you head to Mount Guyot, Bond, and then finally Bondcliff. The latter is considered one of the best views in all of the White Mountains. Chances are, you've likely seen a photo of someone posing on its western cliff. The trail then ends at the Lincoln Woods parking lot where, hopefully, you've worked out a shuttle to get back to your car.
Pro tip: drive along the "Kank" (aka the Kancamagus Highway) and take in even more views.
Explore More in New Hampshire
Get epic travel ideas delivered to your inbox with Weekend Wanderer, our newsletter inspiring thousands of readers every week.
Was this article helpful?
---