We research, evaluate and select travel destinations based on a number of factors, including our writers' experience, user reviews and more. We may earn a commission when you book or purchase through our links. See our editorial policy to learn more.
---
From the sun-drenched deserts of the Southwest to the picturesque coastlines of the Northeast, nothing quite screams adventure more than the experience of waking up in a yurt.
With roots in Central Asia, a yurt is a portable and circular tent that's been in use for centuries thanks to its sturdy lattice framework and weather-resistant covering. Today, yurts are becoming an increasingly popular lodging option for outdoor travel in the U.S. and around the globe.
What makes staying in a yurt extra special is the opportunity to immerse yourself in stunning landscapes while enjoying the comforts of a cozy, functional, and sometimes even luxurious space. Whether you crave seclusion, seek natural beauty, or yearn for a digital detox, countless yurt retreats across the U.S. offer an escape from the ordinary.
Here are just a few of the best yurt rentals in the country, where you can enjoy both rustic charm and modern conveniences amongst some of the most beautiful landscapes in the country.
1. DuPont Yurt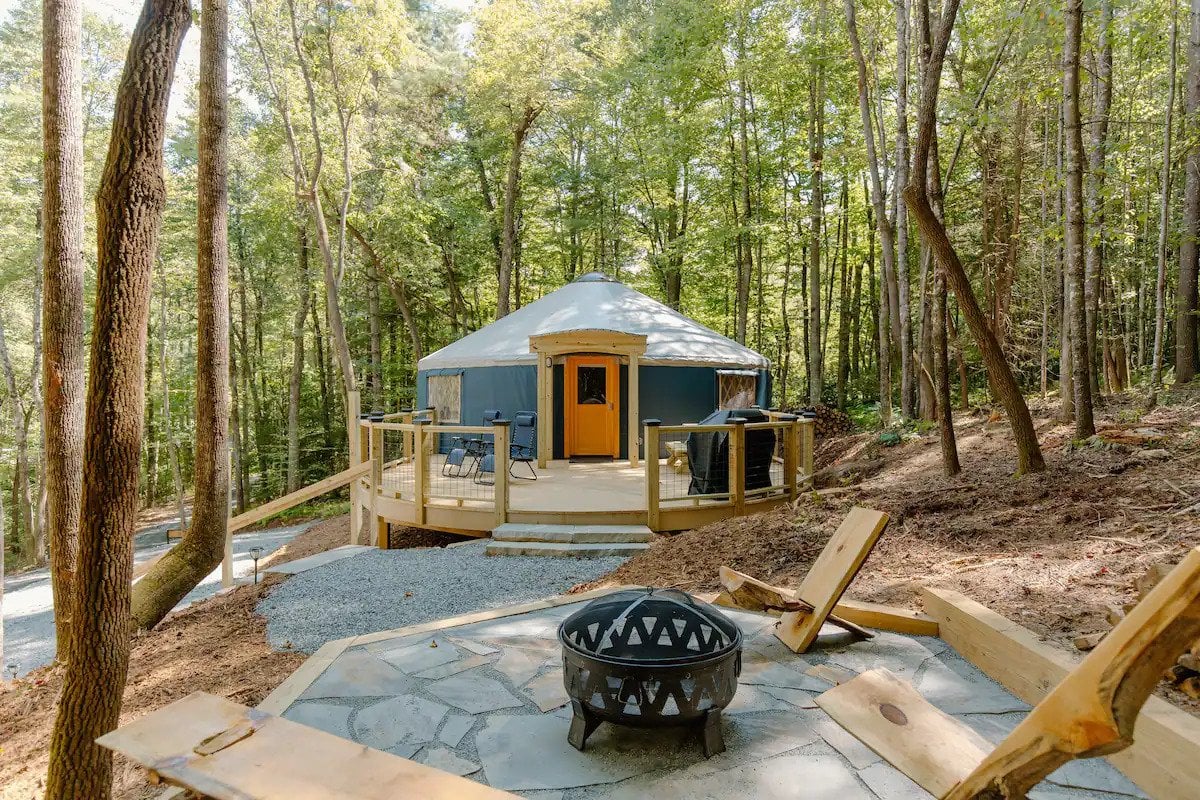 Why you should stay: An upscale yurt immersed in the Blue Ridge Mountains of North Carolina.
Characterized by its warm and inviting atmosphere, the DuPont Yurt sits on prime real estate just minutes from DuPont State Recreational Forest. Known for its many waterfalls and mountainous hikes, the forest is a nature-lovers haven.
While at the yurt, guests can fire up the grill on the deck or roast marshmallows over the fire pit. The yurt's layout has been carefully optimized to host four comfortably in two private bedrooms and a full bathroom.
Check Availability
Related read: 10 Unique Places to Stay in North Carolina
2. Birdsong Yurt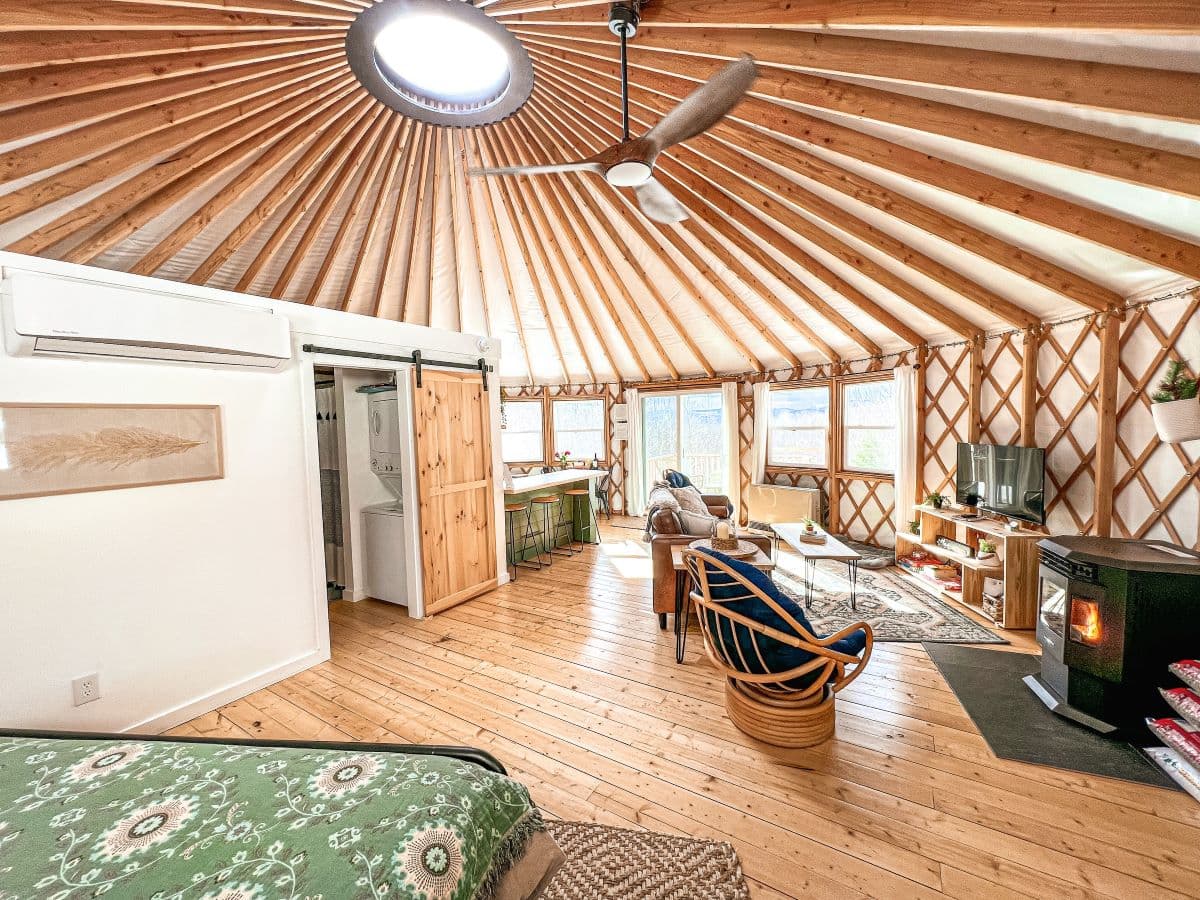 Why you should stay: A yurt nestled in the mountains of western Maine with a hot tub.
The Birdsong Yurt is a 30-foot yurt that is effortlessly cozy. This two-bedroom tent ticks all the boxes for a comfy stay, featuring a pellet stove, an onsite laundry machine, and a modern bathroom with a rain shower.
But you'll want to spend most of your time out on the deck thanks to the hot tub, fire table, and grill. Guests at Birdsong have plenty to do in the area, including skiing nearby Mt. Abrams and exploring the vast wilderness of White Mountain National Forest.
Check Availability
Related read: 12 Magical & Unique Places to Stay in Maine
3. Cherry Blossom Yurt
Why you should stay: One of two homey yurts with far-reaching panoramic views of Georgia's Lookout Mountain.
Just 30 minutes outside of Chattanooga, Tennessee, you'll find the Cherry Blossom Yurt perched atop a grassy slope. The yurt boasts all the comforts of home you'd expect in a vacation rental and features a king mattress and sofa bed for groups of four.
On clear days, guests are treated to colorful sunsets and glittering stars over the valley, best enjoyed from the deck. The nearby Lookout Mountain is an exciting travel destination home to Rock City Gardens and Cloudland Canyon State Park.
Check Availability
Related read: 12 Fantastic Glamping Destinations in Georgia
4. Wild+Wander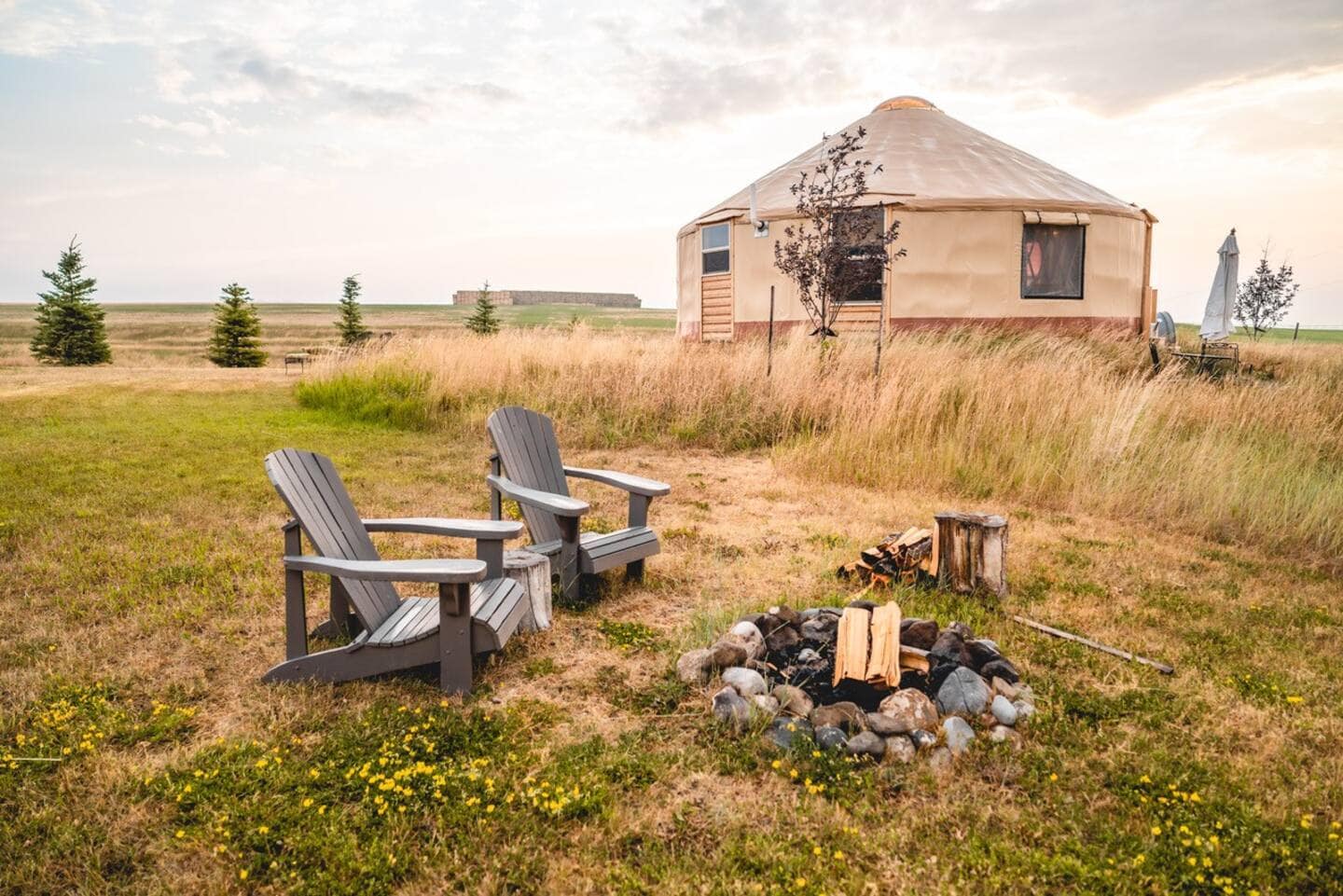 Why you should stay: An inviting 30-foot yurt for two nestled on a rural five acres in southwest Montana.
Tucked away in a picturesque meadow framed by mountains lies Wild+Wander. This charming yurt is only 20 minutes outside of Bozeman but feels like a postcard image of epic wilderness.
The yurt's stove will keep you warm in the winter, and the claw foot tub offers a soothing place to relax any time of year. Guest Cora shared, "The inside of the yurt was so gorgeous, a lovely welcome basket with goodies was waiting for our arrival, and it just felt like a little piece of heaven." Best of all, thanks to limited light pollution, guests are often treated to clear stargazing from the hot tub.
Check Availability
Related read: 11 Montana Glamping Rentals for an Upscale Outdoor Stay
5. Shenandoah Yurt
Why you should stay: A luxurious wooden yurt with five-star amenities located a mile from Virginia's Shenandoah National Park.
The Shenandoah Yurt is the epitome of upscale accommodation in the Blue Ridge Mountains, and you won't believe it's a yurt! That's because this spacious getaway features two stories and unique amenities like a pool table, hot tub, and EV charger.
When you're not off hiking the Shenandoah National Park trails or cruising along Skyline Drive, the yurt's spacious deck and firepit provide a lovely place to lounge with loved ones. Other unique amenities include onsite archery and e-bike rentals offered by the hosts.
Check Availability
Related read: 11 Cozy & Natural Glamping Destinations in Virginia
6. Lofthaven Treehouse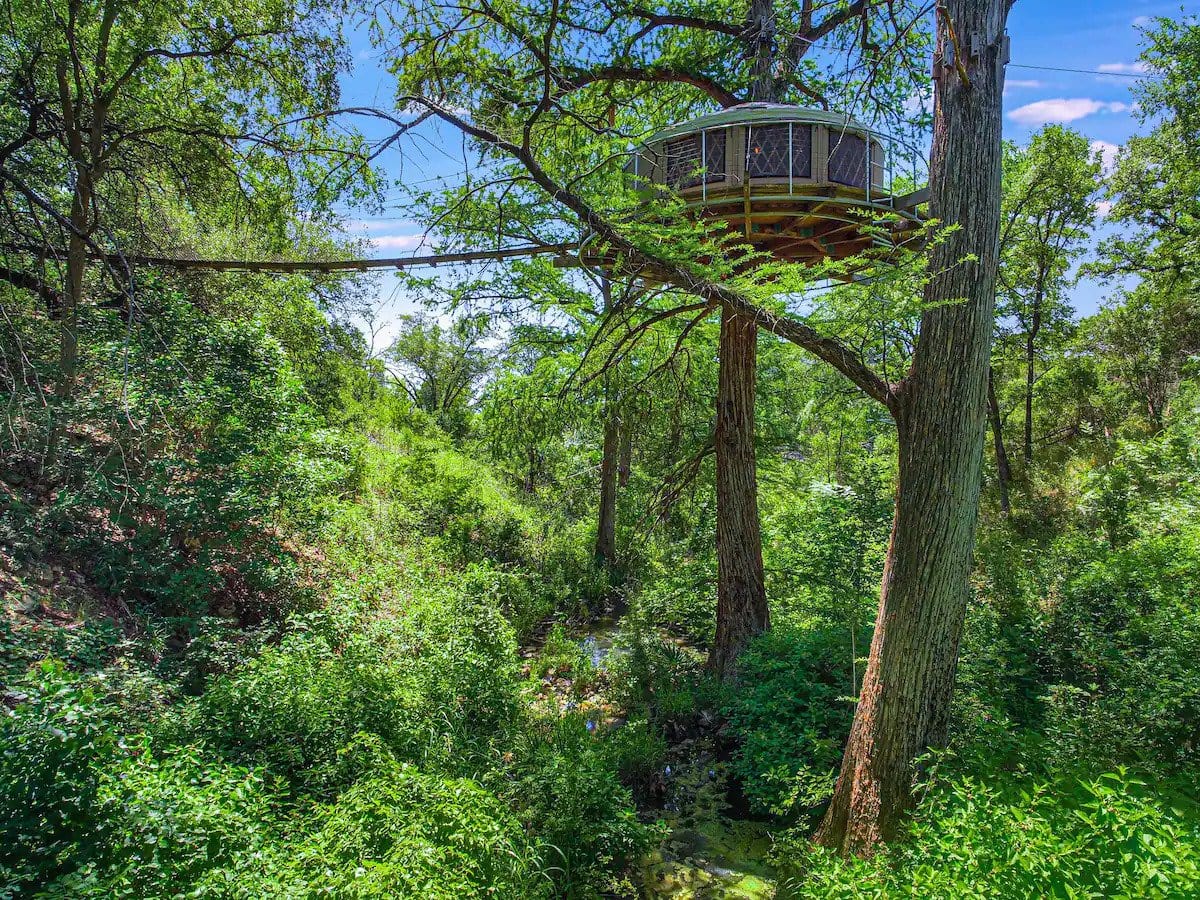 Why you should stay: A studio yurt situated 30 feet up into the side of a Cypress tree in Spicewood, Texas.
The Lofthaven Treehouse is a yurt-turned-treehouse that lets guests wake up with the birds and relish the scenic rolling hills of the Texas Hill Country. Inside, the impressive cypress tree trunk passes through the living space, creating an eye-catching centerpiece.
The bathhouse and kitchenette are on a nearby ravine that's reached via a thrilling 40-foot suspension bridge. Best of all, a heated soaking tub with a rocky waterfall awaits in the bathhouse. Austin is just 45 minutes away by car, making Lofthaven a convenient place to escape the city.
Check Availability
Related read: 11 Best Texas Swimming Holes to Beat the Summer Heat
7. The Yurt at Echo Hill Farm
Why you should stay: A glamping-style yurt nestled on an idyllic farm less than 30 minutes outside Manchester.
At The Yurt at Echo Hill Farm, guests are greeted by the sights and sounds of a local farm and a blooming garden away from the hustle and bustle of daily life. Inside, a large skylight at the center of the ceiling lets sunlight and the twinkle of starlight fill the space.
A seasonal outdoor shower and a sparkling clean outhouse are available just outside of the yurt. This charming escape is located in southeastern New Hampshire, near Bear Brook State Park and Pawtuckaway State Park, where visitors can hike, picnic, and swim.
Check Availability
Related read: 20 Honest Pros & Cons of Living in New Hampshire
8. Be Well Yurt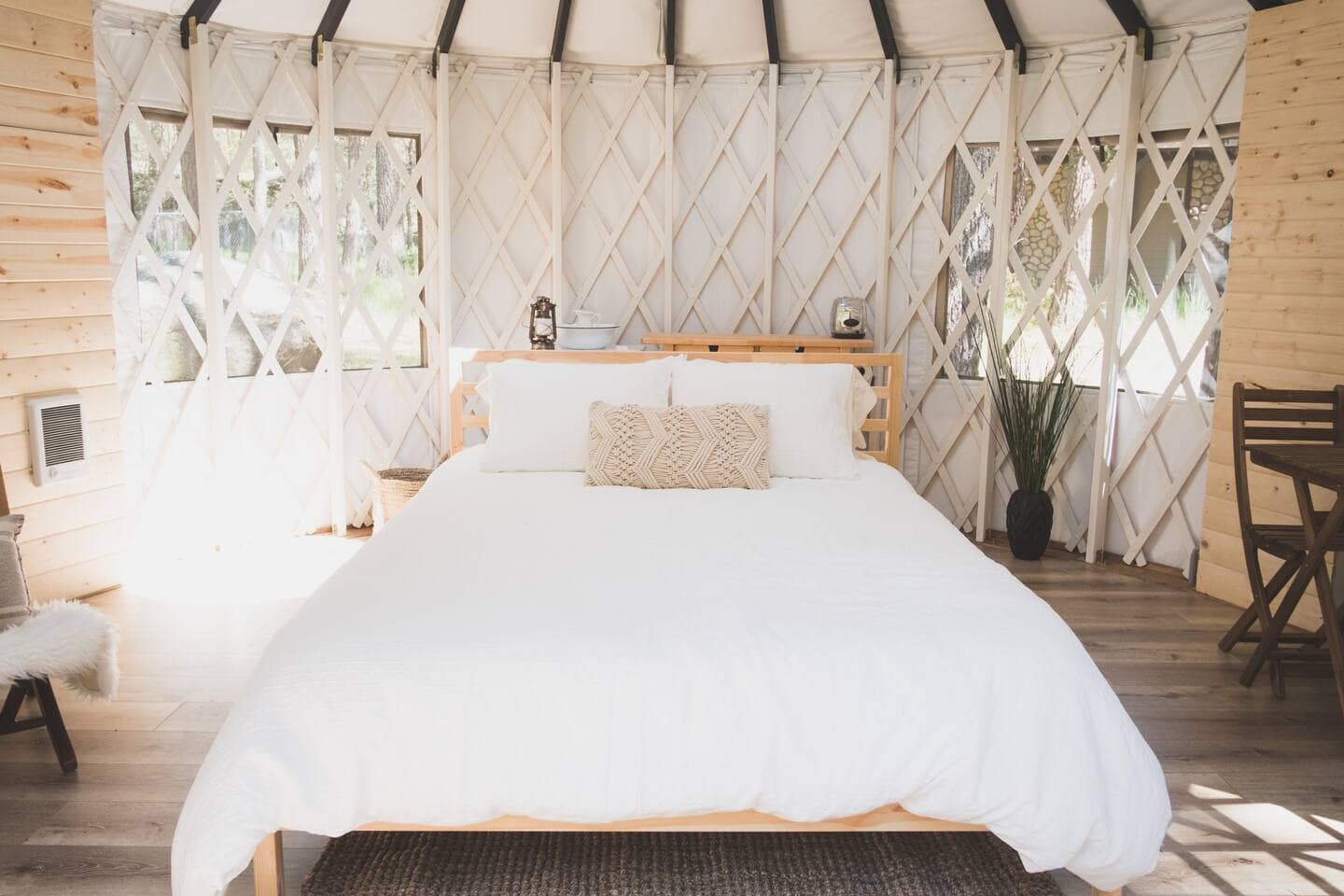 Why you should stay: A bohemian dream for two in the woods of SoCal's San Jacinto Mountains.
At the Be Well Yurt, guests are treated to stylish bohemian decor and thoughtful touches like the scent of fresh eucalyptus and complimentary coffee. The screened entrance lets in a fresh breeze and the sounds of the passing Strawberry Creek, all while keeping pests out.
The yurt features a Tempurpedic memory foam mattress, a dreamy hammock, high-speed WiFi, and a detached private bathhouse. The Be Well Yurt is nestled in Idyllwild-Pine Cove, a charming mountain destination that's surprisingly close to LA, Orange County, and the Inland Empire.
Check Availability
Related read: 11 Breezy Oceanfront Camping Spots in California
9. Zion Backcountry Yurt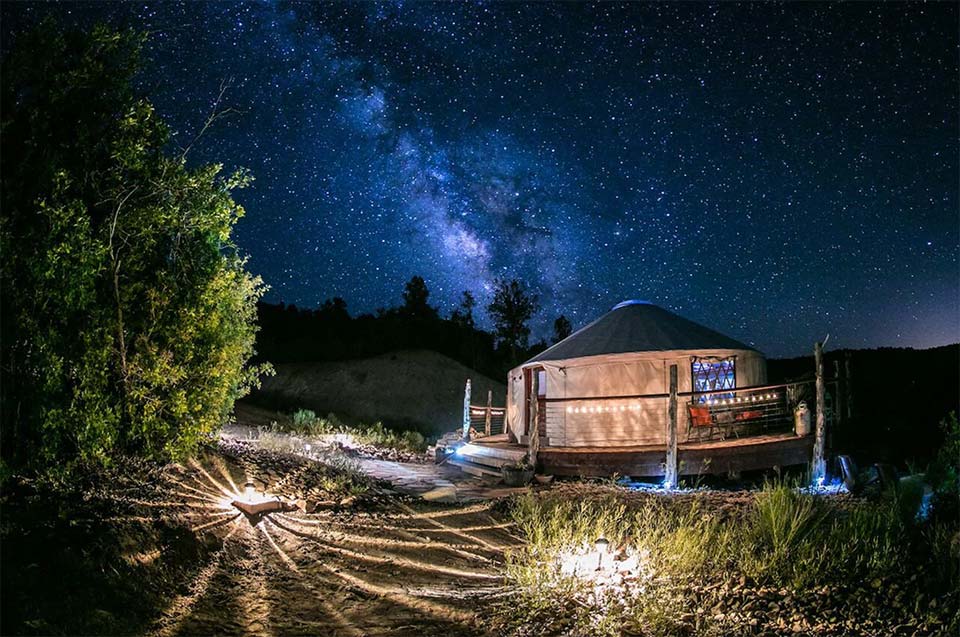 Why you should stay: A seasonal camping yurt perfect for large groups situated just 45 minutes from Zion National Park.
Escape the daily rat race with a stay at the Zion Backcountry Yurt. You won't find running water, electricity, or cell reception here…only the tranquility of waking up amongst Utah's incredible landscapes.
Though the yurt doesn't have running water, guests can access a bathhouse in a separate building just a short walk away. The yurt is also equipped to sleep up to 12 guests if needed via a mix of double and single beds as well as hammocks.
Check Availability
Related read: 11 Beautiful Glamping Spots Near Zion National Park
10. Creede Yurt
Why you should stay: A rustic yurt in the heart of the San Juan Mountains with front-seat views of East Willow Canyon.
The Creede yurt offers a remote getaway near Creede, Colorado, a silver mining town that acts as a gateway to some of the state's most exciting remote destinations. A 4WD vehicle is needed to access the yurt, and in the winter, it's only reachable via a two-mile snowshoe or cross-country ski trip.
In classic backcountry fashion, there's no WiFi or cell service, but there is an in-yurt bathroom and complimentary firewood for your comfort. Guest Tyler shares, "This place is magical and a great reminder of how important it is to put your phones down and be present. The views are breathtaking, and the yurt is perfect."
Check Availability
Related read: 8 Small Towns in Colorado for Outdoor Enthusiasts
11. Chama River Yurt
Why you should stay: A desert oasis for five in northern New Mexico's Chama River Valley.
Located about an hour from Santa Fe is the vibrant Chama River yurt. The interior is decked out in calming desert hues and fantastic art pieces that reflect the surrounding Southwest environment.
This property also features a standalone bathroom and a meditation station where you can collect your thoughts while taking in the sweeping views of the river valley. This yurt is located in Abiquiu, a small town once known for the white sandstone formations of Plaza Blanca – It's also the town that Georgia O'Keeffe once called home.
Check Availability
Related read: 10 Adventurous Glamping Destinations in New Mexico
12. YurtCation
Why you should stay: A lakeside yurt nestled on a sprawling 43 acres of America's Dairyland.
Conveniently located between Madison and Milwaukee, YurtCation offers an escape to Wisconsin's idyllic countryside. This little yurt for two sits along a quiet lake that provides the perfect place to kayak, free of crowds.
In the summer, the water's surface comes alive with pops of lily pads, and the wood stove offers a cozy place to stay warm in the winter. Those interested can set up a meet-and-greet with one of the host's horses.
Check Availability
Related read: 11 Unique Places to Stay in Wisconsin for an Unforgettable Getaway
13. Otter Rock Surf Yurt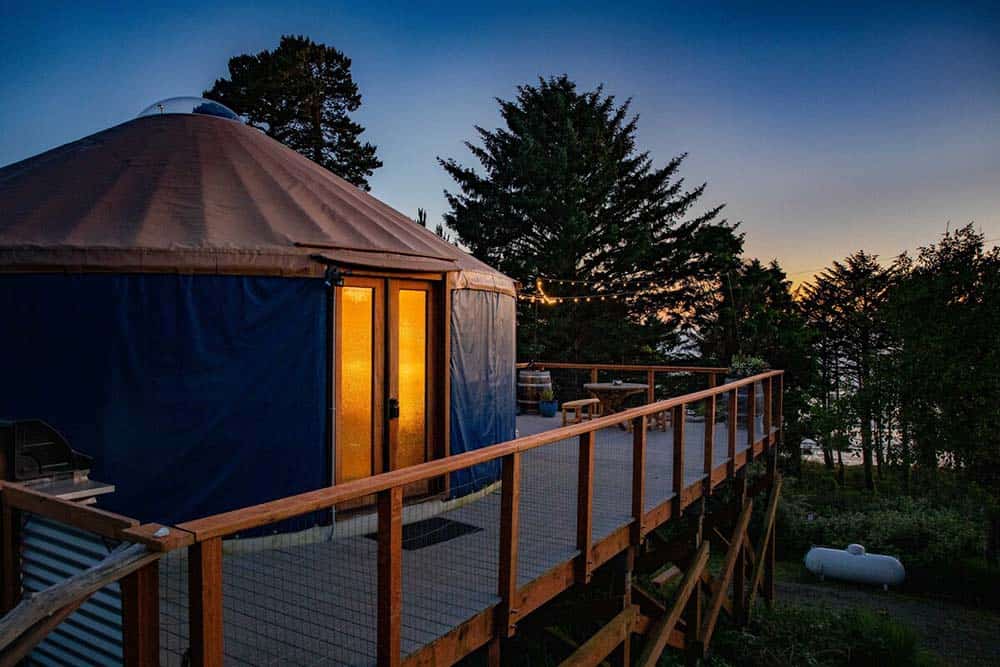 Why you should stay: A pet-friendly yurt on the Oregon Coast just minutes from the famed Devils Punchbowl.
The sights and sounds of the Pacific Ocean welcome you at Otter Rock Surf Yurt. Stand-out features of this quaint abode for two include the wraparound deck and outdoor shower (complete with hot water). Plus, it has an open floor plan with two futons, a living room, and a kitchen – it truly is a home away from home.
This welcoming yurt is ideally located within walking distance of Otter Rock State Park, where you can explore some of Oregon's most famous coastal landmarks. The town of Otter Rock is near other popular destinations, including Newport and Rocky Creek State Scenic Viewpoint.
Check Availability
Related read: 25 Stunning Hikes on the Oregon Coast
Find Your Next Adventure
Get epic travel ideas delivered to your inbox with Weekend Wanderer, our newsletter inspiring thousands of readers every week.
---