We research, evaluate and select travel destinations based on a number of factors, including our writers' experience, user reviews and more. We may earn a commission when you book or purchase through our links. See our editorial policy to learn more.
Was this article helpful?
---
The Tar Heel State has everything adventure lovers need for a rip-roaring good time, from mountains, beaches, and epic places to stay.
With about 2,700 named mountains and a few internationally known destinations up its sleeve, North Carolina has a lot going on. Two top destinations need no introduction, but if exploring the state's 2,200-mile long Appalachian Trail or the Great Smoky Mountains isn't on your to-do list, you best get on it!
The state is also home to incredible scenic drives like the famed Blue Ridge Parkway, which attracts thousands of color chasers in the fall. And out east, an idyllic stretch of coastline aptly named the Crystal Coastal makes for a perfect summer getaway.
There's no better way to relish North Carolina's one-of-a-kind attractions than with a stay in an equally unique vacation rental. So before you venture to the great wild yonder of the American southeast, check out these über unique places to stay in North Carolina.
1. The Butterfly House
Why you should stay: An architectural wonder perched amongst the rolling hills of the Appalachian Mountains.
Location: Highlands
Sleeps: 6
Minimum stay: 3-7 nights
Rates start from: $445/night
At The Butterfly House, you don't need to venture far to enjoy the tranquility of nature. Towering glass walls enclose the living room allowing sunshine and the forest to take center stage. The views are complemented beautifully by natural elements, including wooden surfaces, a grand stone fireplace, and an exposed rock accent wall.
There are multiple spaces for guests to relax both inside and out, but the home's outdoor balconies and decks can't be beaten. Perched above the treetops, a cascading waterfall and mountain vistas are on show from the spacious deck. North Carolina's Highlands is home to the scenic beauty of the Nantahala National Forest and many noteworthy waterfalls.
Check Availability
Related Read: 10 Incredible Glamping Spots Near Asheville, North Carolina
2. High Hampton Resort
Why you should stay: A historic and luxurious inn nestled in North Carolina's High Country.
Location: Cashiers
Sleeps: 2-4
Minimum stay: 2nights
Rates start from: $/night
Welcoming visitors for over 100 years, the High Hampton Resort is outdoorsy lodging at its finest. The inn offers classic rooms or bookings in spacious and private cottages or log cabins. All reservations include daily breakfast and dinner prepared with the finest local ingredients.
Situated on a sprawling 1,400 acres, guests can make the most of the meandering hiking trails surrounding the resort. If hiking isn't your thing, the resort also features a swimming pool, fitness center, and an 18-hole golf course. There's even outdoor gear available for guests to use on the property's lake, including kayaks and canoes. After you've had your fill of adventure, pamper yourself with a spa sesh where facials, massages, and more are on offer.
Check Availability
Related read: 8 Charming North Carolina Tiny Home Rentals
3. The Overlook
Why you should stay: An adults-only glamping dome designed to be a couple's retreat in nature.
Location: Hendersonville
Sleeps: 2
Minimum stay: 2 nights
Rates start from: $259/night
The Overlook is a geodesic dome tent brimming with character. The interior is decked out in modern decor and features a colorful mural that pays homage to North Carolina's mountains. And while there isn't a full kitchen inside, there are simple appliances like a microwave for basic food prep.
The dome also features a transparent wall that allows the glint of stars to stream in as you fall asleep. Or you can stargaze next as a fire blazes in the nearby fire pit. Feet from the tent, an inflatable hot tub sits along the passing creek where you can soothe your cares away. Asheville is about 30 minutes north of this glamping resort.
Check Availability
Related Read: 10 Can't-Miss Glamping Sites Near Great Smoky Mountains National Park
4. Acute Point of View
Why you should stay: A spacious, pyramidal cabin not far from the Appalachian Trail.
Location: Wolf Laurel
Sleeps: 8
Minimum stay: 3 nights
Rates start from: $325/night
Escape to the Blue Ridge Mountains at Acute Point of View, a unique pyramid home that's not only cozy but a sight to see. This large four-bedroom is situated at an elevation of 4,700 feet and offers unobstructed views of the surrounding mountains. Inside, four floors, two living rooms, and a dining table for eight welcome your large group with open arms.
Not to mention, you'll find a third lounge area located at the top of the home's red spiral staircase, all of which is illuminated by a glass skylight. Around the house, an expansive deck offers even more lounge space. You'll find this unique North Carolina vacation rental in a prime spot near Asheville's bustling downtown streets and popular hiking trails.
Check Availability
Related Read: 11 Most Beautiful Swimming Holes in North Carolina
5. The Summit Cabin
Why you should stay: A remote and pet-friendly cabin that borders the incredible hiking trails in the Pisgah National Forest.
Location: Barnardsville
Sleeps: 4
Minimum stay: 2 nights
Rates start from: $86/night
Go off the grid at The Summit Cabin, a tiny cabin in the woods with a private, second-story bedroom. This unique glamping cabin features a kitchenette and an ensuite bathroom with a composting toilet and hot showers. Connected to the separate bedroom is a little balcony where you can soak up the mountainous overlook.
The cabin also has a lovely outdoor seating area complete with a grill and fire pit where you can truly enjoy the tranquility of the forest. A short uphill hike is required to reach the cabin, with parking available near the trailhead.
Check Availability
Related Read: 14 Best Glamping Destinations in North Carolina
6. The Aerie
Why you should stay: A picturesque treehouse in the woods only ten minutes from Asheville.
Location: Woodfin
Sleeps: 4
Minimum stay: 1 night
Rates start from: $290/night
The Aerie is a cozy cabin that's reminiscent of a birdhouse, and in fact, its name even means "large nest." But its idyllic birdhouse theme isn't this cabin's only unique attribute. Pops of color and eclectic art fill the space, illuminated by an octagonal picture window. French doors open the main bedroom to a private balcony and a spectacular view.
And in the kitchen, a wine barrel island provides stool seating for meals. This larger-than-life birdhouse is immersed in the woods and is one of seven units on a resort dubbed Treehouses of Serenity.
Check Availability
Follow 'em: @treehouses_of_serenity
7. Getaway Asheboro
Why you should stay: A modern glamping resort with tiny home rentals on the outskirts of Asheboro bordering the North Carolina Zoo.
Location: Asheboro
Sleeps: 2-4
Minimum stay: 1 night
Rates start from: $139/night
Getaway Asheboro takes the fuss out of camping with their modern, beautifully decorated tiny cabins. Every cabin is decked out with an attractive wooden interior, a well-appointed kitchenette, and a private bathroom with hot showers. At the end of each cabin, an expansive window frames the wooded property beautifully.
There are 32 cabins spaced out for privacy on the resort grounds, as well as an idyllic pond. When booking, you can take your pick between a queen or queen bunk cabin with a water or forest view. Dogs are more than welcome to stay and are greeted with a small treat and basic doggy supplies for a comfortable stay.
Check Availability
Related Read: 10 Cool Airbnbs Near Great Smoky Mountains National Park
8. Rocky Top
Why you should stay: A wooden yurt atop a rocky outcropping not far from top ski resorts and the Mile High Swinging Bridge.
Location: Banner Elk
Sleeps: 2
Minimum stay: 2 nights
Rates start from: $135/night
Rocky Top is a quaint little cabin that can be found in Boulder Park, a small glamping resort in North Carolina's Eagles Nest community. There are many attractions for visitors to enjoy in this neck of the woods, from skiing at Sugar Mountain, golfing at the Elk River Club, or hiking Grandfather Mountain.
The warm and inviting interior is outfitted with knotty cedar surfaces, a plush king bed, and kitchen basics. A sparkling clean bathhouse is available for guest use, featuring flush toilets and walk-in showers. A 300-foot rocky climb is required to reach the cabin, but it's well worth the effort because impressive mountain peaks greet you at the top.
Check Availability
9. The Tiny House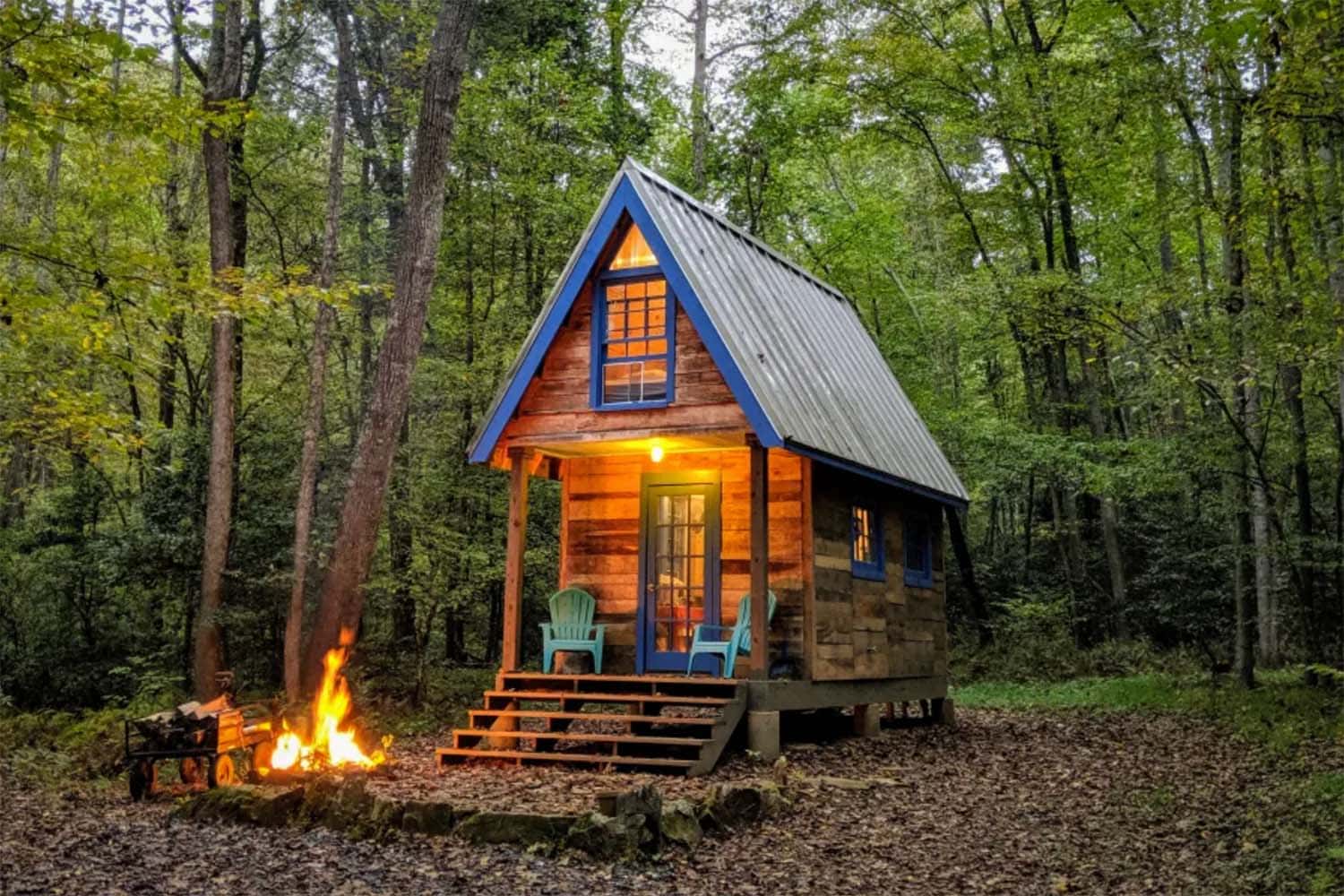 Why you should stay: A storybook tiny cabin tucked in the foothills of the Blue Ridge Mountains.
Location: Happy Valley
Sleeps: 3-9
Minimum stay: 2 nights
Rates start from: $105/night
You'll find The Tiny House snuggly nestled in North Carolina's Happy Valley, and with a name like that, you're sure to have a fantastic time. Not far from noteworthy places like Ripshin Mountain and the Yadkin River, there's plenty to keep outdoor enthusiasts busy.
The tiny cabin sleeps up to three, but larger groups are welcome to pitch tents or bring an RV. The hosts also offer exciting extras like private yoga classes or a wood-fire sauna for booking. Other cozy touches include a wood-burning stove, a full kitchen, and a plush window seat.
Check Availability
Related Read: 11 Incredible Treehouse Rentals in North Carolina
10. The Caboose at Station 451
Why you should stay: An old-school caboose turned vacation rental in the scenic Maggie Valley between the Smokies and the Blue Ridge Mountains.
Location: Waynesville
Sleeps: 4
Minimum stay: 2 nights
Rates start from: $279/night
All aboard at The Caboose at Station 451 where hospitality is at the forefront of every stay. Not only do the hosts provide complimentary firewood and coffee supplies, but also plush bath robes for use during your stay. As an added bonus, the entrance to the Great Smoky National Park is about an hour and a half away.
Guest Steve shares, "We enjoyed relaxing on the deck of the bathhouse and by the fire pit with the sound of the waterfall in the background. Nice touches by the owner included a small selection of adult beverages waiting in the refrigerator upon our arrival."
Check Availability
Follow 'em: @caboosestation451
Explore North Carolina
Get epic travel ideas delivered to your inbox with Weekend Wanderer, our newsletter inspiring thousands of readers every week.
Was this article helpful?
---