Skip the hassle of hauling gear and setting up camp with one of these fantastic glamping spots in Georgia.
Although best known for southern hospitality (and juicy peaches!) Georgia's landscape is one to be reckoned with. Full to the brim with sprawling greenery begging to be explored, this southern state rocks an impressive park system that protects miles of pristine forest, mountain ridges, and waterfalls.
But what many people don't realize is that Georgia also has a lovely wine scene. Scattered throughout the North Georgia Mountains, people from around the country come to sip, hike, and admire the vineyard views.
One of the absolute best ways to experience the state's beauty is by booking an equally beautiful glamping rental in Georgia. Take your pick from well-appointed yurts, whimsical treehouses, pre-pitched tents, and so much more. Check out the list below for 12 of the most popular places to glamp in Georgia.
Related: The 12 Coolest Airbnbs in Atlanta, Georgia
1. The Airstream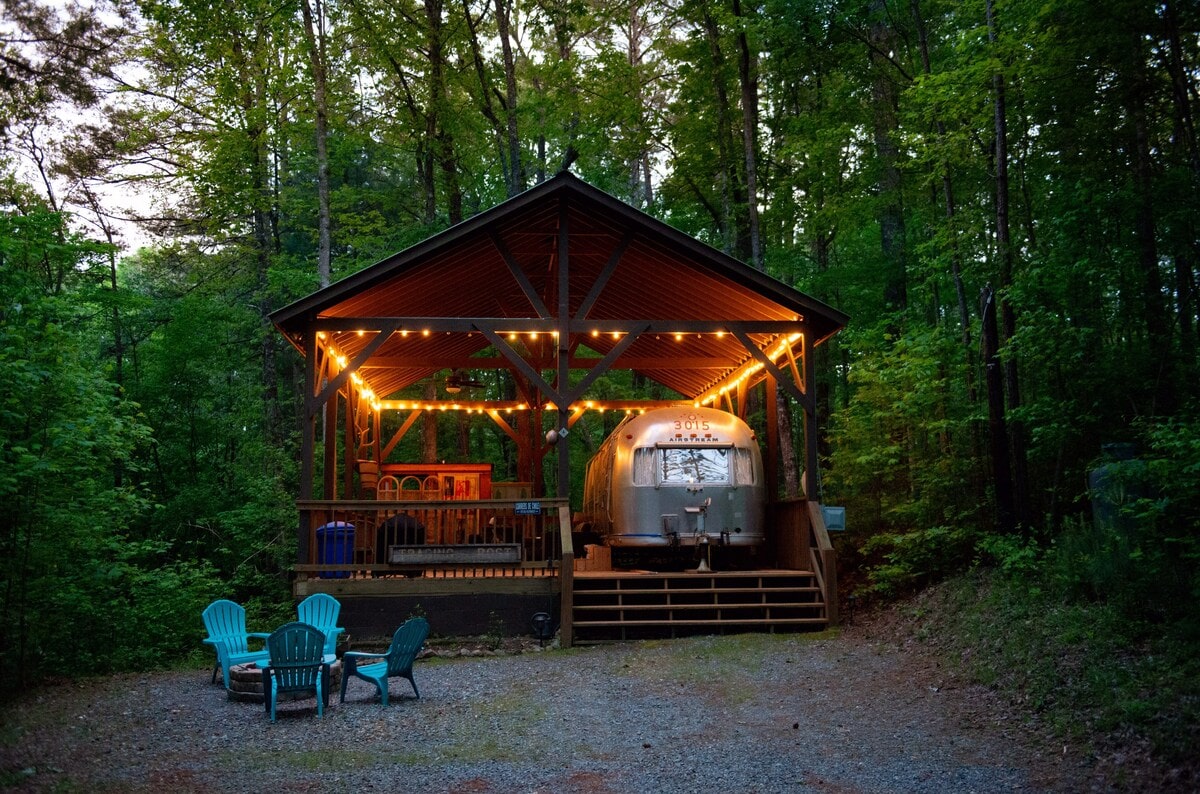 Why you should stay: Vintage trailer near the Appalachian foothills of northern Georgia.
Location: Ellijay
Sleeps: 4
Minimum stay: 2 nights
Rates from: $114/night
The Airstream transports campers to the retro-stylings of the 1970s with the added comfort of updated amenities. This silver beauty sits underneath a spacious wooden pavilion furnished like an outdoor living room, equipped with sofas, a table and chairs, an outdoor shower, a clawfoot tub, and a grill.
A full bed and two twins are set up inside to comfortably accommodate small groups. The interior also features an indoor toilet and shower as well as a kitchen nook stocked with s'mores ingredients, coffee and tea basics, and bottled water. Downtown Ellijay is just 15 minutes from the property. There are also a few nearby rentals owned by the same hosts, if you have a group trying to glamp in Georgia together.
Follow 'em: @northgeorgiaglamping
Check Availability
Related Read: 8 Epic Glamping Destinations In South Carolina
2. Secluded Intown Treehouse
Why you should stay: A quiet and natural treehouse oasis in the middle of Atlanta.
Location: Atlanta
Sleeps: 2
Minimum stay: 2 nights
Rates from: $389/night
This dreamy secluded intown treehouse has long been a bucket-list-worthy glamping rental in Georgia and is one of the most popular in Atlanta. The entire home is made up of three living spaces connected by swinging rope bridges artfully nicknamed the Mind, Body, and Spirit. You'll find a lovely sitting room dotted with antiques, a bedroom with a soft full bed, and an open-air hammock deck.
Guests will have full and private access to the bathroom in the hosts' basement. As soon as you arrive, you'll quickly forget that you're staying in downtown Atlanta. The plush and leafy trees, the glowing string lights, and charming decorations make for a unique way to enjoy some peace and quite while being just minutes from the best attractions and streets in Atlanta.
Check Availability
Related read: 10 Short & Easy Hikes Near Savannah, Georgia
3. The Shiny Home
Why you should stay: Cozy airstream on a forested campsite along the Hiwassee River.
Location: Hiawassee
Sleeps: 3
Minimum stay: 2 nights
Rates from: $80/night
The Shiny Home is a pet-friendly vintage airstream with a modern but quaint interior. A memory foam queen bed offers a comfortable place to lay your head at night, and the complimentary coffee supplies will help jumpstart your mornings. It also happens to be one of the most affordable glamping rentals in Georgia.
This airstream has an indoor half-bathroom and a separate bathhouse with hot showers just a few feet from the front door. In your downtime, venture off to the nearby natural sights. Take the one-mile trip to see the Blue Hole Fall or embark on a 12-mile hike to see the views from atop Tray Mountain. The rental is fairly close to many of the trailheads near the Brasstown Bald and within walking distance to some hikes along the Appalachian Trail.
Check Availability
Related Read:  14 Incredible Georgia Treehouse Rentals to Upgrade Your Vacation
4. Saleh Ridge Treesort
Why you should stay: Glam and outdoorsy treehouse just outside Chattanooga.
Location: Ringgold
Sleeps: 4
Minimum stay: 2 nights
Rates from: $432/night
The Saleh Ridge Treesort is a spacious treehouse nestled on a sprawling 16-acre property in Georgia's wine country. The treehouse's unique features include an all-glass accordion wall, a romantic outdoor rain shower, and a bubbling hot tub that rivals any at a four- or five-star resort.
But this treehouse also rocks impressive panoramic views overlooking the North Georgia Mountains from the large balcony. Guests can also expect a warm welcome at Saleh Ridge with a basket containing s'mores ingredients and a bottle of wine.
The only thing missing is a Wi-Fi signal, which to some is a blessing in disguise. It's a great place to glamp in Georgia if wine tasting, hiking, and exploring fun and hip Chattanooga are on your vacation to-do list.
Check Availability
Related read: 8 Charming Pet-Friendly Hotels in Savannah, Georgia
5. Unique Modern Tiny House
Why you should stay: A cheerful and affordable tiny home in the city.
Location: Atlanta
Sleeps: 4
Minimum stay: 2 nights
Rates from: $85/night
Experience the lively atmosphere of Atlanta's Edgewood neighborhood in this unique modern tiny house. Nearby top attractions like the Krog Street Market, Ponce City Market, and the neighborhood's trendiest eateries are conveniently a short drive away.
This tiny home is in a private fenced-in backyard furnished with a farmhouse dining table, a ping pong table, and a fire pit. This glampsite has plenty of space for outdoor living, though inside, you'll find contemporary finishes like hardwood floors, beautiful white shiplap, and industrial accents. And with four people it's certainly one of the cheaper glamping rentals in Georgia, too.
"This cute little tiny home is 100% worth staying at!! Sweet owners, great location, thoughtful touches, and the coziest atmosphere!! I highly recommend it."
Follow 'em: @fieldtripatl
Check Availability
6. Cherry Blossom Yurt
Why you should stay: Sleep on Lookout Mountain in a yurt with epic views and a spacious deck.
Location: Rising Fawn
Sleeps: 2
Minimum stay: 1 night
Rates from: $125/night
In northwestern Georgia, not far from Cloudland Canyon State Park, this Cherry Blossom Yurt offers guests a comfortable getaway in nature without the sacrifice of modern conveniences. The yurt's interior is outfitted with a king bed, Wi-Fi, and access to streaming services. Unlike many yurts, you'll have a full kitchen and restroom with running water inside
The yurt also boasts clear star gazing, frequent wildlife sightings, and colorful sunset views for that classic camping experience. Other things to do include exploring Rock City or Ruby Falls, both roughly 20 minutes away.
Check Availability
7. Lakeside Tent at Ramsden Lake Farm
Why you should stay: Waterfront safari tent with screened windows, plush beds, and attentive hosts.
Location: Stone Mountain
Sleeps: 4
Minimum stay: 2 nights
Rates from: $114/night
Bohemian vibes abound at the very Instagram-able Lakeside Tent at Ramsden Lake Farm, a cozy glamping in rental in Georgia about 30 minutes outside Atlanta. The tent sits on a 46-acre property and is furnished with a water- and bug-proof memory foam queen mattress, an indoor fireplace, and cooking supplies. Just feet from the tent's wooden front porch is a private eight-acre lake.
The hosts go out of their way to provide firewood, kayaks, boats, and paddleboards for guest use. You can book additional packages to make your visit even more special such as a fresh morning coffee delivery, a birthday bundle, or s'mores kit, to name a few.
Follow 'em: @tent_at_ramsden_lake
Check Availability
8. Dahlonega Tiny House
Why you should stay: Modern tiny home with glass walls near Chattahoochee National Forest.
Location: Dahlonega
Sleeps: 2
Minimum stay: 1 night
Rates from: $69/night
The Dahlonega Tiny House offers guests a comfortable getaway in Georgia's wine country near the stunning foothills of the Blue Ridge Mountains. This glamping rental features large glass panels for crystal-clear forest views, all the typical amenities of home, and a classic camping area with a fire pit and picnic table.
Guests are free to wander around the property's walking trails and are sure to find it easy to disconnect without the distraction of Wi-Fi or a T.V. It's also one of the more affordable places to glamp in Georgia, and there are nearly 100 trails to choose from in the nearby Chattahoochee-Oconee National Forest.
Check Availability
9. Wooden Yurt
Why you should stay: Greenhouse-like yurt near the Talking Rock Nature Preserve.
Location: Talking Rock
Sleeps: 8
Minimum stay: 2 nights
Rates from: $125/night
While most yurts are made with traditional materials like wood and stretched canvas, this architecturally unique wooden yurt is wood and glass. It's part of the Kaluna Farm Retreat, an organic and family-owned farmstead. Inside, an eye-catching dome skylight and floor-to-ceiling windows create a sunny and cheerful living space.
This spacious yurt features a queen bed, a fold-out sleeper, and a few other sleeping pad-type beds that can accomodate a larger group. The farm welcomes guests to stroll along the flowering gardens, and there's even a trampoline available for the kiddos — or grown-ups.
Check Availability
10. Bed+Bough Treehouse
Why you should stay: Fairytale-style treehouse just outside the historic small town of Dahlonega.
Location: Dawsonville
Sleeps: 4
Minimum stay: 2 nights
Rates from: $205/night
Bed+Bough is a luxury treehouse with stunning chalet-style windows, a lovely front porch, and an outdoor fire pit area. It's hard not to fall in love with the whimsical elements of this treehouse, such as the intentionally crooked window, the home's exterior wall built around a living tree, and the antique pulley for moving bags up to the sleeping loft.
This treehouse also rocks a sparkling clean full bathroom and a colorful living room for an elevated glamping experience. While it doesn't have a full kitchen, it does have an outdoor pizza oven. Be sure to stop in Dahlonega to pick up supplies (and maybe stop at a winery or two while you're at it.)
Follow 'em: @staydahlonega
Check Availability
11. Pamoon Treehouse
Why you should stay: Modern treehouse with five-star amenities in the Appalachian Mountains.
Location: Trion
Sleeps: 2
Minimum stay: 2 nights
Rates from: $194/night
Pamoon is an exquisitely designed treehouse constructed with tall ceilings, an expansive balcony, and thoughtful decor. The Japanese-inspired touches in the home make this one feel a bit unique, especially as it's so remote – the closest town in Chattanooga, about 50 minutes away. It feels like a secret retreat that you'd never expect to find in the mountains of northwest Georgia.
While enjoying a relaxing soak or lounging on the deck's chairs, you'll be hard-pressed not to fall in love with the peaceful forested views of Pigeon Mountain.
"The soaking tub, OMGosh, enjoy it!!!!! We already can't wait to visit this spot again!"
Check Availability
12. Tiny House on Little Road
Why you should stay: A minimalistic tiny house in the forest not far from cool shops and restaurants.
Location: Canton
Sleeps: 2
Minimum stay: 1 night
Rates from: $95/night
Outside downtown Woodstock is the Tiny House on Little Road, an airy getaway for two on a semi-secluded wooded lot. Although tiny, the living space is thoughtfully designed for comfort. The home's largest bedroom is lofted above the full bathroom, leaving ample space in the living area for a desk, love seat, and kitchen.
This tiny home has a cute front porch looking out onto a hammock and fire pit. Boutique shops and eateries — not to mention great mountain bike trails — are just a short drive away in Canton, as are the natural charm of attractions like Blankets Creek and Lake Allatoona. This is a weekends-only glampsite, so make sure to schedule your trip accordingly.
Check Availability
Explore Georgia & Beyond
Sign up for Weekend Wanderer to join thousands of readers getting epic travel ideas every week.
---