We research, evaluate and select travel destinations based on a number of factors, including our writers' experience, user reviews and more. We may earn a commission when you book or purchase through our links. See our editorial policy to learn more.
---
Run away to the quiet, diverse wilderness of the U.S. to unwind and unplug from the chaos of daily life.
Personally, we believe the best way to disconnect is by escaping to a remote cabin rental surrounded by beautiful natural views and the peaceful quiet of the great outdoors. But maybe that's just us.
If you're itching to see more of the natural beauty of America's mountains, forests, and shorelines, we've got you covered with some of the best remote cabin rentals in the U.S. — with no shortage of nature nearby. I think we can all agree that nothing could be better than taking a break from the daily grind and escaping to one of these scenic American getaways.
Related Read: The 15 Coolest Airbnbs with Pools in the United States
Remote Cabin Rentals in the Northeast
1. Secluded Pennsylvania Cabin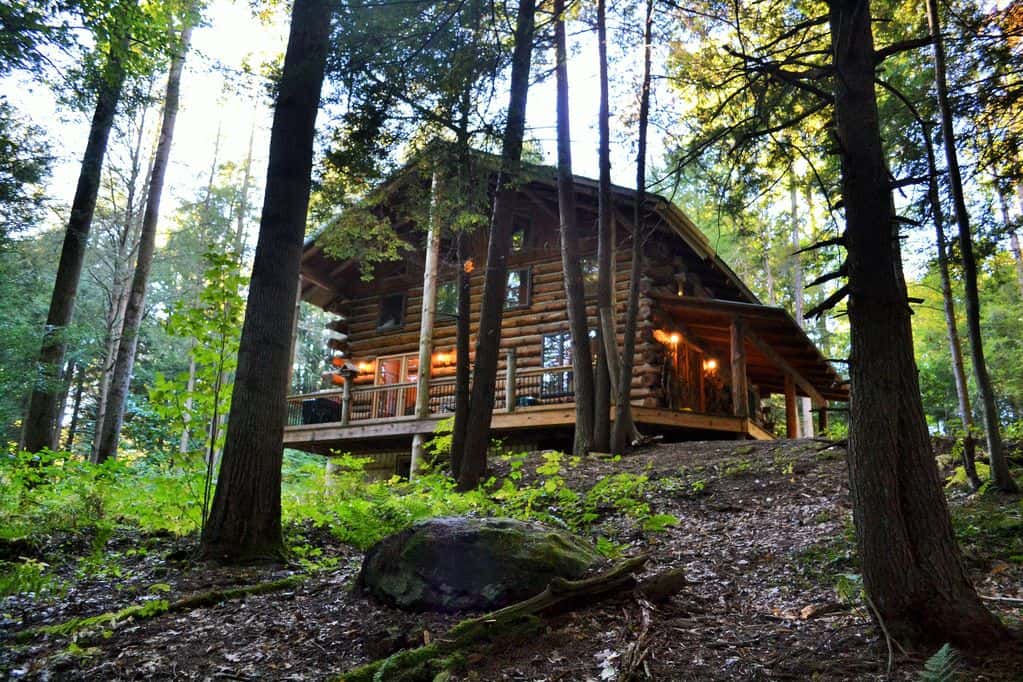 Why you should stay: Escape to 28 acres of secluded wooded bliss in an authentic log cabin.
Location: Centerville, Pennsylvania
Sleeps: 8
Minimum stay: 2 nights
Pets allowed: yes
An hour drive from Erie, this secluded Pennsylvania cabin takes you out into the rolling hills of northwestern Pennsylvania, surrounded by acres of quiet woodlands and roaming wildlife. If you're up for a bit of activity, the property offers various hiking trails for you to enjoy, and Presque Isle State Park and the Oil Creek and Titusville Railroad are both just a short drive away.
Or if you're seeking quiet relaxation in a peaceful log cabin, the home is prepared for just that. There are three large bedrooms that comfortably host eight guests, and a fun kid's loft for the kiddos. Crack open a beer on the wraparound deck and fire up the grill as you take in the sights and sounds of the surrounding trees.
Check Availability
Related Read: Have a Big Adventure at These Small Cabin Rentals in the U.S.
2. Cabin Near Ricketts Glen State Park
Why you should stay: Chase waterfalls and explore Pennsylvania's most popular state park while enjoying the quiet of nature.
Location: Benton, Pennsylvania
Sleeps: 8
Minimum stay: 1-2 nights
Pets allowed: no
Known as one of the most beautiful places in Pennsylvania, this cabin near Ricketts Glen State Park puts you right in the heart of nature. With 26 miles of hiking trails, 22 waterfalls, and countless fishing opportunities, a stay in this secluded and recently renovated cabin pairs perfectly with a visit to the nearby state park.
Set up to be family and kid-friendly, the hosts will provide a child's high chair and pack and play if needed. The spacious open floor plan offers ample space for family time inside, and the three bedrooms have been decked out in cozy linens for your comfort. It wouldn't be a cabin weekend without a BBQ grill, fire pit, and seating around the deck.
Check Availability
Related Read: 12 Secluded Cabin Rentals in Pennsylvania
3. Bear Beach Maine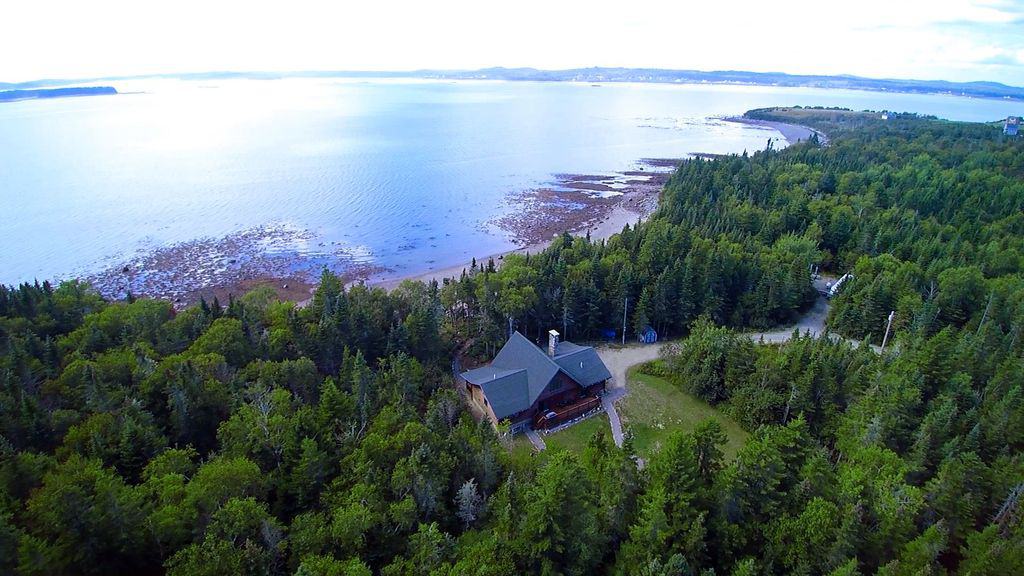 Why you should stay: Experience luxury at this oceanside cabin with a private beach and outdoor sauna.
Location: Cutler, Maine
Sleeps: 10
Minimum stay: 3-7 nights
Pets allowed: yes
At Bear Beach Maine, you're treated to life in a beautiful oceanside log cabin for an extraordinarily reasonable price. The property boasts its very own private sandy beach where colorful sunsets light up the sky nightly. Hog Island is a scenic attraction just a 15-20 minute kayak paddle away from the beach if you're up for an adventure.
The home's charming interior is outfitted in classic cabin style with four bedrooms, two bathrooms, and a well-appointed kitchen for ten guests. We can't gloss over the fact that this home also features an outdoor sauna, ping pong table, and fire circle.
Check Availability
Related Read: The 10 Best Pet-Friendly Cabin Rentals in Maine
4. Secluded Upscale Cabin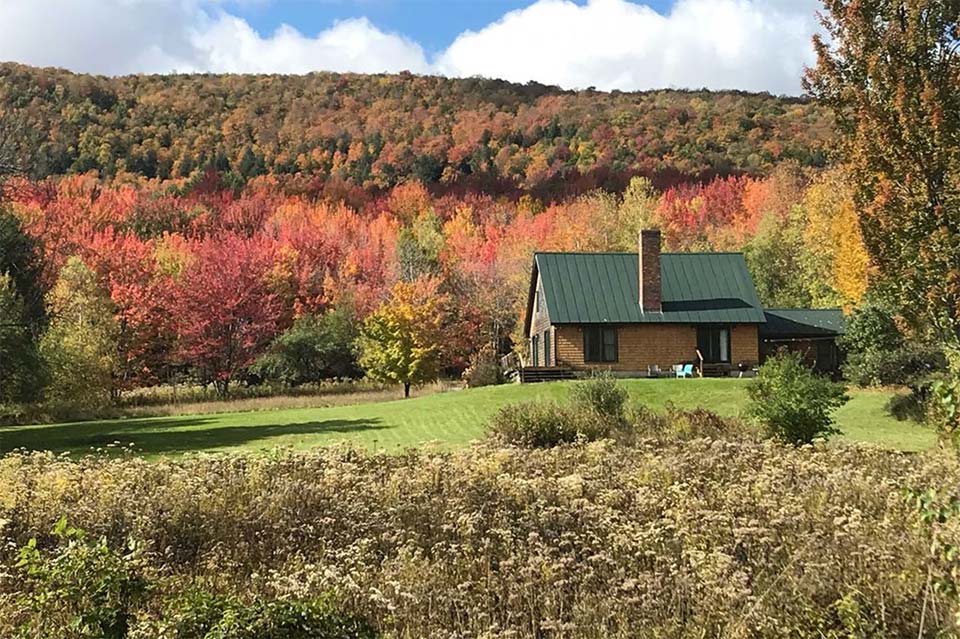 Why you should stay: An artfully rustic cabin with a beautiful interior in northern Vermont.
Location: Enosburg, Vermont
Sleeps: 8
Minimum stay: 2-4 nights
Pets allowed: yes
Up near the border with Canada stands a lovely secluded upscale cabin only miles from Montgomery, Vermont. The main floor consists of an open floor plan where the kitchen, dining room, and living room come together. The tongue and groove ceiling plus a triple red brick fireplace add an elegant touch to this modern rugged cabin.
This 2,100 square foot home welcomes eight travelers and one furry friend to indulge in the fantastic hiking, biking, and skiing of New England. In the summer, venture across the border to visit the European-style charm of Quebec townships, and in the winter, hit the slopes at Jay Peak Resort.
Check Availability
Related Read: 10 Supremely Secluded Cabin Rentals in Vermont
5. Secluded Log Cabin
Why you should stay: Pet-friendly, brand new cabin surrounded by lush whispering pines.
Location: Davenport, New York
Sleeps: 4
Minimum stay: 2 nights
Pets allowed: yes
Escape to the pine-scented forest of Davenport, New York, at this secluded log cabin. Located a 30-minute drive from the Baseball Hall of Fame in Cooperstown, it's easy to explore nearby city attractions. However, if you're itching to get away from it all, there's more than enough to keep you entertained at the cabin.
Enjoy the great outdoors by hiking, running, cross-country skiing, snowmobiling, and even hunting around the property. Inside, the custom-built 10′ cabin welcomes you with cathedral style ceilings, an open loft bedroom, a well-equipped kitchen, and beds for four.
Check Availability
Related Read: 10 Amazing & Secluded New York Cabin Rentals
Remote Cabin Rentals in the Midwest
6. Remote Pentwater Cabin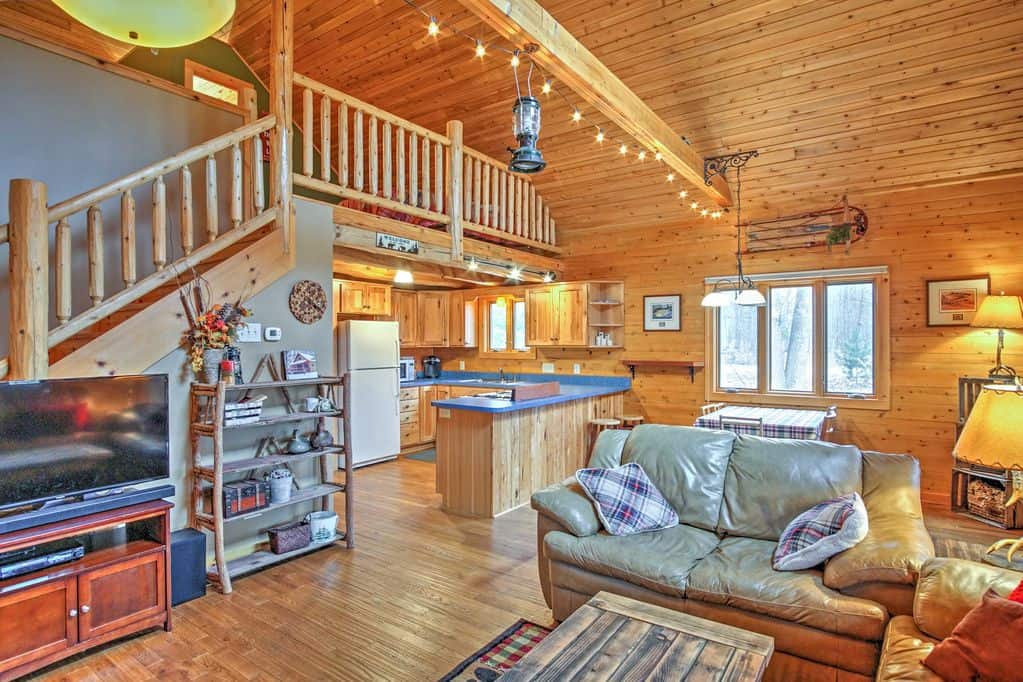 Why you should stay: Sleep nestled between Lake Michigan and lush Manistee National Forest.
Location: Pentwater, Michigan
Sleeps: 6
Minimum stay: 2-4 nights
Pets allowed: no
Surround yourself with nature at this remote Pentwater cabin only a short distance away from Lake Michigan. Whether you're a water or a land person, there's plenty of outdoor adventure to be had. Take a hike through the nearby national forest and go boating, fishing, or swimming on the lake.
If that's not enough, more Michigan attractions await you, such as Silver Lake State Park, Charles Mears State Park, and Little Sable Lighthouse. Or just kick back and relax at the cabin where an open-style layout makes it super easy to lounge amongst your family and friends.
Check Availability
Related Read: 10 Secluded Cabin Rentals in Amazing Michigan
7. Hix Lake & Cabin
Why you should stay: Soak up some sunshine on an expansive and quiet piece of land with private access to a lake.
Location: Macks Creek, Missouri
Sleeps: 6
Minimum stay: 2-4 nights
Pets allowed: no
Take in the beauty of Missouri's Ozark region at this Hix Lake & Cabin on 30 acres located just 25 minutes from the Lake of the Ozarks. You don't even need to drive all the way to the Ozarks to enjoy the water because you'll be sleeping just yards away from the shores of your very own private lake!
The outdoor fun doesn't stop there as the hosts have equipped this cabin with other killer amenities such as a boat slip for rental boats, swimming dock, two kayaks, a hot tub, a fire pit, a wraparound deck, and more. Phew, that's a lot! And we haven't even got to how amazing the interior of this two-bedroom home is. Trust us when we say this is a wonderful remote cabin rental.
Check Availability
Related Read: 9 Amazing Treehouse Rentals in Missouri You'll Love
8. Cabin on Remote Lake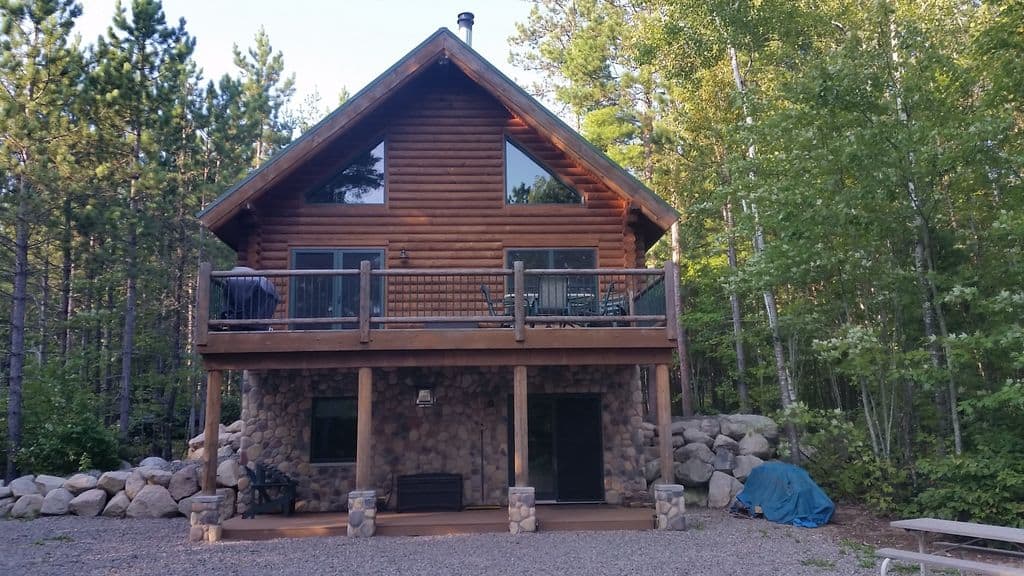 Why you should stay: Vacation off the grid and experience the pleasure of peaceful solitude while having Winchester Lake to yourself.
Location: Orr, Minnesota
Sleeps: 8
Minimum stay: 5 nights
Pets allowed: yes
If you're desperate for an authentic remote getaway, look no further than this private cabin on a remote lake — it doesn't get much more secluded than this! The basics have been provided for you in this minimalist cabin, but you won't find reliable cell service or internet here so you can truly unplug. Solar panels and a back-up generator power the property, and a deck and gas grill are provided for evening cookouts.
Immersed into the beauty of the Boundary Waters of Minnesota, this cabin sits across the street from a private lake with limited public access. You're unlikely to see even one other boat during the day! Take the whole family on a boating adventure or just float in the sunshine enjoying the fabulous weather.
Check Availability
Related Read: 10 Secluded Cabins in Minnesota to Get Away from it All
9. Cabin on 13 Acres
Why you should stay: A Wisconsin getaway on Mirror Lake surrounded by countless acres of wooded land.
Location: Hayward, Wisconsin
Sleeps: 6
Minimum stay:3-5 nights
Pets allowed: yes
An hour north of the state's capital, this cabin on 13 acres offers guests private beach access to Mirror Lake State Park. Besides the endless opportunities to have some water fun, the state park also has countless hiking trails that circle the lake. After your hike, take a seat on the screened porch where you're protected from nasty skeeters.
Inside, two bedrooms and two baths sleep six, with a queen in the master and two sets of bunks in the second bedroom. Whip up a tasty home-cooked meal in the well-appointed kitchen where the fam can sit around the countertop seating.
Check Availability
Related Read: 11 Peacefully Secluded Cabin Rentals in Wisconsin
10. Island View Lodge
Why you should stay: A beautiful log cabin fully stocked with entertainment amenities like a game room and a private dock.
Location: Eagle River, Wisconsin
Sleeps: 16
Minimum stay: 2-7 nights
Pets allowed: no
The Island View Lodge is a waterfront paradise on the shores of Catfish Lake. An authentic log cabin with a wooden interior, this remote cabin in Wisconsin is a dream. You'll find a private dock, fire pit and deck, and sandy beach for your enjoyment.
This luxury, one-of-a-kind, 4,200 square foot home has four bedrooms and three bathrooms to host your next family reunion. The gourmet kitchen sets the backdrop for the start of an excellent evening where the fun can
Check Availability
Related Read: 11 Daringly Black Houses You Can Rent on Airbnb
Remote Cabin Rentals in the South
11. Beechy Bottom
Why you should stay: Secluded cabin on 50 acres with a fishing pond and fire pit.
Location: New Concord, Kentucky
Sleeps:6
Minimum stay: 2-3 nights
Pets allowed: yes
Beechy Bottom is a homey Kentucky cabin featuring a fire pit and fishing pond across the yard within close proximity to Kentucky Lake. Situated on a super remote 50-acre farm, there are three catch and release ponds for the fishing enthusiast in your family.
Swap the city vacation for a bit of southern hospitality in the countryside at this charming two-bedroom cabin.
Check Availability
Related Read: 9 Gorgeous & Secluded Cabin Rentals in Kentucky
12. Beaver Run
Why you should stay: Brand new Georgia vacation rental with an elegant interior.
Location: Blue Ridge, Georgia
Sleeps: 8
Minimum stay: 2-3 nights
Pets allowed: no
Beaver Run is a picturesque and fun cabin with a lot of character. The bright red exterior will put a smile on your face while the tongue and groove pine interior will impress. The luxury continues to the large walk-in shower with rain head and the gourmet kitchen with granite countertops.
For a day of outdoor adventure, head to nearby Lake Tawakoni State Park with 376 acres of pristine natural wonder. Or check out the First Monday Trade Days in Canton to shop around a historic flea market that's operated for over a century.
Check Availability
Related Read: 10 Wonderfully Secluded Cabin Rentals in Georgia
13. Secluded Mountain Cabin
Why you should stay: Epic views await at this mountain cabin perched 4000 feet above sea level.
Location: Maggie Valley, North Carolina
Sleeps: 8
Minimum stay: 3 nights
Pets allowed: no
If you're a sucker for a fantastic view (like me), you're going to want to immediately pack your bags and head to this secluded mountain cabin in North Carolina. Standing tall atop a mountain, you'll need to carefully maneuver up a gravel switchback road to the property — but the trek is certainly worth it.
All three bedrooms look out into the surrounding lush valley, and there are two outdoor decks for peaceful chilling. From the cabin, you can easily access hiking trails and the Blue Ridge Parkway.
Check Availability
Related Read: 10 Incredible Treehouse Rentals in North Carolina
14. Whispering Pines
Why you should stay: A spacious cabin rental with four king suites, mountain views, and pool access.
Location: Wears Valley, Tennessee
Sleeps: 12
Minimum stay: 2-4 nights
Pets allowed: no
Smack dab in the heart of Wears Valley and the Smoky Mountains is Whispering Pines — a cabin with four master king suites for twelve guests. Each room has the privacy of its own bathroom with shower and jacuzzi tub.
Partake in swimming shenanigans at the community pool during your stay and warm up next to the roaring fire or in the hot tub on the property. Whispering Pines also has three decks, a charcoal grill, and a pool table for ultimate entertainment.
Check Availability
Related Read: 12 Gorgeously Secluded Tennessee Cabin Rentals
Remote Cabin Rentals in the West
15. Bonnie Belle Cabin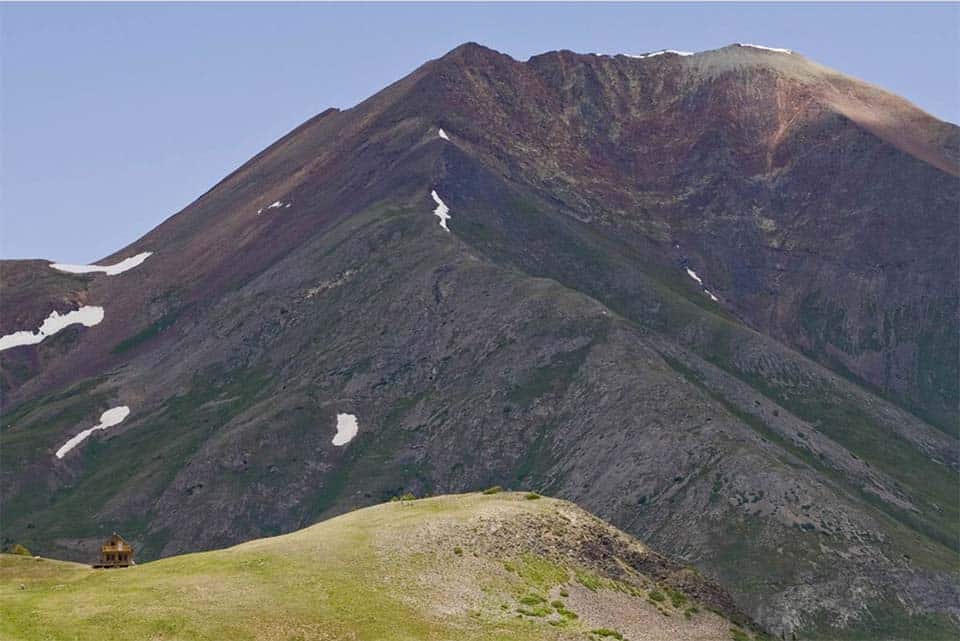 Why you should stay: Immerse yourself in the Colorado Rockies surrounded by high peaks.
Location: Animas Forks, Colorado
Sleeps: 8
Minimum stay: 2 nights
Pets allowed: no
Perched high up in the alpine tundra of Colorado's San Juan Mountains, the Bonnie Belle Cabin takes the saying "Rocky Mountain High" seriously. Located 15 miles north of Silverton on the Alpine Loop, this cabin is so remote, it requires a four-wheel drive vehicle to access — no Subarus or other all-wheel drives.
Once your out here, this rustic two story cabin can handle a up to 8 guests and offers unprecedented views of the rugged Rockies. When you're not relaxing, there's is plenty of outdoor adventure to be had nearby, from hiking to four-wheeling to fishing.
Check Availability
Related Read: 9 Woodsy Cabin Rentals Near Durango, Colorado
16. Whiskey Mountain Retreat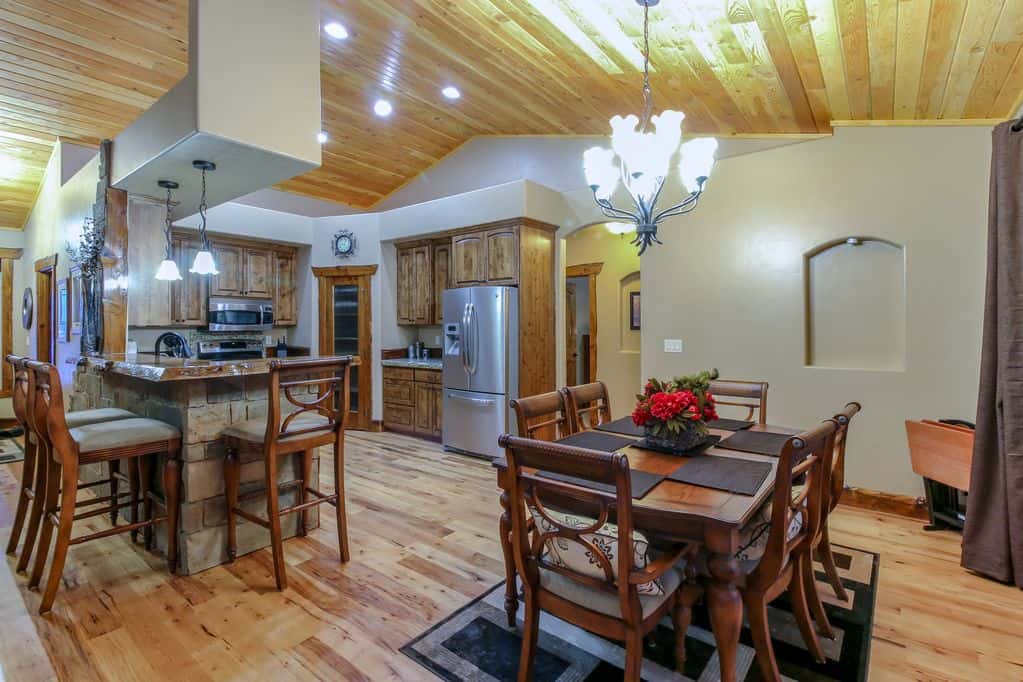 Why you should stay: Impressive mountain vacation rental featuring a movie theater and hot tub.
Location: Donnelly, Idaho
Sleeps: 10
Minimum stay: 2-4 nights
Pets allowed: no
Whiskey Mountain Retreat may be a remote cabin out in the mountains but it's completely decked out in high-end amenities that'll make it hard to leave. Turn on your favorite movie in the private movie theater and pour a drink at the bar in the loft. Or feel the heat in the hot tub right outside the master bedroom.
Only ten minutes from Tamarack Resort and the town of Donnelley, you'll be close to the convenience of town yet far enough away to escape daily life.
Check Availability
Related Read: 11 Secluded Idaho Cabin Rentals to Fall in Love With
17. The Dragonfly Cottage
Why you should stay:Majestic cottonwood trees and striking rocky cliffs surround this New Mexico vacation rental.
Location: emez Springs, New Mexico
Sleeps: 5
Minimum stay: 2 nights
Pets allowed: yes
The Dragonfly Cottage is a great place to call home during your stay in Jemez Springs. All within ten miles from the property, you can enjoy the best local attractions like Valles Caldera National Preserve, Fenton Lake State Park, and the countless natural desert hot springs in the area.
This two-bedroom cabin has everything you need for a comfy stay, such as a fully-equipped kitchen, a wood-burning fireplace, and a gas grill outside. Attached to the home, a large redwood deck beckons for sunny lounging and nightly stargazing.
Check Availability
Related Read: 8 Secluded New Mexico Cabins for a Relaxing Getaway
18. The Fox Den
Why you should stay: A remote oceanfront cabin overlooking Resurrection Bay.
Location: <Seward, Alaska
Sleeps: 4
Minimum stay: 2 nights
Pets allowed: es
The Fox Den offers guests a once in a lifetime experience to stay high above Resurrection Bay just 15 miles from the charming town of Seward. The only way to get here is via a fantastic boat ride or a helicopter ride over the jaw-dropping scenery.
From the sun-soaked cedar deck, watch over the ocean views and try to spot the whales swimming peacefully. The hosts also provide kayaks and gear so you can paddle along the rugged ocean cliffs. This is a vacation rental worth every penny.
Check Availability
Related Read: 10 Remote & Secluded Cabin Rentals in Alaska
Find Cabins Around the Country
Sign up for our free email to join thousands of readers getting epic travel, hiking, camping and gear ideas every week.
---