We research, evaluate and select travel destinations based on a number of factors, including our writers' experience, user reviews and more. We may earn a commission when you book or purchase through our links. See our editorial policy to learn more.
---
Add a little whimsy and a lot of adventure to your next Southern vacation with a stay at one of these stunning Georgia treehouses.
Whether you have kids or are a kid at heart, planning a treehouse getaway with some added Georgia charm is sure to check all the boxes for a memorable vacation spot. And with these modern treehouses decked-to-the-nines with all the luxuries of home, you won't be roughing it either.
From Blue Ridge Mountain retreats to forested escapes right on the outskirts of Atlanta, you can find the perfect Georgia treehouse for some well-deserved R&R.
Related: 10 Wonderfully Secluded Cabin Rentals in Georgia
1. Canopy Blue Treehouse
Why you should stay: Five-star designer details in a picturesque mountain setting.
Location: Blue Ridge
Sleeps: 6
Minimum stay: 2 nights
Rates from: $295/night
If you think treehouses have to be tiny or cramped, this multi-story tree mansion will prove you wrong. With room to sleep six, a spacious interior, and a 1,000 square foot wrap-around deck, the Canopy Blue Treehouse defines luxury treehouse living. Did we mention there is even a hot tub?
In addition to the great interior spaces, you also have access to an awesome backyard, complete with a fire pit. Pull up a chair on the deck to soak in the views of the Blue Ridge Mountains rolling away in the distance. Or step off your four private acres for access to world-class hiking, including the Benton MacKaye Trail. Should you need to head into town, Blue Ridge is a ten-minute drive up the road.
Check Availability
Related read: 10 Short & Easy Hikes Near Savannah, Georgia
2. Alpaca Treehouse
Why you should stay: Come for the zen, stay for the alpacas.
Location: Atlanta
Sleeps: 3
Minimum stay: 1 night
Rates from: $380/night
Adorable alpacas in a bamboo forest on a working farm in the middle of Atlanta? Don't be bamboo-zled — the Alpaca Treehouse is for real, though it might sound like something out of a children's storybook. The peaceful setting of the private bamboo forest makes for a quiet escape, and you'll love visiting your animal neighbors.
Not to be overlooked, the custom treehouse is well worth a stay in its own right. Decked out with reclaimed architectural antiques, stained glass windows, french doors, and a swinging rope bed, this beautiful treehouse is truly one-of-a-kind. And though you'll feel like you have stepped into a world far, far away, you are only minutes from all the eateries and bars of East Atlanta Village should you get a wild hair to go out on the town.
"This is the perfect getaway in the city. The incredible treehouse, bamboo, animals, hosts…We loved everything about it!"
Check Availability
3. ATL Treehouse
Why you should stay: An exquisite romantic getaway sure to impress your partner.
Location: East Point
Sleeps: 2
Minimum stay: 1 night
Rates from: $380/night
Just the right size for two, the ATL Treehouse delivers a private and posh escape for couples looking for a little romance. The beautifully designed space makes you feel like you've escaped to a luxurious villa. And with optional add-ons like a private three-course dinner and an onsite couples massage, you can properly pamper your loved one (and yourself).
The treehouse is located on a wooded lot on a private quarter-acre. You have access to a shared hot tub and outdoor fire pit. And if you want to plan a trip to sightsee in Atlanta, this treehouse is in the prime spot as you are only 15-minutes from all the shops, restaurants, museums, and stadiums of downtown.
Check Availability
4. Inn the Ravine Treehouse
Why you should stay: A gorgeous property inside and out.
Location: Cherry Log
Sleeps: 5
Minimum stay: 2 nights
Rates from: $325/night
If you're looking for luxury, the Inn the Ravine Treehouse delivers. This enormous treehouse has been designed with the details in mind from the spacious floor-plan to the lodge-like vibes. The wraparound deck has seating areas galore, and you can pick your favorite one to enjoy your morning cuppa joe or favorite happy hour beverage.
As for on-the-ground amenities, you can spend your evenings soaking up the scenery from the hot tub or head out to the fire pit to roast s'mores and do some stargazing. The private four-acre property is located right next to the national forest, so pack your hiking boots as the trails of the Blue Ridge Mountains are not to be missed, especially if you are lucky enough to catch the fall colors. Head into the artsy burg of Blue Ridge for shops, art galleries, restaurants, and breweries, should you tire of your escape in the woods.
Check Availability
5. Oasis Treehouse
Why you should stay: A simple and sweet in-the-forest sanctuary.
Location: Atlanta
Sleeps: 4
Minimum stay: 1 night
Rates from: $225/night
As soon as you step onto the suspension bridge to get to the Oasis Treehouse, you'll feel your stress melt away. This urban oasis is a great getaway from the big city — while still being in the heart of Atlanta should you want a mix of out-on-the-town fun with your time hanging out in nature.
This modern treehouse, which is supported by two live oak trees, has all the basic amenities you might need for your stay. The minimal interior design makes the space cozy and bright. And you can enjoy a little forest bathing from the back deck which has outdoor seating and a comfy hammock where you'll be tempted to catch an afternoon siesta.
"Great spot and cozy tiny house in the forest. It's hard to believe it's so hidden in the middle of an urban area of ATL."
Check Availability
6. Bed + Bough Treehouse
Why you should stay: A dreamy escape for rest, romance, or adventure.
Location: Dawsonville
Sleeps: 4
Minimum stay: 2 nights
Rates from: $269/night
The whimsical Bed + Bough Treehouse is the kind of treehouse that might make you want to retreat to the treetops forever. With a cottage-like feel and some fun interior accents, this treehouse is the ideal spot to kick up your feet and get back to nature. On the ground level, you can make good use of the fire pit, Adirondack chairs, picnic table, pizza oven, and cozy seating area with outdoor grill.
And even though you are located on five secluded acres, you are a short drive away from the town of Dahlonega where you can check out the award-winning wineries or grab a bite at the historic town square. For a hiking boots-on-the-ground adventure, head northwest to Amicalola Falls State Park to see the park's namesake waterfall, a 729-foot picture-perfect cascade.
"Absolutely stunning little treehouse. Perfect for a weekend getaway for a little peace and quiet!"
Check Availability
7. Secluded Atlanta Treehouse
Why you should stay: A one-of-a-kind woodland sanctuary.
Location: Atlanta
Sleeps: 2
Minimum stay: 2 nights
Rates from: $389/night
What's better than one treehouse? How about a suite of treehouses where you have your pick of three individual rooms to relax, unwind, and get back to nature. These three unique, open-air rooms are connected by rope bridges. The thoughtful design and impressive forest setting will make you feel like you have escaped to some kind of fairyland.
When you aren't relaxing to the sound of the wind in the trees in your woodland oasis, you can easily head out to explore all that downtown Atlanta has to offer. From fine dining to boutique shops and a rich art, history, and cultural scene, you can pick and choose your favorite activities to complement your exotic treehouse escape.
Check Availability
8. Jackson Lake Tree Cabin
Why you should stay: Relax on the lake with this waterfront stay.
Location: Jackson
Sleeps: 2
Minimum stay: 1 night
Rates from: $200/night
Overlooking the water of a private 20-acre lake, the Jackson Lake Tree Cabin is so much more than just a treehouse. The rustic decor makes you feel like you are escaping to a mountain cabin — one suspended over the water. And from the fireplace to the hot tub, you'll find lots of little luxurious extras to enjoy during your stay.
There's even a claw foot tub, should you desire a little bath time relaxation, and the deck and dock offer great vantage points of the lake. Pack your kayak or stand-up paddleboard for a day out on the water. Or you can make use of the complimentary on-site canoe, john boats, or paddle boats. And don't forget your fishing rod!
"We needed a last-minute getaway and this was the perfect spot. Very quiet and quaint cabin with tons of privacy."
Check Availability
9. Eden Treehouse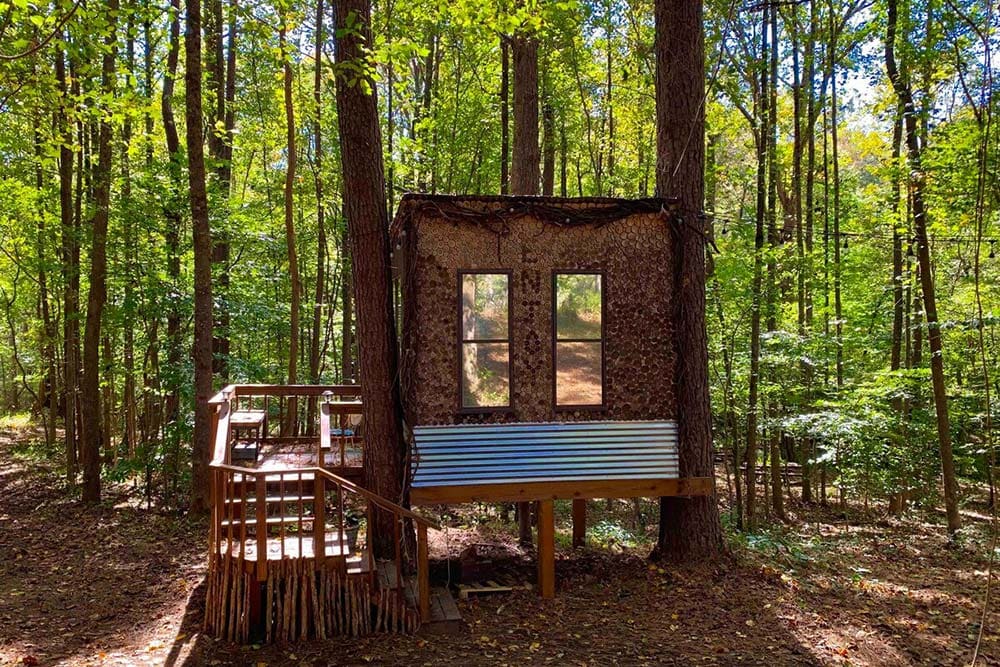 Why you should stay: A perfect-for-two romantic escape to the woods.
Location: Canton
Sleeps: 2
Minimum stay: 2 nights
Rates from: $159/night
If you and your partner love glamping, tiny homes, or nature in any form, this tiny treehouse is a great place to relax and reconnect. Though small, the Eden Treehouse is wonderfully appointed with cozy touches and plenty of windows. Plus, this quaint treehouse is located on Splendor Oaks, a 5-acre organic mini-farm that is a little slice of heaven in the midst of suburbia.
On the farm, you have access to a guest lounge, nature trails, and a small lake where you can rent kayaks, floats, and fishing poles. If you want to head off to explore the area, you are a short drive from Canton where you can enjoy the local restaurants, shops, and breweries. Or for a more outdoorsy experience, head out to Lake Allatoona or check out a local u-pick apple orchard.
Check Availability
10. Daybreak Treehouse
Why you should stay: A wall of windows and a deck to die for.
Location: Dahlonega
Sleeps: 4
Minimum stay: 2 nights
Rates from: $239/night
The stunning Daybreak Treehouse has all the luxuries of home—plus some. On the interior, the two-story designer treehouse is big, bright, and colorful. And on the outside, you get a wraparound deck with unbeatable mountain views.
Tucked in the woods of northern Georgia, this property is right in the heart of Dahlonega wine country, so you can couple your treehouse stay with a tasting tour of the local top-rated wineries. Or pop into Dahlonega Square for cute shops and tasty eateries. If you want some more time in the great outdoors, head west to Amicalola Falls State Park.
Check Availability
11. TreeHausATL Escape
Why you should stay: A magical abode with the perfect minimalist design.
Location: Smyrna
Sleeps: 4
Minimum stay: 1 night
Rates from: $300/night
You'll find it hard to believe you're on the outskirts of Atlanta at the TreeHausATL Escape. Camouflaged in the trees of suburbia, this cozy oasis has five private acres where you can get away from it all. The minimal and modern layout offers an uncluttered place to unplug and unwind, from the loft bedroom to the spacious back deck.
If you bring the kids along, they will love the elevated bridge walkways and the fire pit. And even though you will feel a million miles away, you are a short drive from loads of entertainment including the shops at The Battery Atlanta and Truist Park where you can catch a Braves ballgame in season. For more time in nature, don't miss Kennesaw Mountain National Battlefield Park which will be a treat for hikers and history buffs alike.
"Was by far one of the coolest and most unique rentals I've ever stayed in. The treehouse has such a unique style and vibe that makes you feel so at home and relaxed during your stay!"
Check Availability
12. Sophie's Roost Treehouse
Why you should stay: A tiny cottage full of delightful touches.
Location: Chickamauga
Sleeps: 6
Minimum stay: 1 night
Rates from: $200/night
Built for anyone afraid of heights, Sophie's Roost is a tidy, welcoming treehouse that isn't too far off the ground. But don't think that just because you aren't perched high in the sky, this treehouse is short on woodsy charm. Quite the contrary, as this cozy roost is tucked in the enchanting Candelight Forest which gives you those feel-good foresty vibes you'd expect from a treehouse stay.
From the back deck and upper level, you can overlook your woodland paradise. Or curl up inside with a good book or a glass of wine to unwind after a day out exploring downtown Chattanooga. For outdoors lovers, be sure to take a trip to Cloudland Canyon State Park or Ruby Falls. Those interested in learning more about the Civil War-era history of the area should plan a stop off at Chickamauga National Battlefield Park.
Check Availability
13. Trinity Treehouse
Why you should stay: An artsy abode with all the trappings.
Location: Stonecrest
Sleeps: 4
Minimum stay: 2 nights
Rates from: $260/night
Everything about the Trinity Treehouse is designed to enhance the serenity of your surroundings. From the well-laid-out and art-filled interior to the peaceful wooded setting, this treehouse is designed to be a retreat from everyday life.
Kick up your feet in the hammock or take a stroll in the Zen garden or head out to explore the adjacent Davidson-Arabia Mountain Nature Preserve where you'll find great views, two lakes, and miles of forested trails. You can head out hiking or running, or bring your bike to explore the paved multiuse paths right out your front door.
Check Availability
14. Treasure Hunt Treehouse
Why you should stay: A playful paradise for puzzle lovers and pirate wannabes.
Location: Kennesaw
Sleeps: 2
Minimum stay: 1 night
Rates from: $156/night
Bring your sense of adventure to the Treasure Hunt Treehouse. This three-story bungalow might just feel like an adult-sized play-place, from the swinging rope bridges to the crow's nest observatory. The entire family will love exploring all the nooks and crannies of this cool treehouse.
And even though you are close to lots of adventures in the Kennesaw area including shops, restaurants, museums, parks, and more, you can partake in a unique adventure right in the treehouse. The on-site treasure hunt is made for kids or adults who love puzzles, with clues, puzzles, and riddles hidden throughout the treehouse. If you can solve them all, you'll walk away with your very own prize!
Check Availability
More Incredible Stays
Sign up for Weekend Wanderer to join thousands of readers getting epic and gear travel ideas every week.
---