We research, evaluate and select travel destinations based on a number of factors, including our writers' experience, user reviews and more. We may earn a commission when you book or purchase through our links. See our editorial policy to learn more.
---
New Mexico is the land of dark night skies, high mountain deserts, stunning mountains, beautiful rock formations, and vast open spaces.
With plenty of outdoor adventures, fine dining, history, art, and culture to explore across the state, forgoing the hotel and opting for one of these glamping spots in New Mexico is the perfect way to immerse yourself in the enchanting landscape without having to rough it.
And another reason you should spend your dough on a glamping rental in New Mexico? Easy — the state has five dark sky parks, making it one of the best places in the world to watch the stars go by. It's easy to see the Milky Way without a telescope almost anywhere in the state — outside of the cities, of course.
Once you've booked one of the glamping rentals in New Mexico below, be sure to download a free night sky viewing app like Sky Guide so you can easily identify the heavens above.
Oh, and don't forget to pay attention in the other direction while you're here, too – looking down. There are plenty of amazing creatures in the desert you won't find almost anywhere else in the U.S.
Related Read: 12 Chill Vacation Rentals in Albuquerque, New Mexico
1. Long John Yurt
Why you should stay: Pack it in, pack it out: a truly remote yurt in the Enchanted Forest.
Location: Red River
Sleeps: 8
Minimum stay: 1 night
Rates from: $70/night
Hike or bike-in to this fantastic remote yurt in the heart of the Enchanted Forest. The large yurt is semi-primitive, but still has a wood stove and a kitchen area with some basic amenities. Come prepared to be self-reliant, as there is no electricity or running water. You'll want to bring your now sleeping bag, though the owners provides pillows and light sheets.
It won't take you long to see why these woods have earned their name. Just step out the front door to find outstanding hiking, mountain biking, horseback riding, hunting (in-season), cross-country skiing, and snowshoeing.
The yurt is a little over two miles away from the road and one mile away from the nearest yurt, giving you a true wilderness feel for your stay. That said, you'll probably see some mountain bikers going by on the weekends – get ready to see some jealous looks as they look longingly at your sweet digs.
Check Availability
Related Read: The 9 Best Weekend Road Trips from El Paso
2. That 70s Trailer
Why you should stay: Mid-century-inspired trailer-park livin' with views for miles.
Location: Taos
Sleeps: 4
Minimum stay: 1 night
Rates from: $82/night
This delightfully designed 1957 Spartan Villa trailer mixes mid-century style and modern amenities to create one of the best glamping rentals in New Mexico – you won't want to leave. Though the exterior of this silver trailer might look, well, spartan, don't be fooled: the interior is upgraded and luxurious.
Outside, the trailer has a large deck, firepit, and a fully fenced yard (dogs allowed for an extra fee) shared with two other vintage trailers.
With Taos just a 10-minute drive away, you have your choice of on-the-town activities including breweries, restaurants, shops, and funky mountain art galleries. Other popular sightseeing options include the historic Taos Pueblo and the stunning Rio Grande Gorge Bridge.
In the summer, plan a hike to explore the Sangre de Cristos. In the winter, bring your skis for some downhill fun at Taos Ski Valley or Angel Fire Resort. It's a great price for a place so close to the resorts.
Check Availability
Related Read: 8 Secluded New Mexico Cabins for a Relaxing Getaway
3. Off-The-Grid Dome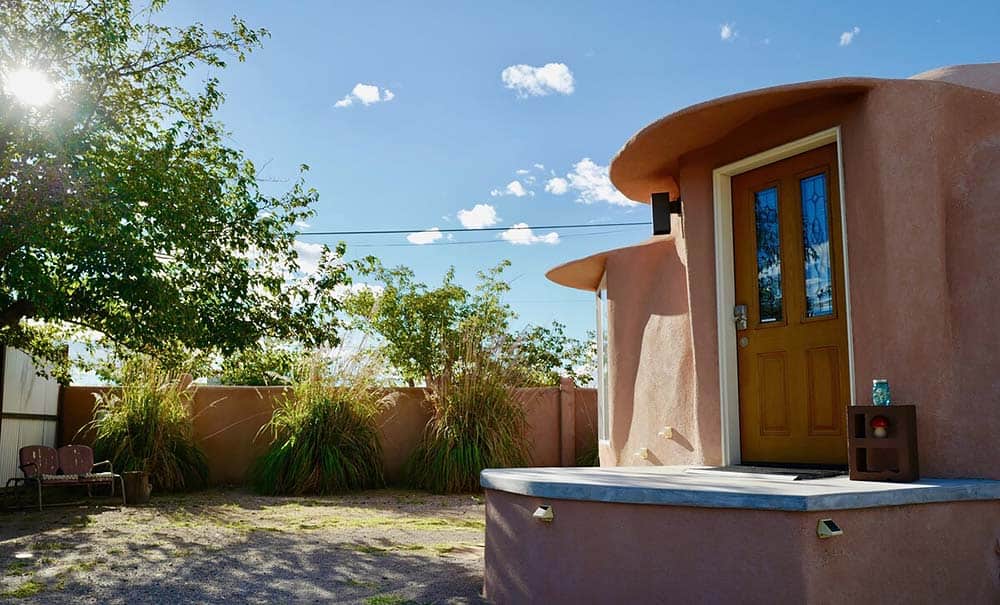 Why you should stay: Glamping at its very finest: you get an on-property hot spring.
Location: Truth or Consequences
Sleeps: 2
Minimum stay: 1 night
Rates from: $130/night
This hand-built dome house sits on a full acre with great outdoor spaces to complement the modern minimalist design of the off-the-grid home. Be sure to bring your bathing suit to enjoy the private 108-degree mineral hot spring, the perfect spot to watch the sunrise or do some stargazing. The collection of outdoor patio spaces is sublime, with two covered patios, plenty of seating, and a fire pit.
During your stay, you can take a five-minute stroll down to the Rio Grande, a great spot to do some birdwatching or simply enjoy the peaceful riverside scenery. Or plan an outing to nearby Turtleback Mountain for hiking or trail running.
If the historic downtown area of Truth or Consequences is more your style, you'll be just a short walk from the cafes, restaurants, book stores, art galleries, movie theaters, and thrift shops. This laid-back town is great for a casual afternoon or a full weekend of activities.
Check Availability
Related Read: 9 Beautiful Hikes Near Albuquerque, New Mexico
4. Spirit Yurt At Flying Trees
Why you should stay: A delightfully luxurious, middle-of-nowhere kind of stay.
Location: Santa Fe
Sleeps: 4
Minimum stay: 2 nights
Rates from: $110/night
A mere 30-minutes south of Santa Fe, this stunning yurt feels more remote than it is thanks to the 3,200 acres of BLM land surrounding the property. The 700-square-foot space is finished with extras like hardwood floors and a full-size gas range and oven that will make you forget you're "roughing it" in a yurt.
From the deck, you'll have unobstructed views of the Ortiz Mountains – plan to catch a sunrise or sunset for some photo-worthy skies. Also plan to do some on-foot exploration during your stay as you're minutes from the Turquoise Trail and a host of other wonderful day hikes.
Though you can easily drive into Santa Fe if you want, you may find that a total escape from civilization at this yurt staycation is actually just fine.
Check Availability
Related Read: 9 Best Hot Springs in New Mexico for Soaking Your Worries Away
5. The Lotus
Why you should stay: Forget wrangling with tent poles and stakes – this glamorous tent is a serious upgrade.
Location: Glenwood
Sleeps: 2
Minimum stay: 1 night
Rates from: $79/night
Located on the beautiful grounds of the Behr Farm and Art Gallery, this luxurious tent is a tent in name only. With a full-size queen bed, electricity, running water, and Wi-Fi, you won't have to trade any creature comforts for a night out under the stars. Glenwood is known for having some of the darkest skies found on earth, by the way.
During your stay, you can enjoy the farm's eclectic common areas that range from a night-sky observatory and art gardens to galleries and a pond and fire pit. Bird watchers will love hiking around the area. And animal lovers will enjoy visiting with the menagerie of animals living on the property.
Surrounded by the Gila National Forest with the San Francisco River right up the road, you'll have your choice of outdoor activities to fill your stay. It's one of the best glamping rentals in New Mexico if you're traveling with a small group since there are three separate yurts on property.
Check Availability
Related Read: 10 Rad Weekend Road Trips from Albuquerque, New Mexico
6. Santa Fe Tipi
Why you should stay: The whole family will be happy campers.
Location: Santa Fe
Sleeps: 4
Minimum stay: 1 night
Rates from: $69/night
If you're looking for one of the more unique glamping rentals in New Mexico, a full-size tipi should fit the bill. A great option for families or couples, the tipi is built on six acres. During your stay, you can enjoy a game of horseshoes, roast s'mores around a campfire, head out rock hunting, or simply put your feet up and look at the stars. There's no power in the tipi, but the hosts can loan you a power bank or charge your devices for you in their home.
This peaceful spot is less than 10 miles away from the small towns of Los Cerrillos and Madrid. Both are great options if you are looking for art galleries, shops, restaurants, or bars. Or you can take a slightly longer drive to head into Santa Fe proper.
Check Availability
Related Read: 7 Awesome Scenic Drives in New Mexico
7. Dixon Enchantment Yurt
Why you should stay: A laid-back, back-to-nature experience to leave you feeling refreshed.
Location: Rio Arriba County
Sleeps: 2
Minimum stay: 2 nights
Rates from: $60/night
Bordered by the Embudo River just outside of the community of Dixon, this peaceful yurt is the perfect eco-retreat for folks looking to unwind. The yurt has everything you need for a comfortable stay but no TV, so you can focus on the great atmosphere, delicious local food, and natural beauty.
The location is ideal for outdoor enthusiasts wanting to plan a day out on the trails, rafting the river, or skiing at nearby Sipapu Ski Valley. Take a stroll through Dixon to enjoy the small-town charm or local vineyards and brewery.
Or plan a trip to Ojo Caliente Resort and Spa for a day of relaxation at the geothermal mineral springs. It's one of the more affordable glamping rentals in New Mexico, especially if you take advantage of its midweek deal: stay two nights and get the third free.
Check Availability
Related Read: 11 Awesomely Unique Places to Stay in New Mexico
8. Chama River Yurt
Why you should stay: A tranquil and secluded retreat at the foot of Cerrito Blanco.
Location: Abiquiu
Sleeps: 6
Minimum stay: 1 night
Rates from: $86/night
Tucked beneath red rock outcroppings above the Rio Chama, this cozy yurt is decked out with all the right amenities to make your stay comfortable. In addition to the large yurt, you'll also have use of the main annex building for access to a kitchen, bathroom, and screened-in patio.
During your stay, explore the trails at nearby Plaza Blanca and Ghost Ranch or take a guided petroglyph hike. In the summer, you can take a paddle on the Rio Chama or head out fishing or boating at Abiquiu Lake. If you're lucky to snag a reservation in the fall, the cottonwoods along the river will add a memorable splash of color to the already stunning landscape.
Regardless of the season, you can bet on some stellar stargazing from the yurt's private deck. There's an additional cost on the base price for every person past the first two.
Check Availability
Related Read: 12 Enchantingly Romantic Getaways in New Mexico
9. Valdez Yurt
Why you should stay: A peaceful getaway for a solo traveler or nature-loving couple.
Location: Arroyo Seco
Sleeps: 2
Minimum stay: 7 nights
Rates from: $48/night
With its stylish finish, wood-burning stove, and access to a full bathroom, this mountain modern yurt delivers a weekend getaway that may remind you more of a five-star hotel than a tent in the woods. Put your feet up in the cozy living area or head out to the patio to enjoy the great outdoors.
The yurt is tucked into a landscaped oasis complete with gardens and flower beds. Just off the property, you can access national forest land with world-class hiking and mountain biking trails. And you're only 10 miles away from Taos and Taos Ski Valley in case heading out on the town or making some turns at the ski resort is more your style.
"Great spot, in a beautiful location just outside of Taos. Peaceful, amazingly thoughtful touches, and very cozy."
Check Availability
Related Read: 10 Relaxing Cabin Rentals Near Taos, New Mexico
10. Taos Glamping Adventure
Why you should stay: An all-inclusive glamping experience complete with guided activities and fine dining.
Location: Taos
Sleeps: 2 ($199 per night supplement for single travelers)
Minimum stay: 2 nights
Rates from: $1,250 per person
This top-of-the-line glamping tour outside of Taos is for travelers seeking maximum luxury, high-end meals, and plenty of included activities. If you want a glamping trip without having to plan anything yourself – or have much knowledge of the outdoors – the Heritage Inspiration Tour will be a splurge worth the cost.
The three-day tour starts with a day of stand-up paddleboarding on the Rio Grande. On day two, you'll wake up early for guided yoga followed by a hike in the Rio Grande Valley. And on day three, you'll head into Taos for a horno bread-baking experience. During your stay, you'll also enjoy delicious farm-to-table meals and an unforgettable stay at a beautifully furnished canvas tent under the stars on the Taos Plateau.
Check Availability
Explore More of the West
Get epic travel ideas delivered to your inbox with Weekend Wanderer, our newsletter inspiring more than 10,000 readers every week.
---