We research, evaluate and select travel destinations based on a number of factors, including our writers' experience, user reviews and more. We may earn a commission when you book or purchase through our links. See our editorial policy to learn more.
---
One of the best things about living in the Golden State is the proximity to magical oceanfront campsites, whether you're a Silicon Valley tech aficionado or a Hollywood creative.
With rugged northern beaches flanked by coniferous forests, breezy Malibu gems, and sandy surf coves, there's no end to the sunshine and recreation these beaches provide. Choosing the best spot for your next ocean-centric camping trip can be a bit of a chore, though, so we've outlined eleven of our favorite spots from across California to help narrow it down and get your travel brainstorm juices flowing.
The list is divided into private and public campgrounds, with an emphasis on highlighting the best that both Northern and Southern California have to offer. Before heading out, be sure to check all fire restrictions that might be in place for your site, and look to see if you'll need to bring your own water. At many of these sites, dogs are not allowed (or are only allowed in camp and not on the beach), so read the fine print. Happy Adventuring!
Related Read: 9 Amazing Scenic Drives Near Los Angeles, California
Private Campgrounds
With more luxe amenities (hot showers, anyone?), more privacy, easier booking, and more room to roam than the public campgrounds on this list, private campgrounds often offer the best of both worlds for nature-seeking city folks–creature comforts and outdoor access. Just be prepared to spend a little more to revel in the extra solitude these sites offer.
1. Separate Star Point Camp
Why you should stay: Let your spirit soar at this view-filled clifftop perch set 100 feet above the Pacific.
Location: Sonoma Coast
Minimum stay: 1 night
Rates from: $150/night
Rated a "Best in California Finalist" for 2022, Separate Star Point is an epic haven for car campers who want to feel as though they've backpacked dozens of miles into the wilderness for solitude — without all the schlepping.
This pet-friendly campsite on the Pacific Coast provides epic stargazing, as well as a fire pit to help keep you toasty while you watch the Milky Way. When the sun's out, adventurous climbers can scramble around the crags near the water, or licensed fisherman can cast their lines for cabezon and lingcod. Mushroom foragers, take note: this camp is just one mile from Salt Point State Park.
Check Availability
Related Read: 16 Spectacular Northern California Camping Spots
2. Private Beach Farm
Why you should stay: Sleep in a historic glass greenhouse with outstanding views of the mighty Pacific Ocean.
Location: Santa Barbara, near Goleta
Minimum stay: 2 nights
Rates from: $200/night
Pack your bags and BYO-firewood (for the vintage cob pizza oven) at this unique stay tucked away off the coastline just north of Santa Barbara. Campers here will sleep inside an antique glass greenhouse, full of verdant plants and flowers, though the host recommends checking the weather before heading out (and bringing a tarp to keep out the rain, if it strikes).
From camp, a short walk will bring you to a private beach, or you can check out the multitude of farm animals at the property's barnyard. After feeling the sand between your toes or checking out the nearby wine country, enjoy the "shower with the world's best view" before bedding down for the night.
Check Availability
Related Read: 11 Unique Places to Stay in Southern California
3. Eco Village Beachfront Glamping Cabins
Why you should stay: These rustic camper cabins are the perfect of creature comforts and beachy nature vibes.
Location: Catalina Island
Minimum stay: 2 nights
Rates from: $100/night
Unpack your bags with the sand and the sunshine right outside your door at these adorable beach bungalows on the island of Santa Catalina, in Southern California. Each hut features a double bed, side table, and small seating nook, plus island-centric décor.
Outside, enjoy Whites Bay, one of the longest sandy beaches on the island, where the area's notorious bison occasionally roam. A small cafeteria helps keep guests fed, while picnic tables shared with palm fronds are available for use 24/7. At sunset, watch the sky turn a hundred shades of orange from your own little deck.
Check Availability
Related Read: 9 Amazing Glamping Spots Near Los Angeles, California
4. Beachin' Ranch Camping with Horses
Why you should stay: Camp on a ranch just outside Imperial Beach and horseback ride through the sand at sunset.
Location: San Diego
Minimum stay: 1 night
Rates from: $55/night
D and J Stables is one of the last remaining ranches in the Golden State where you can ride a horse along the beach and camp. Located outside of San Diego, near the CA-Mexico border, this five-site private campground is pet friendly, with toilets, showers, picnic tables, and fire pits available for when you aren't soaking up the breezy beach energy.
Nearby, go bird watching at the Tijuana Estuary, relax in the sun at Imperial Beach, or explore the cute downtown area and latticed oceanfront pier at Imperial Beach, a quick drive away.
Check Availability
Related Read: 7 Beautiful Camping Spots in Mammoth Lakes, California
5. Jug Handle Creek Farm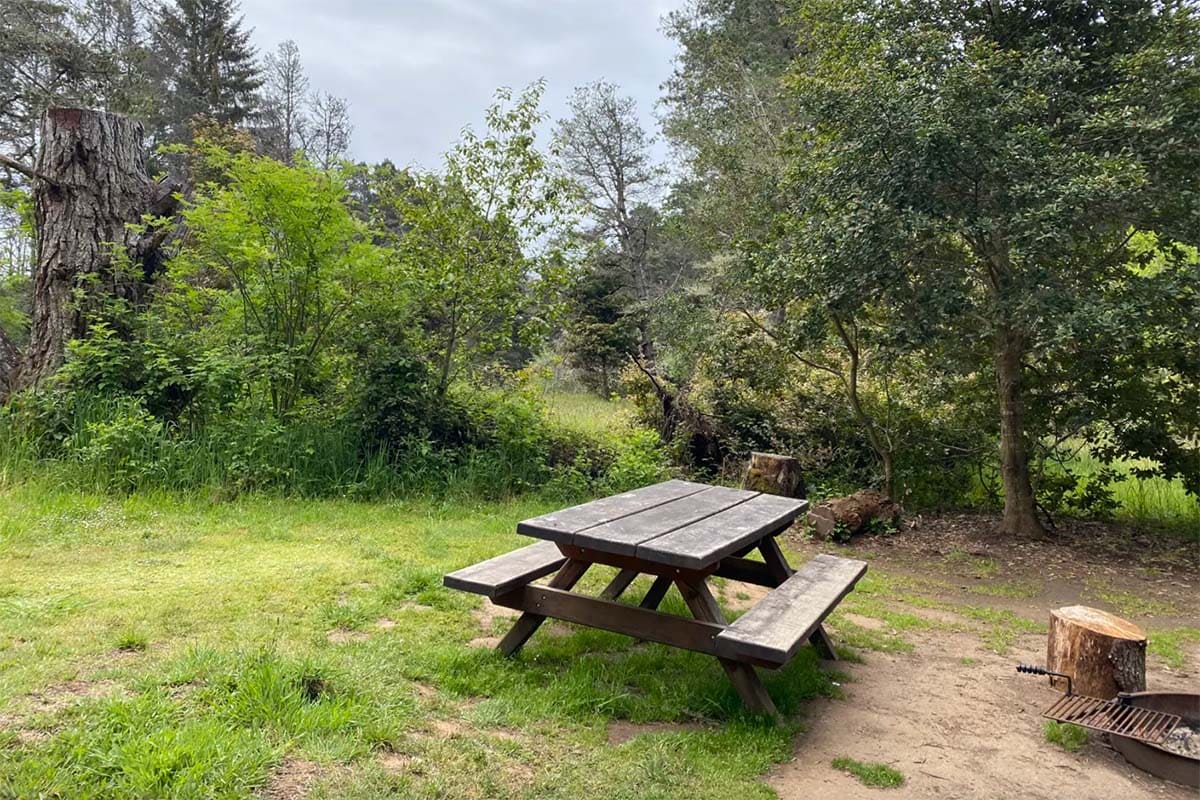 Why you should stay: Camp among meadows and forest while remaining an easy 5-minute walk to Jug Handle Beach.
Location: Mendocino
Minimum stay: 1 night
Rates from: $45/night
This peaceful, 11-site campground is nestled into a private, 39-acre space featuring butterfly-filled meadows and shady conifers. A five-minute walk brings campers to Jug Handle Beach, while a two-hour hike can take you into a secluded forest of redwoods and pygmies.
Features at this Mendocino coastal haven include spacious sites with tons of privacy, port-a-potties, picnic tables, fire pits, potable water, and an outdoor kitchen. Dogs are allowed, but must be leashed at all times. When you aren't catching the sun's rays down by the water, go waterfall chasing at Russian Gulch State Park.
Check Availability
Related Read: 11 Enchanted Glamping Retreats in Northern California
6. Two Harbors Campground
Why you should stay: Offering both tent cabins and more primitive, traditional camping, Two Harbors is a relaxing island escape, right on the doorstep of Southern California.
Location: Catalina Island
Minimum stay: 1 night
Two Harbors is primed for an unforgettable family getaway. Located a speedy 75-minute ferry ride away from San Pedro, it's a seaside gem that goes big on the creature comforts to ensure that everyone has a pleasant stay. Rent gear, purchase extra food items from the general store, and have it all delivered to your campsite–Two Harbors makes it easy.
Set on a bluff, a short walk from the laid back town of Two Harbors (and a short stroll from the ocean), this campground has all the trimmings you'd expect from a well-designed public space–showers, chemical toilets, potable water, picnic tables, grills, and fire pits. Plus, hikers looking to get their steps in can easily hop onto a portion of the Trans-Catalina Trail for an all-day romp along the island's rolling hills.
Check Availability
Related Read: The Most Scenic Los Angeles to Yosemite Road Trip Itinerary
Public Campgrounds
While California's public campgrounds are generally more affordable and sometimes closer to the beach than their private counterparts, they tend to book up well in advance (reserve 3-6 months early, if you plan to travel on a weekend or holiday) and feature less solitude, due to smaller site designations.
7. Coast Camping at Point Reyes
Why you should stay: This small, ocean-centric campground offers a little taste of backpacking without a long haul in.
Location: Point Reyes National Seashore
Minimum stay: 1 night
Rates from: $30/small group, $60/large group
Explore the tidepools and craggy oceanside valley at this hike-in campground situated in the Point Reyes National Seashore. Be sure to bring your gas-powered camping stove (fires aren't allowed) and pack your lightest gear so you can complete the easy, 1.8-mile hike (each way) to settle into camp with plenty of time to relax. Vault toilets and picnic tables are available on site to make your stay more comfortable.
Once you've arrived, you can enjoy the coastal bluffs, beach, and tidepools that are all a short walk from where you'll pitch your tent. Enjoy spectacular sunsets from right outside your "front door" while cracking open a well-deserved beer.
Related Read: The 14 Best Hikes at Point Reyes National Seashore
8. Leo Carrillo State Park
Why you should stay: Enjoy swimming, surfing, and sea caves at this 1.5-mile stretch of pristine SoCal beach.
Location: Malibu
Minimum stay: 1 night
Rates from: $45/night
A mere hour north of smoggy Los Angeles lies a beachfront mecca for sunbathers and surfers alike: Leo Carrillo State Park. This 139-site coastal campground is brimming with family-friendly activities for city-sore outdoor lovers, with tidepools, a seaside bluff trail, and Point Mugu State Park all a stone's throw away. More strenuous hikes like Willow Creek and Nicholas Flat are available for hikers looking to burn rubber, too.
Amenities at Leo Carrillo's Canyon Campground include restrooms with flush toilets and showers, a small store, oceanfront picnic areas, and a "campfire center" amphitheater for special programs and events.
Check Availability
Related Read: 7 Stellar Campervan Rental Companies in Southern California
9. Kirk Creek Campground
Why you should stay: Ranked one of the best campgrounds in the country by several massive travel magazines, this coastal cliff's-edge camp in Big Sur is simply stunning.
Location: Big Sur
Minimum stay: 1 night
Rates from: $35/night
Kirk Creek is the stuff of California legend. Nestled onto a cliff's-edge overlooking the turquoise blue waters of the roaring Pacific Ocean, the lucky few who get to call this place home (if only for a short while) will instantly understand why it's so special. Each site at this locale has a picnic table, grill, and fire pit, plus a nowhere-else-in-the-world ocean view.
Nearby, hikers can explore the redwoods at Limekiln State Park or take in the majestic waterfall at Julia Pfeiffer Burns State Park. Animal lovers won't want to miss watching ornery elephant seals face off at nearby San Simeon.
Check Availability
Related Read: 10 Best Camping Spots in Big Sur, California
10. South Carlsbad State Beach
Why you should stay: Relax under a towering palm tree at this sandy, beachfront campground near San Diego.
Location: Carlsbad, near San Diego
Minimum stay: 1 night
Rates from: $70/night
As popular with anglers as it is with surfers and beachgoers, Carlsbad State Beach Campground is a wonderful SoCal escape for families and groups of friends looking for a weekend road trip destination that isn't an all-day drive from major cities. Potable water, restrooms, lookout points, picnic tables, fire rings, and a small store make visitors' stays comfier.
When you're not catching some waves on your boogie board or lounging in the famous California sunshine, check out a few oceanside hiking trails at Torrey Pines or learn about the area's past at Old Town San Diego State Historic Park.
Check Availability
Related Read: 9 Stunning Hikes Near Malibu, California
11. Gold Bluffs Beach
Why you should stay: Though its location in Prairie Creek Redwoods State Park may be surprising, this sandy oceanfront campground is one of the best in Northern Cali.
Location: Northern California, between Crescent City and Eureka
Minimum stay: 1 night
Rates from: $35/night
Just a short, scenic drive away from some of the tallest trees on the planet, Gold Bluffs Beach is an oceanfront campground for travelers who can't decide between frothy surf and forested trails. Prairie Creek Redwoods State Park is part of the tapestry of public lands that makes up Redwood National and State Parks, way up near California's border with Oregon.
When you aren't out forest bathing with the best of 'em, enjoy grass-lined hills of sand that splay out from the ragged Pacific coast and amazing sunset vistas, right from camp. Plus, this campground has a few included amenities like showers, restrooms, and potable water.
Check Availability
More Camping Adventures in California
Get epic travel ideas delivered to your inbox with Weekend Wanderer, our newsletter inspiring more than 10,000 readers every week.
---