When most people think of national parks, they think of the granite domes of Yosemite, the crumbling cliffs of Zion, or the craggy peaks of Rocky Mountain, but we're here to tell you that the east coast national parks have just as much "wow factor."
Often touted by the top travel sites in autumn for their spectacular leaf-peeping colors, eastern parks are filled with exciting recreation opportunities year-round, from waterfall hikes, to multi-day backpacking treks, to cliffside climbing, to class V whitewater rafting.
Plus, parks in the eastern United States are typically much more pet friendly than their west coast counterparts, due to their closer proximity to urban centers. Just be sure to always keep your furry friend on a leash and make sure they (and you) are up to date on their tick treatment, as these pests can carry Lyme disease and other maladies out east.
The eastern parks have loads of varied outdoor activities, changing greatly depending on what season you choose to visit. In spring, wildflowers abound, and famous sites like Great Smoky Mountains hold annual wildflower festivals. In summer and fall, warmer temps and great weather make excellent fodder for hiking and watersports, while winter brings fewer crowds and the opportunity to snowshoe or head south for more tropical fare.
Read on for our favorite national parks in the East and a few insider tips for epic things to do in each one.
Related read: 10 East Coast Vacation Spots You Never Considered (But Should!)
1. Acadia National Park
Why you should go: Gaze out at lobster boats and the rocky Atlantic coastline from historic Mount Desert Island.
State: Maine
Nearest town: Bar Harbor
Sure, most east coast parks generally don't have those craggy cliffs and breathtaking bodies of water that you might think of when you picture a national park, but Acadia is one of the few exceptions to this rule.
Auto tourists here can enjoy striking scenery right from the comfort of their cars, by motoring around Park Loop Road. Check out the historic fountain at Sieur de Monts, catch some sunshine at Sand Beach, feel the spray of the ocean at Thunder Hole, and marvel at the jaw-dropping seaside Otter Cliffs. Afterwards, be sure to try the popovers at Jordan Pond House.
Adventurous souls who are brave enough to scale a steep cliff won't want to miss the Beehive Trail, while mellower hikers should consult a tide chart and trek across the gravel bar to Bar Island.
Are you an avid biker? The adorable village of Bar Harbor boasts a bike rental shop to help you get your spin on and explore Acadia's 45 miles of crushed stone carriage roads. Horse afficionados can explore much of the same terrain via an old-fashioned carriage ride.
Related read: 8 Spectacular Glamping Spots Near Acadia National Park, Maine
2. New River Gorge National Park & Preserve
Why you should go: Hiking, rock climbing, and whitewater rafting are all on the menu at America's newest national park.
State: West Virginia
Nearest town: Fayetteville
Many of the eastern national parks are known for their 1-2 main recreational activities, and that's it. But, at New River Gorge, outdoor enthusiasts have entire worlds to explore, from hiking forested trails to outstanding panoramic river views, to rock climbing on the area's unique Nuttall sandstone, to fishing in "The New," to rafting some of the most daring whitewater in the country.
Visitors looking to go for a walk in nature should lace up their boots and set off on the Endless Wall or Long Point trails, and history buffs will love learning about the area's coal mining roots on the Kaymoor Miners Trail. For more intrepid fare, Adventures on the Gorge offers top-tier guided rock climbing for outdoor lovers of all skill levels looking to have an adrenaline-fueled day.
But the real standout at this park is the whitewater rafting, which is often hailed as the best in the U.S. Kids as young as 6 (and 12 for the Lower New) can raft through the lush forests and rocky cliffs of the New River Gorge, enjoying a good soaking on those hot summer days.
If you're more serious about getting some paddling action, a guided all-day rafting trip on the Gauley River is a must. On weekends in September and October, officials release a steady flow from the Summersville Dam, transforming the river into a class III-V whitewater fiesta.
Related read: 8 Adventurous Treehouse Rentals in West Virginia
3. Shenandoah National Park
Why you should go: Go for an epic scenic drive or hike through breathtaking fall foliage at this popular Virginia escape.
State: Virginia
Nearest town: Luray
Shenandoah is the perfect east coast getaway for when you've got a hankering for some rolling, verdant hillsides but don't want to deal with the bustle of Great Smoky Mountains. Situated in the Blue Ridge Mountains, the park's famous Skyline Drive is bordered to the south by another fabled motorway — Blue Ridge Parkway — often referred to as "America's favorite drive."
This park is at its most magical in spring and fall, when rainbow pops of wildflowers and flaming gradients of autumn leaves drape the park with magic, but there are loads of year-round activities for travelers to explore here, too.
Backpackers won't want to miss the chance to section hike a portion of the famous Appalachian Trail (101 miles of it run directly through the park), and hikers will have their fill of epic day journeys, from the 10-mile Riprap Loop to the more relaxed jaunt out to Dark Hollow Falls. The truly adventurous in your group might even want to set an early alarm to nab a coveted parking space to try their hand at the notorious trek up Old Rag Mountain, which even features a bit of rock scrambling at the end.
But, if you're the kind of traveler who'd rather kick back and watch the world fly by, a day-long excursion along 105-mile Skyline Drive is sure to make you smile. Pull off at viewpoints for granitic outcroppings, rushing rivers, and rolling hills dotted with small farms and agrarian communities.
Related read: 11 Cozy & Natural Glamping Destinations in Virginia
4. Biscayne National Park
Why you should go: This enormous park outside of Miami is a tropical paradise, and best of all, most of it is underwater.
State: Florida
Nearest town: Miami
Biscayne is a park for sea-faring water lovers. From its preserved coastline of leggy mangrove trees to its tiny islands to its miles of protected coral reefs, it's one park you truly have to get out on the water to experience.
The Biscayne National Park Institute offers loads of full- and half-day tours in this south Florida site, from sailboat voyages with snorkeling and paddleboarding stops, to kayaking in the funky village of Stiltsville, to historic cruises that explain the rich history of some of the more noteworthy islets, like Boca Chita Key.
If you've got your diving certification, the best way to check out Biscayne's underwater creatures and technicolor coral reefs is on a guided scuba diving trip into the park's protected waters. Along the way, you might be lucky enough to spot nurse sharks, sea turtles, eels, and octopuses.
Related read: 9 Exciting Weekend Road Trips from Miami
5. Great Smoky Mountains National Park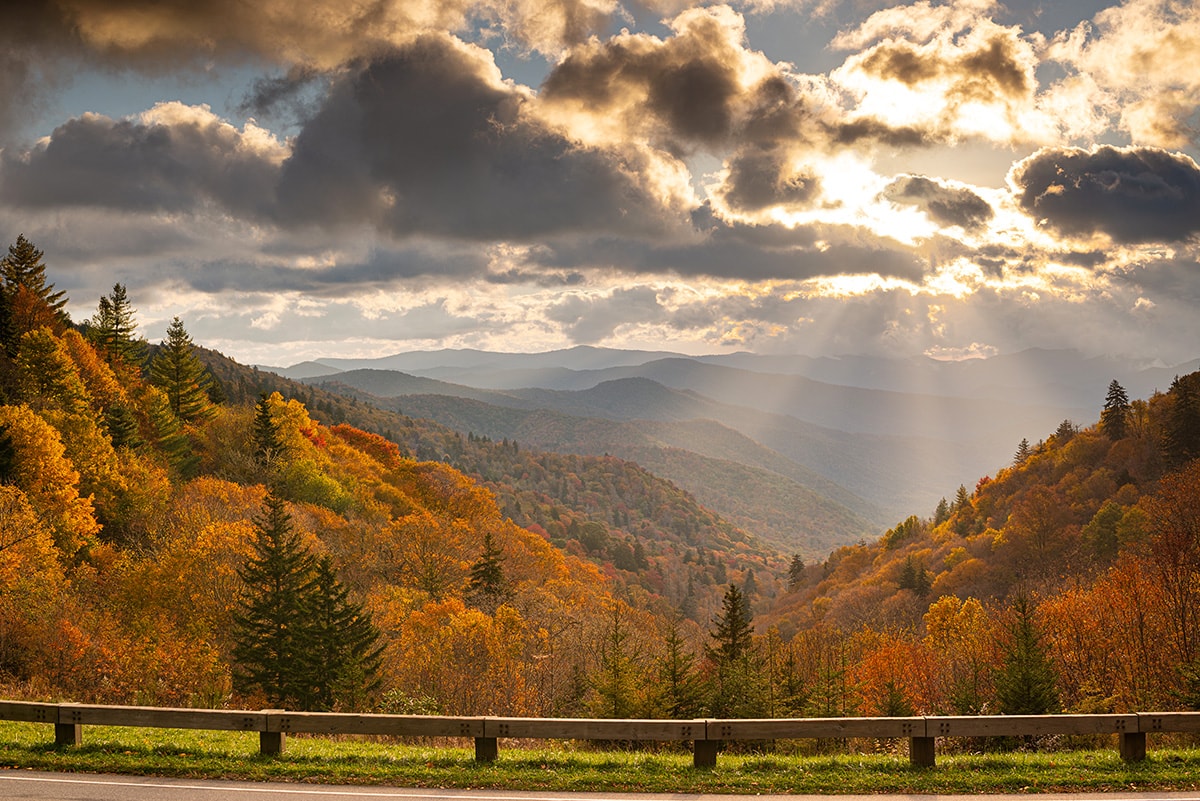 Why you should go: See what all the fuss is about at the most popular park in the United States.
State: Tennessee and North Carolina
Nearest town: Gatlinburg
Yes, it's crowded, and yes, over 14 million people visited in 2021 alone, but Great Smoky Mountains boasts one of the largest remaining tracts of wilderness in the eastern U.S., and its roiling creeks and forested mountains make it a must-see for any east coast nature lover.
For history lovers, it's imperative to take a winding country drive down Laurel Creek Road to witness grassy fields full of frolicking horses and the century-old cabins at Cades Cove. Pro tip: go on a vehicle-free Wednesday with your bicycle to avoid the characteristic traffic of this special place.
Serious hikers might want to amble up the storied Appalachian Trail for a day to reach panoramic views of the Smokies at Charlies Bunion or tackle the easier path up to the highest point in the park, Clingman's Dome. If it's hot out, meander through an old-growth hemlock forest on the 3-mile (round trip) trail to Grotto Falls.
If you're looking to escape the Smokies' notorious crowds, head over to the quieter side of the park at the Cosby entrance. There, visitors will find a spacious picnic area, a wooded campground, and lovely day hikes to both Hen Wallow Falls and the Mt. Cammerer Fire Tower.
Related read: 10 Can't-Miss Glamping Sites Near Great Smoky Mountains National Park
6. Cuyahoga Valley National Park
Why you should go: This urban national park is surprisingly green and loaded with history and family-friendly activities.
State: Ohio
Nearest town: between Cleveland and Akron
Cuyahoga Valley often gets overlooked in favor of its larger, more adrenaline-fueled parks to the south and east, but that doesn't mean that this more urban park, tucked between the metropolises of Cleveland and Akron, can't still pack a punch.
First of all, it's a marvelous national park for anyone who enjoys long bike rides. The Ohio & Erie Canal Towpath Trail bisects the park from north to south and offers a mostly paved, car-free riding experience along the Cuyahoga River for dozens of miles. Visiting from out of town? Century Cycles, in Peninsula, rents comfort and hybrid bicycles so that travelers can get out and explore the pathway in style.
Train enthusiasts of all ages will want to check out the Cuyahoga Valley Scenic Railroad, which runs vintage 1940s trains along the historic tracks that go through the national park itself. If you're looking for an extra-special train ride, the company also puts on evening murder mystery events, all held aboard the train.
When you've had enough scenic riding and trains, there's no better way to stretch your legs at Cuyahoga than on a relaxing stroll to Brandywine Falls. Plus, if you're looking for quaint lodging, the bucolic inn that shares its name is a must-see bed-and-breakfast. In the morning, consider a fly-fishing excursion on the beautiful Cuyahoga River.
Related read: 12 Best National Parks to Visit in October
7. Virgin Islands National Park
Why you should go: Experience quiet Caribbean island life and feel a million miles away from the United States.
State: U.S. Virgin islands
Nearest town: Cruz Bay
Perhaps one of the most surprising units in the entire National Park Service's regime, this far-flung Caribbean park is mostly situated on the lush tropical island of St. John. And getting there is half the adventure.
Most travelers will first fly to St. Thomas and take a ferry to Cruz Bay, the largest town on the island of St. John. From here, visitors will find lodging options galore, as well as access to the national park's visitor center. It's also the meeting point for most of the island's most thrilling excursions, like a half-day snorkeling tour that ends with lunch at a floating taco restaurant or a sunset sail away with cocktails and wine.
For the more intrepid traveler, there's always the option of hiking to one of the island's secluded sandy stretches, like Honeymoon Beach or Salomon Bay. And the scuba diving in the national park and nearby coral reef national monument is out of this world–beginners can even get certified on the island.
Related read: 10 Best Places to Visit in the Fall Across the U.S.
Epic Adventures in the East
Get epic travel ideas delivered to your inbox with Weekend Wanderer, our newsletter inspiring thousands of readers every week.
---