Texas is famous for its scorching summer heat — luckily there are plenty of swimming holes across the state where you can cool off.
Sure, if the rising temperatures have you sweating buckets, you can probably find a regular ol' pool at a hotel or friend's place to jump into, but there's nothing quite like going for a dip in a scenic swimming hole surrounded by nature. If you're traveling throughout Texas or simply looking for something to do on a warm day, you'd be wise to plan your itinerary to hit one or more of the unique swimming areas across the Lone Star state.
From spring-fed pools to lake areas to stretches of rivers, these are the 12 best swimming holes in Texas to keep in mind when you're planning your next outdoor adventure.
Related Read: 12 Refreshing Swimming Holes Near Austin, Texas
1. Hamilton Pool Preserve
When it comes to the prettiest swimming holes in Texas, Hamilton Pool Preserve in Dripping Springs is right at the top. As Hamilton Pool was formed when the dome of an underground river caved in, you get the fun of swimming underneath an overhanging cliff. Depending on how dry it is out, there's also a 50-foot waterfall that cascades out over this cliff, making things even more picture-perfect.
From the parking lot, it's a quarter-mile hike to the swimming hole. Reservations are required to visit, and there's an admission fee. You should also check online whether swimming is currently allowed depending on bacteria levels and recent rainfall, and whether the preserve is fully booked or not for that day.
2. Balmorhea State Park
Out in West Texas, Balmorhea State Park is a little oasis amid all the surrounding desert. With its waters coming from San Solomon Springs, this spot boasts of being the world's largest spring-fed swimming pool. To put some numbers to it: The pool is 1.3 acres large, reaches 24 feet deep, and holds 3.5 million gallons of water. Another fun fact is that it was built by the Civilian Conservation Corps in the 1930s.
Here, you can expect beautifully clear water that hovers between 72 to 76 degrees Fahrenheit throughout the year. If you have snorkeling gear, definitely bring it along so you can watch the fish swimming down below. The pool is open daily, and there's an entry fee to the park.
Additional Read:  Sunshine & Solitude: Best Backpacking Routes in Big Bend National Park
3. Jacob's Well Natural Area
Jacob's Well Natural Area, an artesian spring in the Hill Country, has fascinated people worldwide thanks to its extensive underground cave system that extends down 140 feet. Sadly, there have been multiple divers' deaths here in the past, which is why only permitted cave diving research professionals are now allowed to explore those dangerous depths.
Public swimming, however, is allowed—you just need to make a reservation. The water here stays at a nice 68 degrees Fahrenheit, and there's something really cool about treading water above the opening to those vast depths.
Access to the natural area is free, but there is a small fee if you want to swim.
4. Blue Hole Regional Park
If you're in the town of Wimberley visiting Jacob's Well, you're conveniently right next to Blue Hole Regional Park, another great swimming hole. Big publications like USA Today and Travel & Leisure have previously named it one of the best swimming holes in the nation. The park itself is 126 acres of forest and fields, which means that you'll be surrounded by lush nature as you take a dip in the three-acre swimming area. The beautiful, tall cypress trees directly on the banks of the water are quite a pretty sight.
Swimming is allowed at Blue Hole starting weekends in May, then every day from Memorial Day to Labor Day, and finally ending with weekends in September. You have to make a reservation for a specified time block in advance, and there is an admission fee.
Additional Read: 10 Unforgettable Glamping Spots Near Dallas, TX
5. Krause Springs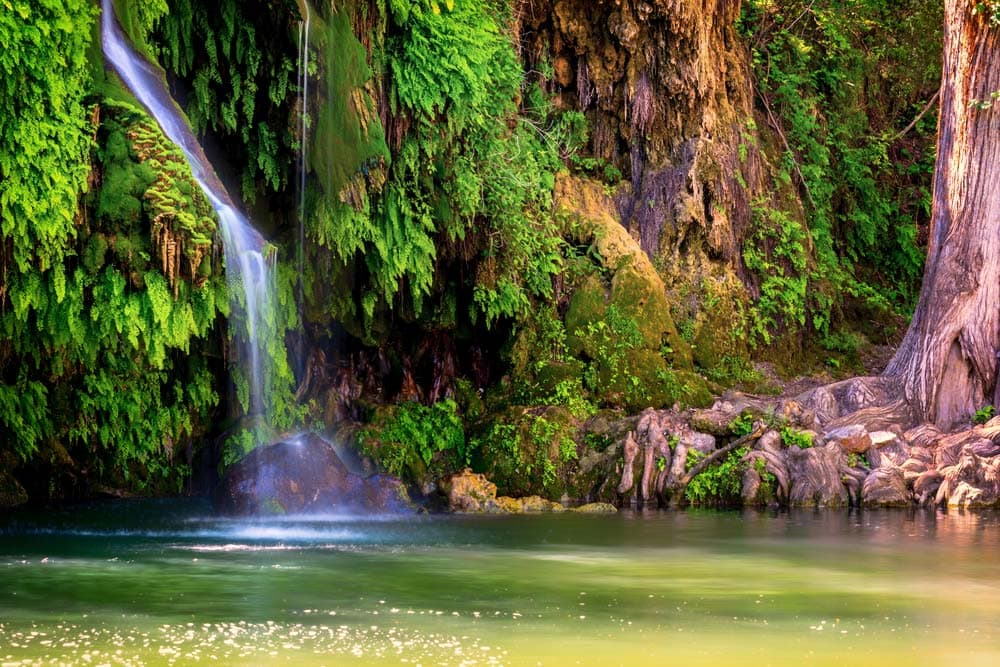 Across its 115-acre, privately owned property, Krause Springs has 32 springs to explore alongside a man-made pool and a natural pool. Founded in 1955, this popular spot in Spicewood also happens to be on the National Register of Historic Sites!
One thing that makes Krause Springs stand out from other swimming holes is that it apparently never needs to close due to drought since its springs flow constantly (at a refreshing 68 degrees Fahrenheit). That being said, they do close for a break in the wintertime. Another attraction of Krause Sprigs is the butterfly garden where you can go for a peaceful little stroll.
There's a small admission fee for day guests, and if you want to stay overnight, there's tent and RV camping available on-site.
6. Barton Springs Pool
Filled with water from natural underground springs, Barton Springs Pool is one of the beloved gems of Austin, attracting hundreds of thousands of visitors each year. Speaking of visitors, Robert Redford actually learned how to swim here when he was a young boy!
Whatever season you decide to visit, you can expect the water to be around 68 to 70 degrees Fahrenheit. The depth varies but reaches 18 feet at some points. When planning your trip, keep in mind that the pool is closed every Thursday from 9 am to 7 pm for cleaning.
There's no reservation required if you're visiting during the "swim at your own risk" early morning block, but after that there are lifeguards on duty and reservations are required.
Related Read: The 10 Best RV Campgrounds in Austin, Texas
7. Devil's Waterhole
Don't let the "devil" part scare you. There's some debate about how Devil's Waterhole got its name, but there's no question that it's a lovely place to go for a swim during a hot Texas day. Found on the eastern tip of Inks Lake State Park in Burnet, this spot is a small section of (you guessed it) Inks Lake. It's particularly special because the water is surrounded by big rock formations (some up to 40 feet above the water). Some brave souls like to go cliff diving here, but there are no lifeguards on duty so do so at your own risk.
There's a small day-use fee to enter the park. Once you're in, you have two choices to get to the swimming area: You can either hike the quarter-mile Devil's Waterhole Trail or you can paddle here from within Inks Lake.
Related Read: 10 Best Hikes in Texas for Top-Notch Lone Star State Scenery
8. Blanco State Park
Blanco State Park may not be that big, but what it does offer is a nice place to beat the heat seeing as it's right next to a one-mile stretch of the Blanco River. You're free to swim anywhere along the adjacent river, but many people like to hang by the cascading waterfalls made by the dams. Interestingly these dams were created by the Civilian Conservation Corps who worked here from 1933 to 1934.
To enter this park in Blanco, you have to pay a small fee. For more fun in the sun during your visit, rent out a tube or kayak at the park store. To extend the fun,, you can reserve a campsite or screen shelter.
9. Burger's Lake
View this post on Instagram
If you find yourself up in Fort Worth and wanting a swim, consider paying a visit to Burger's Lake, a one-acre lake in a 30-acre park. While the lake is spring-fed, they do chlorinate, filter, and chemically maintain the water with a purification system.
Unlike many other swimming holes. Burger's Lake comes with some resort-style additions like a 20-foot slide and 25-foot trapeze, making it particularly attractive for families. On top of that, there's not one, not two, but six diving boards. When you're not in the water, you can lounge on one of the sandy beaches or enjoy a picnic (there are ample tables and grills).
To visit, there's a $15 admission fee.
Related read: Big Jim Courtright: 9 Things 1883 Didn't Tell Us about the Old West Lawman
10. Hippie Hollow Park
Is the phrase "clothing optional" right up your alley? Then, Hippie Hollow Park is for you. Situated on the banks of Lake Travis in Austin, it's the only clothing-optional public park legally recognized by the state. As such, you can see why you have to be 18 years or older to enter and why you have to get permission before taking any pictures. The park's website also urges you to keep in mind: "Nudity is acceptable, lewd behavior is not."
Great for swimming and sunbathing, Hippie Hollow is open every day of the year. Bring cash to pay the day-use park fee since they don't accept cards at the entrance.
11. Hancock Springs Park Swim Area
Out of all the spring-fed pools in Texas, Hancock Springs Swim Area in Lampasas is one of the oldest. The free-flowing pool was constructed in the early 1900s, and back in the day, people from miles away would come here to be baptized or to experience the water's supposedly restorative properties. These days, it's simply a nice place to cool down with the water at 69 degrees Fahrenheit year-round.
This swimming hole also comes with its own distinct scent. Depending on when you visit, you may catch a slight whiff of sulfur from the water — it is located by Sulphur Creek after all. Don't worry though, it's all safe to swim in the clear water here. Admission is just $3.50 for adults.
Explore More in Texas
Sign up for Weekend Wanderer to join thousands of readers getting epic travel ideas every week.
---