We research, evaluate and select travel destinations based on a number of factors, including our writers' experience, user reviews and more. We may earn a commission when you book or purchase through our links. See our editorial policy to learn more.
Was this article helpful?
---
Based on Boston, one might think that New England is only a series of bustling urban centers. But in reality, most of New England is sprawling green space and forest.
Home to the White Mountains, the Green Mountains, the Berkshires, Acadia National Park, and hundreds of miles of coastline, New England packs quite a punch in a relatively small geographic area. More than just lobster rolls and maple syrup — although you should try both while you're in Maine and Vermont, respectively — the northeastern corner of the United States can truly take your breath away.
Whether you want to be near the cities or off-the-grid under the stars, you'll find the perfect glamping spots in New England on the list below. Whether it's a vintage camper, a treehouse, or even a tower, New England's got something magical for everyone.
Related Read: Boston to Bar Harbor: An Essential New England Road Trip
Glamping Rentals in Maine
1. The Canopy Treehouse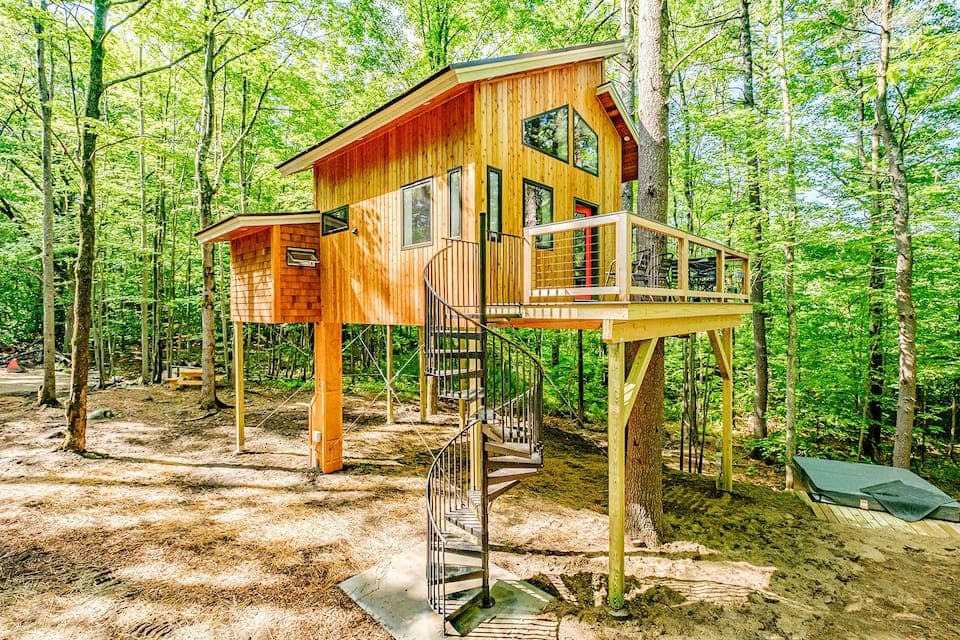 Why you should stay: Channel Davy Crockett and catch your own dinner in the on-site pond.
Nearest town: Sanford
Sleeps: 4
Minimum stay: 1 night
Rates from: $395/night
This place looks like the kind of tower Rapunzel would love, and it is well-suited for a princess – assuming you're the kind of princess who likes to get dirty and hang out with forest animals. Modern-day princesses (and princes!) will have everything they need in this eco-minded treehouse perched in the woods. Make sure to pop into a grocery store before your arrival to stock up the retro fridge so you can spend all your time enjoying the outdoors.
With 360-degree views, a private hot tub, and use of your own private canoe (not to mention three acres of wilderness), who would really blame you for not wanting to leave? The small resort where this treehouse is cares a lot about sustainability, so you'll reduce your eco-footprint while you're here, especially if you travel everywhere on foot or by mountain bike.
Check Availability
Related Read: The 10 Best Pet-Friendly Cabin Rentals in Maine
2. ComfyDome Glamping
Why you should stay: You'll never want to sleep not under a dome ever again.
Nearest town: Jefferson
Sleeps: 2
Minimum stay: 2 nights
Rates from: $112/night
It's hard to decide if this place is more perfect for smitten couples or science nerds on a starry mission – probably both. This incredibly unique rental is the perfect place for your romantic getaway or for a couple interested in exploring the night skies.
Although it's a BYO-cooking-utensils sort of situation, you won't need to bring your telescope: there's a high-powered one on the property that you're welcome to use. Check your calendars to see when annual meteor showers are supposed to be visible and plan your trip accordingly.
Check Availability
Related Read: 8 Spectacular Glamping Spots Near Acadia National Park, Maine
3. Zen Den Yurt
Why you should stay: Children and dogs stay free in this off-the-grid yurt.
Nearest town: Durham
Sleeps: 6
Minimum stay: 1 night
Rates from: $140/night
This eco-conscious yurt is on more than 100 acres of Maine wilderness owned by "Survivor" contestant Bob Crowley, the oldest winner in the show's history. They designed the property with an adventurous spirit in mind, and it shows. Adventures available throughout the year include fishing, cross-country skiing and snowshoeing, kayaking (with available rentals), and hiking, with a few miles of private trails.
You won't want to spend too much time actually inside the yurt (though it is a pretty cool experience.) It's also one of more affordable places to glamp in New England considering it sleeps half a dozen guests.
Check Availability
Glamping Rentals in Vermont
4. Secluded Treehouse Getaway
Why you should stay: There's a good chance you might see a Lorax poking around…
Nearest town: Moretown
Sleeps: 7
Minimum stay: 2 nights
Rates from: $250/night
A living tree runs through the middle of this gorgeous house among the trees that feels like it was designed to be a fairy house. But really, it was designed by the host of "The Treehouse Guys" on the DIY Network.
Branches intricately weave themselves together to make up the guard rails in the loft, which offers views of only a small part of the property's 88 acres. The views from inside and out are simply divine, especially if you're lucky enough to catch one of Vermont's fiery sunsets while gazing out from your private balcony.
Check Availability
Related Read: 10 Supremely Secluded Cabin Rentals in Vermont
5. Romantic Yurt Rental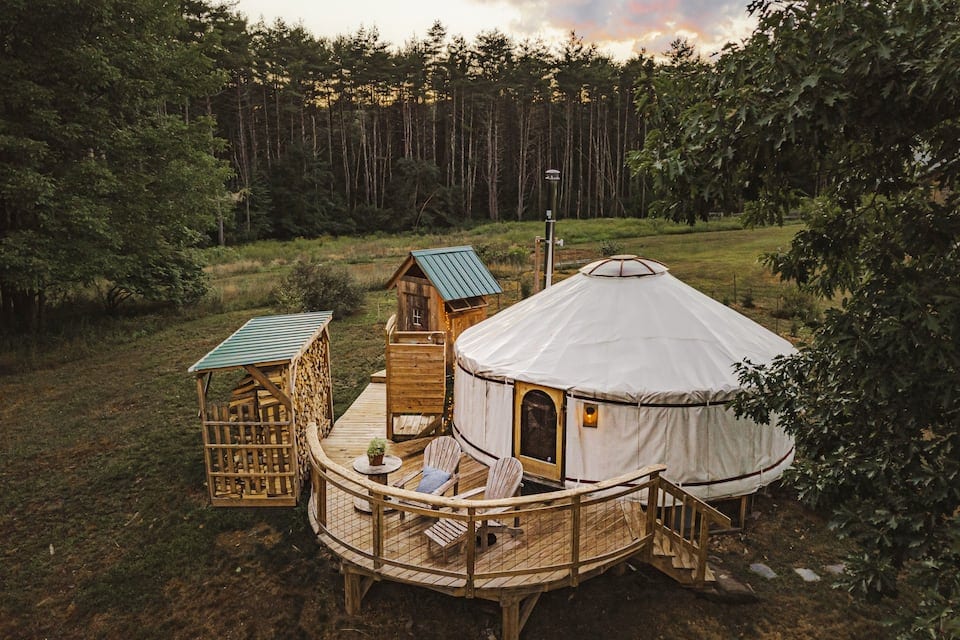 Why you should stay: A yurt with a bonus: a hot four-season outdoor shower.
Nearest town: Putney
Sleeps: 2
Minimum stay: 2 nights
Rates from: $128/night
You might not need all the wood available to you to warm this intimate retreat if your goal is to snuggle up with a romantic partner. Enter through the hobbit door and get ready to experience life in the round, complete with a few amenities you don't usually find in yurts.
You'll have a full kitchen complete with "not shitty knives," (as the owners say) so you can have a home-cooked meal — pop by the local Putney Food Co-op to stock up the fridge. Also pick up a bottle of wine to enjoy while you stargaze from the deck. On a clear and moonless night, you'll be able to see the Milky Way without a telescope.
Check Availability
Related Read: 9 Best Resorts in Vermont for Families & Couples
Glamping Rentals in New Hampshire
6. Luxurious Two-Story Treehouse
Why you should stay: A treehouse with radiant floor heating — oh la la. 
Nearest town: Newbury
Sleeps: 4
Minimum stay: 2 nights
Rates from: $365/night
There are two (count 'em, two) decks in this huge but somehow cozy humble abode tucked into the Vermont forest. A pulley system awaits the arrival of your heaviest items that you would rather not schlep up the ramp to the front door.
The house is full of small details, the like hidden draws in the steps to the second floor and pine cone squirrels tucked into corners. There's also a bathroom mirror made from a horse saddle, but if you're looking to sit in a saddle rather than look through one, check out nearby High Meadows Farm. It's one of the pricier places to glamp in New England but, hey, treehouse!
Check Availability
Related Read: 10 Most Unique Places to Stay in New Hampshire
Glamping Rentals in Massachusetts
7. Enchanted Tiny Tower
Why you should stay: Even Rapunzel wouldn't mind being locked up in this tiny home.
Nearest town: Lee
Sleeps: 2
Minimum stay: 2 nights
Rates from: $235/night
Rapunzel might not be the only princess who will want to sleep on the four-poster bed on the second floor of this magical tiny home. Oozing with enchantment and charm, those who choose to stay here may never want to leave — you could say it'll put you under a spell.
If you do find yourself walking outside the wooden tower, you'll find a babbling brook, nearby gardens, and a lily pond. Lee is in the Berkshires, so there's plenty nearby to fill a week-long stay.
Check Availability
Related Read: The 11 Best Cabin Rentals in New Hampshire
Glamping Rentals in Connecticut
8. Spartan Imperial Villa
Why you should stay: Location, location, location…
Nearest town: Stonington
Sleeps: 3
Minimum stay: 1 night
Rates from: $175/night
Wedged between remote tranquility and the touristy town of Mystic, this retro trailer cannot be beat location-wise for anyone visiting the area. The twinkling lights on the patio mimic fireflies while the beautifully messy gardens are havens for colorful little butterflies and caterpillars. And while it may not be obvious at first, it actually is a beach retreat.
The hosts provide everything you'll need for a beach day including towels, chairs, a cooler, and even vintage bikes to make the quick trip to the beach even easier. Make sure to use their outdoor shower to get all the sand off your body before heading inside your retro retreat.
Check Availability
Related Read: 12 Best Airbnbs in Connecticut for the Ultimate Getaway
9. Geodesic Dome
Why you should stay: Decrease your carbon footprint in a sustainability-focused getaway.
Nearest town: Bethlehem
Sleeps: 2
Minimum stay: 2 nights
Rates from: $41/night
Located in a quiet, country setting, this abnormally-shaped studio is the perfect blend of efficiency and sustainability. Although the retreat itself is cozy, with a locally made cedar-post bed and a small table with two chairs, you have access to everything in the host's home, including a hot shower and kitchen.
Buy some literal farm-fresh food (your hosts have a farm store on the property) and feel good about nurturing the earth and the local economy. It's one of the most affordable places to glamp in Connecticut, too.
"This is a beautiful stay in a peaceful, quiet setting. It's worth noting that this is a small organic farm and I felt that choosing to stay here versus a hotel had a sustainable impact on the environment and local community."
Check Availability
Glamping Rentals in Rhode Island
10. Sweet Pea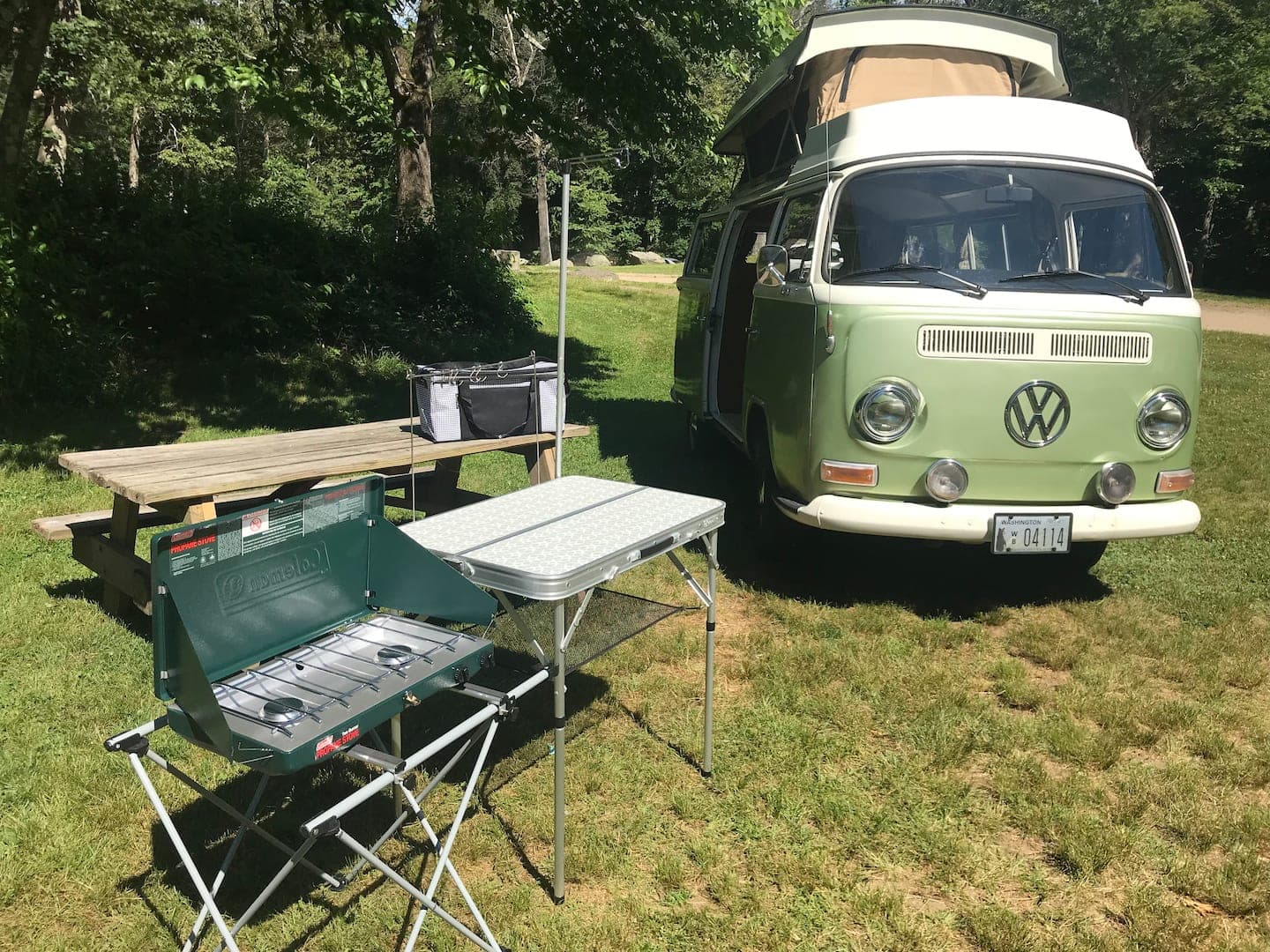 Why you should stay: Have the perfect hippie camper van rental delivered to your campsite.
Nearest town: Providence
Sleeps: 4
Minimum stay: 4 nights
Rates from: $160/night
Channel your inner Willie Nelson and stay in a genuine 1972 Volkswagon van with camper pop-top. There's plenty of space for your surfboards and other beach equipment for your travels along Rhode Island's coastline.
If chasing the surf isn't your style, feel free to find any ol' campsite and the hosts will deliver Sweet Pea to its destination (for a fee, of course).
Check Availability
Find Your Next Adventure
Sign up for Weekend Wanderer to join thousands of readers getting epic travel ideas in their inbox every Thursday!
Was this article helpful?
---