We research, evaluate and select travel destinations based on a number of factors, including our writers' experience, user reviews and more. We may earn a commission when you book or purchase through our links. See our editorial policy to learn more.
Was this article helpful?
---
Disconnect and recharge in the rolling hills of the Pennsylvania countryside with these downright charming cabins.
Pennsylvania is one of the northeast's most underrated states, often overlooked in favor of destinations like New York or Vermont — but it's got a lot going for it. In Pennsylvania, you'll find exciting American history, record-breaking sports teams (and equally dedicated fans) and, of course, the town of Hershey, home to Hershey Chocolate. But one thing visitors often don't realize is just how fabulous the less-developed parts of the state can be.
Go off the beaten path and see a whole different side to the Quaker State with one of the best Pennsylvania  from the list below, all of which are in more remote parts of the state.
Although it doesn't get the same level of hype as other American destinations, Pennsylvania's natural beauty includes countless hiking trails and experiences through lush rolling hills, clear freshwater lakes, and unique state parks. And there's even some pretty great skiing, too.
Without further ado, here are the best Pennsylvania cabin rentals if you're looking for a little R&R.
Related Read: 12 Secluded Cabin Rentals in Pennsylvania
1. The Private Hills Chalet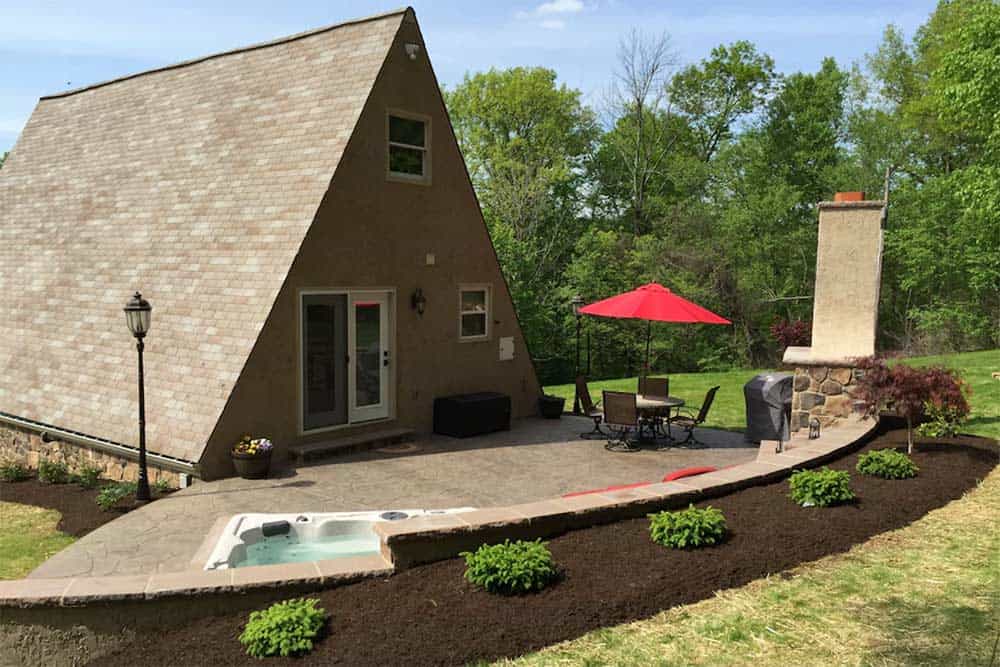 Why you should stay: Escape to 10 acres of seclusion with your own private hot tub and indoor jacuzzi.
Closest town: Robesonia
Sleeps: 2
Minimum stay: 1 night
Rates from: $216/night
The Private Hills Chalet is an ideal romantic getaway for two, far from the stresses of everyday life. Unwind with your partner the comforts of an elegant A-frame cabin and the privacy of a wooded 10-acre yard. The chalet features a beautiful outdoor patio with a stone fireplace and a hot tub for evenings under the stars.
Inside, enjoy the unique indoor jacuzzi in the living room facing the front chalet-style windows. The kitchen boasts recently refinished cabinets, stainless steel appliances, and all of the essentials. After your relaxing day in nature, nod off to sleep in the bedroom's comfortable queen bed. There's even a generator on the very rare occasion that the power goes out, so you'll never have to miss out on streaming your favorite show.
Check Availability
Related Read: 7 Incredible Treehouse Rentals in Pennsylvania
2. A Cabin by the Stream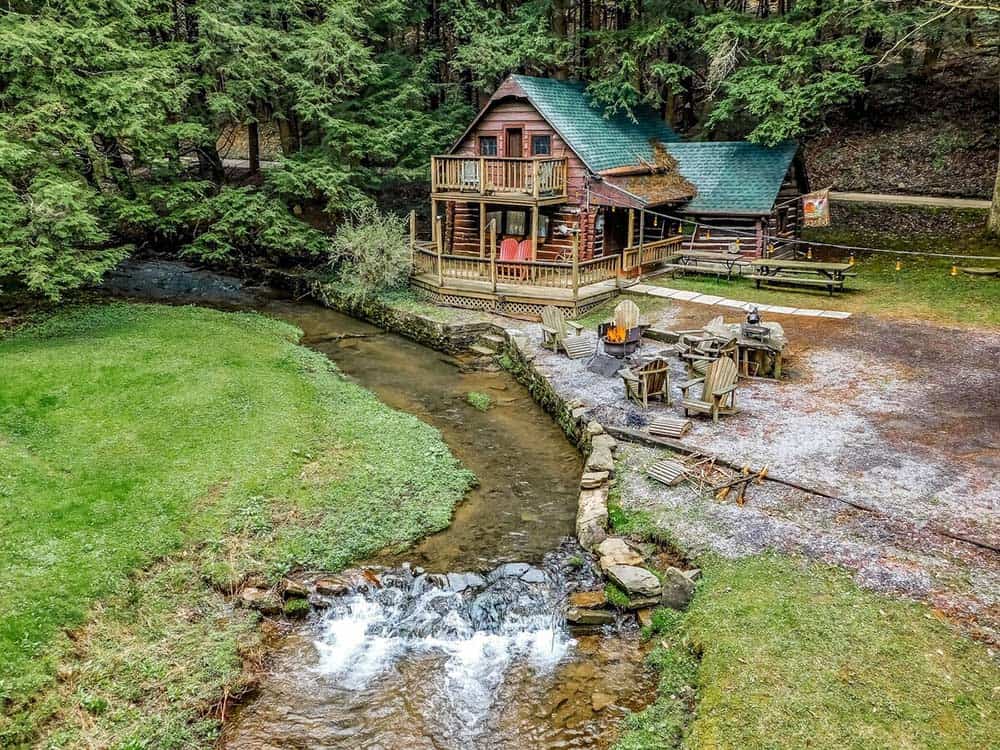 Why you should stay: A rustic cabin with amazing stargazing and wildlife viewing opportunities.
Nearest town: Coudersport
Sleeps: 6
Minimum stay: 2 nights; single nights may occasionally be okay
Rates from: $329/night
A Cabin by the Stream is an idyllic vintage log cabin perfectly placed on a gentle stream in the woods. There are two wooden decks, one the ground floor and one elevated, and a cozy patio next to the water with a fire pit and free firewood.
There's one large bedroom with four beds in the house to create a comfortable sleeping space for friends and family. This cabin is the definition of small-town charm and has quaint furnishings that'll make you feel right at home. It's also pet-friendly (with a $75 pet fee) and offers great stargazing from anywhere on the property.
Check Availability
Related Read: 11 Dreamy Pennsylvania Glamping Spots To Book Now
3. The Firetower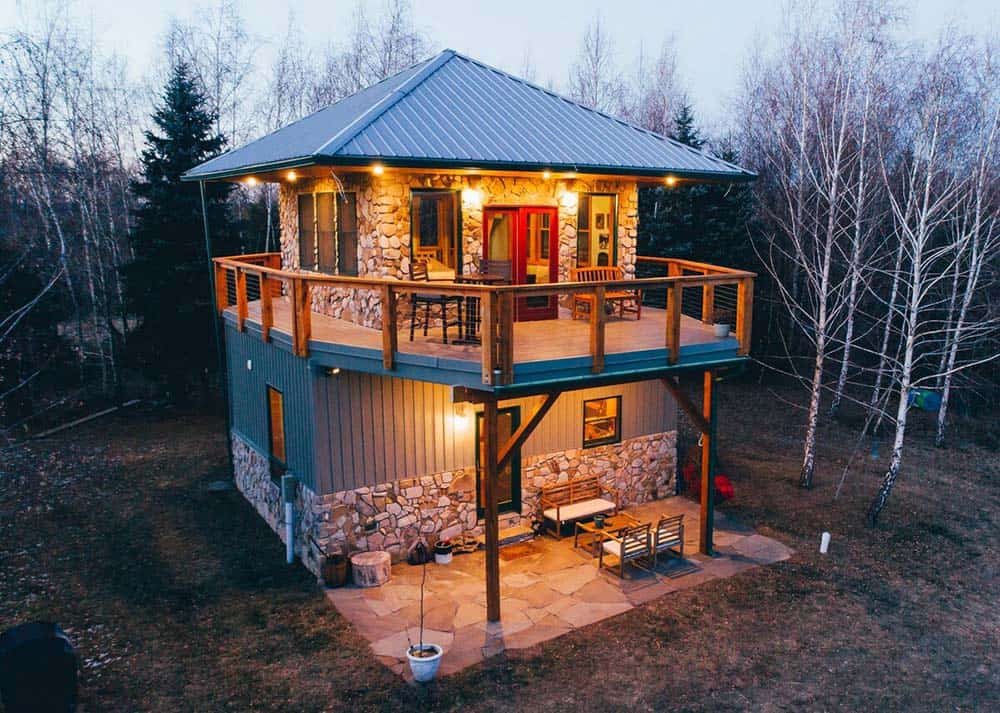 Why you should stay: A uniquely designed chalet overlooking 60 acres of pristine forest.
Closest town: Bloomsburg
Sleeps: 4
Minimum stay: 2 nights
Rates from: $200/night
Travelers who appreciate the uncommon will likely find The Firetower to be their favorite Pennsylvania cabin rental on this list.  It's modern, chalet-style cabin built to resemble the old fire lookouts of the Wild West.
It looks like an old fire tower at first glance, but once you're inside, you're greeted with elegant decor and furnishings. On the ground floor, you'll find an attractive living room with a pull-out sleeper sofa for two. The kitchen is fully stocked with all you need for home-cooked meals.
On the second floor is an open bedroom with tons of natural light and a nice little seating area, plus a lofted area above the bed. From the upstairs bedroom, double doors open to a terrace that offers stunning panoramic views of the Susquehanna Valley and birch trees below.
Check Availability
Related Read: 9 Unique Places to Stay in Pennsylvania
4. A-Frame in the Poconos
Why you should stay: A dreamy mid-century A-frame nestled in the Poconos Mountains
Closest town: Hamlin
Sleeps: 6
Minimum stay: 4 nights
Rates from: $275/night
Exuding minimalistic and thoughtfully curated design, this A-frame in the Poconos is an Instagram-famous cabin tucked into the mountains. Each of the home's three bedrooms has airy white walls, calming tones, and mid-century furnishings. From the primary bedroom, a private staircase leads to a bathroom with beautiful forest views from the deep soaking tub.
Staying here feels like you've climbed into the pages of Dwell Magazine – it feels like it could be an expensive cabin rental at a luxury hotel. You can brew your morning cup of coffee in the luxury Nespresso machine and opt to drink it outside, or curled up in the A-frame's loft. Outside, there's a wraparound deck with lounge chairs and a fire pit for stargazing and good conversation.
Check Availability
Related read: 12 Cozy Pet-Friendly Cabin Rentals in Pennsylvania
5. Treasure Lake Home
Why you should stay: A lakefront home with a large yard near plentiful amenities.
Nearest town: DuBois
Sleeps: 15
Minimum stay: 2–7 nights
Rates from: $350/night
Offering the ultimate family-friendly retreat, this Treasure Lake home comfortably sleeps a large group and has plenty to keep everyone busy. In the large yard, you can play yard games, relax by the fire pit, lounge under the shade of the trees, and go swimming and fishing off the dock. The hosts' kayaks and paddleboards are available to use during your stay, too. The Treasure Lake neighborhood is also loaded up with amenities like a golf course, pool, and playgrounds for the kiddos.
This lovely Pennsylvania cabin rental was once featured on HGTV's "Lakefront Bargain Hunters," and since then, it's been renovated with an elegant black-and-white interior. Whether for a family vacation or weekend with friends, this five-bedroom near DuBois is a fabulous place to unwind.
Check Availability
Related Read: 11 Luxury Cabin Rentals in Pennsylvania for a Pampered Vacation
6. Modern Cottage
Why you should stay: A minimalist cottage on the well-kept grounds of an art school.
Nearest town: Petersburg
Sleeps: 4
Minimum stay: 1 night
Pets allowed: no
Experience your very own fairytale at this charming modern cottage in Petersburg, Pennsylvania. This one-bedroom cabin is surrounded by a tranquil thicket of trees where woodpeckers fly and wildlife roam.
The home faces the private waters of Lake Jeanette and has a fabulous over-the-water wooden gazebo for long evenings spent admiring the views. Inside, warm exposed beams and leather furniture create a comfortable atmosphere for relaxing after a day spent exploring the more than 20 miles of trails at Stone Valley Recreation Area.

Check Availability
Related Read: 10 Peaceful Cabin Rentals Near Philadelphia, Pennsylvania
7. Bear Bottom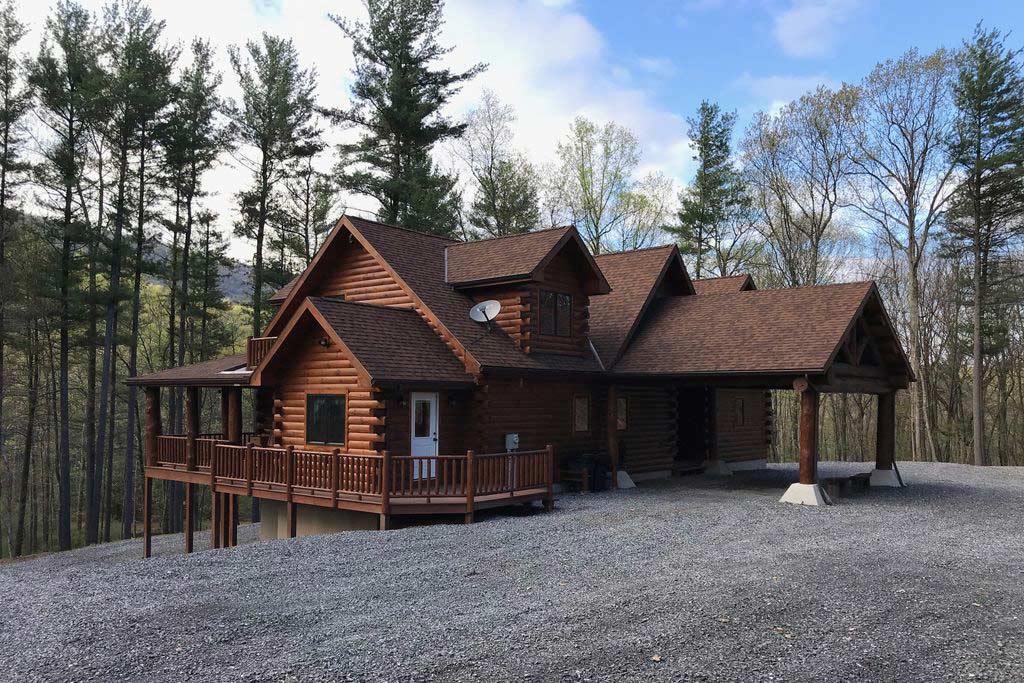 Why you should stay: A luxurious log cabin perfect for a large family getaways.
Nearest town:
Sleeps: 10
Minimum stay: 2 nights
Rates from: $324/night
Bear Bottom is a spacious cabin boasting 2,700 square feet of space on a 25-acre wooded lot, and tall, cathedral-style ceilings help make the already roomy four-bedroom home feel even bigger. There's a handful of indoor games in the basement level, and on the top floor, a cool lofted seating area overlooks the rest of the home.
This cabin in Pennsylvania is ideal for outdoor enthusiasts who appreciate fishing and wildlife viewing. Its location at the base of a mountain means animals like bears, turkeys, and deer are frequently spotted. It's also quite close to Raystown, which has plenty to do surrounding Raystown Lake, including a water park and sprawling mountain bike park.
Check Availability
Related Read: 12 Best Spots to See Pennsylvania's Fall Foliage
8. Storybook Chalet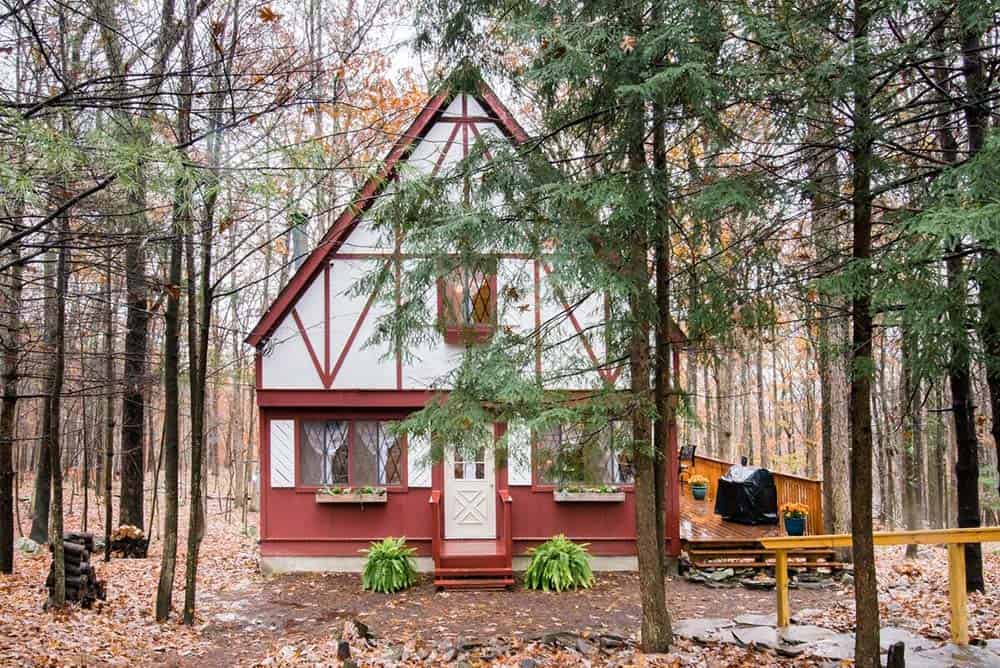 Why you should stay: Pet-friendly chalet in the woods straight out of a children's book.
Closest town: Lackawaxen
Sleeps: 6
Minimum stay: 1 night
Rates from: $242/night
The storybook chalet is a bewitching little three-bedroom cabin with vintage touches and a lot of charm. The cabin's facade looks like it belongs on a Swiss hilltop, but once you enter, it's a bit more modern. The sunny living room has exposed wooden beams and rustic pine floors to complement the clean white walls snd wood-burning stove.
Pets are more than welcome to stay at the storybook chalet, where they'll have free range of the yard. A wooden deck on the side of the house holds a grill and outdoor seating for days spent outside. There's plenty to do nearby, including a local winery, Promised Land State Park, and Raymondskill Falls.
Check Availability
Related Read: 12 Super Fun Weekend Road Trips From Pittsburgh, Pennsylvania
9. Millmont Log Cabin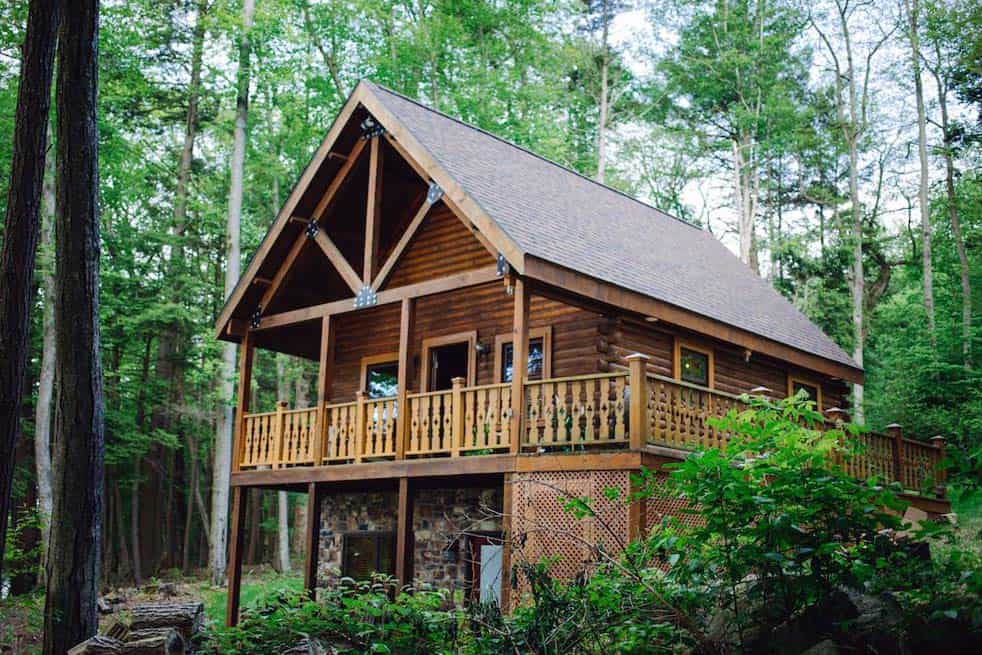 Why you should stay: A cozy log cabin situated within hiking distance of Pennsylvania's Bald Eagle State Forest.
Nearest town: Millmont
Sleeps: 7
Minimum stay: 2 nights
Rates from: $199/night
Make your countryside escape special and book your stay at the rustic Millmont log cabin along bubbling Penns Creek. This Pennsylvania cabin boasts a beautifully constructed wooden exterior and a wraparound deck perfect for watching colorful sunsets over the river. Spend your days on the water kayaking and evenings next to a roaring fire roasting marshmallows.
There are two bedrooms inside; a lofted main with a queen bed and two sets of bunk beds in the basement. The kitchen has new appliances and there's also a washer and dryer onsite. The property is nicely secluded but not far from shops and restaurants.
Check Availability
Related Read: 10 Luxury Cabin Rentals in the Poconos
10. Whitetail Chalet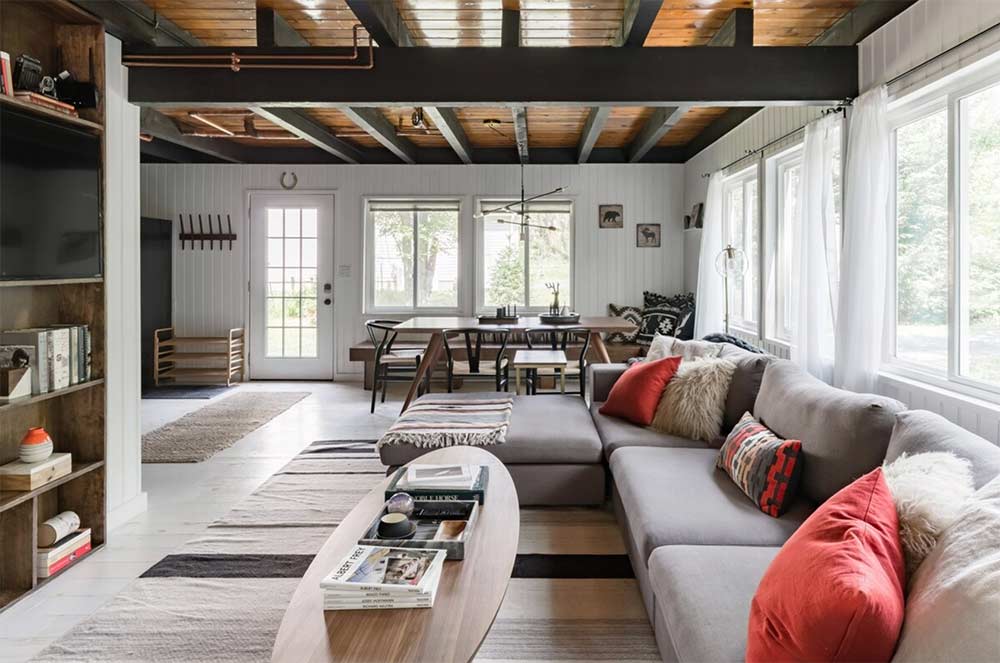 Why you should stay: A modern Airbnb Plus chalet near Tobyhanna State Park.
Closest town: Tobyhanna
Sleeps: 8
Minimum stay: 3 nights
Rates from: $275/night
The Whitetail Chalet is a sleek Pennsylvania cabin rental immersed in the rolling hills of Tobyhanna. The home has natural wood ceilings that beautifully pair with black beams, white walls, and neutral tones. The hosts also added thoughtful pops of red that brighten up the house and tie the rooms together. Oh, and there's a private forest-view Jacuzzi, too.
The chic kitchen features muted green cabinetry with stainless steel appliances and a large farm sink. In the sparkling clean bathrooms, white subway tiles line and dark blue walls give the room an elevated, luxury-cruise-liner vibes. The Whitetail Chalet is part of Airbnb Plus, an invite-only program that recognizes the best hosts and most beautiful properties available on the site.
Check Availability
11. Robinhood's Cabin
Why you should stay: Sleep on a 50-acre property with hiking, fishing, ATVing and more on site.
Closest town: Galeton
Sleeps: 8
Minimum stay: 2 nights
Rates from: $200/night
Robinhood's Cabin is a three-bedroom, two-bath Pennsylvania cabin rental close to Cherry Springs and Leonard Harrison State Park. The property has fabulous amenities, including plenty of hiking trails and room to play in the woods. You can also hunt on the property, if that's your thing —if it's not, be aware that there are plenty of deer heads on the wall. The home has two totally private bedrooms, plus a large loft with two more double beds.
There are great exterior amenities the whole family will enjoy, too. Fire up the grill and enjoy a cookout under the wooden pavilion equipped with a picnic table, electricity, and lighting. There's also a fire pit, basketball hoop, and horse stables for those traveling with horses. You can also ATV on the property, and if you have a larger group, there's an additional one-bedroom suite you can add on for an additional $100 a night.
Check Availability
Related Read: 9 Awesome & Pet-Friendly Cabin Rentals in the Poconos 
12. Quaint Chalet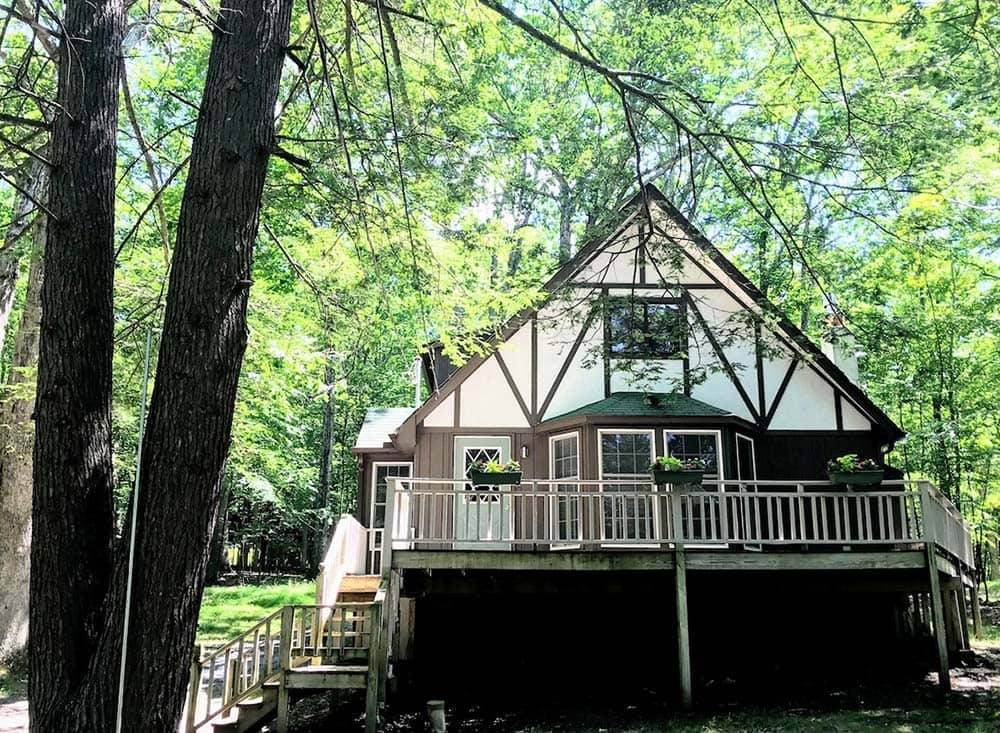 Why you should stay: A wooded chalet with community amenities near a massive outdoor recreation area
Closest town: Lehman Township
Sleeps: 6
Minimum stay: 3 nights
Rates from: $169/night
There's something for everyone at this quaint chalet located just a 10-minute walk from the Delaware River Gap National Recreation Area entrance. Fantastic hiking and biking trails are plentiful, and visitors can swim and kayak on the Delaware River or nearby lakes. You'll even have guest access to the community swimming pool and tennis courts with your booking.
Attached to the home is an expansive wraparound deck. Inside, there are three bedrooms, two baths, a stone fireplace, and a gated front deck perfect for pets.
Check Availability
13. Lakewood Retreat
Why you should stay: Spacious cabin near French Creek State Park with an expansive patio on a picturesque pond.
Nearest town: Elverson
Sleeps: 9
Minimum stay: 2 nights
Rates from: $250/night
Lakewood Retreat is one of the most stunning Pennsylvania cabin rentals for larger groups with a well-kept yard complete with a gazebo and fishing pond. Behind the home, a flagstone patio and balcony provide plenty of space to socialize next to the water. In the summer, have fun playing yard games like corn hole and can jam before making a summer evening bonfire.
White walls and gleaming, dark wood accents exude modern farmhouse elegance inside the cabin. Guests can connect to the free Wi-Fi, but be warned, there isn't a T.V. in sight. There are four sleeping spaces in total, one set up with four bunks for the kids, two private rooms, and a sitting area with a sleeper sofa. Those sleeping in the largest bedroom can enjoy a whirlpool bathtub and a private balcony.
Check Availability
14. Lakefront Pocono Home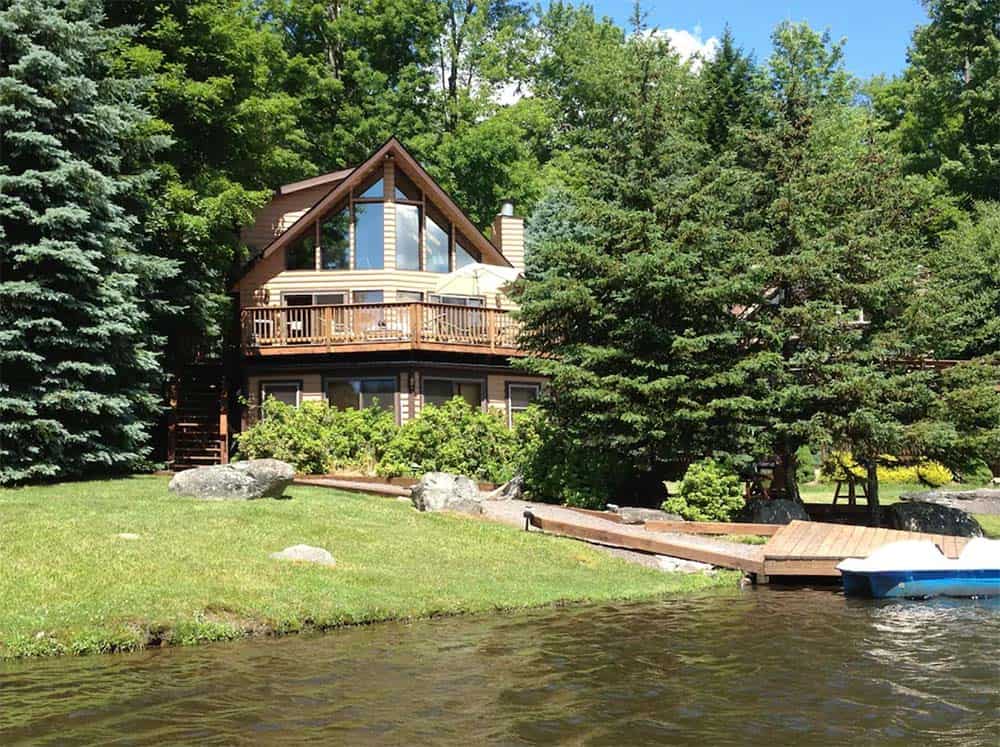 Why you should stay: Luxury chalet-style cabin on the water with fantastic nearby amenities.
Nearest town: Lakeville
Sleeps: 10
Minimum stay: 2–6 nights
Rates from: $200/night
Plan a vacation with access to the great outdoors and hotel-style amenities at this lakefront Pocono home. The cabin's station along the banks of a quiet non-power boating lake means you and your family can swim and fish to your heart's content. And the elevated deck is the perfect lakefront spot for a cookout while marveling at the panoramic lake views.
Guests staying at this cabin have access to two outdoor community swimming pools and tennis courts, depending on the season, of course. The home itself features eye-catching chalet windows, a stone fireplace, and a private hot tub for ultimate relaxation. This three-bedroom, three-bath is consistently highly rated for its cleanliness and coziness.
Check Availability
15. Crest Hill Chalet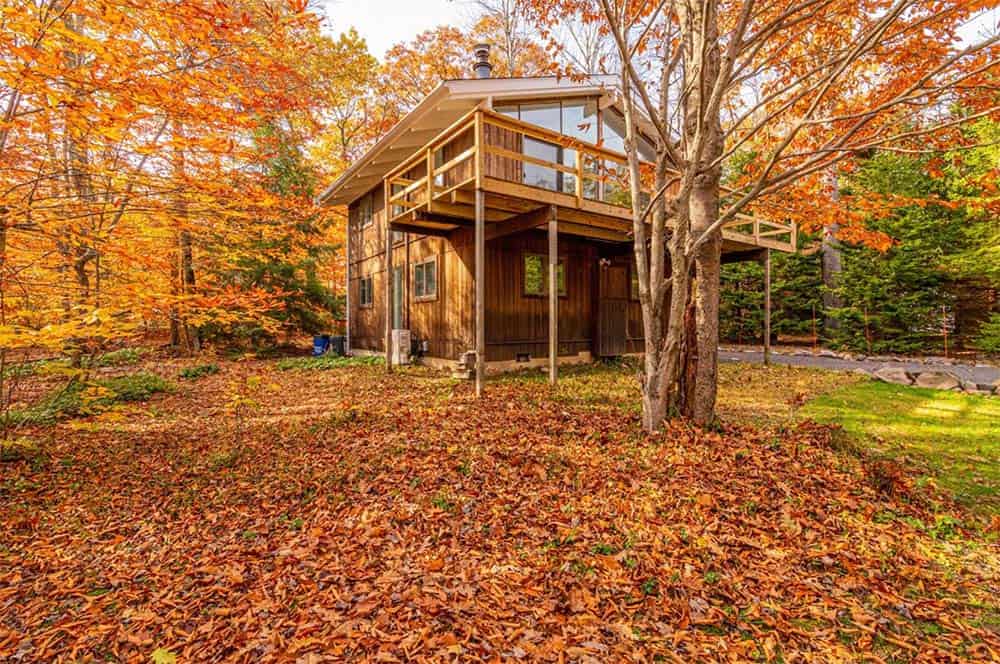 Why you should stay: A four-bedroom Pennsylvania cabin rental only 15 minutes to Camelback Mountain.
Closest town: Tobyhanna
Sleeps: 8
Minimum stay: 2 nights
Rates from: $199/night
The Crest Hill Chalet is truly a four-season vacation home. When it's warm, you can take advantage of the nearby hiking trails in Tobyhanna State Park and community swimming pools in Pocono Farms. As the snow begins to fall, Pocono Farms Ski retreat is also just minutes, making it easy to hit the slopes for an afternoon.
Natural light filters in through floor-to-ceiling windows to fill every inch of the open floor plan. Up the glamorous spiral staircase is the primary bedroom, while the other three bedrooms are on the first floor. There's also an excellent outdoor space with market lights and plenty of seating, plus fabulous fall foliage in the fall.
Check Availability
Discover More Stunning Cabins
Get epic travel ideas delivered to your inbox with Weekend Wanderer, our newsletter inspiring more than 10,000 readers every week.
Was this article helpful?
---