Salt Lake City and the surrounding local area have plenty to do on the weekends. But if you want to get out of town, you'l find plenty of epic spots within just a few hours of the city.
From family-friendly desert towns to national parks, everyone can find a way to satisfy that vacation bug with a short weekend road trip from Salt Lake City. You'll need a car to get to most of these hot spots, though once you're there, you may find a bike, OHV, or boat to be a valuable addition to the adventure kit. If you don't have your own, chances are you'll be able to rent one wherever you end up.
Related read: 10 Best Utah Lake Camping Destinations for a Weekend on the Water
Salt Lake City Road Trip Planning
As with all road trips, it's essential to do a bit of prep before heading out. Luckily, Salt Lake traffic is generally predictable, with traffic backups matching the "9-to-5" work schedule. Unfortunately, predictable doesn't mean good, and I-15 can have some long delays if you try to leave at the wrong time.
So if you're getting out of town on the weekend, either be prepared to battle traffic or try to escape work a little early on Friday. Having the car ready and packed is a huge help when it comes to efficiency on weekend road trips.
Utah's weather can be somewhat variable, though it follows a standard pattern of the four seasons. Winter may be mild in the city, the desert, and the valleys, but if you venture up into the mountains, you'd best have four-wheel drive or chains all winter long.
However, most of the road trips from Salt Lake City below don't require 4WD or chains any time of year. Expect deserts to be quite cold in winter and blazing hot in summer and plan accordingly – most locals find that spring and fall (the shoulder seasons) are the best times to hit the road.
Related read: 10 Refreshing Swimming Holes in Utah
Six Weekend Road Trips from Salt Lake City
1. Moab, Utah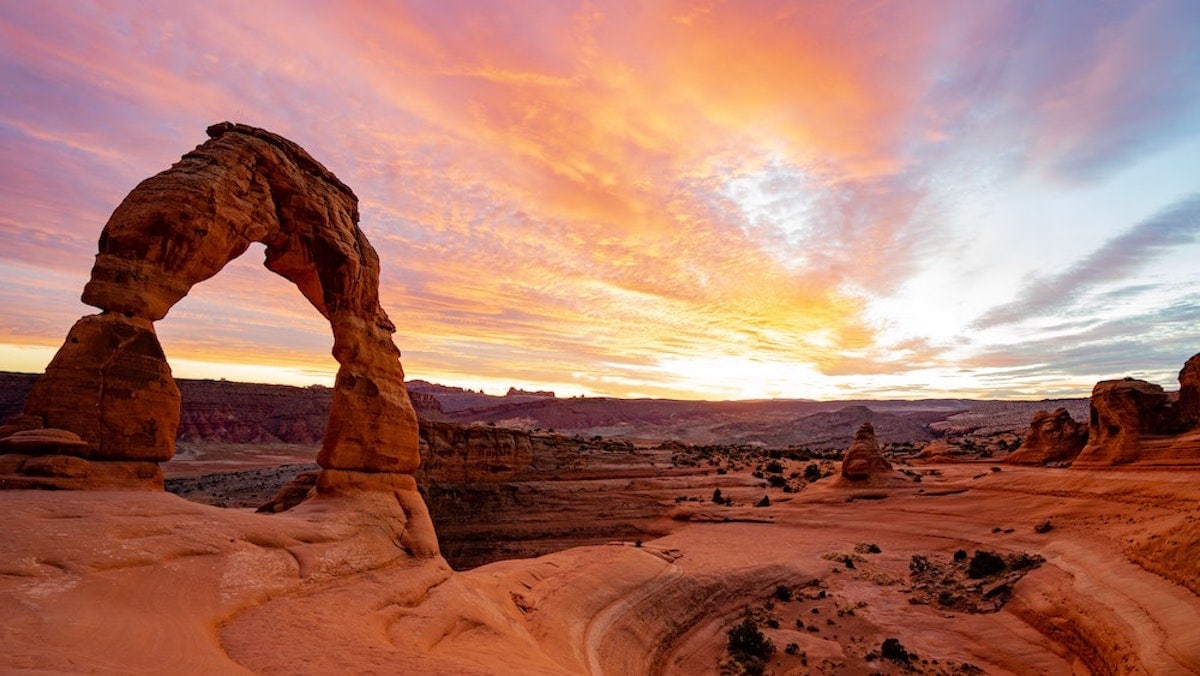 Easily one of Utah's best and most well-known areas, Moab is the perfect spot for the weekend warrior. With mountain biking, hiking, climbing, OHV opportunities, climbing, and rafting, there's no shortage of things to do. You'll probably find you need to take a few trips to this hotspot to hit it all.
If you're new to Moab, a visit to Arches National Park is a must. There are numerous stops along the park road with various arches — more than 2,000, actually — to explore. Though each arch usually requires at least a short walk to reach, the park service has done and excellent job of making views of many of the arches accessible. You can of course take a longer hike to really absorb the park.
Moab is known for its epic mountain biking and OHV opportunities. If you don't own a bike or OHV, you'll find plenty of places in town to rent one. Shop employees are always happy to help give advice on where to get out and explore, and with so many trails, it's easy to accommodate all levels of riders.
After a long day out on the trails, take a stop at Milt's, a classic post-adventure burger and shake joint immensely popular among locals and visitors alike. There are plenty of locations to camp, but you could also glamp at UnderCanvas or rent an outdoorsy airbnb.
Distance from Salt Lake City: 234 miles
Drive time without stops: 4 hours
Related read: 9 Fun Weekend Road Trips from Kansas City, Missouri
2. Park City, Utah
If you're looking for something a little closer to home, Park City is just on the other side of the Wasatch Range. Home to some of the best downhill skiing around, Park City is a perfect winter weekend getaway. Book your accommodations early as the rentals around here tend to fill up. Ski powder by day and tour the town by night.
If you'd rather visit in the summer, you'll find a wealth of hiking and mountain biking to keep you occupied all weekend. But, of course, shoulder seasons can be great times to visit too, and the autumn boasts beautiful scenery with the changing aspen leaves. First-time visitors will be well-served by spending the afternoon playing at the Utah Olympic Park, doing an afternoon tasting at popular High West Distillery, or hitting up the epic Silver Lake Trail.
Distance from Salt Lake City: 33 miles
Drive time without stops: 40 minutes
Related read: 12 Best Spots to See the Fall Colors in Utah
3. Zion National Park
Zion National Park is a paradise for the avid hiker. The most popular area for hiking in the park is Zion Canyon. Angels Landing offers some fantastic canyon views, but the hike is steep, strenuous, and not a wise option for anyone with a fear of heights or young kids.
Another fantastic option (especially for those warmer months) is to do a little canyoneering in The Narrows. A paved, wheelchair accessible path runs about a mile up the canyon, but beyond that, you'll be walking in the Virgin River. Depending on water flow, you'll find yourself anywhere from ankle to waist-deep. It's a refreshing option for those looking for unique canyon views who don't mind some wet feet.
If you're looking for a more low-key weekend, Zion has plenty of shorter and easier hikes to fill an hour or afternoon. And with 291 species that call the park home, it's a birdwatcher's dream. It's also an International Dark Sky Park, so it's a stellar spot for stargazing. Try to time your visit to overlap with a meteor shower and you won't be disappointed.
Writer's note: During the spring, summer, and fall, Zion Canyon is only accessible via the park shuttle. Plan ahead and catch that shuttle as early as possible.
Related: The Ultimate Salt Lake City to Zion Road Trip Itinerary
Distance from Salt Lake City: 308 miles
Drive time without stops: 4 hours, 30 minutes
Related read: 10 Adventurous Campervan Rentals in Salt Lake City, Utah
4. Craters of the Moon National Monument, Idaho
While the first three trips headed south, this one heads north, way out of Utah and into Idaho. Craters of the Moon National Monument has one of the most extraordinary landscapes in the west, and that's saying a lot. The young volcanic landscape will thrill geology buffs with various lava, cinder cones, lava tubes, spatter cones, and more all waiting for you to explore.
One unique aspect of Craters is the opportunity to do a little caving inside extinct lava tubes. There are four main caves to explore, ranging from easy to difficult, and all will require you to pick up a free permit at the visitor center before you go. To reduce the spread of White Nose Syndrome (a fungal disease lethal to bats), be sure to not wear any shoes into the cave that you've worn in other caves.
If heading underground isn't your jam, there are plenty of trails on the surface running alongside craters and ancient lava flows. Or if you're more of a car person, explore the paved seven-mile loop road before heading off-road on any number of BLM backcountry roads. Just make sure to have a high clearance and an AWD vehicle before going too far.
Distance from Salt Lake City: 263 miles
Drive time without stops: 4 hours
Related read: White Rim Road: An Overland Adventure in Canyonlands, Utah
5. Flaming Gorge National Recreation Area, UT/WY
For the water inclined, Flaming Gorge is a real treat. The gorge is a massive flooded reservoir canyon on the Green River, spanning the border between Utah and Wyoming. Not only are the topography and rock formations incredible to boat or paddle past, but the fishing is pretty epic, too. Each year, avid fishermen and women pull lake trout pulled from the water weighing 30 pounds or more.
The reservoir is huge and can accommodate kayaks, sailboats, and motorboats; waterskiing and tubing are hugely popular. If you need to rent a boat, the Lucerne Marina offers motor, pontoon, and houseboats, whereas the Cedar Springs Marina offers all of the same, plus stand-up paddleboards and kayaks.
You can camp near the lakeshore on the central and northern areas of the gorge, but if you'd prefer to make day trips out to the lake, there are drive-up campgrounds near boat launches, such as Antelope Flats, Lucerne Marina, and Cedar Springs. In addition, there is quite a bit of free dispersed camping up on the Wyoming side, though they're a bit more of a rustic experience as fewer amenities are available.
Even if you're all about the water, you'll probably want to take some time to explore one of the few trails above the shore that head to the edge of the gorge. Most water-based visitors never get to enjoy them.
Distance from Salt Lake City: 203 miles (to Cedar Springs)
Drive time without stops: 2 hours, 45 minutes
Related Read: 11 Amazing Wyoming Cabin Rentals To Warm Your Soul
6. Yellowstone National Park, WY
As the United State's first-ever national park in the United States, this one doesn't need much introduction. However, given the distance, you'll probably have to tackle it over a long weekend (though a mid-week visit will help you avoid some of the crowds.)
Yellowstone is famous for its hydrothermal activity, which creates the park's iconic features such as Old Faithful Geyser and the Grand Prismatic Spring (both must-sees). There are plenty of geysers and hot springs to visit and enjoy, especially in the Upper Geyser Basin. Plan for a day out enjoying the sights and try to visit each of the basins.
Another huge draw to the area is the opportunity for outstanding wildlife viewing. The Lamar Valley, though remote, is one of the best places to see herds of bison and is a quieter alternative to the Hayden Valley. If you're hoping to see wolves or bears on your trip, you're most likely to see them in the Lamar Valley, but you could technically see them anywhere in the park, especially at dawn and dusk.
Distance from Salt Lake City: 335 miles
Drive time without stops: 6 hours
Discover More Utah Trips
Sign up for Weekend Wanderer to join thousands of readers getting epic and gear travel ideas every week.
---