Grab your fave snacks and crank up the tunes — it's time for a weekend road trip from Columbus!
Nestled smack dab in the middle of the state, Columbus is near some of the top destinations in Ohio, the Midwest, and even the south. Its convenient location makes visiting the state's biggest cities and the natural splendor of the Hocking Hills region all the more enticing. Not to mention, Columbus road trippers can reach southern stops in Kentucky and West Virginia around just three hours.
So, the next time you're free, check out this comprehensive list of the best weekend road trips from Columbus, Ohio.
1. Hocking Hills State Park, Ohio
Hocking Hills State Park is, by and large, Ohio's most popular state park. Nestled in Southeastern Ohio where the rolling foothills of the Appalachian Mountains meet a lush state forest, it's not surprising why. Visitors from far and wide flock to relish the park's dramatic caves, overhanging cliffs, and cascading waterfalls. A weekend at Hocking Hills also offers an opportunity to hike miles of trails, kayak in the river, and zipline through the treetops.
The park is especially popular in the fall when the forest shifts to vibrant shades of yellows, reds, and oranges. Weekend visitors can camp in the state park, where modern and primitive campsites, as well as cabin rentals, stand ready to host. The quaint little town of Logan is less than 20-minutes away and offers plenty of cozy accommodation for Hocking Hills visitors, too.
Distance: 57 miles
Drive time without stops: 1 hour
Related Read: 7 Hocking Hills Cabins with Hot Tubs for a Revitalizing Getaway
2. Indianapolis, Indiana
When you think of Indianapolis, the Indy 500 likely comes to mind. But "America's Crossroads" is an exciting weekend road trip from Columbus with more to offer than fast cars and race tracks (although the Indianapolis Motor Speedway Museum is pretty cool). Meandering through downtown is the idyllic Central Canal, where visitors can enjoy a stroll surrounded by skyline views and greenery.
The White River State Park is five minutes from downtown and offers a scenic area to relax, rent bikes, and cruise on a gondola ride. Foodies who wish to embark on a food tour around the city should make their way to St. Elmo Steak House for a shrimp cocktail and Shapiro's Delicatessen for their corned beef and pastrami. Indianapolis is conveniently a straight shot from Columbus along highway 70, making the drive a breeze.
Distance: 175 miles
Drive time without stops: 2 hours 45 minutes
3. Cincinnati, Ohio
Cincinnati is Ohio's third-largest city tucked along the shores of the passing Ohio River and the border with Kentucky. Many of Cincinnati's top attractions are centered around historical landmarks like the Cincinnati Art Museum and the John A. Roebling Bridge, the prototype for the Brooklyn Bridge. A visit to the Over-the-Rhine neighborhood is also a must. Once home to blue-collar German immigrants, Cincinnati's Over-the-Rhine features eye-catching 19th-century buildings and, of course, good German food and beer.
Down the road from Over-the-Rhine, you'll find Findlay Market, Ohio's longest-running market. For local fares and Saturday farmers market fun, it's the place to go. If you still have room, no trip to Cincinnati is complete without weighing in on a city-wide feud: who makes the best Cincinnati chili? Skyline and Gold Star are the two opponents, where you can decide which is best for yourself!
Distance:107 miles
Drive time without stops: 1 hour 53 minutes
Related Read: 9 Beautiful Cabin Rentals Near Cincinnati, Ohio
4. Pittsburgh, Pennsylvania
Get out of the midwest for a weekend with a trip to Pittsburgh, nicknamed the City of Bridges thanks to the nearly 450 that cross the three large rivers that meet downtown. Although the Steelers and Pirates dominate the local culture, this sporty city boasts pursuits and outdoor fun that lie outside of the sports arena. For example, visitors can rent bikes and ride along the North Shore Bike Trail, which passes through North Shore Riverfront Park where picture-perfect city views await.
Art enthusiasts should make time to see works by famed Pittsburgh native Andy Warhol at the Andy Warhol Museum. And no weekend visit to Pitt is complete without taking the historic funicular up to the top of Mount Washington for stellar views of the Pittsburgh skyline. When hunger strikes, prepare your belly for local specialties like Primanti Bros sandwiches, polish pierogies, and the oxymoronic Pittsburgh Salad topped with french fries.
Distance: 185 miles
Drive time without stops: 3 hours
5. Cleveland, Ohio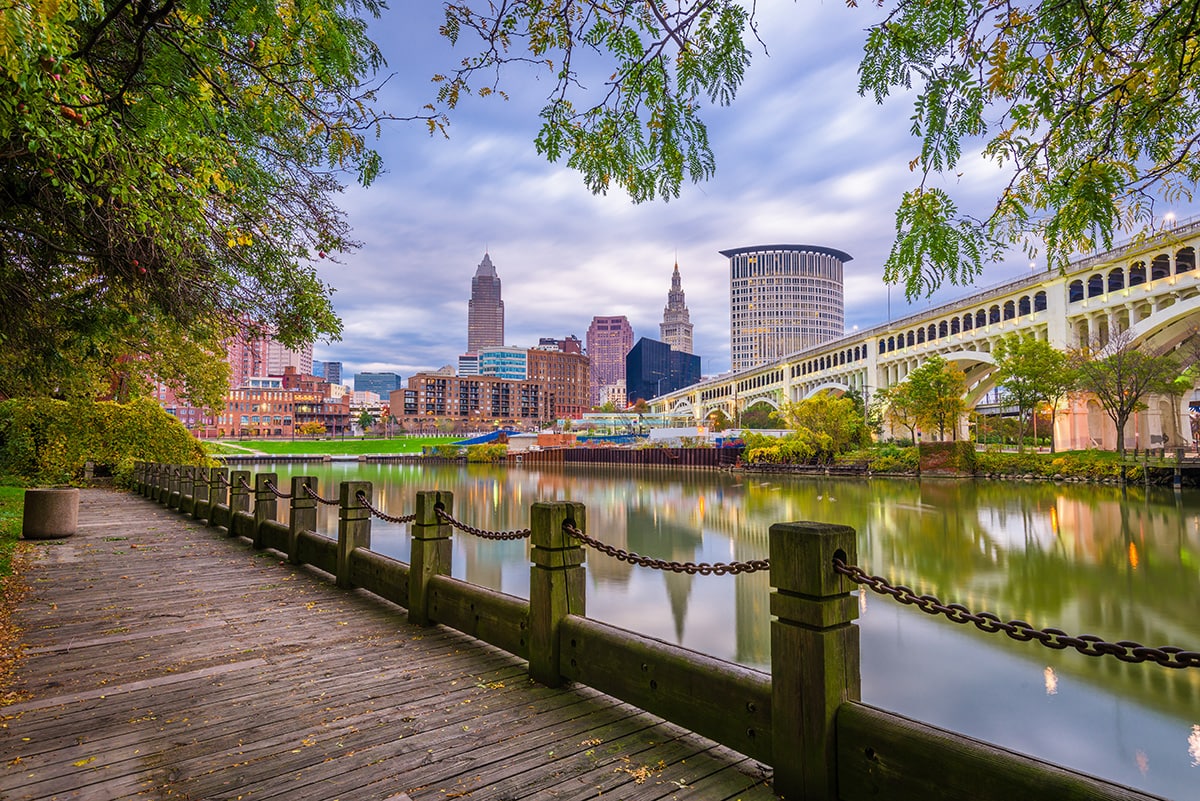 Cleveland is an industrious city that has long attracted tourists. Ohio's second-largest city is home to the world-famous Rock and Roll Museum and a stretch of shore along Lake Erie. Start your weekend trip with a bagel from The Cleveland Bagel Company before venturing to top Cleveland sights like the West Side Market and the Museum of Art.
For a taste of local theater, catch a show at Playhouse Square, a performance art center that rivals that of NYC. When you've had your fill of the concrete jungle, trade the city streets for fresh air at Edgewater Park. The park is home to beaches and miles of walking paths. In the evening, dine on local faves like pierogies and corned beef sandwiches. There's also a surprising number of free things to do in Cleveland as well.
Distance: 142 miles
Drive time without stops: 2 hours 6 minutes
Related Read: 9 Unique Airbnbs in Ohio for the Perfect Midwest Getaway
6. Louisville, Kentucky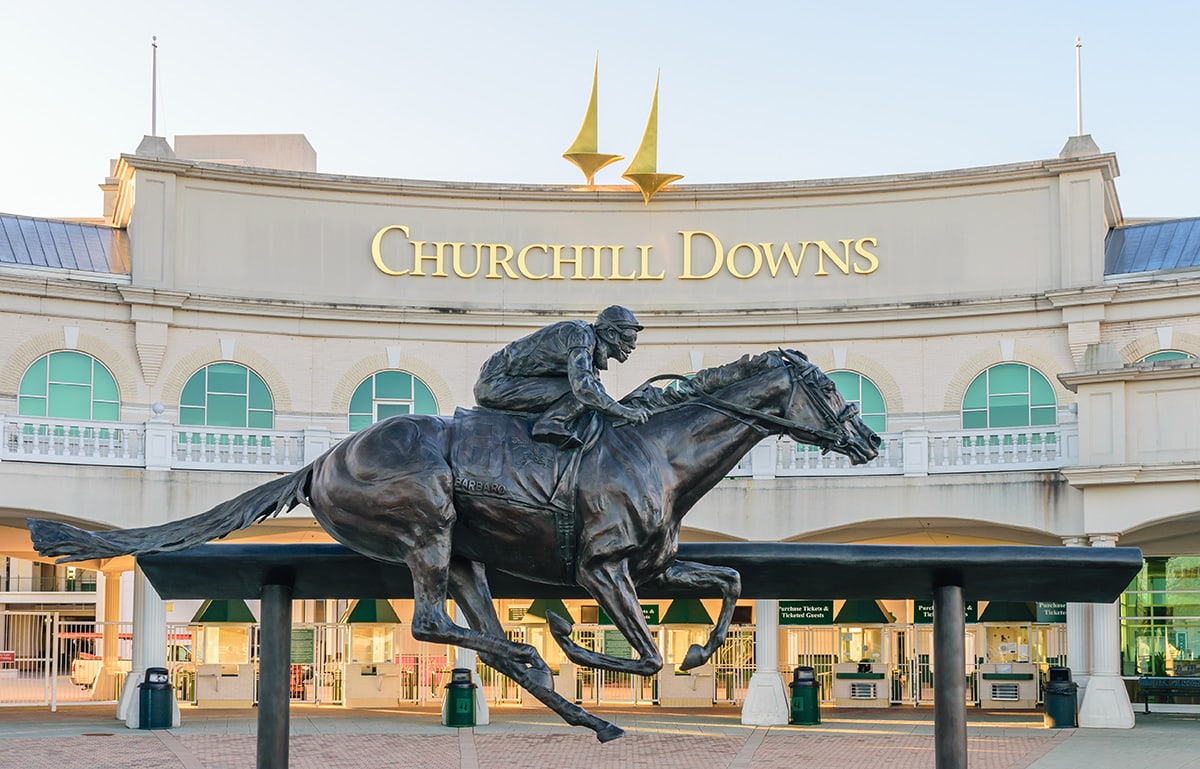 From horse races to baseball equipment, many iconic American institutions have come out of Louisville. Visitors can learn more about them with a visit to the Louisville Slugger Museum & Factory and a tour of the Churchill Downs race track which hosts the thrilling Kentucky Derby every year. Another excellent way to get acquainted with the city is with a ride on the Belle of Louisville, a traditional steamboat that takes visitors down the Ohio River and offers a unique vantage point of the city.
Not to mention, going on a taste test mission along the exciting Kentucky Bourbon Trail, a stretch of distilleries from Lexington to Louisville that continues Kentucky's proud bourbon heritage. Top spots along this epic trail include Woodford Reserve and Jim Beam. Fried chicken is another Kentuckian treat (KFC anyone?), as is a Hot Brown, a spicy Louisville staple.
Distance: 206 miles
Drive time without stops: 3 hours 17 minutes
7. Dayton, Ohio
Dayton is a mid-sized city in western Ohio best known as being the hometown of the famed Wright Brothers. Aptly dubbed the "birthplace of flight," visitors can learn more about the remarkable innovations they made in flight at the Wright Brothers National Museum. If you're a diehard aviation fan, you should also pop over to the National Museum of the United States Air Force, where historic aircraft and space shuttles are displayed.
While it's best known for its place in America's aviation history, it boasts other incredible attractions worth seeing on the weekend. Open year-round, the 2nd Street Market is an excellent open-air market where nearly 50 vendors set up shop and offer locally made fares. In pleasant weather, a picnic at the Carillon Historical Park is another fantastic thing to do in Dayton. This 65-acre park hosts exhibits showcasing Dayton's unique history from its earliest settlers to modern times and even has a Wright Brothers plane on display.
Distance: 73 miles
Drive time without stops: 1 hour 9 minutes
Related Read: 12 Epic Outdoor Summer Vacation Spots in the U.S.
8. Ann Arbor, Michigan
Trade the buzz of one university town for another with a visit to Ann Arbor. This charming city makes for an ideal weekend getaway for any occasion and offers activities suitable for both kids and kids at heart. At the popular Hands-On Museum, the entire family can partake in interactive exhibits while learning a bit about science. Ann Arbor is also a fantastic getaway for outdoor lovers, thanks to its countless city parks and stretch of Huron River where you can kayak and paddle.
Making time for a stroll around the University of Michigan campus is another highly recommended Ann Arbor stop, noted for its many historic buildings and the pretty Nichols Arboretum. As a university town, there's also plenty of hip cafes, delicious restaurants, and healthy nightlife to be enjoyed by all. After a long day of wandering, satisfy your thirst with a cold craft brew from the Arbor Brewing Company or a cocktail from The Last Word.
Distance: 189 miles
Drive time without stops: 3 hours 5 minutes
Related Read: 10 Refreshing Michigan Swimming Lakes for a Summertime Dip
9. Charleston, West Virginia
As West Virginia's capital city, Charleston is a city brimming with history and charm. Its riverfront locale where the Elk and Kanawha rivers meet beautifully frame the skyline and add greenery to the city. When you first arrive, get acquainted with Charleston by strolling along Capitol Street, a charming area noted for its local shops, restaurants, and red brick buildings.
At the end of the street, the glint of the Capitol's golden dome will capture your attention. Visitors can step inside and marvel at the marble interiors and the glittering chandelier that hangs in the Rotunda. Coonskin Park lies just outside of town and offers disc golfing, forested hiking trails, and pedal boat rentals. The Kanawha State Forest isn't far either, where bird watchers and hikers flock to relish the thousands of acres of pristine wilderness.
Distance: 163 miles
Drive time without stops: 2 hours 42 minutes
Where to Explore Next
Get epic travel ideas delivered to your inbox with Weekend Wanderer, our newsletter inspiring thousands of readers every week.
Was this article helpful?
---