We research, evaluate and select travel destinations based on a number of factors, including our writers' experience, user reviews and more. We may earn a commission when you book or purchase through our links. See our editorial policy to learn more.
Was this article helpful?
---
A night in a Wyoming cabin is an iconic American experience.
Wyoming is rich in history and natural beauty. And an evening under the stars in the foothills of the Rocky Mountains or within a boundless expanse of the open range is sure to evoke a sense of wonder in any traveler open to new experiences.
It's a feeling akin to the pioneering spirit of America's early days — it's wanderlust in a cabin.
Two of the nation's most awe-inspiring national parks are in Wyoming, and they're not more than 10 miles from one another. Each corner of the state has something unique to offer, but Yellowstone and Grand Teton national parks certainly draw in people from across the globe to see their splendor.
Best Cabin Rentals in Wyoming
The cabins listed below span the state, though many are within driving distance to Wyoming's world-famous Jackson Hole and national parks. Others are far removed from civilization for those seeking a truly remote wilderness escape. No matter what kind of western adventure you're after, you'll find the right place to base yourself on the list of Wyoming cabin rentals below.
1. Bridger Teton Cabin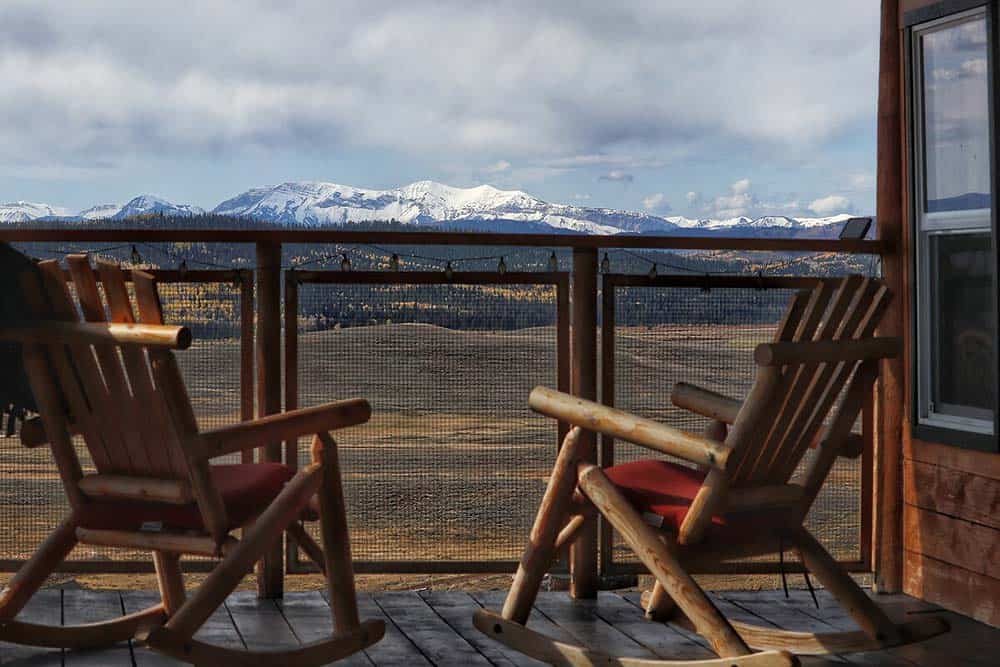 Why you should stay: Solitude near national parks but away from the crowds.
Nearest town: Daniel
Sleeps: 4
Minimum stay: 2 nights
Rates from: $118/night
Set on 15 wide open acres beneath the Wyoming Range, this Bridger Teton Cabin is refreshingly distant from the din of civilization. It's a half-hour drive to the nearest town, and the city of Jackson is twice as far.
That said, day trips to Yellowstone and the Tetons are definitely doable. There's so much open range to play in around the cabin, though, that you may not want to leave. The winter buries the area around the cabin in deep snow, so be prepared to bring your snowmobiles and snowshoes if you visit during the colder months.
Check Availability
2. Alpine Adventure Log Cabin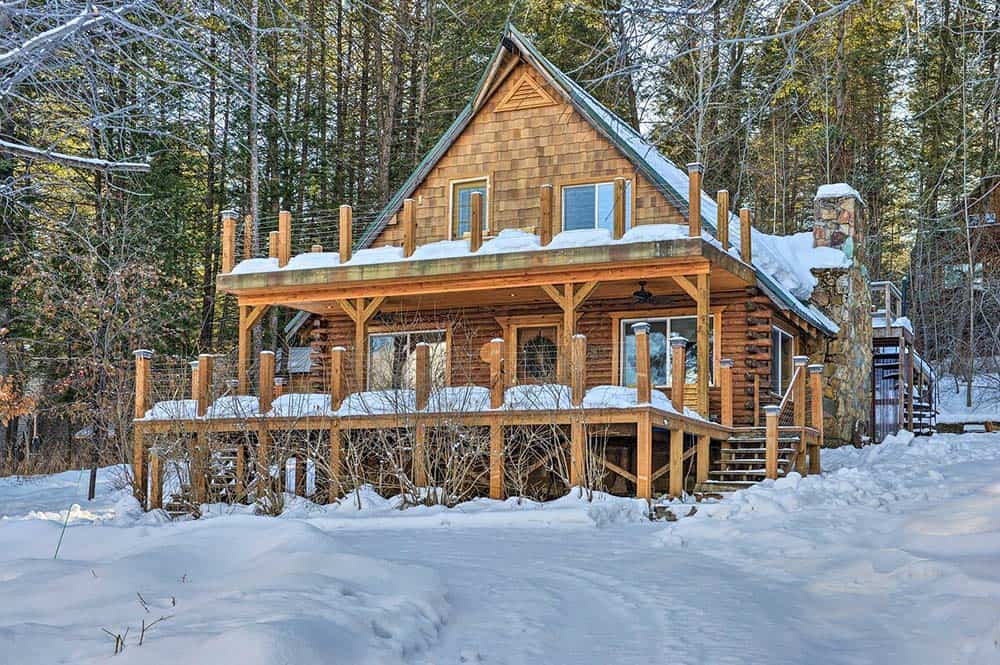 Why you should stay: The winter cabin of your dreams within walking distance to downtown.
Nearest town: Alpine
Sleeps: 8
Minimum stay: 3 nights
Rates from: $330/night
The absolutely stunning Alpine Adventure Log Cabin is located only blocks away from downtown Alpine and the Bridger National Forest, so outdoor recreation opportunities abound in the area. The Palisades Reservoir is minutes away as is the confluence of three scenic rivers.
You'll find this inviting cabin to be the perfect place to rest between your activities, no matter the season. Dual fireplaces and an in-room bar make for a cozy indoor winter respite, while the multiple decks and gravel courtyard provide ample space for summer barbecues and outdoor lounging.
Check Availability
3. Obsidian Abode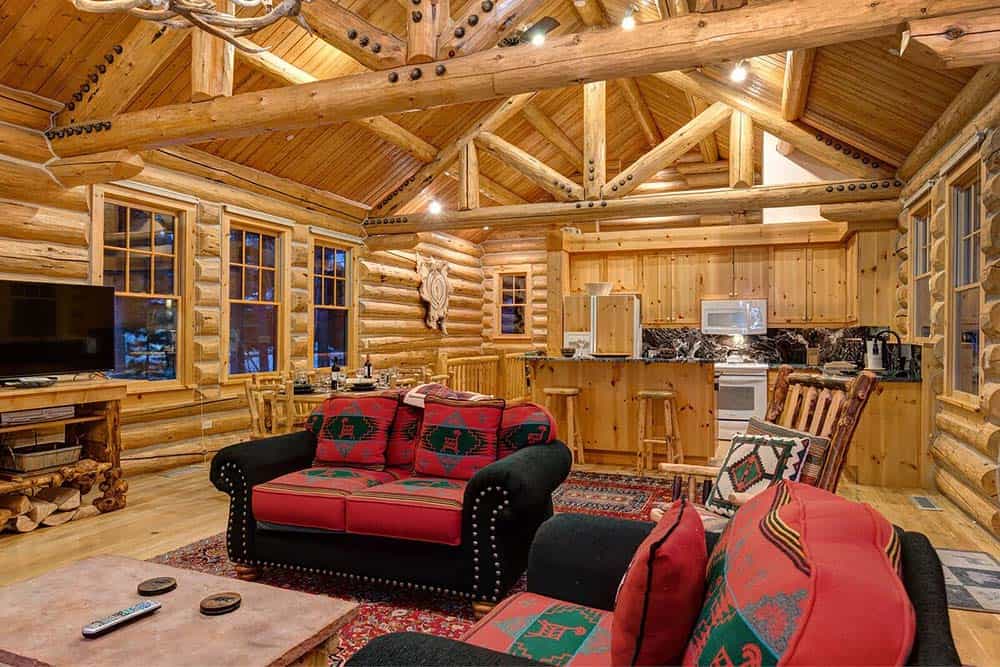 Why you should stay: Rustic opulence at the foot of the Teton Range.
Nearest town: Teton Village
Sleeps: 8
Minimum stay: 4 nights
Rates from: $688/night
Treat your family to a luxurious stay between Jackson Hole Mountain Resort and Grand Teton National Park. This finely-appointed stone and log cabin is a dream come true, as is the location.
You're sure to be hitting the slopes come winter, or hiking the park's world-class trails during the summer. This is the closest house to the Granite Ridge Surface Lift, making it extraordinarily convenient for skiers. And when your day is done, the private outdoor hot tub has a great view of the Wyoming sunset. Sure, it's one of the pricier cabin rentals in Wyoming, but it's a great one to bookmark for later when you're looking for the perfect place to spend a special weekend in the mountains. If you visit in April or October, it's a good deal cheaper.
Check Availability
4. Jackson Hole Cabin
Why you should stay: A cute, centrally-located cabin near charming Jackson Hole.
Nearest town: Jackson
Sleeps: 6
Minimum stay: 3 nights
Rates from: $450/night
All of northwest Wyoming is yours to explore from this Jackson Hole Cabin. It's an adorable home parked on a fairway of the Jackson Hold Gold & Tennis Club. The floor-to-ceiling windows open up the living space to a marvelous view of the Teton Range. What's more, you'll be near both Grand Teton and Yellowstone national parks, as well as a national elk refuge and several national forests. Don't be surprised when elk or buffalo pass through the front lawn.
If you are able to tear yourself away from the deck, you'll love the proximity to the town of Jackson Hole. Grab a drink at the Million Dollar Cowboy Bar, check out the National Museum of Wildlife Art, or catch one of the weekly live bands at Snow King Resort.
Check Availability
5. Old World Luxury Guesthouse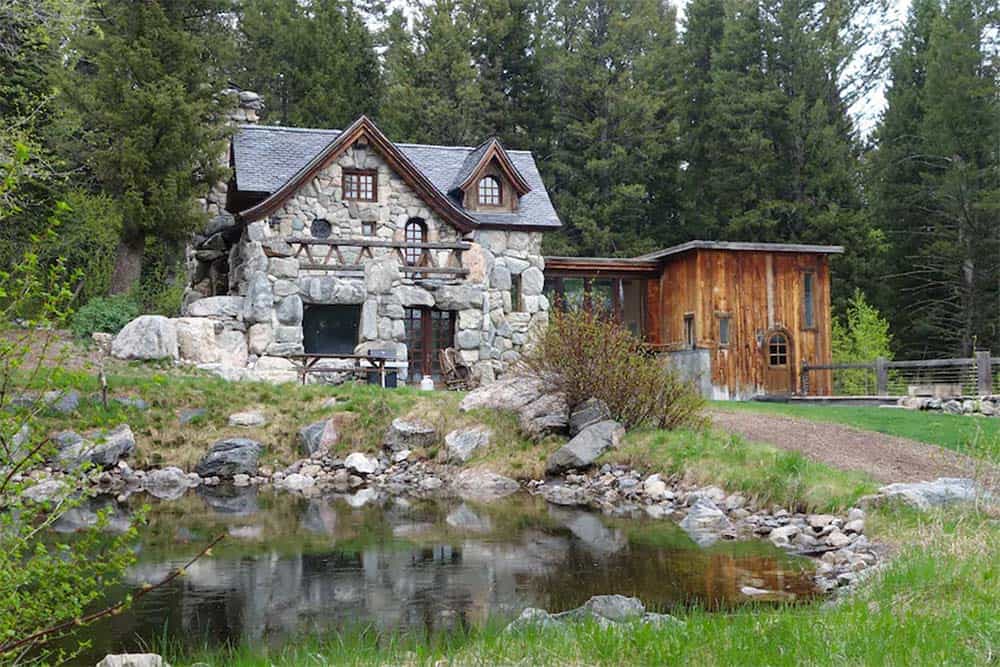 Why you should stay: A secluded medieval chateau minutes from Jackson Hole and Teton Village.
Nearest town: Wilson
Sleeps: 4
Minimum stay: 3 nights
Rates from: $545/night
Walk into your very own fairytale when you stay at this Old World Luxury Guesthouse — there's no denying its old-world charm. One of the bedrooms is separated from the main home and attached via an enchanting walkway featuring glass walls and a see-through floor.
The exquisite design continues throughout the entire home, from the rough stone fireplace and brick pizza oven to marble bathtubs. Because of it's wooded seclusion, you have a good chance of spotting wildlife while lounging outside the chateau. It's not far from town, and the nearby ski resort is only minutes away. What's not to like?
Check Availability
6. Centennial Cabin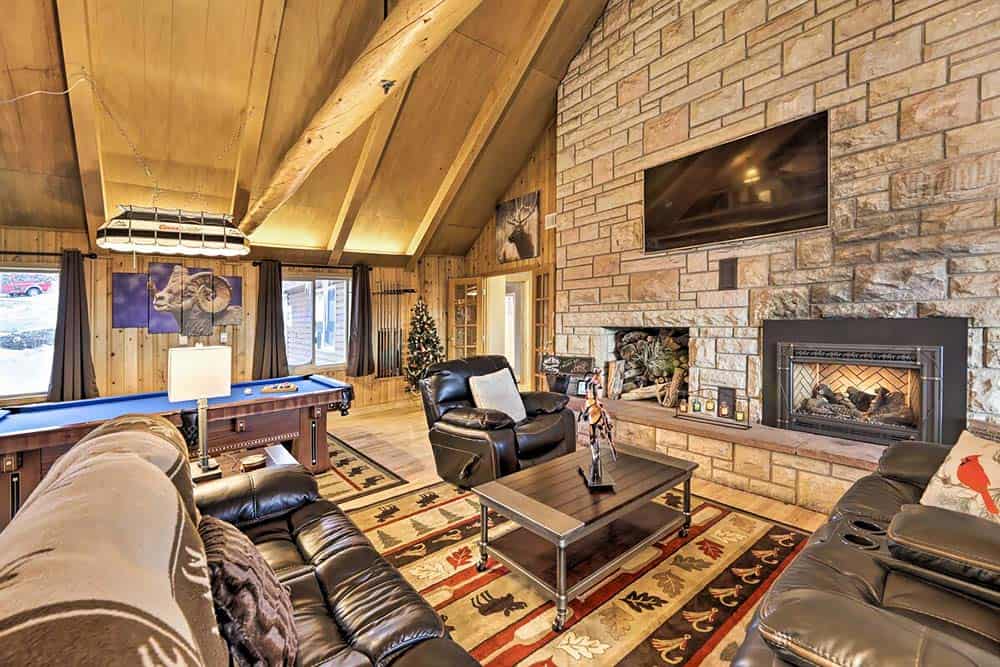 Why you should stay: A roomy basecamp for exploring the state's off-the-beaten-path southeast region.
Nearest town: Centennial
Sleeps: 14
Minimum stay: 3 nights
Rates from: $525/night
There's plenty of room for you, your family, and your friends at the spacious Centennial Cabin. The fireplace seating area, billiards table, hot tub, and in-house sauna are just a few of the ways for everyone to spread out and spend their time. It's one of the roomier cabin rentals in Wyoming, but it can also be fairly affordable if you pack the house and take advantage of the management company's offer: if you book four nights, the fifth is free.
The small town of Centennial isn't known as a tourist hot spot, but it is the gateway to a wealth of outdoor fun. The Medicine Bow-Routt National Forest lies just around the corner, as does the Snowy Range Ski Area. Even Rocky Mountain National Park and much of north-central Colorado is within reach for an extended day trip.
Check Availability
7. High Point Hideout
Why you should stay: Share a backyard with Yellowstone at this remote mountainside log cabin.
Nearest town: Cody
Sleeps: 8
Minimum stay: 2 nights
Rates from: $195/night
High Point Hideout is miles up a dirt road at the base of Jim Mountain where it overlooks the spectacular Wapiti Valley. Yellowstone National Park is just other side of the backyard, and the east entrance to the park is only 30 miles away. The home can sleep eight guests, but you'll pay $11 extra per person after the first six.
This rustic yet well-appointed cabin has an iconic old west feel to it, and the surrounding terrain is like something straight out of a John Wayne movie or novel about the Wild West. It'd be hard to find a cabin rental more quintessentially Montana than this one. You're likely to fall in love with this place, so you'll probably wast to book few more nights that you originally planned.
Check Availability
8. Heart Mountain Japanese Cabin
Why you should stay: Age-old Japanese styling meets the western frontier at this agrarian cabin.
Nearest town: Powell
Sleeps: 2
Minimum stay: 2 nights
Rates from: $150/night
Two worlds collide at this Heart Mountain Japanese Cabin. Inside and out, this Far East-inspired abode is cozy, stylish, and unique. Aside from its unconventional styling, this rental is much like a remnant of the pioneering days of yore – an inviting place to stay out on the open range.
It's set on a 400-acre organic farm and surrounded by endless grassland that extends into the nearby national forest. Modern western culture prevails in the nearby town of Cody, which was founded by the infamous Buffalo Bill. It's an extremely interesting town for anyone who likes history or legends of the Wild West.
Check Availability
9. Moosehead Cabin
Why you should stay: A classic log cabin just a quick walk to Teton Village.
Nearest town: Teton Village
Sleeps: 8
Minimum stay: 4 nights
Rates from: $468/night
Hand-built furniture, a massive stone fireplace, and a taxidermied moose head are but a few of the lavish touches that make the Moosehead Cabin a luxurious standout. It's also in a desirable location: Teton Village is a few streets away, as is the Jackson Hole Mountain Ski Resort. It's one of the best cabin rentals in Wyoming if your plan is to take on Corbet's Couloir or spend your days shredding the hobacks – don't forget your helmet.
There may be no better place to bring the family for a trip to the slopes and Grand Teton National Park. This is mountainside elegance at its finest and a fine example of a luxury log cabin, right down to the log bed frames and cow-hide rug.
Check Availability
10. The Yellowstone Cabin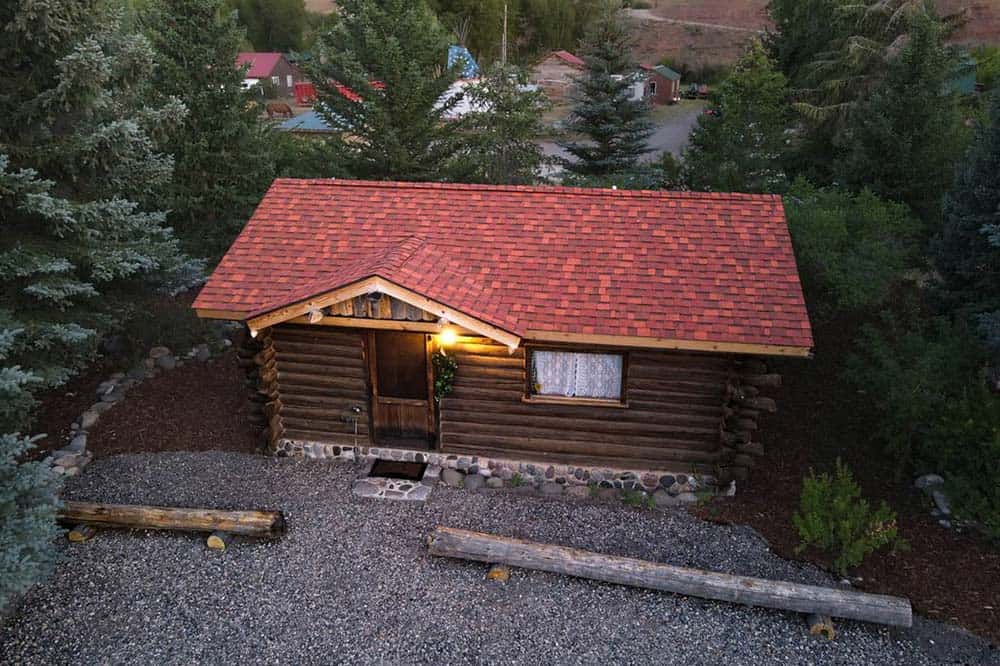 Why you should stay: This historic trapper log cabin is as authentic as they come.
Nearest town: Dubois
Sleeps: 3
Minimum stay: 2 nights
Rates from: $75/night
Located on the outskirts of the history-rich town of Dubois, The Yellowstone Cabin is an ideal choice for those wanting an Old West experience. The cabin is in a quiet park-like neighborhood, and downtown is only a few blocks away. It's an old "cope" (log cabin) built in the style of Wyoming's earliest white settlers. (Native Americans lived in Wyoming first, of course.)
Dubois has a fantastic museum for those interested in relics from the area's pioneering past. Both Yellowstone and Grand Teton national parks are a short drive down the road, as is another slice of American history at the National Museum of Military Vehicles.
Check Availability
More Incredible Stays
Get epic travel ideas delivered to your inbox with Weekend Wanderer, our newsletter inspiring more than 10,000 readers every week.
Was this article helpful?
---