We research, evaluate and select travel destinations based on a number of factors, including our writers' experience and expertise, user reviews and more. We may earn a commission when you book or purchase through our links. See our editorial policy to learn more.
---
Make the drive from Dallas to Oklahoma City more interesting with these cool road trip stops.
If you're headed to Oklahoma City from Dallas, it's a simple enough drive—just a straight shot north on I-35. It should only take about 3.5 hours, assuming you don't get bogged down in city traffic on either end.
But if you're not in a hurry and you're looking to make an adventure out of it, there are plenty of interesting places to pull over along the way. From quaint lakeside retreats to dinosaur bones, and even a casino, there's tons to see and do, turning a bland commute into a memorable journey.
Going in order from what you'd hit starting in Dallas, here are the best stops on a Dallas to Oklahoma City road trip.
1. Ray Roberts Lake State Park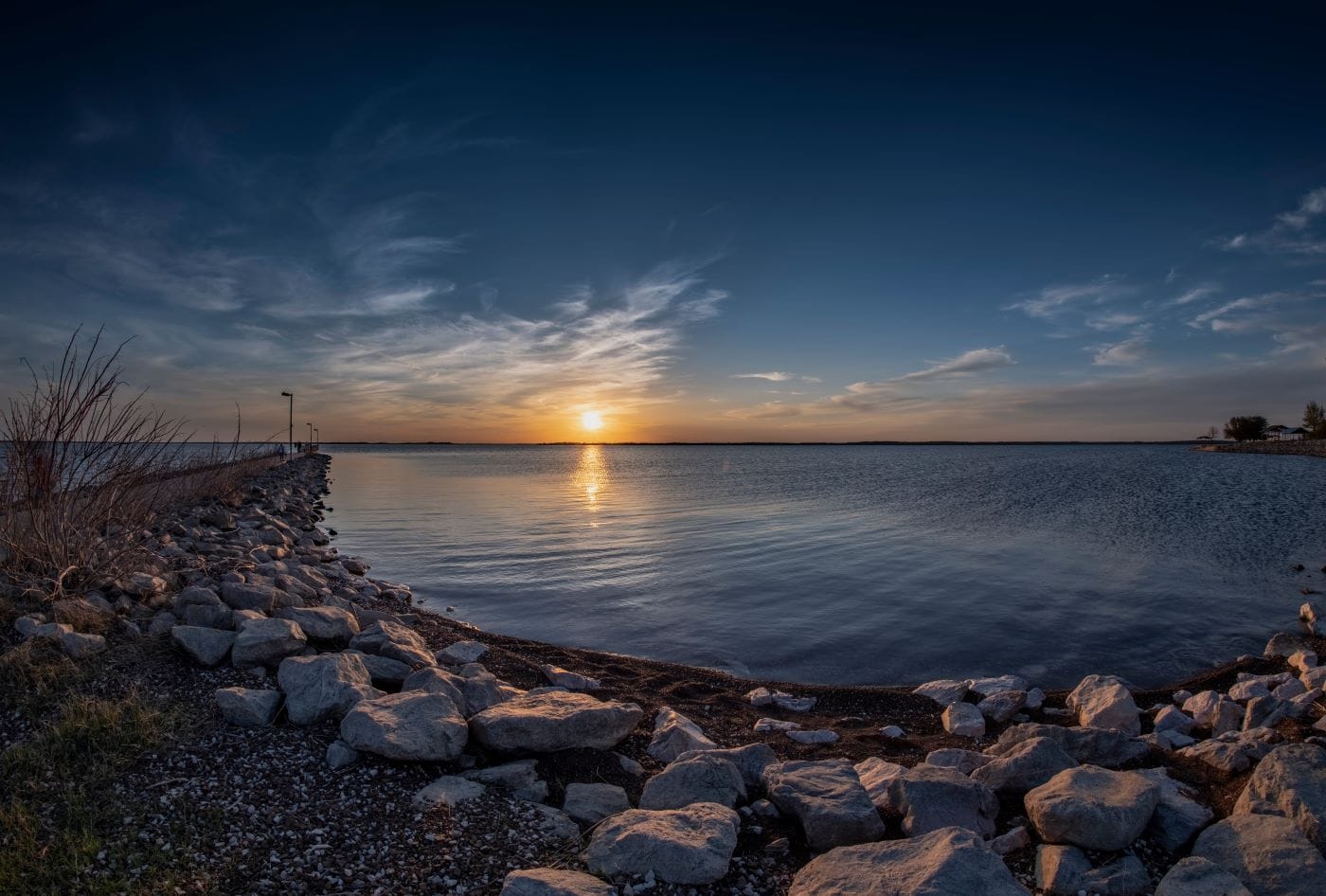 It doesn't take you long after leaving the DFW Metroplex to arrive at your first attraction: Ray Roberts Lake State Park. There are nine different "units" of the park, scattered along the shores of Lake Ray Roberts with the three main ones being Johnson, Isle du Bois, and Jordan.
During your time at the park, you can fish for bass and crappie, hike along the 20-mile-long Greenbelt Corridor, rent a boat from the marina, and maybe even catch sight of some bald eagles. All in all, it's a great spot to breathe in some fresh air and stretch your legs before hitting the road again. If you're planning an overnight stay, the park has numerous campgrounds and even its own lodge, the Lone Star Lodge and Marina.
Related read: 10 Unforgettable Glamping Spots Near Dallas, Texas
2. Historic Downtown Gainesville
View this post on Instagram
Once you hit Gainesville, stop to check out its historic downtown. The town itself was established in 1850, and you can see remnants of its past in the architecture here, including the Beaux Arts–style courthouse.
To learn more about this area's history, pay a visit to the Morton Museum of Cooke County, which is housed in a building built in 1884 that originally served as the city hall, fire station, and prison. Stroll along the quaint streets and you'll come across a variety of inviting boutiques, cafes, and coffee shops (perfect if you need a little caffeine boost before getting back on the road).
Related read: 9 of the Best Romantic Getaways in Dallas, Texas
3. WinStar World Casino and Resort
View this post on Instagram
Feeling lucky? Just after you pass over the border into Oklahoma, you can try your hand at blackjack, poker, or slots at WinStar World Casino and Resort. Owned and operated by the Chickasaw Nation, it's one of the largest casinos in the world with almost 400,000 square feet of gaming space.
Aside from gambling, more entertainment awaits with weekly concerts (performances have included Bob Dylan, Reba McEntire, and Sting) as well as the golf club and numerous restaurants, bars, and lounges. The resort also boasts its own hotel, making it a good option for an overnight stop.
Related read: 8 Cozy Cabin Rentals Near Dallas, Texas
4. Lake Murray State Park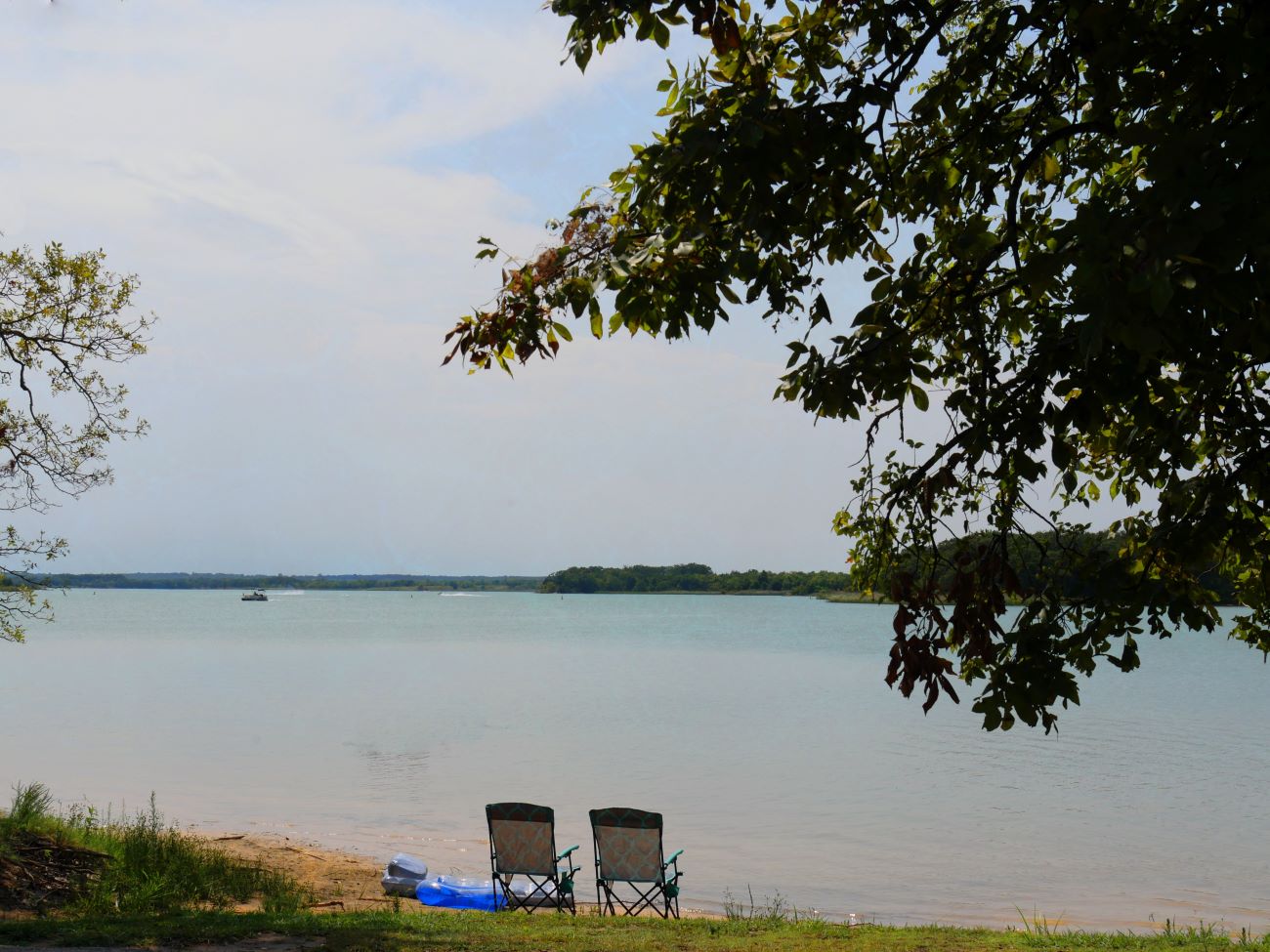 Next on the itinerary is Lake Murray State Park, the oldest state park in Oklahoma. You can camp here, or you could stay in one of the historic cabins built by the Civilian Conservation Corps back in the '30s. Fishing, hiking, mountain biking, swimming, paddle boating, and golfing are just some of your options for unwinding here.
Don't leave this area without visiting the iconic Tucker Tower, which is perched on a rocky cliff overlooking the lake. There's a museum inside as well as a viewing area at the top. You can get to the building through the Lake Murray Nature Center.
Related read: The Best Stops on an Epic Dallas to Houston Road Trip
5. Turner Falls Park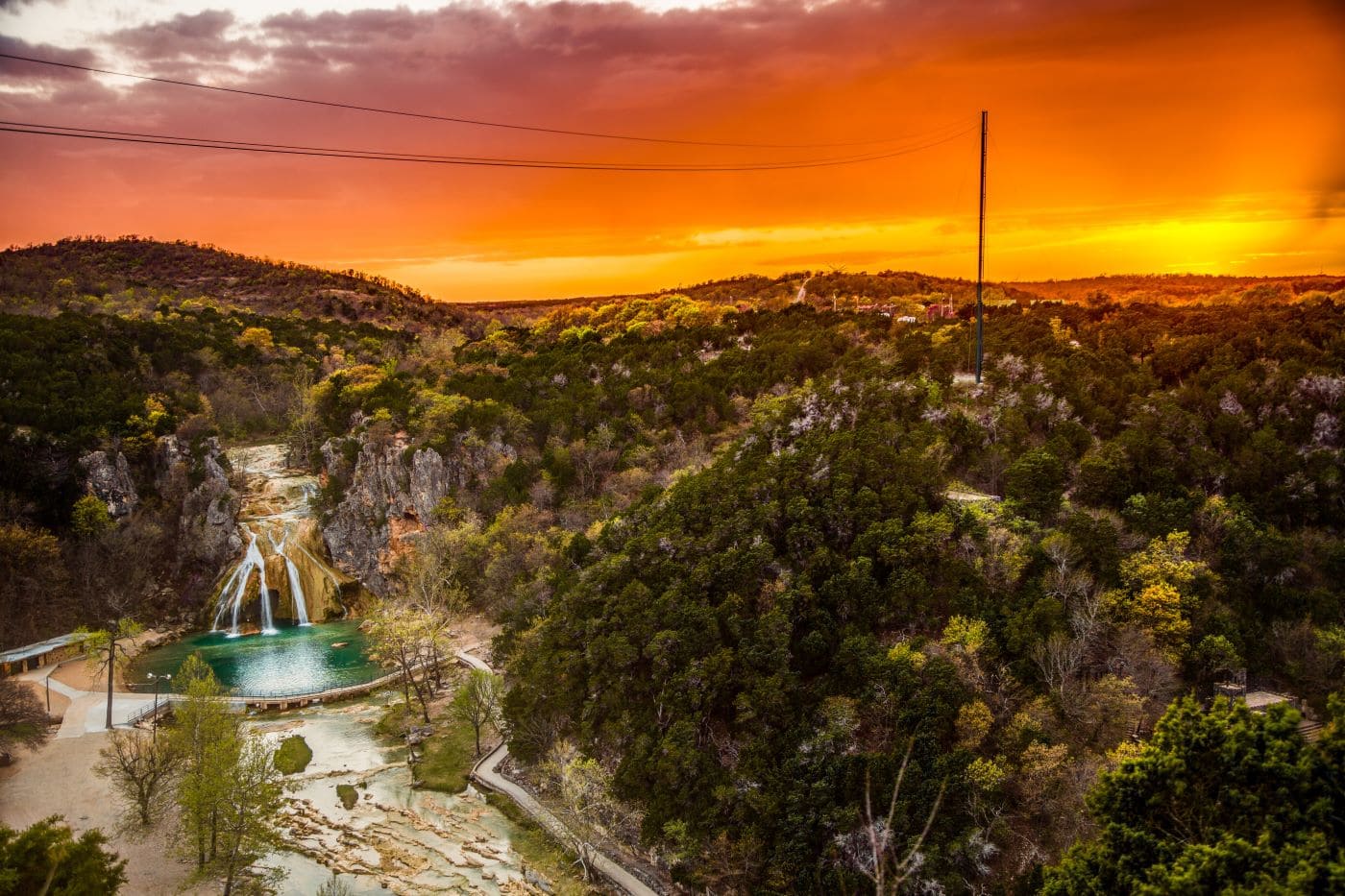 Many people come to Turner Falls Park for one thing: to see Oklahoma's largest waterfall. Turner Falls stands 77 feet high and makes for a gorgeous picture as the water cascades down the rocks into a natural swimming area.
While at the park, you can also visit the ruins of Collings Castle, which dates back to the 1930s and was once a private residence with a design inspired by old English architecture. If you've brought your dog along for your road trip, keep in mind that unfortunately there are no pets allowed in this park…though there are lots of whitetail deer and wild turkeys.
Related read: 15 of the Best Free Things to Do in Dallas, Texas
6. Arbuckle Mountain Fried Pies
View this post on Instagram
Right about now in your journey, your stomach might be rumbling, and that's just as well since a delicious snack awaits you at Arbuckle Mountain Fried Pies. Made from an old family recipe, these famous fried hand pies come in an assortment of flavors like cherry, peach, pecan, and chocolate.
They also have savory options as well, like bacon, egg, and cheese, and Polish sausage and potato. Opened in 1954, this humble establishment can churn out hundreds of fresh pies every day, and it continues to send many a road tripper away satisfied.
Related read: The 8 Best State Parks Near Dallas for a Natural Escape
7. Arbuckle Wilderness Park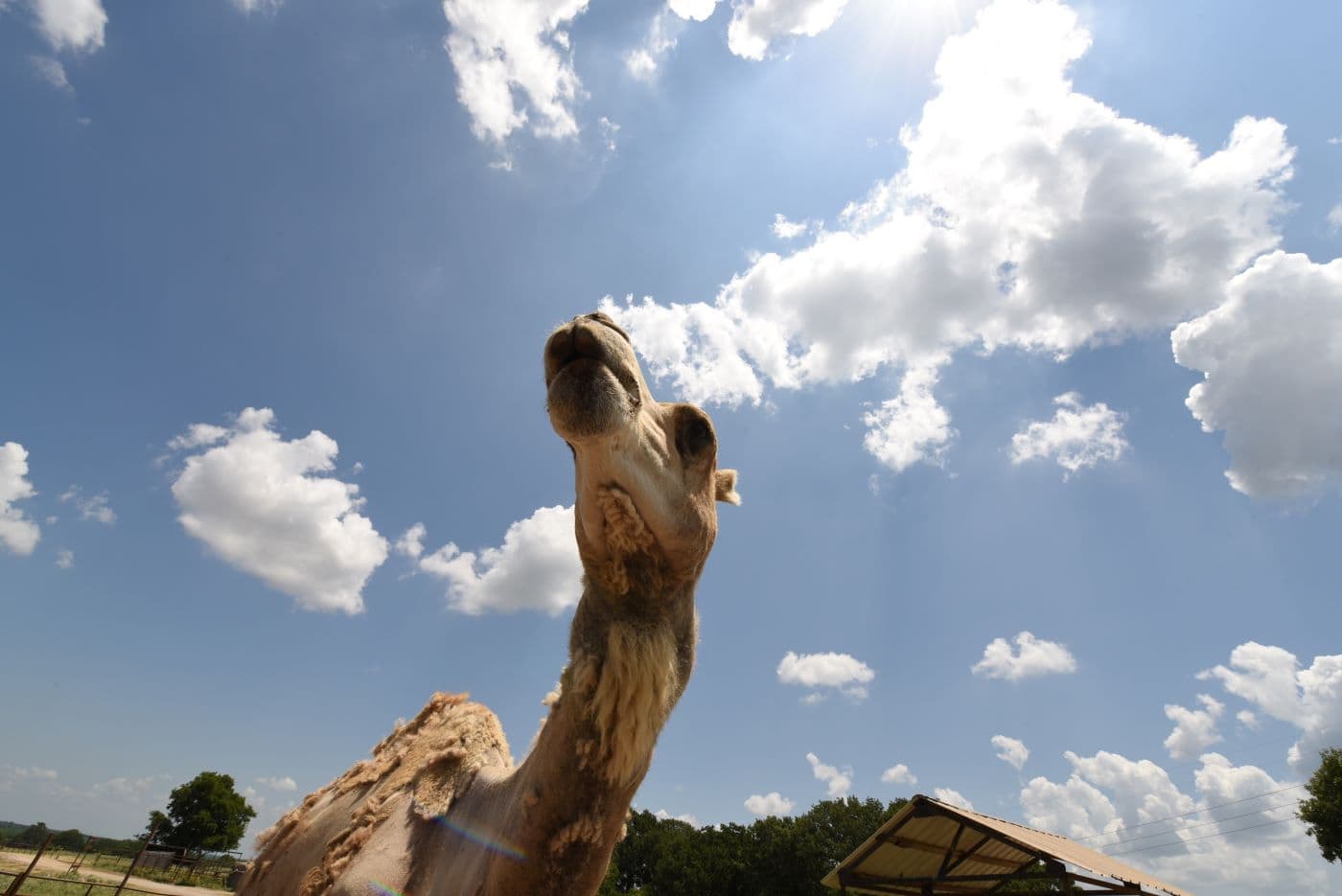 Just down the road from all those mouthwatering pies is Arbuckle Wilderness Park. Spanning over 200 acres, it's a drive-thru safari where you can get up close and personal with hundreds of animals like zebras, ostriches, bison, llamas, and emu.
Drive slowly through the park, stay in your car, and the animals will come right up to your windows for some food (only the food that the park gives you!) In the spring and summer seasons, you can also visit the indoor reptile exhibit. The park is open every day of the year, but hours differ depending on the season, so it's a good idea to check their website before visiting.
Related read: The 8 Best Weekend Road Trips from Dallas, Texas
8. Smokin' Joe's Rib Ranch
View this post on Instagram
In the mood for a hearty meal? Head to Smokin' Joe's Rib Ranch and you won't be disappointed. This family-operated barbecue restaurant has all the classics you crave, like ribs, brisket, and sausage. If you're passing through on a Friday or Saturday, you're just in time to enjoy their 16-ounce smoked ribeye dinner.
While it's tempting to go all out with the meats and sides, make sure you save some room for some of their delicious pecan cobbler. If you're in a hurry but still want to try their food, you can call in your order ahead of time and grab it at the pick-up window.
Related read: 11 Stunning Texas Treehouse Rentals for a Sky-High Getaway
9. Forgotten Wheels Museum & Antiques
View this post on Instagram
One of the best things about road trips is coming across attractions that you never knew existed. Sure, Dallas and Oklahoma City have great museums, but there's a unique excitement in checking out something wacky and off the beaten path.
Take Forgotten Wheels Museum & Antiques in Davis, for example. This small museum is dedicated to old motorcycles, classic cars, and other vintage automobiles. Admission will cost you a grand ol' total of $0, and the museum is open from Wednesday to Saturday.
Related read: 7 Best Houseboat Rentals in Texas for a Vacay on the Water
10. Chickasaw Cultural Center
View this post on Instagram
When State Highway 7 intersects I-35, follow it for a bit to reach Chickasaw Cultural Center.
As one of the largest tribal cultural centers in the country, there's a lot to see and do here, including learning about the Chickasaw People at the Chickasha Poya Exhibit Center, viewing rotating collections in the fine art galleries, and wandering around the Chickasha Inchokka' Traditional Village, which puts on daily demonstrations and has historically accurate recreations of houses.
Depending on when you visit, you may also catch a performance at the Kochcha' Aabiniili' Amphitheater.
Related read: 10 Cool Caves in Texas for Exploring Underground
11. The Toy & Action Figure Museum
View this post on Instagram
As you start making your way back north, there's another unique local museum waiting for you: The Toy & Action Figure Museum in Pauls Valley. This museum's colorful exhibits are sure to delight not just kids but also any adult who had (or still has) a beloved toy collection. From old Star Wars action figures to a Fredy vs. Jason figurine and more, there's something here for everyone.
Time even featured it as the pick for Oklahoma in its list of "50 Authentic American Experiences." Hours of operation differ depending on the season, so be sure to check the opening times. For admission, it's $7 for adults and $5 for kids under 12.
Related read: 10 Romantic Cabins in Texas for Quiet Weekends Away
12. Spider Bug
View this post on Instagram
The icing on the cake of a memorable road trip has got to be some wacky, unexplainable roadside installation. There's Ms. Pearl the Giant Squirrel as you drive from Houston to Austin, and for Dallas to Oklahoma City, it's the Spider VW Bug.
Located in Lexington, this attraction takes a classic VW Beetle car and turns it into a bug of another sort with fangs and six, long legs that hold it 15 feet off the ground. Now, this is the spot to get creative with your picture-taking.
Related read: 15 Best Texas Water Parks to Cool Down & Get Wild
13. Sam Noble Oklahoma Museum of History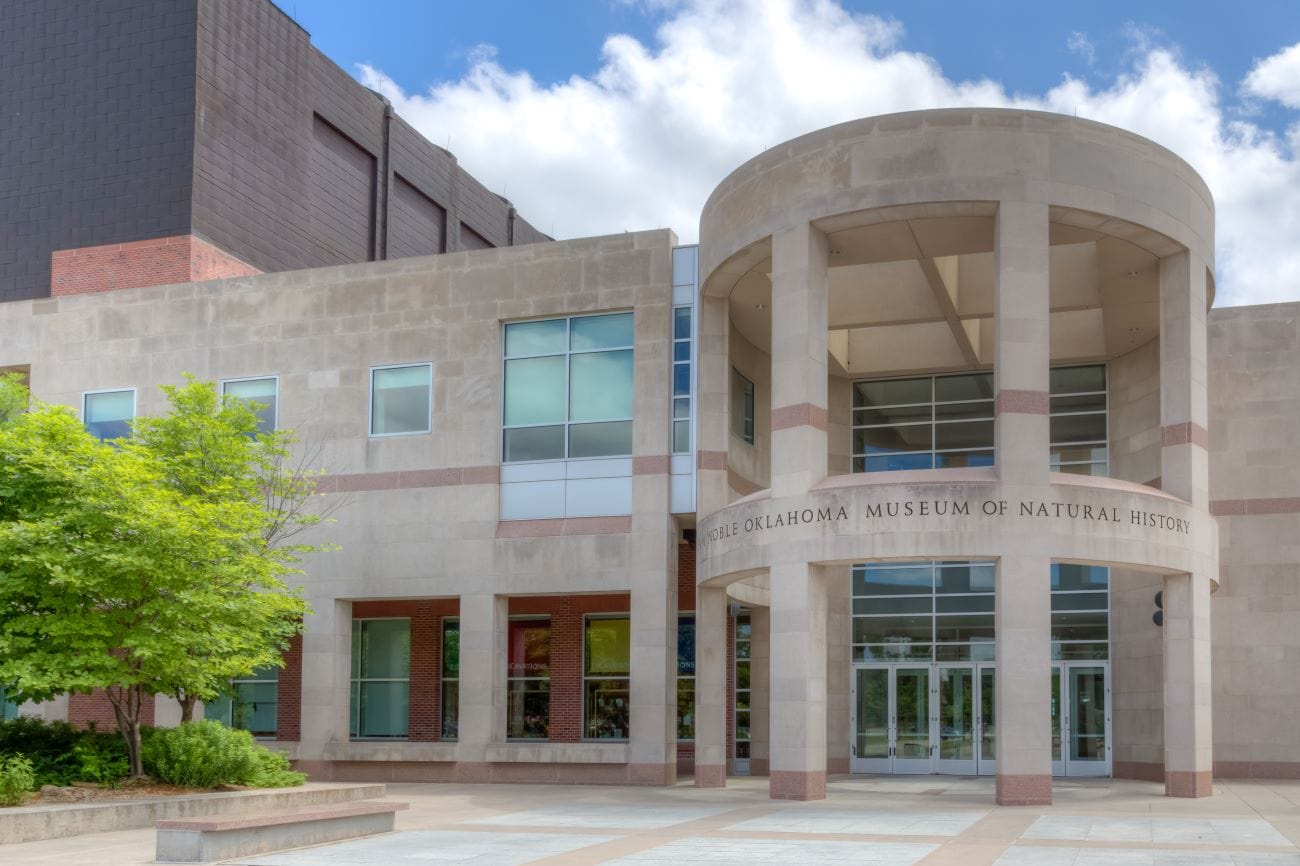 Just before you arrive in Oklahoma City, there's one more place you may want to visit. That would be the Sam Noble Oklahoma Museum of Natural History on the University of Oklahoma campus in Norman.
Founded all the way back in 1899, this museum fills its 50,000 square feet with exhibits on paleontology, geology, archaeology, ethnology, and so much more. If you're traveling with your kids, they will love the Discovery Room, thanks to its hands-on exhibits like digging for "dinosaur bones." For dinosaur lovers of all ages, the museum also has a great collection of full-size skeletons and bones.
Related read: 5 Must-Do Scenic Train Rides in Texas
Explore Texas & Beyond
Get epic travel ideas delivered to your inbox with Weekend Wanderer, our newsletter inspiring thousands of readers every week.
---