We research, evaluate and select travel destinations based on a number of factors, including our writers' experience, user reviews and more. We may earn a commission when you book or purchase through our links. See our editorial policy to learn more.
---
Strawberry's low-key, high-elevation vibe makes it a serene home base for exploring the Mogollon Rim's best natural features.
You don't have to spend much time in Strawberry or Pine to see why 19th century pioneers from Utah settled the area. Before that, the region's sweeping valleys and distant mountains were home to Apache and Yavapai tribal groups, both taking advantage of the Rim's flowing creeks, abundant wildlife and rampant wild berries — hence the name.
Today, Strawberry is a quiet community hosting summer crowds escaping the Valley, but mild seasons makes the town a pleasant cabin destination throughout the year. Its location — less than two hours from Phoenix, 90 minutes to Flagstaff — also makes it an ideal pit stop on longer northern Arizona road trips.
However you come through, you'll find Strawberry's small-but-satisfying selection of cabin rentals perfect for any Mogollon Rim adventure.
Related Read: The 8 Best Cabin Rentals in Show Low, Arizona
1. Hilltop A-Frame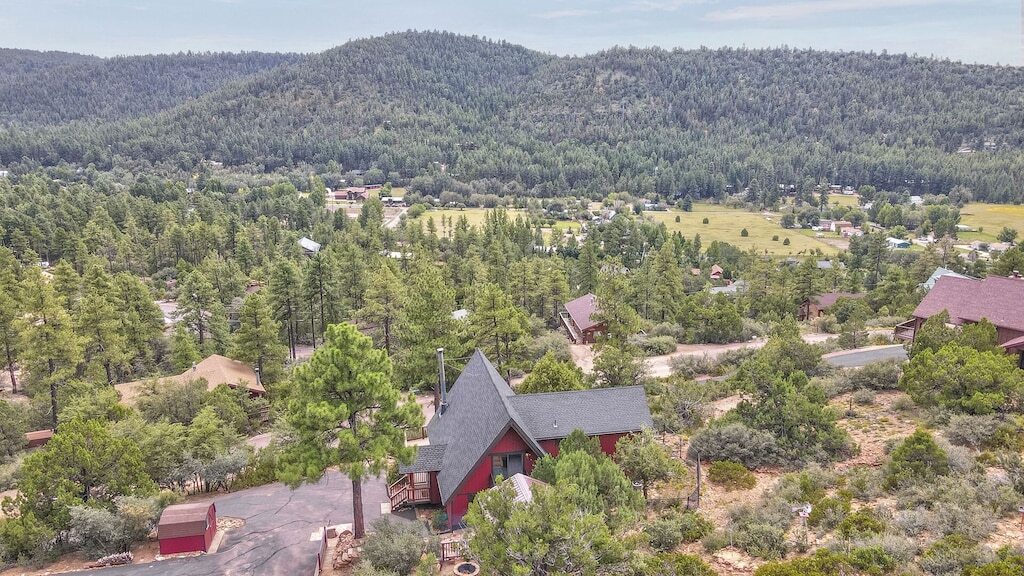 Why you should stay: family-friendly cabin with views and comfy spaces.
Sleeps: 9
Minimum stay: 2 nights
Rates from: $342/night
The hardest decision you'll face at this private A-frame is where to eat each meal. The deck overlooking the valley below is an easy choice, with panoramic views and room to stargaze afterward. For a more private affair, hit the gazebo and fire pit in the back, where the surrounding hillside offers nothing but solitude.
Inside awaits a welcoming living room and cozy sectional that's worthy of the view. An upstairs loft with games and cabin-inspired bed is the perfect hub for kids, and when they need more space, send 'em to the basketball hoop out back. In the meantime, you can hit the kitchen's coffee bar or wine bar — another decision with no wrong answer.
Check Availability
Related read: 8 Secluded Cabin Rentals in Arizona for a Remote Getaway
2. Fossil Creek Cabin Retreat
Why you should stay: relaxed multi-family setup for holidays and gatherings.
Sleeps: 15
Minimum stay: 2+ nights
Rates from: $306/night
A towering stone fireplace is the defining feature of Fossil Creek Cabin, a spacious four-bedroom home with a separate bunkhouse for the children or rowdy grandparents (sorry, Nana). The home's open concept includes a kitchen designed for large groups, multiple areas to lounge, and bedrooms spread enough to give everyone privacy.
Outside, a deck offers serene forest views and the fenced-in yard's ideal for small dogs. The cabin's namesake comes from nearby Fossil Springs Trail, which is temporarily closed as it recovers from the Backbone Fire in 2021, though other hiking trails are nearby.
Check Availability
3. Wild Turkey Chalet
Why you should stay: budget-friendly views from the west side of town.
Sleeps: 6
Minimum stay: 2 nights
Rates from: $195/night
If you book a weekend at Wild Turkey Chalet, don't be surprised if you send friends and family all sorts of unsolicited deck pics.
They'll soon see why: the views from this 800-foot outdoor space are incredible, and they don't let up in any season. In the winter, catch snow blanket the valley below, and summer's perfect for scoping pockets of monsoon storms on the horizon. Finally, crisp spring and falls days on the deck are about as relaxing as it gets.
The home's hillside perch offers stellar views from just about anywhere, even from below the deck, where elk often root around for food. And though the cabin feels removed from town, it's just a quick drive to Strawberry's best shopping and dining.
Check Availability
Related read: 13 Gorgeous Cabin Rentals in Arizona
4. Strawberry Bliss Cabin
Why you should stay: contemporary living spaces near easy forest hiking.
Sleeps: 8
Minimum stay: 2 nights
Rates from: $206/night
Strawberry Bliss swaps a spacious deck for direct access to hiking right across the street, where you can stroll from front door to Tonto National Forest in just a few steps. If you're looking to leave the car in the driveway while you're here, there's plenty to explore nearby, and the quiet corner lot feels more private than you'd expect.
"We walked the hiking trails right across the street, sat out under the stars and watched the wildlife," said Airbnb guest Kelly. "Home was warm and cozy and mattress was amazing. We will be back!"
Check Availability
5. The Red Door Cabin
Why you should stay: ideal layout for families with kids and dogs.
Sleeps: 10
Minimum stay: 2 nights
Rates from: $158/night
A wide, fenced-in backyard and spacious interiors makes this cabin in the middle of Strawberry a perfect dog-friendly getaway. The two-story deck means there's no shortage on views, and two fireplaces create warm spaces throughout the home.
"The cabin itself is so cozy and decorated with the best taste," said guest Ashley. "The fenced yard was a huge perk for us…made it so easy to bring our pets and kiddos and have them play freely without concern."
Check Availability
Related read: 11 Best Cabin Rentals Near Payson, Arizona
6. Hillside Cabin with Views
Why you should stay: epic views and at-home entertainment away from the crowd.
Sleeps: 8
Minimum stay: 2 nights
Rates from: $221/night
When you reach the upper end of this cabin's long uphill driveway, you'll arrive at two acres of spectacular solitude. The quick drive up also brings panoramic views of the Strawberry area — best taken in from the upstairs deck or living room.
A dining table and fire pit also make the deck the place to be before and after dinner, when you'll watch sunlight fade into dark, starry nights. Inside, the garage-turned-game-room hosts pool, foosball and ping pong, the perfect place to unwind after exploring the surrounding hills and valleys of Strawberry.
"It's is a cozy home but we also felt like royalty up on that hill," said Airbnb guest Kim. "Quiet and private."
Check Availability
Related read: Mogollon Rim Camping & Hiking Guide
7. Strawberry Cabin with Suite
Why you should stay: charming cabin that doesn't skimp on cleanliness or quality.
Sleeps: 6
Minimum stay: 2 nights
Rates from: $170/night
Proving you don't have to spend much for a Strawberry getaway is this quaint three-bedroom cabin centrally located in town. The home itself may not be huge, but it's on an open one-acre lot that provides just enough in-town privacy.
An in-law suite offers a separate space for guests, and the main cabin makes the most of its space. Contemporary décor and a bright exterior make this cozy home feel just like that — home — if just for the weekend.
Check Availability
Plan Your Trip to Strawberry
If you're visiting from Phoenix, you'll hit Payson, Tonto Natural Bridge State Park and Pine before getting to Strawberry. Each spot has plenty to explore, and they're all easy day trips from Strawberry. Tonto Natural Bridge is especially spectacular: the hikes here aren't long, but do lead to unexpected gems that have to be seen in person to be appreciated.
Strawberry's just over an hour from Woods Canyon Lake on State Route 260, with hiking opportunities up and down the Rim area. When you're back in town, check out some of the best food and drink options at neighboring Pine, like Pinewood Tavern, Old County Inn, THAT Brewery or The Randall House.
History buffs will enjoy the Pine-Strawberry Museum, as well as the oldest schoolhouse in Arizona, an impressively restored log cabin dating back to 1885. Other must-stop places include the Pine Creek Canyon Lavender Farm and The Honey Stand, a family-run business whose roots in the Pine area date back to the 1880s.
If you're considering other lodging options, check out The Strawberry Inn, where immaculately decorated hotel rooms, Airstream suites and cottages cater to travelers looking for style and substance.
Explore Arizona
Get epic travel ideas delivered to your inbox with Weekend Wanderer, our newsletter inspiring more than 10,000 readers every week.
---