We research, evaluate and select travel destinations based on a number of factors, including our writers' experience, user reviews and more. We may earn a commission when you book or purchase through our links. See our editorial policy to learn more.
Was this article helpful?
---
Roughing it in Arizona's deserts and mountains doesn't have to be so rough — and here are 10 glamping spots that prove it.
Glamping in Arizona lies somewhere on the metaphorical spectrum between the state's best camping and best cabins: these glamping locations balance immersion in nature with the creature comforts of home.
This blend of adventure and amenities isn't always easy to find, but fortunately, the Grand Canyon state offers  enough options to satisfy the most discerning of glampers. In fact, it's one of the most popular states in the entire U.S. for glamping, perhaps due to its amazing scenery, fantastic weather, and always-popular national parks.
From high-desert safari tents to forest-bound yurts, here's a look at some of the very best places for epic glamping in Arizona.
Related Read: 17 Best Arizona Swimming Holes to Hit This Summer 
1. Cane Beds Corral Glamping
Why you should stay: Spectacular setting and amenities that live up to the host's lofty promises.
Location: Cane Beds
Sleeps: 2
Minimum stay: 2 nights
Rates from: $102/night
Calling your Airbnb the "world's best glamping tent" seems like a good way to disappoint discriminating guests, but host Randy and the canvas tent at Cane Beds Corral somehow exceed expectations.
"It should be used by Airbnb for advertising exactly what an Airbnb should be," said guest Amanda. "We left the glamping tent trying to plan the next time we can come back."
The tent — a large, canvas shelter with deck and private bathroom structure — offers air conditioning, heating, Wi-Fi, and even a Google Home device, putting this rental squarely on the posh side of glamping.
But its remote location at the Arizona-Utah border brings the rustic camp vibes, and catching a red-rock sunset from the deck reminds that you're almost in the middle of nowhere. You're also within a few hours of the Grand Canyon, Bryce Canyon and Zion national parks, which should make for a not-too-shabby Southwest itinerary.
Check Availability
Related Read: 12 Magical Glamping Sites Near the Grand Canyon South Rim
2. The Kyo͞ob
Why you should stay: Unique glamping cabin on a ranch featured in Arizona Highways and Travel + Leisure.
Location: Page
Sleeps: 2
Minimum stay: 2 nights
Rates from: $310/night
More than two years ago, Territory Supply named Shash Dinè Eco-Retreat's hogan one of our favorite unique Airbnbs in Arizona. And now they're back wit another offering: The Kyo͞ob, a small, industrial-style cabin near the property's more traditional glamping digs.
The Kyo͞ob's metallic structure may look out of place in the desert's natural landscape, but inside, you'll find  Southwest-inspired minimalism that mirrors the stark beauty of Navajo land outside. The property, used by the hosts' family for 15 generations, is a working ranch with sheep, cute sheepdogs (naturally), goats, and other animals.
Hosts Paul and Baya go out of their way to create an authentic experience by offering traditional Navajo meals, storytelling, and tours of the area. If you're exploring on your own, popular attractions like Horseshoe Bend are just a short drive away.
Check Availability
Related Read: 9 Unique Places to Stay in Arizona for an Unforgettable Vacation
3. Sheep Wagon Glamping
Why you should stay: A fitting getaway on land used to herd sheep for hundreds of years.
Location: Page
Sleeps: 2
Minimum stay: 1 night
Rates from: $159/night
Two of Shash Dine's accommodations are authentic sheepherder wagons, both fully restored to provide a modern glamping experience. They're not quite as polished as the The Kyo͞ob, but most guests are more than ready to rough it in order to spend the night in a legit covered wagon.
The wagons include plenty of blankets and bedding to stay warm, but with no heat and only basic amenities, this high desert destination is best enjoyed in the spring, summer, or fall. Even if you don't get chilly inside, you may find the walk to the shared outhouse and restroom facilities less-than-plesant in the winter months.
"The sheep wagon was such a unique experience," said Airbnb guest Nicolette. "Make sure to step outside and look up at the night sky while there…it was mesmerizing."
Check Availability
Related Read: 12 Best Hikes in Arizona, From Desert to Tundra
4. Red Beauty
Why you should stay: All-you-need glamping experience within 30 minutes of the South Rim.
Location: Valle
Sleeps: 2
Minimum stay: 1 night
Rates from: $99/night
For all the millions of tourists hitting the Grand Canyon each year, well-reviewed glamping options near the park can be surprisingly limited. That makes Red Beauty — named after nearby Red Butte — all the more appealing to weary travelers looking for a comfortable and affordable place to rest after long days of sightseeing.
The canvas tent includes a practical kitchen and indoor shower space, as well as an outhouse and fire pit area. A cowboy tub filled with cool water hits the spot for summer guests, and a wood-burning stove lessens the sting of chilly winter nights in the wild. It's solar-powered, so leave your blowdryers at home.
Follow 'em: @invigorate_travel
5. Airstream Dreaming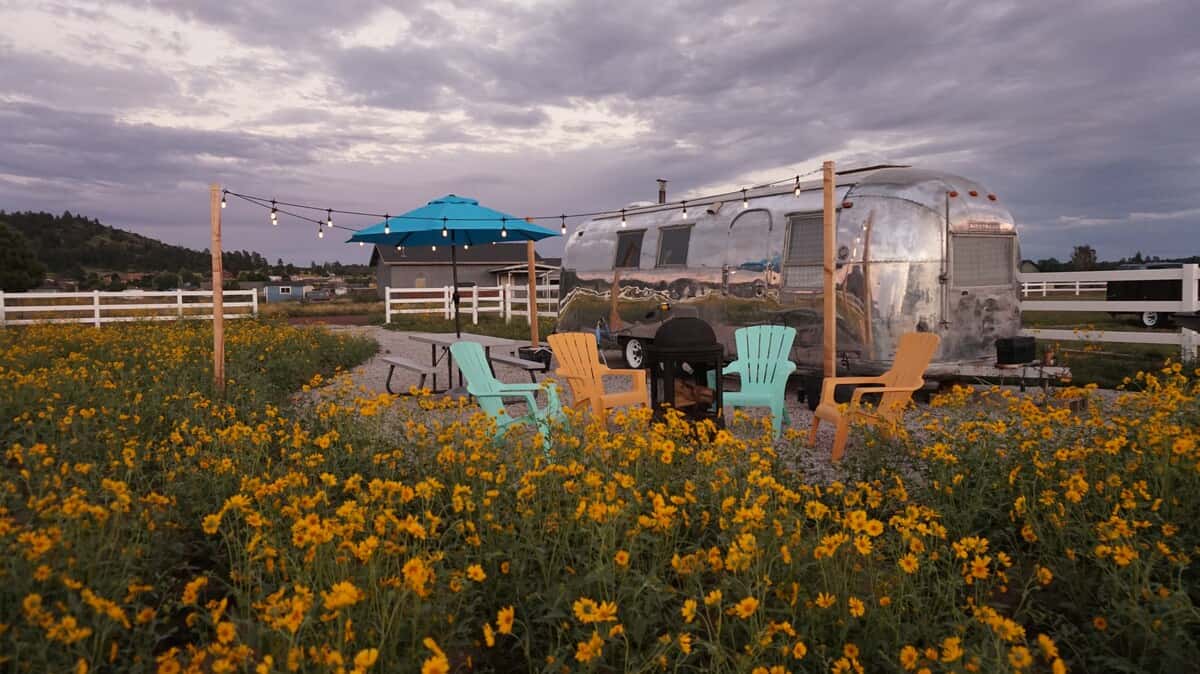 Why you should stay: Airstream glamping with epic sunset views of Flagstaff's peaks.
Location: Flagstaff
Sleeps: 4
Minimum stay: 1 night
Rates from: $95/night
This renovated 1965 Airstream sits on a half-acre lot just east of Flagstaff, in the low-key residential area of Doney Park. From this side of town, you'll get mellow views of the mountains and be near some of Flagstaff's best hiking — try Elden Lookout Trail or Fatmans Loop to get you started. Other natural attractions like Sunset Crater and Walnut Canyon are within an easy 20-minute drive.
The Airstream's restoration added air conditioning, Wi-Fi, a kitchen, and all the necessities for a comfortable stay. For refined glamping close to town, it doesn't get much better than this.
"This is glamping at its best," said guest Elizabeth. "Enjoy feeding the goats and seeing ground squirrels run in and out of their holes while you grill dinner in front of your trailer."
Check Availability
Related Read: The 7 Best Campervan Rental Companies in Phoenix
6. Ranch Yurt
Why you should stay: Comfortable yurt camping and amazing stargazing on a working Navajo sheep ranch.
Location: Fort Defiance
Sleeps: 3
Minimum stay: 1 night
Rates from: $120/night
The daytime views of distant sandstone cliffs from this ranch yurt are stunning, but nighttime stargazing is just as spectacular. This glamping getaway's located on Navajo land near the Arizona-New Mexico border and miles away from any major cities. It's pretty much you, the sheep, and the sheepdogs on duty.
If you're road-tripping it through the region, the yurt's a great place to set up base — Canyon de Chelly is just over an hour away, and closer to town, you'll find the Window Rock & Veterans Memorial Tribal Park and Navajo Nation Museum.
Fort Defiance and Window Rock have a long, storied past, and a stay here is a great opportunity to learn about the history, culture and trials of the Navajo and their ancestral lands.
Check Availability
7. Grand A-Frame
Why you should stay: Glorified camping in a cozy a-frame near the Grand Canyon.
Location: Williams
Sleeps: 4
Minimum stay: 1 night
Rates from: $199/night
This small, solar-powered cabin is one of several glamping accommodations on a remote property 30 minutes south of the Grand Canyon. It's a bit more expensive than other glamping options in the area, but for the world-class stargazing and tiny home experience, most guests find it worth the price.
The interior's surprisingly roomy for a tiny a-frame, with three beds and room to eat and chill by the wood-burning stove. Utilities don't come easy in this neck of the woods, so there's no plumbing, no Wi-Fi, spotty cell service, and warm outside showers only when it's above 40°F.
This cabin may be closer to camping than some would like, but that's also what keeps it racking up positive Airbnb reviews. And if you've been spending all day at Grand Canyon National Park, coming home to a relaxing retreat may be just the thing you need to keep your muscles limber for a second day of hiking.
Check Availability
8. Navajo Hogan
Why you should stay: A unique cultural experience near Monument Valley, complete with homemade breakfast.
Location: Kayenta
Sleeps: 5
Minimum stay: 1 night
Rates from: $140/night
From the doorway of this hogan — a traditional, east-facing Navajo earth dwelling — you can see the far-off silhouettes of Monument Valley's iconic buttes. It's a quick 10-minute drive to Monument Valley Tribal Park, where you'll catch the Mittens buttes and other classic formations in the area.
"It was an honor to experience a part of Rosalyn's native Navajo culture," said Airbnb guest Kevin. "The food she prepared for us was delicious, and even better were the conversations we had at the dinner table."
Like other glamping spots on Navajo land, this hogan offers a travel experience steeped in history, culture, and meaning. You may come for a low-tech desert getaway, but you'll leave with a greater appreciation of the land and its people.
Check Availability
9. Sage Yurt
Why you should stay: Simple yurt camping in one of tNorthern Arizona's most popular recreation areas.
Location: Flagstaff
Sleeps: 4
Minimum stay: 1 night
Rates from: $54/night
The Sage Yurt is one of Arizona Nordic Village's "frontcountry" yurts, an easily accessible shelter near the village's parking lot and 35-mile trail system. The trails are open to hiking and biking in the summer and cross-country skiing and snowshoeing in winter.
The Village provides all the basics, but guests need their own linens and water, so if you're used to packing for a typical camping trip, you'll dig it here. The area's a veritable outdoor playground, with the San Francisco Peaks to the east and the Grand Canyon just over an hour north. The views are spectacular and every season offers its own ways to enjoy the land.
For a more remote stay, check out the Nordic Village's backcountry yurts — they're a few miles back in the forest and offer more of a secluded backpacking experience.
Check Availability
10. Urban Airstream Glamping
Why you should stay: A renovated Airstream that proves you don't need to leave town to glamp well.
Location: Phoenix
Sleeps: 2
Minimum stay: 2 nights
Rates from: $84/night
Glamp the urban wild in this 1967 Airstream, located in Phoenix's Coronado Historic District, one of the city's most iconic residential communities. The RV's within biking distance of trendy restaurants and cafes in the area, including Tuck Shop Kitchen & Bar and Ollie Vaughn's, who also happens to stock the Airstream's coffee supply.
"I loved this Airstream oasis," said guest Melissa. "Even though it's in a neighborhood, it is very private and it feels like you are all alone. Loved the fire pit too!"
A private yard space and extended deck add more privacy than you might expect from a glamping spot in downtown Phoenix, which is one of many reasons this spot is so popular. The home is surprisingly modern and feels almost like a trendy Napa tasting room than a vintage RV.
Check Availability
Explore the Southwest
Get epic travel ideas delivered to your inbox with Weekend Wanderer, our newsletter inspiring more than 10,000 readers every week.
Was this article helpful?
---