Between its National Forests, historic sites, desert canyons and alpine terrain, Utah's magnificent landscape boasts a smorgasbord of scenic drives that'll upgrade any vacation to the Beehive State.
Scenic drives are often more than just a pretty view. The U.S. Department of Transportation adheres to strict criteria when deeming a route a National Scenic Byway or All-American Road, so you can trust that scenic drives with these badges of honor are worth the detour.
In order to be recognized as a National Scenic Byway, the route must be at least one of the following: scenic, natural, cultural, recreational, historic, or archaeological. All-American Roads meet two or more of these traits.
Beyond those designated by the U.S. Department of Transportation, there are more scenic byways determined by the Bureau of Land Management, U.S. Forest Service, and U.S. National Parks Services. Ultimately, it doesn't matter which government agency bestows the honor — the point of Scenic Byway designation is to point road trippers in the right direction, and they never fail to impress.
Related read: 10 Adventurous Campervan Rentals in Salt Lake City, Utah
The Best Scenic Drives In Utah
Ready to pack up the Subaru and hit the road? Here's our take on the best scenic drives in Utah, covering everything from lush national forests to painted desert landscapes and staggeringly beautiful canyons.
1. Dinosaur Diamond Prehistoric Highway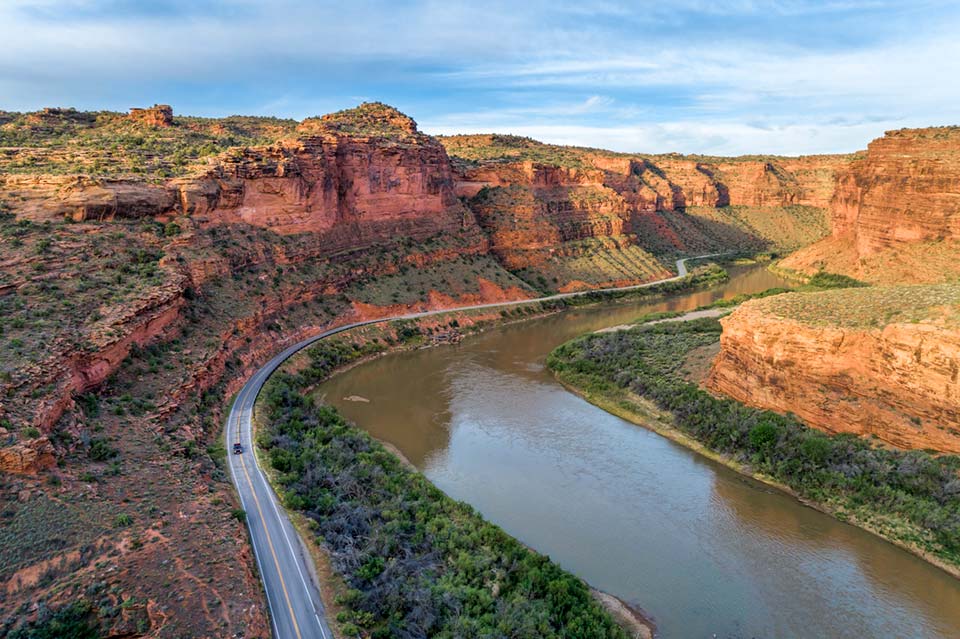 The Dinosaur Diamond Prehistoric Highway is a 480-mile-long scenic drive through Colorado and Utah that follows important prehistoric sites.
Due to its length, the Dinosaur Diamond Prehistoric Highway is typically tackled in smaller sections. Parts of this highway skirt Arches and Canyonlands National Parks, runs along the Colorado River, and goes deep into canyons near Moab. It's easy to visit important sites along the way due to its proximity to Moab and Grand Junction in Colorado.
There are active quarries along the way where you will often see archeologists at work. Museums provide information for curious travelers, allowing you to see the kinds of discoveries and artifacts scientists have found in the area.
More Information: U.S. Department of Transportation
2. La Sal Mountain Loop State Scenic Backway
An easy day trip through Moab's surrounding landscape, the La Sal Mountain Loop begins just south of Moab. The Scenic Backway takes you high into the La Sals, then back down to Moab's most iconic desert tower locations: Castle Valley and Castleton Towers.
There are hundreds of options to camp along this road as it's on National Forest land, though the small, winding road isn't suitable for larger RVs.
The paved road is 60 miles long, making this an easy day trip. However, I highly recommend camping along the road and turning this into a multi-day trip. There are a number of hiking trails and plenty of Moab's landscape icons to enjoy along the way.
This route is especially great for rock climbers, as you can climb single-pitch granite climbs in the La Sals before climbing the historic Castle Valley Towers.
More Information: U.S. Forest Service
3. Scenic Byway 12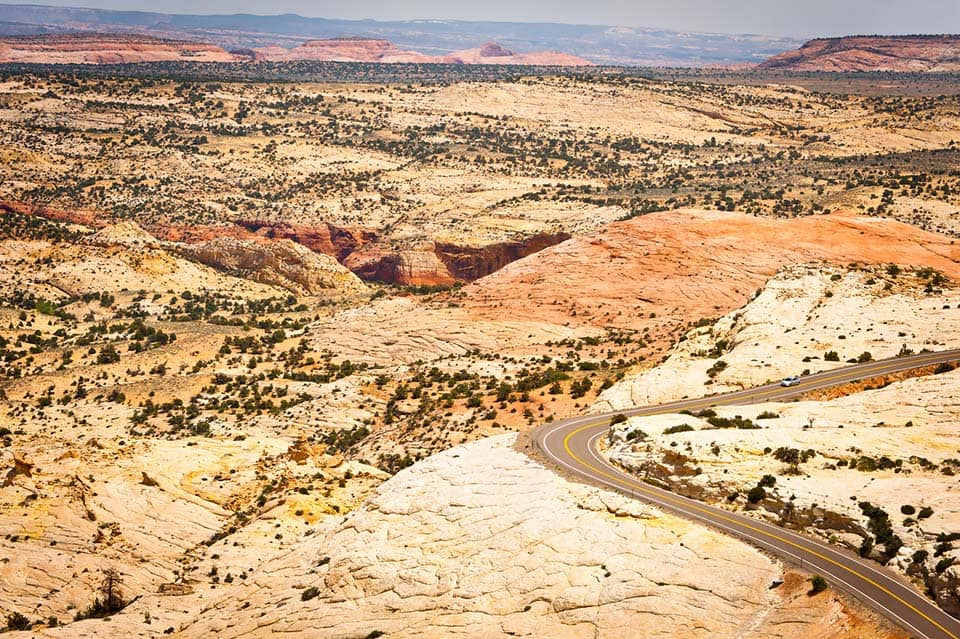 Utah's first and favorite All-American Road offers 150 miles of scenic byway through the canyons, plateaus, and valleys that Utah is famous for.
I highly recommend making at least a weekend trip out of this All-American Road. The abundant recreation opportunities along the way make it possible to spend a full week along this byway. If you've got time to spare, the Visit Utah website offers a detailed trip-plan for this byway by breaking the trip into four days — a fair compromise.
You'll pass National Forest lands, State Parks, National Monuments, National Parks, and even a petrified forest along this scenic byway. The journey begins in Panguitch, which is itself a uniquely historic location. Almost the entire town is on the National Register of Historic Place's List of Historic Landmarks.
More Information: Visit Utah
4. The Energy Loop: Huntington/Eccles Canyons Scenic Byway
The Energy Loop is a unique National Scenic Byway through Utah's Manti-La Sal National Forest that takes you through the rich history of energy development, industrialism, historic mining sites, and coal-fired power plants.
Clocking in a distance of just under 86 miles, this is a shorter scenic byway to enjoy. Views through the Manti-La Sal National Forest show off an alpine landscape not typically associated with Utah.
The Energy Loop provides a unique perspective of the needs of humans and the human impact on our environment. As this becomes a rising hot-button issue, take a drive on this scenic byway and learn how energy power plants are doing their part.
More Information: U.S. Department of Transportation
Additional Read: 6 Outdoorsy Weekend Road Trips from Salt Lake City, Utah
5. Logan Canyon Scenic Byway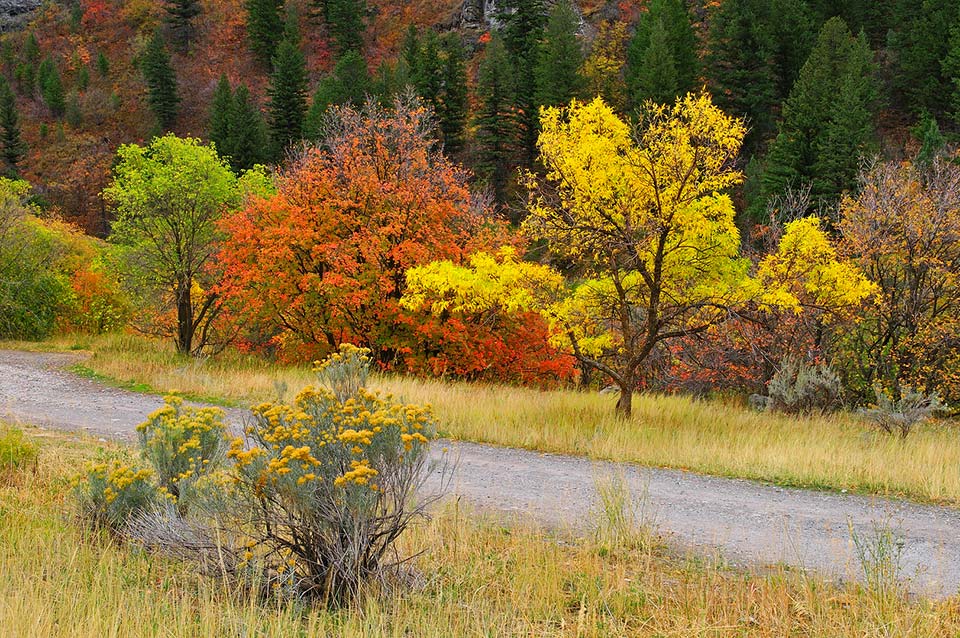 As the name suggests, this 41-mile National Scenic Byway takes you through Logan Canyon from Logan to Garden City. Logan Canyon Scenic Byway offers varying landscape views through rocky canyons, lush meadows, and dense forests.
It's possible to camp along this byway, and I highly recommend pitching your tent here to fully enjoy this landscape. There are several National Forest campgrounds that charge for day and night use in Wasatch-Cache National Forest, and free dispersed camping is permitted.
Logan Canyon is a popular spot for outdoor enthusiasts year-round. Summertime offers fishing, hiking, and camping. September and October feature amazing fall colors in Cache Valley. In the winter you can ski Beaver Mountain or snowshoe throughout Logan Canyon and Wasatch-Cache National Forest.
More Information: U.S. Department of Transportation
6. Arches National Park
Arches National Park is beautifully designed for visitors to enjoy its amazing views from the road, which loops around all of the park's main formations.
While there are several trailheads from the road, it's possible to stay close to the car while visiting Arches. The park road features several viewpoints and pull-offs to stop and take pictures, or quickly walk to some of the most iconic rock formations in the park.
A stop by the Visitor Center is a must when driving through Arches! With wildlife and geological exhibits to explain the unique landscape you're about to enter, the Arches Visitor Center is one of the most impressive National Park exhibits I have seen.
Situated conveniently close to Moab, driving through Arches National Park is the perfect way to fill some time while on vacation.
More Information: National Park Service
7. Scenic Byway 143 – Utah's Patchwork Parkway
Connecting Heritage Highway 89 and Scenic Byway 12, Utah's Patchwork Parkway bridges the gap between the Great Basin and high plateaus of the Western Slope Desert.
The name Patchwork Parkway comes from this road's pioneer history. In the dead of winter, settlers desperate for food laid handmade quilts on the snow to reach western settlements. The quilts and the area's "patchwork" of varying landscapes have given this byway its name.
Often traveled as an extension of Scenic Byway 12, this National Scenic Byway offers just as much variation and recreation opportunities. Panquitch Lake lies along this route and is one of Utah's best fishing spots. The road even experiences a 4,500-foot elevation change in just 51 miles!
More Information: U.S. Department of Transportation
Road Trip Planning Resources
Visit Utah offers trip planning help and can even build a trip itinerary for you based on your goals and available time.
The U.S. Department of Transportation is another great resource, where you can find a list of all nationally recognized scenic byways and All-American Roads in the country.
When planning a road trip, remember to be prepared and plan ahead. Detailed planning will help avoid getting lost or not fueling up between long stretches of zero resources.
Be sure to "stop to smell the roses" along your journey at visitor's centers, important markers, historic museums, and more to get the full experience of each scenic byway.
Visitor Centers are your best resources on a road trip. With maps, exhibits, and unlimited local information, you won't be disappointed you stopped.
Most importantly, have fun! Even if something goes awry, remember road trips are all about the journey, not the destination.
Keep Exploring Utah
Sign up for our free email to join thousands of readers getting epic travel, hiking, camping and gear ideas every week.
Was this article helpful?
---