Utah is known for rugged mountains, hot deserts, and abundant canyons. What you might not expect is that it is also a hotbed of swimming holes in Utah, from reservoirs to slot canyon falls to hot springs — best for non-summer adventures, obviously.
If you're in Utah, you're almost certainly looking for ways to cool down during summer. Luckily, despite how the desert landscape may appear, there are quite a few places across the state to get out, jump in, and cool off.
Remember that the water levels of reservoirs and rivers fluctuate quite a bit in the desert, so keep an eye out for unexpected rocks or debris before jumping in. Flash floods are also common in the desert, so if you're venturing down to slot canyons or semi-ephemeral rivers, check the forecast beforehand.
These swimming holes in Utah are phenomenal, but they're still out in nature and require a bit more preparation than heading to your local rec center hot tub.
Related Read: 6 Stunning Backpacking Routes in Canyonlands National Park, Utah
1. Toquerville Falls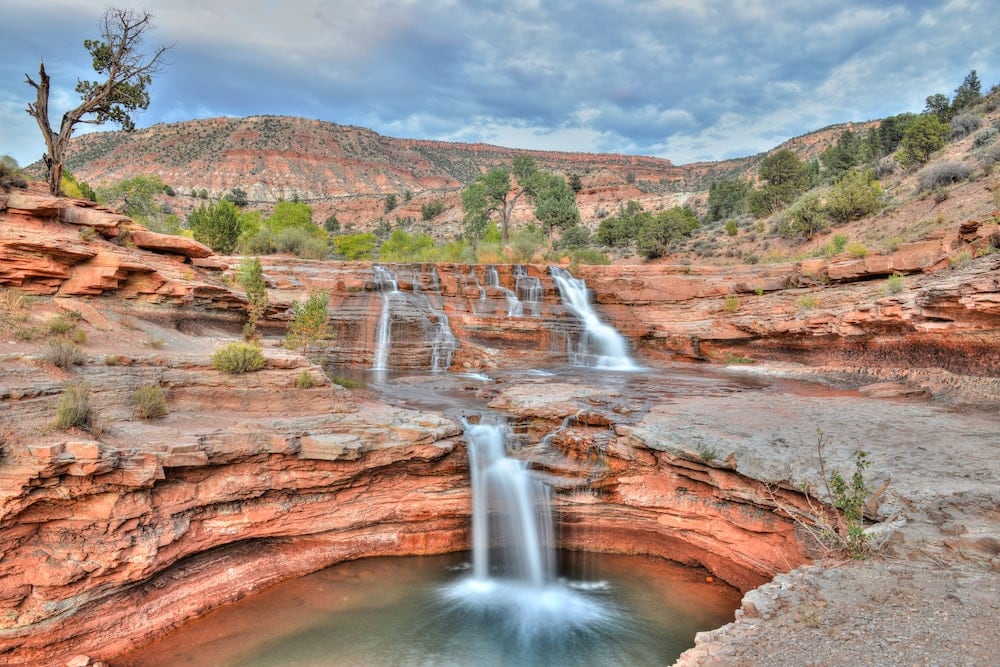 Nearest town: St. George
Hike to swimming hole: Near parking, if you have the right vehicle.
Toquerville Falls is truly an experience. The two-step waterfall on La Verkin Creek near St. George is an exceptional spot in the hot summer months.
The top falls are a beautifully interwoven cascade, though it will be slightly smaller if there hasn't been any rain recently. The second tier starts in a small cascade that ends in a plunge to a deep pool. Depending on the year, there may be a ladder up from the pool to the top base of the upper tier.
Careful with cliff jumping, though, as water levels vary throughout the seasons.
Getting to this swimming hole is going to require a little bit of effort. The trail is a rough 4×4 road for around 5.5 miles. You can walk it or drive it if you have the right vehicle, like a high-clearance truck or off-road vehicle, but it's still slow going.
You could also bring a mountain bike for the road if you want to work up a sweat. This is one of the more off-the-beaten-path swimming holes in Utah, but you"ll still see some traffic on hot weekends.
Related Read: White Rim Road: An Overland Adventure in Canyonlands, Utah
2. Mona Rope Swings
Nearest town: Provo
Hike to swimming hole: Near parking
Located at the fascinating Burraston Ponds near Mona, Mona Rope Swings is a popular swimming hole in Utah near the greater Salt Lake City area.
The ponds offer a few nice shade trees, a short walking path, and of course, the rope swings. There maybe be up to five ropes, but generally, there are at least two; a beginner swing and a big swing.
Some good things to consider before swinging away: make sure the ropes are in good condition, ensure the water is deep enough to jump and be ready to let go of that rope before you swing back into the tree!
Given the ease of access, this is a popular spot, so you'll have plenty of people to cheer you on as you take the leap.
Related Read: 6 Spookiest Ghost Towns in Utah for Exploring the Old West
3. Homestead Crater
Nearest town: Midway
Hike to swimming hole: Near parking
Feel like scuba diving in a warm spring? Well, look no further than Midway, Utah. The Homestead Crater is a fascinating geologic feature housing a warm, geothermically heated pool. The volcanic-shaped cone was formed by the deposition of minerals from upward percolating water.
Visitors love swimming, scuba diving, and soaking in the naturally warm water, which stays around 90–96 F degrees all year. You can also climb to the top of the dome and enjoy an aerial view of the pool.
The only drawback of this adventure is the price. You'll pay around $15 for a 40-minute soak.
Related Read: 10 Adventurous Campervan Rentals in Salt Lake City, Utah
4. Lower Calf Creek Falls
Nearest town: Escalante
Hike to swimming hole: 3 miles
Tucked away in Grand Staircase-Escalante National Monument is the beautiful and captivating Calf Creek Falls. The 130-foot waterfall plunges into a large pool at its base. This cool and shady swimming hole in Utah is an amazing spot to spend an afternoon after a long hike.
The trail to the falls leaves from Calf Creek Campground and is about three miles, but it's level and fairly easy. However, it can be a bit sandy in places, so pay attention when the path gets a little faint.
Be sure to grab a brochure at the trailhead to learn more about the area's history, geology, and ecology, and make sure you take some time to spot the pictographs high up on the canyon wall about halfway along the trail.
Another slightly less-traveled option is to head to Upper Calf Creek Falls. This requires a bit more of a drive but is a shorter hike. The falls are shorter than the lower falls but still impressive at 88 feet tall. The waterfall plunges into a shady pool surrounded by lush vegetation.
Related Read: 11 of the Best Glamping Destinations in Utah
5. Meadow Hot Springs
Nearest town: Filmore
Hike to swimming hole: .5 miles
A cool swimming hole in Utah not (yet) overrun with visitors, Meadow Hot Springs is more of a winter or shoulder season trip. There's no tree cover for shade, and given the water temperature (about 100 degrees F), it's more pleasant to visit when the temps are a bit colder rather than in the heat of summer. It's in the middle of a meadow so you'll have unobstructed views of the snow-capped mountains while you soak.
Past the gate, a short half-mile walk will get you to the pools, and a path connects all three once you hit the first one. The warmest and clearest pools are to the south. The first pool to the west is also quite clear, but the third is a bit murky.
The hot spring is on private property, but the landowner allows public access. There's a main gate with a few signs outlining their rules, so please follow them and respect the property to ensure the space remains open for use.
Related Read: 12 Best Spots to See the Fall Colors in Utah
6. Red Reef Natural Water Slides
Nearest town: Hurricane
Hike to swimming hole: .75 miles
Just outside Hurricane is the unassuming Red Cliff Recreation Area. You'll need a sense of adventure to reach this Utah swimming hole as it requires a canyon hike and using moki steps to reach the natural rock water slides. But its worth it.
The swimming at the site can be difficult to predict as water levels depend on recent rains and water flow. Spring is generally your best bet for visiting, but the water will be a little colder than other times of the year.
The first pool and waterfall are the easiest to reach, but you'll need to climb even further up to reach the natural water slides. As you climb, you'll have to use the moki steps (rock footholds) and do a bit of rope climbing.
From the campground, take the Red Reef trail. There's a $5 parking fee, so bring cash.
Related Read: 11 Fun Family-Friendly Hikes Near St. George, Utah
7. Fifth Water Hot Spring
Nearest town: Hurricane
Hike to swimming hole: 2.25 (ish) miles
Getting to this hot spring requires a just-over-two-mile hike in (and back out, of course.) This is a popular spot year-round, but easy access and numerous hot pools make it a relaxing place to visit on a winter excursion.
The trail to the springs is vibrant and follows the babbling Fifth Water Creek. There are a few different options for where to sit and soak when you reach the pools, but if you'd like to explore the area first, stay on the trail to reach three waterfalls. The first you'll reach plunges into the top hot spring pool.
There are two more just a bit farther along the creek; the second one up is a multi-tiered cascade and the most photogenic. After exploring, try out all the different pools on your way back down.
Side note: even though it's technically illegal, you'll likely see a few bathers in their birthday suits here.
Related Read: 15 Refreshing Waterfall Hikes in Utah
8. Mill Creek Waterfall
Nearest town: Moab
Hike to swimming hole: .9 miles
Moab is rich with outdoor activities and is considered an adventurer's playground – which is saying a lot in a state full of amazing outdoor recreation. But every adventurer needs a little R&R here and there, especially when dealing with the desert heat.
So if you're looking for a place to cool off in Moab, head to the Mill Creek Waterfall. Crystal-clear water, plentiful pools, large trees, and even a natural rock slide make this one of the best  swimming holes in Utah to swing by on hot days in the area.
On top of that, it's less than a mile from the parking lot to the first pool. Given its proximity to the trailhead, this one can get a little busy sometimes, so be prepared to share the space.
Related read: 9 Best Hikes in Canyonlands National Park for Every Adventurer
9. Falls Park/Sheep Bridge
Nearest town: Virgin
Hike to swimming hole: Near parking
The town of Virgin is a rather unassuming destination on the Virgin River just outside Zion National Park. The park, officially called Falls Park but known locally as Sheep Bridge, runs for about a mile on a stretch of river offering a mix of steep rock walls for cliff jumping and sandy beaches for splashing or catching frogs.
Tubing this stretch of river is a popular pastime, and there are even a few light rapids to spice things up. Remember that the water flow here varies significantly, and the river might be shallower than you expect. Explore the water depths before jumping in.
10. Sand Hollow Reservoir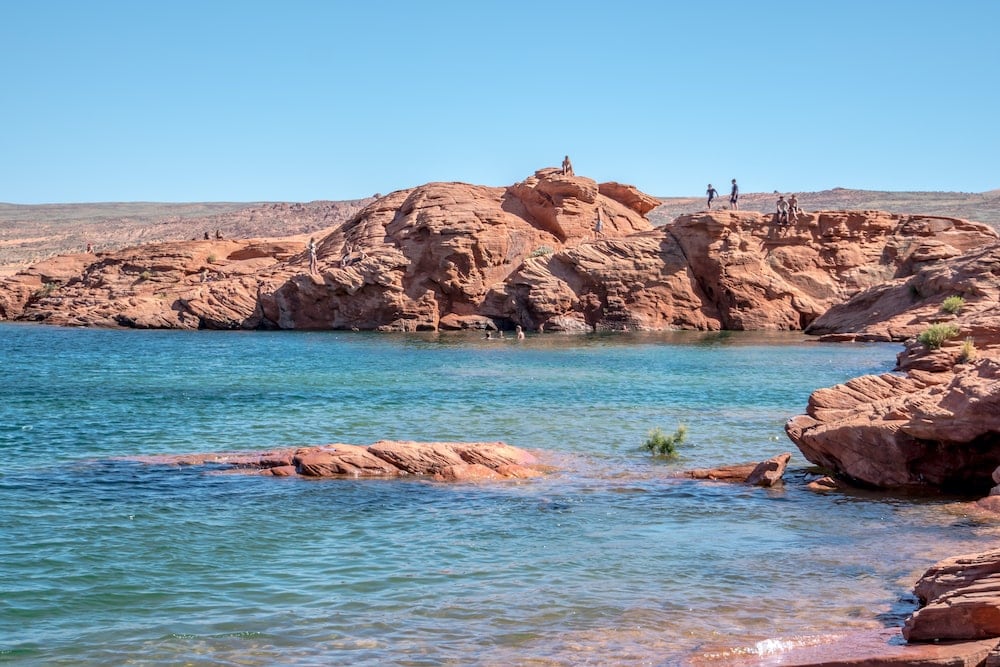 Nearest town: Virgin
Hike to swimming hole: Near parking
Sand Hollow State Park is a refreshing spot on the outskirts of St. George. Popular for camping, boating, and fishing, this is a great place to base yourself for a weekend. In addition to stunning landscapes, you'll have access to brilliantly blue water. that starkly contrasts the bright red sandstone. It's eye-catching and hard to resist popping in for a dip.
Go for a swim on those hot summer days or float around on a kayak or paddleboard to explore the reservoir. There's also the option to get a little adventurous and do some cliff jumping on the northwest shore. The water is open to boating and jet skiing, so keep an eye out if you're swimming or paddling around.
Find Your Next Utah Adventure
Sign up for Weekend Wanderer to join thousands of readers getting epic travel and gear ideas every week.
---