The Kansas City metro has no shortage of entertainment. But after a while, even easy access to fall-off-the-bone-delicious barbecue, successful professional sports teams, nightly live music, and a ridiculous amount of fountains eventually gets old.
Luckily, KC's prime Midwestern location puts a year's worth of weekend road trips within reach when you're ready to mix things up a little. Five other states (plus the rest of Missouri) are within a four hour drive of downtown, providing no shortage of amazing road trips from Kansas City perfect for putting distance between you and everyday life for a few days.
Each of these destinations have a weekend's worth of excitement for the outdoorsy, indoorsy, foodie, and adrenaline-seeking travelers among us.
Related Read: 9 Amazing Treehouse Rentals in Missouri You'll Love
1. Omaha, Nebraska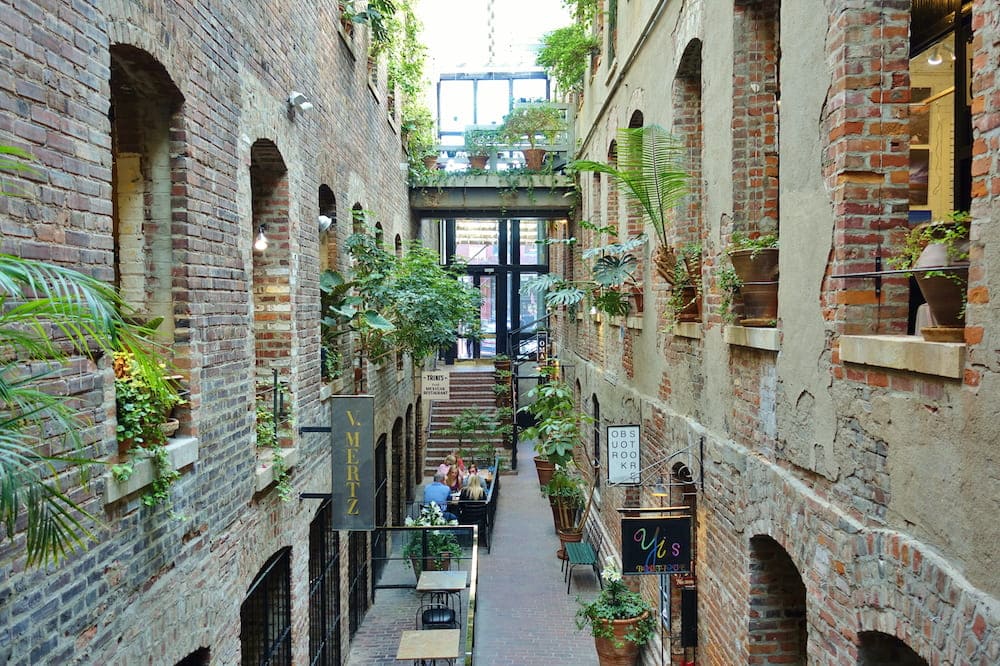 Just up the Missouri River from KC is the best Nebraska has to offer: a weekend in Omaha.
In parenting circles, Omaha is the quintessential family weekend road trip from KC thanks in part to its children's museum. Tailored to the 8-and-under crowd, the Omaha Children's Museum is bursting with activities that engage their senses and peak their interests, including a tinker factory, a kid-sized auto service center, and a splash garden.
In addition to all the typical zoo attractions (a.k.a. animals), the Henry Doorly Zoo & Aquarium has an amazing splash park. The "Children's Adventure Trails" area allows kids to traverse a three-story tree house with monkeys climbing above them. It also has a creek following through it and tons of smaller things to climb. Expect all the kiddos to be tired come 7 p.m.
No kids? No problem! Omaha has plenty of fun for all ages.
Baseball fans can plan a visit around the College World Series (CWS), held downtown at the TD Ameritrade Park in June. Any Omaha baseball pilgrimage should include a visit to the site of the former home of the CWS: Rosenblatt Stadium. Infield at the Zoo, located in the zoo's parking lot, is a memorial to the old stadium. You can run the original baselines and sit in original seats.
The Old Market Entertainment District features brick streets, galleries, restaurants, boutiques, and rooftop dining. From French to Mexican to Cuban to Italian, the market district is the place to go for everything from a juicy steak to succulent sushi.
Distance from Kansas City: 185 miles
Drive time without stops: 2 hours, 40 mins
2. Bentonville, Arkansas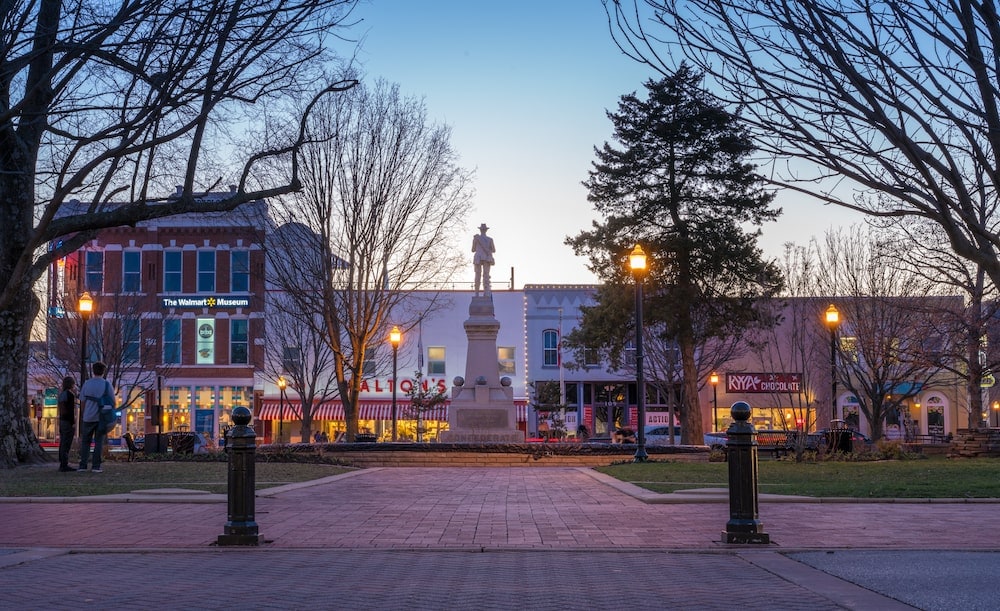 With 40 miles of trails accessible from downtown, Outside Magazine recently called Bentonville "Disneyland for mountain bikers." And while folks in, say, British Columbia may not agree with that assessment, there's no denying how convenient the city is for explorers on two wheels. After a long day on the trails, the bike-friendly downtown has restaurants, unique lodging, and free entertainment to help you rest and refuel your tired body.
Not into mountain biking? No worries: Bentonville has plenty of non-adrenaline fun, too. Stroll around the indoor and outdoor galleries of The Momentary, a free contemporary art museum. The museum grounds feature green space for picnics and performances, as well as a bar and cafe.
Next, move on to Crystal Bridges, a free American art museum. Its unique architecture was designed to celebrate the idea that buildings can exist in harmony with their surrounding nature. The museum grounds have over four miles of hiking trails in addition to the namesake bridges.
Take your visit to Crystal Bridges to the next level and reserve an all-inclusive Forest Globe Experience. This night out includes bluetooth controlled lights and speaker plus your choice of dinner, dessert and sparkling water, all inside a forest globe.
Distance from Kansas City: 210 miles
Drive time without stops: 3 hours, 10 mins
3. Lake of the Ozarks, Missouri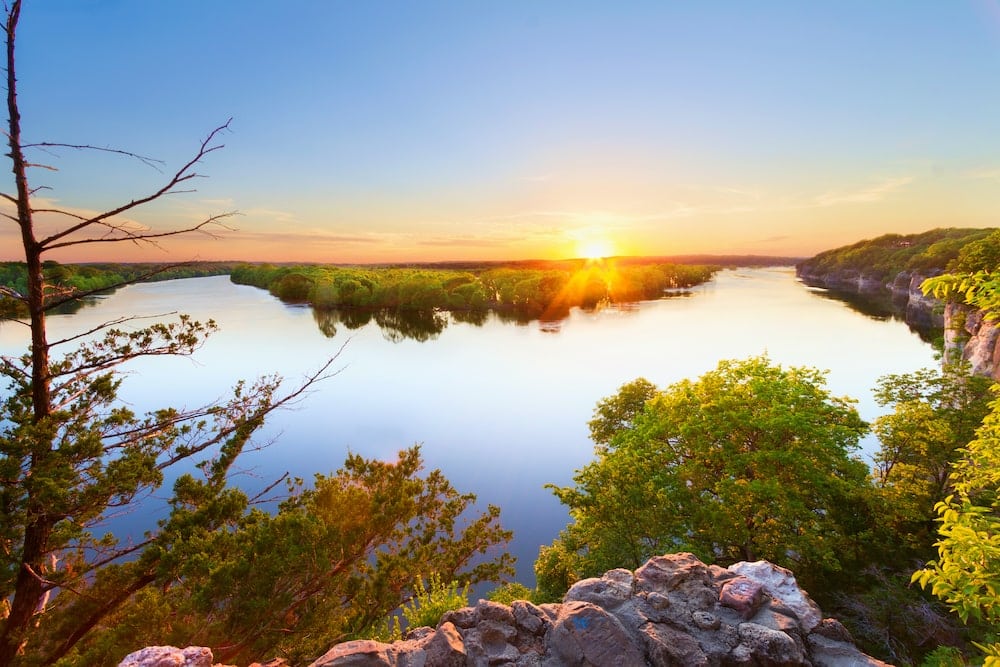 You can rent everything from a houseboat to a kayak at Lake of the Ozarks or bring your own. No matter what you chose, a weekend at the lake revolves around the water. You may recognize the Ozarks but the Netflix show of the same name, which brought a lot of attention to how beautiful this easy road trip from Kansas City really is.
The Bagnell Dam Strip has water craft rentals to help you enjoy the water, arcades to test your luck at skee-ball, souvenir shops so you don't come home empty handed, restaurants, and weekend car shows.
Besides for its lakeside bars, restaurants, and parks that make the area a bit of a party hot spot, Lake of the Ozarks is also considered one of the best fishing lakes in the country. So if you're angler, bump this to the top of the "must-do roadtrips from Kansas City" list.
From five-star resorts to campgrounds, there's a place for everyone to comfortably rest their heads at the lake. Kick back and watch fireworks at Bear Bottom Resort or enjoy its outdoor pool. Play a round of golf or splash year-round at the indoor waterpark at Margaritaville Lake Resort (formerly Tan-Tar-A Resort). Pitch your tent at Lake of the Ozarks State Park and you'll have access to two marinas complete with sandy beaches. It's a great place for a morning stroll with coffee in hand.
Distance from Kansas City: 210 miles
Drive time without stops: 3 hours, 10 mins
Related Read: 10 Best Tiny House Rentals in Missouri for Big Adventure
4. Buffalo National River (Jasper, Arkansas)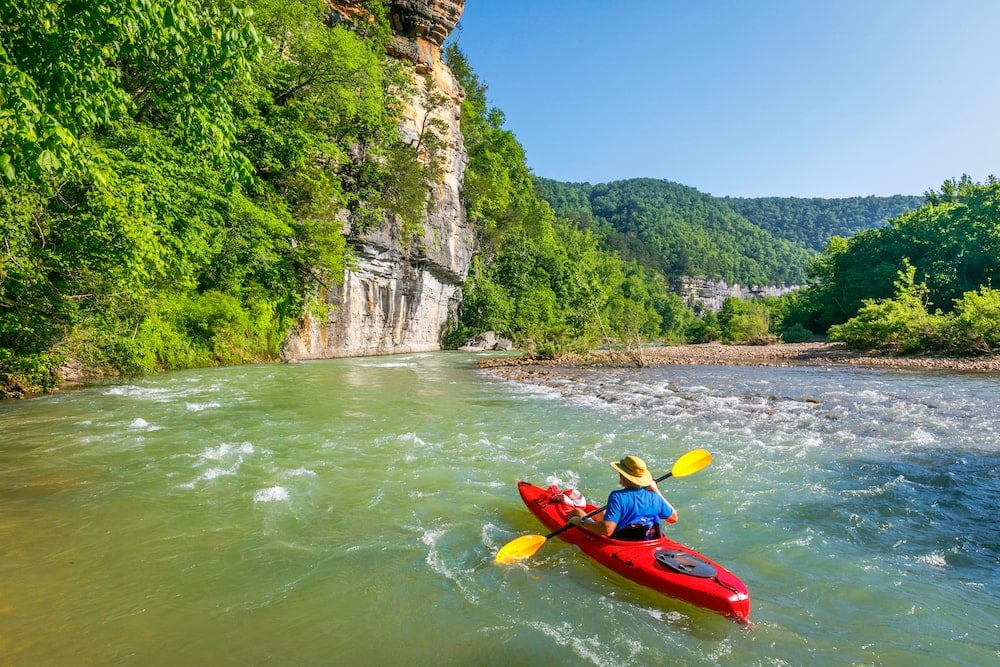 The Buffalo National River runs across northern Arkansas and plays host to some amazing paddling, cliff jumping, climbing, and hiking. It's also a great place to escape to a remote cabin. Lined by sandstone bluffs reaching up to 400 feet tall, the Buffalo is the first national river and one of the last free-flowing (no dams) rivers in the country.
The town of Jasper is a great home base. The Ozark Café serves up delicious meals perfect for refueling after a long adventure, and is a short drive from a prime viewing spot of the Grand Canyon of Arkansas, which offers epic views of the redbud blooms in spring and of the fall colors.
The nearby Horseshoe Canyon Ranch is a destination in itself. Enjoy horseback riding on mountain trails and across creeks. And thrill seekers should check out the via ferrata and zip line. The dude ranch has cabins on site (with hot tub and pool access) and features the most beginner and family-friendly rock climbing around. Guides and gear are available for rent from the trading post. No wonder Jasper is a frequent item on lists of the best Kansas City road trips.
Distance from Kansas City: 262 miles
Drive time without stops: 4 hours, 20 mins
5. St. Louis, Missouri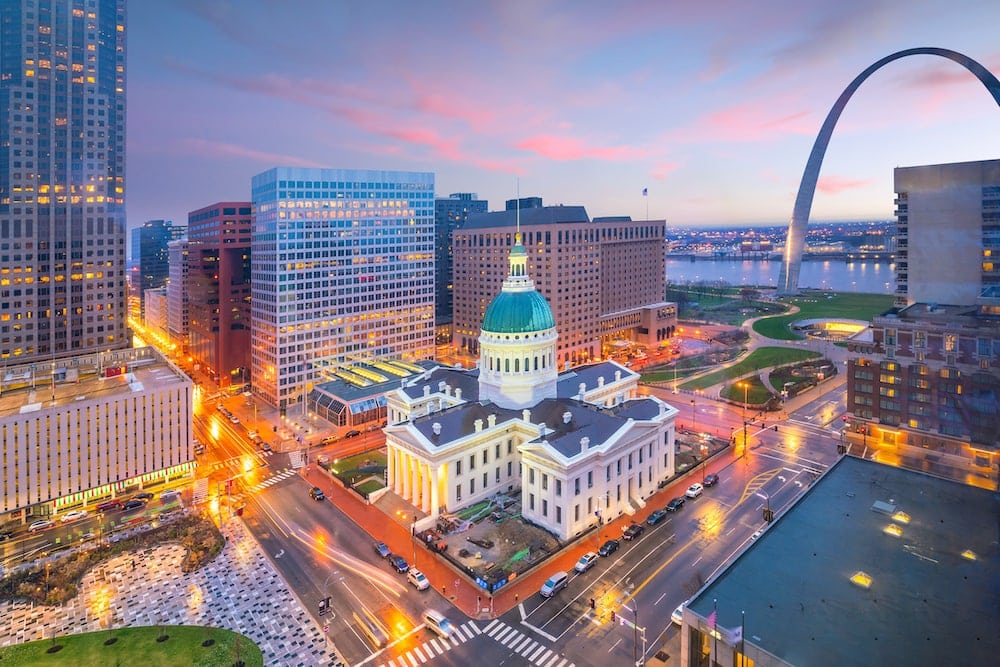 Riding a tram 63 stories up the hollow structure of the Gateway Arch is something everyone should do once in their lives. Fair warning: the trams are small, white pods straight out of a science fiction movie. They only fit five people, but luckily, the ride is less than five minutes long. Also worth noting: the skydeck is not wheelchair or stroller accessible, and sways in the wind. That said, the views of the city, Mississippi River, and beyond, are spectacular. So, summary: great Kansas City roadtrip if you don't mind heights.
Branch out from downtown and explore the Delmar Loop in University City ("U-City"). Take the trolley to explore over 100 specialty shops, including Vintage Vinyl and Avalon Exchange. The Loop has restaurants serving up food from countries around the world, including the Philippines, Greece, Lebanon, India, and Thailand.
You can spend an entire weekend just in nearby Forest Park, which anyone from "the Lou" will be quick to tell you is bigger than Central Park. Within its grounds, guests can visit the history museum, city zoo, art museum, science center, and planetarium, all for free. Want to take your adventure up a notch? Check out Flegel Falls, go sledding at the infamous Art Hill, or rent watercraft to explore the lake.
Looking for a truly unique experience? Head to the City Museum. There, old pieces of the city are repurposed to create slides, tunnels, climbers, and more. If you're short on time, skip the inside exhibits and make your way to the rooftop (open March through November), which features a school bus, praying mantis, ferris wheel, and great views of the city.
Distance from Kansas City: 248 miles
Drive time without stops: 3 hours, 45 mins
Related Read: 9 Fun & Free Things to Do in Saint Louis, Missouri
6. Weston, Missouri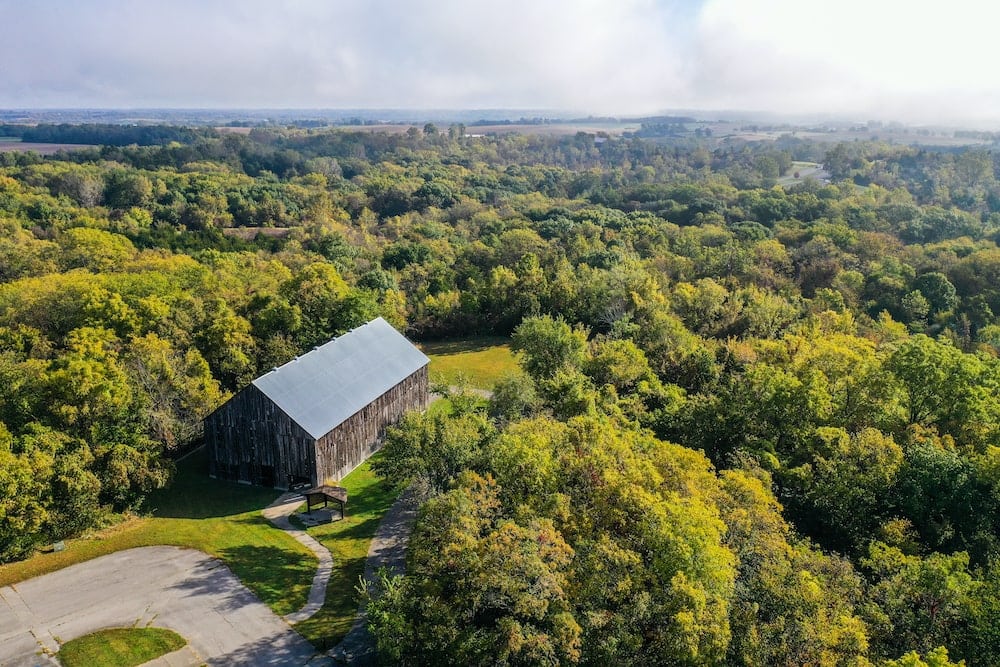 Weston is known for three things: festivals, beverages, and outdoor adventure. It's close proximity to the city makes it one of the easiest road trips from Kansas City for locals looking for a fun weekend away.
Try to plan your visit around one of the city's many festivals. Applefest features shopping, live music, a parade, children's activities, delicious food, and, of course, apples. Weston Brewing Company hosts the annual Weston Irish Festival, which includes live music outside as well as in their underground pub (O'Malley's). Both take place in the fall.
At Green Dirt Farm, you can tour a sustainable farm and sheep dairy. Afterward, head over to the cafe, which showcases sheep cheese and cow ice cream, as well as charcuterie boards, beverages, and crafts from local artisans.
Planning a cold-weather visit? Snow Creek Mountain Resort is the local place for Kansas Citians to find winter fun without having to head out to Colorado. The resort has 12 trails, five lifts, and two terrain parks for snowboarding and skiing. If your knees need a break, check out Tornado Alley, a 700-foot-long tubing hill.
Distance from Kansas City: 33 miles
Drive time without stops: 40 mins
Related read: 9 Must-Hike Trails in Kansas City, Missouri
7. Columbia, Missouri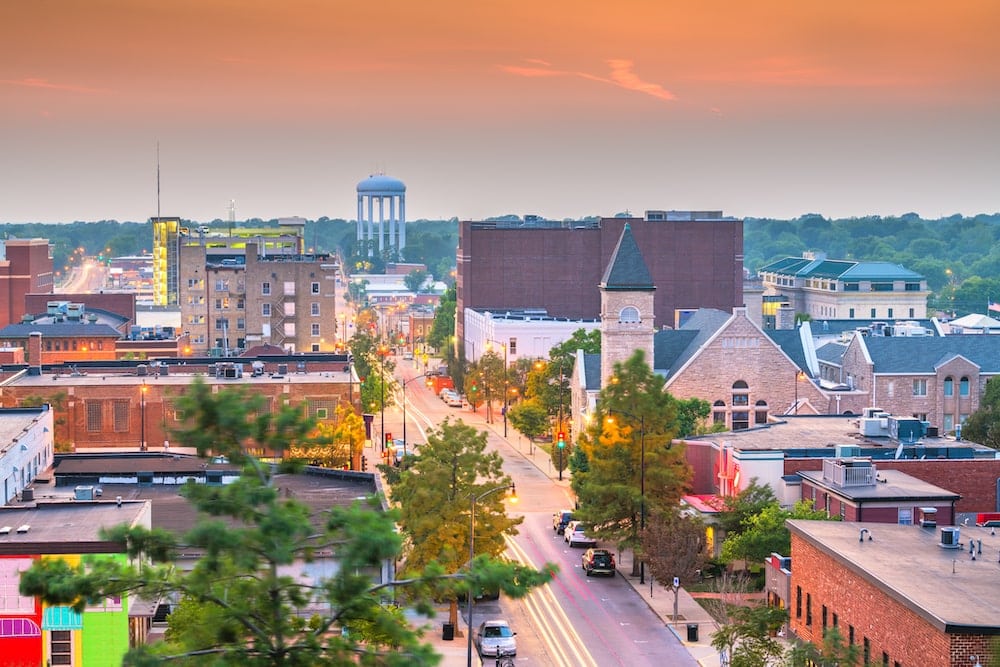 Well known for being the home of the Mizzou Tigers, Columbia has a lot to offer beyond Division I college sporting events.
Downtown Columbia is the place to go for all your culinary delights. Try Shakespeare's Pizza for a legendary pizza pie or treat yourself to a maple bacon bar from Harold's Donuts, which offers 16 daily made-from-scratch opens.
Biking enthusiasts should visit Eagle Bluffs Conservation Area to access the Katy Trail, the longest developed rail-trail in the country. It's a great place to start your bikepacking adventure or set off for an afternoon ride.
A short drive north of the city, Finger Lakes State Park boasts 70 miles of off-road trails, a motocross track, swimming, kayaking, canoeing, fishing, and even scuba diving.
If you have kids, do not miss Cosmo Park. It has biking and hiking trails, fields and courts for every sport, a remote control car track, and its prized gem: the Steinberg Playground. The accessible playground has great elevated vantage points for parents interested in letting their littles run loose, but you'll see plenty of parents having a good time, too. Uncover an entire stegosaurus skeleton in the sand pits, run through tunnels, and climb tractor tires up a hill to reach a rocket ship.
Distance from Kansas City: 126 miles
Drive time without stops: 2 hours
Related Read: 6 Unique Places to Go Glamping in Missouri
8. Branson, Missouri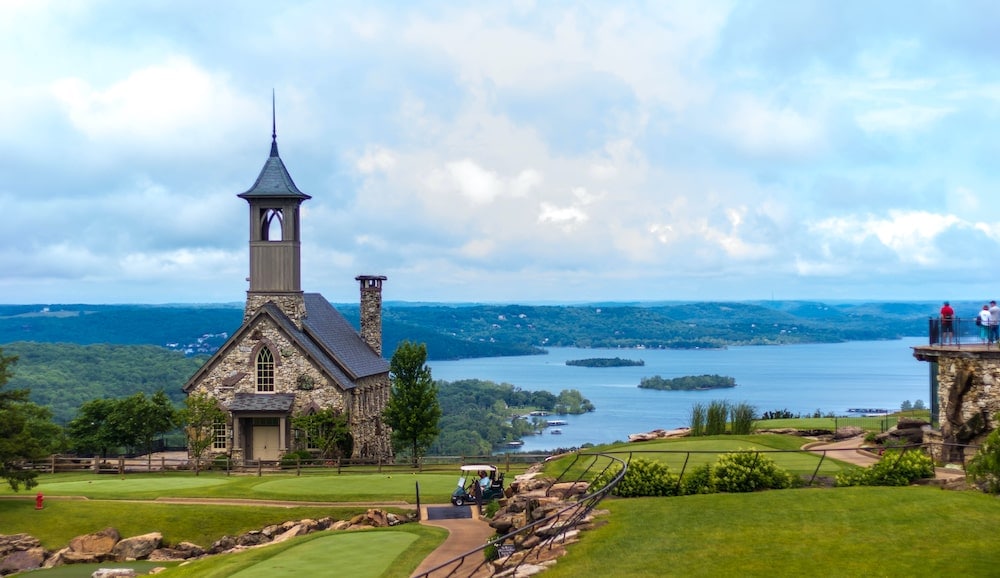 Branson is jam-packed with all the attractions you expect from a world-renowned tourist town: a wax museum, a Ripley's Believe It or Not, go karts, adventure parks, mini golf, chain restaurants and souvenir shopping. It's also known as the "Live Entertainment Capital of the World" for good reason, with more than 100 live shows, including classics like Dolly Parton's Stampede Dinner Show and The Haygoods.
Take a break from the often-congested main strip by visiting Branson Landing on Lake Taneycomo. The area has shops, restaurants, and watercraft rentals, as well as its centerpiece: the Branson Landing Fountains. Every hour on the hour beginning at noon, the fountains perform a three-minute show choreographed with lights, music, and fire cannons. It's like The Bellagio in Nevada, except Branson is a much easier road trip from Kansas City than Las Vegas.
When you're had your fill of downtown tourism, escape to Dogwood Canyon Nature Park. It's a scenic 30-minute drive away from the crowds. There, you can hike, bike, fish for trout, ride horses, and take a tram tour to visit the elk and bison herds.
Distance from Kansas City: 210 miles
Drive time without stops: 3 hours, 15 mins
9. Springfield, Missouri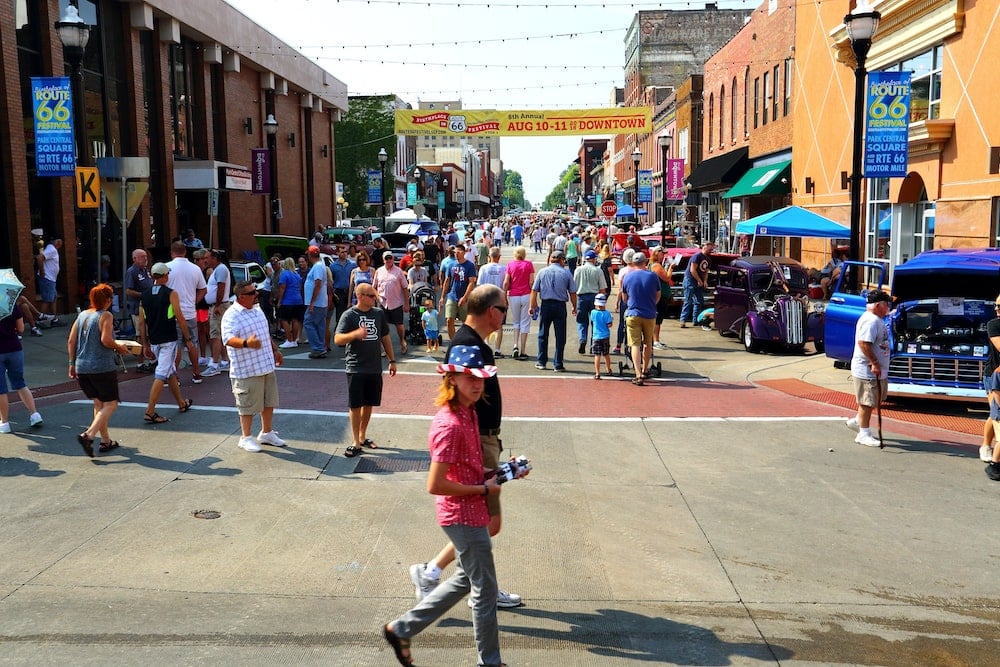 If you're looking for a shorter drive (or just don't want to deal with the touristy vibe of Branson), take a road trip from Kansas City to Springfield. It's just under three hours from KC and has more than enough unique restaurants, outdoor adventure, and history to fill a weekend when you need a change of pace.
You can check out Wilson's Creek National Battlefield, the site of the second major battle of the Civil War. The area has a visitor's center as well as a five-mile auto tour so you can visit the key sites of the battlefield at your own pace.
It's no secret that Springfield is the home of Bass Pro Shops, which for some people is very much an important thing. After visiting the original store, head next door to the Wonders of Wildlife National Museum and AquariumThe museum has 4-D wildlife exhibits (similar style of the habitats on display in Bass Pro stores) of habitats from Africa to the North Pole, and the aquarium has exhibits featuring live sea creatures. This adventure is suitable for all ages and is a great place to escape the infamous southern Missouri humidity (or bitter cold) for several hours.
If you need another way to beat inclement weather on your weekend trip, check out Fantastic Caverns. A few miles north of downtown, the main attraction is a 55-minute-long jeep tour through the caves, which are a comfortable 60 degrees F year-round.
Distance from Kansas City: 166 miles
Drive time without stops: 2 hours, 40 mins
Explore More in the Midwest
Sign up for Weekend Wanderer to join thousands of readers getting epic travel and gear ideas every week.
---